I've spent weekends making extremely complicated food, not realizing till recently that the whole point of a weekend is that it's a two-day VACATION. And vacations do not mean cursing the universe in a sweltering hot kitchen because the pastry dough just won't stay still and the yeast won't behave.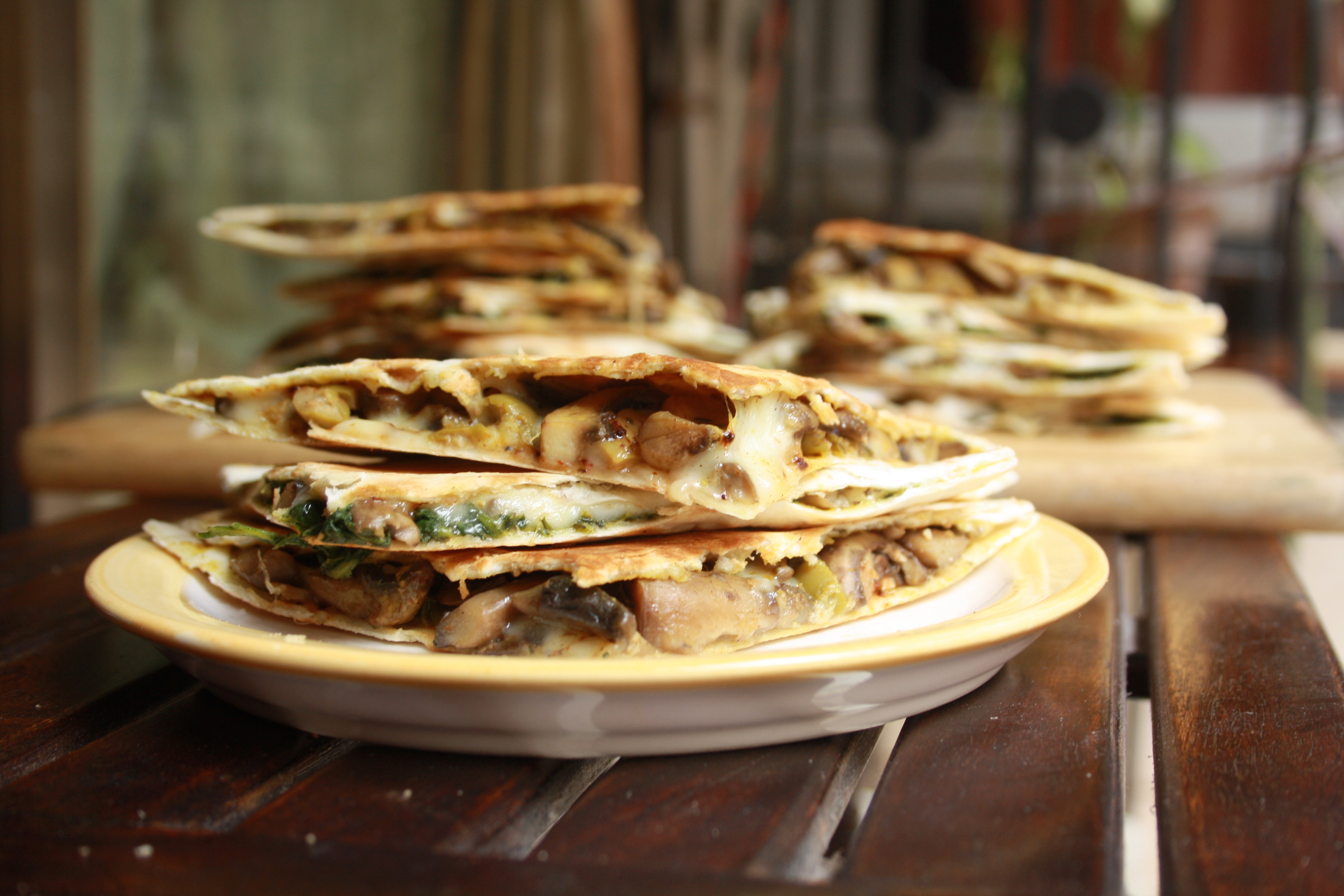 No, weekends are for things that do go right the first time. And then every time after that. Weekends are for enough time to go giggle with the minions, stare into space for a bit, fill your wardrobe with clothes you probably didn't need to buy, and eat chocolate ice-cream sandwiched between hazelnut cookies (JUST YOU WAIT).
Weekends are for these shamelessly easy quesadillas, to be made while munching on mozzarella sticks that are just as easy (JUST YOU KEEP WAITING). Yes, I did make three really fun things this weekend and even though there will be a day when the courage of (wo)men will fail, it was not this day.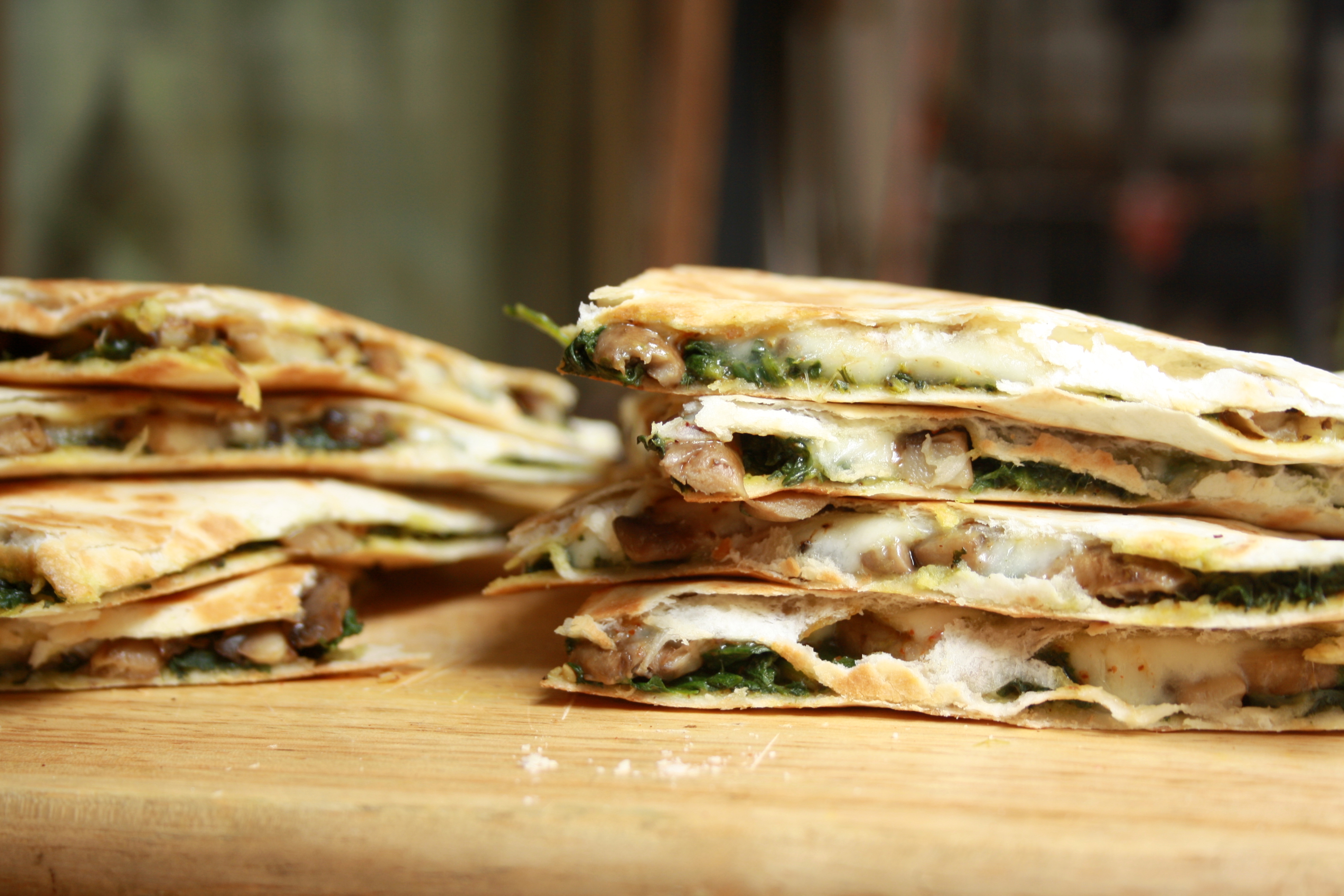 I don't know if I can call this as a recipe as much as 'throw your favourite ingredients together and place a tortilla on either side'. Let's go with that.
So a while ago, we discovered a really good Mexican/Italian takeaway joint called Aye Dios Mio and their spinach and mushroom quesadillas are through the roof. I decided it was totally possible to replicate them at home and it was. This time around, I had mushrooms left over, added some olives and jalapeños and a ton of cheese, because what is the meaning of life without it, and BOOM. Flavour combination win.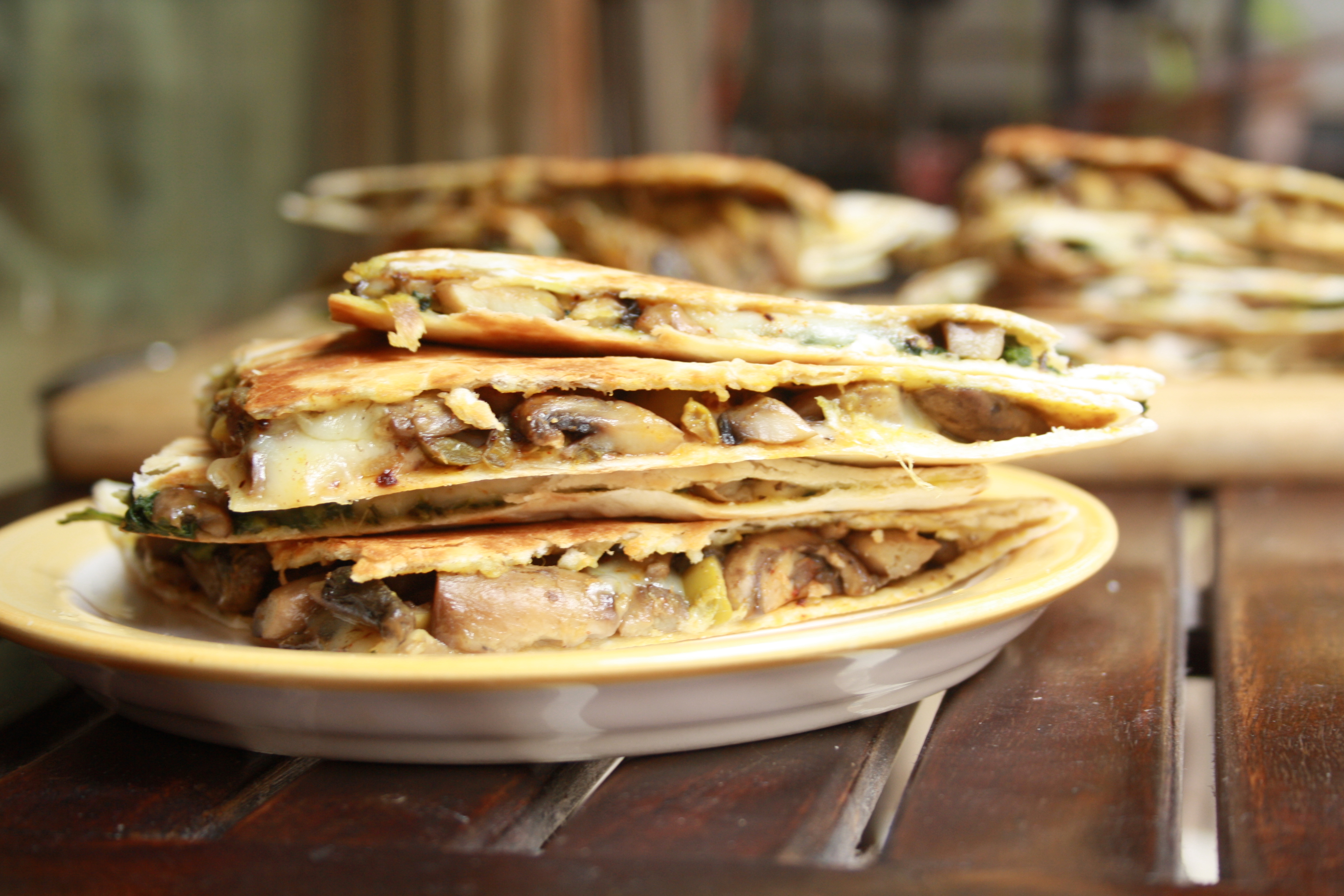 Not a fan of mushrooms? Try some roasted bell peppers with caramelized onions. Or some grilled zucchini, cauliflower even. Tomato and basil? Go over to the meaty side? Go nuts.
Out of mozzarella? Throw in some feta, a blend of cheeses, or even regular cheddar. Really, you and these quesadillas can do no wrong.
The tortillas are available on www.foodesto.com and in gourmet food stores. They can be kept frozen and thawed overnight when you plan to use them. It's all a matter of chopping up some veggies, frying them up in some good old butter, placing them on top of one tortilla and finishing off with the other.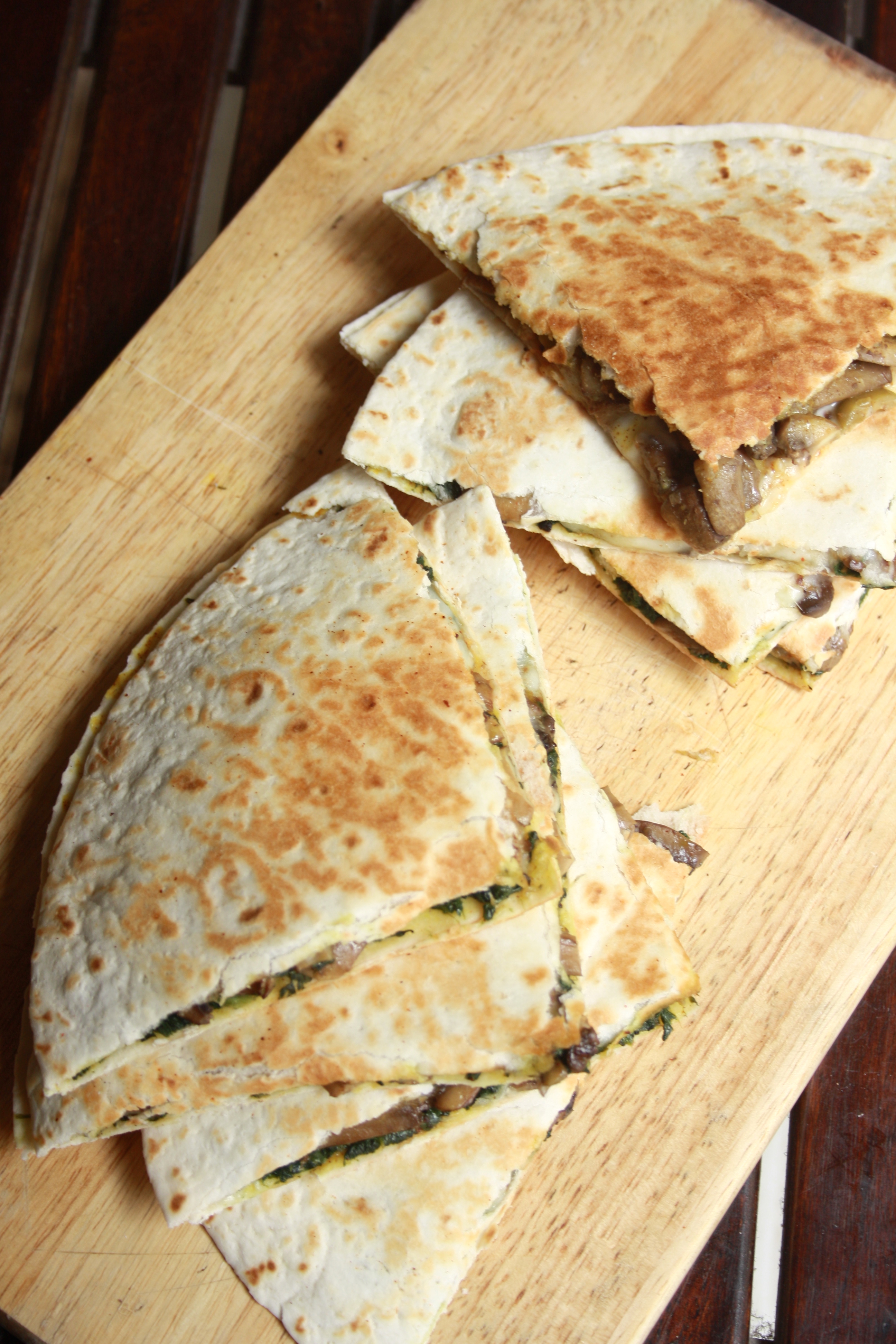 Soft, warm, fresh and filled with all things good for you. These quesadillas are super filling, hearty and so so so delicious. Melty cheese, melty cheese, melty cheese.
The proportions below make 3 quesadillas from 6 tortillas. Feel free to change the fillings and increase the amounts depending on many you need.
What you'll need:
500 gms fresh spinach, stalks removed, leaves cleaned, rinsed and drained (Enough for 2 spinach quesadillas. For more than 2, use at least 750 gms of spinach, otherwise, make the third quesadillas with different toppings like I did)
400 gms button mushrooms, rinsed and sliced
1/4 cup sliced olives
4 to 5 small jalapeño slices
4 tbsps butter, salted or unsalted
About 1/4 cup mozzarella or any other cheese (per quesadilla)
2 tsps mustard sauce (per quesadilla), optional
Salt and pepper to taste
Chilli flakes, to taste (I used chipotle!)
6 tortillas
Oil, to cook the tortillas
What to do:
1. In a large, sturdy pan, melt 2 tbsps butter. Tear up the spinach leaves into small pieces and add them to the pan. Saute till all the moisture has evaporated and the leaves begin to stick to the pan. They will turn much darker and wilt. Add salt and pepper, stir well and remove from the pan. Set aside.
2. In the same pan, melt another 2 tbsps butter and add the mushrooms. Saute till lightly browned and all the moisture has evaporated. Add salt and pepper, stir well and remove from the pan. Set aside.
3. On a flat griddle or nonstick skillet, drizzle just a bit of oil, place a tortilla on low heat. As it warms, spread the mustard sauce on it. Add half the prepared spinach and spread out evenly. Top with one third of the mushrooms, then 1/4 cup cheese, salt, pepper and chilli flakes. Cover with a second tortilla and press down lightly. Flip the quesadilla and let the other side become golden-brown. Drizzle some more oil if needed.
4. Slide the tortilla out on to a plate, cut into four and serve hot. Repeat with the rest of the spinach and mushrooms. For the mushroom and olive quesadilla, simply spread the mushrooms straight on to the mustard, top with olives, jalapenos and cheese on top of the mushrooms.
Happy weekend lunching!