Or, "How to Make Your Home Smell Like Your Closest Falafel Stall".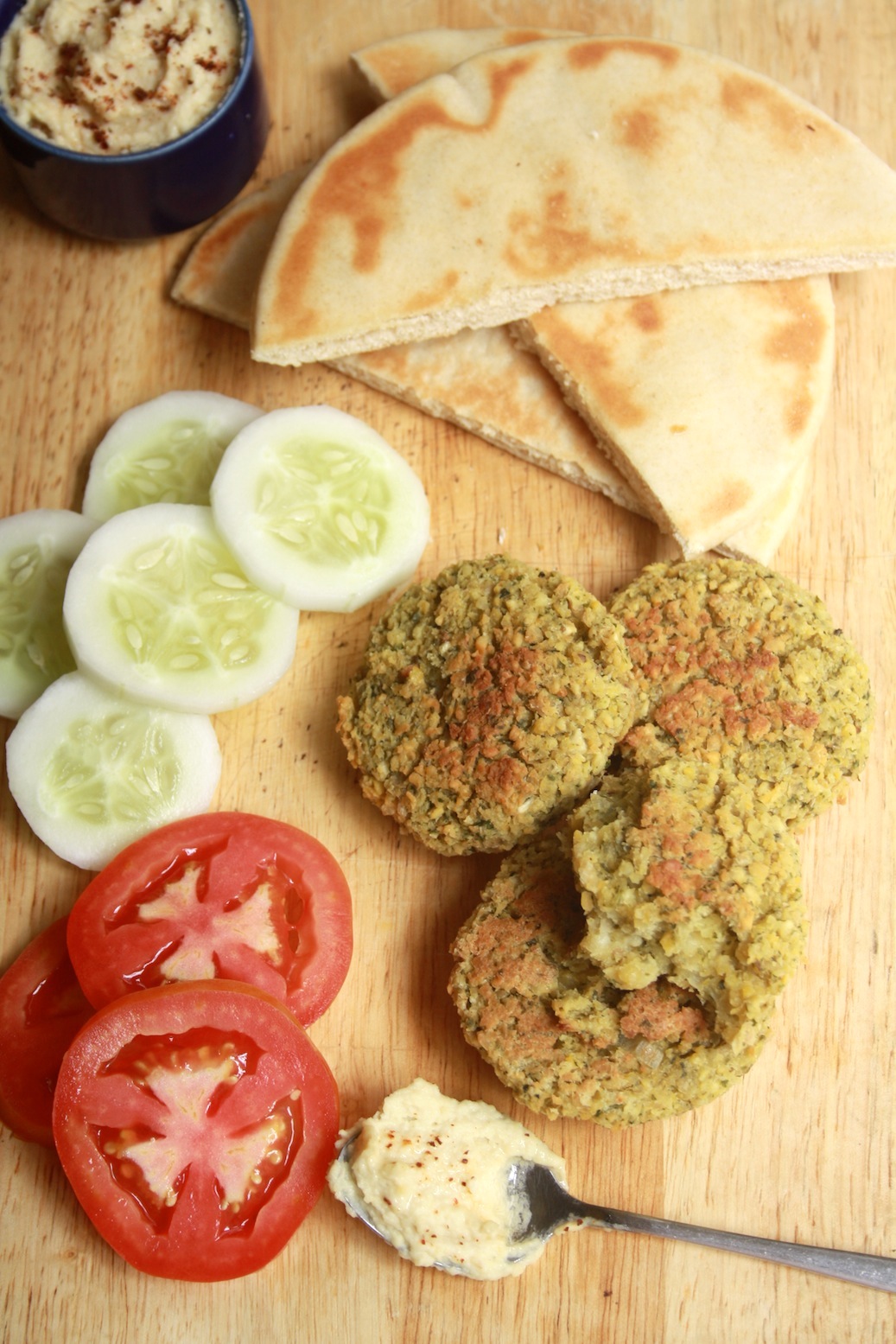 This is literally the easiest meal to make. You can get friends and family to begin peeling chickpeas, slathering on obscene amounts of hummus on toasted pita, slicing, chopping, dicing your favourite veggies while you get done with the really important task of turning on the food processor.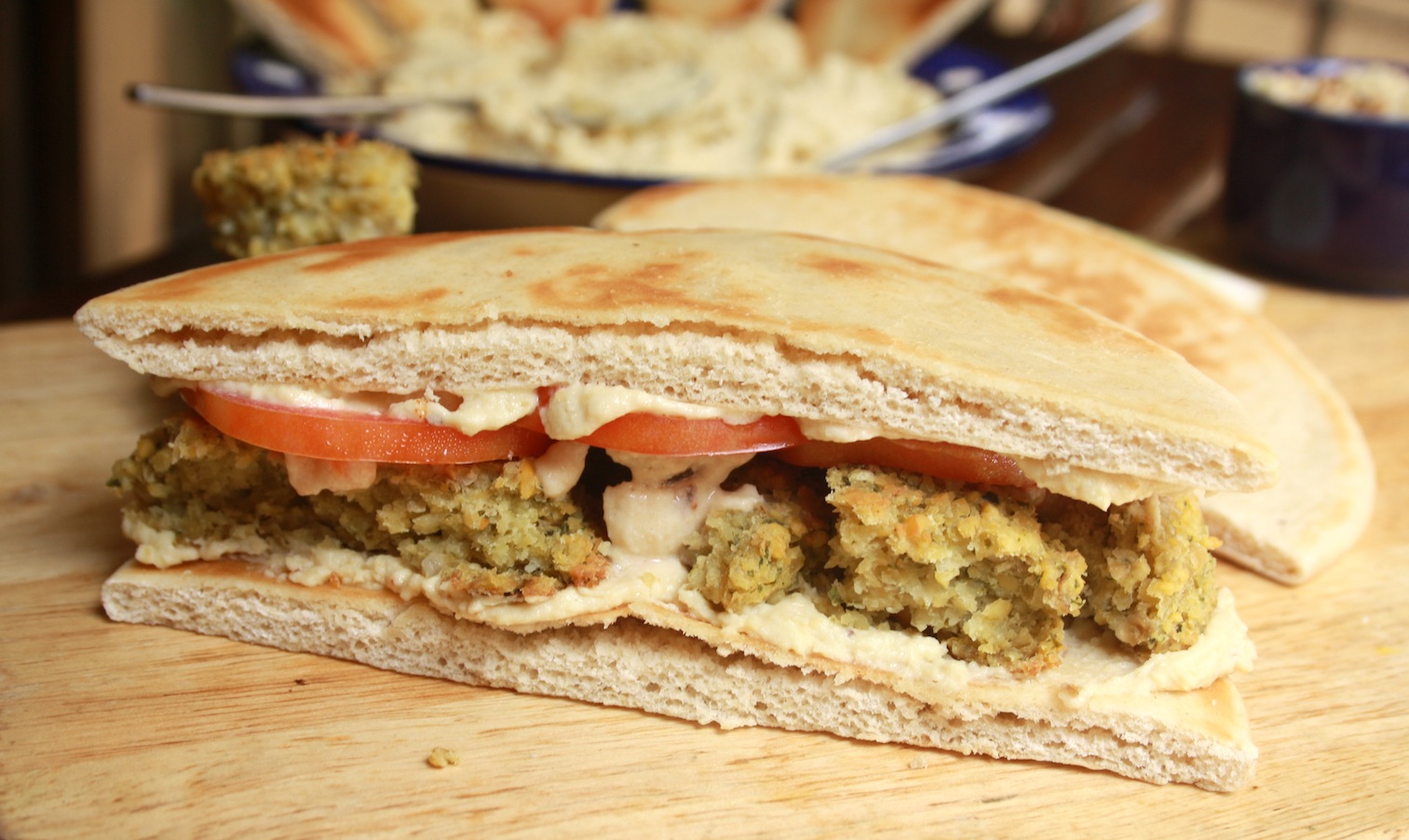 Really, there is no substitute to homemade falafel. Unless it's homemade BAKED falafel. I always find myself getting way too full way too fast with falafel that I eat outside. It's fried, so will stuff you sooner than you're prepared for. This version, will not. I ate my way through 4 of these, with amounts of pita and hummus that I'm not willing to admit here.
That good, basically.
Did I mention there was hummus?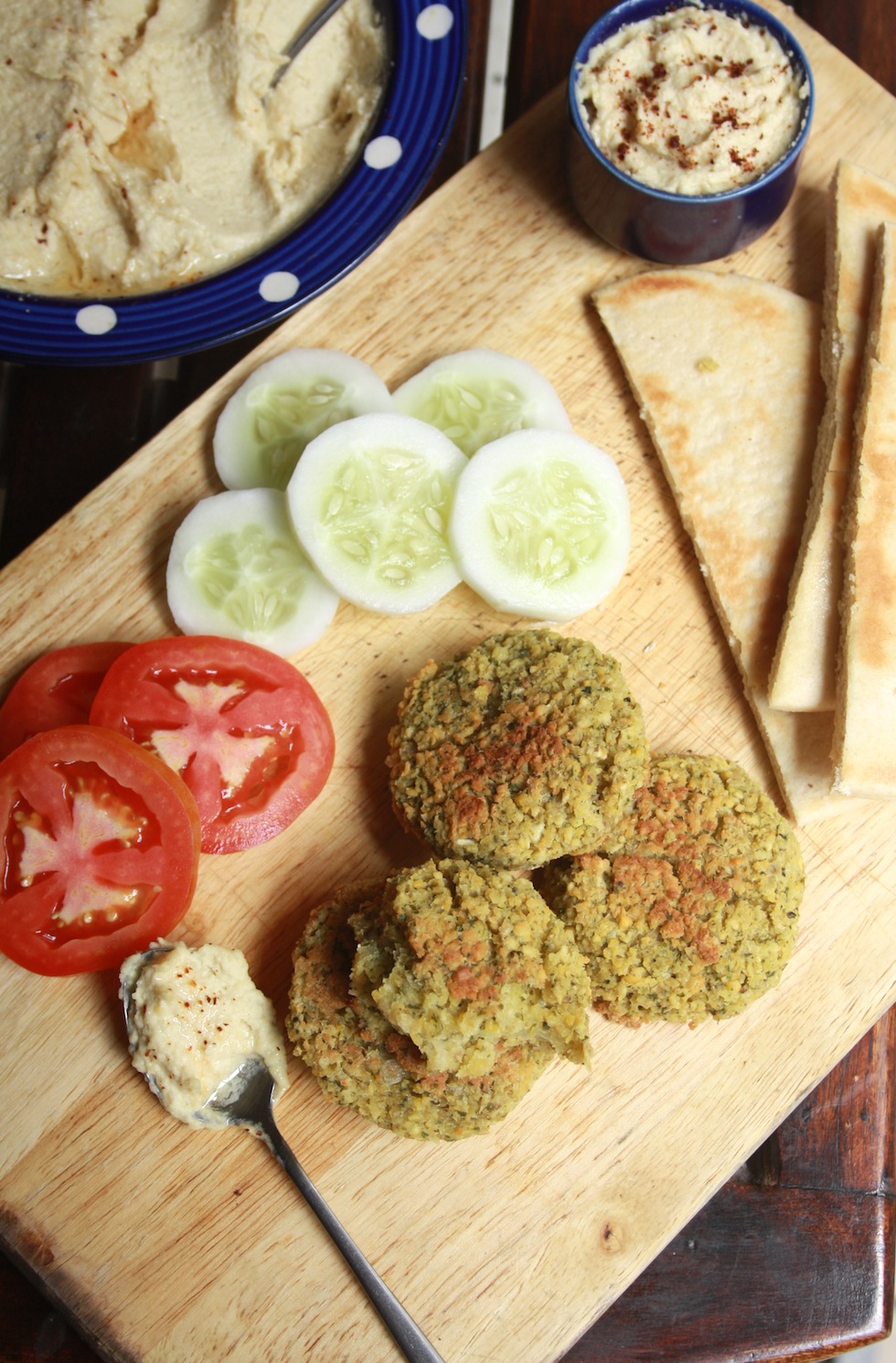 When I saw this super easy recipe, I thought, well, maybe I can skip the parsley if it isn't available. I'm going to stop you right there from getting too laid-back about this and say PARSLEY = FALAFEL. Without it, I guarantee, it will not have that familiar flavour. I have no scientific reasoning or impressive words to support that. All I know is, one whiff of it and I went 'oh my god that is it!!'. (Available on Big Basket by the way)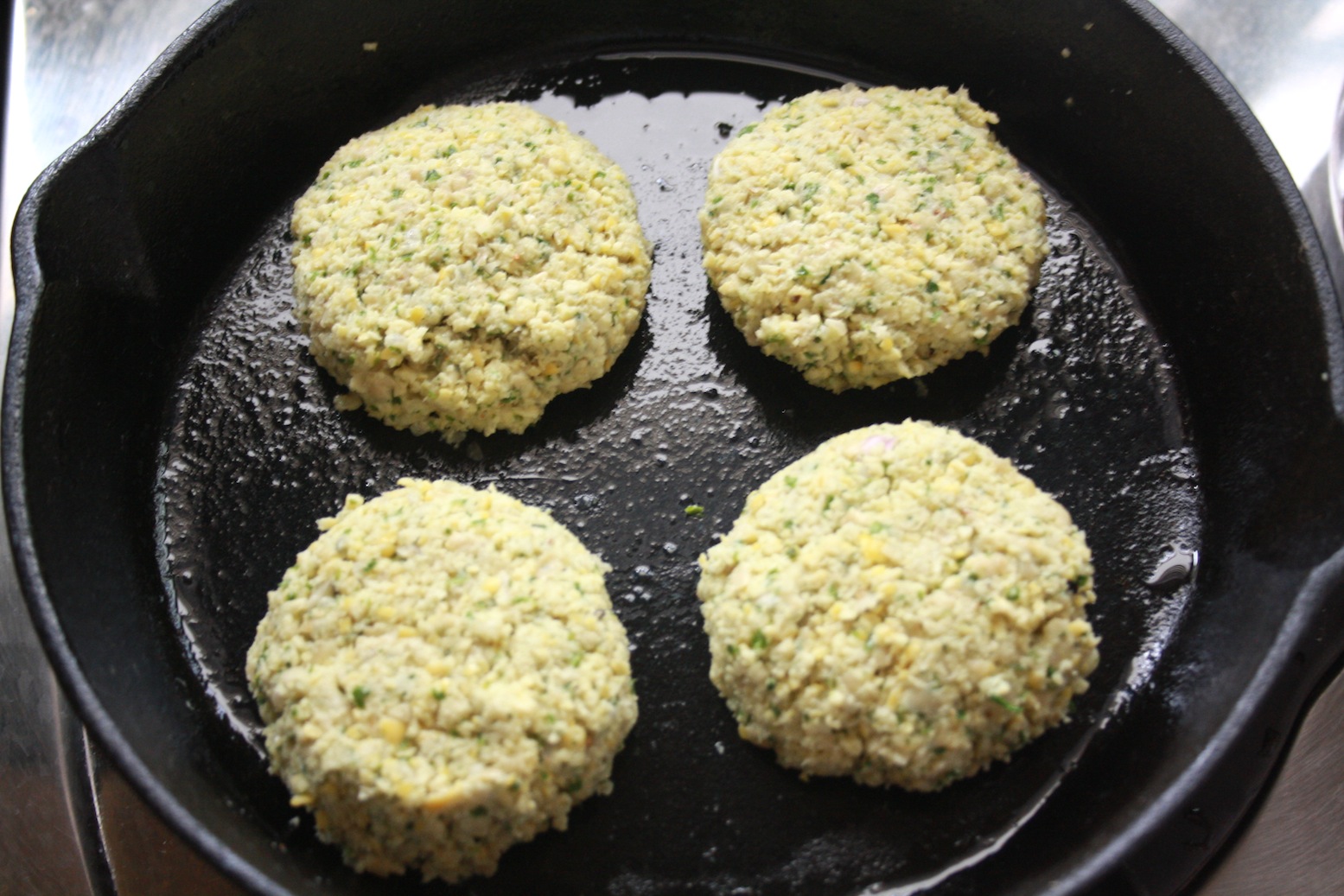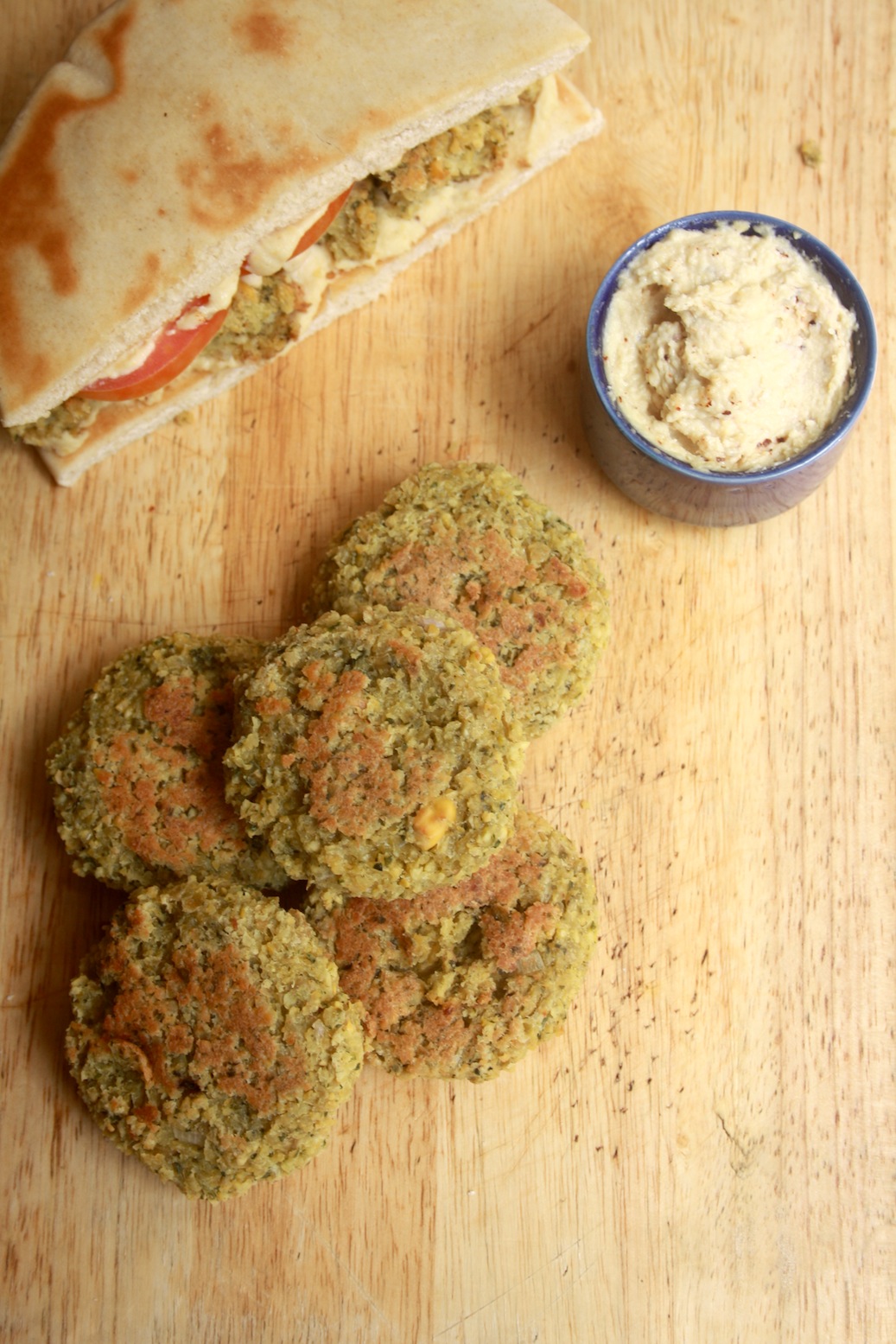 Btw, I was recently asked to take more in-process photos of what I make. Unfortunately the light in my kitchen isn't the best, but I'm doing what I can 🙂
Back to falafel. These can be made ideally in a cast-iron skillet or as a second option, on a greased baking tray but watch closely for signs of too much browning. These are crisp on the outside, soft on the inside, bursting with some very basic, but very amazing flavours.
You can spice this whole thing up with whatever your favourite forms of chilli are. In sauce, in flakes, in powder. I'm not a big fan of things that set my mouth on fire, so the low-key version was good enough 🙂
If you, like me, don't have pita pockets on hand, sliced pita bread works great for falafel sandwiches. Or, turn it into a falafel platter, call a whole bunch of people over, and watch the fun.
Maaaake this please!
What you'll need
2 tbsps olive oil plus more for greasing
1 cup chickpeas, soaked overnight and completely drained
1 small onion, chopped
1/2 cup fresh parsley leaves
1/2 cup fresh coriander leaves
3 garlic cloves, finely chopped
1/4 tsp cumin powder
1/8 tsp cinnamon powder
Salt and pepper, to taste
What to do
1. In a food processor (a blender might work, but work slowly so you avoid getting a paste), combine all the ingredients and process till a moist, crumbly mixture forms. It should stick between your fingers, in case you want to be sure.
2. Preheat the oven to 190 C and grease a cast-iron skillet or baking tray. Form 2 inch wide, 1/2 inch thick falafel patties, place on the skillet, leaving enough space to flip them over. In an 8″ skillet, I managed to fit 5 comfortably and made about 15 in total.
3. Bake for 13 to 15 minutes, until lightly brown on the underside, flip and bake for another 13 to 15 minutes until both sides are evenly browned.
4. Serve with warmed pita bread, hummus, veggies, and whatever else you can think of!