Cheesecakes were meant for weeknights. Make a buttery biscuit base, press it into a pan not being bothered with perfect edges, whip the cream cheese filling together, pour, bake, pat self on the back. Somehow deal with an overnight wait to slice into it and wake up the next morning to this.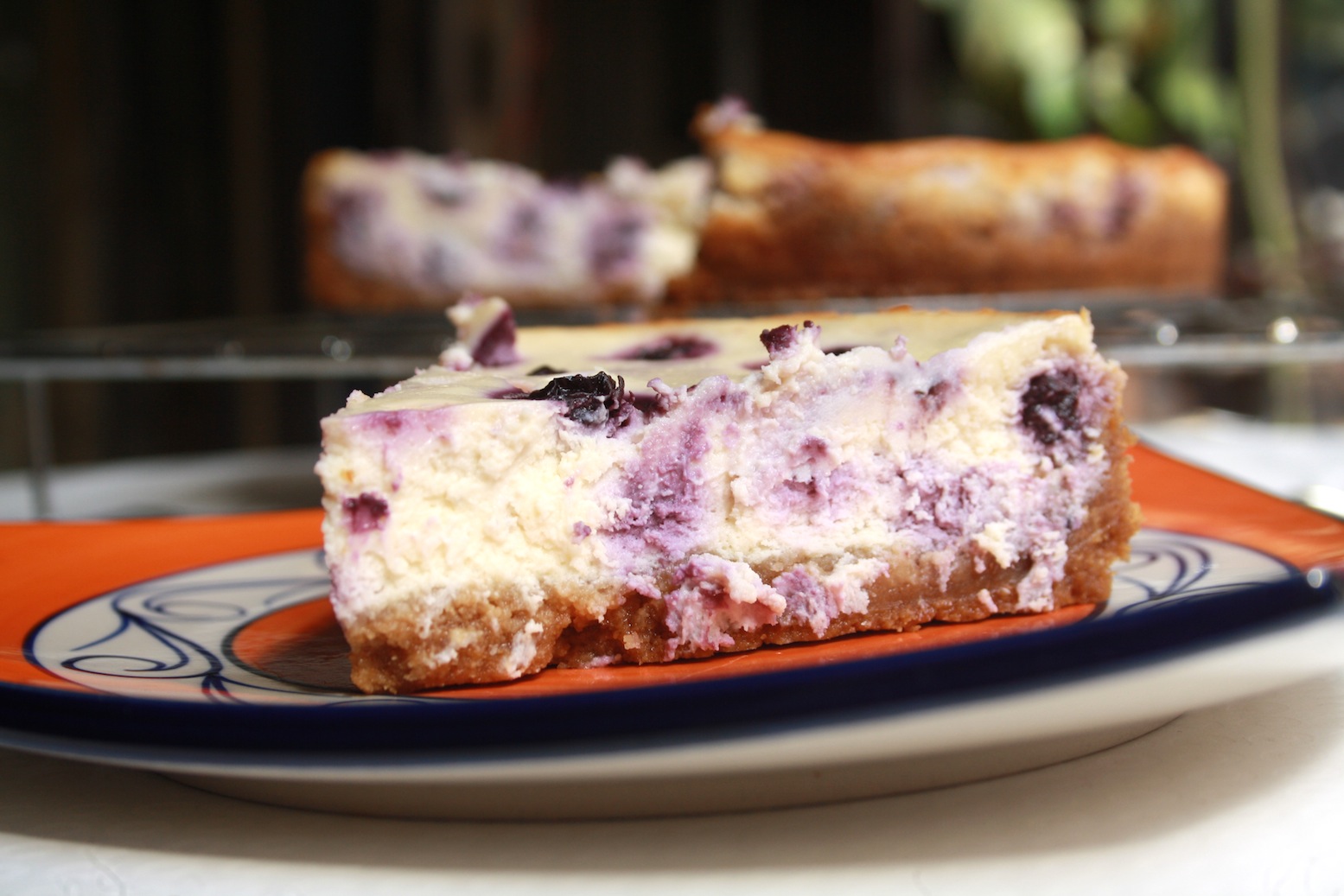 After this strawberry beauty, I thought no cheesecake would ever match up again. I guess you eat and learn. It's like Rachel describes in The One With All The Cheesecakes, "a buttery graham cracker crust with a rich, yet light cream cheese filling".
I didn't even need to Google that dialogue. Must stop making cheesecake and watching FRIENDS DVDs on weeknights.
Anyway, this cheesecake was beyond amazing. Modesty has never been a dominant gene in my family and I can't suddenly pretend it is 🙂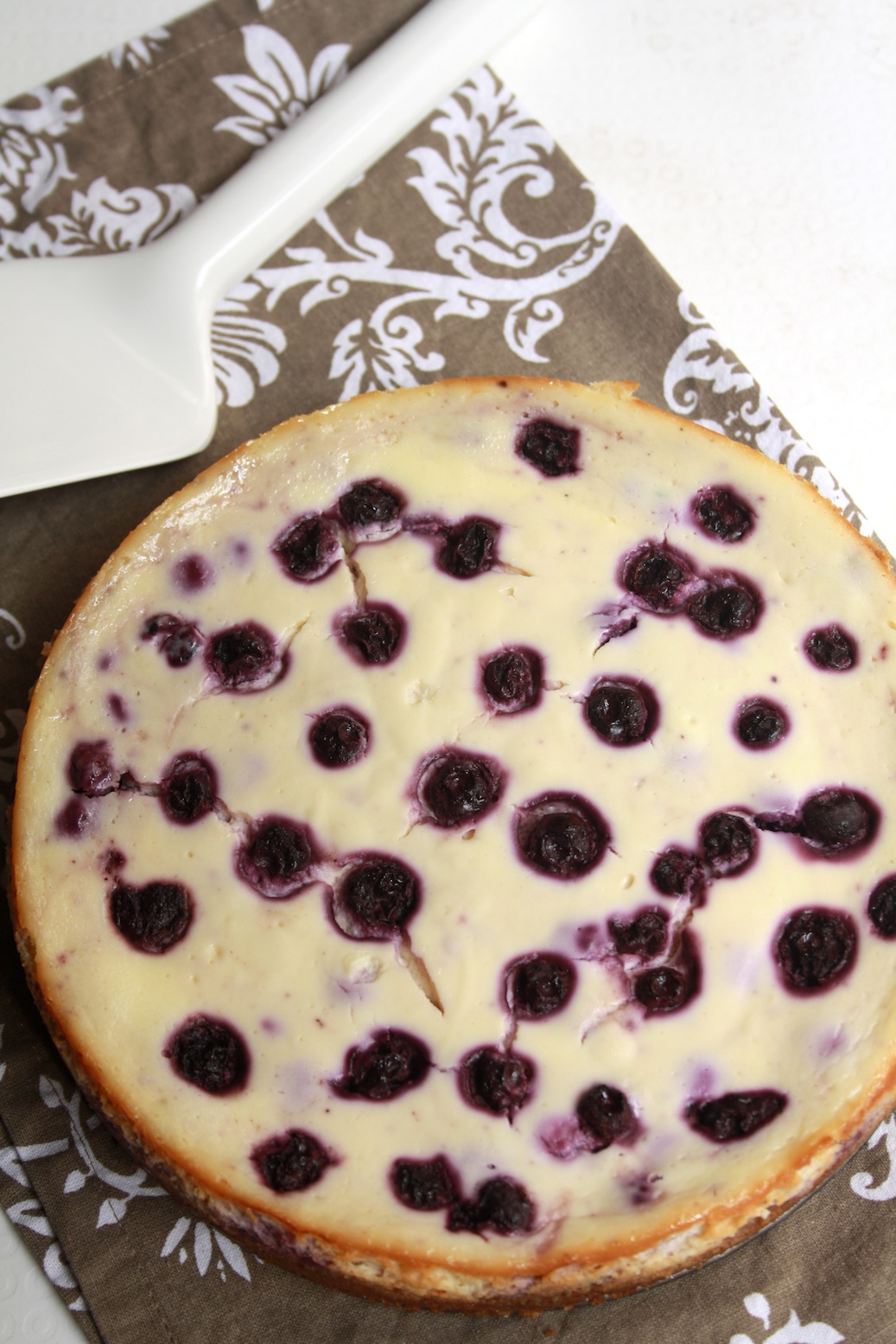 The thing about a lot of blueberry cheesecakes I've eaten outside is they tend to skimp on the blueberries. Bit ironic considering their name. They're mostly plain cheesecakes with a goopy blueberry topping. I wanted one stuffed with blueberries, oozing a weird shade of purple all over the place, so that there's plenty of tang in every bite and no one feels cheated.
Cheesecake batter tends to be thin so I was worried adding blueberries would make them sink right down to the bottom of the cake. Then I found this recipe for a smaller, slightly thicker cheesecake filling. Worked like a charm.
I moved some things around, eyeballed a few others, cut some things down and still turned out some serious awesomeness.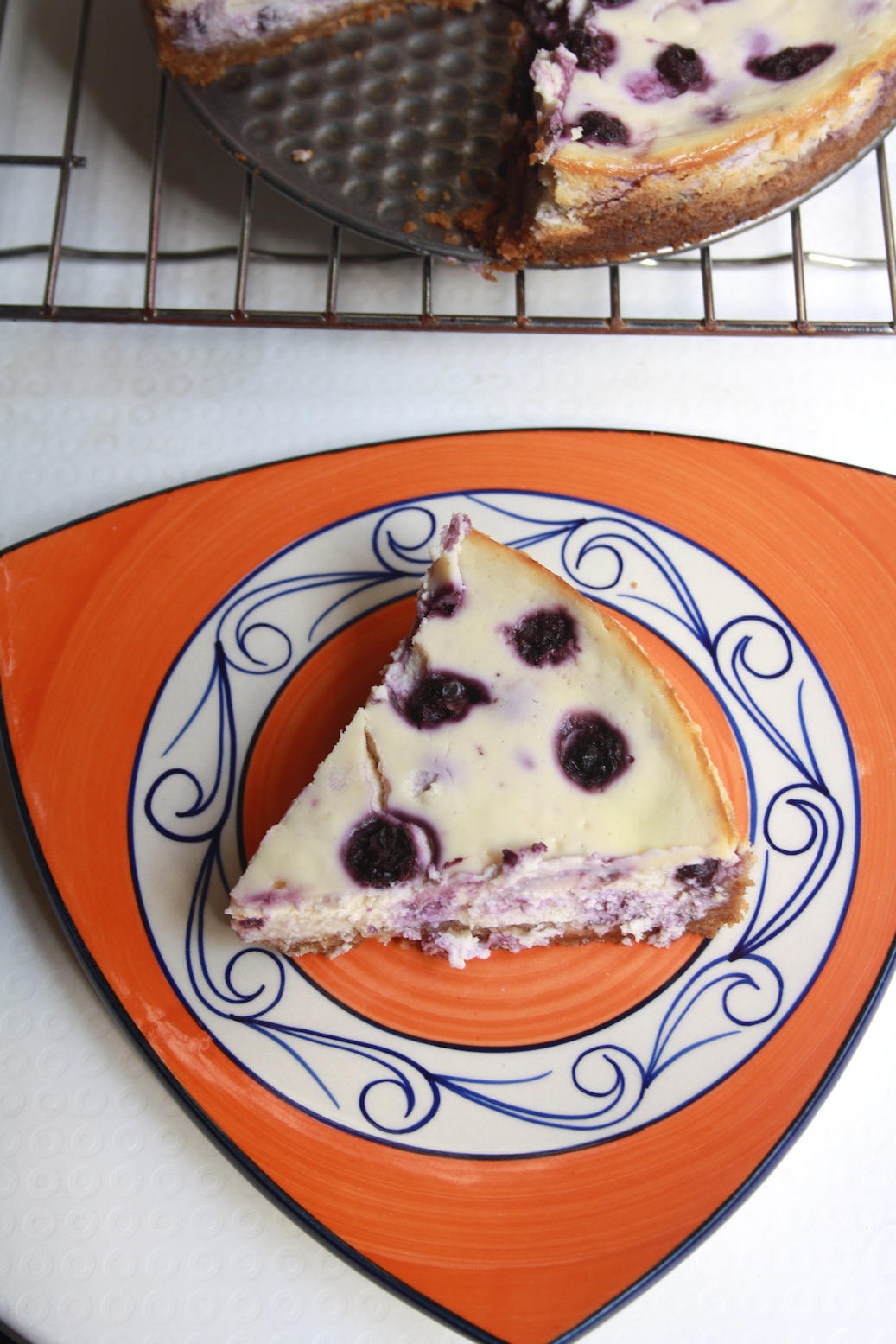 The crust, though buttery, was not soggy. Crunchy, perfect, filled with flavour thanks to digestive biscuits. The filling lives up to its blueberry studded claims, creamy and still weirdly light. Lemon brings out the authentic cheesecake flavour and masks any eggyness. Bonus, this recipe has only one egg.
Make it please 😀
Note: I found a food processor super efficient for this cheesecake. Also makes washing up easier! You could always use a rolling pin to make the biscuit crumbs and a hand-mixer to make the filling.
Frozen blueberries are available at Regal Stores, Bandra.
What you'll need:
For the crust
150 gms digestive biscuits
70 gms butter, melted and slightly cooled
2 tbsps caster sugar
For the filling
450 gms cream cheese
1 egg
1/3 cup caster sugar
2 small lemons
1 tsp vanilla
1 and 1/2 cups fresh/frozen blueberries (do not thaw)
What to do:
1. Preheat the oven to 175 C.
2. In a food processor, pulse the biscuits till they resemble coarse sand. Add the sugar and pulse once. Add the melted butter and pulse for 1 minute till the mixture comes together but do wait for it to turn into a greasy blob!
3. Tip the mixture out into an 8″ springform pan and press down with the back of a spoon or your fingers till the bottom and sides are as even as possible.
4. Bake the crust for 5 to 7 minutes until firm.
5. Clean the bowl of the food processor with a dry paper towel. Add the cream cheese and pulse for 1 minute till smooth. Add the egg, sugar, vanilla and juice of both lemons and pulse for minutes until well blended, smooth and creamy. Taste and add more lemon juice if the batter has an eggy aftertaste.
6. Fold in the blueberries as gently as possible using a spoon or spatula. They will bleed a bit of colour. Pour the mixture on top of the crust and bake for 35 to 40 minutes. The center might still be a bit wobbly but the edges should be set.
7. Allow to cool at room temperature, then chill overnight. The next morning, un-mould, slice and serve cold 🙂