This is about the scariest thing I've ever made. It's a salad. On a dessert blog. I'm talking leaves and veggies instead of chocolate chips and ice cream.
If I haven't already lost you, stay with me a second longer.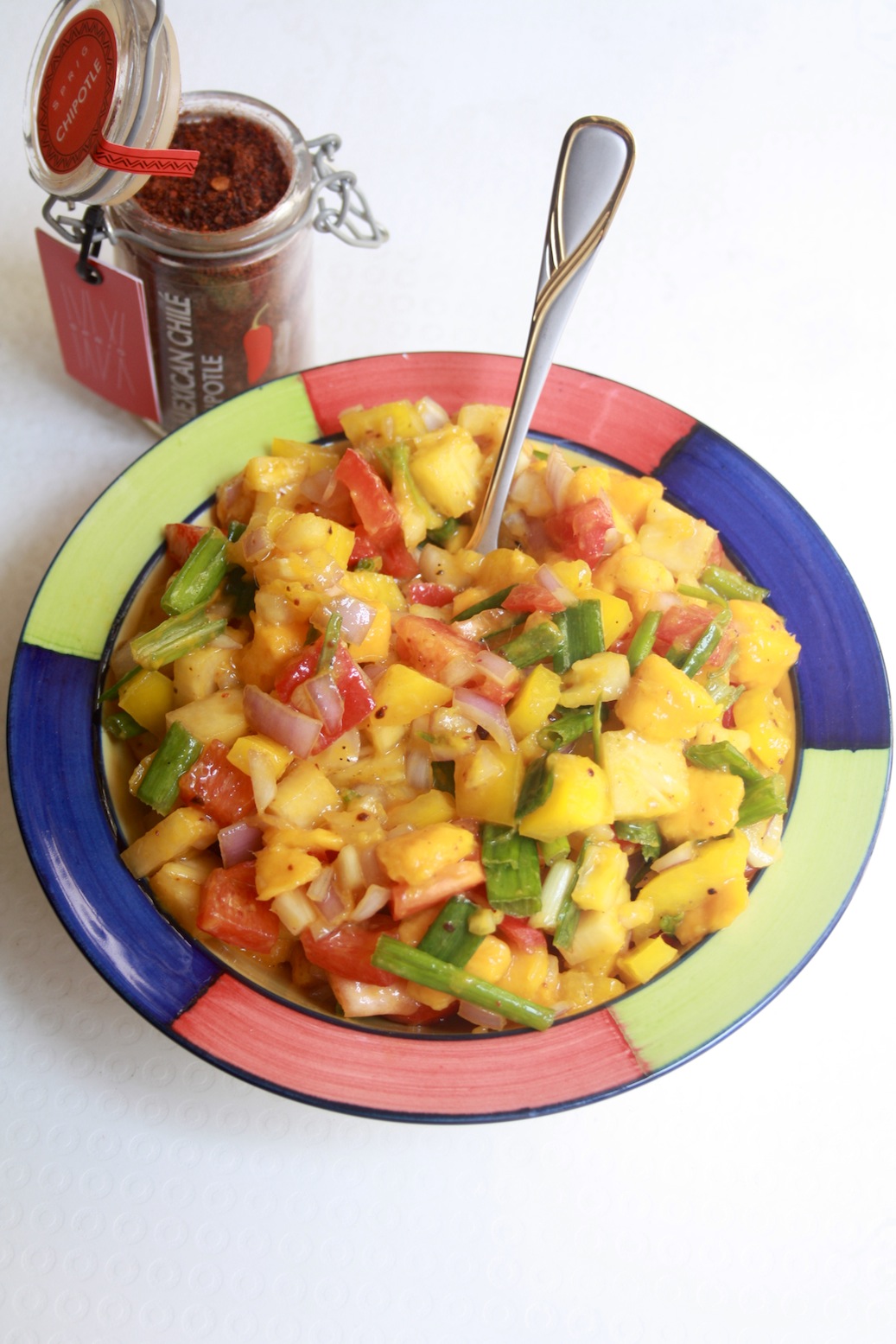 The biggest risk I've ever taken in my life is probably trying on a pair of red pants. My idea of adventure involves going into waist-deep ocean water and not screaming the roof (sky?) down.
So. Taking a break from cheesecake was pretty nerve-wracking. What if you desert The Desserted Girl? Turn your nose up at the lack of calories. Find this all too salty and not enough sweet. Worst of all, will I still have fun?!
Guess what. I LOVED IT!!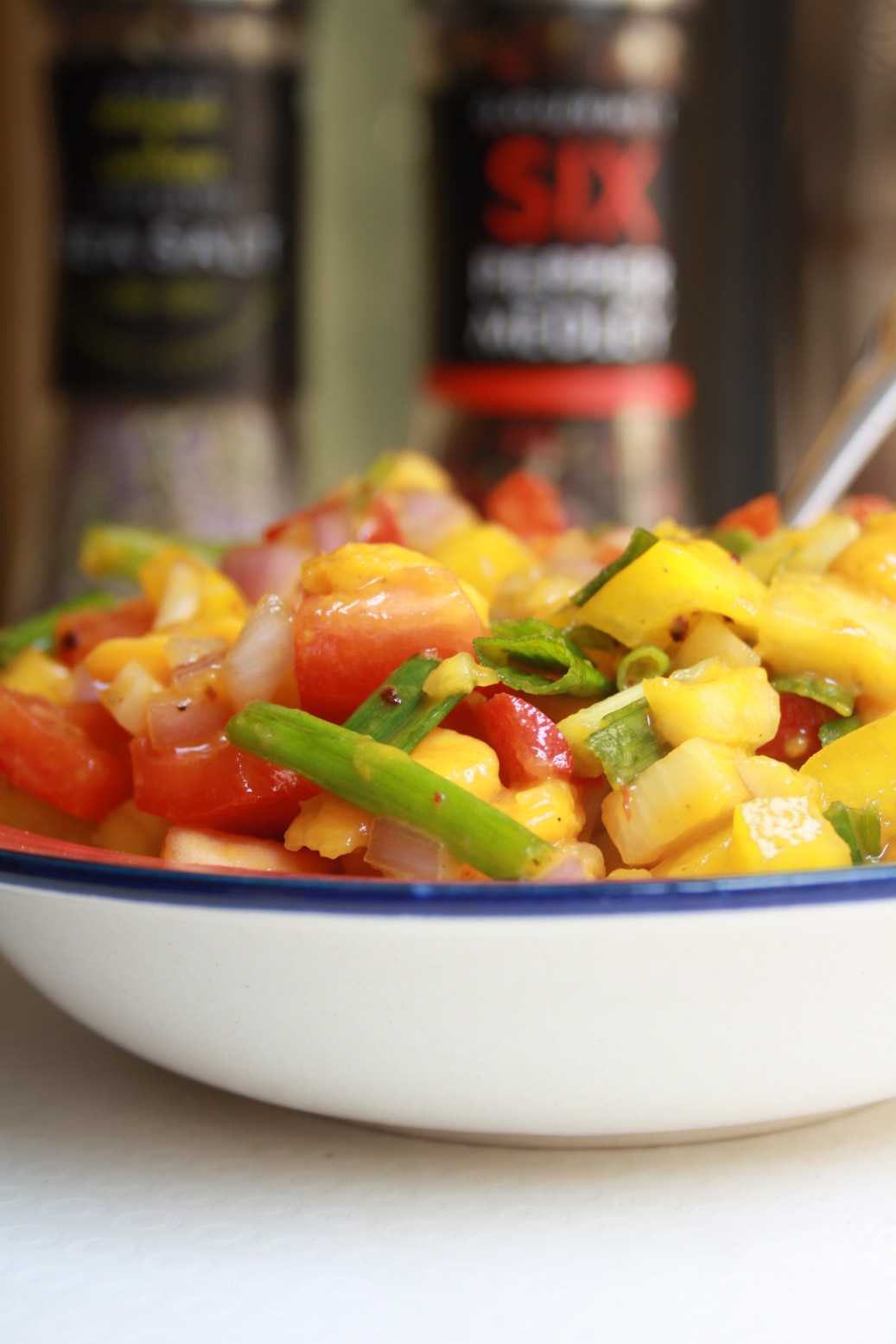 Seriously. Making something different for this blog was as refreshing as this bright, colourful salsa itself. For the first time, I ate a bowlful of one of my own creations without any guilt. There really is something to this risk 🙂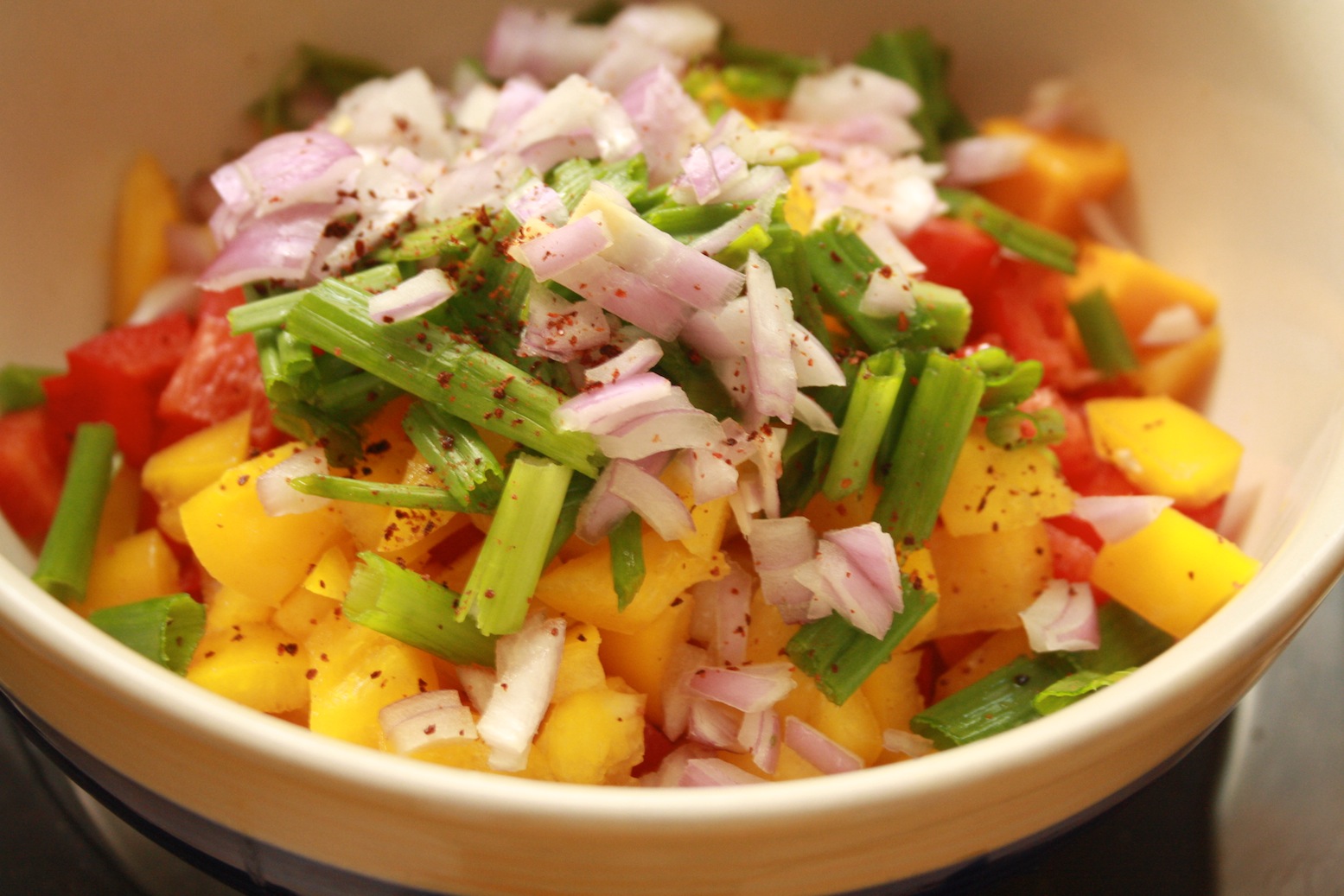 This whole thing began with Sprig. A company that makes some incredible spices in the most beautiful packaging I've ever seen. I first discovered it at Food Hall and then at Nature's Basket. I was sold. You can check them out on Facebook too.
I've made desserts with Sprig products a bunch of times. Their vanilla essence is delicious enough to drink right from the bottle, and their vanilla beans smell like heaven. They even make natural vegetable food colours!
So when I asked if they'd be interested in me using more of their products, we realised the natural transition would be to savoury dishes since a few dessert related products were tried and tested.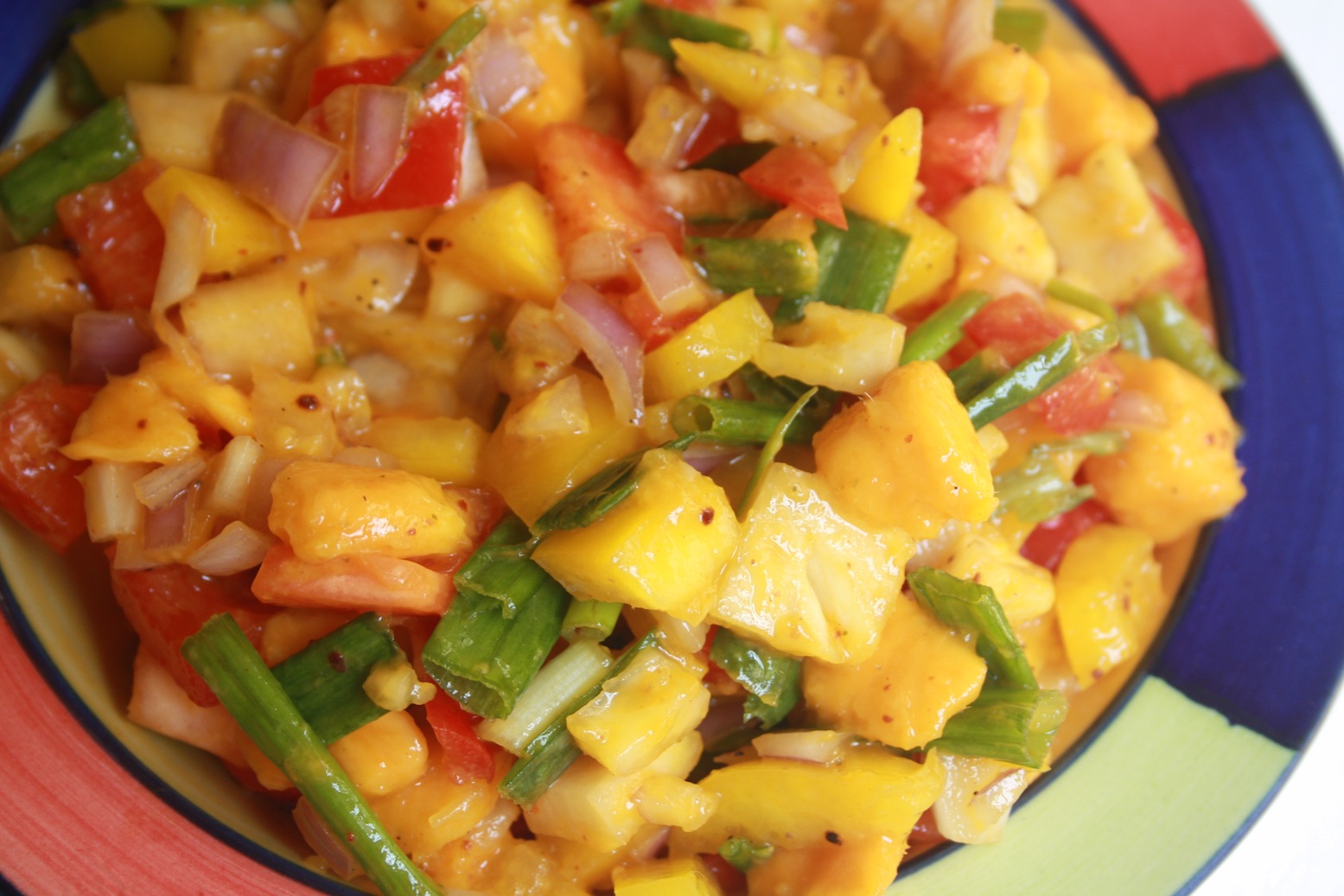 I decided to start out with recipes that would make their seasonings and spices the hero. This mango salsa had been on my mind for a while. Fresh fruit and veggies, tossed with lime juice and whatever else strikes your fancy.
In this heat, making a salad is the easiest, tastiest thing you can do. I tossed in some pineapple, spring onions and red peppers. Then came some of Sprig's Rosemary and Lavender Sea Salt and their beautiful Six Pepper Medley. You know things are getting serious when salt and pepper gets me this excited 🙂
A while ago, I had ordered some of their spices for our friend Amelie and couldn't resist the Chipotle for myself. That went into this salsa too. Gave it a good stir, grabbed a spoon and dived right in. The husband loved it so much, he pleaded for another bowl of it with dinner 😀
What you end up with is the healthiest flavour explosion in the world. Smoky Chipotle stands out and the occasional bite of spicy peppercorns will really make your day. Sweet, sour, salty salsa. Look at the alliteration there 🙂
Also, how gorgeous does it look! Happy summer to you!
What you'll need
1 medium-sized chilled, ripe mango, any variety, chopped small
3 to 4 chilled pineapple slices, preferably fresh, not canned, chopped small
1/2 medium red pepper, chopped small
1 spring onion, leaves and all
1/2 small red onion, chopped small
Fresh lemon juice, to taste
Salt and freshly ground pepper, to taste
Chilli flakes or chilli powder, optional
Handful of coriander leaves for garnishing, optional because I ran out!
What to do:
Mix everything in a bowl. Tough, I know.
There's no need to make a separate 'dressing', just add the lemon, salt and pepper right on top of all the fruits and veggies.
Tastes best when eaten fresh but will stay overnight in the fridge. At the most, you'll notice some juices being released but the flavour remains unchanged.
Serve with tortilla chips, lavash, toasted pita, salted crackers, or with spoons.