I almost didn't put up this post. Right now, looking at all this chocolate, I honestly don't know how I even contemplated that.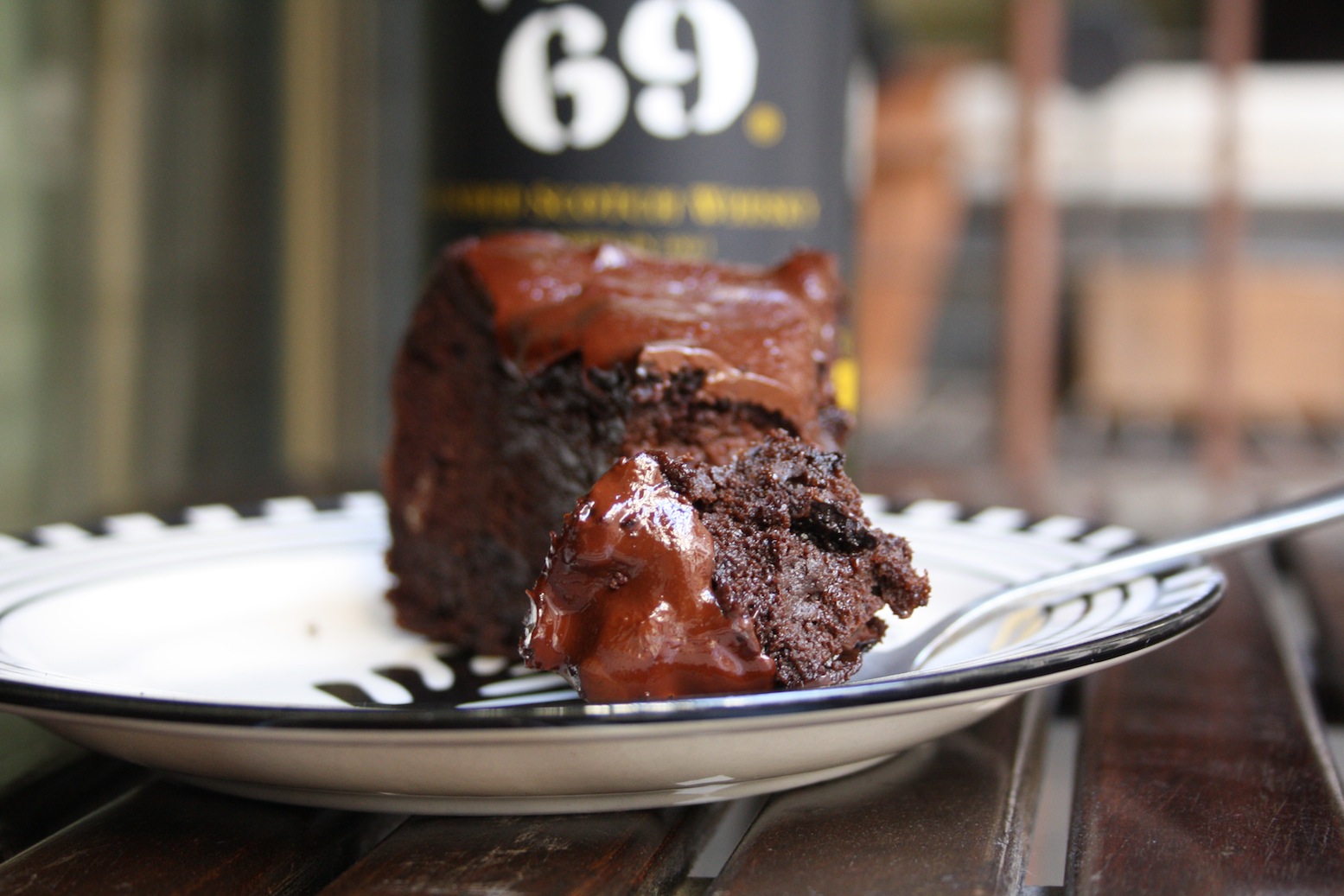 I baked this for my husband's birthday to go with whiskey themed presents 🙂 The cake is  moist, rich and bursting with whiskey and chocolate along with some very pleasing hints of coffee and spices. An unbelievable adaptation of this recipe.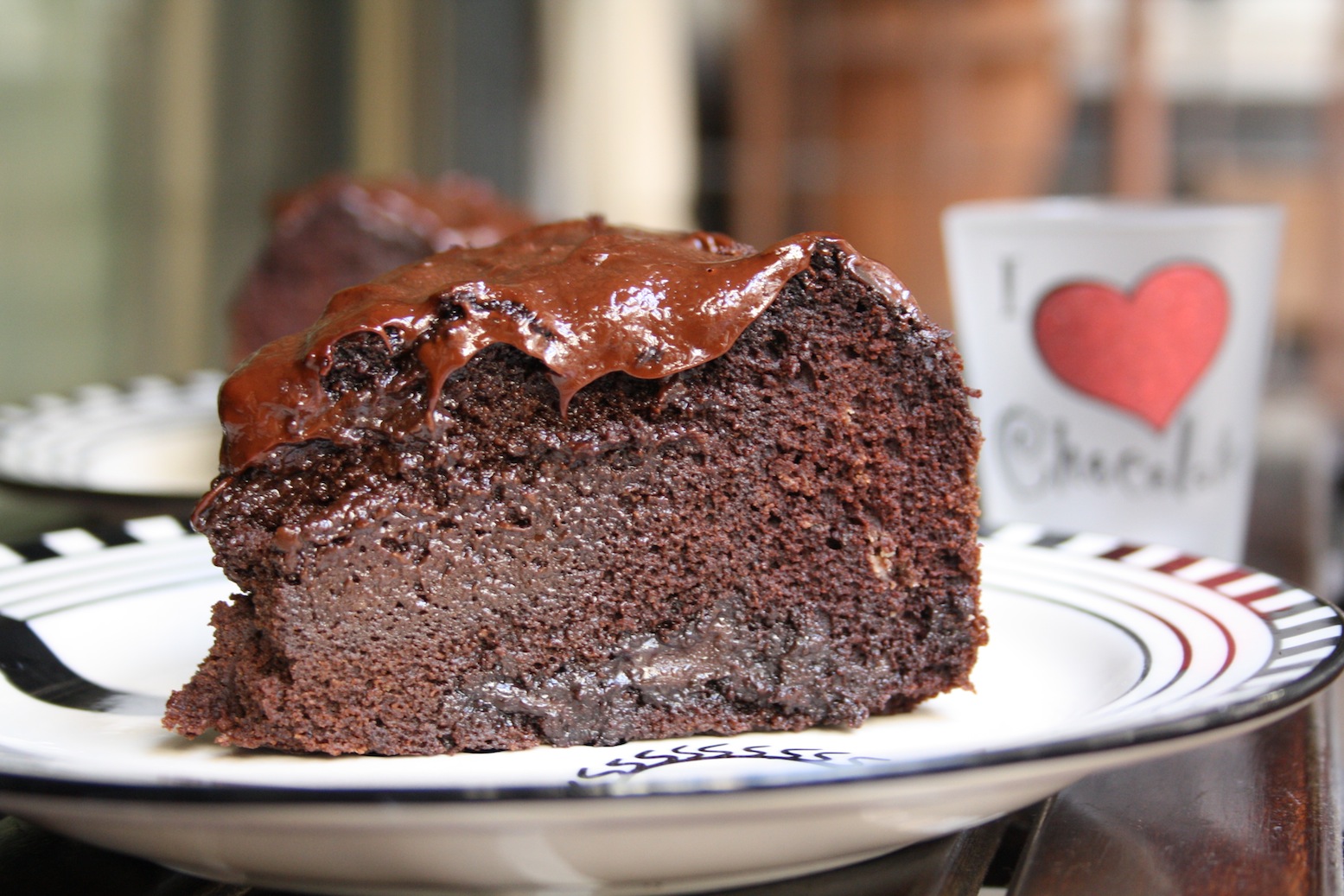 I don't know the first thing about whiskey. I don't even know why it's sometimes spelt without the 'e'. But I do know, that it tastes seriously good in this cake. If you eat cake, you'll eat this. If you don't eat cake, I guarantee you will once you eat this 🙂
I used the whiskey we had at home, which was Vat 69. Any kind is ok, even the original recipe didn't recommend a particular type. The chocolate chunks within the batter form the most ooey-gooey texture inside. So, so good. The spices and coffee leave a nice aftertaste but the whiskey really is the star 🙂
Now to why I almost didn't share this with you. The cake got the better of me. I took, and regretted a shortcut because I was running out of time, my usually very reliable oven decided to trick me into believing the cake was fully cooked and I had to do damage control like you wouldn't believe.
Baking birthday cakes always give me minor heart trouble, so I decided this one would have been incomplete without a bit of panic 🙂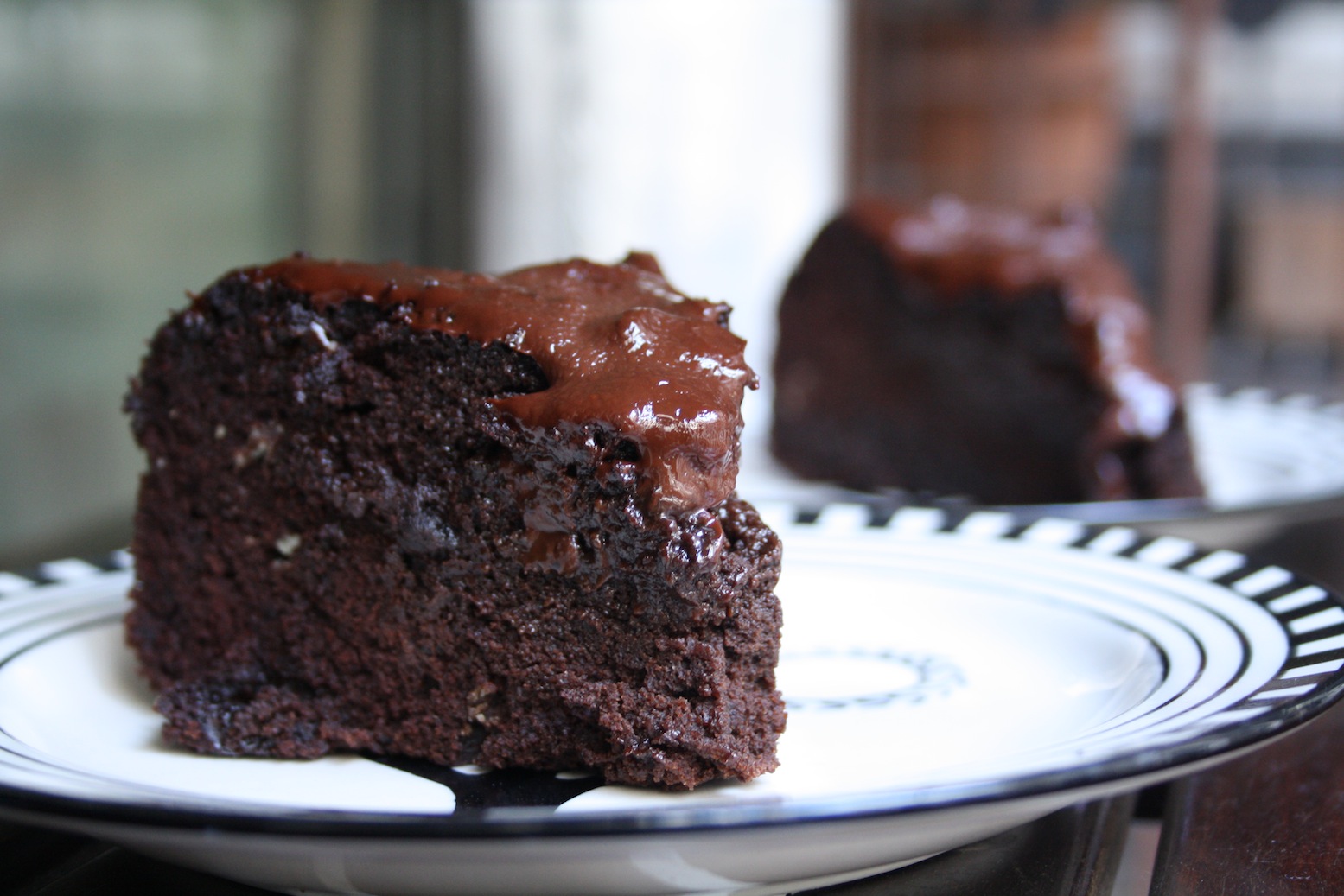 How can you avoid all that? Wait till the liquid chocolate mixture has cooled completely or you will end up with tiny lumps of flour like I did, sending me into hysterics. You can't taste them, but they will sit at the back of your mind ALL DAY LONG. If you do end up with a lumpy batter, break up as many as you can, preferably with a hand mixer.
Try not to mistake melty chocolate for the chunks instead of the batter. I did that, and had to send the cake back into the oven to get fully cooked after about 20 minutes of sitting out. Whoops.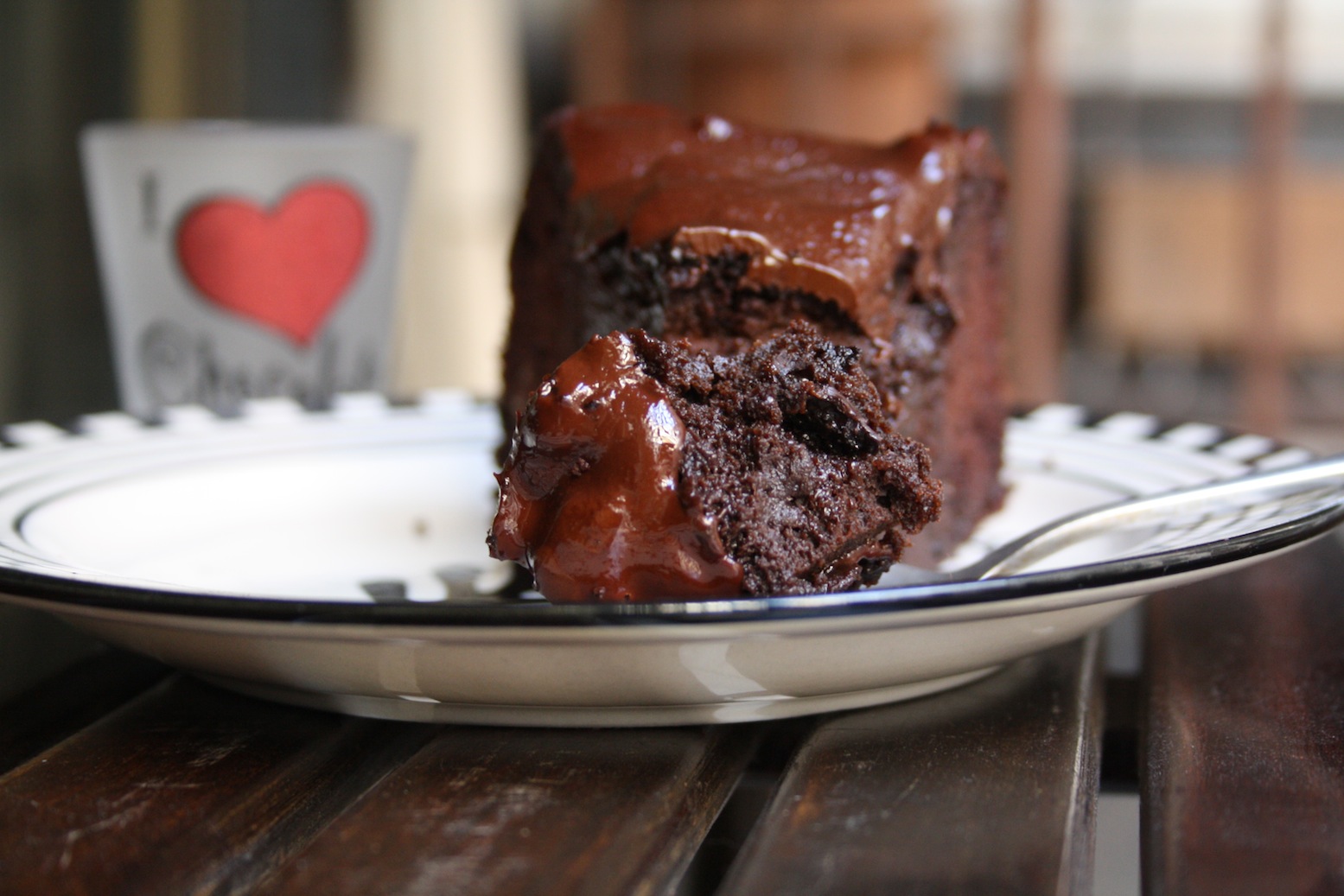 In the end though, (after slicing off the uneven top because the cake rose like mad), I spread melted Hershey's chips on top and when the birthday boy cut into it, I discovered the texture was just perfect and I need to stop worrying. I'm not sure if a food blog should be sharing goof-ups, but I have a lot of friends who've written/called me to ask me what to do when things go wrong, so I figured my experience with this one should be shared!
It takes time to make. I spent an hour just making the batter because there's a lot of pre-prep required and ingredients to assemble. Give yourself a few hours for this cake.
I reduced the sugar a fair bit and measured the ingredients by weight. The original recipe does contain estimated cup measures though. For the brewed coffee, I used my little coffee pot. If you don't have one, you could just brew it in a saucepan and then strain. Do get hold of good ground coffee though. Cafe Coffee Day has a very affordable pack 🙂
If you're feeling brave and have a whiskey lover in your life, make this cake. And let me know if any of my very brutal confessions here, helped 🙂
And just like my last post, these funky plates are from Freedom Tree 🙂
What you'll need:
12 tbsps butter (I used salted and omitted the 3/4 tsp of salt)
85 grams cocoa powder
1 1/2 cups brewed strong coffee
1/2 cup whiskey
180 gms sugar (The original recipe uses a mix of brown and white. Though I reduced the sugar, I used a 80:20 mixture of brown to white and it worked well)
240 grams all-purpose flour
1 and 1/2 tsps baking soda
1/4 teaspoon black pepper
1/8 teaspoon ground cloves
3 large eggs
2 teaspoons vanilla extract
1 cup semisweet chocolate chips/chunks
What to do:
1. Grease a 10″ springform pan. Dust the bottom with 2 tbsps of the measured cocoa powder. This prevents sticking and increases the chocolatey flavour 🙂
2. In a medium saucepan over low heat, warm coffee, whiskey, 12 tablespoons butter and cocoa powder, whisking occasionally, until butter is melted. Whisk in sugars until dissolved. Remove from heat and cool completely.
3. In a large bowl, sift together flour, baking soda, salt. Add the pepper and cloves and mix. Set aside. Preheat the oven to 160 C and grease a 10″ springform pan. Dust the bottom with 2 tbsps of the measured cocoa powder. This prevents sticking and increases the chocolatey flavour 🙂
4. In another bowl, whisk together eggs and vanilla. Now mix this slowly into the cooled chocolate mixture.
5. Add the flour mixture and fold to combine, breaking any lumps with a hand mixer or a firm hand. Fold in the chocolate chunks. The batter will be runny.
6. Pour batter into prepared pan. Transfer to oven and bake until a toothpick inserted in the center emerges clean. My oven took about 45 minutes. Watch yours like a hawk after the first 30 minutes and keep doing the toothpick test.
7. Allow to cool for about half an hour, then remove sides of pan. Dust with powdered sugar or after it's completely cooled, frost with your favourite icing. If the cake has risen and cracked quite a bit, slice off the top to even it out before frosting. I smeared about 1/2 cup of melted chocolate chips. The best!!
Look at our little birthday table 🙂