This was just an experiment that could have resulted in nothing but chocolate goop. But instead, it changed my life! I adore homemade chocolate pudding but hadn't really planned on making a naturally sweetened version. And then I did and oh my god, you guys. This one is creamy, rich, bittersweet and contains no added refined sugar. Win!
It's thickened and sweetened with dates and a bit of honey. The rest is just whole milk plus dark chocolate and it's also very easy to make it vegan. I can't stop eating it!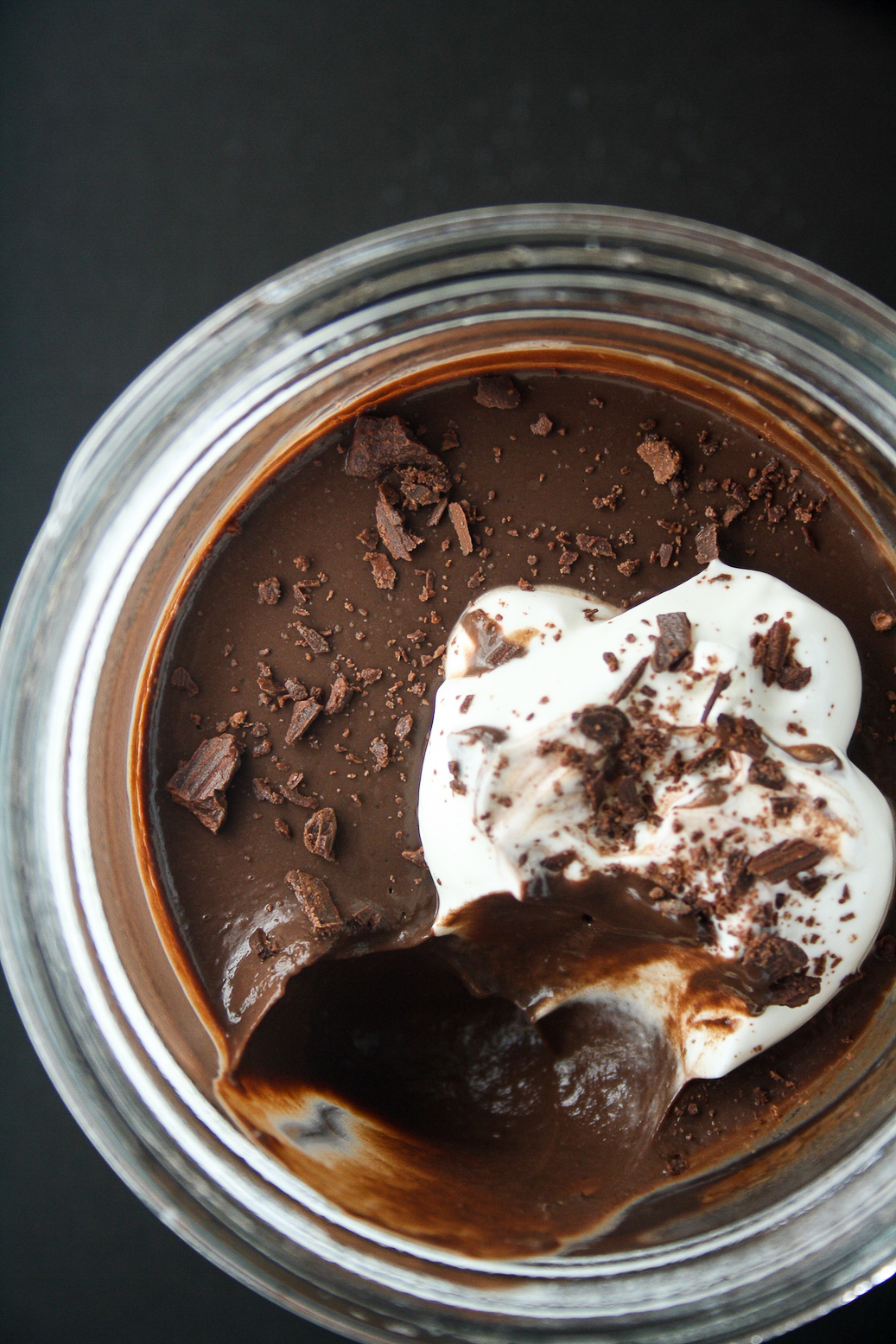 I had originally seen this on Minimalist Baker as a vegan mousse. The thing is I'm not vegan, and though I love coconut and chocolate, I wanted this mousse to taste of just chocolate. Then I realised I have an excess of regular milk at home, plus a little cream. I decided to try this as a dairy version and it's delicious! It thickened to the point of pudding, not quite mousse and I suspect if you add more dates, it'll thicken further and be more mousse-y.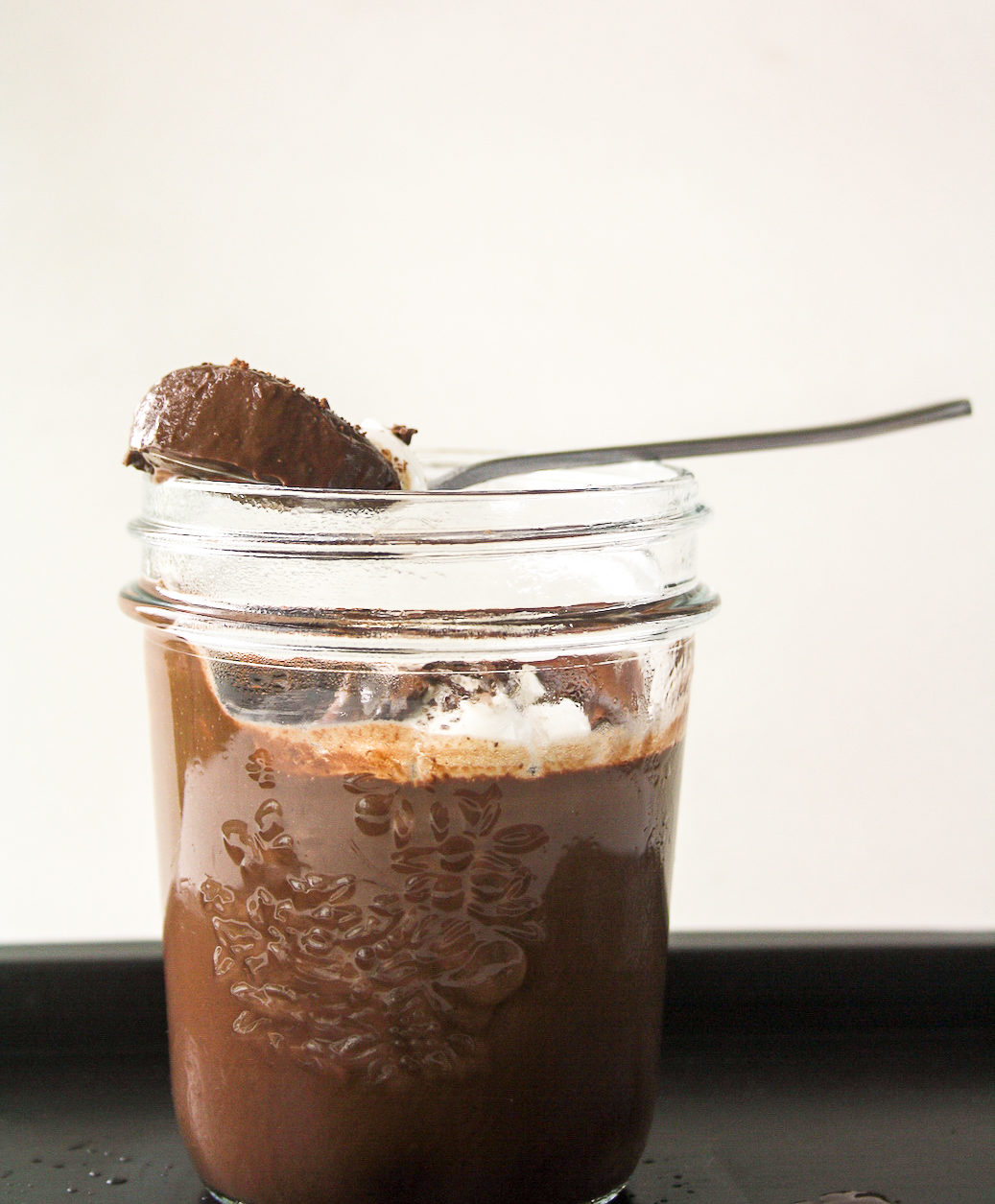 You can certainly use dairy-free chocolate, coconut milk and coconut whipped cream and make this whole thing vegan (the fat from coconut will also thicken it further to a mousse). The cream on top if course, entirely optional. It doesn't really need it, unless you want to make the top all pretty and want a little extra indulgence. Without it, this is a fairly redeeming dessert!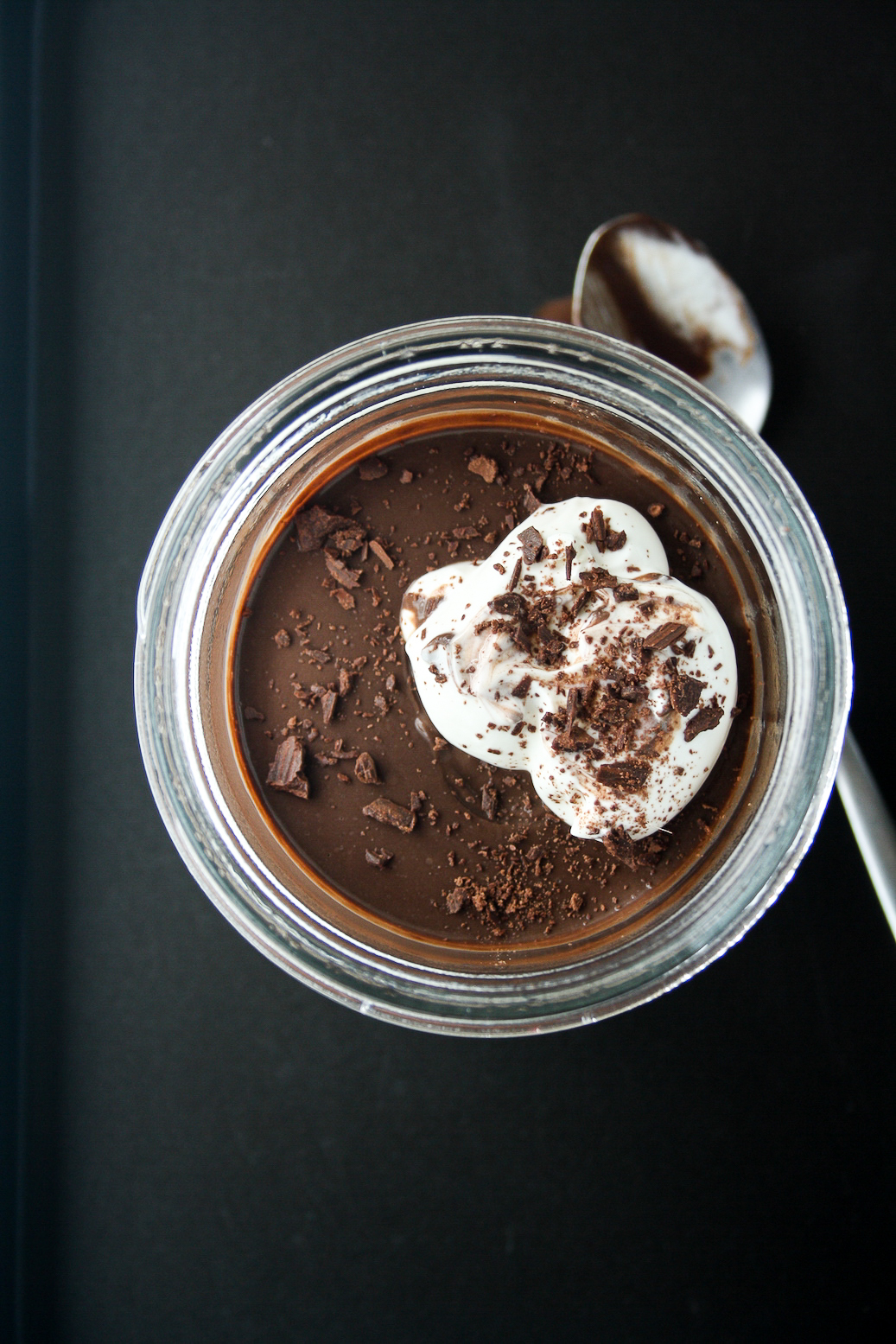 The pudding is not very sweet, so add as many dates as you'd like, keeping in mind that the more dates, the thicker this becomes. You can also use a 55% chocolate instead of 75% though of course, the sugar content is higher in less dark chocolates.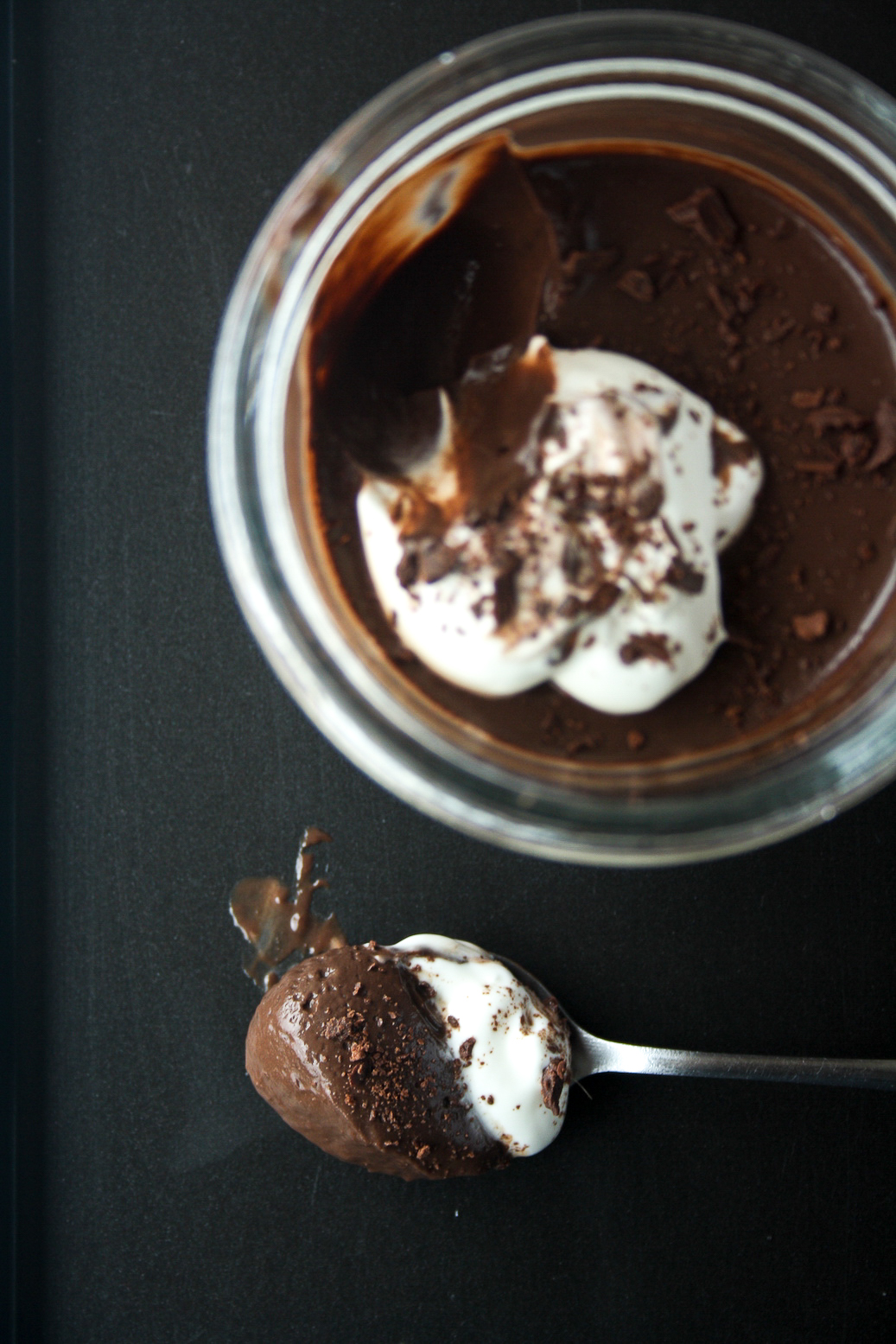 All this needs after quick prep is an overnight chill for that perfect pudding-mousse consistency. It's fun to store it in a jar and sneak a spoonful now and then 🙂 Let me know you like this!

Chocolate Date Pudding (Eggless)
Creamy, bittersweet chocolate pudding sweetened with dates!
Author:
The Desserted Girl
Ingredients
¼ cup cocoa powder
Pinch of salt
¼ cup finely chopped dark chocolate (see notes)
¾ cup whole milk
½ tsp vanilla extract
1 tbsp honey or maple syrup
8 to 10 pitted dates
Whipped cream and grated chocolate to serve, optional
Instructions
In a saucepan, combine the cocoa, salt, chocolate and milk. Stir on low heat until smooth and the chocolate has completely melted. Remove from the heat and stir in the vanilla and honey. Set aside to cool for 5 minutes so it's not piping hot.

Add the dates to a blender and pour a few spoonfuls of the slightly cooled chocolate mixture. Blitz till the dates are finely crushed, almost like a paste. Add more of the chocolate mixture as needed to help the dates along. I prefer to do it this way than blend the whole thing together to avoid any chocolate explosions (been there). However, if you have a powerful and reliable blender, feel free to blitz all of it at once.

Now combine the pureed dates with the remaining chocolate mixture and mix very well. Taste and add more honey or dates as needed. You will see it becoming a little thicker already.

Allow the mixture to cool completely then pour into a jar or bowl and leave overnight to chill. It will thicken to a pudding/mousse like consistency depending on how many dates you use and how long you chill it. Serve with whipped cream and grated chocolate if you like!

Notes
*I used Mii Spezial 75% dark chocolate and Cocoacraft is the other option. Chocolate does contain some sugar so to omit sugar completely, use an unsweetened chocolate. For a less bittersweet pudding, use about 50 to 55% chocolate.

*Swap coconut milk and dairy-free chocolate to make this vegan. The pudding will be thicker due to the coconut fats.
Shop this recipe!
This post contains affiliate links.