I'm not the biggest fan of pistachios and will probably never be. But ground almonds and I have been close for a loooong time and thanks to them, I'm slowly learning to accept pistachios as well. They work so well together, producing a flavour that's sweet, nutty and not dominantly one or the other. I'm hooked!
This is adapted from a recipe in Molly on the Range
which makes a fudgy, nutty loaf with almond extract. It does use 4 eggs and a whole cup of butter, so I decided to make one that used lesser of both. And I reduced the amount of pistachios, and upped the amount of almonds. Plus, a little bit of fresh orange juice goes a long way. It complements the flavours, masks any eggy aftertaste (which I would normally use vanilla extract for) and keeps the batter moist. I also added a little baking powder to give the cake some lift, and milk to help make a spreadable, lighter batter. I hadn't expected all of these changes to work as well as they did but ohmygod, this is good!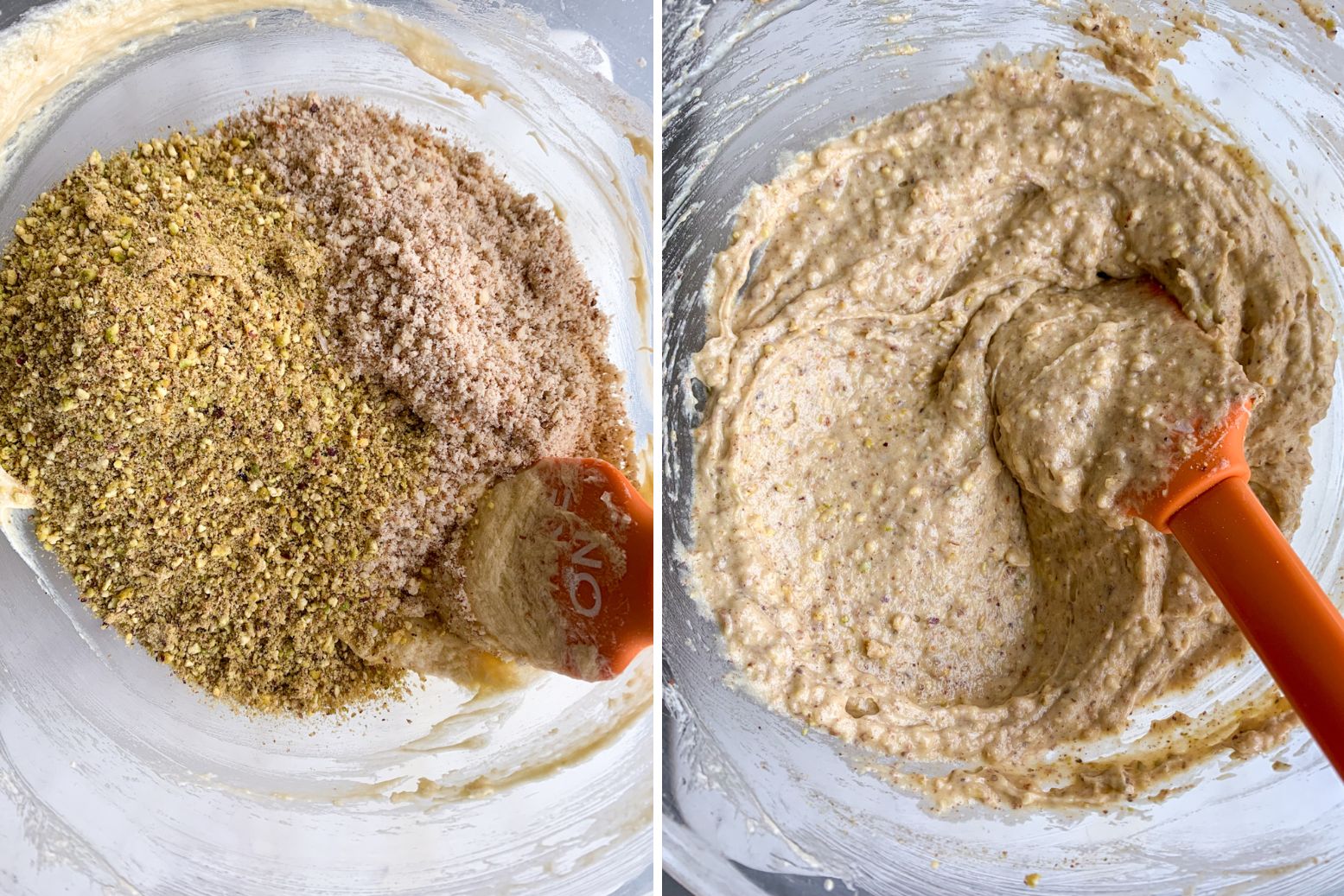 The cake is on the denser side as any almond cake would be, but super tender, moist and so flavourful! The orange is subtle but tastes lovely and despite all the nuts, it's not an excessively heavy cake which means you can eat more, yay. It comes together quickly but takes a little time to bake, about 50 minutes so plan accordingly.
While grinding the almonds and pistachios, some slightly larger bits are likely to remain. But they add a nice texture and crunch to the cake, so don't worry about leaving them out. In fact, make sure you're not grinding them to the point of turning them into nut butter!
I loved this cake still slightly warm from the oven or at room temperature. It reminded me of Indian halwa in cake form, which I never thought I'd say, but I promise it's a good thing!
Let's get baking!

Almond & Pistachio Cake
A fragrant loaf cake with ground almonds, pistachios and orange juice!
Author:
The Desserted Girl
Ingredients
½ cup all-purpose flour
½ tsp baking powder
¾ cup finely ground almonds
¾ cup finely ground pistachios
¼ tsp salt if using unsalted butter
115 gms butter (1/2 cup)
½ cup caster sugar
Zest of 1 small lemon
2 eggs
3 tbsps fresh orange juice
3 tbsps milk
Flaked almonds for topping, optional
Instructions
Preheat the oven to 175 C. Lightly grease a 9x5 loaf tin, then line it with baking paper (leaving a little overhang for easy removal) and grease the paper as well. Set aside.

In a large bowl, sift the flour and baking powder. Add the almonds, pistachios and salt, if using. Mix well.

In a mixing bowl, beat the butter and sugar until light and fluffy.

Add the eggs and lemon zest and beat well till smooth.

Finally add the orange juice and milk. The juice will cause the mixture to curdle a little, it's all right.

Fold in the flour and nuts mixture until you have a smooth, thick, but spreadable batter.

Spoon into the prepared tin, smoothen the top, sprinkle on some flaked almonds and bake for 45 to 45 minutes or until a toothpick poked in the centre comes out with only a few moist crumbs. Rotate the tray halfway through the baking time and loosely cover the top with foil if it's browning too quickly. Since all ovens vary, start checking for doneness at 40 minutes.

Allow the cake to cool in the tin for 10 minutes, then lift the cake out using the paper overhang and set it on a wire rack. Gently peel away the paper from the sides and allow it to cool completely before slicing. Enjoy!
Notes
*Use unsalted, preferably roasted almonds and pistachios.

*I haven't tried making this cake without eggs. The eggs help give it moisture and prevent it from becoming too dense. However, you could try substituting them with about ½ cup yoghurt, or enough to make a thick but spreadable batter. Let me know how it goes 🙂
Shop this recipe!
This post contains affiliate links.