I've now started raving about smoothies as much as I do about cookies. There is either something desperately wrong with me, or this is just a part of adulting, which is slightly scary but I assume good for me.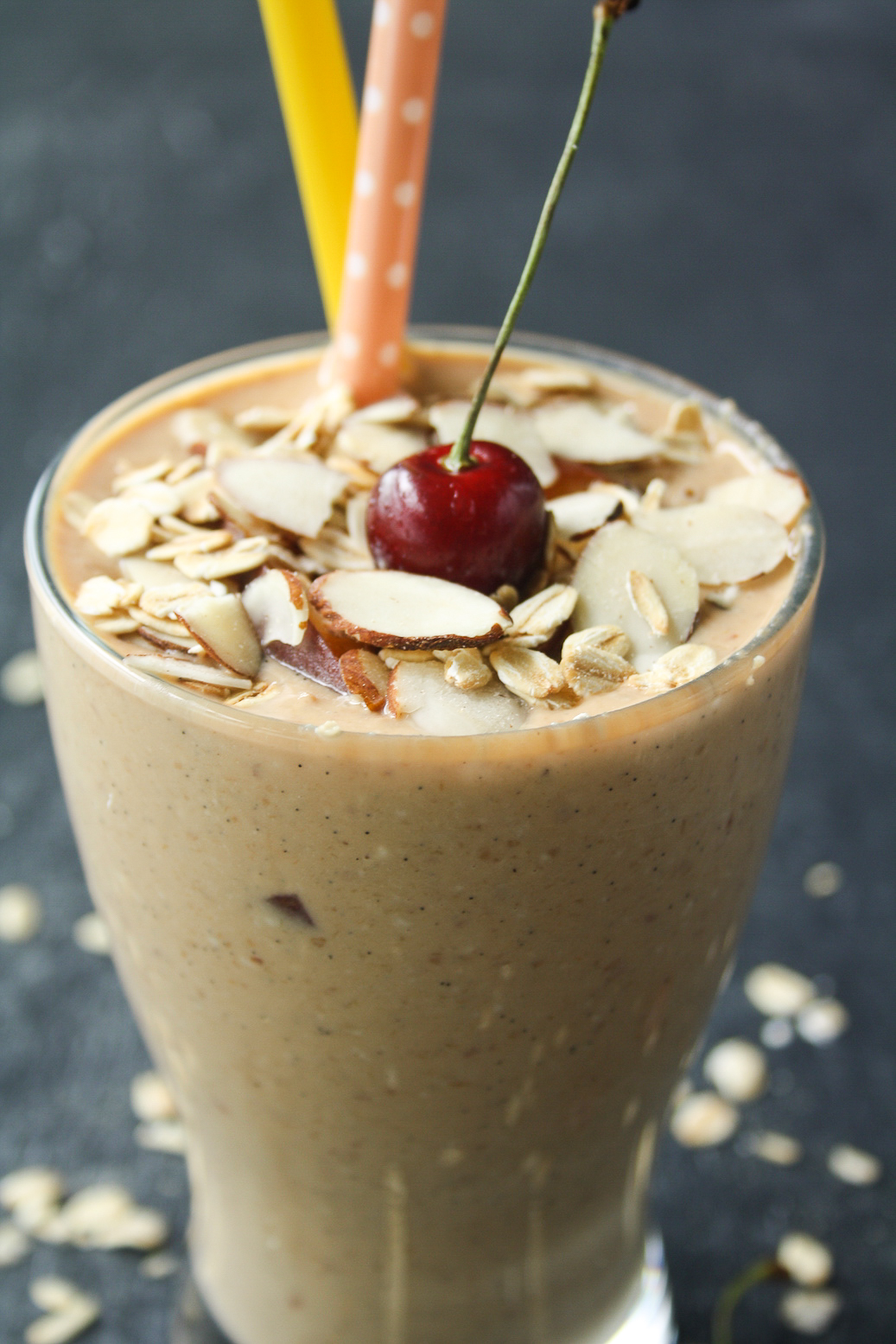 This is the smoothie you didn't know could possibly qualify as a meal in itself. Fruits, yoghurt aaaaand oats. All thrown into a blender and magically responsible for a super filling, thick, delicious drink. I'm totally serious.I've recently jumped onto the rolled oats bandwagon for the extra texture and fibre they provide over instant oats. While the distinction isn't too important for things like cookies, rolled oats are  my go-to for things like granola where you need all of that crunch and larger, non-processed oats are the only ones that can give that.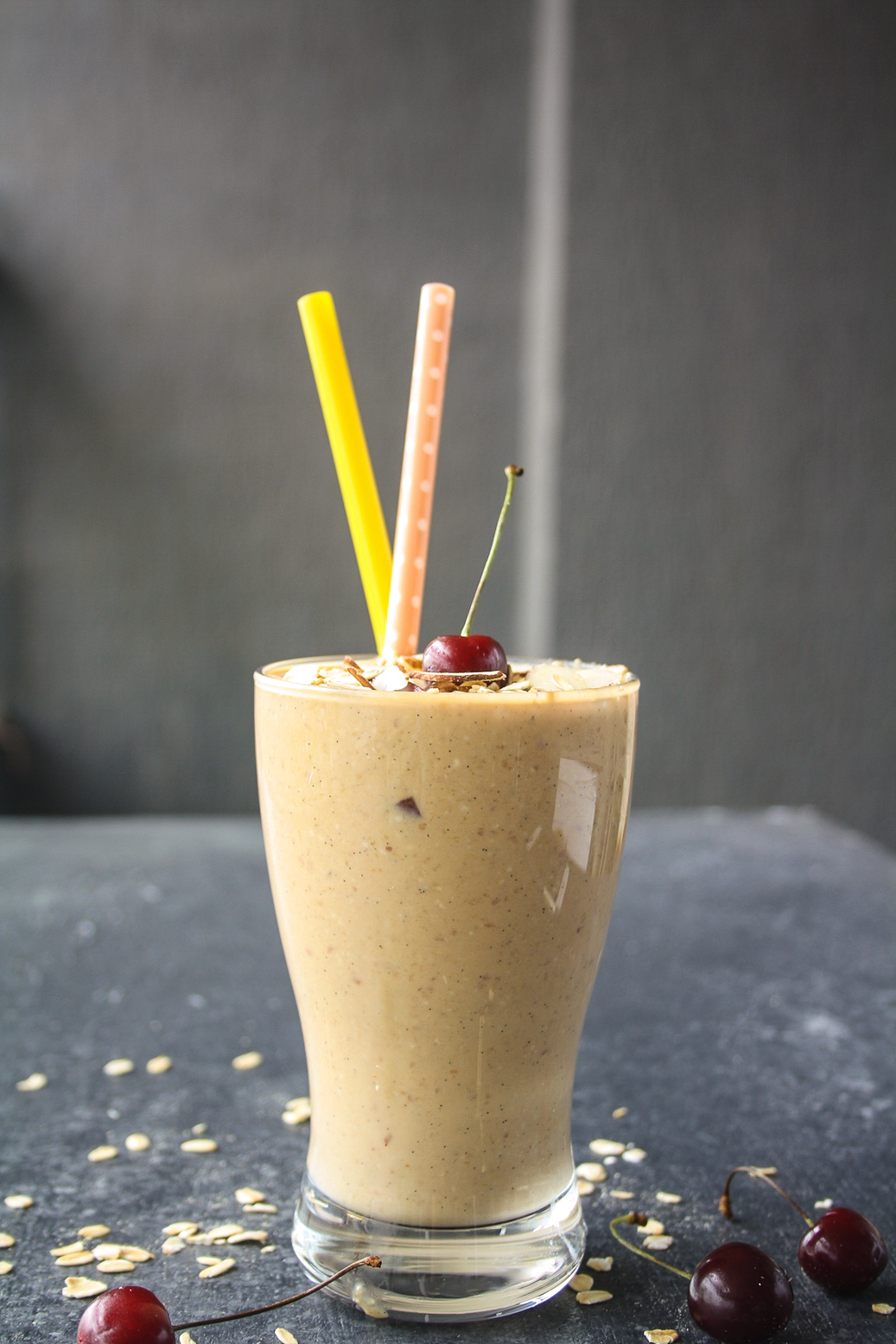 I've been seeing this whole breakfast smoothie trend everywhere and it seemed like the perfect place to start using more rolled oats. Mainly because they are more nutritious and more filling, and that's basically what this smoothie needs. I drank just about half this glass and didn't feel hungry for hours after that, in a good way!
I used fresh peaches, a handful of cherries (only because there were a few lying around, the peaches by themselves are just fine too), some vanilla powder and honey for flavour and blitzed up rolled oats. You do not need to cook them (so this is technically not 'oatmeal', just 'oats') but blitzing helped them blend in better and thicken the smoothie really well.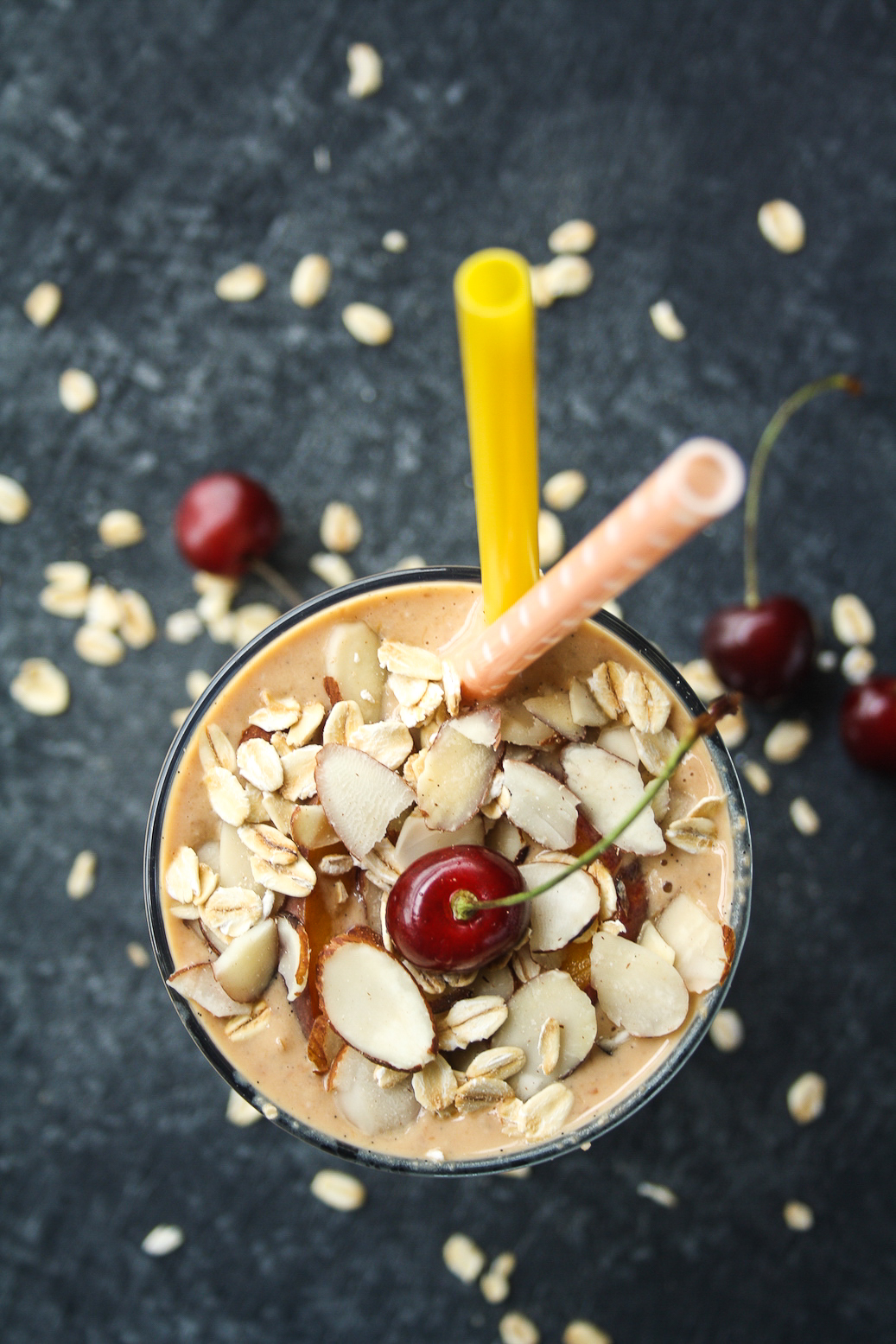 The longer it sits, the thicker the smoothie gets. It remains drinkable, but I liked using a giant spoon to get all of the little peach bits! Flaked almonds and more oats on the top add a little texture, more fibre and a lot more awesome 🙂 It's fruity, tangy from the yoghurt, rich and creamy in the best possible way. Go make this!

Peach Oatmeal Smoothie
A thick, fruity, filling smoothie with fresh peaches and rolled oats!
Author:
The Desserted Girl
Makes:
1 large or 2 small servings
Ingredients
¼ cup rolled oats
2 peaches, ripe but firm, chilled
¼ cup halved and pitted cherries
½ cup plain yoghurt, chilled
1 tbsp honey
¼ tsp vanilla powder, optional
Flaked almonds for topping, optional
Instructions
In a blender or food processor (see recipe notes), blitz the oats till they are finely ground. Transfer to a small bowl and set aside.

Pit the peaches and slice them thinly. Add them to the blender along with the cherries. Blitz until smooth. Add a spoonful of yoghurt to help move the mixture along if needed.

Once the fruits are blended till almost entirely smooth, add the remaining yoghurt, honey and vanilla. Blend very well.

Add the powdered oats and blend again. The smoothie will not be too thick at this stage. Taste and add more honey and vanilla as needed.

Transfer to a tall glass, garnish with flaked almonds and chill for 15 minutes to let it thicken, then drink up! Smoothie is best consumed on the same day itself. Enjoy!
Notes
*If you have a powerful blender, it can be used for every step. But I used my 'chutney grinder' attachment to blitz the oats and puree the fruit, then used the larger attachment to blend everything together.

*I'm sure a dairy-free milk or yoghurt could be used to make this smoothie vegan!
Shop this recipe!
This post contains affiliate links.