Coconut Caramel Bars (Vegan, Gluten-Free)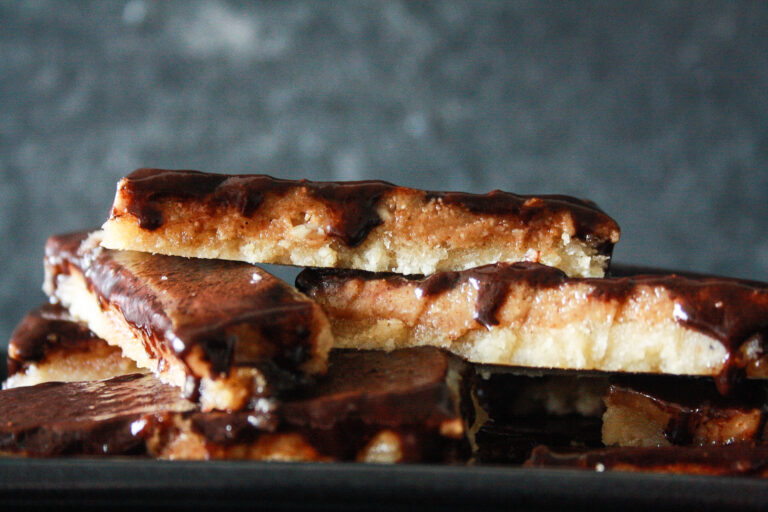 Author:
The Desserted Girl
Cuisine:
Vegan, Gluten-Free
For the crust
1 cup coconut flour
¼ tsp salt
4 tbsps honey (or maple syrup if vegan)
⅓ cup solid coconut oil*

For the caramel layer
½ cup almond butter
¼ cup honey (or maple syrup if vegan)
¼ cup coconut oil, liquid form
1 tsp vanilla
Pinch of salt salt

For the chocolate layer
¼ cup coconut oil, liquid form
¼ cup cocoa powder
2 to 3 tbsps honey (or maple syrup if vegan)
Pinch of salt
Lightly grease an 8" square baking pan and line it with baking paper. Set aside.

In a mixing bowl, mix the coconut flour and salt, then add the honey and mix till moistened and crumbly.

Add the solid coconut oil and bring the dough together, making sure you press out any lumps of oil with your fingers. Tip into the prepared baking pan, and spread firmly and evenly. It will be a thin layer. Bake for 8 to 10 minutes until the edges are golden brown. Set aside to cool completely.

To make the filling, combine all the ingredients in a small saucepan. Heat on medium until smooth and combined. Pour onto the room temperature crust. Spread evenly and chill for at least 1 hour.

Finally, mix the ingredients for the topping in a small bowl. Pour over the chilled caramel layer and tilt the pan to make sure it reaches the corners. Refrigerate for 2 hours. Slice into bars or squares as desired, the yield will vary depending on the size of the pieces. But between 15 to 20 is my estimate.

Keep the bars chilled, or preferably frozen at all times. Enjoy!
*In India, coconut oil will typically remain in liquid form at room temperature. Simply stick the required quantity in the fridge about 20 minutes before beginning and it will solidify. The idea is to have it firm enough to replicate what butter does in a shortbread crust.

*If the crust is too thin for your liking, you can double it.

*Prep-time does not include cooling/chilling time
Recipe by
The Desserted Girl
at http://thedessertedgirl.com/2017/05/14/coconut-caramel-bars-vegan-gluten-free/