Chocolate Peanut Butter Granola (Vegan/GF)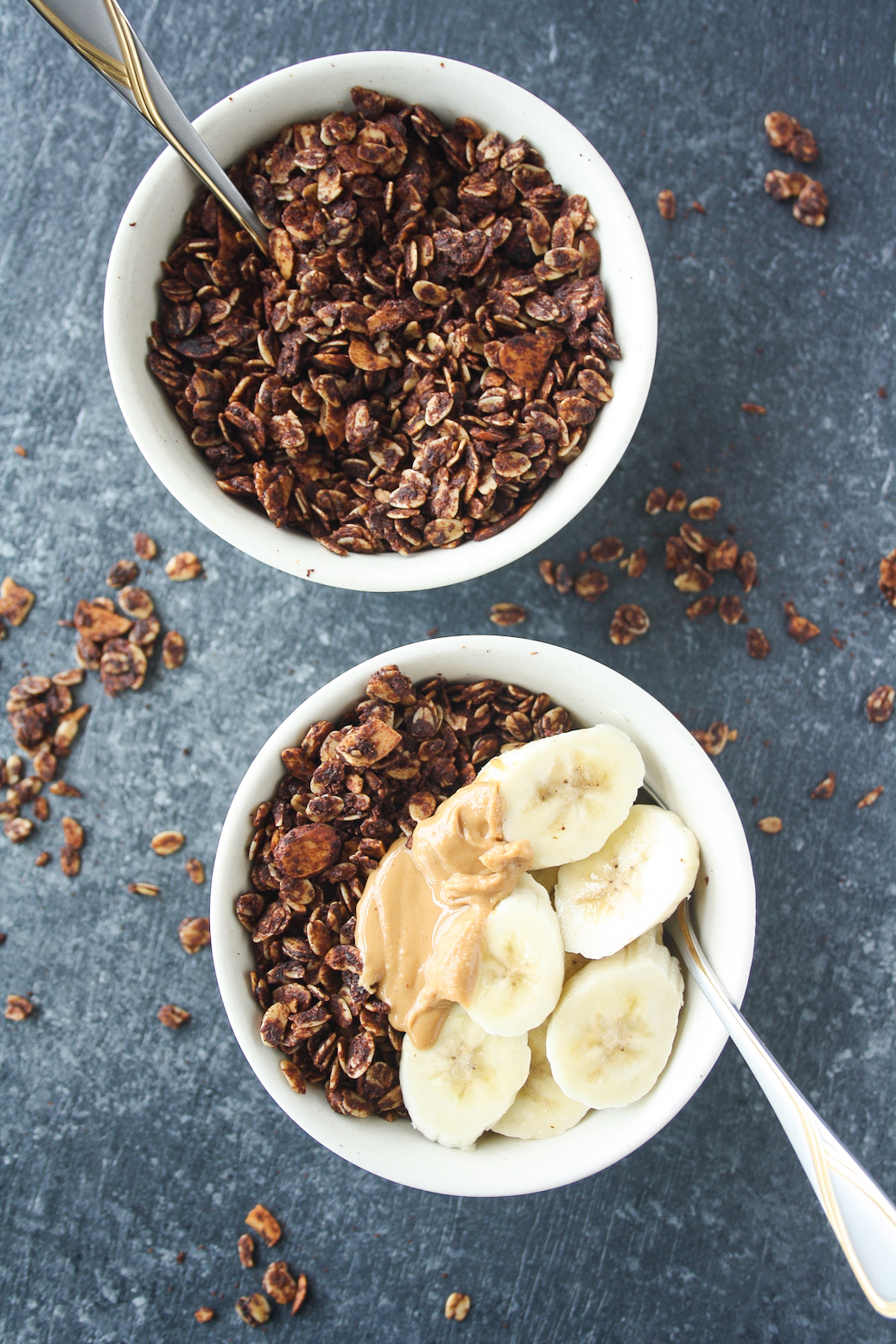 Author:
The Desserted Girl
Cuisine:
Gluten Free, Vegan
2 cups rolled oats*
¾ cup flaked almonds, or any other nuts, chopped small
¼ cup raw cacao powder / cocoa powder
1 tbsp desiccated coconut, optional
¼ tsp salt
½ tsp vanilla powder/extract*
¼ cup olive oil
¼ cup honey (or maple syrup if vegan)
¼ cup unsweetened peanut butter, at room temp
Preheat the oven to 175 C and line a baking sheet with a silicone mat or wax paper, which will prevent the honey from sticking to anything but the granola.

In a large mixing bowl, combine the oats, almonds, cacao powder, coconut and salt and vanilla powder. Mix well.

In a smaller bowl, whisk the olive oil, honey, peanut butter and vanilla (measure the oil first, so the honey slides right out of the cup). Mix well till smooth and combined, a balloon whisk helps.

Pour into the oats mixture and mix well, making sure every inch of the mixture is coated.

Tip the mixture onto the baking tray and spread it out. The idea is to have an even layer that's thick enough for the oats to do some 'clumping', but not so thick that the mixture doesn't cook. If your oven is small, bake in two batches.

Bake for 20 to 25 minutes, until the oats are crispy and the mixture has darkened. The edges burn quite fast, so make sure you stir and flip the granola twice during the baking, as well as rotate the baking tray.

Allow the baked granola to cool. As it cools, it will firm up more.

Store in an airtight jar at room temperature for a few days, or freeze for a couple of months. Eat as is, or with yoghurt, fruits, milk, anything your heart desires. Enjoy!
*By itself, this granola isn't very sweet. If you want to eat it without any fruit, you can increase the honey by 2 tablespoons. Keep in mind that too much honey will cause the granola to become too wet and not bake properly. You can also reduce the cacao powder to suit your tastes.

*If using vanilla extract, mix it in with the other liquid ingredients. Vanilla powder goes in with the dry ingredients.
Recipe by
The Desserted Girl
at http://thedessertedgirl.com/2017/08/17/chocolate-peanut-butter-granola/