My Google search has been a whole series of phrases beginning with 'hot cross buns' for about three weeks now. Hot cross bun crosses, hot cross bun spices, hot cross bun doughs, hot cross bun history. There are so many ways of making these soft, tender little treats, but it's also quite overwhelming. Eventually, I decided to go with something playing on my mind for a while. Chocolate chips and orange, all rolled up into a bun! The result is both bread-y and very dessert-like.
Let's make some hot crosses!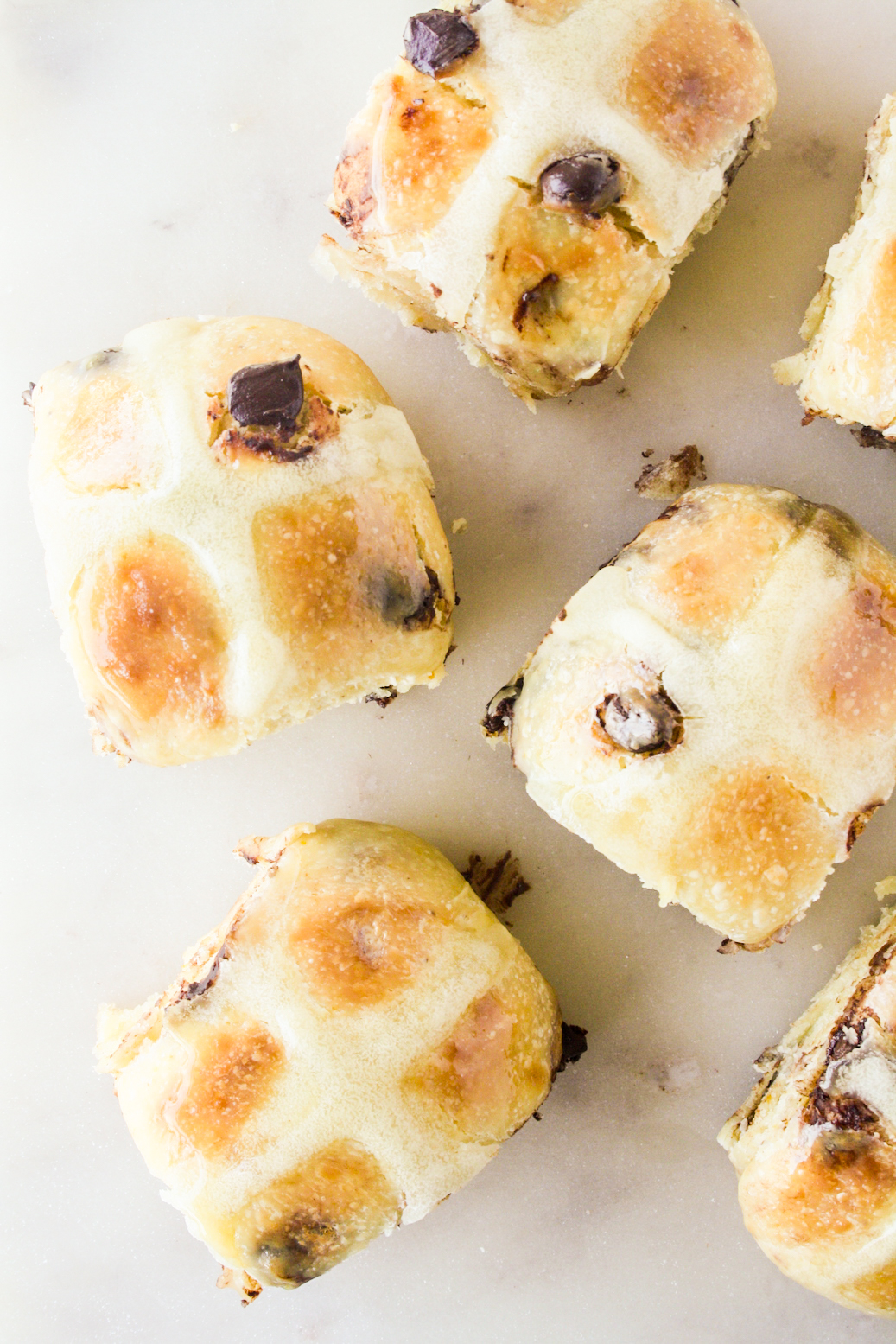 The dough for these buns is the same as the ones in these pretzel rolls, tender and fuffy every time. I added orange zest to the dough and kneaded in some chocolate chips just before the second rise. The combination is unbelievable! Traditionally, hot cross buns are made with spices and mixed dried fruit. If this sounds more up your alley, go for it.
For the crosses, I used a more conventional, lightly sweetened flour and water paste, rather than an icing sugar frosting piped on after the buns are baked. You can honestly go either way, because hot cross buns have evolved so much from what they initially were. The paste I made was a little runnier than it should have been, so the crosses are a bit pale, but what I discovered worked well, was to reserve a little of the paste, and when the buns are halfway done, pipe the crosses on again like a 'finishing touch'.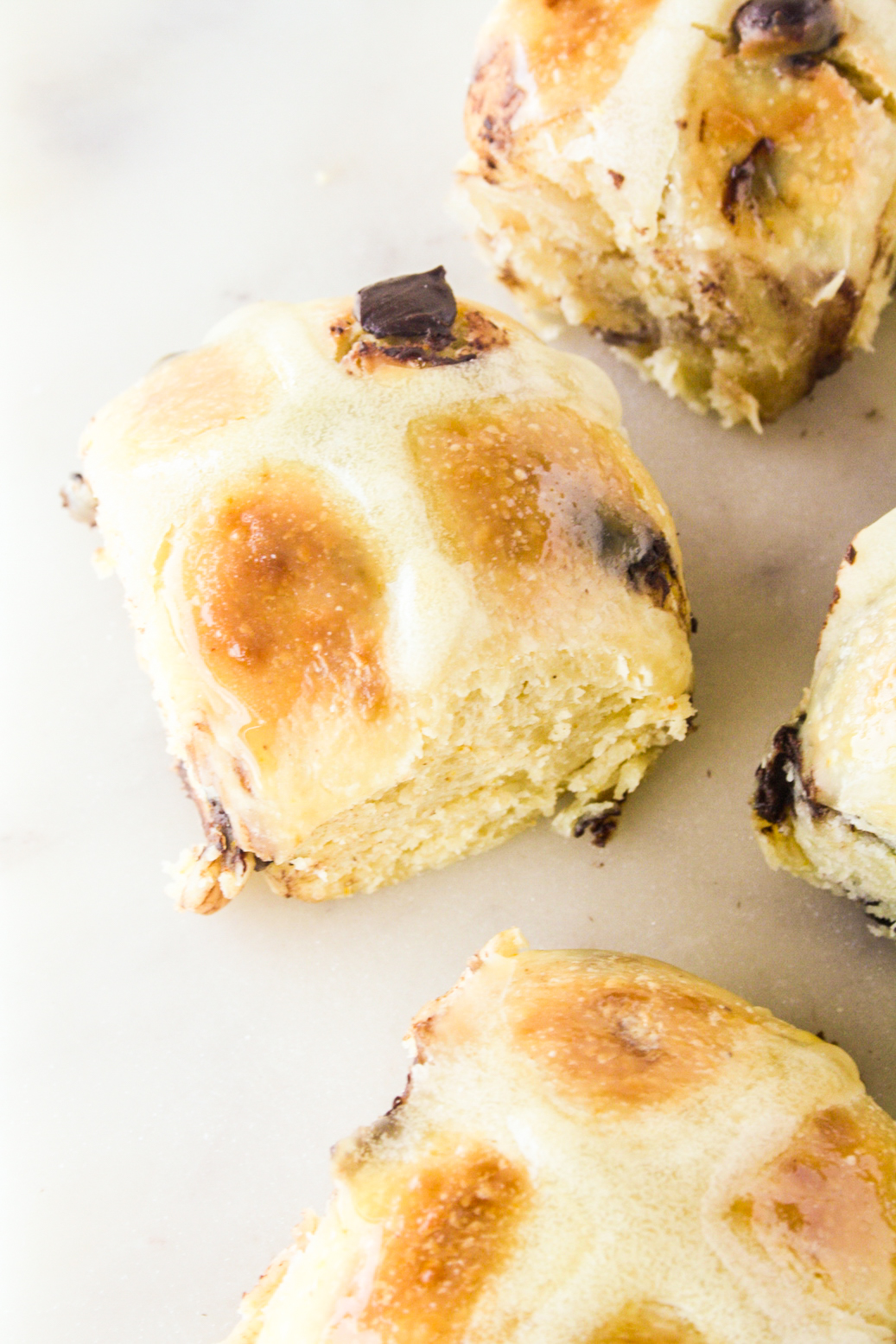 The baked buns are usually finished off with either a sugar syrup or melted jam, for a shiny glaze-like coating on top. I skipped this, preferring the buns as they were, but a quick brush of melted butter is also delicious. They are amazing slightly warm from the oven. The next day, they'll be even more delicious toasted although watch out for the chocolate chips melting everywhere. They are the perfect cross between breakfast and dessert, yay!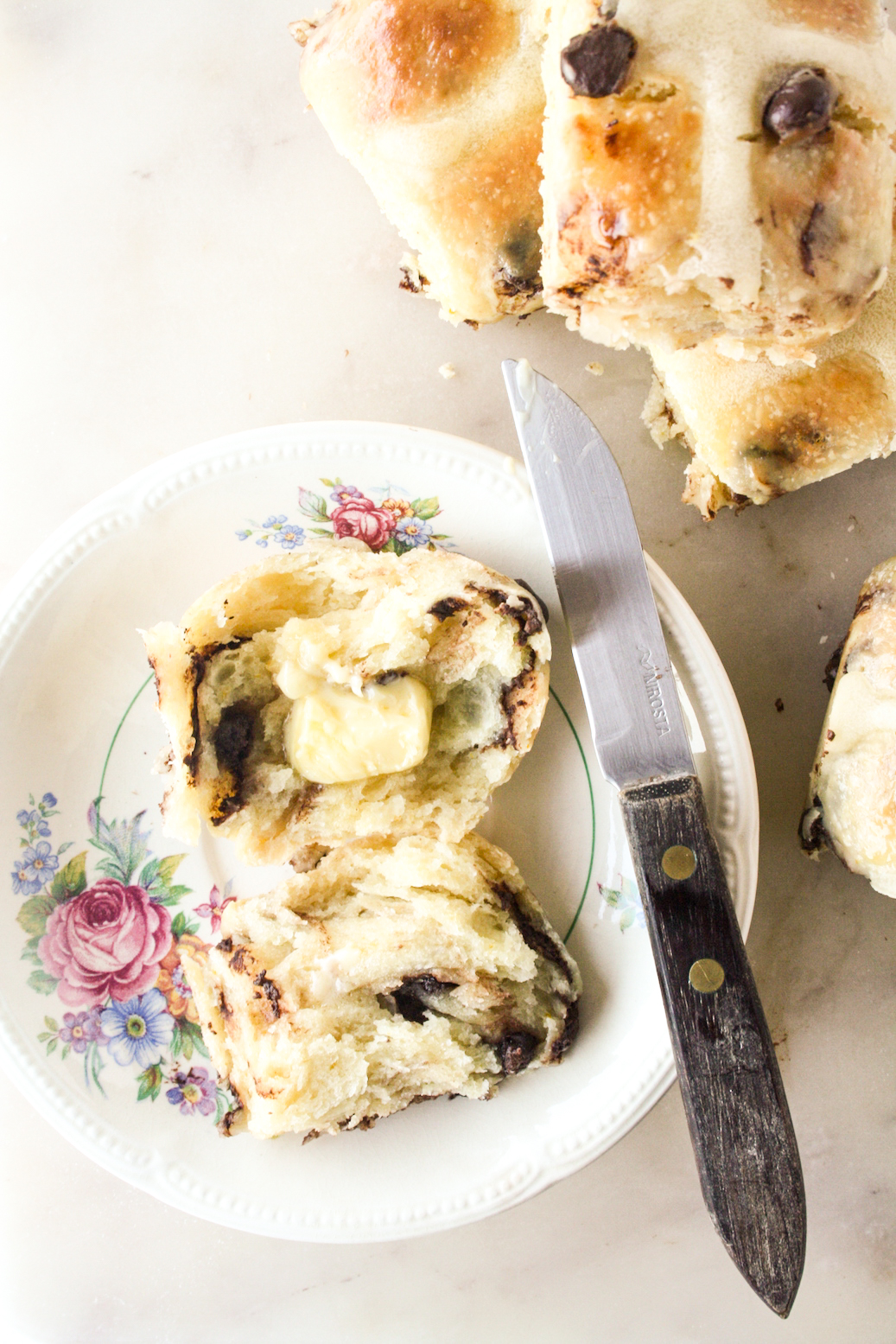 The orange adds a burst of freshness to the buns and makes them extra special. Chocolate is…well, always good! I hope you'll make a batch soon 🙂

Chocolate Chip & Orange Hot Cross Buns (Eggless)
Soft and buttery hot cross buns with orange zest and chocolate chips
Author:
The Desserted Girl
Ingredients
For the dough
¾ cup + 2 tbsps whole milk
3 tbsps caster sugar
1 and ¼ tsps active dry yeast
3 tbsps melted unsalted butter (40 gms)
Zest of 2 oranges
2 cups all-purpose flour, plus more for sprinkling
1 tsp salt
⅓ cup dark chocolate chips
1 tbsp cream + 1 tsp water

For the crosses
2 tbsp all-purpose flour
½ tbsp sugar
½ tbsp to 1 tbsp water
Optional: melted butter to brush on the rolls at the end
Instructions
Heat the milk and sugar together in a small bowl until the mixture is warm, but not hot. You should still be able to comfortably dip a finger in it. Stir in the yeast and cover the bowl with clingfilm. Let it rest for 5 to 10 minutes, until the yeast has almost completely dissolved and the mixture is frothy.

In the meantime, add the butter to the bowl of a stand mixer. Give it a quick stir, then pour in the yeast mixture. Add the orange zest, flour and salt and stir again. Now bring the dough together then knead with the mixer's dough hook (low to medium speed), till you have a soft, smooth, slightly sticky dough. This will take about 5 minutes. Add 2 to 3 tablespoons of extra flour as needed but don't worry if the dough is still slightly sticky by the end of it. If you poke it with a finger and it bounces slowly back, it's ready.I've also made this dough entirely by hand in a large mixing bowl, and it's quite effortless, so if you don't have a mixer, no problem!

Lightly oil a large bowl (I just use the mixing bowl itself), place the dough in it and turn it around to coat all sides. Cover with clingfilm and let it rise at room temperature for 1 to 2 hours, until doubled in size. If you need to speed up the rise, turn your oven to 100 C for a few seconds, turn it off, then place the covered bowl inside.

Turn the risen dough out onto a floured kitchen counter or silicone baking mat (recommended for warm kitchens). The dough will be smooth, stretchy and not sticky anymore. Pat it down into a rough rectangle shape and sprinkle the chocolate chips all over it. Gently knead them into the dough, folding and rolling it as you need, to make sure the chips are completely dispersed within it. The dough will be a little warm so some of the chips may melt a bit. Therefore try not to work the dough too much.

Divide the dough into ten equal portions and roll them into rounds, by bringing the sides of the dough up and pinching them together. When you flip each portion of dough around, the top should be smooth.

Place each in a lightly greased 8x4 rectangular baking dish. It's ok if they stick to each other. Cover with clingfilm again and let them rise for 1 hour.

Preheat the oven to 190 C. Make the paste for the crosses by combining the flour and sugar in a small bowl. Then add ½ tablespoon of water and stir to make a thick paste of piping consistency, adding another ½ tablespoon of water only if needed. Transfer the paste to a piping bag or bottle fitted with a narrow tip.

Combine the cream and water in a small bowl. Uncover the buns and brush the thinned out cream over the tops. Finally, pipe crosses onto the buns and save any leftover paste.

Bake for 25 to 30 minutes until the buns have lightly browned tops. If you want some extra colour, turn your oven to the broil setting at 150 C for 2 to 3 minutes. Halfway through the baking time, if you feel the crosses are too pale or are melting a bit, take the dish out, and pipe the leftover paste onto the crosses again, like a finishing touch. The final result is a lot clearer this way.

Once baked, let the buns cool for 10 minutes, then remove from the pan and let them cool further on a wire rack. Dig in while they're still slightly warm and if you like, brush the tops with melted butter! They will keep in an airtight tin at room temperature for about 2 to 3 days, after which they're best in the fridge. Happy baking 🙂
Shop this recipe!
Check out a full list of my baking essentials here!
This post contains affiliate links.