If I had the metabolism of the Gilmore Girls, there would be many many many more pop tarts around these parts. The thing is, until I watched that show, I'd never heard of them. It turns out, a pop tart is a small pie, available by the box in most stores, filled with anything from brown sugar to jam. There is also of course, a sugary glaze or frosting, without which the whole point of eating a processed baked good from a box is defeated. Then, like Rory and Lorelai, you 'pop' one in the toaster, and that's breakfast along with a bounce-off-the-walls strong cup of coffee. There's a reason those two talk as fast as they do, and are fictional. (On a related note, if you're not familiar with the show, your Netflix binge needs to begin NOW NOW NOW.)
Soooo if the starting point is pie, why not make pop tarts at home? The ingredients will be familiar and classic, without a long list of preservatives and things. Yes, there is butter and sugar of course, but I like pie, and therefore I like anything to do with pie. I decided I wanted to make these similar to these hand pies, but rectangular to imitate the classic shape of a pop tart. Along with a very easy blueberry filling, and a sugary, tangy, sweet-sour lemon glaze. The glaze is pink, and there's funfetti because if we're making homemade junk food, we do it right.
Every bite is packed with a buttery, flaky crust, juicy berries and that dreamy glaze that hardens into a sugary dental nightmare. 100% worth it.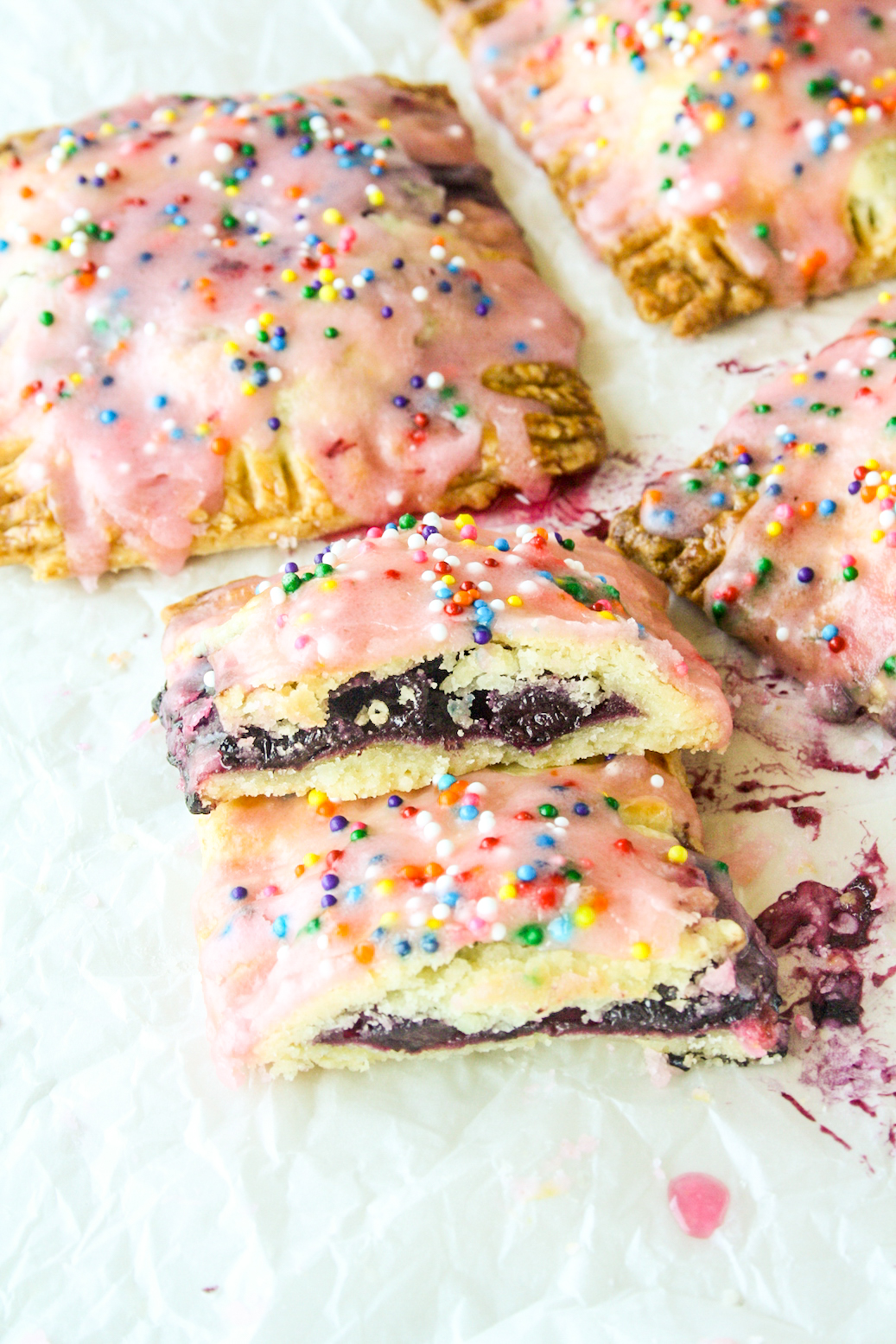 I definitely chose the wrong season in which to play around with pie crust. In the Indian summer, butter melts quickly, dough softens quickly and patience disappears quickly. That is one reason I made a small-ish batch of 6 pop tarts, so that there's lesser dough to fiddle with. That and of course, I can't be trusted around a big batch.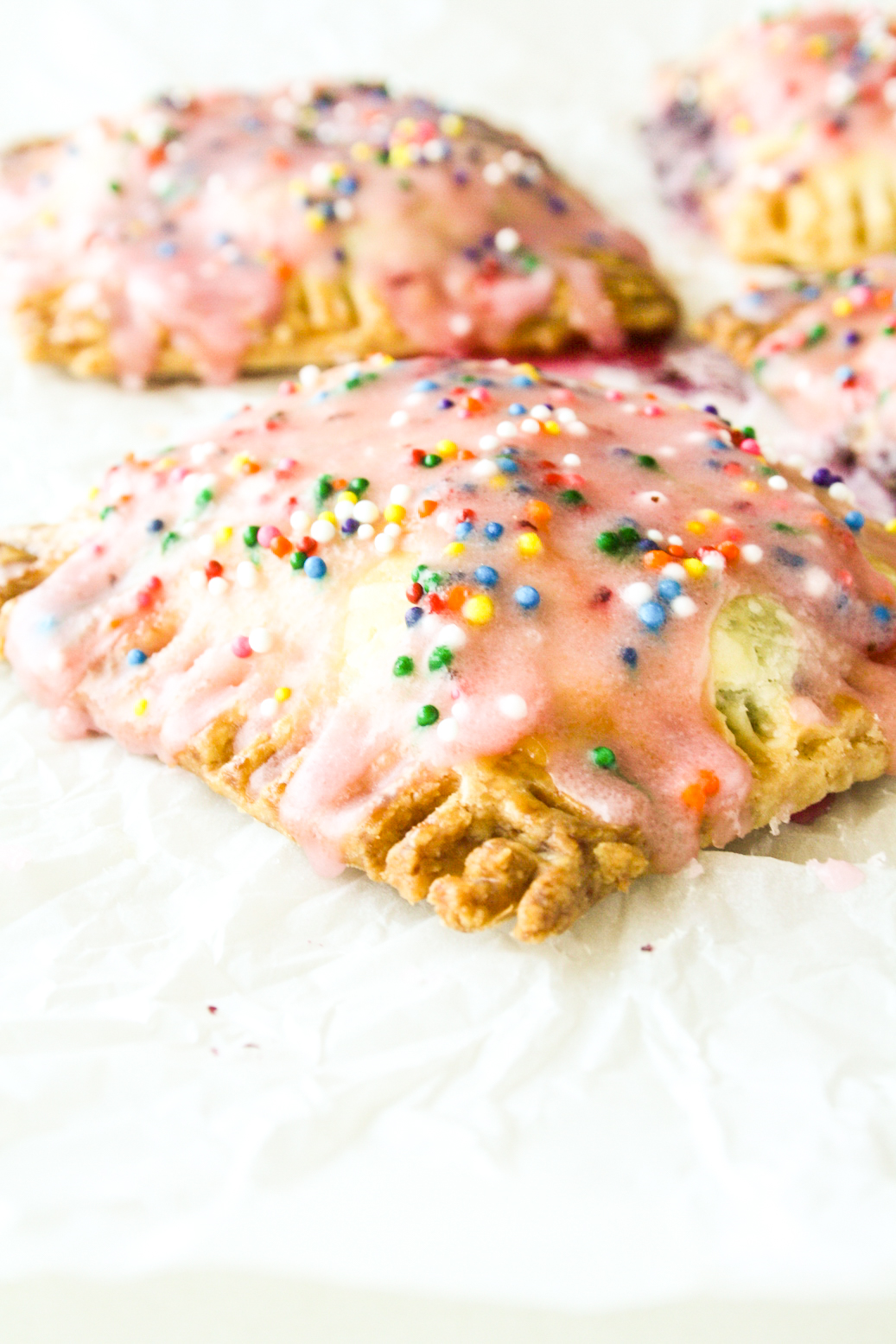 Making pop tarts is however, not difficult. It's just a matter of rolling out your pie crust, slicing it into pieces, filling and baking. Yes, that's a bunch of steps, but none of them are hard. The thing to remember is constantly chill the pie crust at different stages. After rolling, after slicing, before filling and before baking. This makes it easier to move the individual pop tarts around and they bake up flakier and lighter if they're cold going into the oven.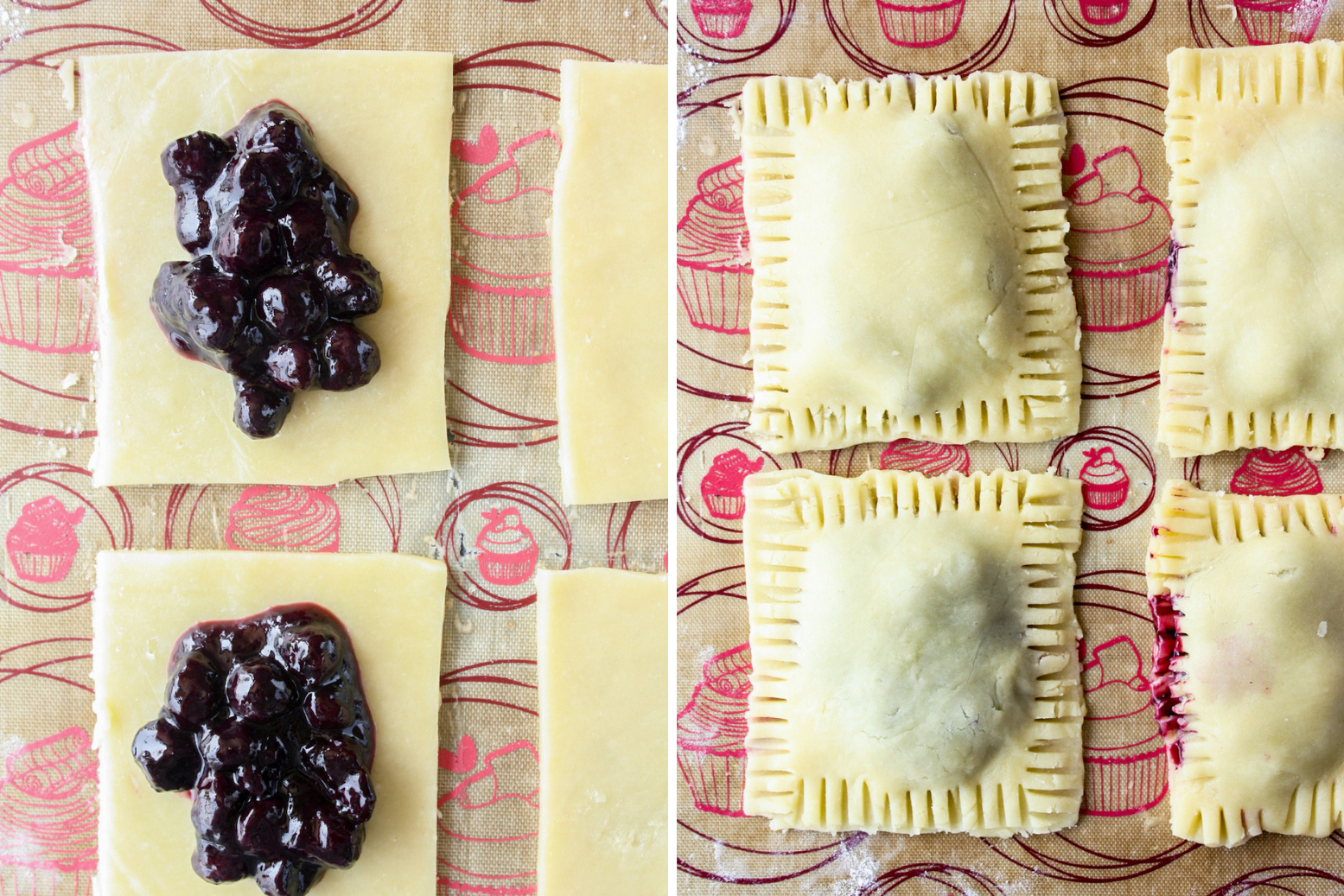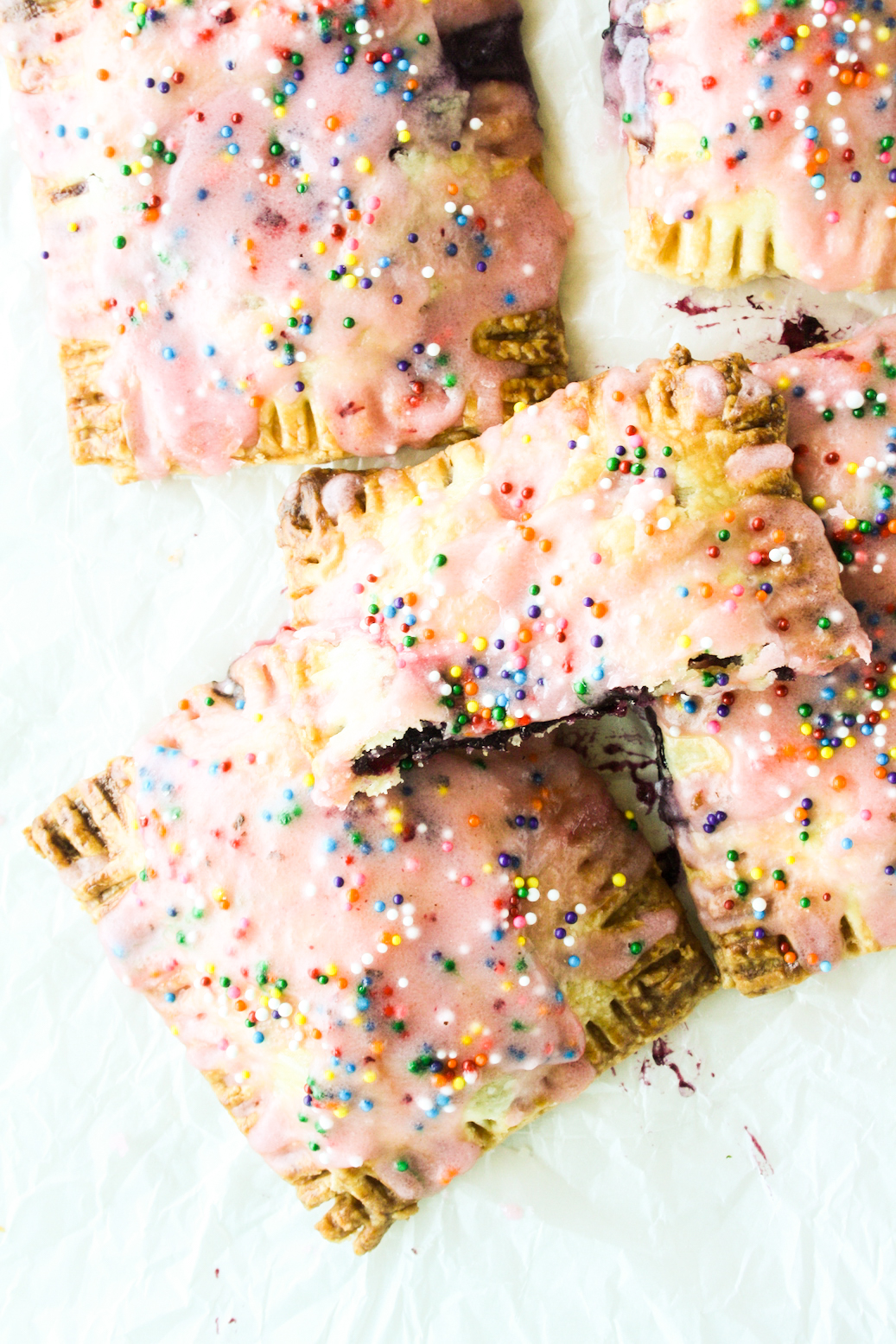 Also make sure the filling is thick enough to hold up while baking, because unlike a big fruit pie, poking slits in the top of these small pop tarts to act as 'steam vents' only causes the juice to ooze everywhere and the glaze to fall into the slits later on. So make sure you're not filling your pop tarts to the point of bursting, your filling is nice and thickened and cold, and if a few small cracks appear, that's ok, the filling may leak out a bit but is still more under control than intentionally creating slits on top.
The pop tart on the top left vs the one on the bottom left: The first one has a slit that I cut into the top to prevent any filling explosions, but the end result with the glaze was far better in the second one, that didn't have any slits cut into it. Even though some cracks appeared while baking, the pop tart was more structurally sound and accommodated the filling and the glaze easily.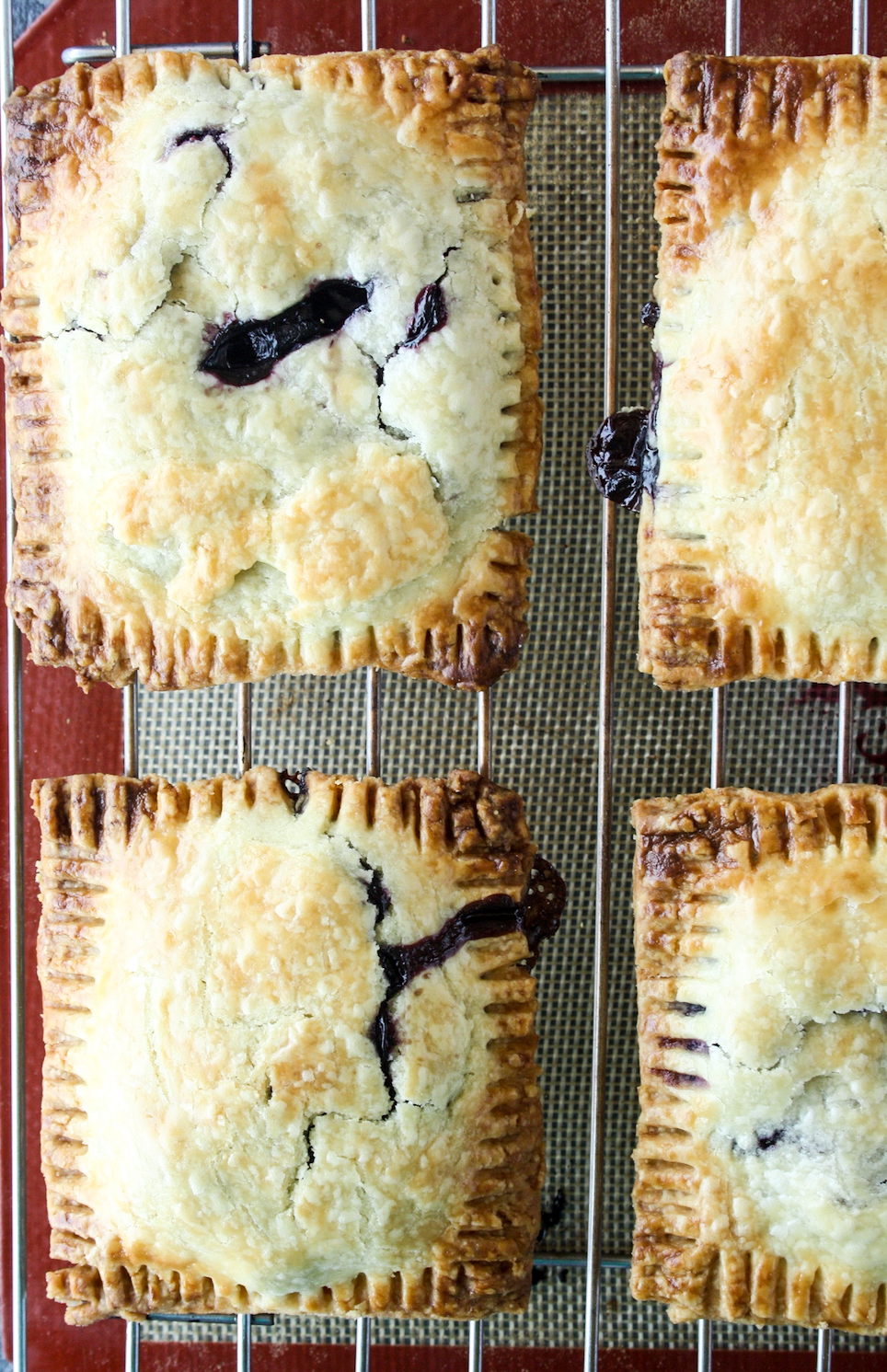 Remember that if a sugary glaze scares you and you chose to omit it, that's absolutely fine as long as you increase the sugar in the pie crust. Without that, the pop tarts are just barely sweet. The recipe below has more tips and pointers and I know it looks long but I've just been a little extra detailed! Have fun making these 🙂 Oy with the poodles already!

Blueberry Pop Tarts with Lemon Glaze (Eggless)
Buttery, flaky pop tarts with blueberry filling and tangy lemon glaze
Author:
The Desserted Girl
Ingredients
For the pie crust
1 and ¼ cups all-purpose flour
2 tbsps caster sugar
½ tsp salt, if using unsalted butter
½ cup cold butter, cubed (115 gms)
1 to 2 tbsps ice water
1 tbsp cream + 1 tsp water to brush on top

For the filling
200 gms frozen blueberries (do not thaw / you could also use fresh)
1 tbsp caster sugar
1 tsp cornstarch / arrowroot starch

For the glaze
⅛ cup fresh lemon juice
1 cup icing sugar / powdered sugar, sifted
1 to 2 drops gel food colouring
¼ cup coloured sprinkles / funfetti
Instructions
To make the pie crust, combine the flour, sugar and salt, if using, in a large bowl.

Using your fingertips, rub the cold butter cubes into the flour till the mixture resembles coarse breadcrumbs with a few larger bits of butter scattered through. These bits are what create a flaky dough.

Add 1 tbsp of ice water and bring the dough together. It will be soft and slightly wet. Only if it feels dry, add the 2nd tablespoon of water.

Form the dough into a rough ball, place on a large piece of clingfilm and pat into a ¾th inch thick disc. Wrap tightly and refrigerate for at least 2 hours. This dough can be chilled or frozen longer, as long as its softened at room temperature for a few minutes before rolling. Since it's now so warm in Mumbai, I prefer overnight chilling.

Next, make the filling because this should also preferably be chilled overnight so it's nice and thickened by the time you're ready to bake.

In a small saucepan on low heat, combine the blueberries and sugar. Stir often till the berries begin to release their juices and continue to let them cook for 3 to 4 minutes. Once the liquid is very lightly simmering and the berries have softened, sprinkle the cornstarch over and stir it in thoroughly.

Cook for another 1 to 2 minutes until the mixture begins to thicken and coat the back of the spoon. Take it off the heat and let it come to room temperature. It will further thicken as it cools. Transfer to a bowl and chill overnight in the fridge.

When ready to make the pop tarts, unwrap the chilled pie crust and cut it into two equal parts. Place one part back in the fridge. Place the other on a lightly floured silicone mat (it helps make the rolling and transferring to the fridge easier in warm kitchens, but you can also do this directly on a kitchen counter).

Roll the dough out thinly, but not thin enough that it cracks or tears. I prefer to place a sheet of clingfilm or non stick baking paper on top of the dough and then roll, so that the stickiness is minimised. Roll into a rough rectangular shape that's about 7 inches long and 5 inches wide. Then trim the edges and slice the dough into 4 pieces, about 4 inches long and 3 inches wide. These measurements are only an estimate because you may find yourself rolling the dough thicker or thinner, and it's ok to not aim for perfection. The more important thing is to make sure the pieces are all of the same size and thick enough to hold the filling.

Slide the mat onto a baking tray and place in the fridge. This makes it easier to separate the pieces and fill them in the next step. Use a second silicone mat and repeat the above step with the other half of the dough. Roll up the leftover scraps of dough as well and do the same. In all, you should be able to get 5 to 6 pop tarts, or 10 to 12 individual pieces of dough. Remember to keep chilling the dough as you go.

Now it's time to assemble! Give the blueberry filling a quick stir, it should be nice and thick. Combine the cream and water in a small bowl and keep a pastry brush ready. Preheat the oven to 180 C.

Use a thin metal spatula or knife to separate the pieces of dough and place them at least an inch apart on the silicone mat. Drop two teaspoons of the filling in the center of one piece of dough. Cover with a second piece and press down the edges to seal. Make sure there isn't too much air trapped in between. Use a fork to press down on the edges to 'crimp' them and further seal. Brush the top with the cream-water mixture.

Repeat with the remaining dough and filling. I prefer to chill the assembled pop tarts again for 10 minutes before baking so that they are nice and flaky when they're done.

Bake for 20 minutes, or until puffed and lightly browned on top and darker on the edges. If you would like more colour, bake at 200 C for an additional 2 to 3 minutes, or turn your oven to the broil setting at 150 C for 2 to 3 minutes. The filling will spread as it bakes and since there are no steam vents cut into the top of the tarts (read the post above), small cracks may appear as some of the blueberry juices escape. It's absolutely ok and delicious!

Let the pop tarts cool on the baking tray for 15 minutes. Then transfer to a wire rack to cool completely.

Now make the glaze. Combine the lemon juice and icing sugar in a small bowl and whisk thoroughly (a balloon whisk is very useful here) till smooth and thickened. Add more sugar if you would like the glaze sweeter and thicker. Whisk in the food colouring. If you use a liquid food colour, not a gel food colour, you will need a little more as it is not as concentrated as gel.

Pour the glaze over the cooled pop tarts, making sure you've placed a silicone mat underneath to catch drips and scrape off excess glaze, which can then be spooned over the tarts again. Sprinkle the tarts with funfetti. Let the tarts rest for 15 minutes so that the glaze firms up and hardens into crackly, sugary joy!

Store in the fridge in an airtight tin as in the summers, the filling will cause the tarts to soften. I actually loved them cold! They also freeze well. Happy eating!
Notes
*If you choose to skip the lemon glaze (the pop tarts are delicious even without it), increase the sugar in the dough to 4 tbsps. Avoid increasing the sugar in the blueberry filling because the sugar causes more liquid to be released as the berries cook and your pop tarts could become mushy.
Shop this recipe!
Check out a full list of my baking essentials here.
This post contains affiliate links.