I really should make this create-recipes-out-of-leftovers thing a regular trend on this blog. It turns out if you scrounge together a bunch of ingredients and toss them in a bowl, it's not always a disaster! With some almond flour and oats in hand, I decided to attempt making muffins that would be sweetened only with honey, contain a bit of olive oil and a whole lot of sweet, citrusy orange zest and juice.
Boom! So delicious, packed with so much good stuff. Ultra tender and moist and pretty much my favourite new way of eating oranges.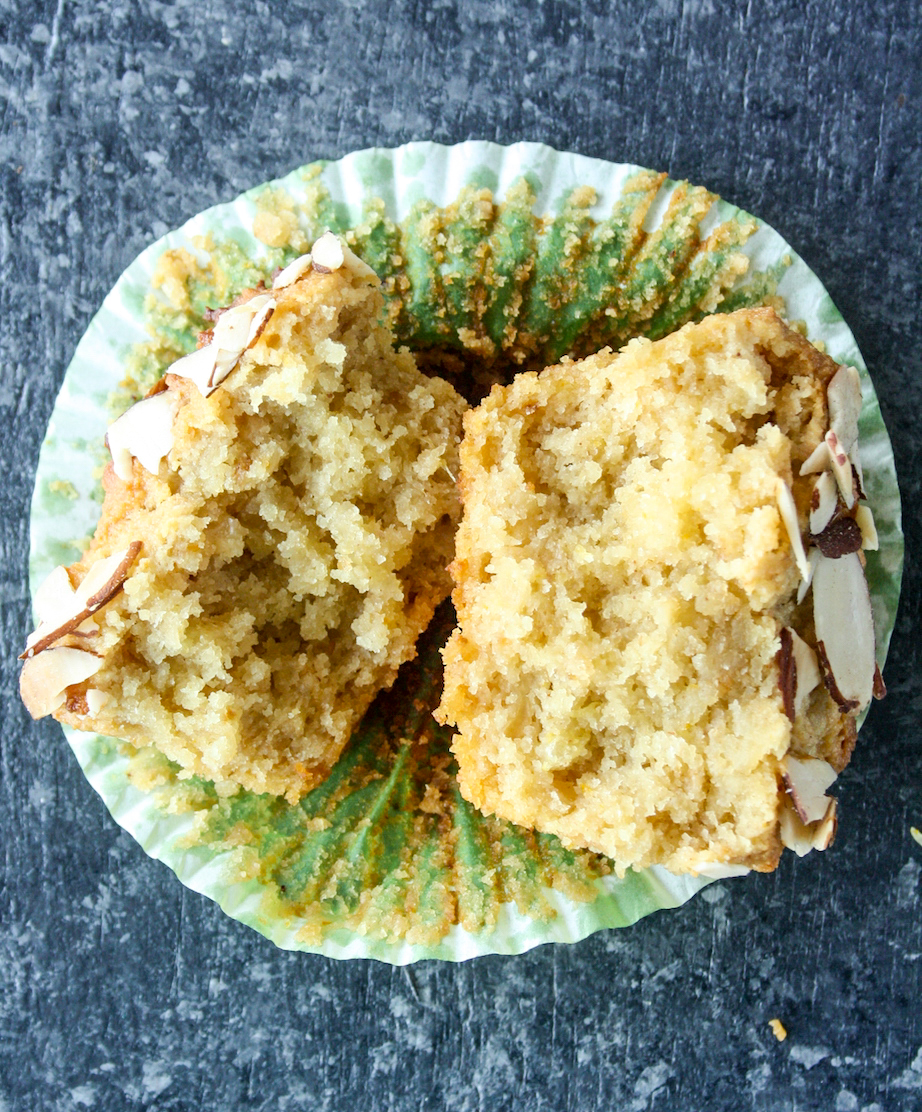 This recipe is loosely based off my banana oat bread which is also healthier than the average one, and equally delish. For these muffins, I used store-bought almond flour, but you can just grind up whole almonds at home too. The texture will vary a little, because almond flour is much finer, and homemade almond meal is coarser. No harm done though!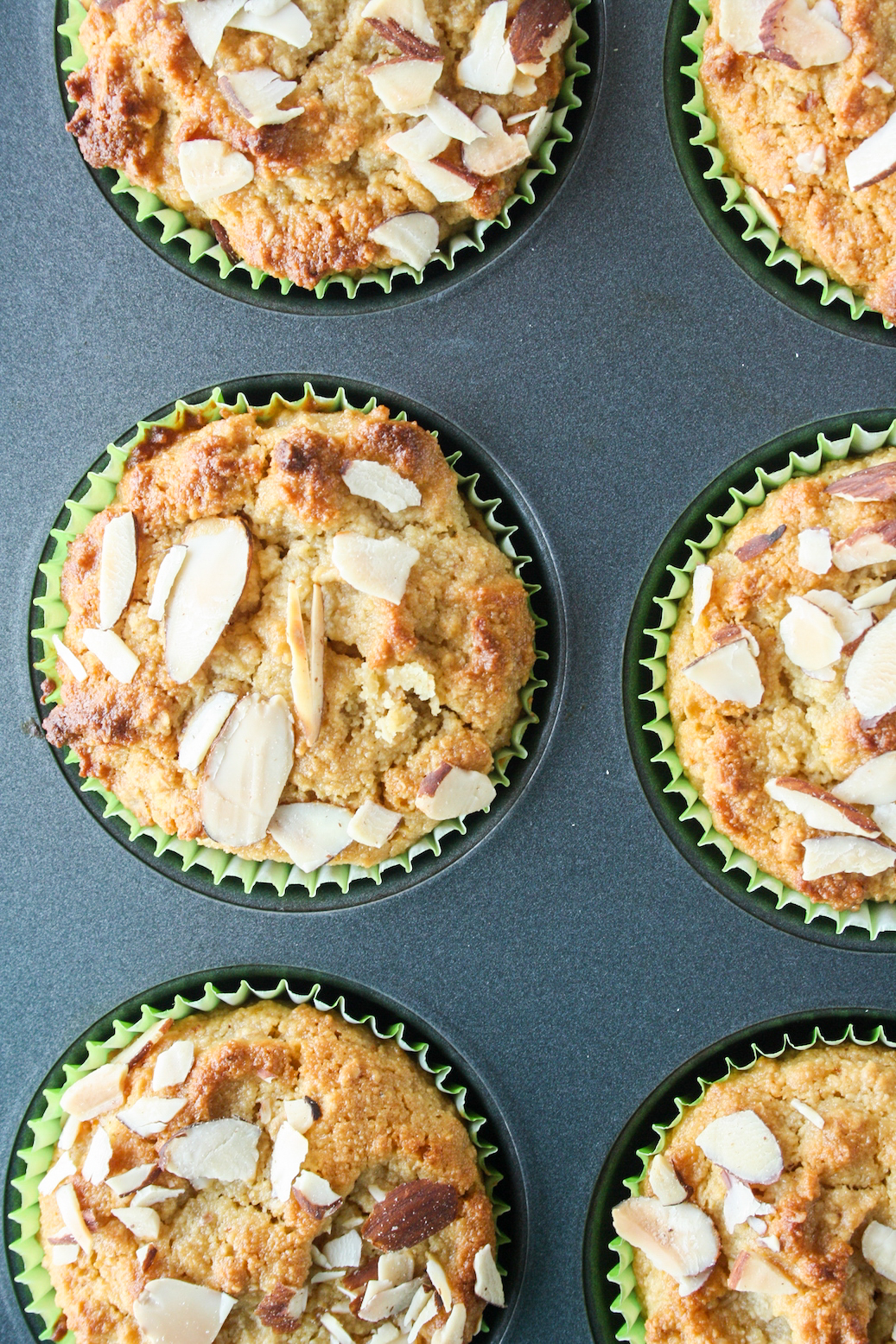 The muffins have beautifully golden-brown, crusty tops, though they don't dome very high. The texture is tender, but not super fluffy because almond flour weighs down baked goods a little bit. Instant oats act like an extra 'flour' because they're much finer and thinner than rolled oats, which are great for things like granola. These muffins are gluten free and effortlessly so!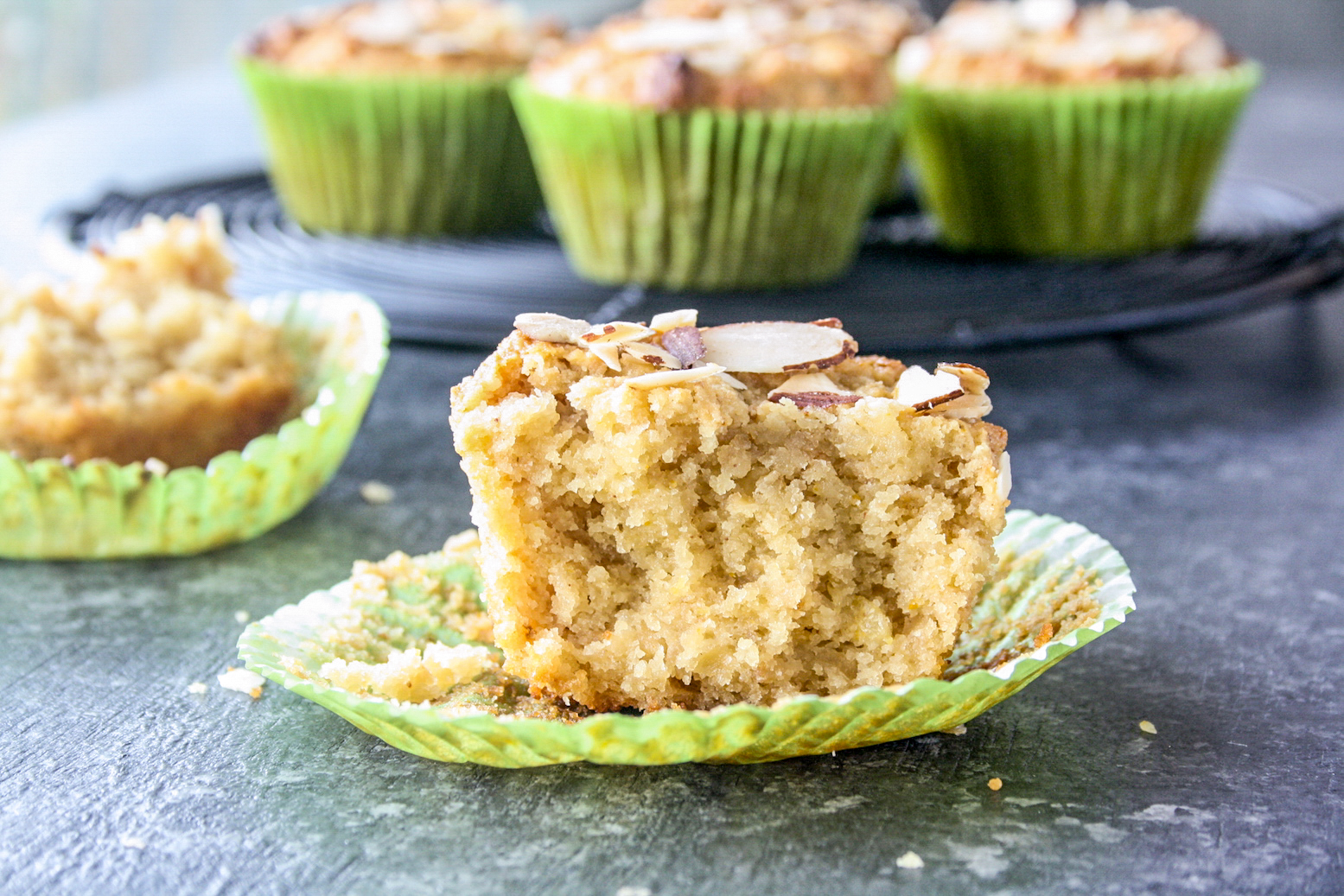 The muffins need to cool completely before you dig into them, because I found them to be a little extra moist just after baking. They dry up a little and the texture improves once they're cool. Sliced almonds on top add extra crunch of course! Highly recommended.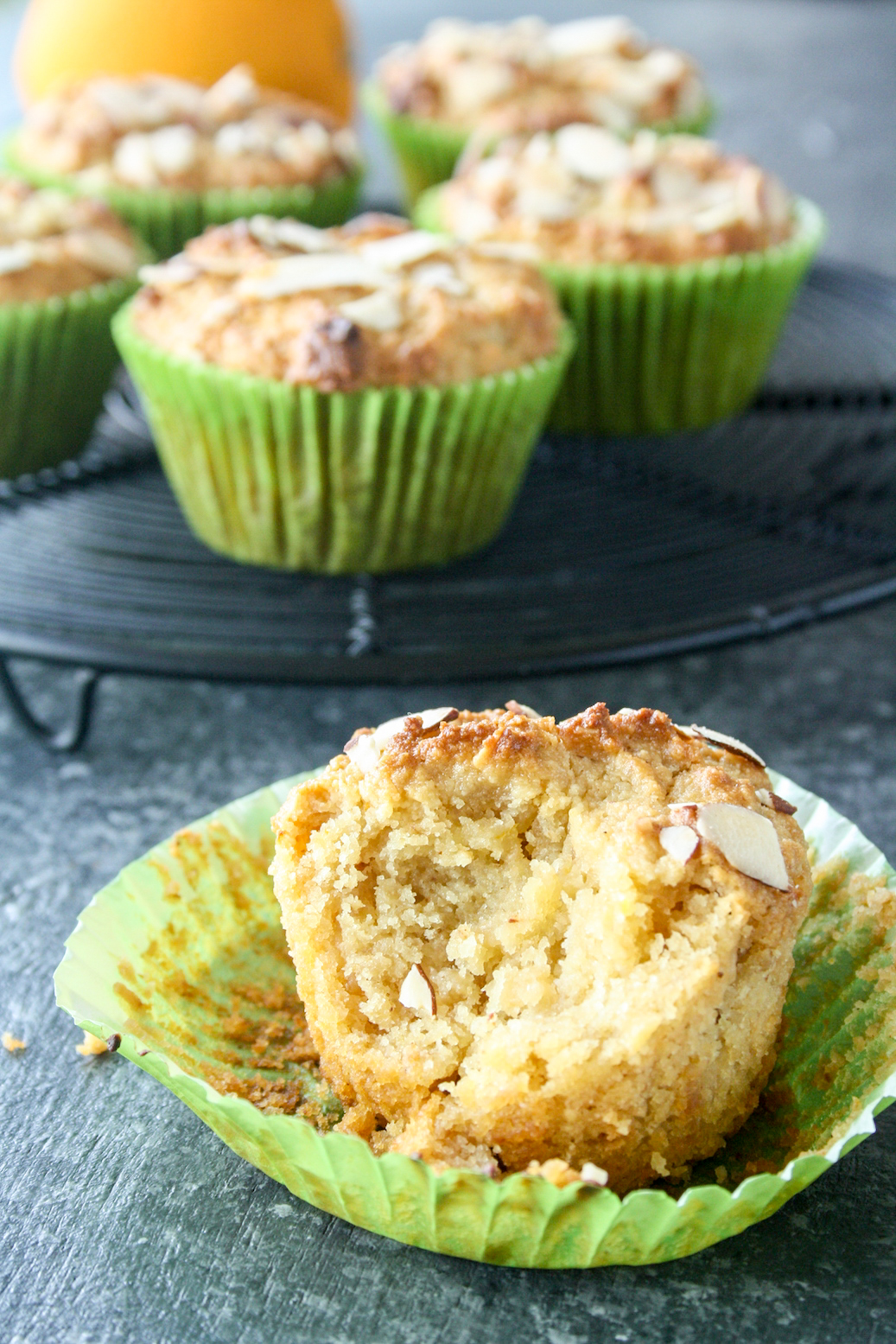 And because orange and almond is such a great combination, I plan to make these again and again and again! They're beautifully citrusy and the flavour is bright and super fresh. Make a batch today!

Healthy Orange Almond Muffins (Eggless)
Eggless almond flour and orange muffins, sweetened with honey
Author:
The Desserted Girl
Ingredients
1 and ½ cups almond flour
½ cup + 1 tbsp instant oats
½ tsp baking powder
Pinch of salt
Pinch of cinnamon powder
Zest of 1 orange
⅛ cup olive oil
½ cup + 1tbsp honey
¼ cup fresh orange juice
¼ cup + 1 tbsp plain yoghurt
Sliced almonds to top, optional
Instructions
Preheat the oven to 175 C. Line 6 muffin moulds with cupcake liners or grease the moulds.

In a bowl, combine the almond flour, oats, baking powder, salt, cinnamon and orange zest. Give it all a good stir.

In a small bowl, whisk together the honey and orange juice until combined, Then add the yoghurt and whisk again though the yoghurt may not fully combine. Pour into the mixing bowl with all the other ingredients.

Fold gently to bring the batter together. It isn't a super thick batter but should not be runny either. If you need to, add more oats or almond flour as the consistency of the batter can vary depending on the almond flour you use.

Divide equally into the muffin moulds and finish the tops with sliced almonds. Bake for 25 to 30 minutes until the tops are browned and a toothpick poked into the center of each muffin comes out with only a few moist crumbs, no wet batter.

Allow the muffins to cool completely before digging in. Store at room temperature in an airtight tin for 4 to 5 days, and in the fridge after that. Happy baking!
Notes
*You can also use finely ground almonds instead of storebought almond flour. The muffins will be a little coarser in texture, but delicious 🙂

*Use maple syrup and dairy free yoghurt to make these muffins vegan.
Shop this recipe!
Check out a full list of my baking essentials here!
This post contains affiliate links.