I think we need a giant peanut butter cup…in cheesecake form! On an Oreo crust, with the richest, creamiest peanut butter filling, topped with a silky smooth chocolate ganache, a drizzle of more peanut butter and finally, chopped up Reese's cups because we're nothing if not over the top. When we make cheesecake, we REALLY make cheesecake.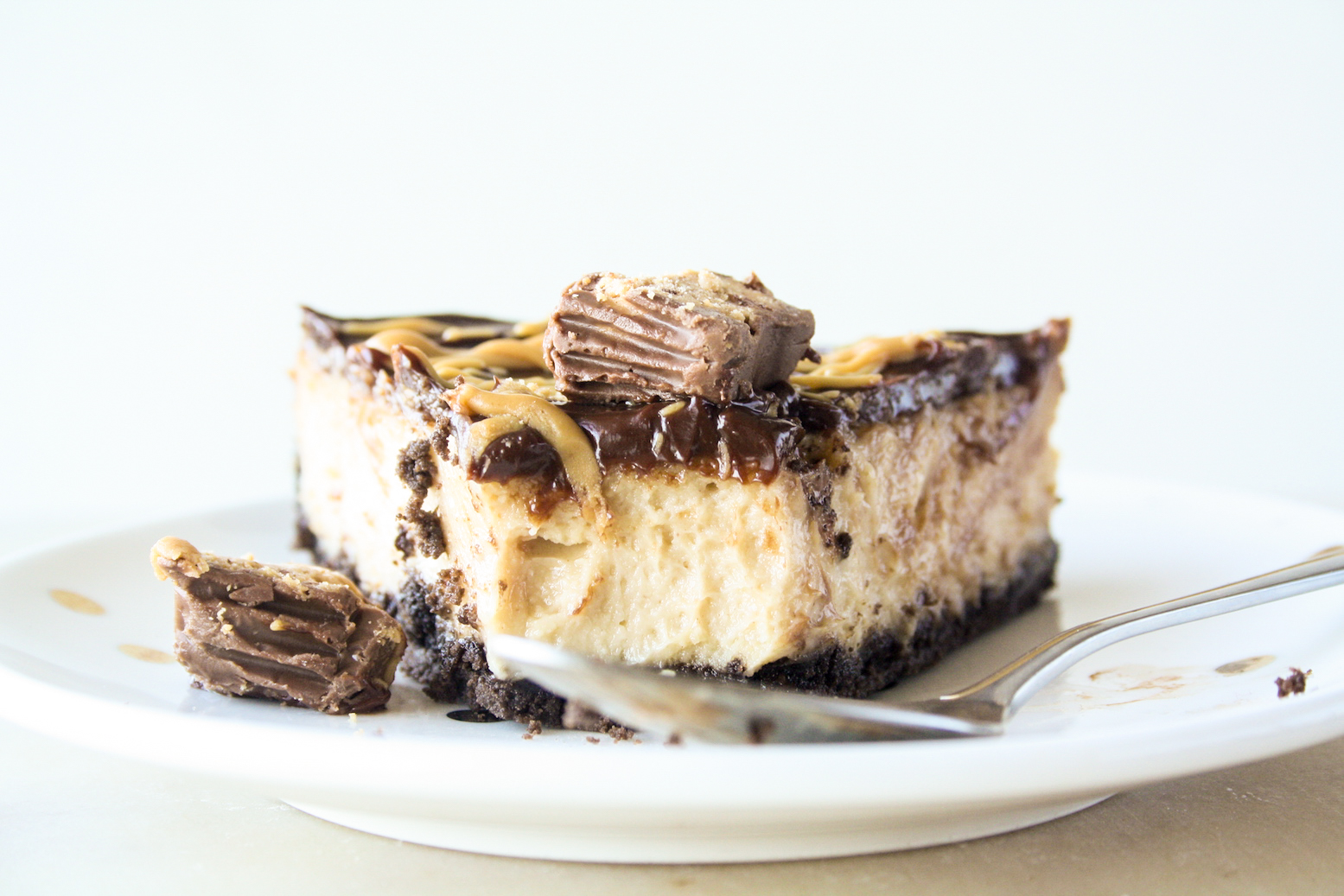 A few years ago, I did make a version of this cheesecake but it had some issues that desperately needed resolving. This is the 2.0 version of it. The filling is inspired by this Smitten Kitchen recipe, but the rest of it is far more simplified and not quite as rich. It's also a smaller cake, that still makes 8 to 10 very generous servings.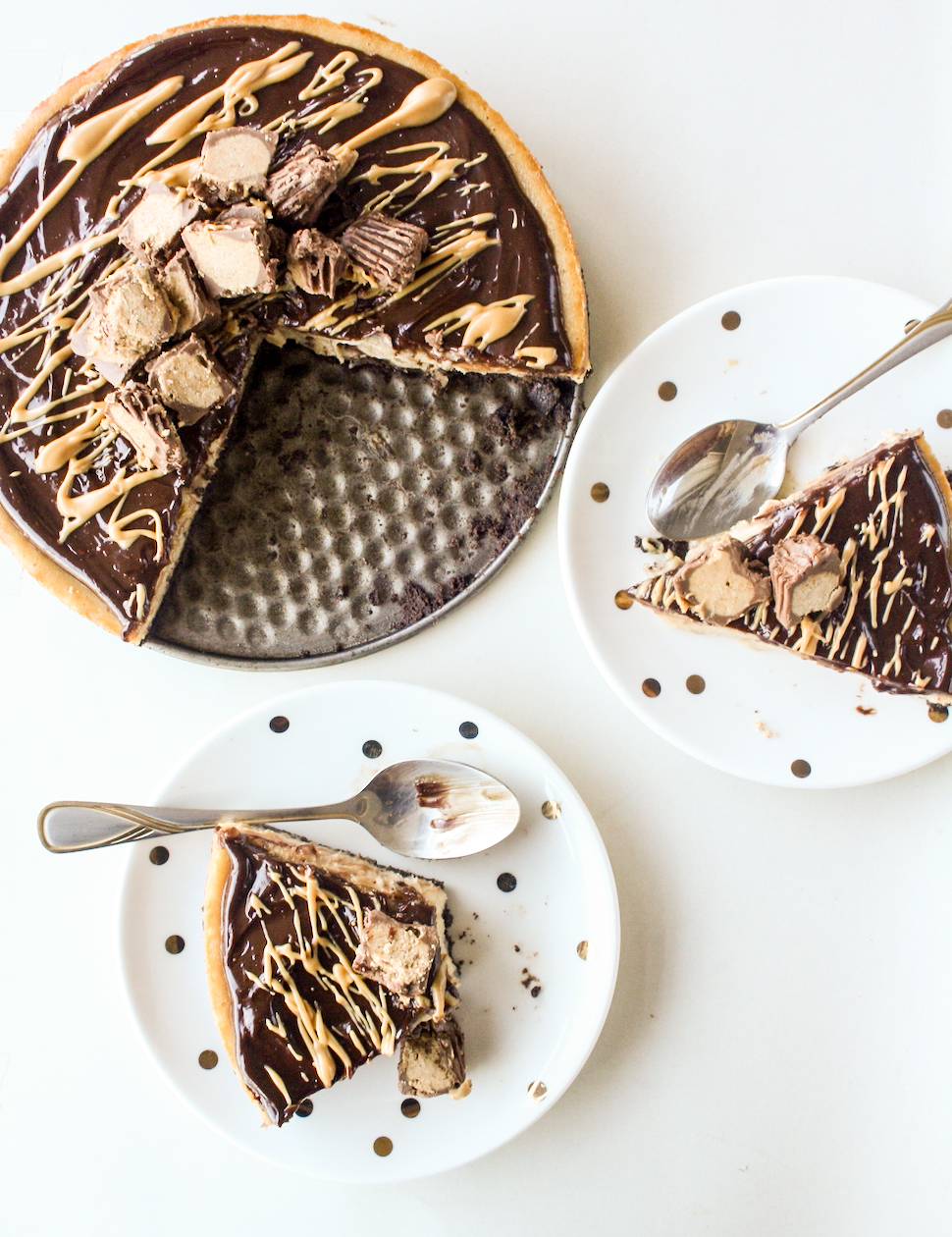 The filling is at once tangy, sweet and peanut-y. It goes so well with the dark chocolate ganache sitting on top, and the buttery Oreo crust below. If you were to use peanut butter stuffed Oreos here, I applaud you. If I'd been able to get my hands on them, I'd be applauding myself right now!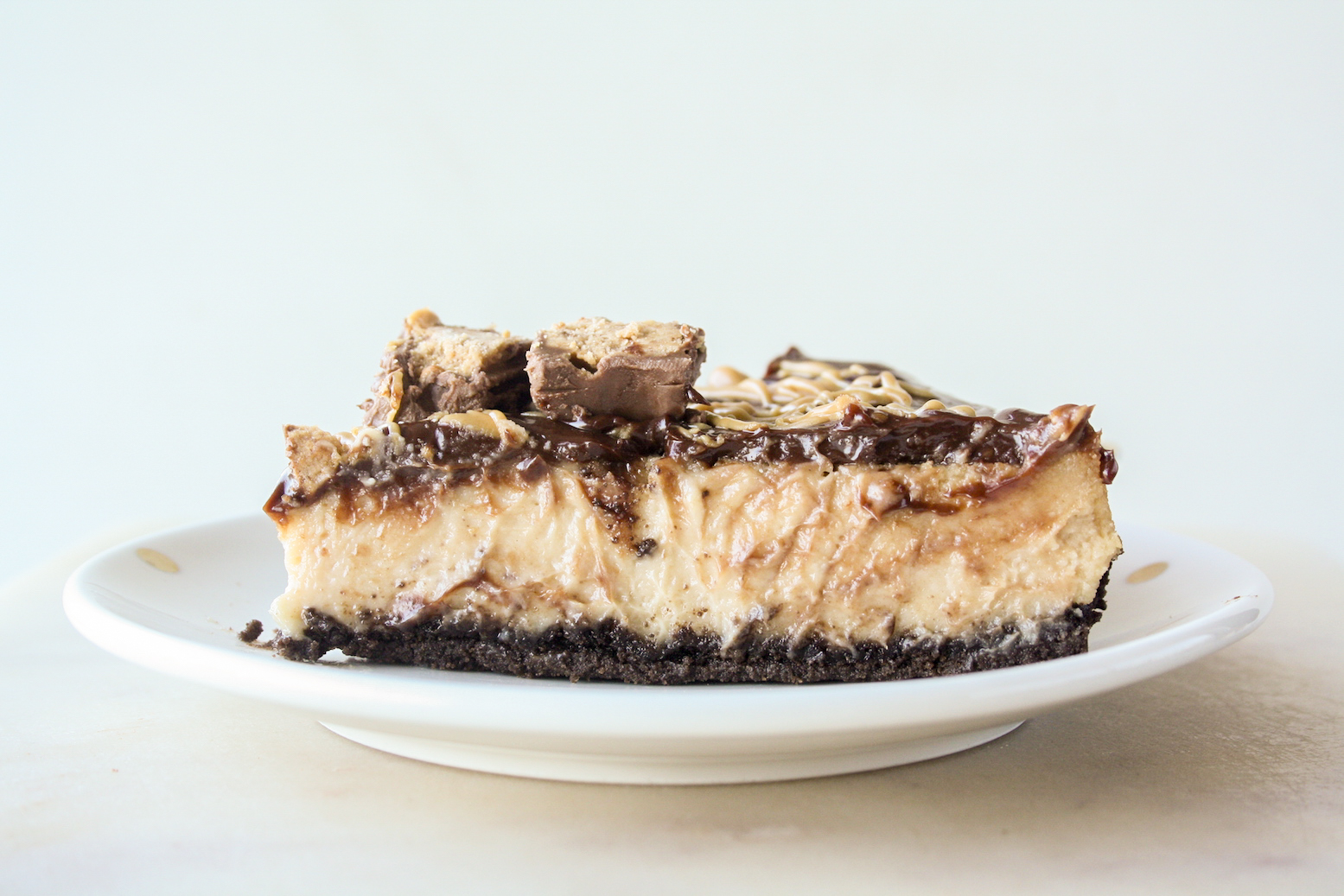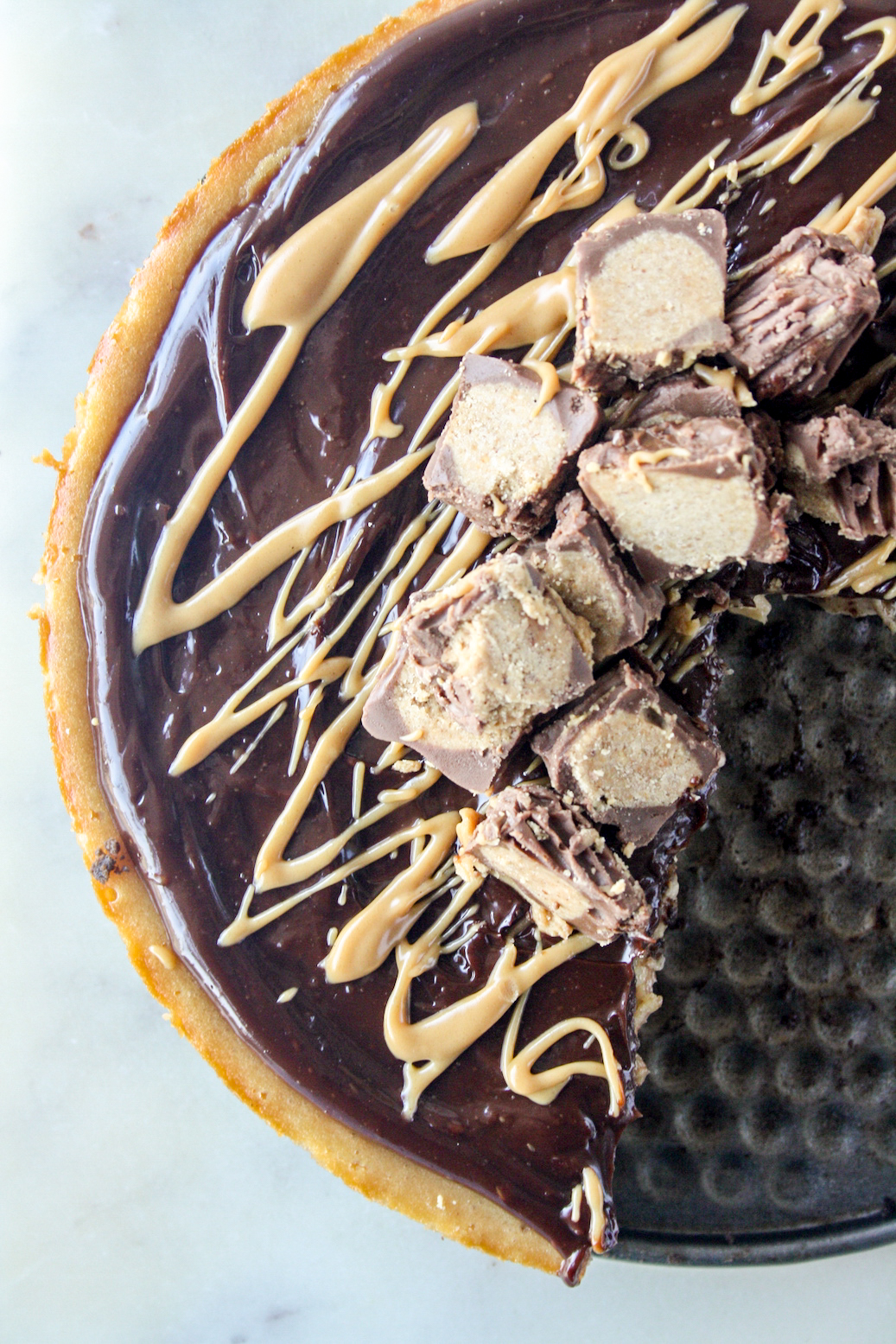 This is a straightforward recipe and if you have a food processor, it's even easier and uses minimal dishes. The end result is just so good, I promise it's worth the 6 hour chilling time! Are the toppings necessary? Welllll you could leave off the peanut butter drizzle and the chopped up mini Reese's cups, but like I said, go big or go home. Definitely do not leave off the ganache though, it adds so much to this cheesecake situation!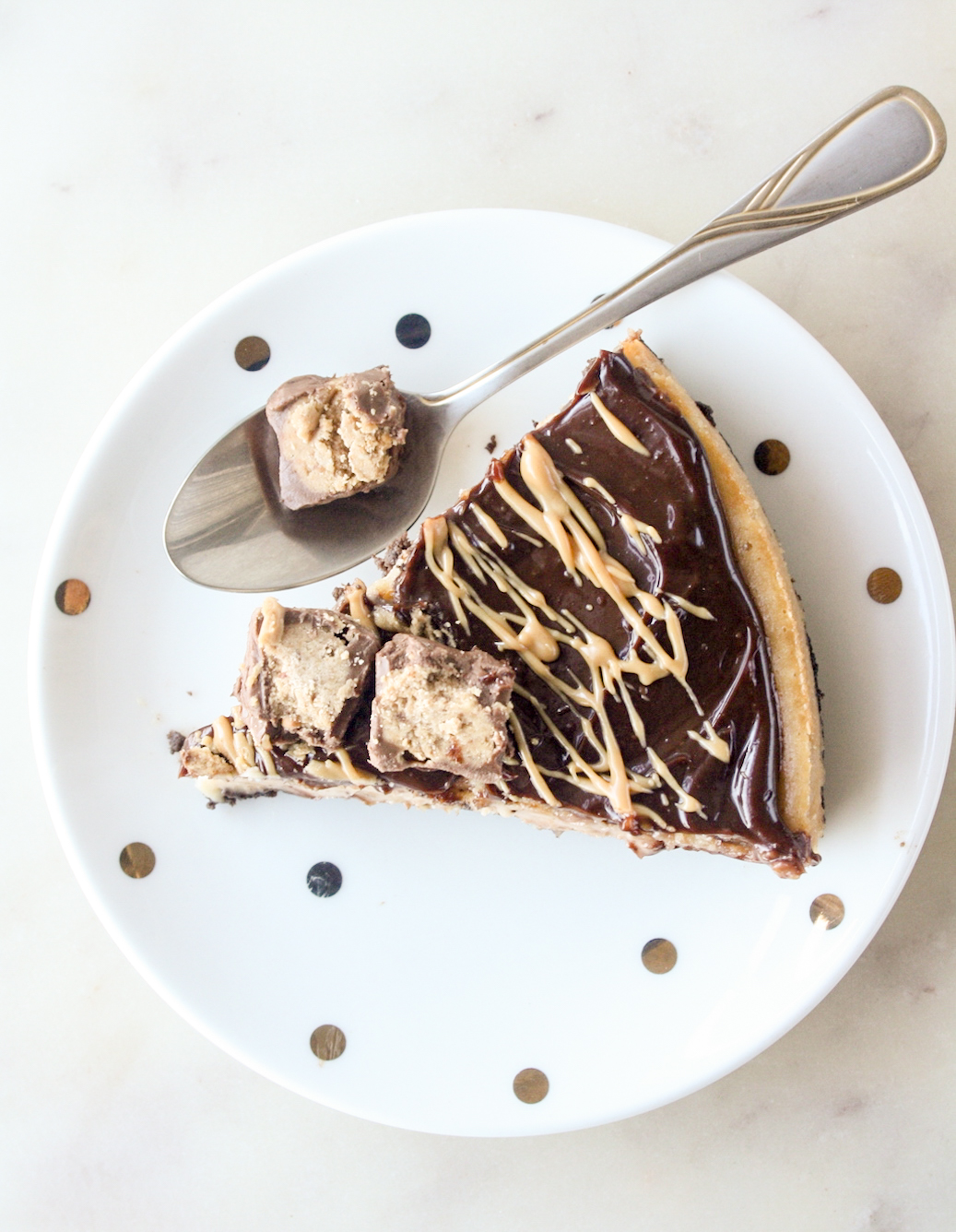 A few things like room temperature ingredients, keeping an eye out for a wobbly centre and not opening the oven till absolutely necessary, will ensure you have a smooth, creamy cheesecake, not an overcooked one. It firms up and darkens a little bit the longer it sits in the fridge, and certainly needs at least 6 hours to really set and get the best texture so it's best to make this the day before you plan to cut it.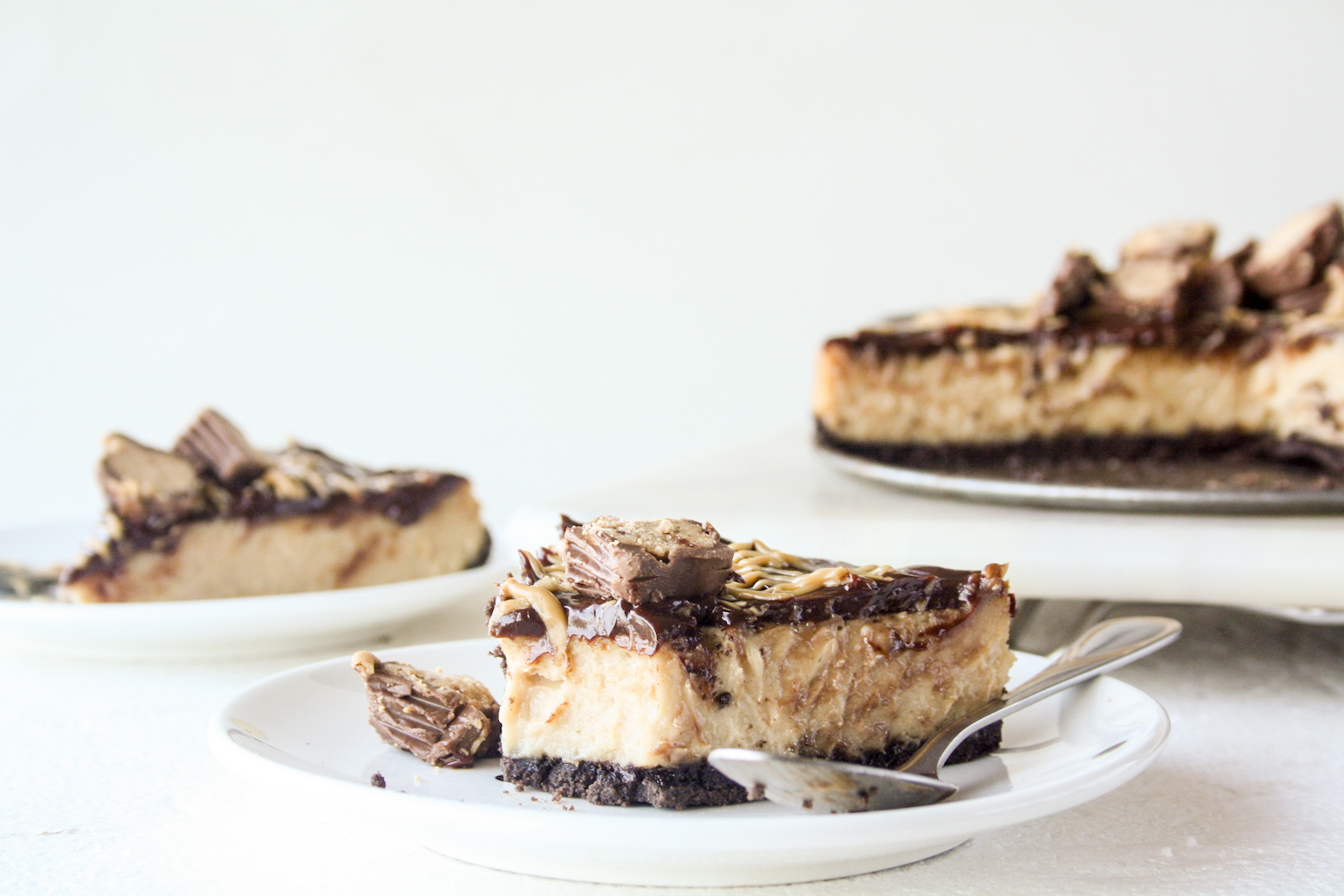 Ok, enough talk, more cheesecake. Let's bake!

Chocolate Peanut Butter Cheesecake
Creamy baked peanut butter cheesecake with Oreo crust and chocolate ganache
Author:
The Desserted Girl
Ingredients
For the crust and filling
130 gms Oreo cookies (about 12 to 14 cookies)
3 tbsps melted butter
1 cup cream cheese, at room temp
½ cup lightly heaped, creamy peanut butter, at room temp
½ cup plain yoghurt, at room temp
½ cup caster sugar
2 eggs, at room temp
2 tsps vanilla extract

For the topping
⅓ cup cream (whipping or regular)
55 gms dark chocolate, finely chopped
3 tbsps melted peanut butter and chopped Reese's cups, optional
Instructions
In the bowl of a food processor, blitz the cookies till they're finely ground. Pour in the butter and blitz on low speed until the mixture clumps together when you press it between your fingers. Tip into an 8" round springform tin and press firmly evenly onto the base and the sides if needed. Place in the fridge for 30 minutes.

Preheat the oven to 160 C.

In the meantime, wipe out the bowl of the food processor and add the cream cheese, peanut butter, yoghurt and sugar. Blitz till smooth and creamy.

Add the vanilla and the eggs, one at a time, letting the food processor run after each one, till combined. The mixture should be smooth and runny. Do not over beat the batter or you'll end up with too many air pockets that will cause cracks while baking.

Pour into the chilled Oreo crust and bake for 30 minutes. The edges will look a little puffy and the center should wobble just a little bit. If needed, bake for another 5 minutes. Turn off the oven and let the cheesecake cool in the oven itself for 20 minutes. This prevents it from collapsing or cracking with the sudden change from hot to cooler air.

Now place the cheesecake on a wire rack for about 30 minutes at room temperature. Then place in the fridge to chill for at least 6 hours. This will create the firm but creamy texture we're looking for.

To make the ganache, place the chopped chocolate in a heatproof bowl. Then heat the cream in a saucepan on low, till hot but not boiling. Pour over the chocolate and leave for a few minutes. Stir to combine into a smooth, silky ganache.

When the ganache is about lukewarm, pour it over the top of the chilled cheesecake. Drizzle with melted peanut butter, decorate with chopped Reese's cups. Place back in the fridge for 10 minutes to let the ganache set, then slice and enjoy! Store in the fridge for a week. Happy baking!
Notes
*I used La Cremella cream cheese here, which I found on Big Basket. Food Hall and Nature's Basket also carry it. I prefer the thicker, block style cream cheese for cheesecake, but Mooz, Britannia, D'Lecta are also brands I sometimes use.

*Avoid natural peanut butter here because while it's great for healthier treats like granola, a cheesecake needs thicker, more processed peanut butter.
Shop this recipe!
Check out a full list of my baking essentials here!
This post contains affiliate links.