It's the weeeeekend! And I think a batch of scones fresh from the oven is a great idea. With bananas and crunchy walnuts, plus wholewheat flour and no refined sugar, this is a deliciously healthier treat for Friday. That sticky honey butter glaze on top is not optional and I won't blame if you forget about the scones and just eat the glaze as is.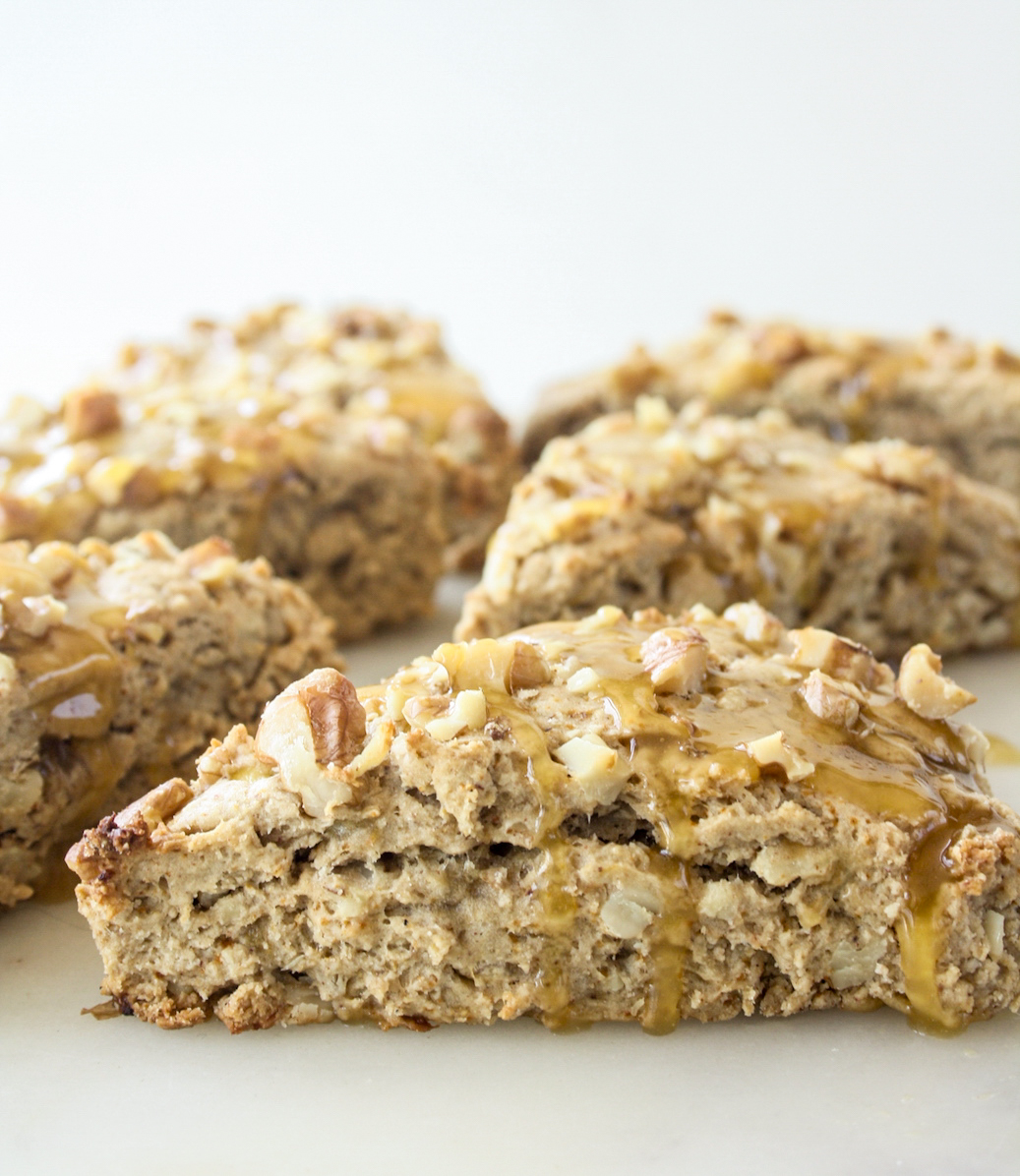 There are many scone recipes on this blog and in fact, they have their own category because scones are highly underrated! Denser than cake but tender when done right, scones double up as breakfast and dessert in my world. I've been using the same recipe for a while now, altering it just a bit here and there.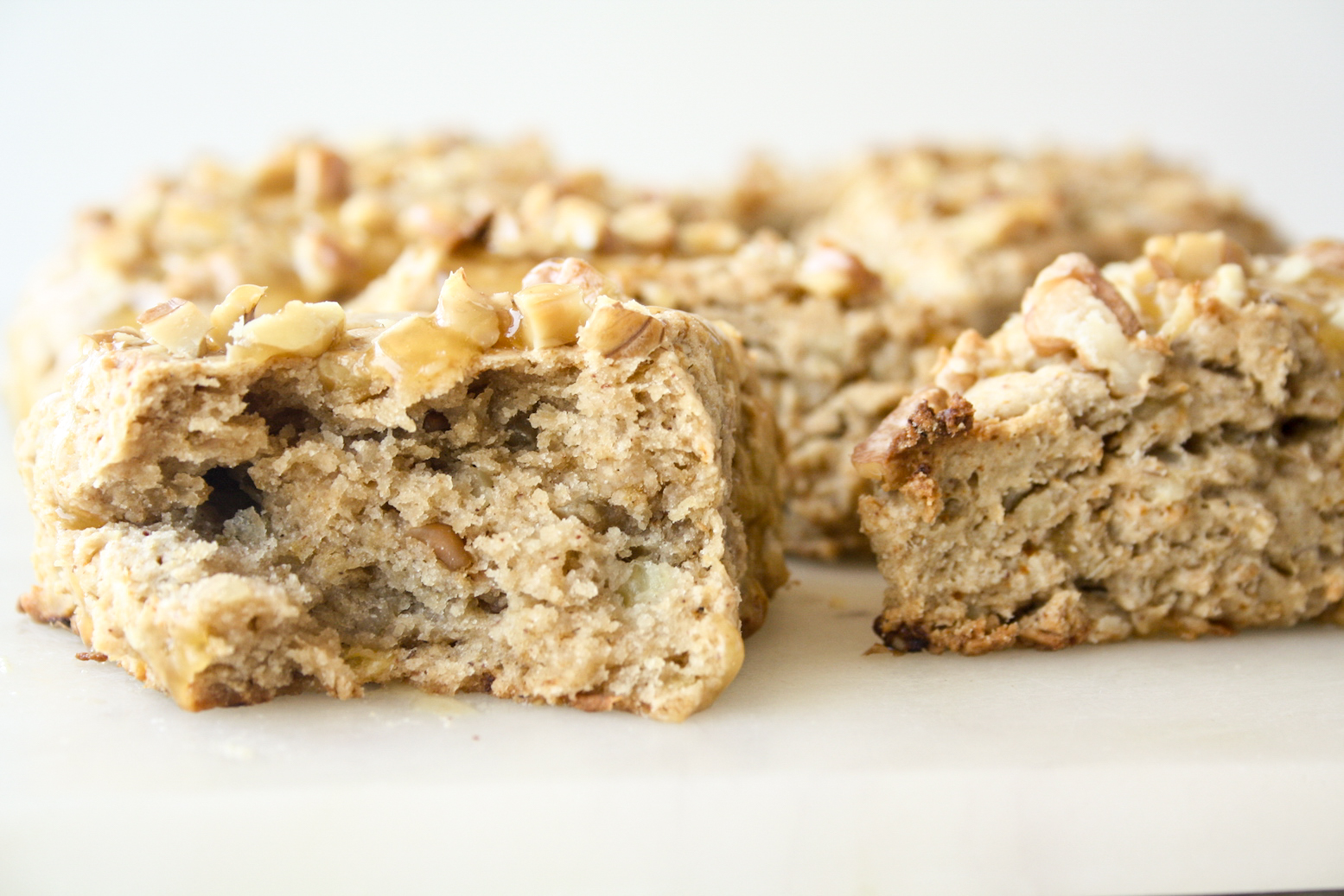 Bananas and walnuts are a great combination so when I thought of turning them into scones, I figured the milk/cream which is usually used in a scone recipe would need to be reduced since bananas add so much moisture. This Cookie and Kate recipe does just that and even better, takes the wholewheat plunge. Mashed bananas prevent anything wholewheat from going too dry. Case in point! What I liked even more about Kate's recipe is the usual 1/4 cup of sugar that scones need is omitted completely, and instead honey adds sweetness. I decided to try it this way, plus add a bit of peanut butter for extra flavour and fun!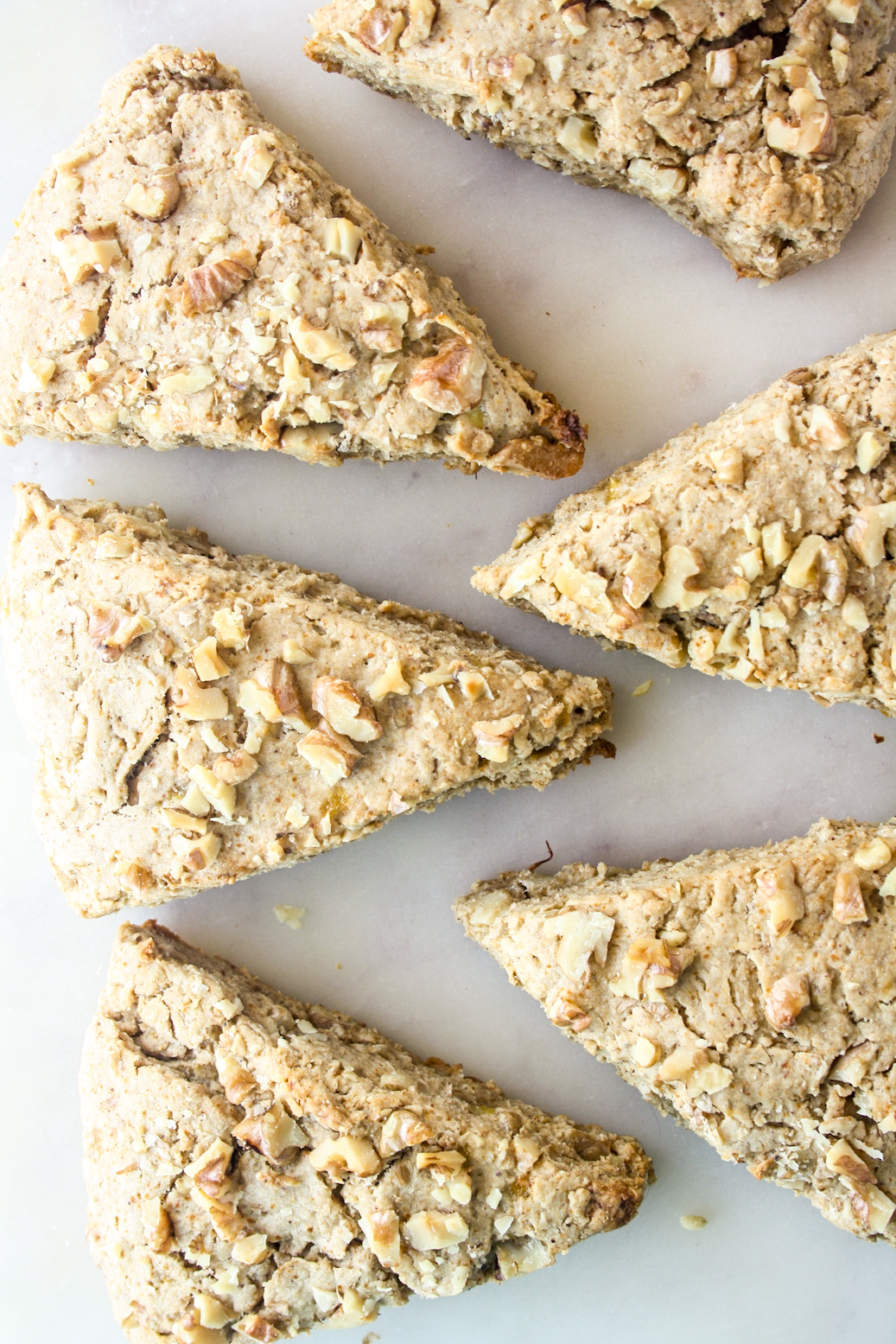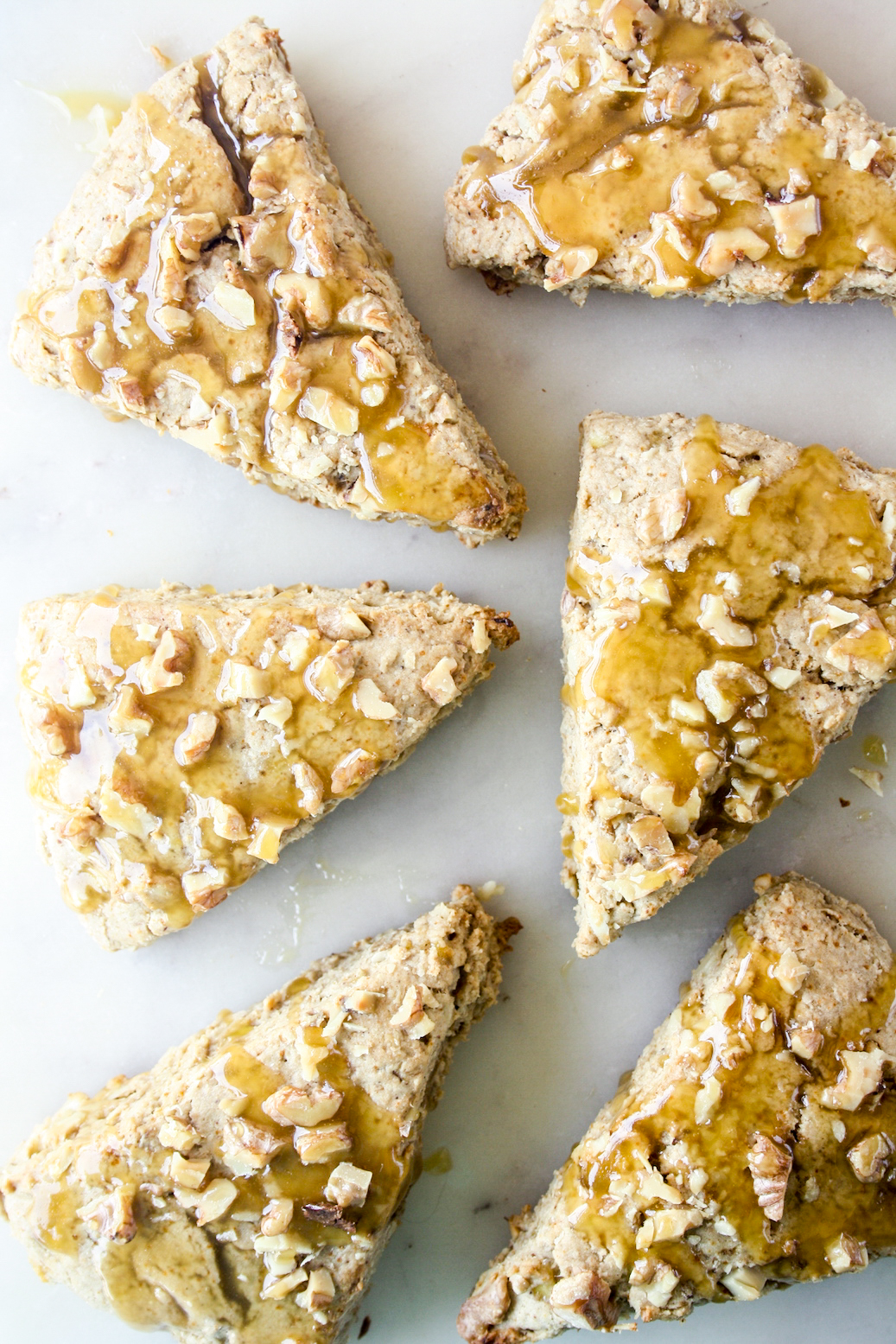 They are tender on the inside, lightly spiced, perfectly moist and have plenty of texture from the chopped walnuts. They are hearty but don't weigh you down and the banana flavour shines through. So many reasons to love these scones! The thing is though, by themselves they are actually just mildly sweet despite the banana honey combination. You could add sugar, but I highly recommend doing what I did. In search for a simple glaze I could make with the ingredients on hand, I just melted a bit of honey and butter together, creating a kind of caramel without any refined sugar. It thickens as it cools and forms a crusty glaze on the scones. By the next day, it appears to soak into them quite a bit and balances the sweetness beautifully!
The scones stay soft for a couple of days, although they taste best when slightly warmed up. They come together quickly and make a very feel good dessert!

Banana Walnut Scones with Honey Butter Glaze (Eggless)
Tender wholewheat banana walnut scones, with a sticky honey butter glaze. No refined sugar!
Author:
The Desserted Girl
Ingredients
For the scones
2 cups wholewheat flour
1 tbsp baking powder
½ tsp cinnamon powder
½ tsp ginger powder
½ tsp salt
1 cup walnuts, finely chopped
5 tbsps cold unsalted butter, cubed
2 medium bananas
1 tbsp peanut butter, optional
¼ cup milk
2 tbsps honey
½ tsp vanilla extract

For the honey butter glaze
¼ cup honey
3 tbsps unsalted butter
Instructions
In a mixing bowl, sift the flour, baking powder, cinnamon, ginger and salt. Stir in the chopped walnuts.

Add the butter to the bowl and rub it in using your fingertips until the mixture resembles coarse breadcrumbs and still has a few pea-sized bits of butter through it. If your kitchen is warm, stick the bowl in the fridge to keep the butter cold while you finish the next step.

In another bowl, mash the bananas, then add the peanut butter, milk, honey and vanilla. Whisk well to combine.

Pour this liquid mixture into the flour mixture and fold gently to combine. Get your hands into the bowl if needed, and bring it together in one roughly shaped ball of dough. Do not over mix the dough at any point, your scones will turn out tough.

Place the mass of dough onto a silicone baking mat and pat it into a disc that's roughly 1 inch high. Slice into 8 wedges and separate each wedge. Place them at least an inch apart on the mat. You could also slice the dough on a floured surface and then transfer the wedges to the mat.

Slide the mat onto a baking tray. If the dough feels a little warm, place the tray in the fridge for 5 minutes. The butter in the dough should be cold for flaky, crumbly scones.

When ready to bake, preheat the oven to 200 C. Place the tray in the oven and bake for 18 to 20 minutes until the scones are lightly browned on the top and darker around the edges. If needed, bake for an additional 2 to 3 minutes.

Allow the scones to cool completely before you glaze them.

To make the glaze, melt the butter and honey on low heat in a saucepan. Cook for about 1 to 2 minutes, until the mixture starts to bubble and smell lovely. The idea is to get the honey to caramelise just like sugar would.

Let the glaze cool for 5 minutes and thicken. Then spoon or drizzle over the scones. It will set and harden as it cools further. Now it's time to dig in!

Scones are best enjoyed on day one, however they will keep well in an airtight tin at room temperature for 2 days. After that, store in the fridge for 4 to 5 days and reheat before eating. Happy baking!
Notes
*By themselves, the scones are very mildly sweet, with the glaze they're just sweet enough. If you would like them sweeter, you could add ¼ cup white sugar to the flour. Brown sugar or more honey will add unnecessary moisture to the dough, so I would avoid that.

*Feel free to toast the walnuts in a dry pan or in the oven at 180 C for 4 to 5 minutes. Let them cool, then chop and use in the recipe.
Shop this recipe!
Check out a full list of my baking essentials here!
This post contains affiliate links.