After that hugely decadent cake from earlier this week, these crackers are going to sound super tame. Stay with me though, because they're worth it! Thin and crispy, made with wholewheat flour, honey and no refined sugar and just enough to oats to give them texture and a little added health boost.
There's some butter in here too, and it makes the crackers super flavourful and super flaky! They're not overly sweet and absolutely amazing with a hot cup of something. Let's get cracking! (Sorry)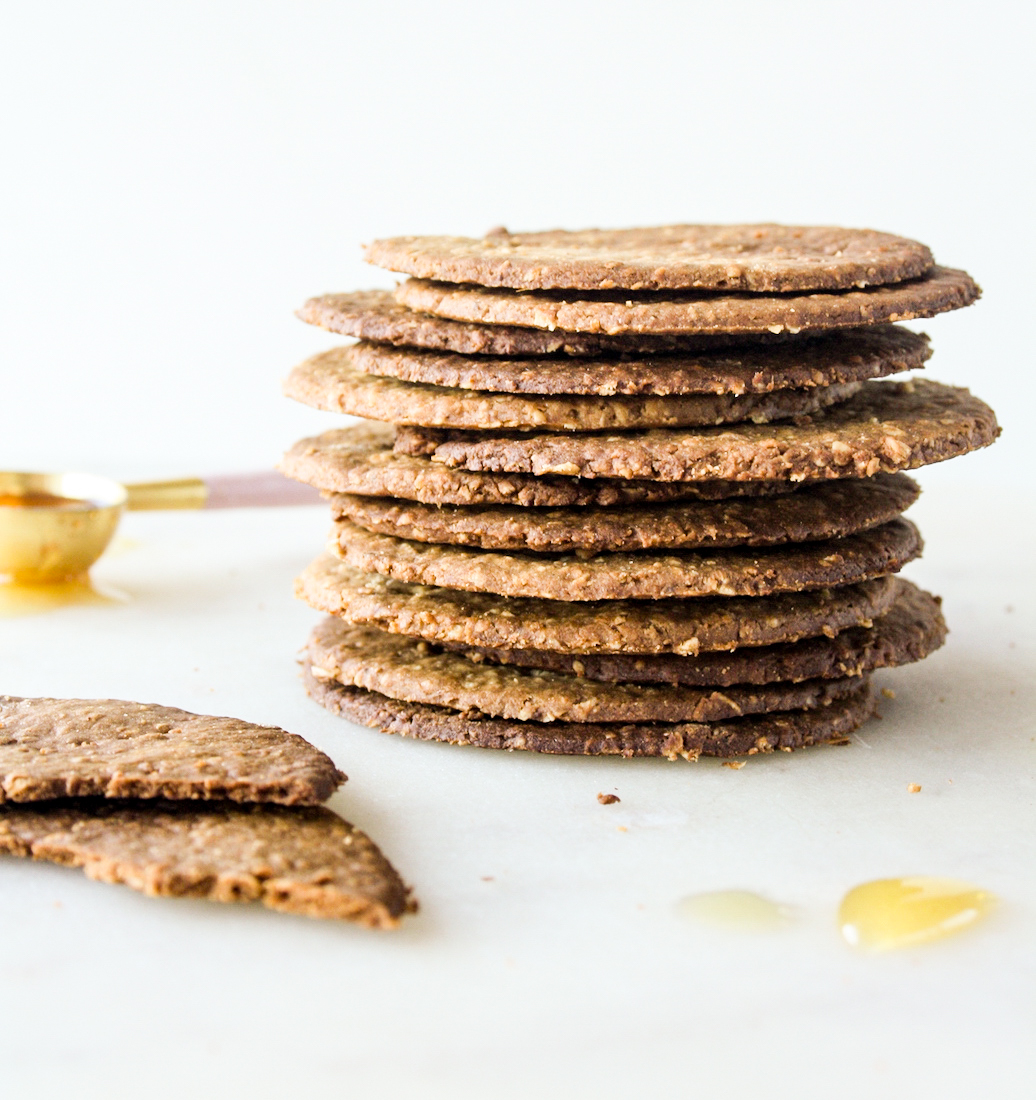 I was Googling random words to figure out what I wanted to bake next because believe it or not, I was out of ideas. I'd also been wanting some sort of biscuity things to keep around the house that weren't necessarily chocolate chip cookies because, hello, no self control. The words 'honey oat crackers' entered my brain for no particular reason and led me to a recipe on Tasty Kitchen. Straightforward and just what I was after!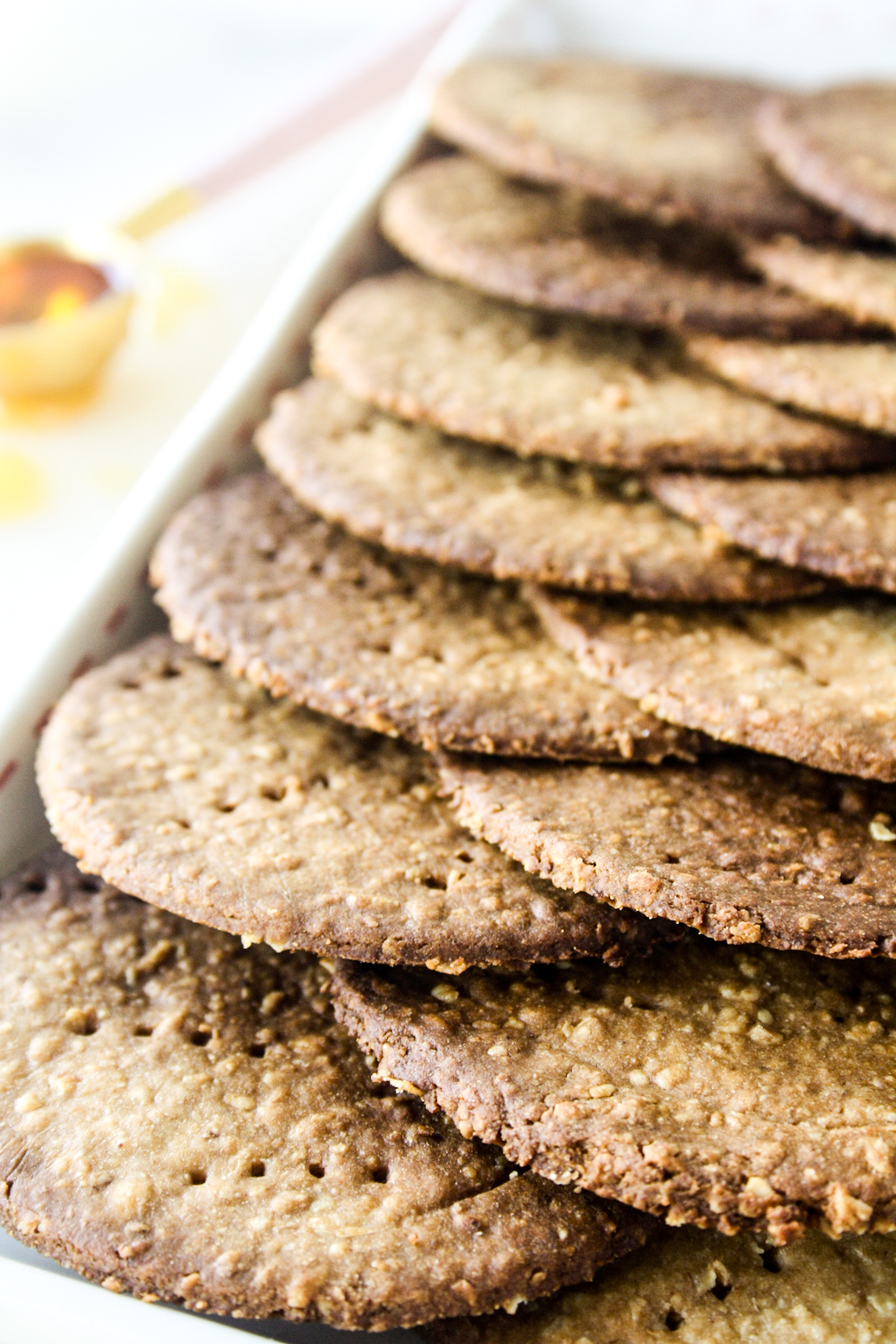 Now usually, rolled oats would be preferred here because they have a lot more bite and chew to them. All I had on hand were some instant oats that needed to be finished, so I went with those. Not a huge calamity at all. I added a couple of extra tablespoons of these oats since they're processed to be much smaller and thinner. The little extra amount helped a lot and the baked crackers tasted great. I also omitted the white sugar, adding a little more honey instead. The crackers are not super sweet, but sort of sweet salty, yum!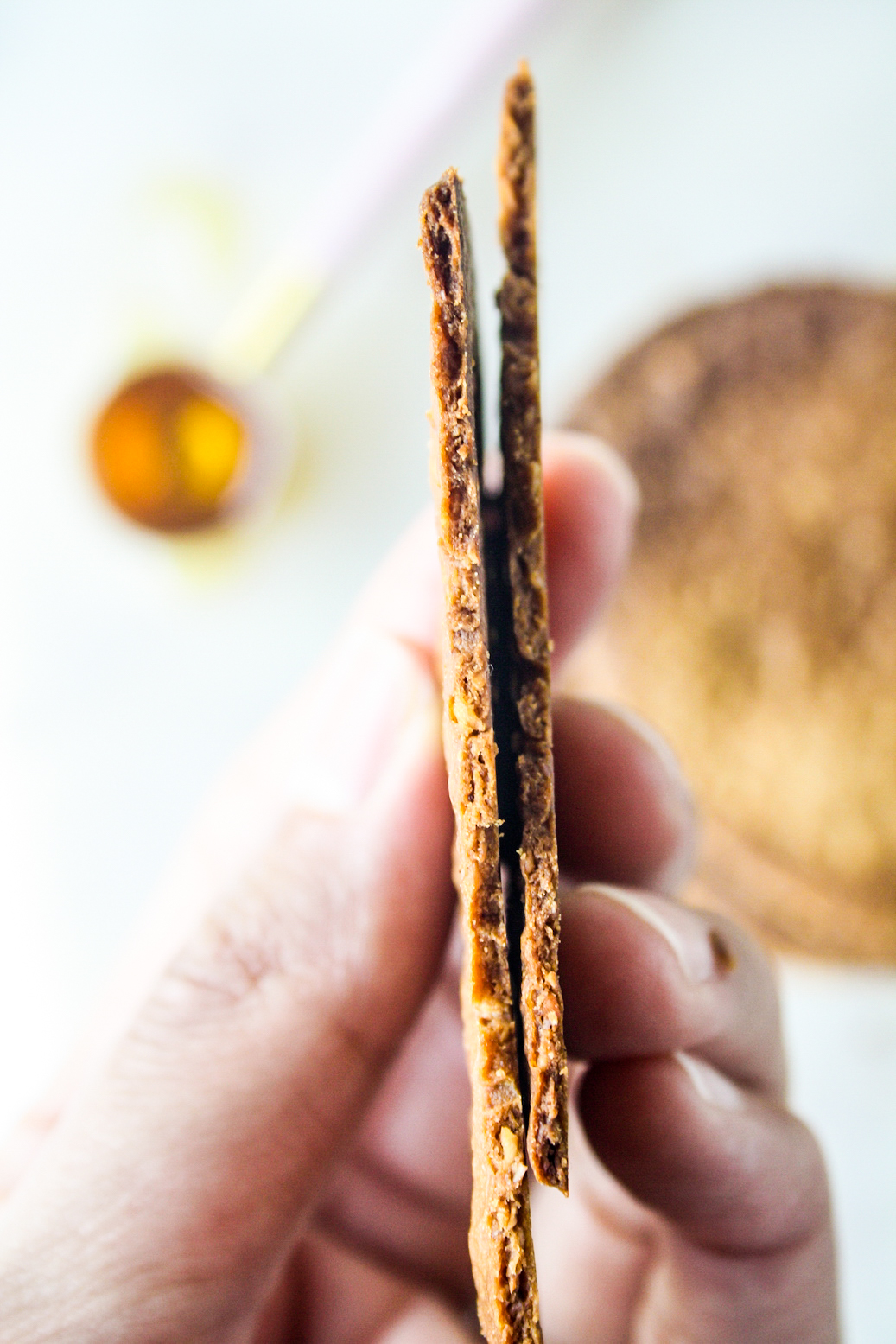 Would you look at how skinny and perfectly crispy they are! They stay this way in an airtight tin for a few days, so this is a lovely recipe to keep on hand for weekly snacking. With a caramel like flavour from the honey, these are really quite addictive. Make a batch today!

Crispy Honey Oat Crackers (Eggless)
Thin and crispy honey oat crackers without refined sugar
Author:
The Desserted Girl
Ingredients
¾ cup wholewheat flour
½ cup plus 2 tbsps instant oats (or ½ cup rolled oats)
½ tsp baking powder
¼ tsp salt
¼ tsp cinnamon powder
4 tbsps cold butter, cubed (55 gms / see notes)
4 tbsps honey
¼ tsp vanilla extract
2 tbsps water
Instructions
This dough is made in a food processor, but you can make it by hand in a mixing bowl. First, combine the flour, oats, baking powder, salt and cinnamon. Combine on low speed in the food processor.

Now add the butter (it should be cold so that the crackers are crisp and flaky) and blitz again on low speed till the mixture is crumbly, with a few pea-sized bits of butter.

In a small bowl, combine the honey, vanilla and water. Pour into the food processor.

Blitz to combine and let it run on low speed until the dough forms into a ball. It will be soft but shouldn't be too wet.

Place the dough on a piece of clingfilm, pat it into a disc and wrap tightly. Chill for 1 hour.

When ready to bake, preheat the oven to 170 C. Lay out a silicone baking mat and lightly flour it. You can also just roll the dough on the kitchen counter but I find it easier to roll and transfer the crackers to the oven directly on the mat.

Divide the dough into two portions. Place one half on the floured mat and put the other half back in the fridge.

Place a large piece of clingfilm over the dough and begin rolling it out gently. I prefer doing it this way so that the rolling pin doesn't stick to the dough. Roll as thin as you can for the crispiest crackers.

Use a cookie cutter or small bowl to cut 3-inch round shapes into the dough. Peel away the scraps and set aside. The crackers don't spread while baking, but make sure there is still a small gap between each one, rearranging them on the mat if you need to.

Prick each one with a fork a few times to prevent the dough from puffing up too much in the center and to get that signature cracker look.

Slide the mat onto a tray and bake for 10 to 15 minutes, until browned on the top and edges, rotating the tray to ensure even browning. I find the sides brown faster so keep a close eye on the crackers. I like them deeply browned because they're crispier this way, but you can keep them lighter too.

Let the crackers cool and firm up on the tray, then transfer to a wire rack to cool completely.

Roll the dough scraps together and roll them out and cut again. Repeat with the second half of the dough.

Crackers will stay fresh and crispy for 4 to 5 days in an airtight tin at room temperature, in warmer climates, and longer if it's cooler. Happy baking!
Notes
*Cook time is per batch of crackers.

*You could also use solid coconut oil here. Olive oil should work as well but the dough may be a little more moist and the flavour of olive oil will stand out (see my 'rosemary crackers' recipe).

*Use 5 tbsps honey if you prefer a sweeter cracker. Don't add more than that because the dough will become too wet. If you don't mind sugar, then add 1 to 2 tbsps of sugar.
Shop this recipe!
Check out a full list of my baking essentials here!
This post contains affiliate links.