Say hello to a healthy snack that tastes like carrot cake! I'm always up for non-cardboard tasting snacking. Soft and chewy with lots of bite from walnuts, almonds and coconut. Plus of course, carrot. These bars don't even give off a slightly boring vibe, I promise you'll be in love from the first bite!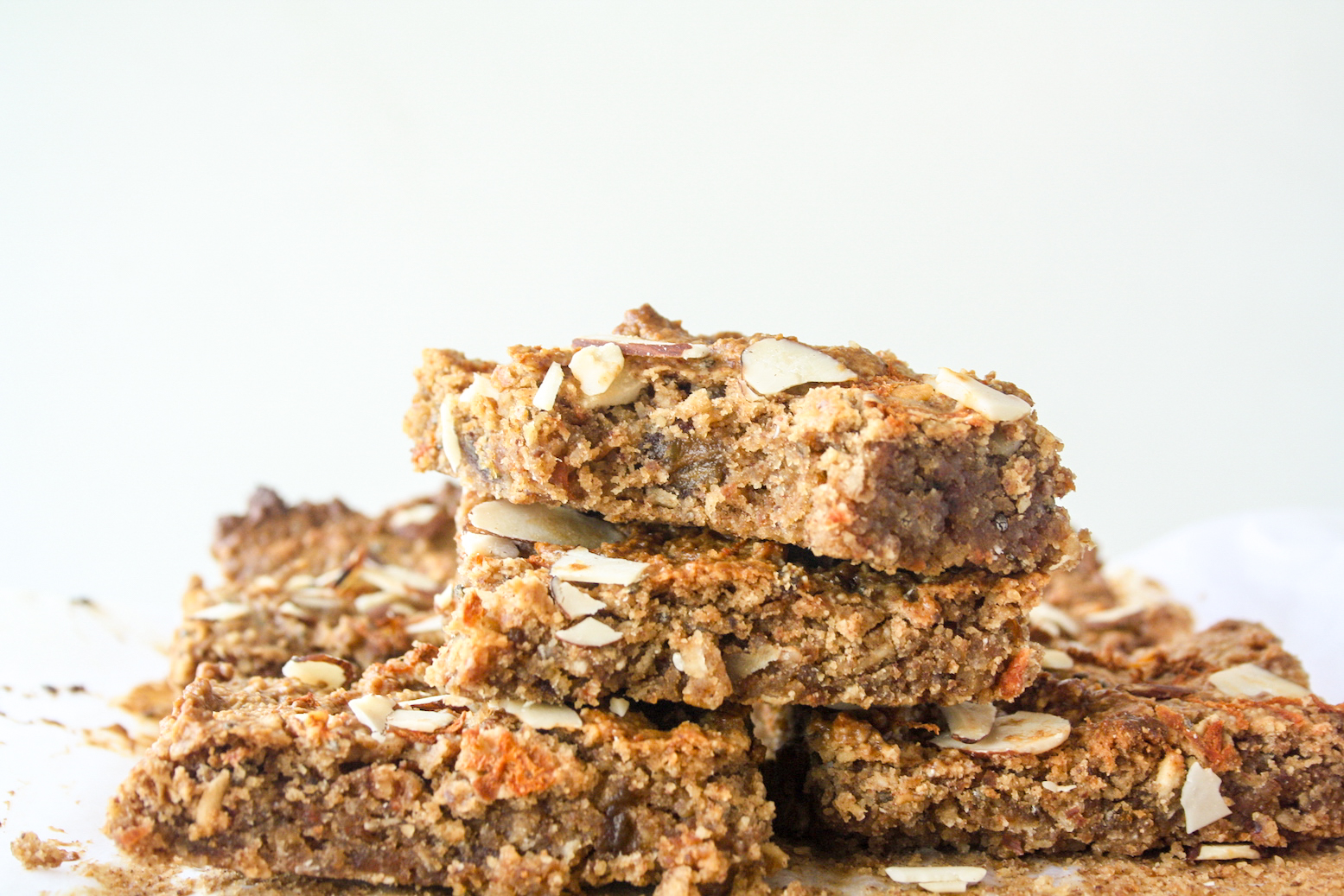 This recipe is adapted from Occasionally Eggs and I made a nuttier, softer version of those bars. This is also a smaller recipe so you'll have 9 bars but they're quite filling. Almond butter and oats are a power combination!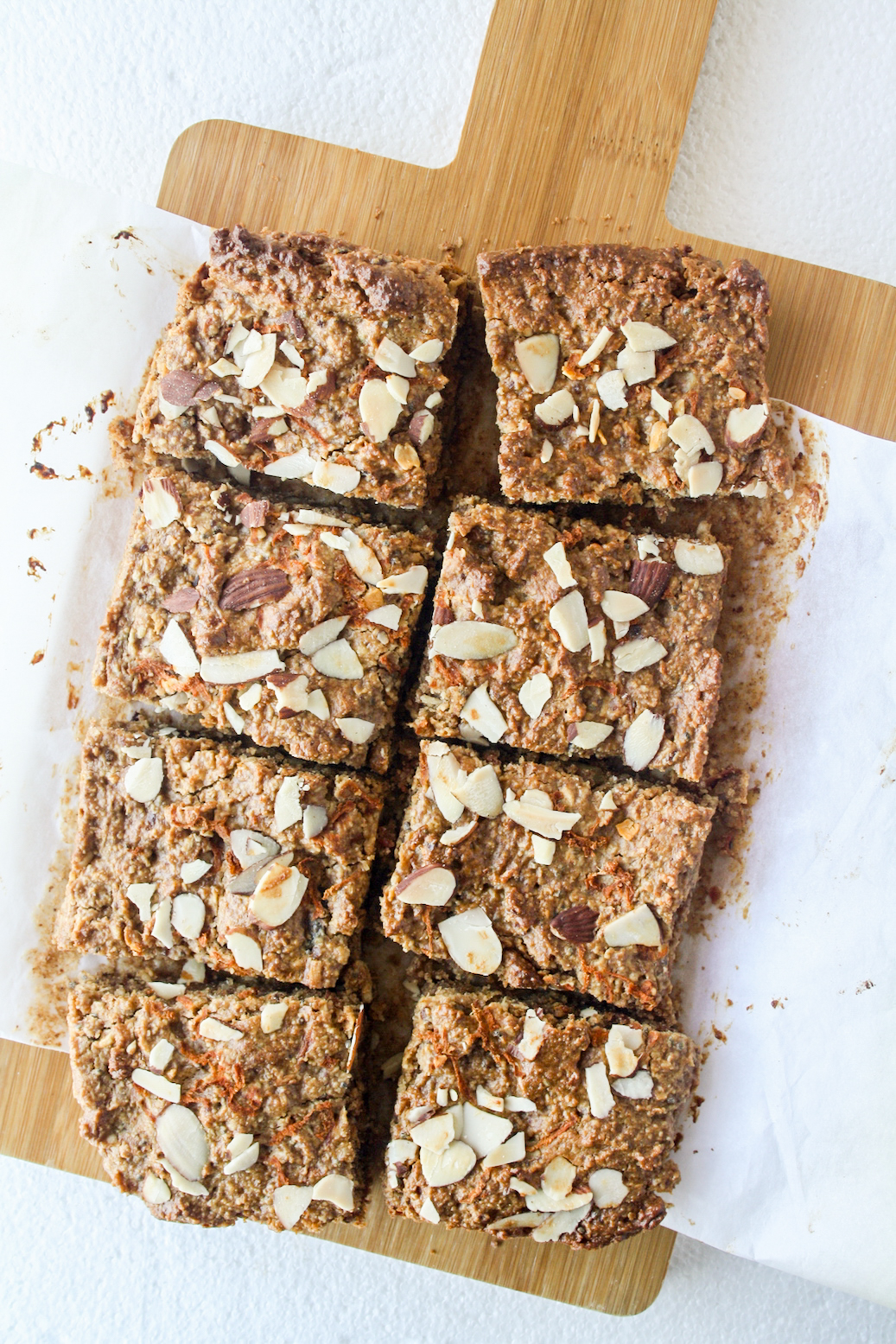 Typically, rolled oats would be used in bars of this kind, but I only had instant oats on hand. They don't add a lot of texture, but I added chopped walnuts and sliced almonds to compensate. The result is an almost cake like, moist and chewy bar. I was surprised at how well they worked out!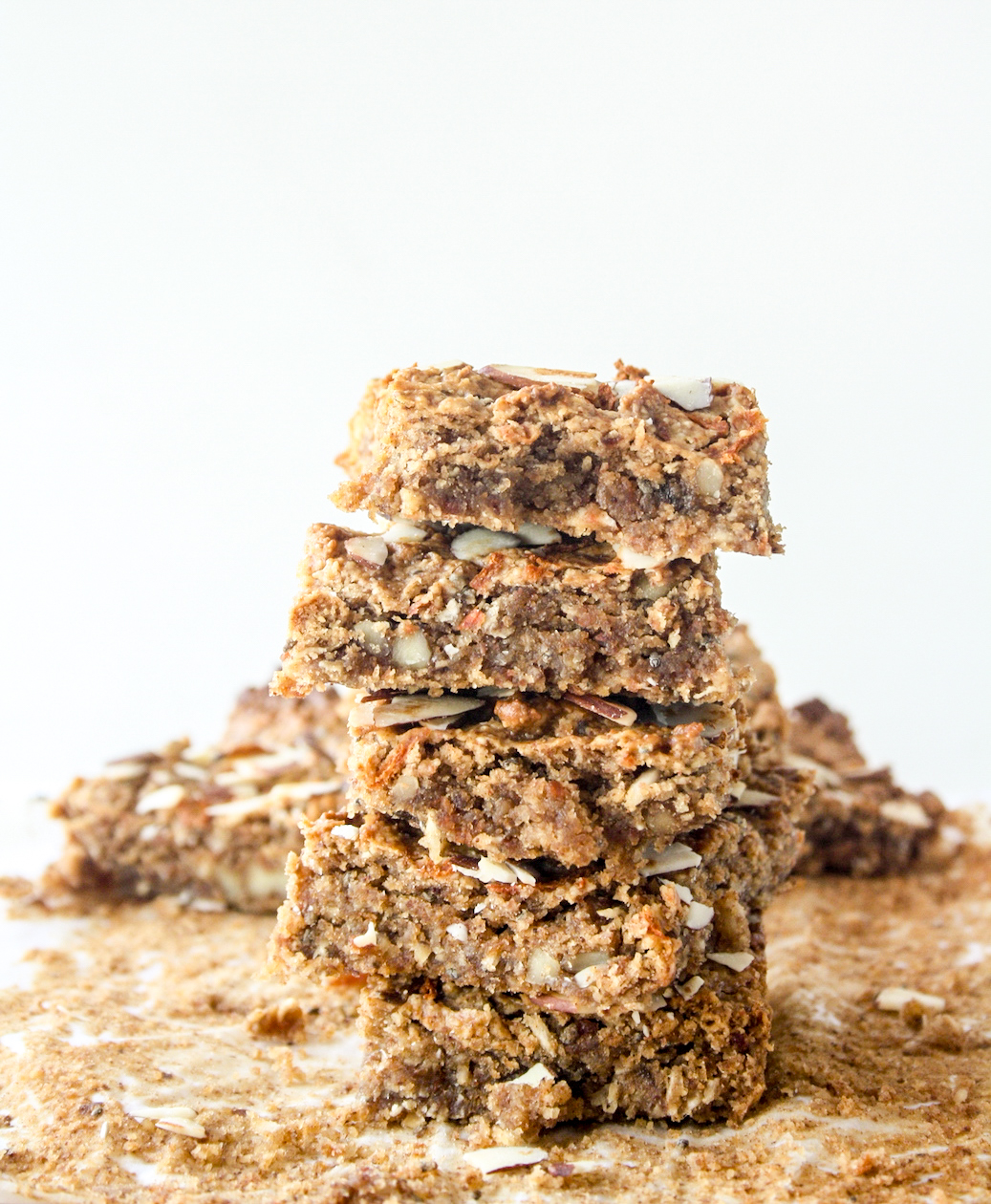 There are chia seeds in there although you can skip them or swap with any other seed you prefer. Overall, the recipe is quite flexible and forgiving so use your favourite mix ins! I baked the bars a little longer for crustier tops but you could leave them softer if you prefer.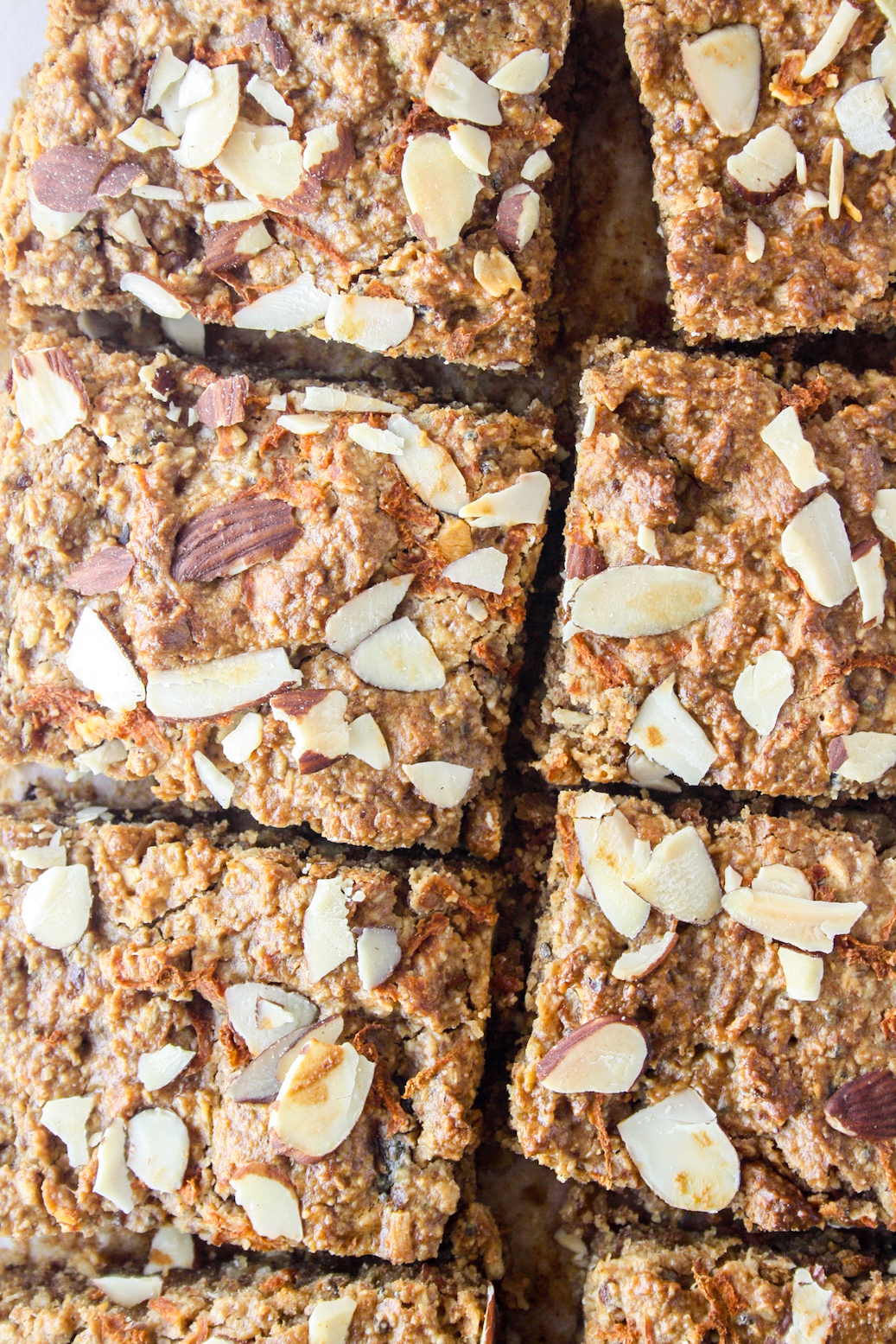 The bars are sweetened with dates and honey and along with everything else, there's absolutely no lack of flavour! They're nutty, full of good-for-you stuff and just so delicious. Bake a batch today!

Carrot Oat & Almond Snack Bars (Vegan/Gluten-Free)
Soft and chewy, naturally sweetned snack bars with almonds, oats and carrots
Author:
The Desserted Girl
Ingredients
¾ cup instant oats
¼ cup whole almonds
2 tbsps finally chopped walnuts
½ cup grated carrot
¼ cup shredded coconut
½ tbsp chia seeds
¼ tsp baking soda
¼ tsp cinnamon powder
¼ tsp salt
8 to 10 dates, pitted (see notes)
2 tbsps almond butter
3 tbsps honey or maple syrup
3 tbsps milk, dairy or non-dairy
2 to 3 tbsps olive oil
2 tbsps sliced almonds
Instructions
Preheat the oven to 180 C and lightly grease an 8x4 rectangular baking dish. Line it with baking paper, leaving a little overhang for easy removal. Grease the paper too.

In a blender or food processor, blitz the oats and whole almonds until a coarse flour forms. Add it to a mixing bowl along with the walnuts, carrot, coconut, chia. Stir well.

Now add the baking soda, cinnamon and salt. Mix thoroughly and set aside.

In the same blender or food processor, blitz the dates, almond butter, honey, milk and 2 tbsps olive oil. If the dates are taking time to break down, add the remaining 1 tbsp olive oil. You're looking for a thick paste but a few smaller bits of dates are ok.

Add this to the mixing bowl and use a silicone spatula to thoroughly mix the wet and dry ingredients together. The mixture will be wet and sticky, but if it feels excessively so, add a couple of tablespoons of oats (no need to blitz them) to the bowl and stir them in.

Spread this mixture into the prepared baking dish, smoothening the top. Top with the sliced almonds. I also sprinkled on a spoonful of grated carrots on top just for some colour, but this is optional.

Bake for 25 minutes then an additional 5 to 10 minutes if you want them a little extra firm and more browned. Let the pan cool for 15 minutes, then use the paper overhang and set the bars on a wire rack to cool completely.

Slice into 9 equal pieces and store them in an airtight tin at room temperature for 2 days, after which they're better stored in the fridge for a week to 10 days, or in the freezer for about a month. Happy baking!
Notes
*If your dates are firm or stored in the fridge, soak them in hot water for 20 minutes before draining and adding to the blender. You need ¼ cup tightly packed dates, so depending on the size, you may need more or less than 8 to 10.

*I made these bars with honey and regular milk, but maple syrup and any non-dairy milk keeps them vegan. Use certified GF oats if you have gluten allergies.
Shop this recipe!
Check out a full list of my baking essentials here!
This post contains affiliate links.