I could honestly never ever get tired of baking cookies, or eating them for that matter. No self control whatsoever around a batch of fresh, warm, gooey chocolate chip cookies. These are amped up with toasty, nutty caramel-y browned butter aaaaand chopped walnuts. I can't believe I voluntarily decided to adulterate a perfectly good cookie dough with nuts, but ohmygod they're so good in here!
Seriously, send help.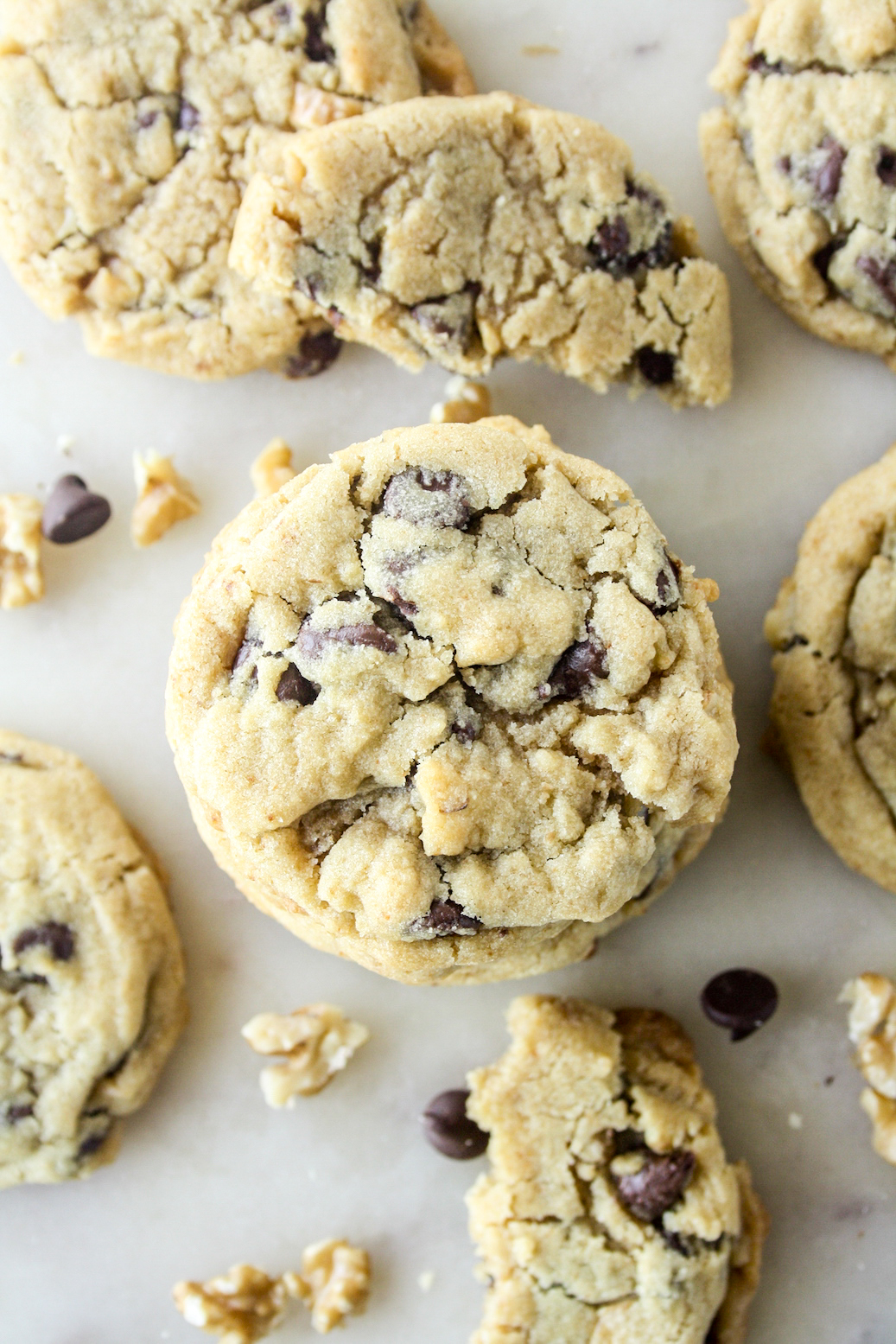 Taking a few extra minutes to brown butter adds so much delicious flavour to pretty much anything you use it in. Essentially, you're cooking it to toast the milk solids. So good! In these cookies, it creates a subtle but complex toffee-like taste that is just irresistible. Somehow, just a small amount of walnuts (or almonds, pecans, hazelnuts) go so well with that toasty butter flavour.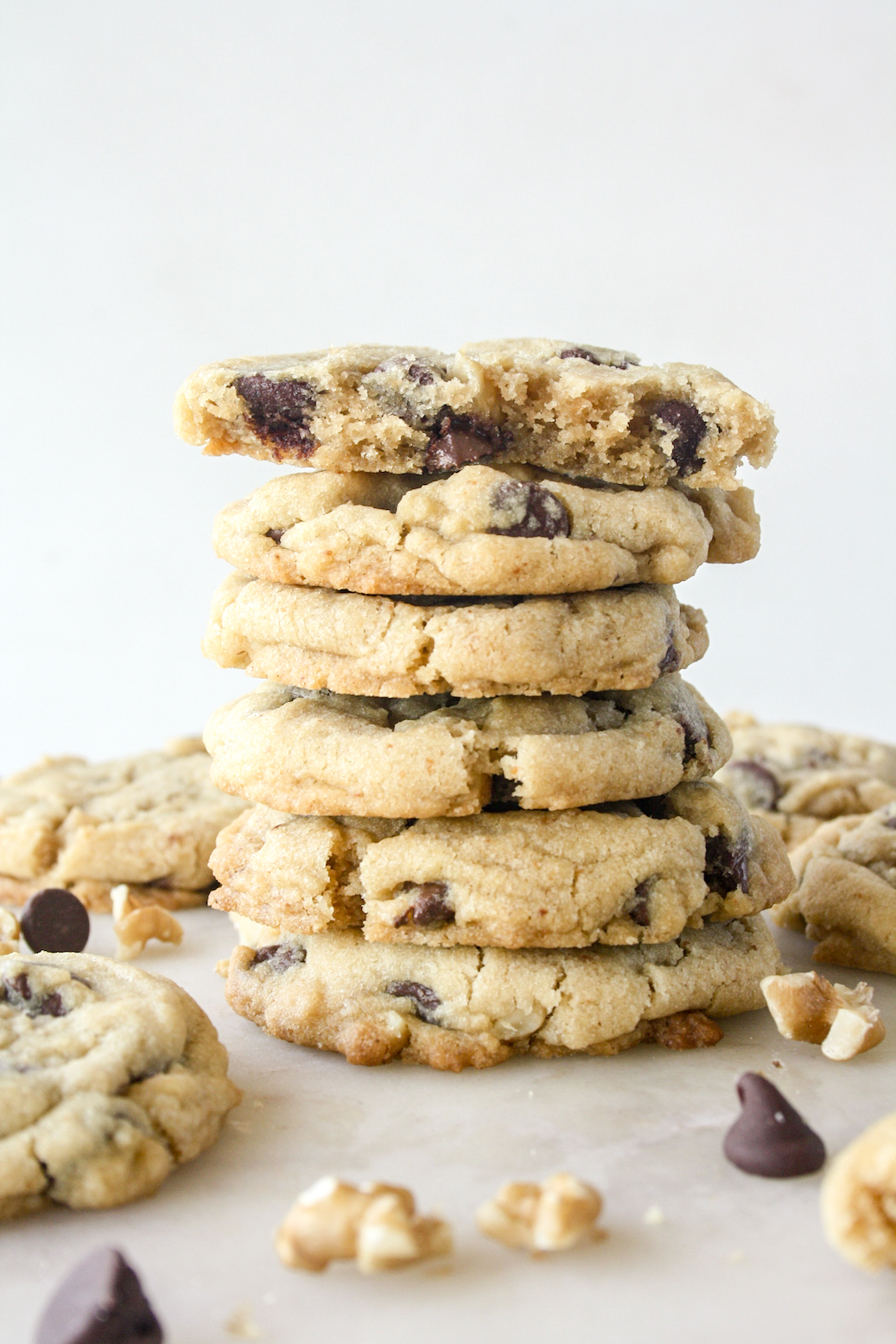 In cookie dough, browned butter often means compensating for some loss of moisture and fat, because you lose a bit of it as the butter cooks. But this recipe for gooey cookies has a little extra butter than your average dough, which makes it perfect for browning. The moisture that is lost is really ok because you still land up with about 1/2 cup butter, the usual amount in most recipes. So, no extra ingredients or fuss. Win win!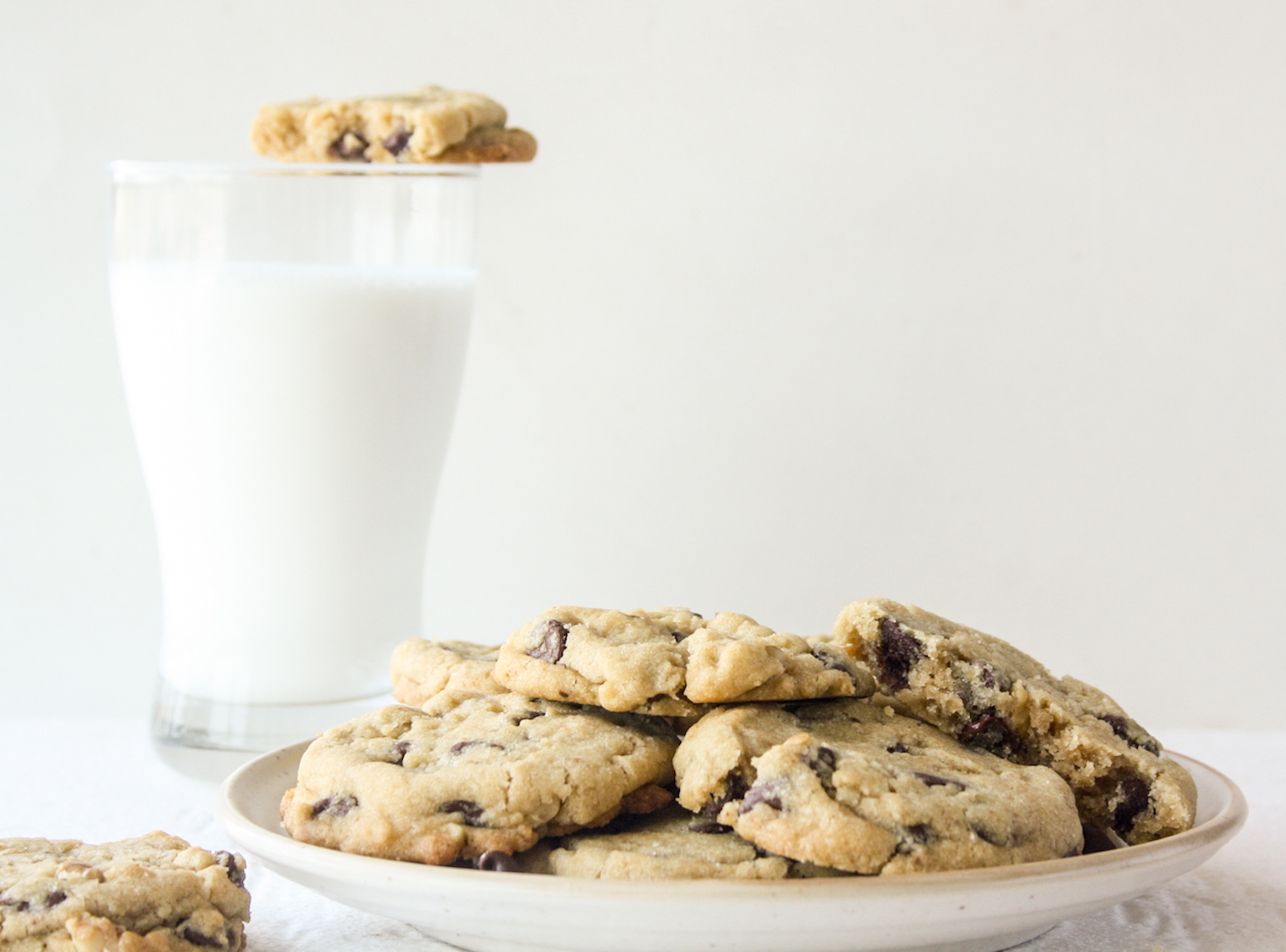 The cookies are crispy-edged, chewy centered and on the softer side, just the way I like them. You can bake for a few extra minutes for firmer cookies, they will still be delicious. The nuts add texture, and melty chocolate chips everywhere are of course my favourite bit!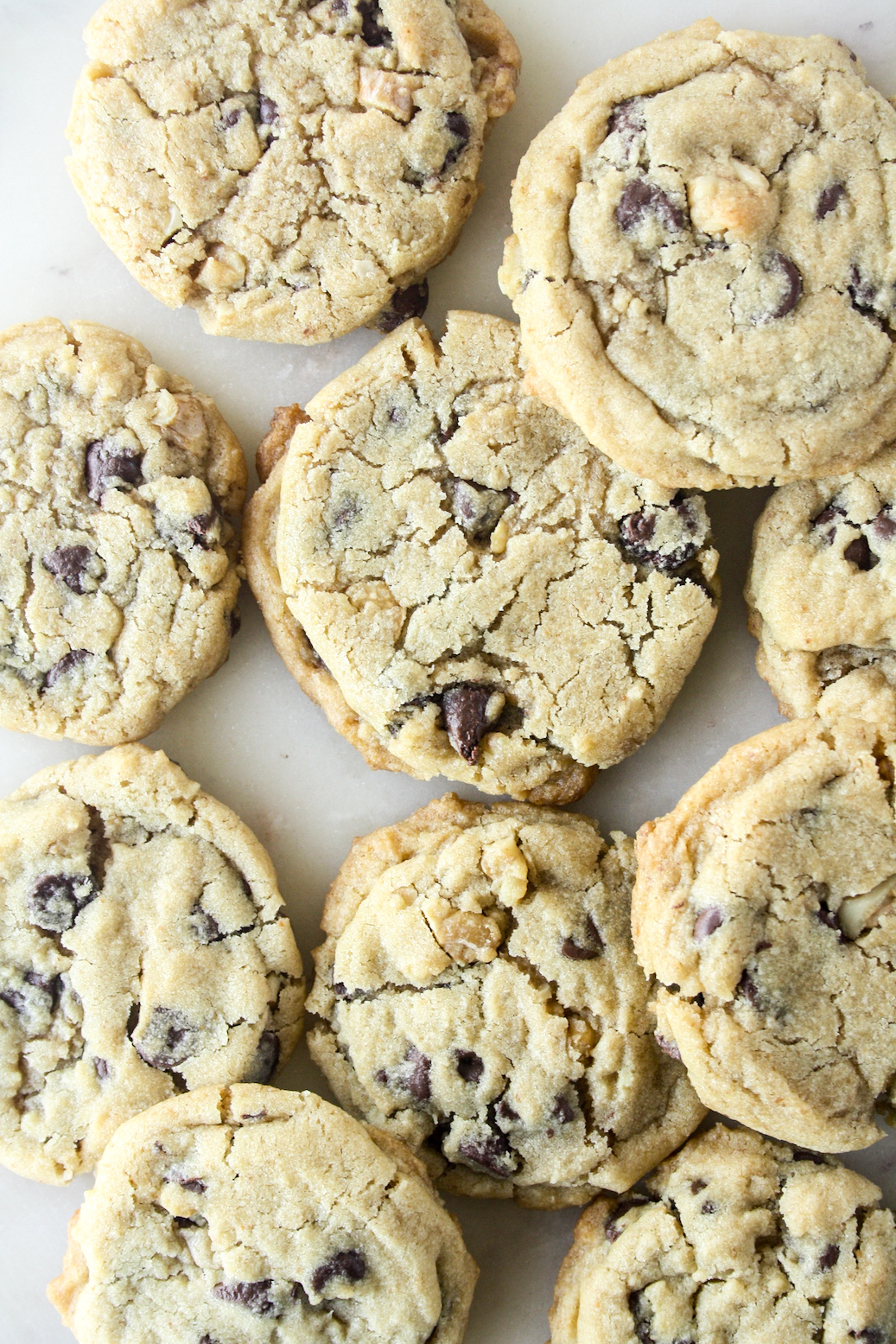 The dominant flavour is certainly from the chocolate itself but as I said, there is a special something in these cookies that you can't quite put your finger on, unless you do know there's browned butter in them. Mysterious and magical!
I hope you'll make a batch today 🙂

Browned Butter Chocolate Chip & Walnut Cookies
Chewy chocolate chip cookies with browned butter and walnuts
Author:
The Desserted Girl
Ingredients
140 gms butter (1/2 cup, lightly heaped), cubed and at room temp
1 and ½ cups all-purpose flour
½ tsp baking soda
½ tsp baking powder
½ tsp salt if using unsalted butter
½ cup brown sugar (light or dark)
⅓ cup caster sugar
1 egg, at room temp
1 tsp vanilla extract
⅓ cup finely chopped walnuts
1 cup dark or semi sweet chocolate chips
Instructions
First, brown the butter. In a saucepan set on low heat, melt the butter, stirring occasionally but do not leave the saucepan unattended. Let it cook till it becomes frothy and starts bubbling up, then settles down and you start to see brown bits on the sides and bottom of the saucepan. It will smell nutty and super fragrant! Turn off the heat and pour the browned butter into a mixing bowl to cool. Make sure you get all of those toasty brown bits in there too!

Allow the butter to cool for 10 minutes, then place in the fridge until it is solid, but not super hard. This will take about an hour. The idea is to get it firm enough to cream with the sugar as with any other cookie dough (see notes).

Now preheat the oven to 175 C. Line a baking tray (or two if you're baking in batches) with silicone baking mats, or lightly grease the trays. Set aside.

Sift the flour, baking soda, baking powder and salt, if using. Set aside.

To the solidified browned butter, add the sugars and beat using a hand mixer until pale and creamy.

Add the egg and vanilla and beat again till combined.

Now fold in the flour mixture, until just combined. Do not over-mix. Fold in the chopped walnus and chocolate chips. The dough will soft and a little sticky.

At this stage, you can bake immediately or cover the bowl and chill the dough for 1 hour up to 2 days. (I personally prefer baking them immediately, but if you like puffier cookies, chill the dough first. Chilling also deepens the flavour but I tried these cookies both ways and thought they were equally delicious!)

Using a cookie scoop or just a spoon, form equal sized dough balls, you should get about 18. Place them 2 inches apart on the baking tray.

Bake for 10 to 12 minutes or until the cookies are lightly browned on the edges and still puffy in the middle. (At 10 minutes, the cookies are a little gooey and under-baked, which I love but 12 minutes cooks them through. If you chilled the dough, you will need to bake for an extra couple of minutes. On the whole, these are softer and gooier than the average cookie.)

If the cookies look puffy, press down on each one with the back of a spoon to lightly flatten. The other thing I sometimes do is rap the baking tray on the counter to help the cookies spread and flatten, as well as get crinkly tops. Allow the cookies to cool and firm up for about 15 minutes before digging in.

Repeat with the remaining dough. When completely cool, store in an airtight tin at room temperature for 4 to 5 days, or in the fridge for 10 days. These cookies can be frozen for a month. Happy baking!

Notes
*You could also make these cookies without solidifying the brown batter. I find that butter in a liquid state tends to make the dough a bit greasy so you may need a couple of additional tablespoons of flour. But nothing should go majorly wrong if you choose to make them this way. Typically, melted butter produces a chewier, denser cookie.
Shop this recipe!
Check out a full list of my baking essentials here!
This post contains affiliate links.