Yaaaaaay it's yet another chocolate chip cookie recipe! I really don't think we can ever have too many. And these particular cookies are so addictive, they need to come with a disclaimer. A classic cookie dough is taken up several notches with a good splash of whiskey and rye flour. The flavours are subtle, but intriguing and all of a sudden, the chocolate chip cookie becomes an even more magical species.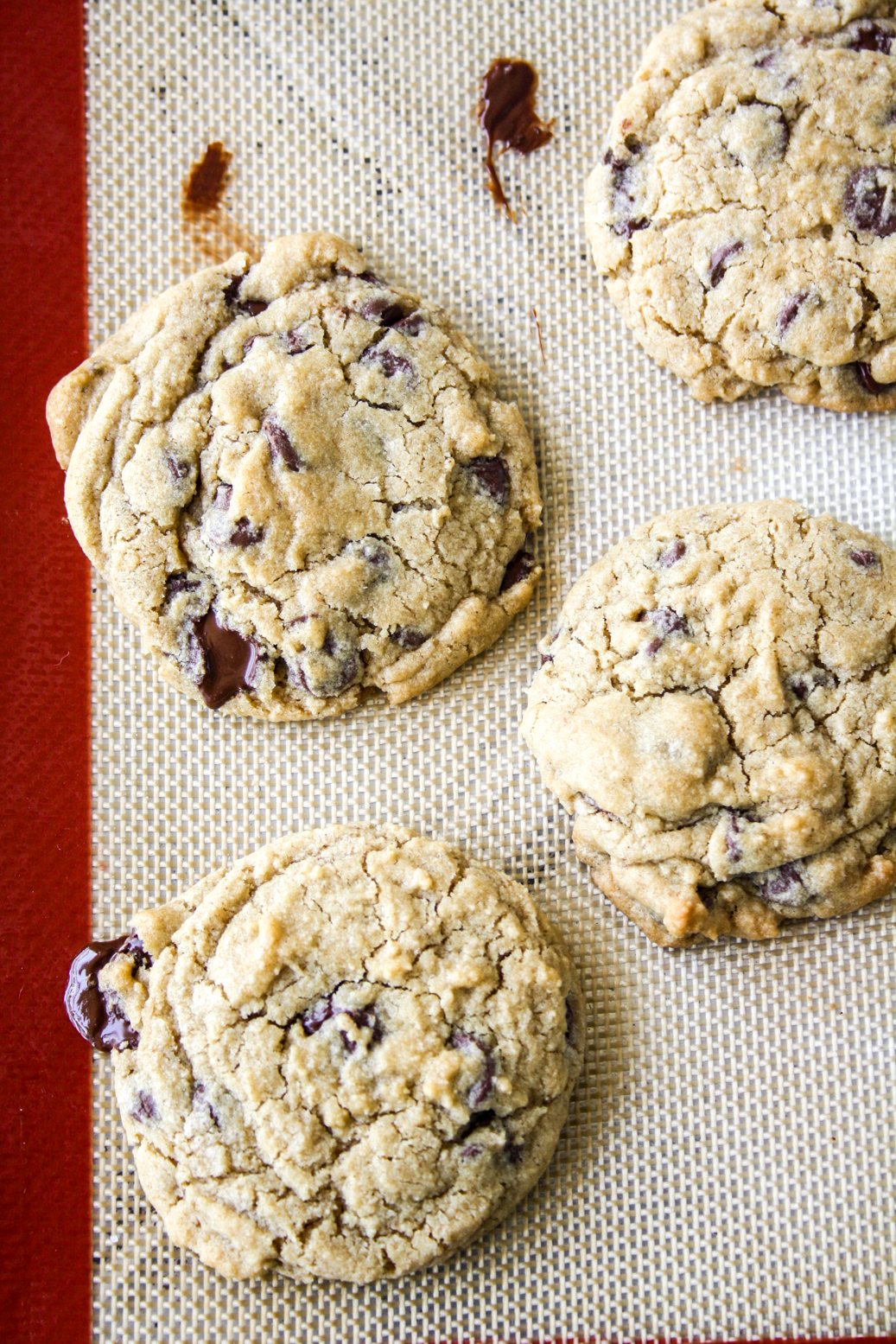 This is a simplified version of this Bon Appetit recipe. I used regular chocolate chips, not the more expensive 'feves' and they taste delicious anyway. I kept it basic with a light sprinkling of sea salt on some cookies, not the vanilla bean salt in the original recipe. Buuuuut the more significant change was to use 3 tablespoons of whiskey, not just 1 teaspoon because it's not enough to make its presence felt. Either way, the whiskey isn't prominent because it's the chocolate and butter that gives the dough its flavour. Adding much more whiskey will change the consistency of the dough so I wouldn't advise it. Grab a glass of it on the side instead!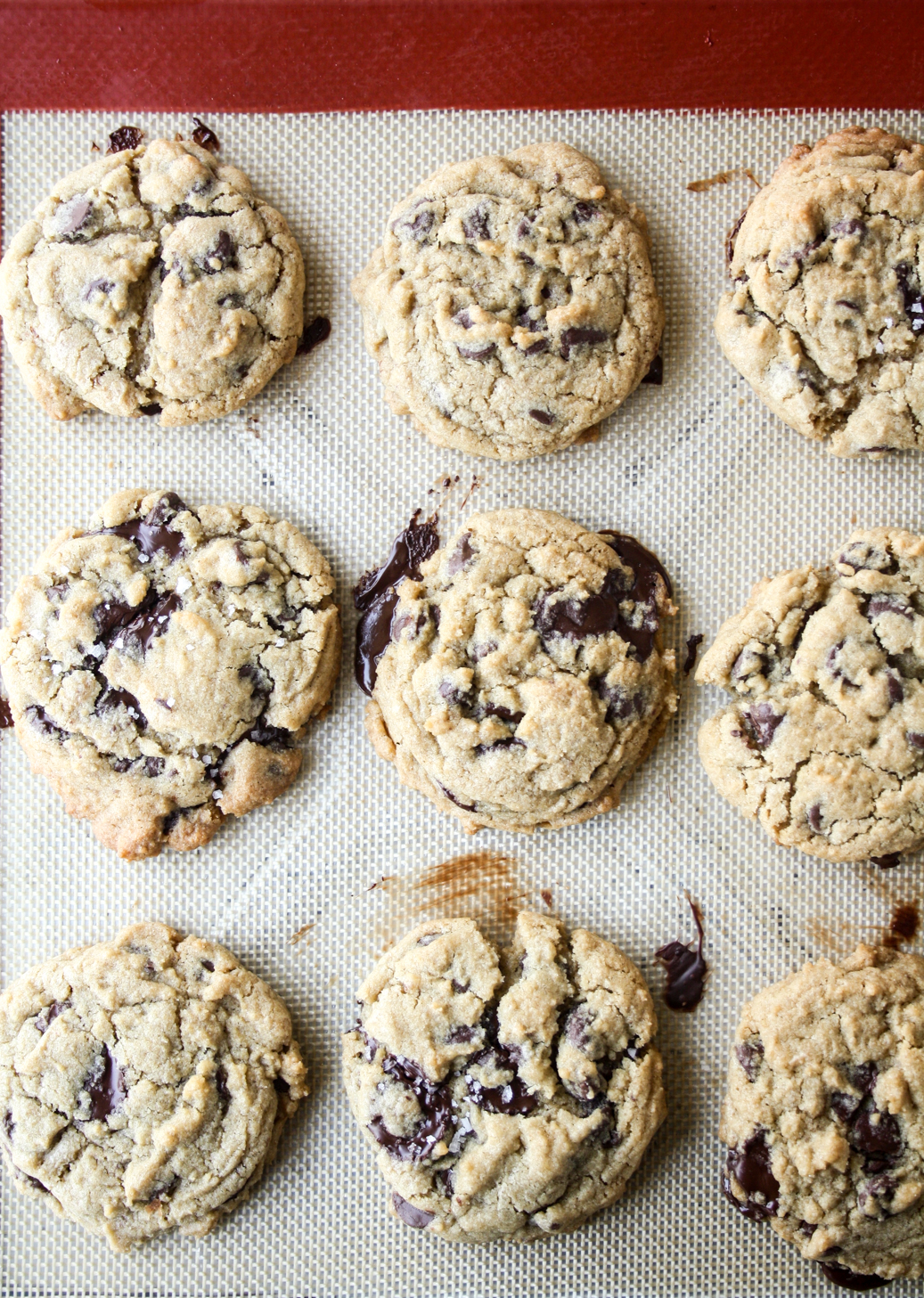 Rye flour adds a little nuttiness and complexity to the cookies and though the texture of the dough is very similar to my favourite one, the baked cookies have just a little something more to them. The dough doesn't need to be chilled in my opinion, the cookies still turned out just the right thickness. Rapping the pan on the kitchen counter a couple of times help them flatten and create those melty chocolate pockets.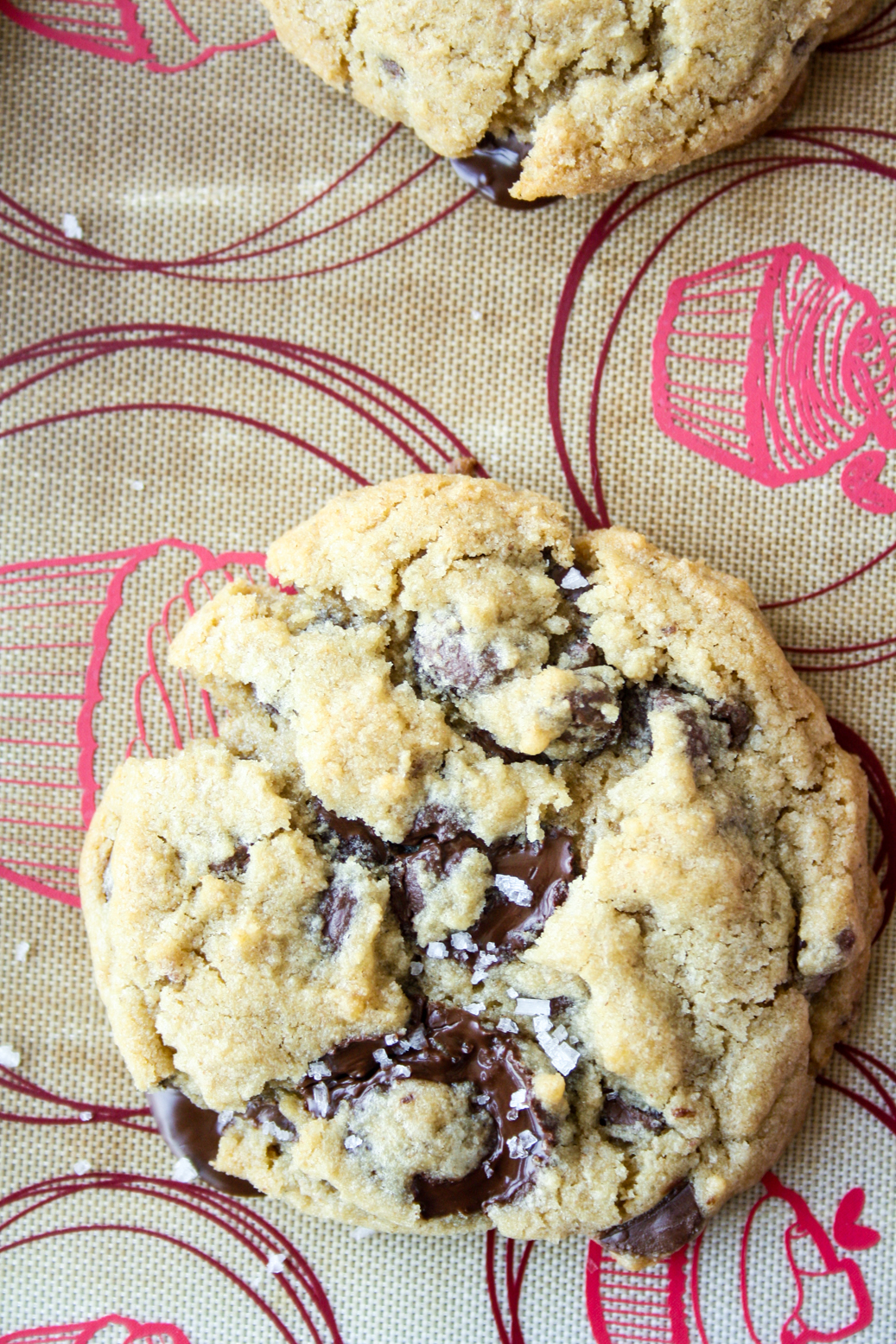 They are crispy-edged and chewy centered, just the way I like my chocolate chip cookies! They're irresistible and this is a pretty large batch of cookies, so you're warned!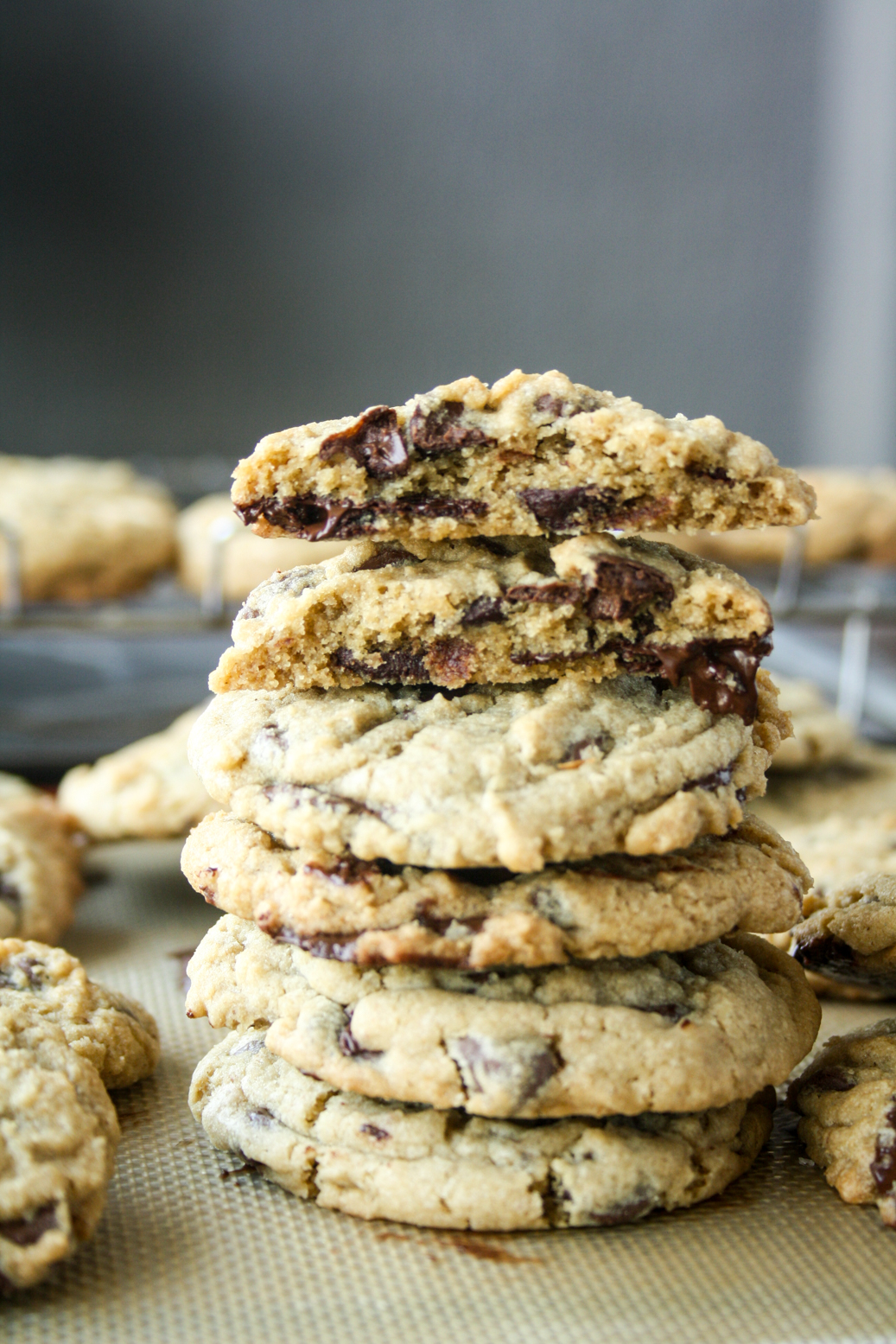 Let's make cookies!

Chocolate Chip Cookies with Whiskey and Rye
Crispy edged, chewy centered chocolate chip cookies with the flavours of whiskey and rye flour
Author:
The Desserted Girl
Ingredients
2 cups all-purpose flour
½ cup rye flour
½ tsp baking soda
½ tsp salt
¾ cup unsalted butter, at room temp (170 gms)
¾ cup brown sugar
¾ cup caster sugar
1 egg
1 tsp vanilla extract
3 tbsps whiskey
1 and ½ cups dark chocolate chips
Instructions
Sift the flours, baking soda and salt together in a bowl. Set aside.

Beat the butter and sugars together in a mixing bowl till pale and fluffy. If you have a stand mixer, it's useful here as the dough is quite large and requires some elbow grease towards the end.

To the creamed butter and sugar, add the egg, vanilla and whiskey.

Beat again to combine, then slowly add the flour mixture, stirring gently.

Fold in the chocolate chips. At this stage, you can cover the bowl and chill the dough for thicker cookies, but I didn't feel the need.

Preheat the oven to 175 C.

Use a cookie scoop or two spoons to form equal sized dough balls. Place them on a baking tray lined with a silicone mat, at least 2 inches apart.

Bake for 10 minutes, then rotate the tray and bake for another 3 to 5 minutes for extra browning. Remember that cookies firm up and become drier as they cool, so don't over-bake. If you find that they've puffed up a lot in the oven, grab the tray with both hands and rap it firmly against the kitchen counter a couple of times. This helps the cookies flatten and creates melty chocolate pockets!

Allow the cookies to cool on the tray and then transfer to a wire rack to cool completely.

Store in an airtight tin at room temperature for up to a week and in the fridge for two weeks. Cookies can be frozen, usually up to a month. The cookies may harden after day one, you can just heat them in the microwave for a few seconds to soften them again. Happy baking!
Notes
*The whiskey flavour is very very subtle, but avoid adding too much to the dough because the consistency and texture could get affected.

*If you'd like to halve this recipe, use one small egg if you don't want to fiddle around with half an egg.

*Cook time will increase if baking in batches.
Shop this recipe!
This post contains affiliate links.