Meet my new favourite chocolate cake! It is UNREAL, really. Moist, super duper chocolatey, enough olive oil to make it really special aaaaaaand that whipped ganache frosting. OMG. It's silky smooth, so creamy, so rich and basically, I don't think you really need the cake at all. Just frosting is great, no?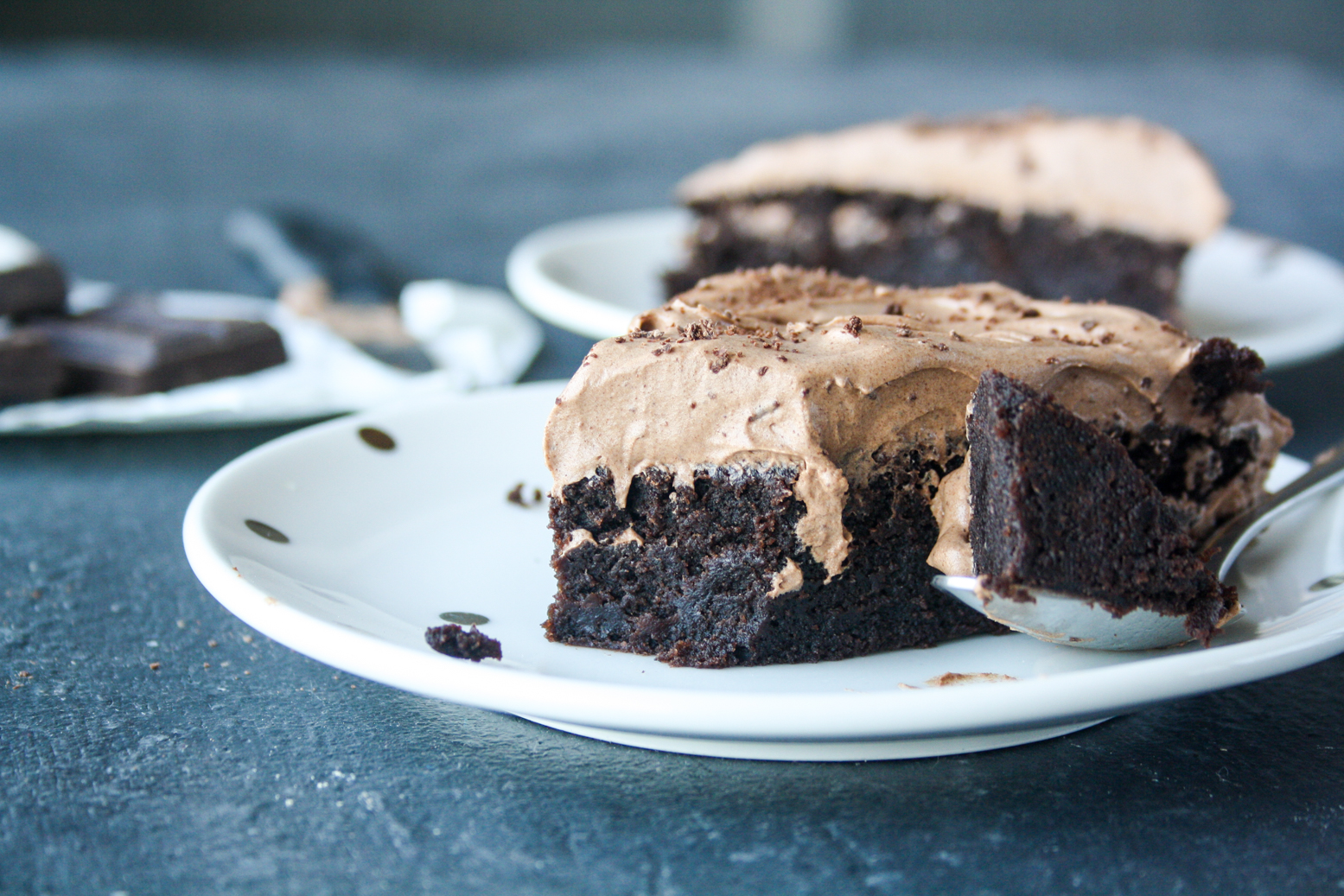 The cake comes from Smitten Kitchen and by itself, it's vegan. The olive oil shines through for sure, so use a light version instead of extra virgin if you prefer. Don't use any other oil here though, because there's so much flavour that gets compromised on. Trust me 🙂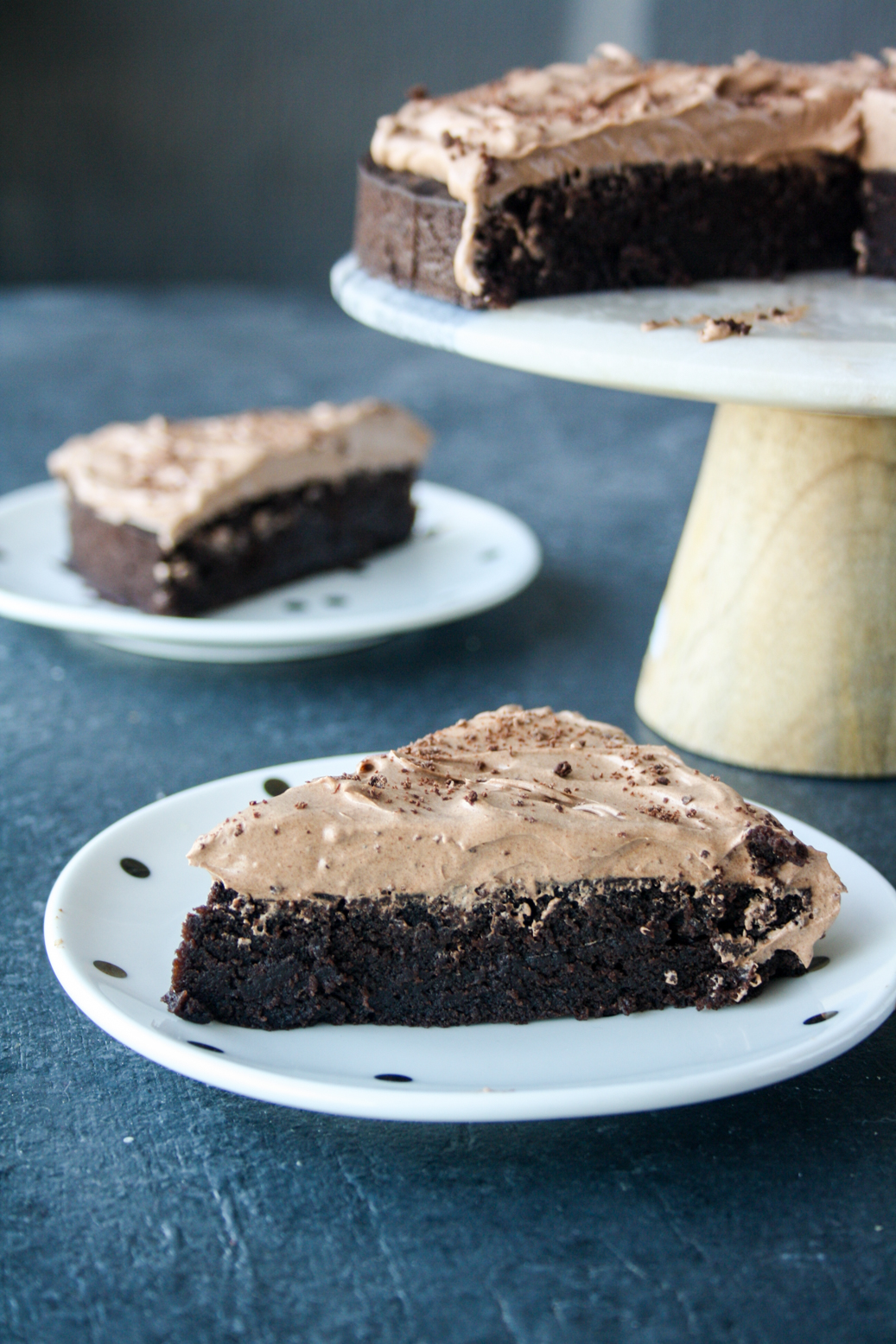 The one major change I made while baking this cake was to use Dutch-process cocoa, not natural cocoa. Read more about the difference here. While the original recipe uses natural cocoa (the regular kind that is most commonly used), I chose Dutch-process here for two reasons. One, I had an excess of it in my fridge, and two, it's far more chocolatey than natural cocoa. This swap meant I had to also switch from baking soda to baking powder and I was worried it won't work, but it did! (More about the difference between baking powder and soda here). The cake is intensely, deeply, darkly chocolatey and I'm in love. I used more brown sugar than white for extra flavour and moisture as well.
This is not a very tall cake and nor does the top become domed as it rises in the oven. The flat surface makes it perfect for frosting and if you'd like to bake two and layer them, it'll be super easy here.
Ok, now can we talk frosting?! You can use a vegan frosting of your choice here, but I decided to make a whipped chocolate ganache for the first time. All you do is make a regular ganache by stirring hot cream and chopped chocolate. Then let it chill in the fridge and whip it up! Spread it over the cake, swirling it around and top with shaved chocolate or sprinkles. MMMMMM!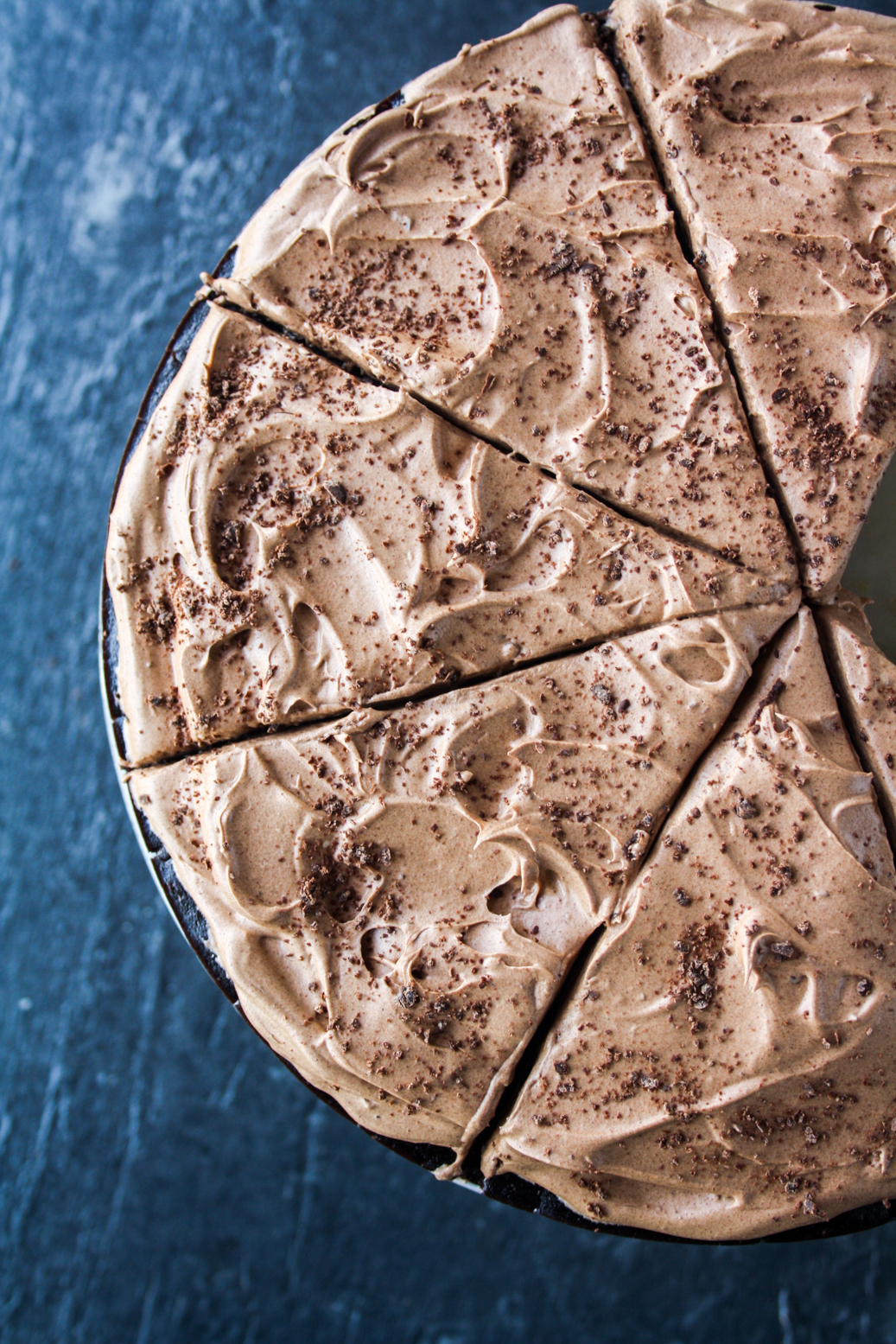 The smooth frosting and the slightly spiciness from the olive oil are just perfect together. The cake is on the denser side, but not in an unpleasant way. It's tender and soft, despite not being super fluffy. While it needs to be stored in the fridge once frosted, it's definitely best eaten at room temperature so leave it out for a bit before digging in.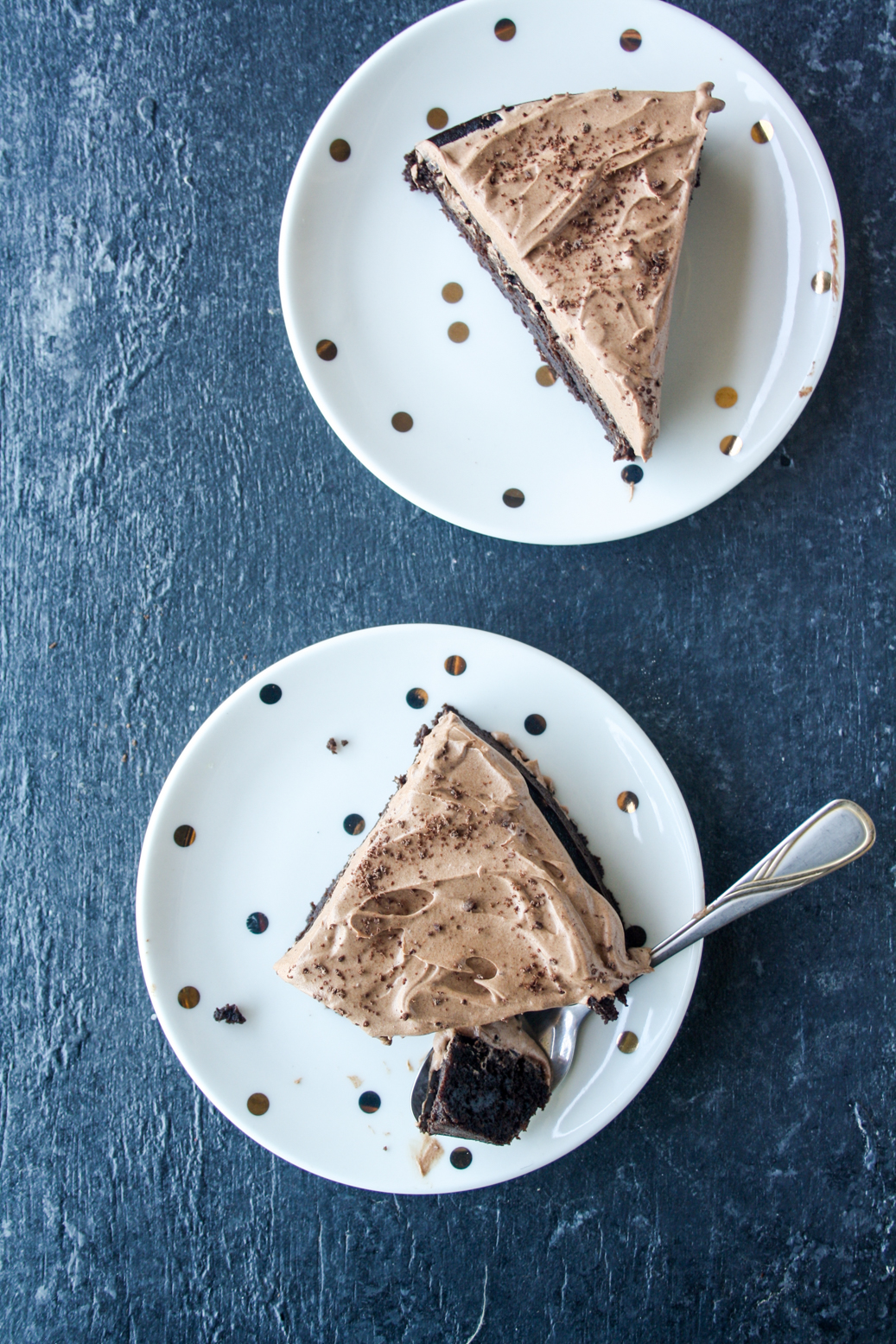 I hope you'll make this soon!
Please read the recipe notes before beginning.

Chocolate Olive Oil Cake with Whipped Chocolate Ganache (Eggless)
Moist, eggless chocolate and olive oil cake with a silky whipped ganache frosting
Author:
The Desserted Girl
Ingredients
For the cake
1 and ½ cups all-purpose flour
¾ cup Dutch-process cocoa powder
1 and ¼ tsp baking powder
¼ tsp salt
½ cup caster sugar
1 cup brown sugar
½ cup olive oil
1 and ½ cups hot water
1 tbsp vinegar

For the whipped ganache frosting
50 gms dark cooking chocolate, finely chopped
½ cup cream, whipping or regular
2 tbsps powdered sugar
Instructions
Preheat the oven to 175 C. Grease a 9" round cake tin (preferably springform for easy removal) and set aside.

Sift the flour, cocoa, baking powder and salt together in a bowl. Set aside.

In a mixing bowl, whisk the sugars and olive oil till well combined.

Now add the hot water slowly, alternating with the flour mixture. Stir to make a smooth batter.

Pour into the prepared tin and bake for 40 to 45 minutes until a toothpick poked in the center comes out clean. Start checking for doneness at 30 minutes. The cake doesn't rise very tall and the surface stays quite flat.

Allow the cake to cool at room temperature while you make the frosting.

Place the chopped chocolate in a bowl. Heat the cream and bring it to a gentle simmer, then pour immediately over the chocolate. Let it sit for a few minutes, then stir to combine into a smooth, runny ganache. Keep in the refrigerator for 1 hour, or until it is completely chilled.

Stir the powdered sugar into the ganache, then whip with a hand mixer until it becomes pale, thick and forms soft peaks.

Spread the frosting over the top of the cake and over the sides if you wish. Decorate with shaved chocolate or sprinkles! If not serving immediately, store the cake in the fridge. Bring to room temperature before slicing. The unfrosted cake will last about a week in the fridge and 3 to 4 days after frosting. Happy baking!
Notes
*'Dutch-process' is always specified on the front or back of the cocoa powder pack. If using natural cocoa powder instead (like Hersheys or Cadbury), swap the baking powder for baking soda.

*The olive oil flavour is definitely prominent in the cake. I used extra-virgin, but you can also use a light olive oil if you prefer. Any other kind of oil will compromise the flavour in this cake.

*This is not a very sweet cake, so taste the batter and see if you'd like to add another ¼ cup of brown or white sugar.

*I used apple cider vinegar, but normal white vinegar is fine too. It's main role is to react with baking soda and help baked goods rise, and even though I used baking powder (which contains some soda), the cake still rose well, so I decided to retain the vinegar in the recipe.
Shop this recipe!
This post contains affiliate links.