I've been dreaming of this bread for a while now, pretty much ever since the fluffiest rolls in the world came into my life. I couldn't get a few thought out of my mind: wouldn't jammy, caramelised fruit be AMAZING stuffed into these rolls? And if they're baked sort of sticking to each other, wouldn't it also be fun to pull each piece apart and bite into soft bread, juicy apples, maybe with a little extra caramel on top?
Spoiler alert: yes to everything!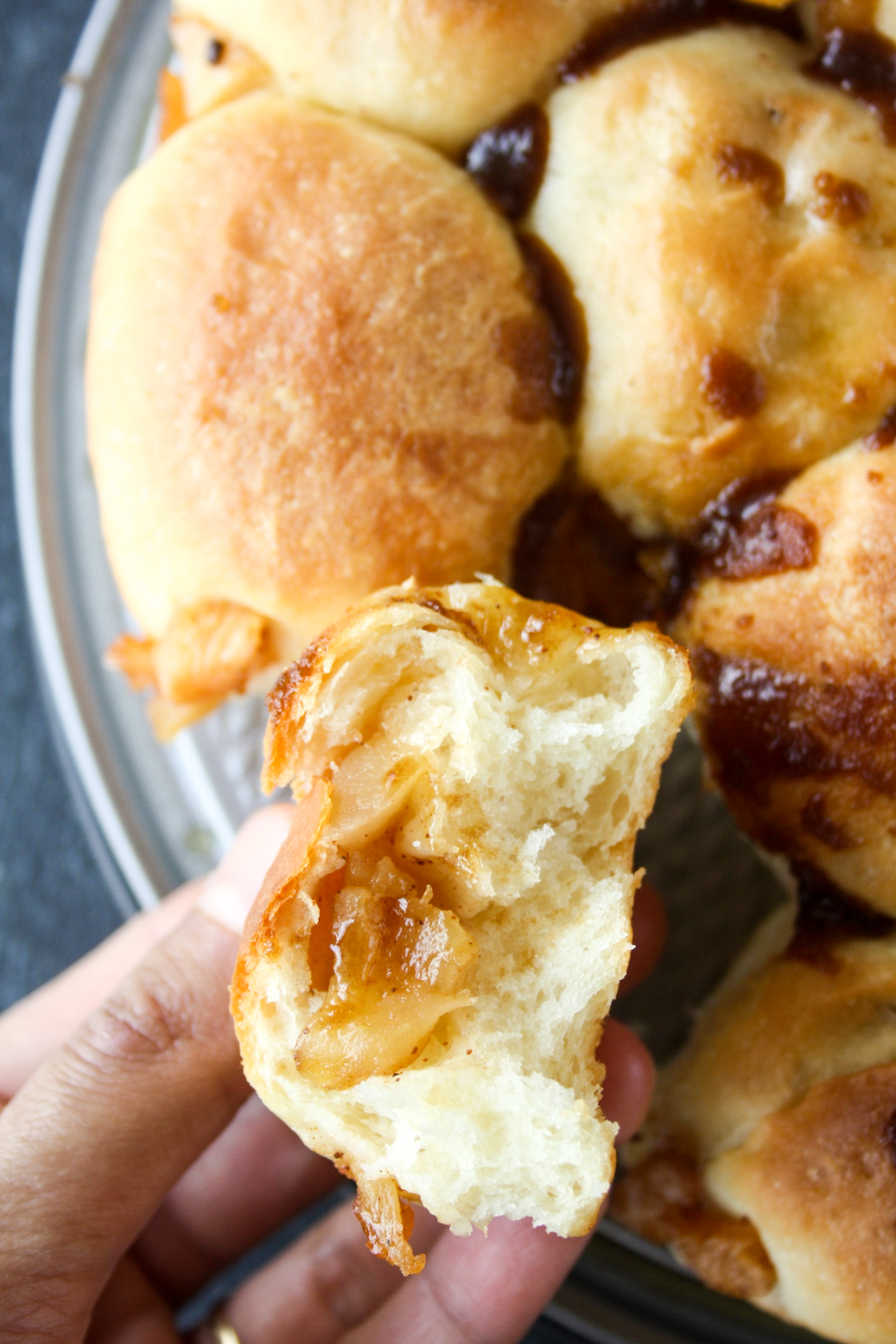 Pull-apart breads are the best for sharing with a crowd, because you literally pull pieces off it and transfer them straight to your mouth. They're sometimes called monkey bread too! There's all kinds out there and while they're usually gooier and stickier than you see here, I like this slightly toned down version too.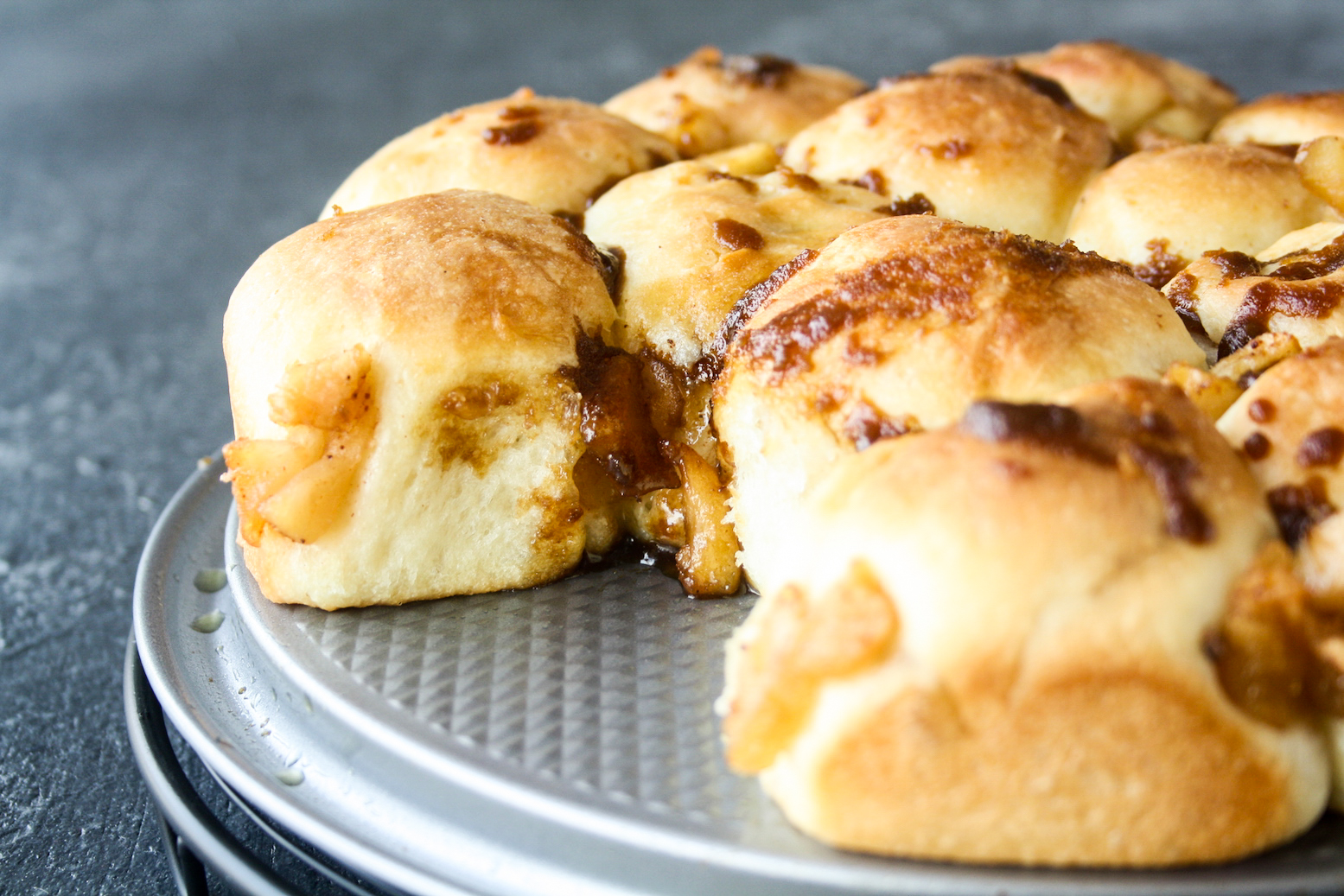 The apples are lightly cooked in butter and sugar, then cooled and stuffed into little pieces of the dough. It's all very easy, I promise because fussy breads and me are not friends. The little dough balls are then placed close to each other so that as they bake, they stick together. In the little gaps, we'll add a few more apples pieces for extra sticking power!
The caramel on top is a very quick butter-brown sugar situation, though you can get fancier with a caramel sauce too. Really depends on how much sugary sweetness you enjoy, there's no right or wrong!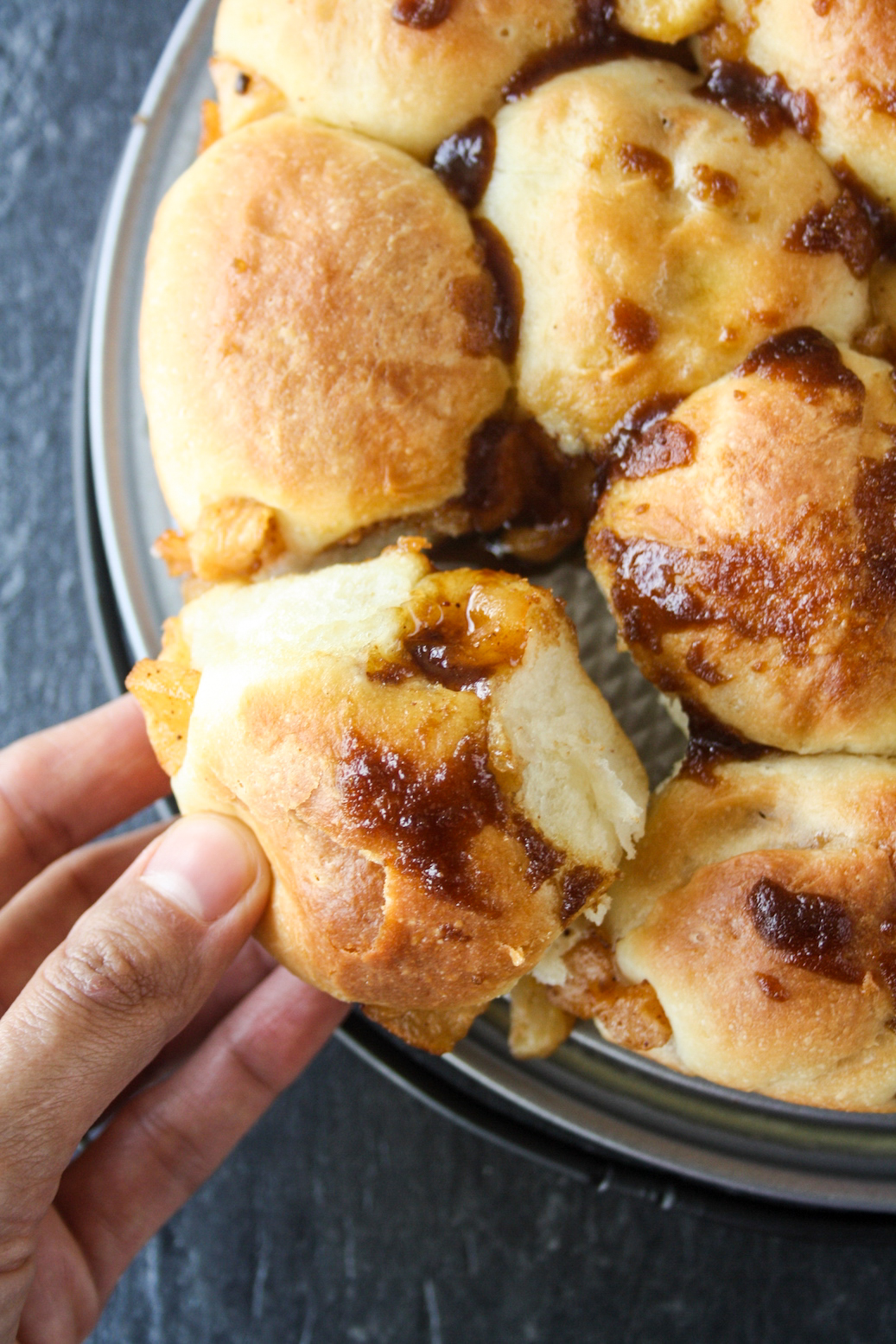 The rolls themselves are straightforward and packed with such lovely flavour and softness you'll be amazed at how little effort they require. The apples still have a slight bite to them that goes really really well with that pillowy texture. There's a touch of cinnamon for an apple pie like feel, and the whole thing is just fabulous. I hope you'll try this bread soon!

Caramelised Apple Pull-Apart Bread (Eggless)
Fluffy bread rolls stuffed with caramelised apples
Author:
The Desserted Girl
Ingredients
For the dough
¾ cup + 2 tbsps whole milk
1 and ½ tbsps caster sugar
1 and ¼ tsps active dry yeast
3 tbsps melted unsalted butter (40 gms)
2 cups all-purpose flour, plus more for sprinkling
1 tsp salt

For the apple filling
2 apples, peeled and diced
1 tbsp unsalted butter
1 tbsp caster sugar
Pinch of cinnamon powder

For optional topping: 2 tbsp brown sugar + 1 tbsp unsalted butter
Instructions
Heat the milk and sugar together in a small bowl until the mixture is warm, but not hot. You should still be able to comfortably dip a finger in it. Stir in the yeast and cover the bowl with clingfilm. Let it rest for 5 to 10 minutes, until the yeast has almost completely dissolved and the mixture is frothy.

In the meantime, add the butter to a mixing bowl, or the bowl of a stand mixer. Give it a quick stir, then pour in the yeast mixture. Add the flour and salt and stir again. Now bring the dough together then knead either by hand or with the mixer's dough hook (low to medium speed), till you have a soft, smooth, slightly sticky dough. This will take about 10 minutes. I find that even with a mixer, some stickiness remains and I prefer kneading the dough by hand on the kitchen counter. Add 2 to 3 tablespoons of extra flour as needed but don't worry if the dough is still sticky by the end of it. If you poke it with a finger and it bounces slowly back, it's ready.

Lightly oil a large bowl (I just use the mixing bowl itself), place the dough in it and turn it around to coat all sides. Cover with clingfilm and let it rise at room temperature for 1 to 2 hours, until doubled in size. Don't rush this, it's important that the dough is nice and puffy.

Meanwhile, combine all the filling ingredients in a pan on low heat and stir well. Cook for 3 to 4 minutes until the apples have darkened and softened, but not gone mushy. Set aside to cool.

Now turn the risen dough out onto a floured kitchen counter. It will be smooth, stretchy and not sticky anymore. Divide into 15 equal pieces (or eyeball it as you go) and stretch each piece out to about 2 to 3 inches in diameter. Place 2 tsps of the apple filling in the center and bring the sides up and pinch to seal the dough ball. (It's tempting to really stuff it with lots of filling, but it gets harder to shape the dough ball and they make break as they rise while baking. You'll have a little leftover filling, keep it aside).

Place each dough ball seam-side down in a greased 9" round cake tin, making sure they're close together. If they stick together, that's even better! Cover with clingfilm again and let them rise for 1 hour until puffy and doubled.

In the gaps between the dough balls, stick any leftover apple pieces to help the bread stick together better and create more gooey bites. Bake for 20 minutes and an extra 5 to 10 minutes as needed, until the rolls have turned a beautiful golden-brown. Rotate the tray halfway through baking for even browning.

The rolls will have a firm crust, so you can help it soften by brushing a little melted butter on top. It adds flavour too, but isn't necessary.

To make the topping, simply melt the butter and sugar together in a pan, then pour immediately over the rolls, before the sugar hardens. Dig in while it's all still warm!

Rolls will keep in an airtight tin at room temperature for a day after which they're best stored in the fridge especially if you live in a warm area. They will last 4 to 5 days and can be reheated as needed. Happy baking!
Notes
*If you prefer more caramel on top, use my salted caramel recipe, because the one written here isn't great for larger quantities as the sugar crystallises pretty quick.
Shop this recipe!
This post contains affiliate links.