It is amazing that for someone who loves coffee as much as I do, I haven't done a whole lot of baking with it. There's this and this and an ice cream, but for some reason, that's about it! So, when my sister requested a coffee and chocolate birthday cake, I woke up, smelled the coffee (like I do every day) and got to work.
This is a straightforward but rich, tender chocolate cake infused with fresh coffee then filled and topped with a dreeeeaamy coffee chocolate ganache. Seriously, I almost ate the frosting straight from the bowl. Such a great cake!
This recipe by Completely Delicious looked really great but made a verrryy large cake. My oven doesn't hold multiple cake tins at a time, and the batter would have overflowed from a single 9″ tin. So, I halved the recipe and still managed to get a fairly tall cake, that could be sliced into two thinner layers. You could choose to leave it as a single layer cake and just spread all of the frosting on top. Believe me, no one will complain!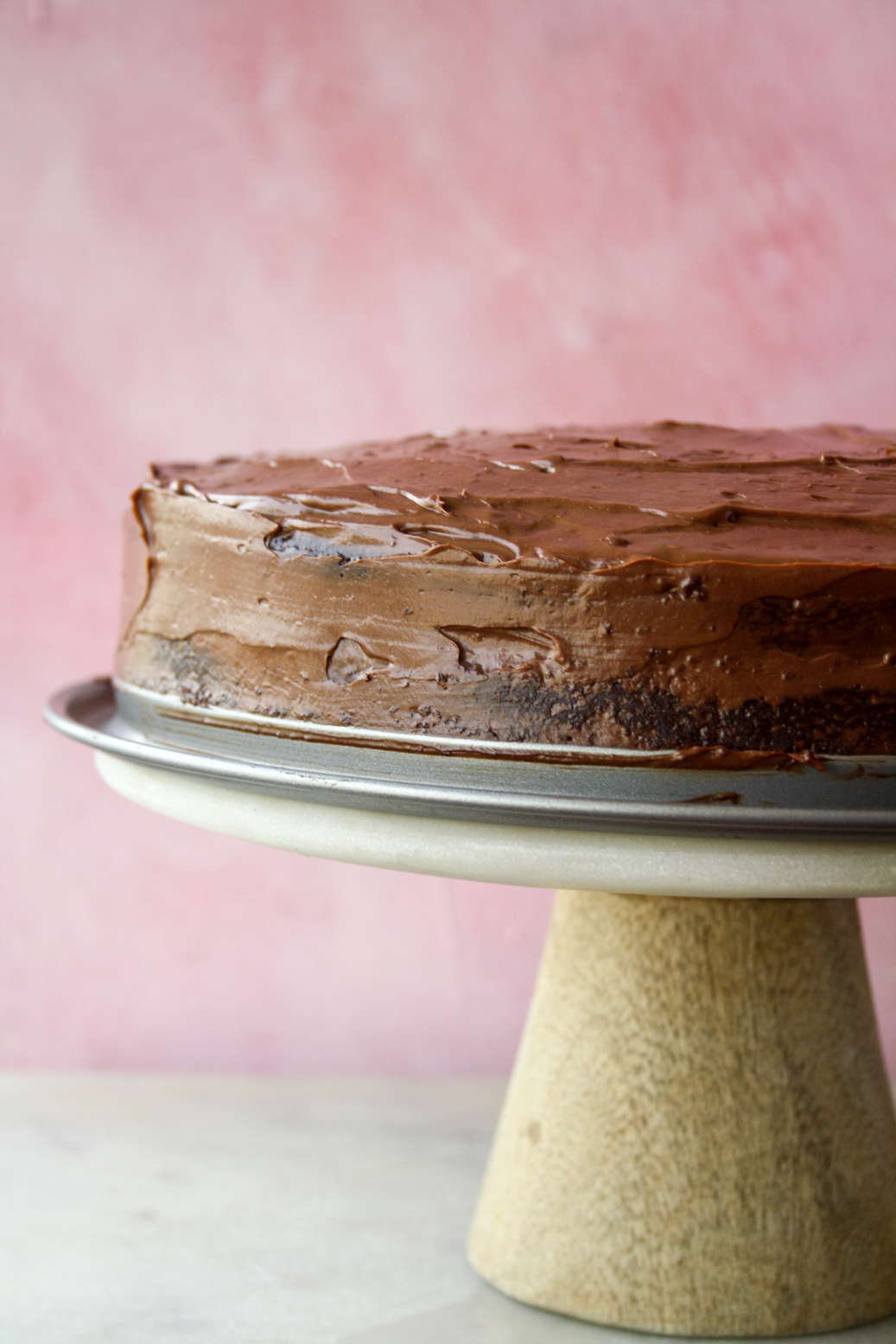 I used yoghurt instead of sour cream since I usually have yoghurt on hand and it produces the same rich, moist texture. I also changed the method a little bit to make it a simple mix-dry-into-wet kind of recipe and added chocolate chips to the batter for some extra gooey bits within! For the frosting, I knew I wanted to make a ganache. Silky, chocolatey and so decadent, it's my favourite way to frost cakes. A little bit of instant coffee powder takes the flavour up a notch, and a bit of powdered sugar keeps it just sweet enough.
I found it easier to stir the cake batter by hand because it's quite a voluminous one. If you have a stand mixer, now's the time to bring it out so that the large bowl can prevent any messes! The cake is deeply chocolatey, with just enough coffee flavour to take it up a notch.
You can top it however you like, but I thought coloured sprinkles were quite festive and celebratory. Chocolate curls would be so good, or little coffee truffles! Or, just leave it unadorned because those ganache swirls are beautiful.
Butter cakes tend to firm up in the fridge, so leave the cake out at room temperature before serving, and for the most amazing, gooey flavour, warm it up just a little.
Every bite is bursting with flavour and it's just such a lovely, decadent cake. Make it quick!

Chocolate Coffee Layer Cake
Tender chocolate cake with coffee, and a rich chocolate coffee ganache
Author:
The Desserted Girl
Ingredients
For the cake
½ cup cocoa powder
1 and ⅓ cup all-purpose flour
1 tsp baking powder
½ tsp baking soda
½ tsp salt
140 gms unsalted butter, at room temperature
½ cup brown sugar
¾ cup caster sugar
2 eggs
2 tsps vanilla extract
⅓ cup plain yoghurt
¾ cup hot coffee*
½ cup dark chocolate chips, optional

For the coffee ganache
100 gms dark chocolate, finely chopped
1 cup whipping cream/regular cream
2 tsps instant coffee
3 tbsps powdered sugar
Instructions
Preheat the oven to 175 C and grease a 9" springform tin or round cake tin.

In a large bowl, sift the cocoa, flour, baking powder, baking soda and salt. Set aside.

In a mixing bowl, beat the butter and sugars with a hand mixer until pale and creamy. Add the eggs and vanilla and beat to combine.

Add a couple of tablespoons of the flour mixture to stabilise the batter (because the yoghurt contains acid that could split the batter), then beat in the yoghurt. If your batter still looks like it split, it's ok and will come together in the next step.

Now, add the rest of the flour mixture and the hot coffee alternately, starting and ending with the flour. Make sure you pour the coffee slowly because one, it's hot and could cook the eggs if added suddenly, and two, adding it slowly prevents the batter from splattering as you mix. You can use a stand mixer to make this batter, or simply stir by hand in this step to prevent the hand mixer making mess.

Stir till you have a smooth, not very thick batter, then fold in the chocolate chips. If your batter has a few lumps, you can now run the hand mixer through it for a few seconds.

Pour into the prepared tin and smoothen the top. Bake for 40 to 45 minutes until a toothpick poked in the center comes out clean. Start checking for doneness at 30 minutes.

Allow the cake to cool at room temperature.

To make the frosting, place the chopped chocolate in a heatproof bowl. Then, in a saucepan on low heat, combine the cream and coffee. Bring to a simmer (not a boil), then turn off the heat and pour the hot cream over the chocolate. Let it stand for a few minutes, then stir to make a smooth ganache. Add the powdered sugar and stir again. The ganache will thicken at room temperature, but you can also place it in the fridge for 10 minutes to speed it up.

Slice the cooled cake into two layers horizontally (or leave it as is and simply spread the frosting on top). Spread half the thickened ganache onto the bottom half, then place the top half on it and cover the top and sides with the remaining ganache. Decorate with sprinkles or chocolate curls if needed.

The cake tastes best at room temperature, but you can stick it in the fridge for 30 minutes to let the layers set properly with the frosting. If chilling for longer, bring it to room temperature before eating or reheat individual slices in the microwave. Keep stored in the fridge at all times. Happy baking!

Notes
*For the cake, use any kind of strong black coffee you like, brewed/instant/filter coffee.
Shop this recipe!
This post contains affiliate links.