If you scream ice cream, I scream chocolate. There is no time wasted thinking, that's just my favourite flavour of all time. And strawberry? It never ever featured on my list of favourite ice cream flavours (yup, I have a list!) because the ones available commercially are just….weird. So pink, so artificially flavoured and coloured and so not strawberry! I've had very very very few scoops of real strawberry ice cream, but I decided it was time to make it at home and bump it onto that list.
You guys, this one is so good! It is bursting with fresh, real, honest strawberry flavour and while I spent some time worrying about why the colour is not really pink, one bite and all my worries vanished. Let's make ice cream!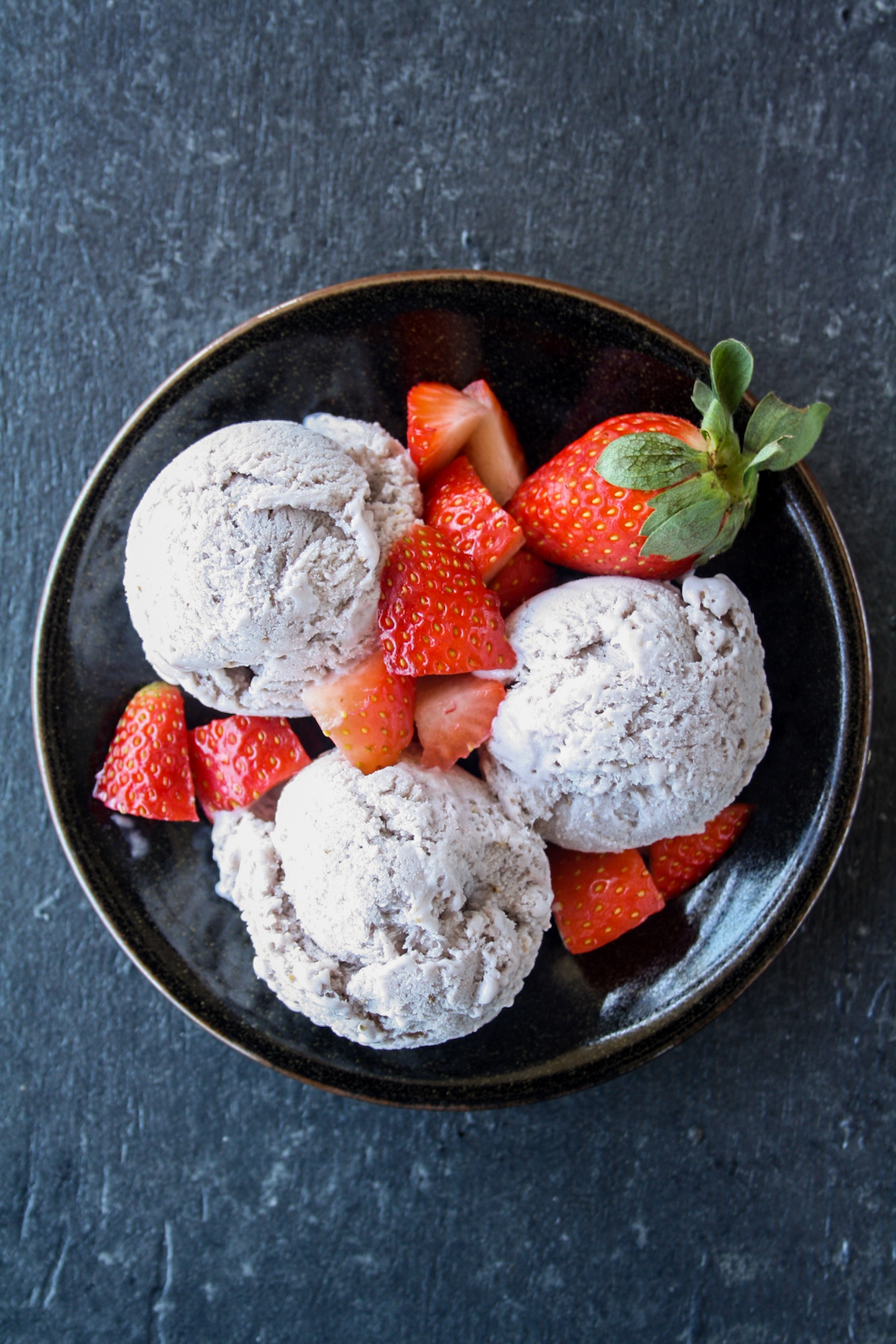 Much like this mango ice cream, the water content in strawberries can make the texture a little bit icy, but also helps keep it at a scoop-able consistency, so it doesn't melt quite as fast as this peanut butter one, for example. And after a few minutes at room temperature, the texture softens to creamy and the iciness disappears. It's a smooth, rich, very easy ice cream to make!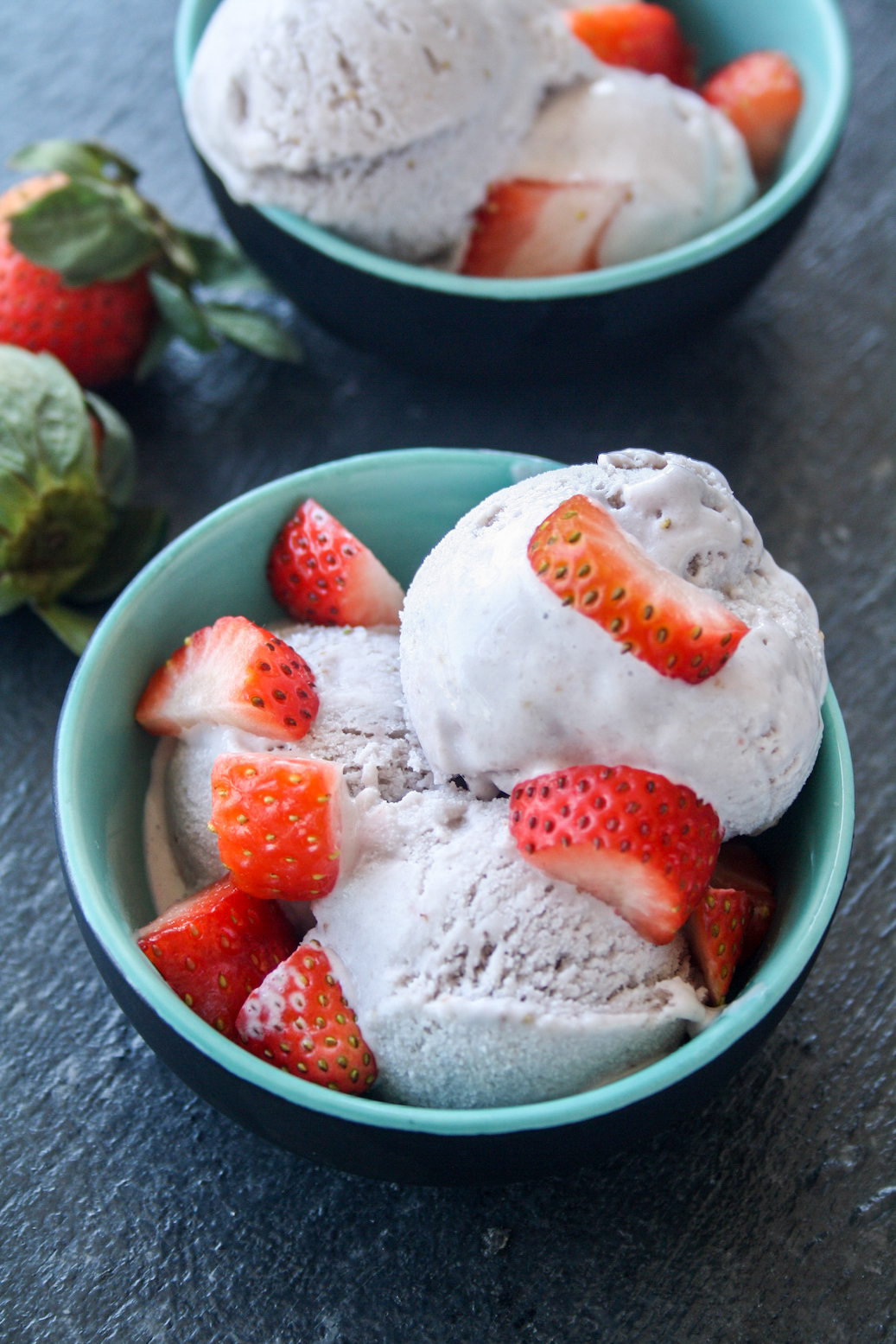 Avoid adding strawberry pieces to the ice cream because once they've frozen, they become hard and icy. It's much nicer to add fresh chopped strawberries on top. The base of the ice cream is whipped cream and condensed milk. To this, we add fresh pureed strawberries, which leave little specks throughout the ice cream for extra texture. The puree adds a pinkish colour, which may become paler after freezing, but doesn't affect the flavour at all.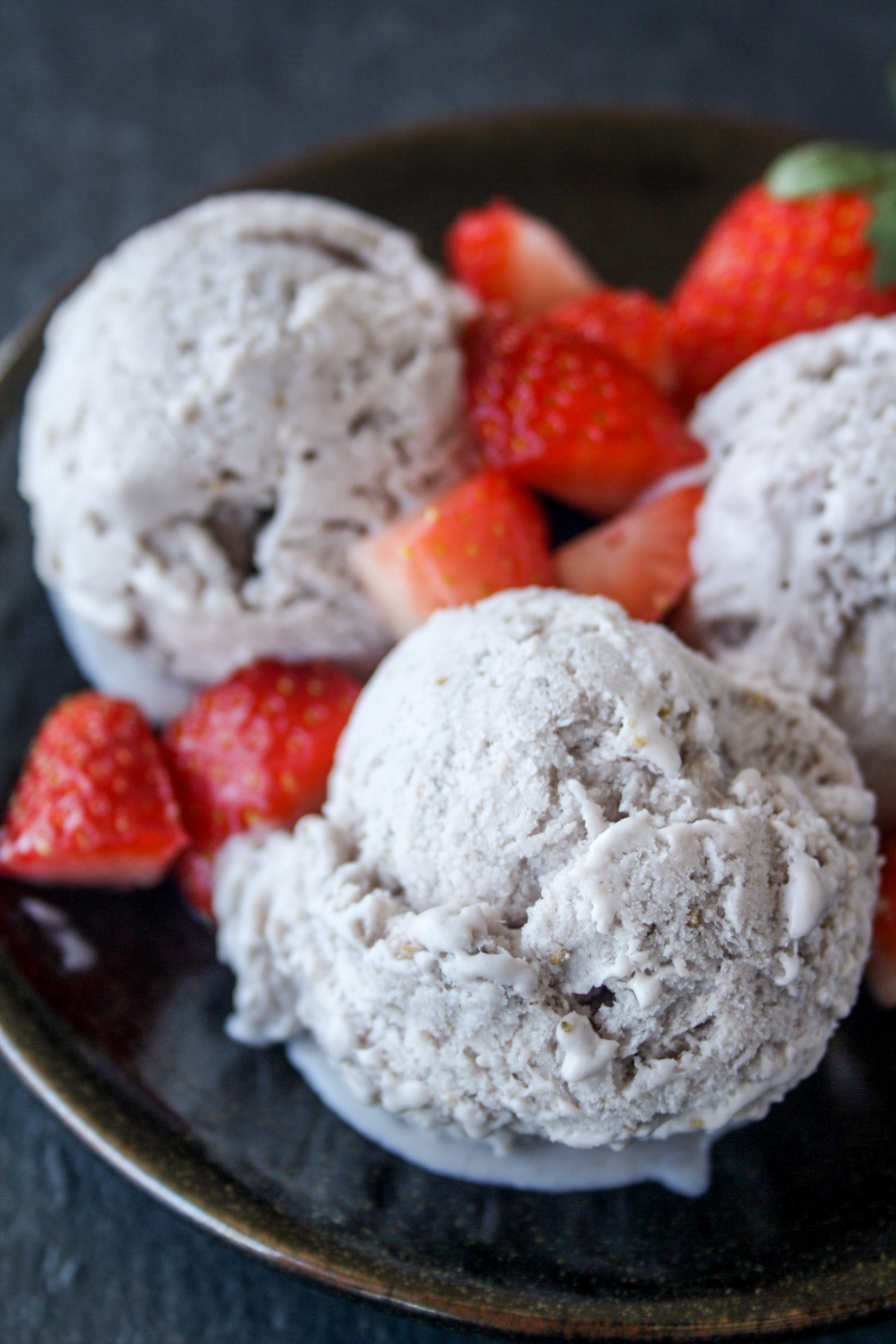 I resisted the urge to add more puree for a deeper colour, because the iciness would have increased. You can, if you want to and don't mind a more sorbet-like consistency. Can't go too wrong! I hope you'll make this soon 🙂

Fresh Strawberry Ice Cream (no-churn)
Creamy, homemade, no-churn strawberry ice cream. No artificial flavours or colours!
Author:
The Desserted Girl
Ingredients
400 gms fresh strawberries
¾ cup condensed milk
¾ cup chilled whipping cream
Optional: chopped strawberries to add while serving
Instructions
Rinse the strawberries, remove the stems and leaves. Chop them roughly and add to a blender. Blitz till pureed, leaving a few bigger chunks if you want extra texture, although they may become a little icy after freezing.

In a separate bowl, beat the cream on medium speed with a hand mixer until it thickens and forms stiff peaks, or peaks with barely rounded tips. Store in the fridge while you prep the rest of the ice cream base.

In another bowl, combine the condensed milk and strawberries, then fold the cold whipped cream into it slowly. It will deflate because of the strawberries and become runny, so be as gentle as possible.

Pour the mixture into a freezer safe container and freeze for 6 hours, preferably overnight. Leave at room temperature for a few minutes before scooping and eating with more chopped strawberries. I found the colour to be more of a pale purple, than pink but the flavour is spot on. You can store this in the freezer for about 3 weeks. Happy ice creaming!
Notes
*Before whipping the cream, chill the bowl and beaters for about 20 minutes. The cream itself should be very very cold, chilled at least 48 hours. I use Amul whipping cream and prefer to store the unopened pack in the fridge itself.
Shop this recipe!
This post contains affiliate links.