We may have started the year with cake but there is potential for a healthier dessert this month as well. Balance, balance! Because if a banana muffin with almonds, oats, buckwheat can taste as good as this indulgence, why not? Gluten-free with natural sugars and olive oil, these are eggless and easily made vegan. They're just so good!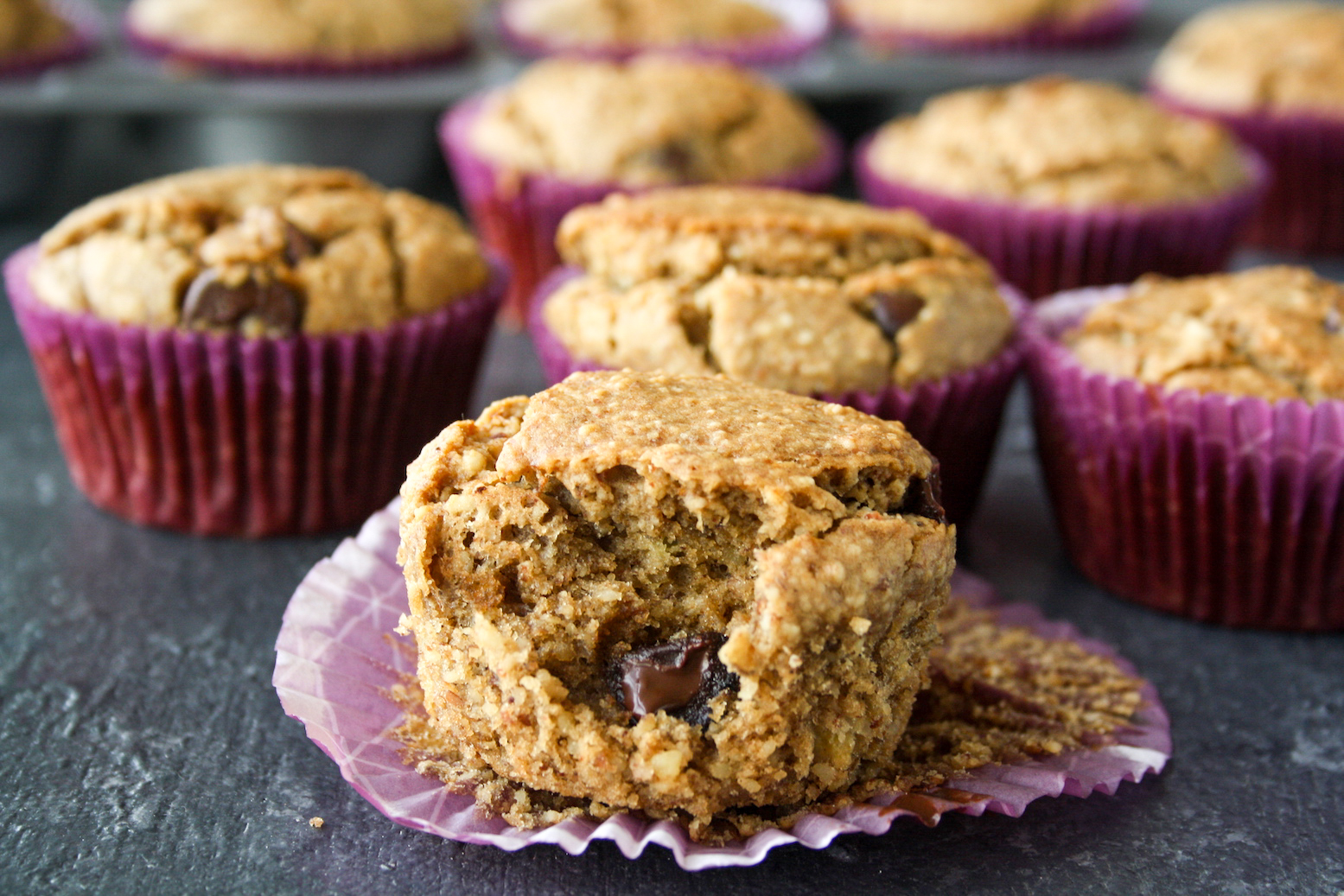 I loved this recipe on Wholehearted Eats and because bananas are miracle ingredients in baking, they are great to dabble with in gluten-free and vegan desserts. I used olive oil and regular milk, but you can use coconut oil and any dairy-free milk you like. For sweetening, coconut sugar is great but I didn't have enough on hand, so I also added a little bit of brown sugar. Chocolate chips add a little extra punch, flavour and sweetness. But feel free to skip them if you prefer!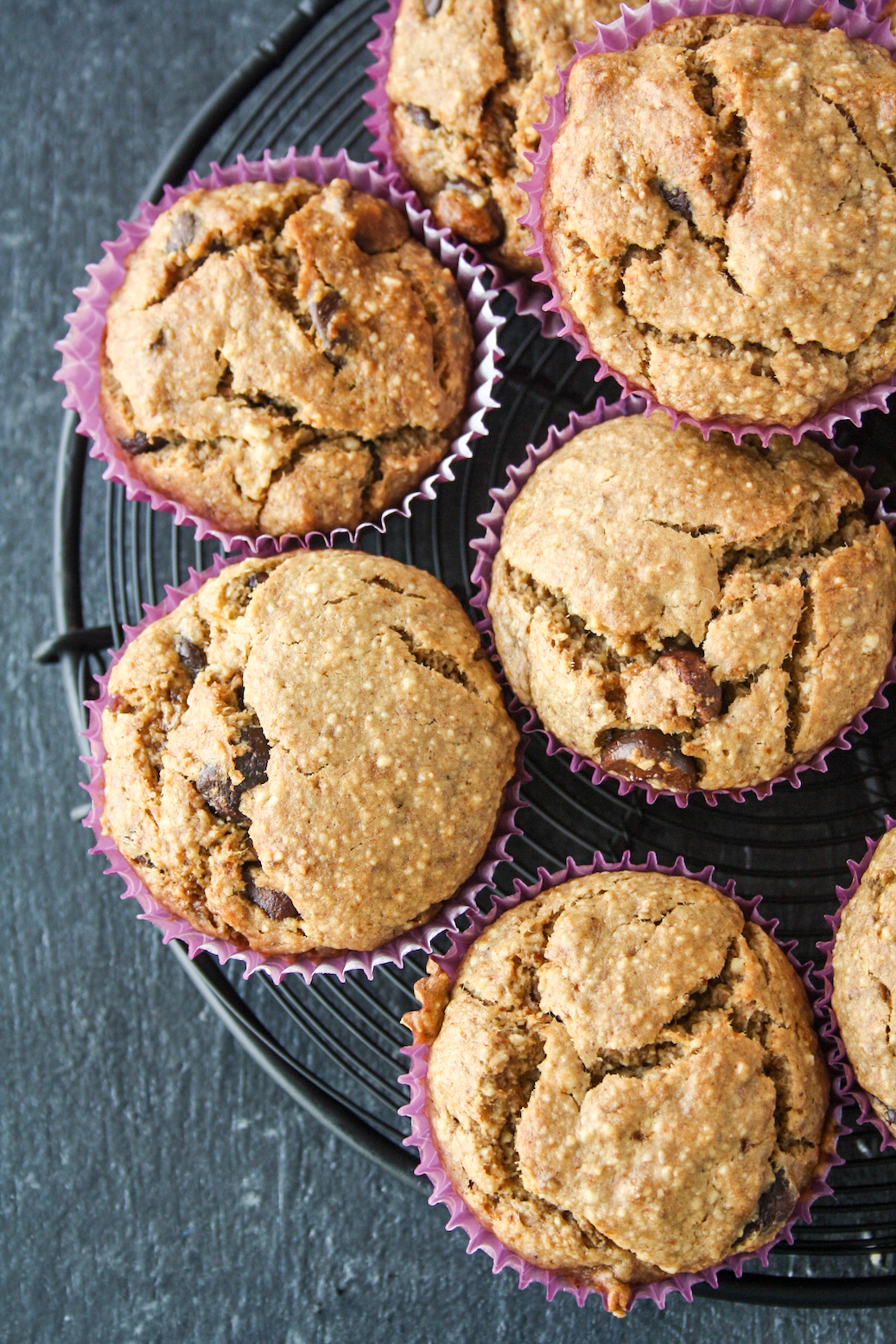 As with most baked goods that have banana, the flavour and texture improves on day two. The muffins are moist, tender and fluffy, despite having heartier ingredients like ground oats and almonds. Buckwheat is a nutty alternative to regular flour and works really well here.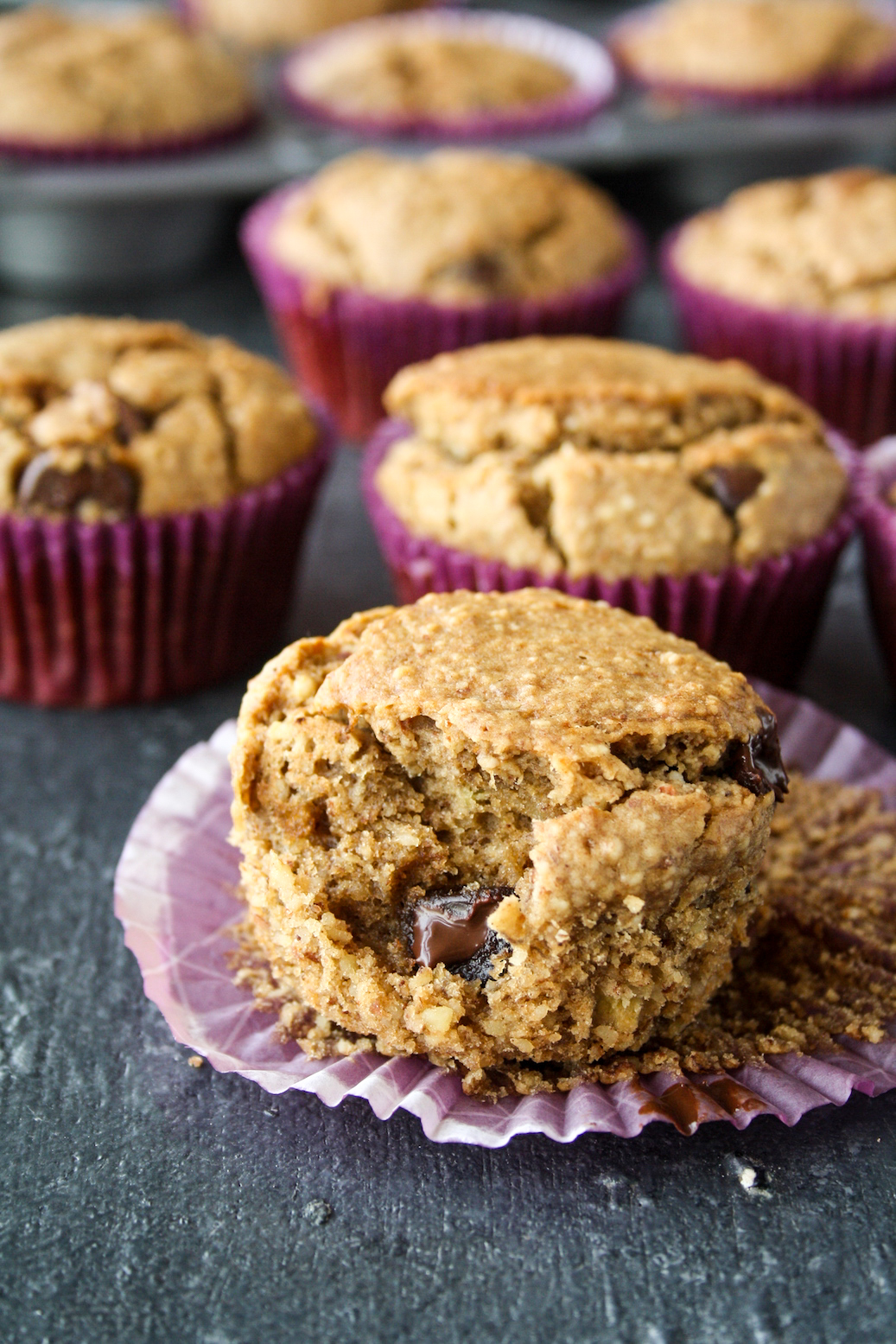 Because these muffins are made with healthier ingredients, I find them great to snack on and even as a quick breakfast since they don't weigh you down but keep you full for longer. Always up for desserts that I can eat more of with less of the guilt!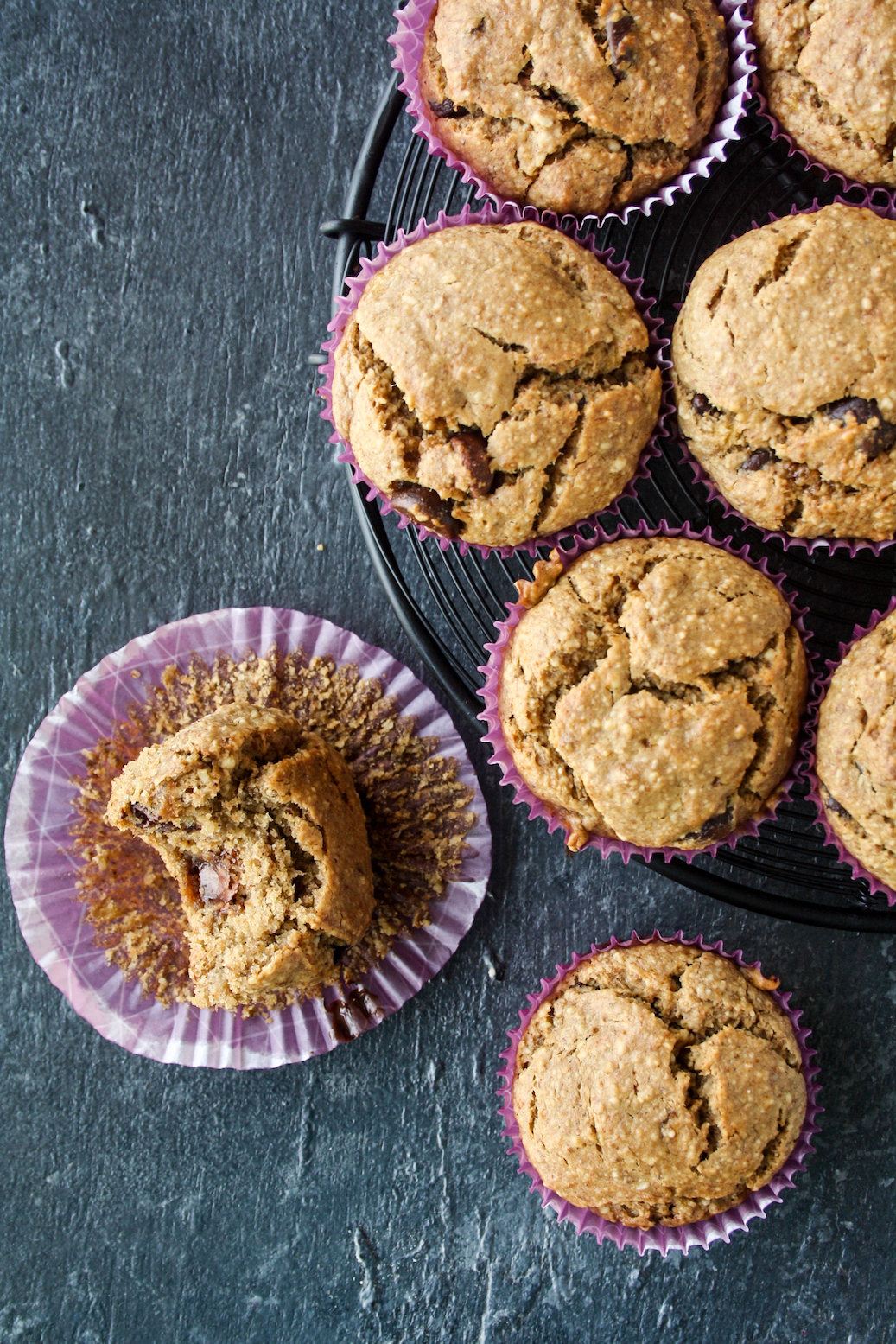 I love the little pops of chocolate in between, but I think chopped walnuts would be a great substitute if you want to keep the muffins low on sugar. All about adding a little crunch and texture!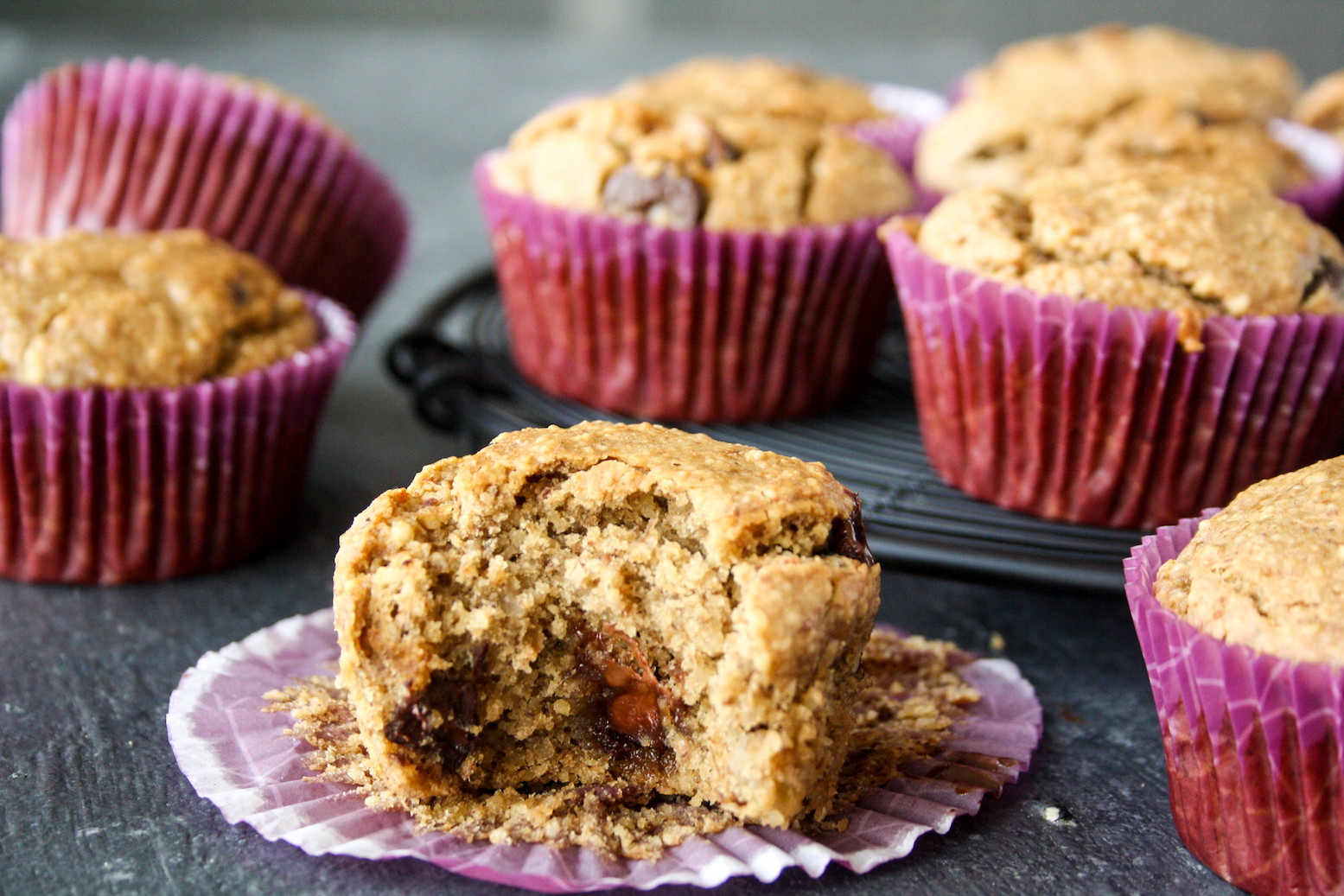 They don't rise super duper tall so while I made 12 muffins (overflowing batter is my worst nightmare), you can safely make 10 larger muffins from this recipe. I've made notes of substitutions and ingredient details in the recipe below. Happy baking!
Please read the recipe notes before beginning.

Gluten-Free Vegan Buckwheat Banana Muffins
Tender buckwheat banana muffins with oats and almonds!
Author:
The Desserted Girl
Cuisine:
Gluten-Free, Vegan
Ingredients
¾ cup whole almonds
1 cup oats
⅔ cup buckwheat flour (kuttu atta in India)
2 tbsps arrowroot powder
⅓ cup coconut sugar
¾ tsp baking powder
½ tsp baking soda
½ tsp cinnamon powder
Pinch of salt
3 large, very ripe bananas
⅓ cup olive oil
1 tsp lemon juice or apple cider vinegar
¼ cup milk (dairy or non-dairy)
1 tsp vanilla extract
Optional: ¾ cup chocolate chips, chopped walnuts or other mix-ins
Instructions
In a food processor or blender, grind the almonds into a coarse powder (don't process them too much or you'll have almond butter! It's ok if it's not a super-fine powder). Transfer to a mixing bowl then grind the oats into a fine powder and add them to the bowl as well.

Add the buckwheat flour, arrowroot powder, sugar, baking powder, baking soda, cinnamon and salt. Mix very well to combine.

Preheat the oven to 190 C and line 12 muffin moulds with cupcake liners.

In a bowl, mash the bananas very well, then add the oil, vinegar, milk and vanilla. Stir till smooth and well combined. Pour into the dry ingredients.

Fold gently to combine making sure there are no bits of dry flour at the bottom, but do not over-mix. Fold in the mix-ins, if using.

The batter is sticky and thickens quite quickly once mixed. Divide it equally into the muffin moulds. Bake for 20 minutes, then turn the oven down to 175 C and bake for another 5 to 10 minutes, till the tops are browned and a toothpick poked in the center of the muffins comes out clean.

Allow to cool completely, before storing in an airtight tin at room temperature for 2 to 3 days, then in the fridge for up to a week. Happy baking!
Notes
*Rolled or instant oats, both work here. You can use 1 cup almond flour instead of grinding whole almonds.

*Instead of coconut sugar, you can use brown sugar as well though coconut sugar is a natural sweetener. I used a mix of both.

*I used Sattvic brand buckwheat flour (kuttu atta) though you can use any other as well. In you can't find it, use more ground oats instead.

*The muffins don't rise a whole lot so you can also make 10 larger ones, instead of 12. The batter is sticky and muffin liners are recommended instead of just greasing the pan.
Shop this recipe!
This post contains affiliate links.