Happy New Year, everybody! We're starting 2019 with cake, as is appropriate. And we're using the best of winter fruits all at once, juicy strawberries and crunchy apples. Things are looking gooooooood.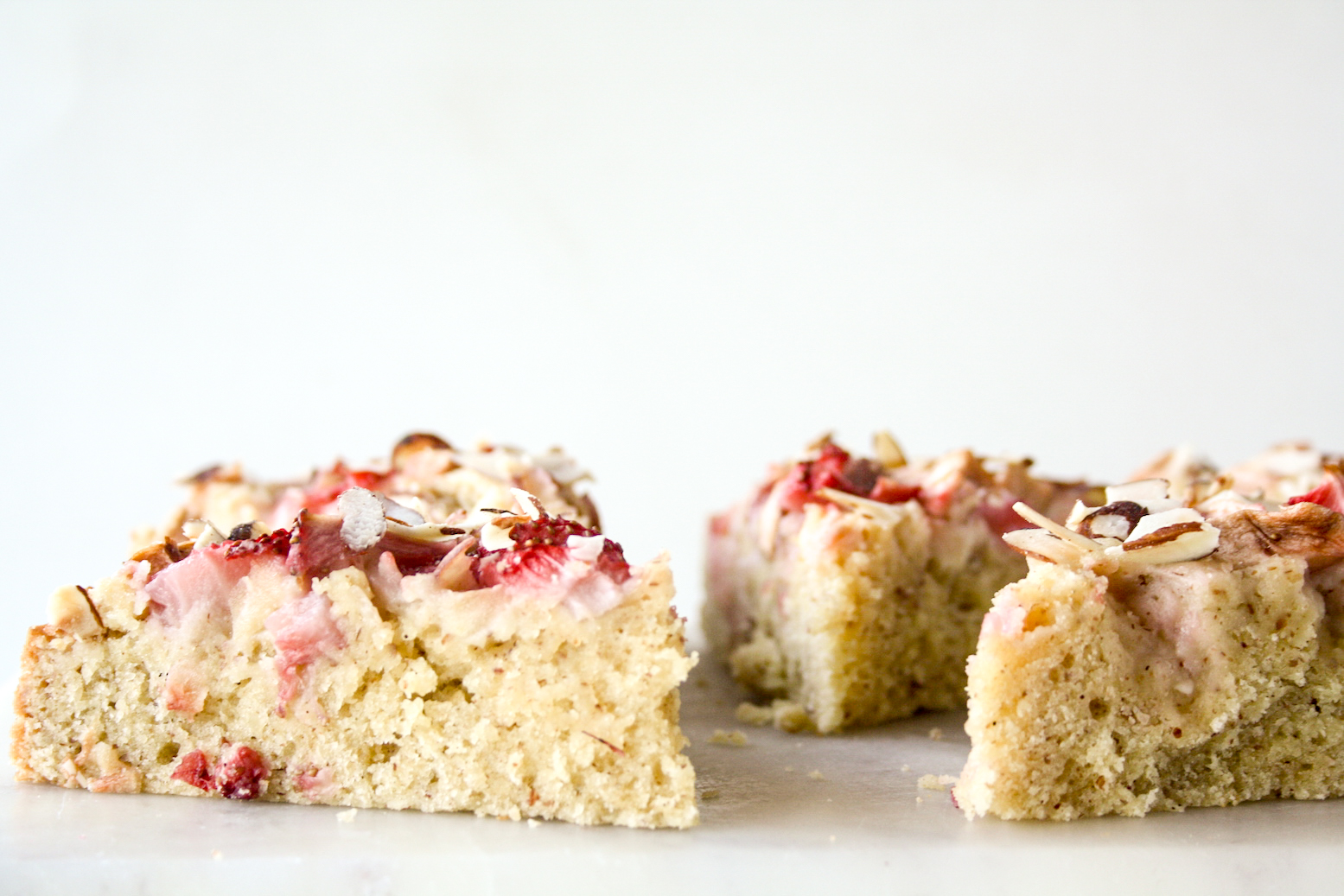 This is based off a Butter and Brioche recipe for an olive oil cake with ground almonds. Browned butter is suggested as an alternative to oil and I couldn't get that idea out of my mind. Together, that and the almonds make a cake that's so packed with flavour, you'll want to only ever make cakes this way from hereon. I chose to add strawberries to the topping, and dice up the fruits for a little more 'bite'.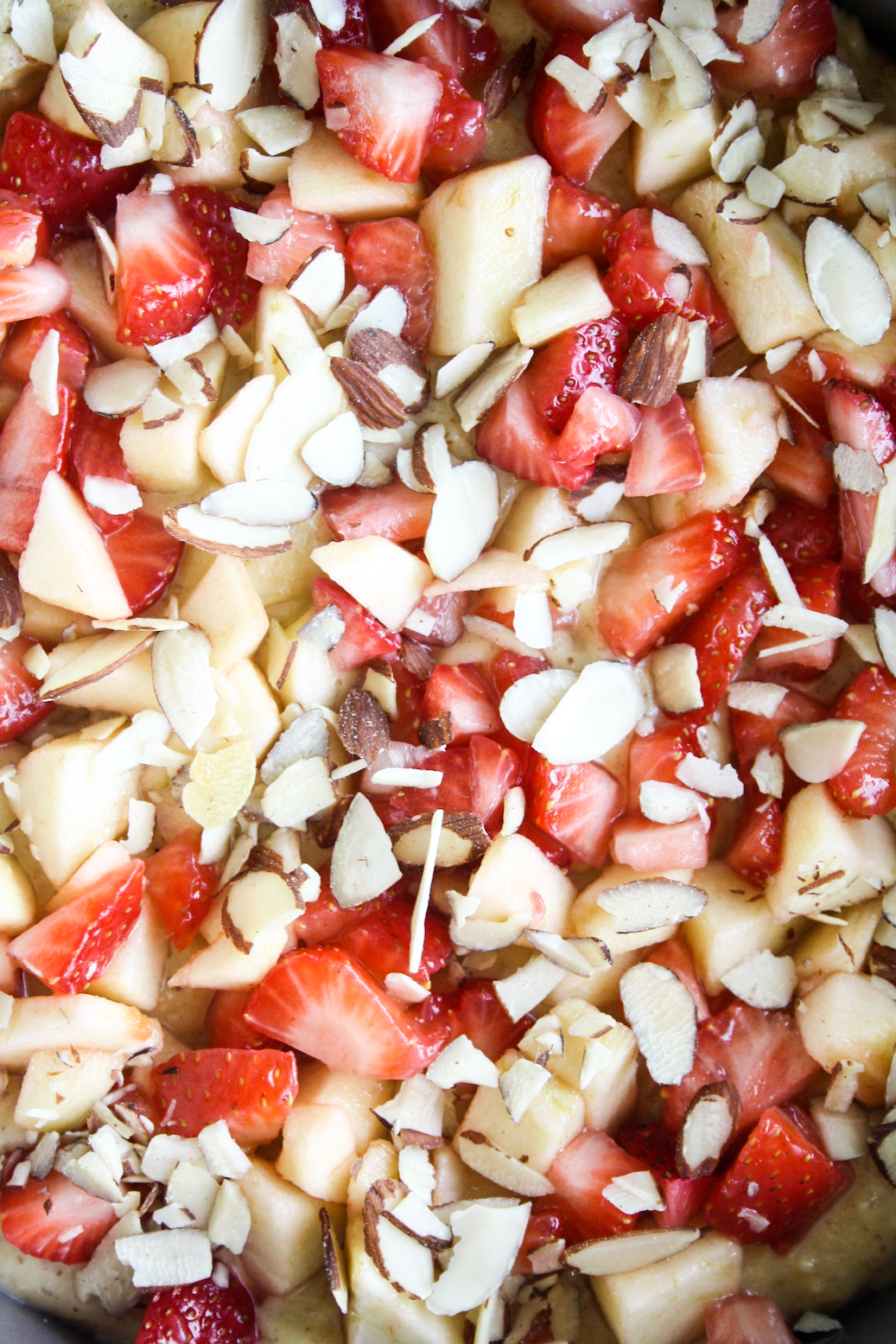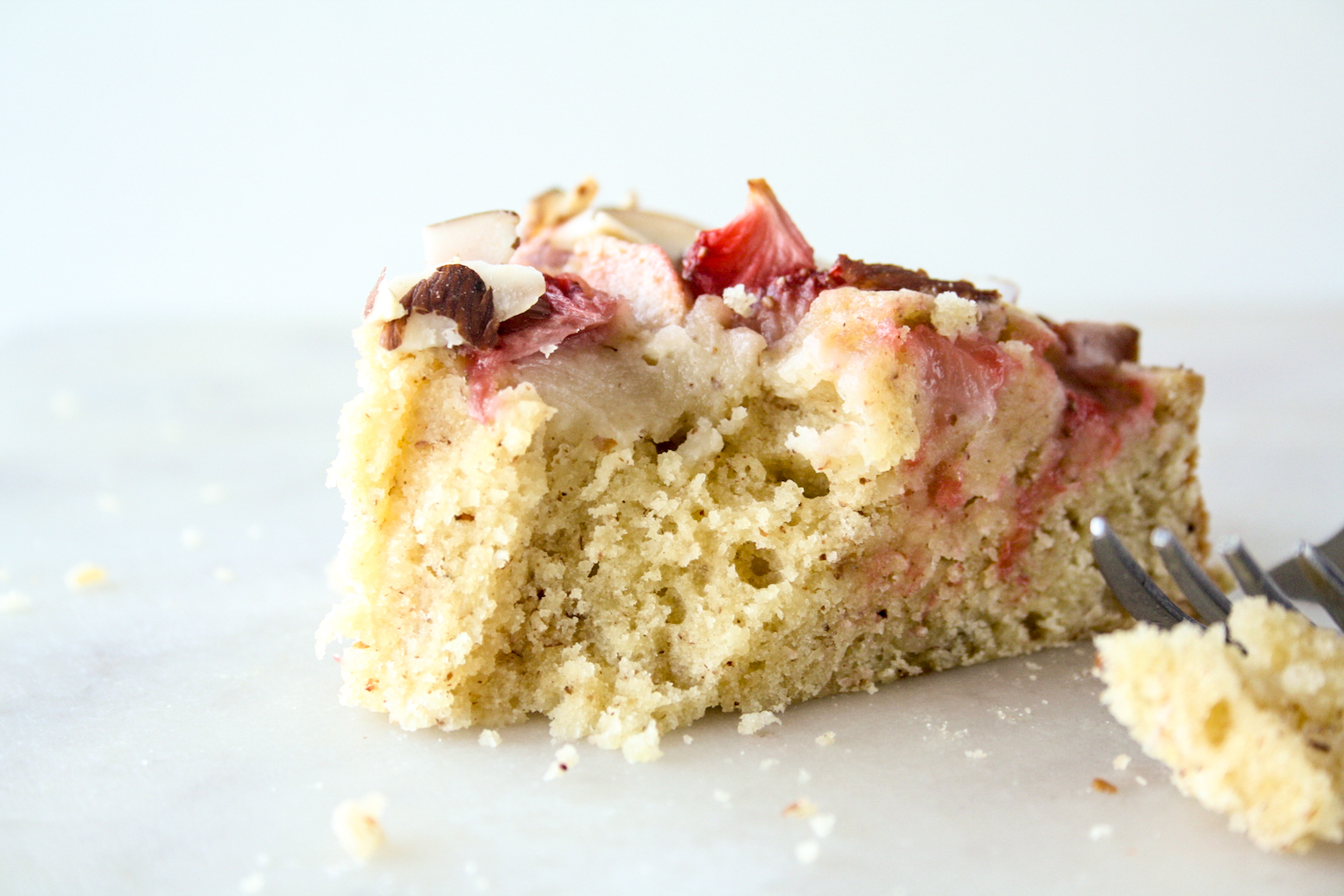 I tossed the fruit in a wee bit of powdered sugar and reduce the sugar in the actual cake batter and I felt it was perfectly balanced. The cake has a toasty, nutty flavour from the browned butter and while the almonds make it denser than a regular flour cake, it is moist, tender and super soft.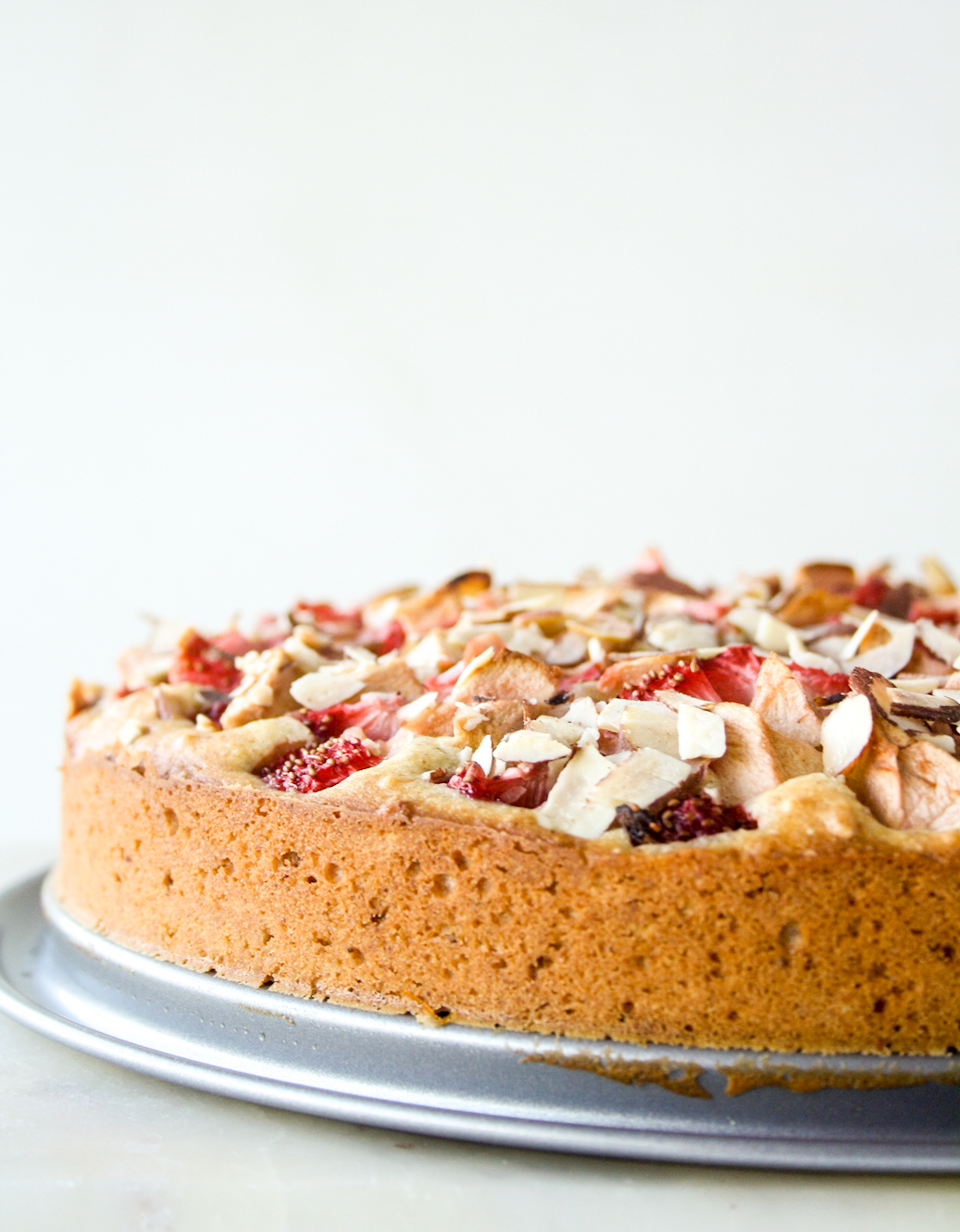 You can certainly fold the fruits into the batter itself, but I preferred the cake to be basic and the fruits to form a topping instead. I also find they tend to create small moist patches within the cake, which is unavoidable, so this time I decided to just keep things simple.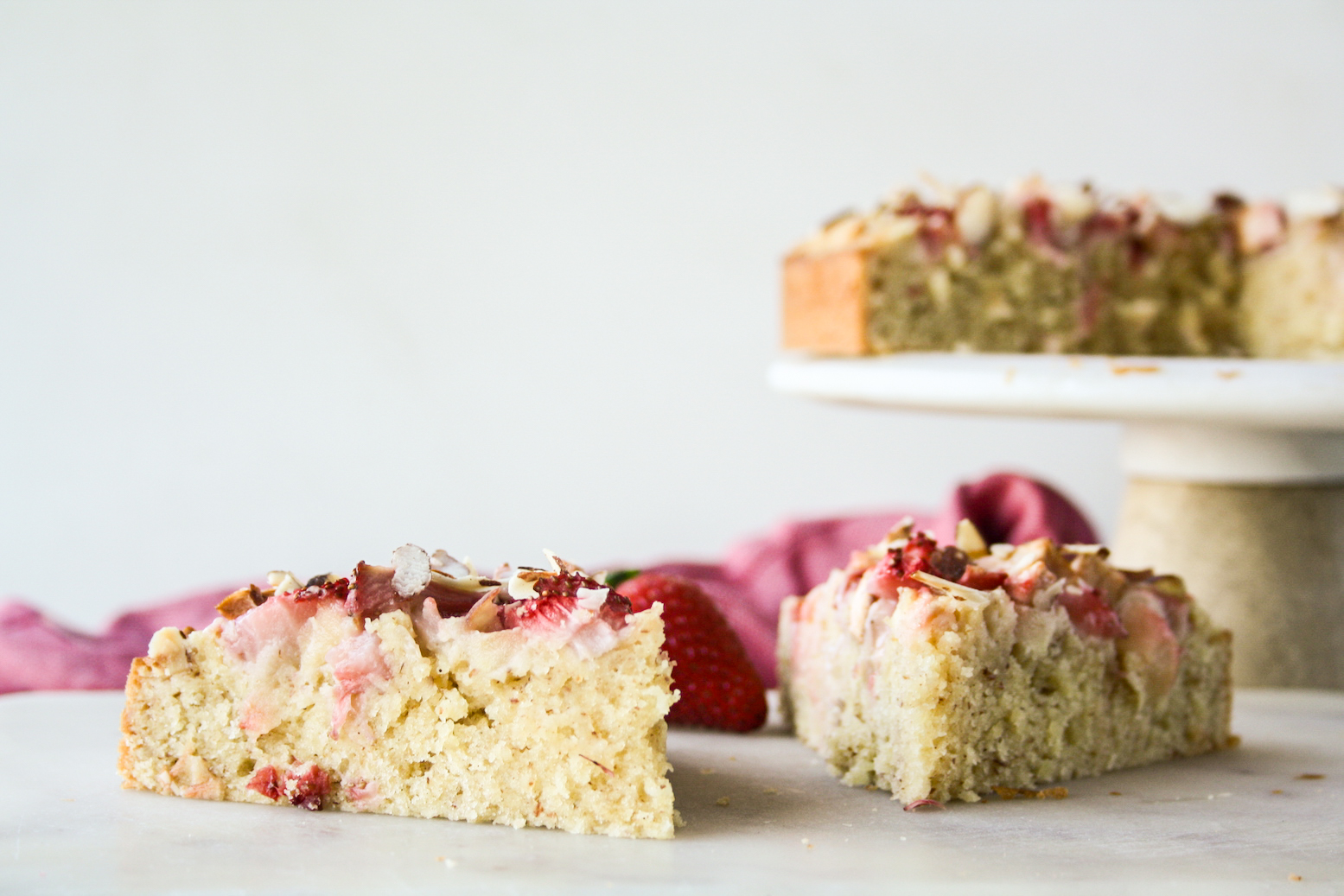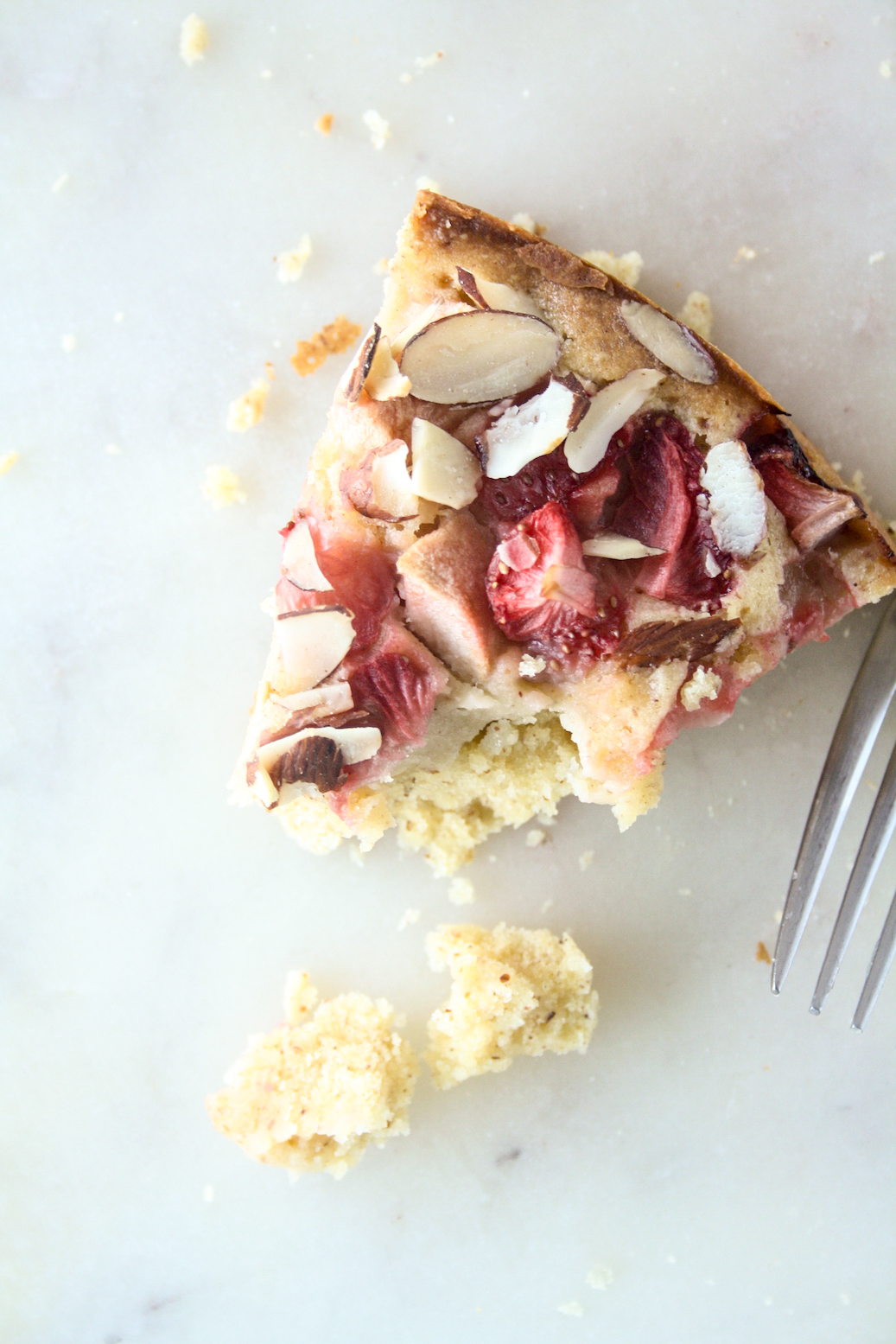 Sliced almonds add a bit of extra crunch and texture with the soft, jammy fruit. A little bit of lemon or orange zest would be great in here as well! While I love a slice of this cake with hot tea, it would also be amazing with whipped cream or vanilla ice cream. Yum!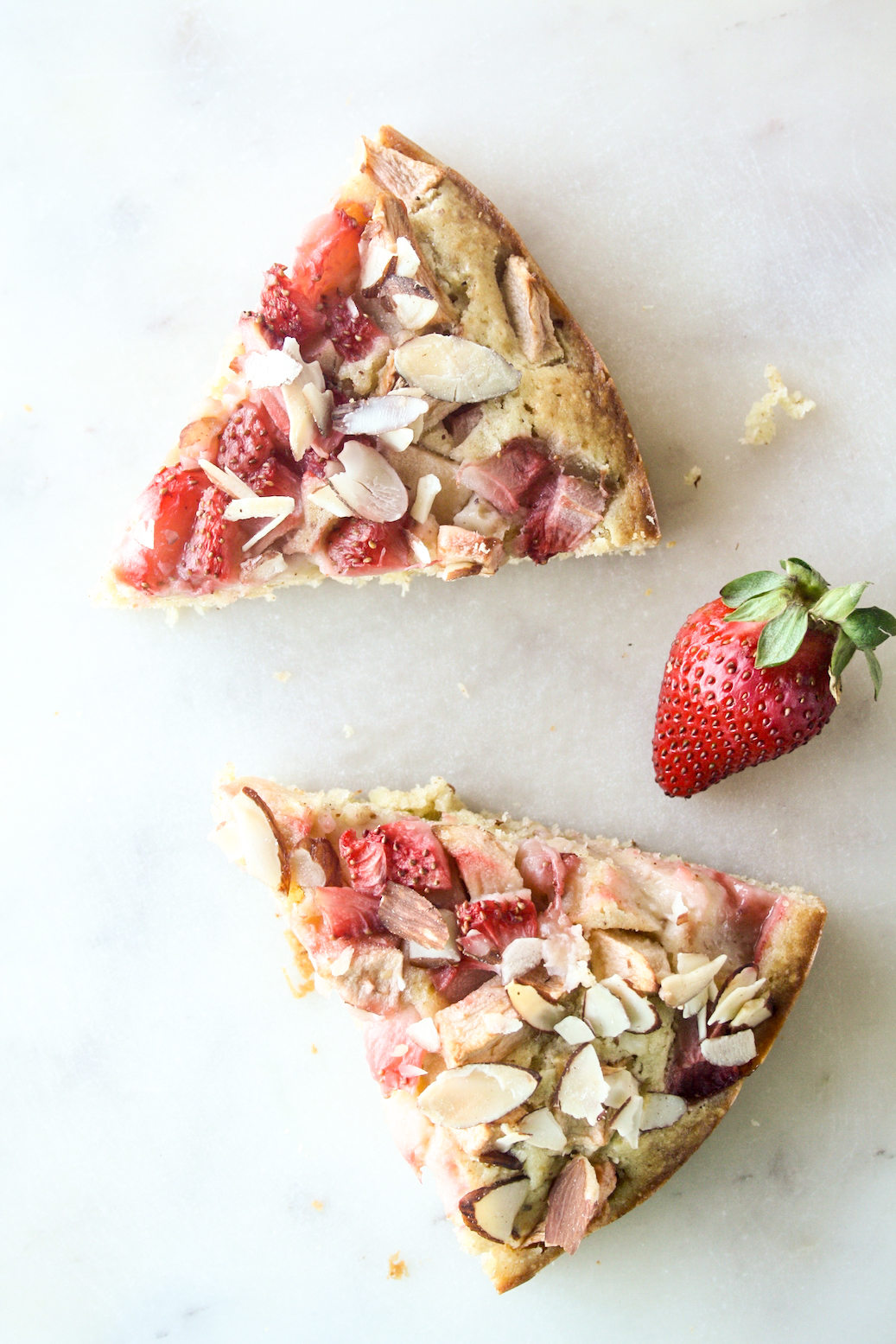 I hope you'll make this soon because strawberry (fields) aren't around forever! Happy baking 🙂

Browned Butter Apple Strawberry Cake
Tender almond and browned butter cake topped with fresh apples and strawberries
Author:
The Desserted Girl
Ingredients
For the fruit topping
8 to 10 ripe strawberries, diced
1 medium apple, peeled and diced
2 tsps caster sugar
2 to 3 tbsps sliced almonds

For the cake
¾ cup unsalted butter, cubed and at room temp (170 gms)
1 and ¼ cups all-purpose flour
1 tsp baking powder
½ tsp cinnamon powder
¼ salt
¾ cup finely ground almonds
¾ cup caster sugar (if your berries are a bit sour, increase the sugar to 1 cup)
3 eggs
2 tsps vanilla extract
½ cup plain yoghurt/curd
Instructions
In a small bowl, combine the chopped fruit and sugar. Stir and set aside.

In a saucepan set on low heat, melt the butter, stirring occasionally but do not leave the saucepan unattended. Let it cook till it becomes frothy and starts bubbling up, then settles down and you start to see brown bits on the sides and bottom of the saucepan. It will smell nutty and super fragrant! Turn off the heat and pour the browned butter into a mixing bowl to cool.

Preheat the oven to 175 C and grease a 9" springform tin.

In the meantime, sift the flour, baking powder, cinnamon and salt in a bowl. Stir in the ground almonds.

Now add the sugar to cooled butter and stir. Add the eggs and vanilla and whisk thoroughly to combine.

Next, add the yoghurt and stir it in. Fold in the dry ingredients from step 4 till you have a smooth but thick batter.

Pour the batter into the prepared tin, smoothen the top and spoon the sugared fruit over the surface. Sprinkle with flaked almonds and back for 40 to 50 minutes until a toothpick poked in the center comes out clean. The top will have some moist patches because of the fruit juices, so make sure you're checking the absolute center of the cake for doneness.

Allow the cake to cool in the tin for 15 minutes, then remove the sides of the springform tin and let it cool till about lukewarm before digging in! Store at room temperature in an airtight tin for 1 to 2 days, after which it is best stored in the fridge for up to a week. Happy baking!
Shop this recipe!
This post contains affiliate links.