If you're still looking for a quick, very Christmasy something to make for your festive table, your search ends here! Buttery scones packed with an easy, effortless, boozy fruit mince which makes them taste like Christmas cake in just about an hour. Yay!
Fruity, citrusy, mildly spiced, with a crusty top and tender inside. So good!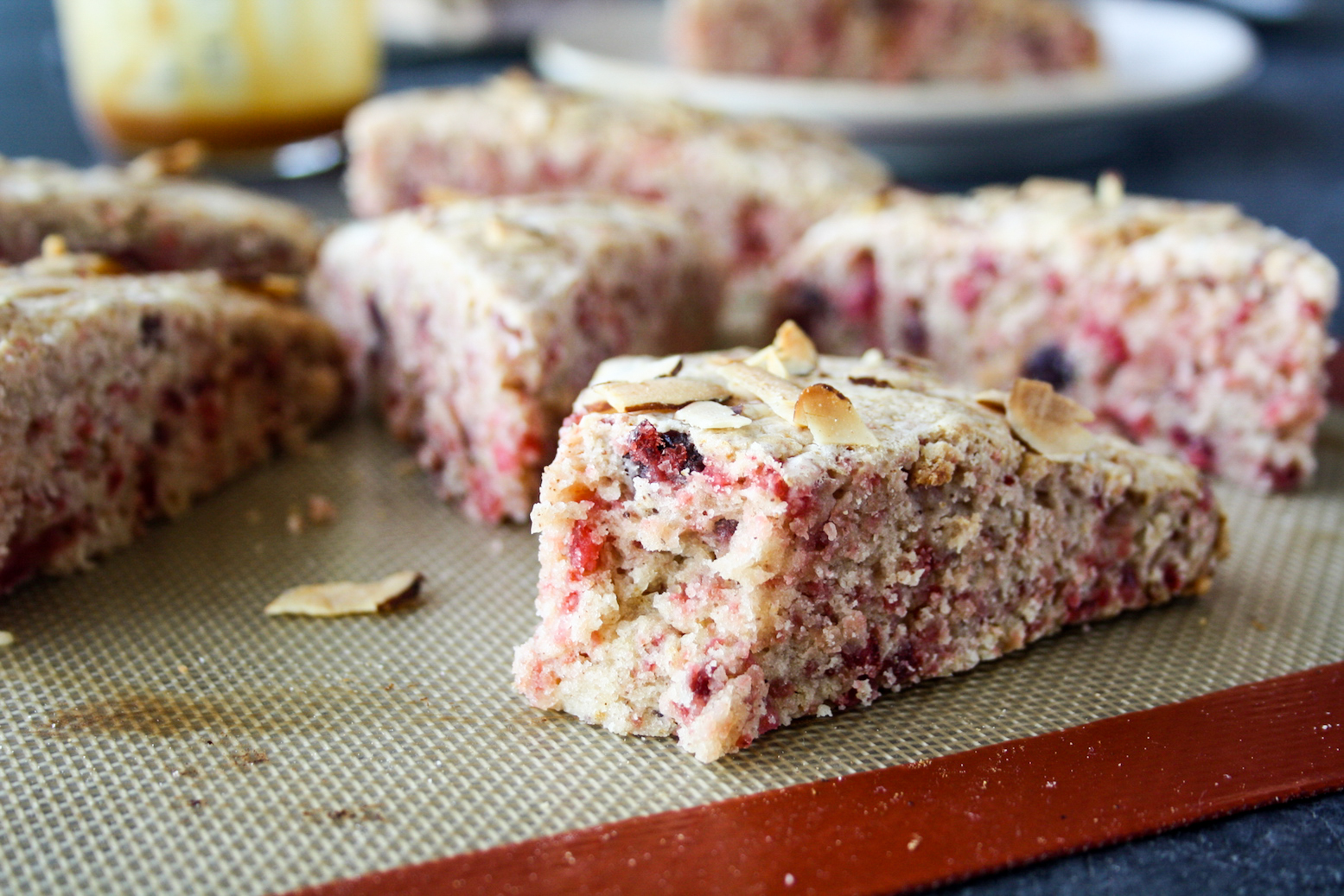 This year, I knew I wanted to make fruit mince, but didn't know what to use it in. I made a simpler version of this mince but it's still packed with flavour. Cake has been done, rugelach has been done, even pies have been done! And I wanted something that would be fuss-free because it's been a busy month and anything that requires minimal effort is very welcome at this point.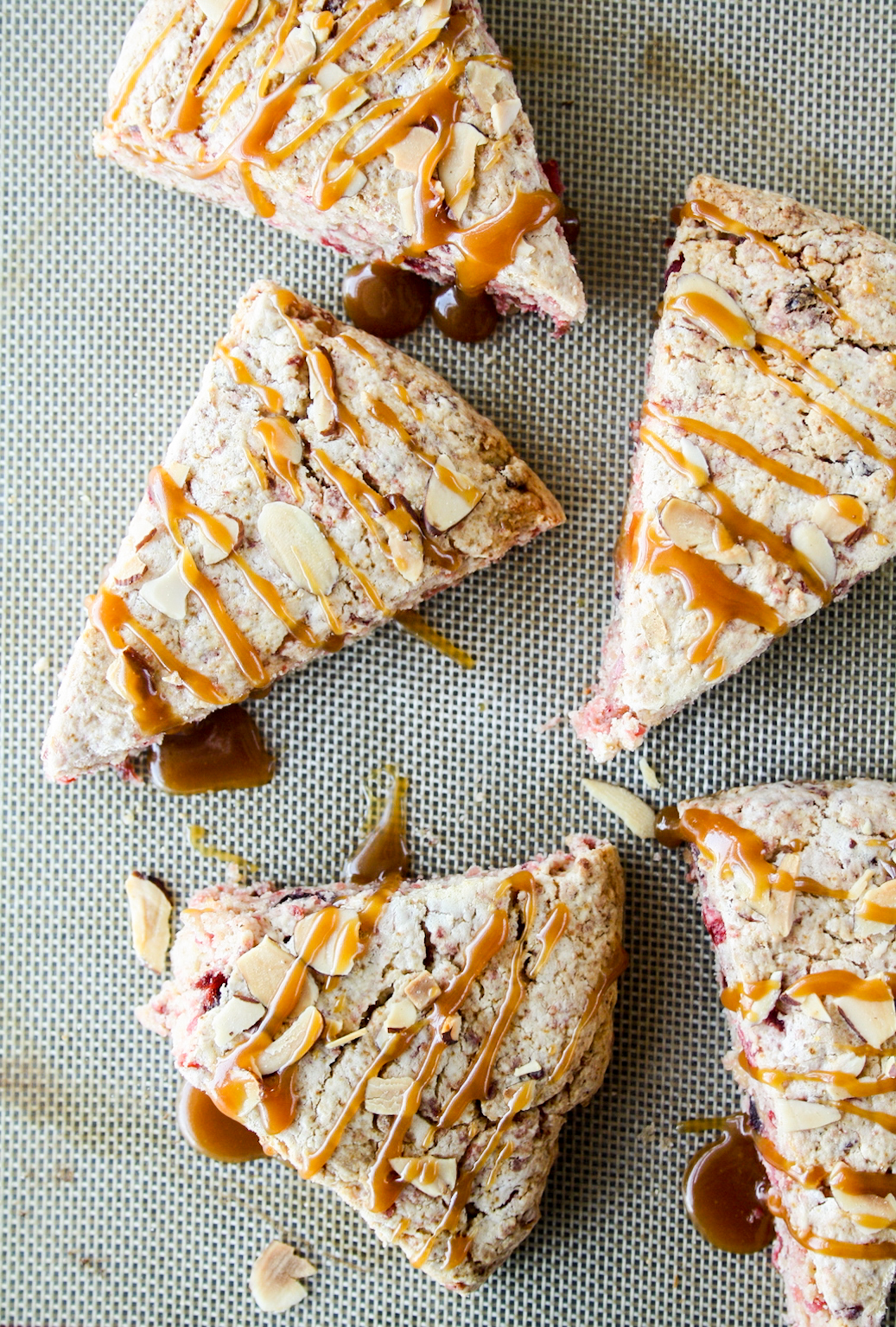 After googling "what to do with fruit mince", I settled on scones, with the same recipe I used here except triangles are easier to do, like here. A combination of milk and cream (or either one) keeps them super soft and rich. Ginger and cinnamon give them the season's best flavours. They are GLORIOUS!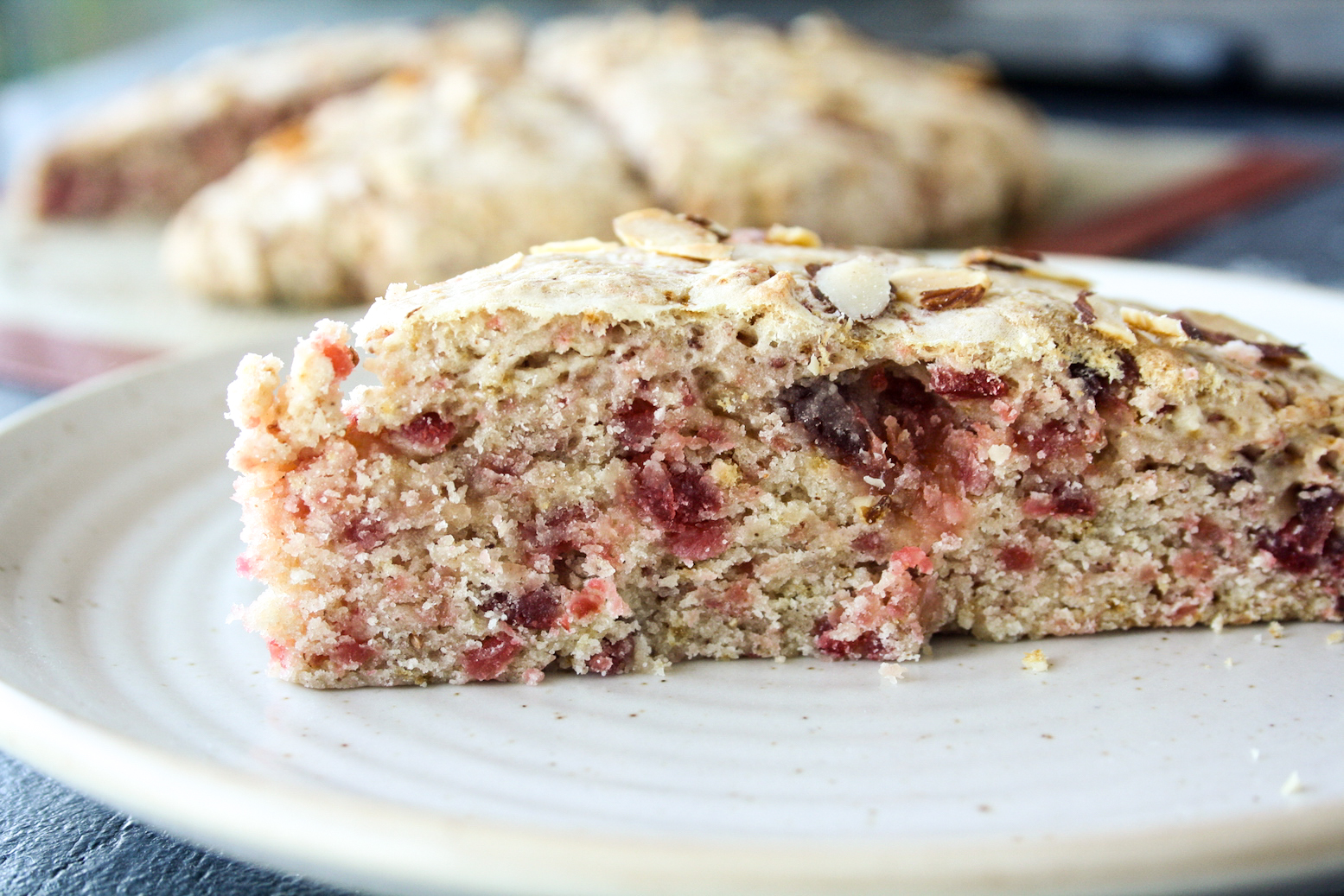 A brush of cream and some sliced almonds on top creates a crunchy, lovely golden crust to contrast with the soft, butteriness of the scone. Fresh from the oven they're absolutely amazing but the flavour is stronger after they've cooled to room temperature. A drizzle of salted caramel is optional but pretties them up and adds an extra layer of fun!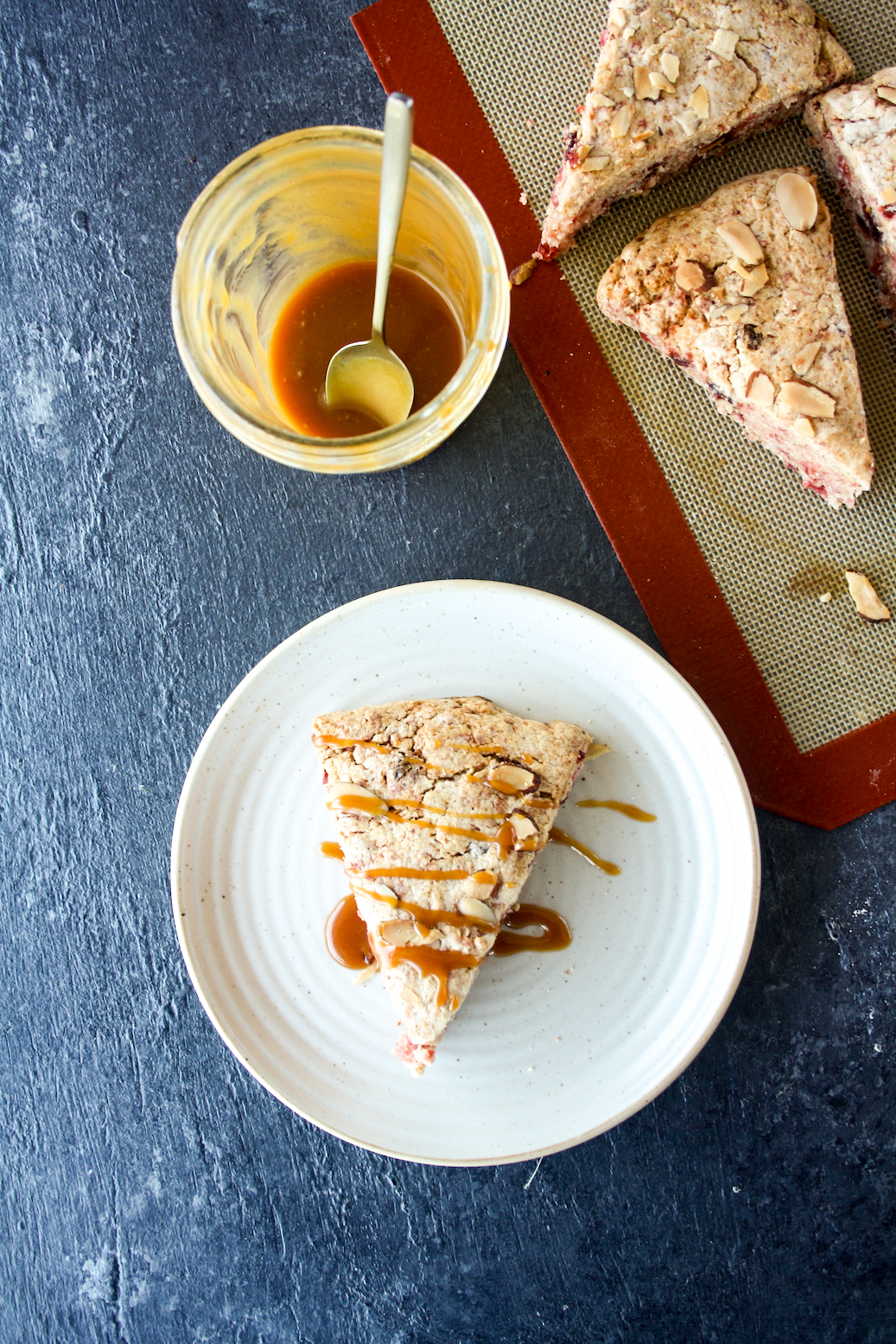 Cold butter and milk make a cold dough which makes tender flaky scones. Avoid over working the dough and you'll be just fine. Let me know how you like these!

Fruit Mince Scones (Eggless)
Buttery scones with boozy fruit mince!
Author:
The Desserted Girl
Ingredients
For the fruit mince
200 gms mixed dried fruit (I used 100 gms candied orange peel and a combination of raisins, dried cranberries and glace cherries)
¼ cup whiskey/brandy/dark rum

For the scones
2 and ¼ cups flour
1 tbsp baking powder
1 tsp ginger powder
1 tsp cinnamon powder
½ tsp salt, if using unsalted butter
⅓ cup caster sugar
85 gms cold butter, cut into cubes
1 cup cold cream or whole milk (or a combination)
Optional: cream and sliced almonds for topping
Instructions
First make the mince. Place all the dried fruit in the bowl of a food processor fitted with a sharp blade and blitz till finely chopped, but not pasty. Tip into a saucepan and add the whiskey. Place on low heat and cook for about 5 minutes, stirring often until the mixture looks fairly dry and clumps together. Shortcut mince done! Let it cool completely to room temperature. You can use it immediately, or for a more intense flavour, refrigerate overnight in an airtight jar.

When ready to make the scones, preheat the oven to 220 C.

In a large bowl, sift the flour, baking powder, spices and salt, if using. Stir in the sugar.

Next, add the cold butter cubes and rub them in with your fingers till you have a coarse, breadcrumb-like mixture.

Now add the fruit mince (if refrigerated, bring it to room temperature before using), and break it up with your fingers making sure it's evenly distributed.

Add the milk/cream and slowly bring the dough together with your fingers into one roughly-shaped mass, taking care not to over-mix or the scones will turn out tough.

Tip the dough out onto a silicone baking mat, and pat it into a roughly ¾ inch thick circle. Slice into 8 triangles, taking care not to cut through the mat. Brush the top lightly with cream and sprinkle some sliced almonds for extra crunch. Slide the mat onto a baking tray.If the dough has warmed up, stick it in the fridge for a few minutes at this stage.

Bake for 25 to 30 mins until golden-brown on top, rotating the tray halfway through the baking time to ensure even browning. Allow to cool for at least 15 minutes, before separating the pieces. Transfer to a wire wrack to cool further. Drizzle salted caramel on top for extra fun! Store in an airtight tin at room temperature for 2 to 3 days, then transfer to the fridge for about a week. Best eaten on day one but leftovers can be reheated. Happy baking!
Notes
*I bought the candied peel and cherries at Arife in Bandra. Also available at Crawford Market. Feel free to change up the dried fruit and add more or less or whatever you prefer, as long as the total amount is about 200 gms.
Shop this recipe!
This post contains affiliate links.