I made this cake years and years ago around Christmas and wondered why I never made it again. Initially a bundt, now a loaf, but just as gooooood! It's a chocolate gingerbread extravaganza and the kind of holiday cake we should all have around because it's so easy to make. Rich, moist, deeply spiced, intensely chocolatey. There is nothing this cake can't do!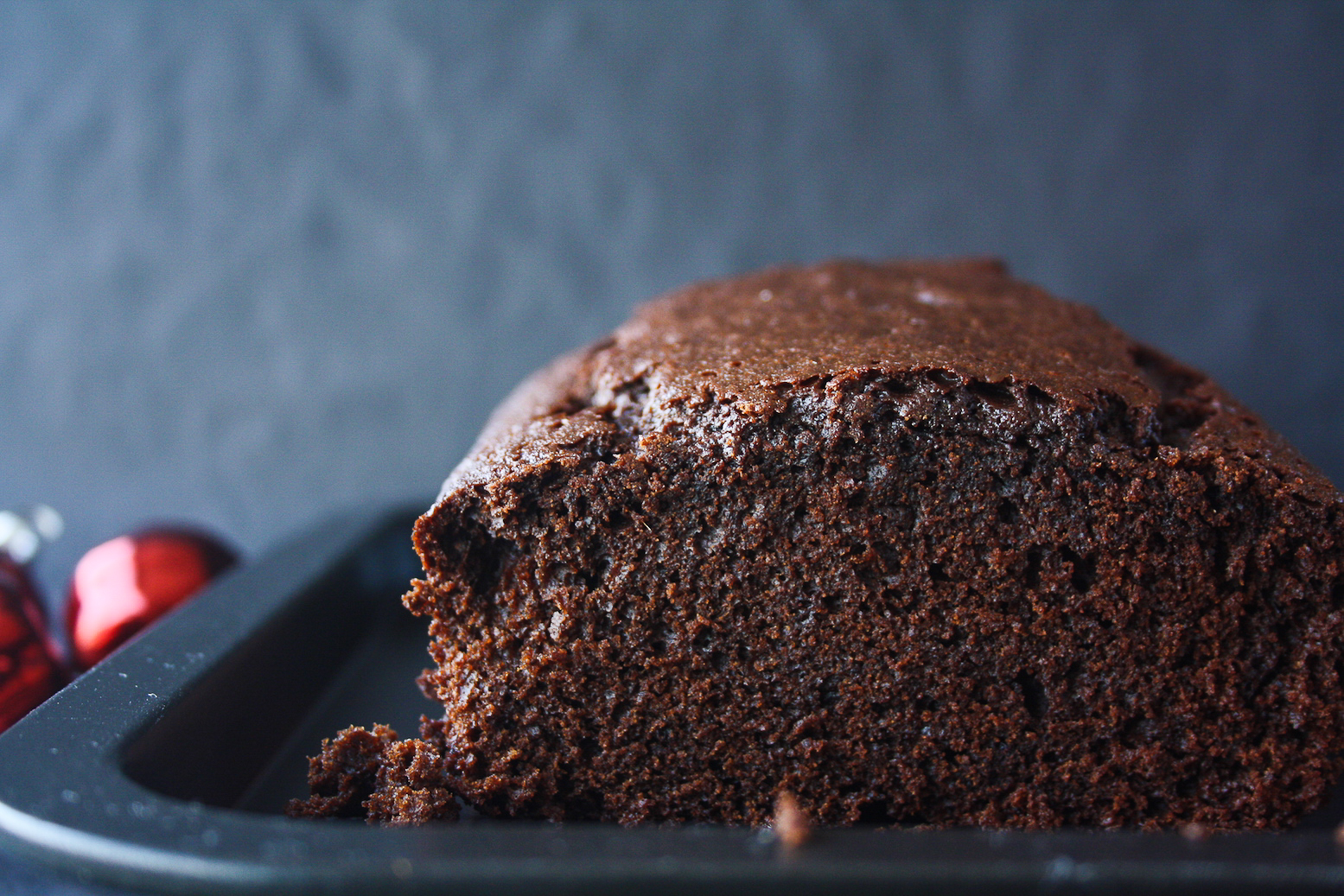 The recipe is originally from Sally's Baking Addiction. This time around I added a little bit of orange juice for extra festive flavour, but it's totally optional. There's also a bit of vanilla but it doesn't affect the lovely spiced flavours.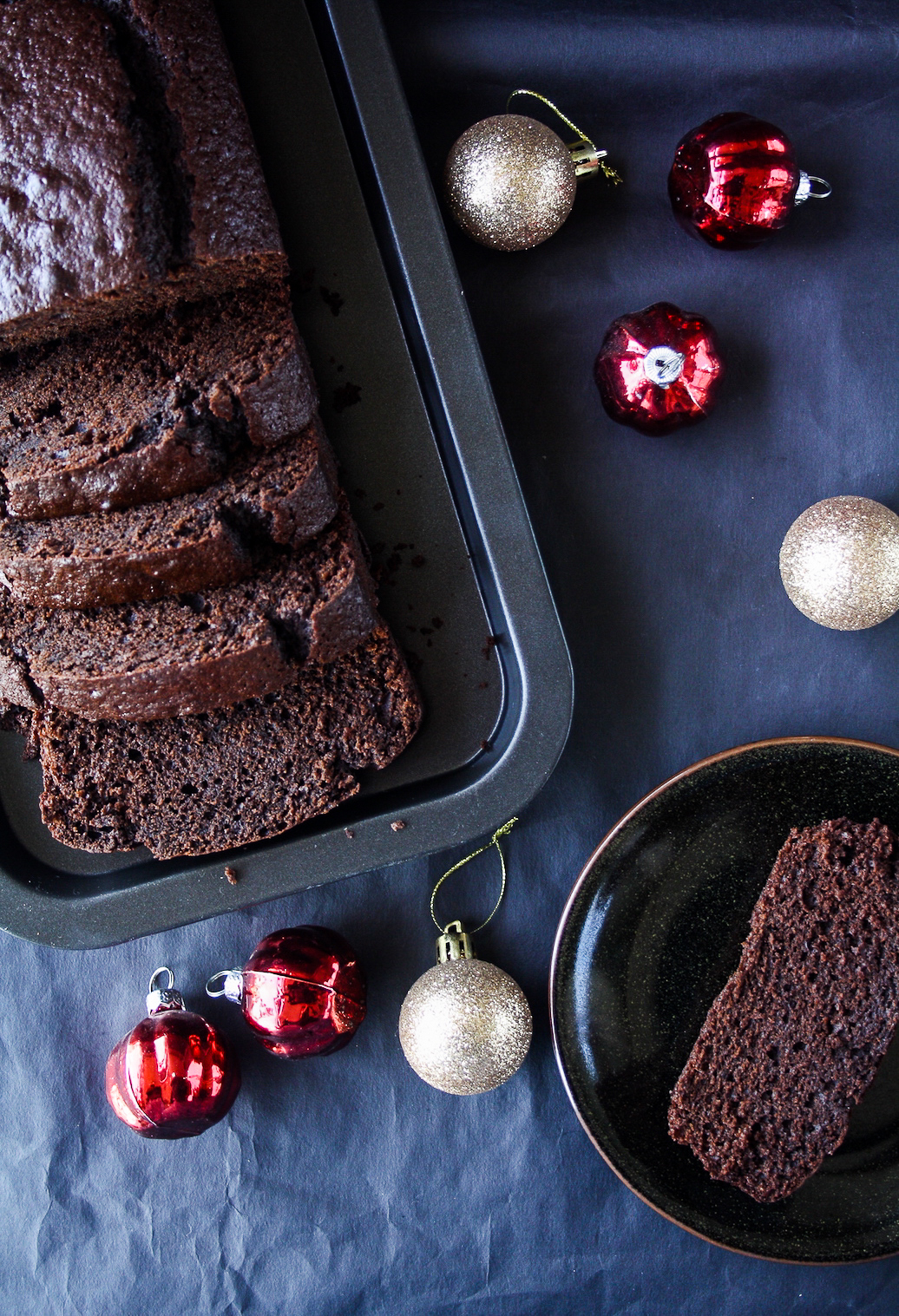 You can add a cream cheese frosting, a buttercream frosting, maybe just whipped cream too. But I liked this cake as is, the slices pack a ton of flavour and they're very tender so an accompaniment isn't necessary. But it is the holidays, do what your heart tells you 🙂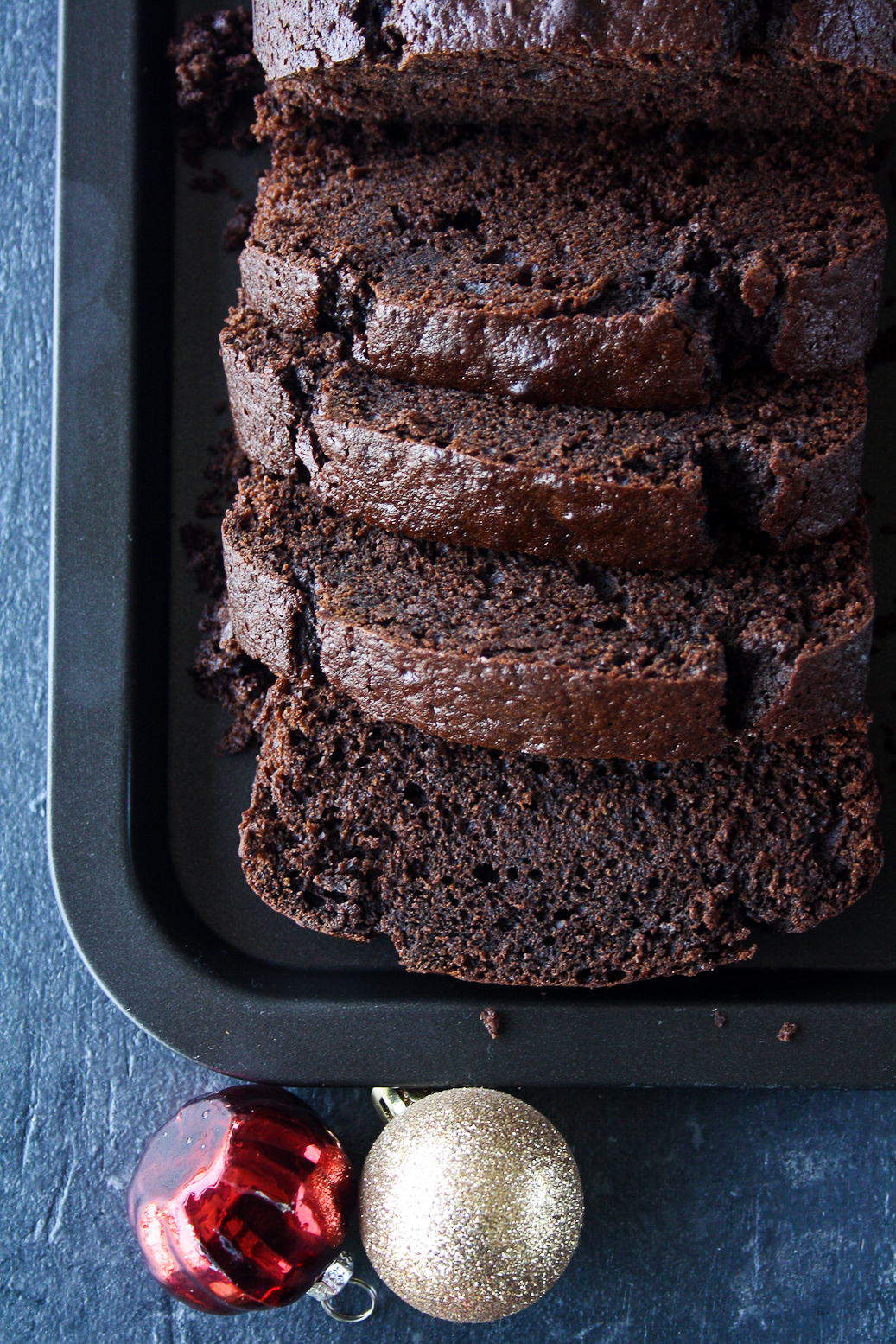 Oil keeps this cake moist and although I'm partial to butter cakes, the oil here helps to keep the cake fresh for a few days. There's also molasses for sweetness and that classic gingerbread flavour. Basically, this cake has it all! Let me know how you like it 🙂

Spiced Chocolate Cake
Moist chocolate cake with ginger, cinnamon and cloves
Author:
The Desserted Girl
Ingredients
1 cup all-purpose flour
½ cup cocoa powder
¾ tsp baking soda
¼ tsp salt
2 to 3 tsps ginger powder (adjust according to your preference)
1 tsp cinnamon powder
¼ tsp clove powder
½ cup vegetable oil
½ cup molasses
¼ cup fresh orange juice or water
¾ cup dark brown sugar
2 eggs
½ tsp vanilla extract, optional
¼ cup whole milk
Instructions
Sift the flour, cocoa, baking soda, salt and spices in a bowl. Set aside.

Combine the oil, molasses, juice and sugar in a small saucepan. Set it on low heat and stir till the sugar has dissolved. Set aside to cool for a few minutes.

Meanwhile preheat the oven to 160 C. Grease a 9x5 loaf tin with oil or line it with greased baking paper for easy removal.

In a mixing bowl, pour the cooled molasses mixture and add in the eggs, vanilla and milk. Whisk well to combine.

Fold in the flour mixture gradually into the liquid until incorporated. A few lumps are ok.

Pour the batter into the prepared tin, smoothen the top and bake for 35 to 40 minutes until a toothpick inserted into the center comes out clean. You may need to bake an additional 5 to 10 minutes, so if the top is darkening quickly, cover the tin loosely with foil and continue baking.

Allow the cake to cool in the tin for 15 minutes, then remove and place on a wire rack to cool completely before slicing. Store in an airtight tin for about 2 to 3 days at room temperature, or refrigerate for a week. Happy baking!
Shop this recipe!
This post contains affiliate links.