If you're a 90s kid who grew up in India, you may have seen a large purple box of 'Danish cookies' around your house. Filled with an assortment of basic cookies in a bunch of different shapes. And once they were all gone, that box would most likely have been turned into a container for stationery, sewing supplies, random bits of paper and things you just didn't know what to do with.
For some reason, these cookies remind me of the ones in those box. I don't know if this is the authentic recipe, but the flavour is buttery, the texture is crispy, slightly crumbly but not hard. They also taste like Pune's shrewsbury biscuits!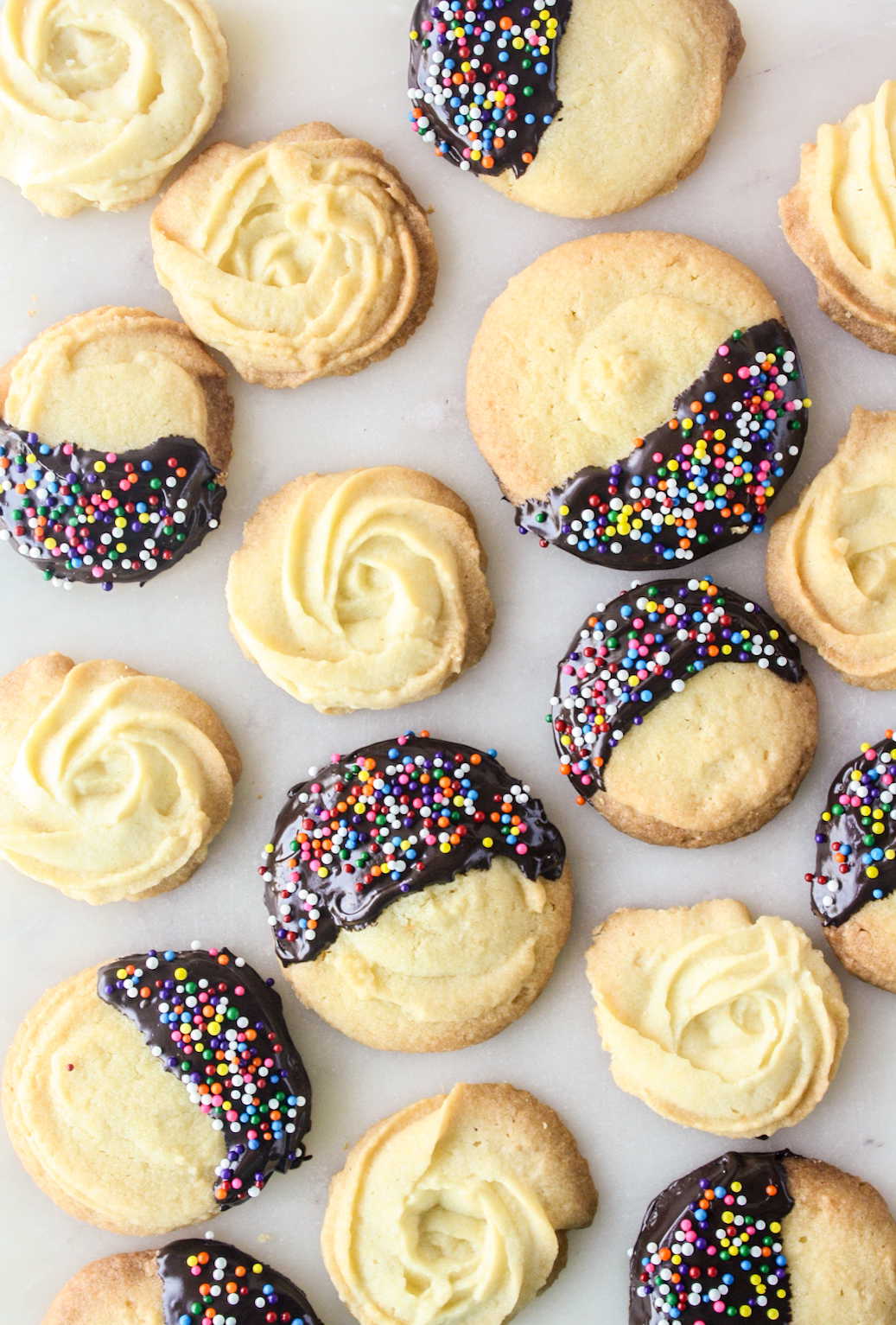 The cookie dough is adapted from Smitten Kitchen and though I hadn't planned on piping rose-shaped cookies, that was the piping tip I used and I adore how they looked. I also piped some basic rounds and dipped them in melted chocolate and sprinkles because its holiday cookie week after all!
Deb's recipe is for sandwich cookies but I halved it to make about 22 single cookies. They are small so easier to store and gift! I like them best cold from the fridge, though they keep well at room temperature for a couple of days as well.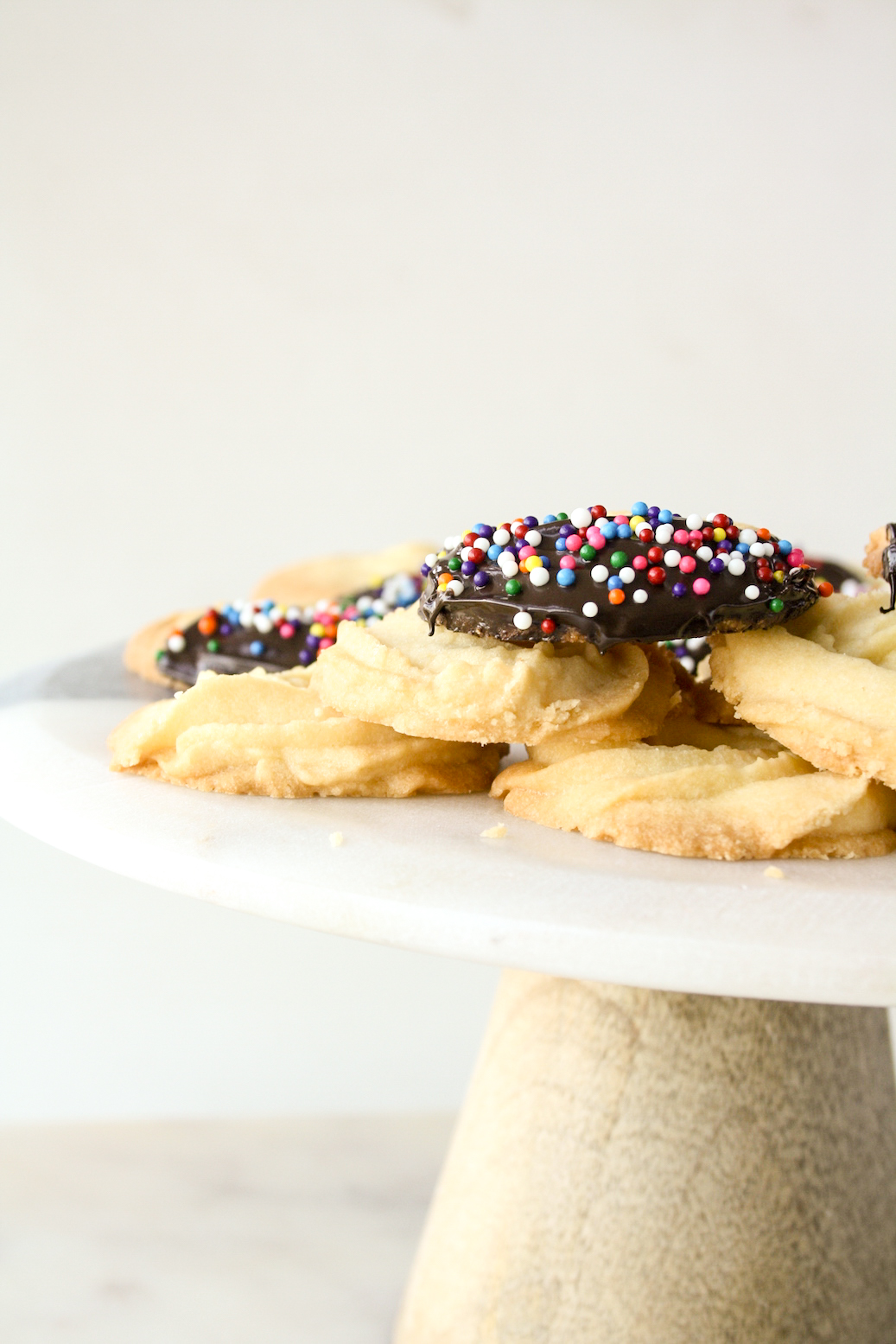 The melted chocolate is optional because these cookies are bursting with flavour on their own. Definitely buttery, a little soft, but more crispy than anything else. They are amaaazing with your favourite hot beverage and if you feel like mixing a little cinnamon or orange zest into the dough, I won't tell.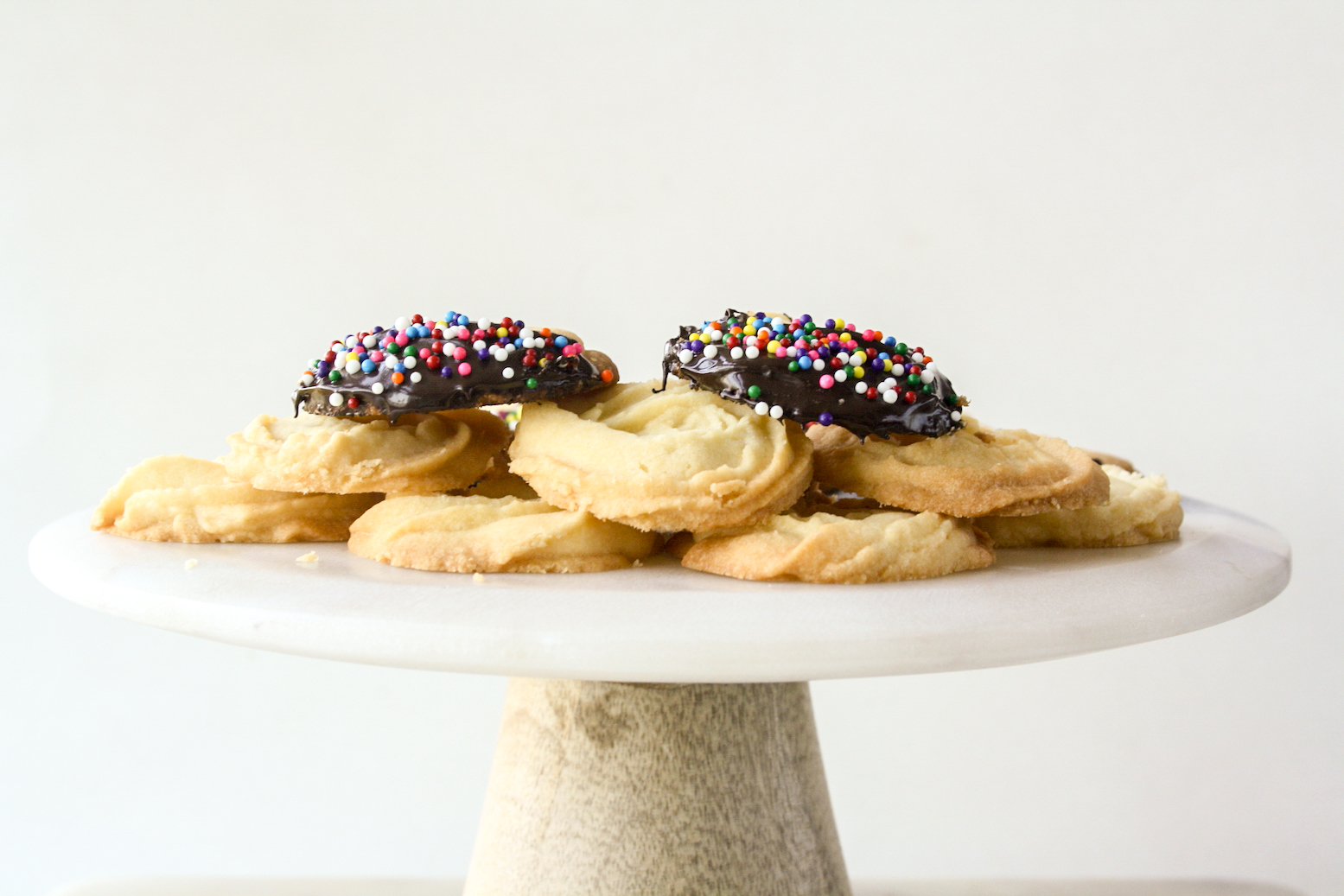 The dough isn't your standard scoop and bake kind of thing, but it's easy to make and if you don't feel like piping, you can simply roll them into rounds and flatten a little. Really, anything goes! Let me know how you like them 🙂

Butter Cookies
Crisp, buttery cookies dipped in melted chocolate and sprinkles!
Author:
The Desserted Girl
Ingredients
½ cup unsalted butter, at room temp (115 gms)
⅓ cup caster sugar
1 egg yolk
½ tsp vanilla extract
¼ tsp salt
1 cup all-purpose flour
Optional: melted chocolate and sprinkles to finish the cookies
Instructions
Preheat the oven to 175 C. Line a baking tray with a silicone mat or lightly grease the tray (use two trays if you have a small oven and bake in batches).

In a mixing bowl, beat the butter and sugar till pale and fluffy. Add the egg yolk and vanilla and beat to combine.

Add the flour and salt and fold gently to form a soft, sticky dough. Though it is quite thick, it should be of a pipe-able consistency. If it feels too thick, add a splash of milk.

Spoon the batter into a piping bag fitted with a tip that's about ½ inch wide. The dough will not be easy to pipe if you use a very thin tip. I used a star shaped one here to get the rose like cookies, but you can use any one you like. Pipe cookies that are about 2 inches in diameter, spacing them an inch apart on the silicone mat. Alternately, drop small dollops of the dough onto the tray and flatten lightly, if you don't want to pipe them.

Bake for 10 minutes, then another 2 to 3 minutes to let them become golden brown and crispy edged. Rotate the tray to ensure even browning.

Allow the cookies to cool on the tray, then place on a wire rack to cool completely.

Leave them plain, or dip one edge of each cookie in melted chocolate and cover immediately with sprinkles. Plain cookies will keep in an airtight tin at room temperature for 2 days but personally I feel they taste better cold from the fridge. The chocolate covered ones should be stored in the fridge from day one itself. Happy baking!
Notes
*Cook time is per batch of cookies. Cook time will need to be adjusted for larger cookies.
Shop this recipe!
This post contains affiliate links.