The only reason I wanted to make these cookies is so I could use my star-shaped cookie cutter, honest. But the thing  is, crispy chocolate cookies sandwiched with salted caramel taste so divine, I'm going to be making these a lot more, with or without stars, and you should too!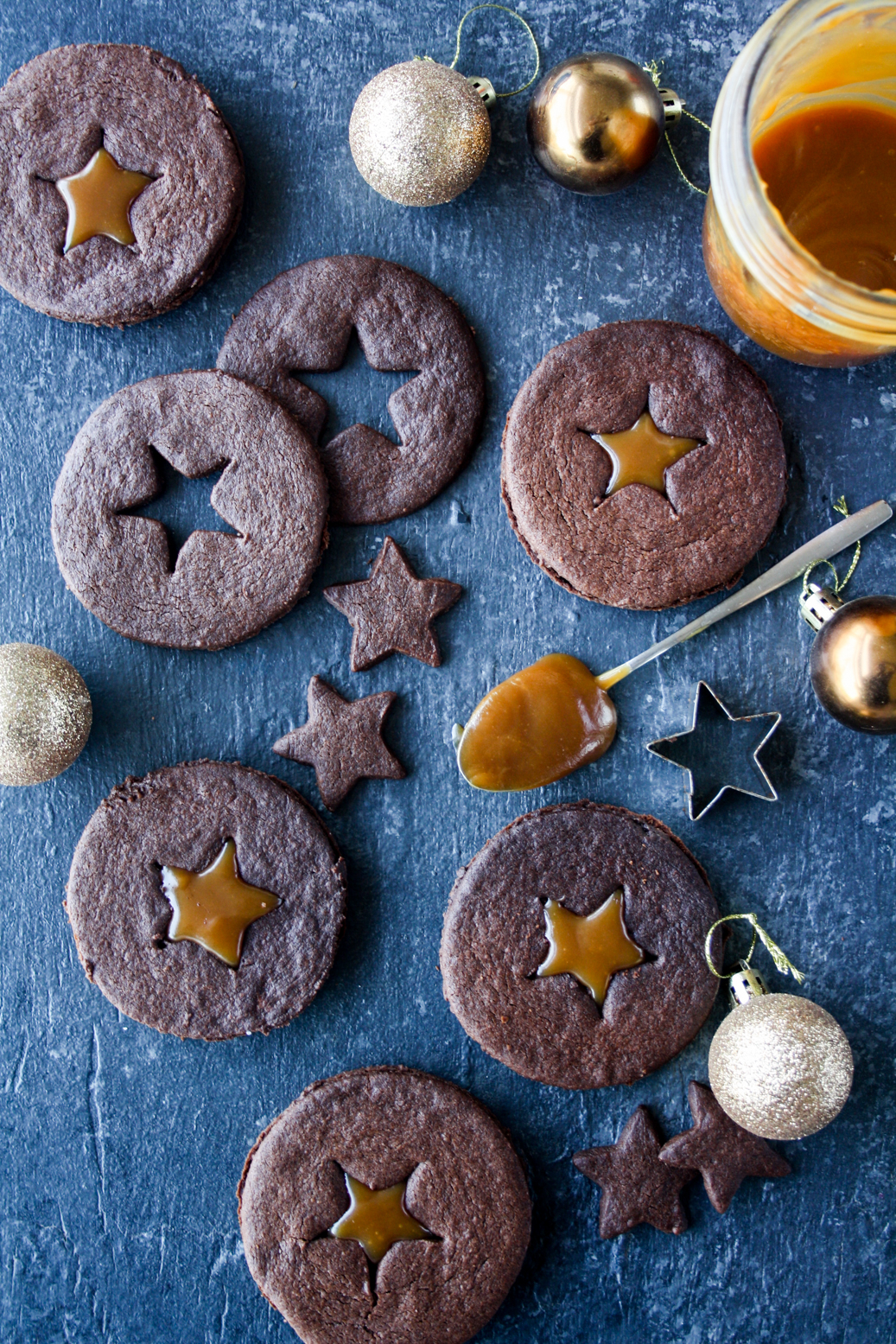 A few years ago, I made these cookies with a Smitten Kitchen recipe but this time around, halfway through I realised I hadn't actually grated the chocolate to add to the batter. I decided not to, leaving these as basic chocolate cookies, with a crunch and a snap, perfect for softening with a little caramel.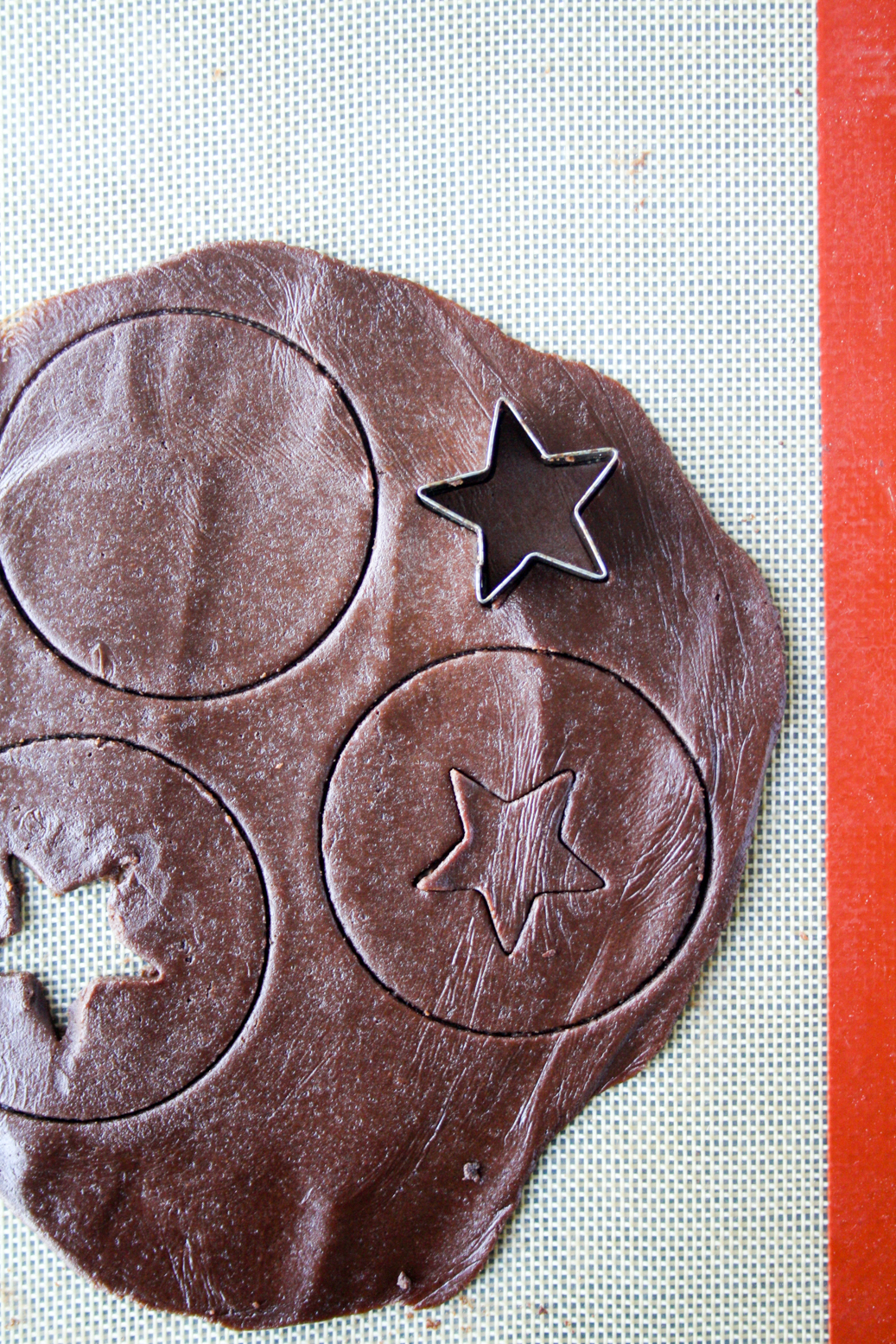 The cookies are deeply chocolatey, not too sweet and after a bit of a rest, still have some texture, but don't fall apart when you bite into them. They're basically perfect! Caramel adds sweetness, stickiness and generally, it's delicious. If you'd prefer to switch the caramel filling with chocolate frosting, I support you. I'm also here to tell you that I tried it, and ohmygod it works.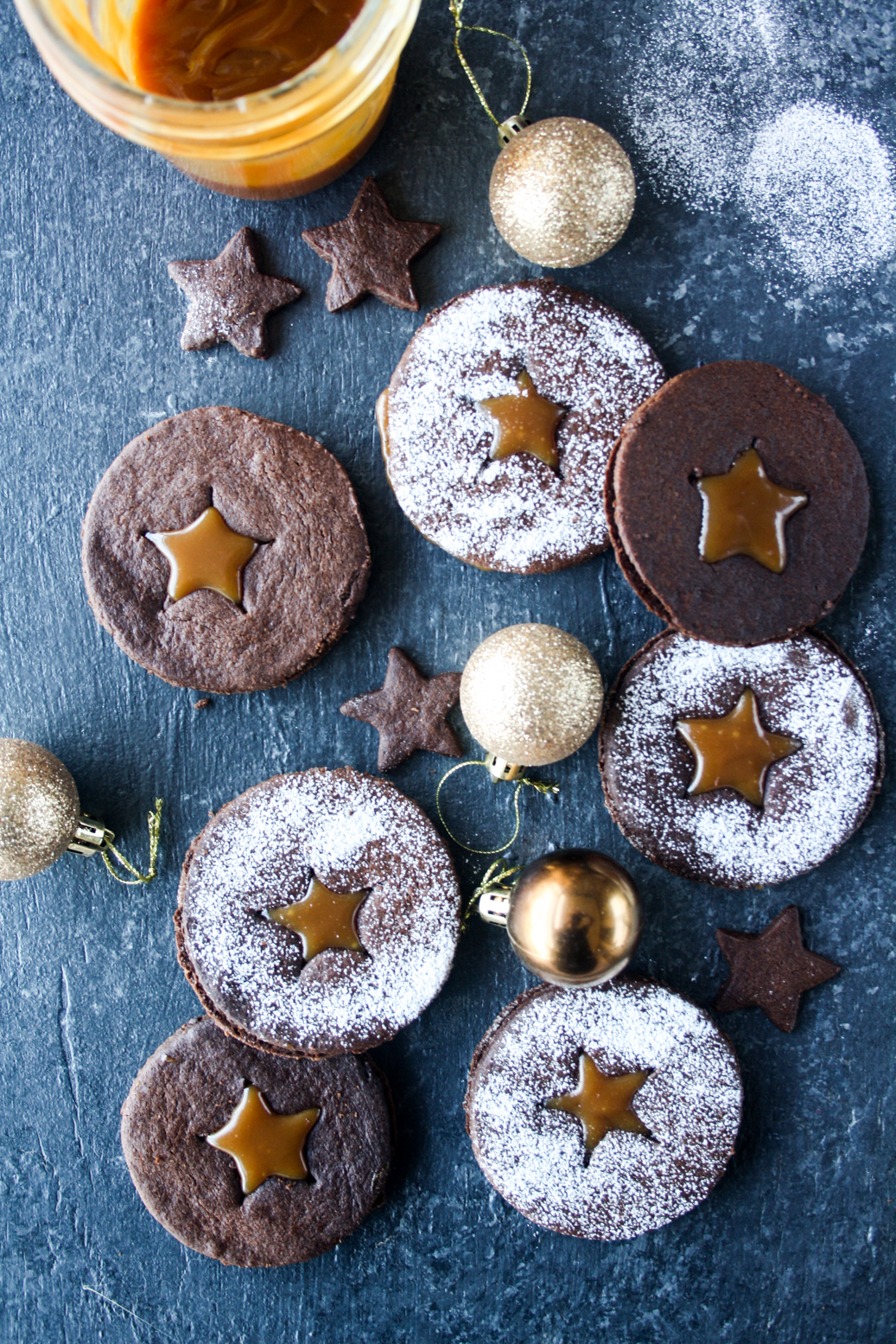 I wasn't too sure whether to dust a little powdered sugar on top or not. It certainly adds a fun snowy look, but you can go either way. The sugar doesn't make the cookies very sweet, in case you were wondering. They're super fun to make, and though they take a while because you will likely need to bake it batches, they're straightforward. And cute cookies make great gifts in case you're afraid of eating them all by yourself!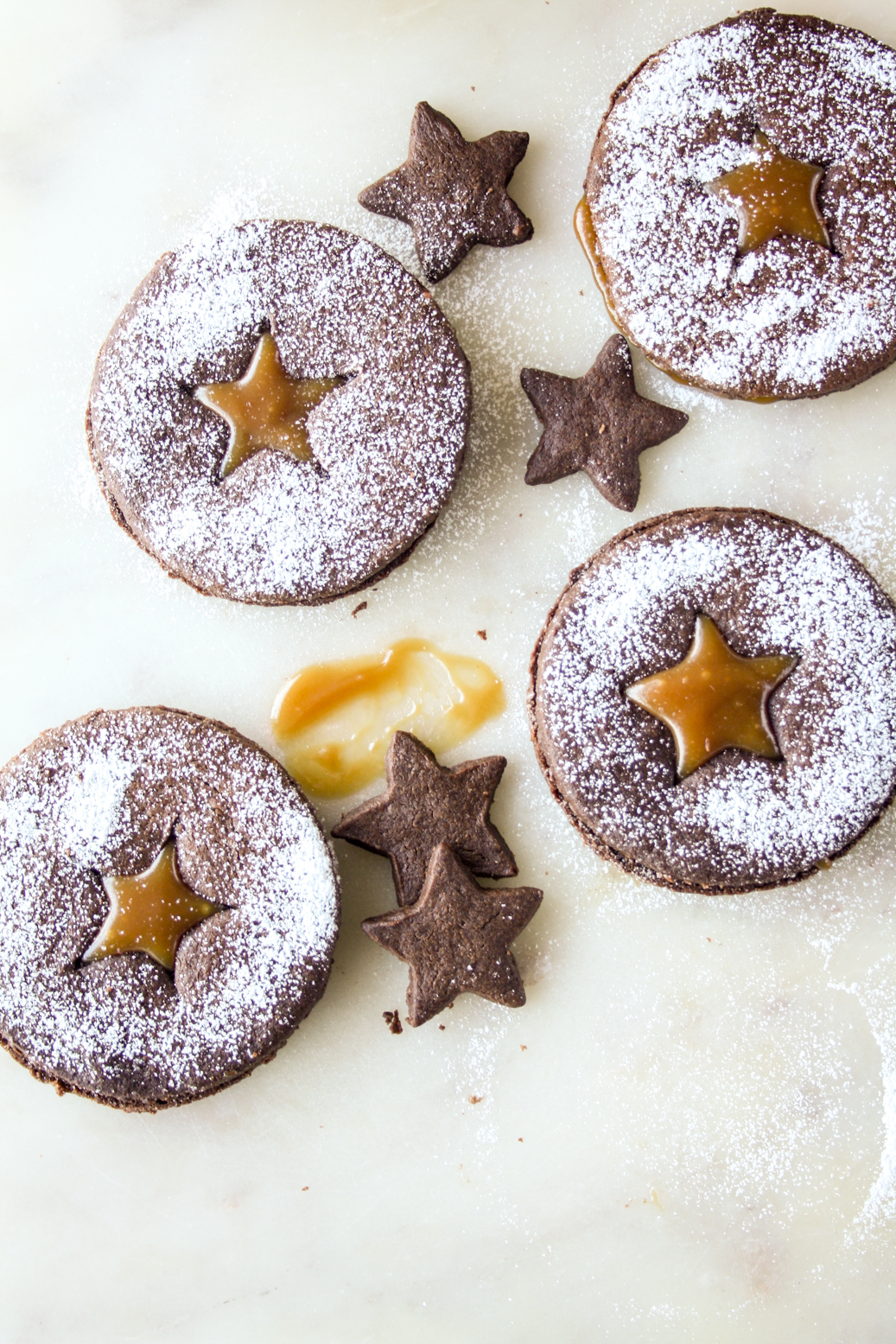 Let me know how you like them. My salted caramel recipe is right here!

Chocolate & Salted Caramel Sandwich Cookies
Crisp, festive chocolate cookies with a salted caramel filling!
Author:
The Desserted Girl
Makes:
About 12 cookie sandwiches
Ingredients
1 cup flour
⅓ cup cocoa powder
¼ tsp baking soda
½ cup butter, at room temp (115 gms)
½ cup caster sugar
1 egg yolk
½ tsp vanilla
For the filling: ¾ cup salted caramel at room temp
Instructions
Sift the flour, cocoa, baking soda and set aside.

In a large bowl, cream the butter and sugar till light and fluffy. Add the egg yolk and vanilla, beating till combined.

Add the flour mixture and fold gently, till a soft, sticky dough forms.

Tip the dough out onto a piece of clingfilm, wrap tightly and chill for 30 minutes to an hour.

Preheat the oven to 175 C. Lay out a silicone baking mat (so that you can easily roll and transfer cookies to the oven). Alternatively do this on a floured surface or baking paper.

Divide the chilled dough into two halves which makes it easier to roll. Keep the second half chilled.

Let the dough soften slightly for 5 minutes at room temperature, then place it on the mat. Cover with a large sheet of clingfilm and roll out to about ¼ inch thickness. The thinner, the crispier, but also higher the chances of the cookies burning. I find this clingfilm method the easiest as the dough is sticky and you can avoid a mess this way.

Use a 3 inch cookie cutter (or a bowl or glass of that diameter), to cut circles in the dough, about an inch apart. In half the circles, cut out a little star shape, about 1 inch wide. (Save the stars and bake them at the end.) Place the cut cookies back in the fridge for 15 minutes, then peel away the scraps of the dough. I find that when the dough is cold, it's easier to do this and you don't need to move around your neatly cut shapes which means they look good even after baking!

Slide the mat onto a baking tray and bake for 10 to 12 minutes, rotating the tray halfway through baking. The ones with the star cut into them will bake a little faster. If you prefer, you can bake one tray of only bottoms (without the stars) and one tray of only tops (with the stars). Cookies are done when they are slightly puffed, darkened and have some small cracks on the surfaces. Set aside to cool for 10 minutes on the tray itself as they will break if you try and lift them immediately. Transfer to a wire rack to cool completely.

Re-roll the scraps and the second half of the dough. In all, you will have about 24 cookies. Make sure you have equal numbers of tops and bottoms, no matter what size your cookies are.

When the cookies have completely cooled, spread 2 teaspoons of salted caramel on each of the cookie bottoms, leaving the edge plain. Cover with the top halves (the one with the star cut outs) and press down lightly. I like to chill these in the fridge but you can leave them at room temperature for a day in an airtight tin. They will last in the fridge for a week, if not more. Happy baking!
Notes
*Cook time is per batch of cookies. Prep time does not include dough chilling time.

*You can use any cookie cutter shape or size. Baking time will vary so if you're making smaller cookies, bake for less time and longer for larger cookies.

*For the filling, you could also your favourite jam, whipped cream, chocolate frosting or even melted chocolate chips!
Shop this recipe!
This post contains affiliate links.