This granola tastes like so many amazing things, I wanted to actually call it ChristmasCakeGingerbreadCranberryMolassesOrangeCinnamonSuperFestiveAmazingGranola.
But I didn't. Instead, I chose the two flavours that stood out the most for me and they made it to the top. But this granola is actually meant for the season because it's spiced, fruity, citrusy. The three things that in my mind, define all kinds of Christmas baking.
Crunchy, wholesome, good-for-you and just what you need on hand when the holiday munchies come calling.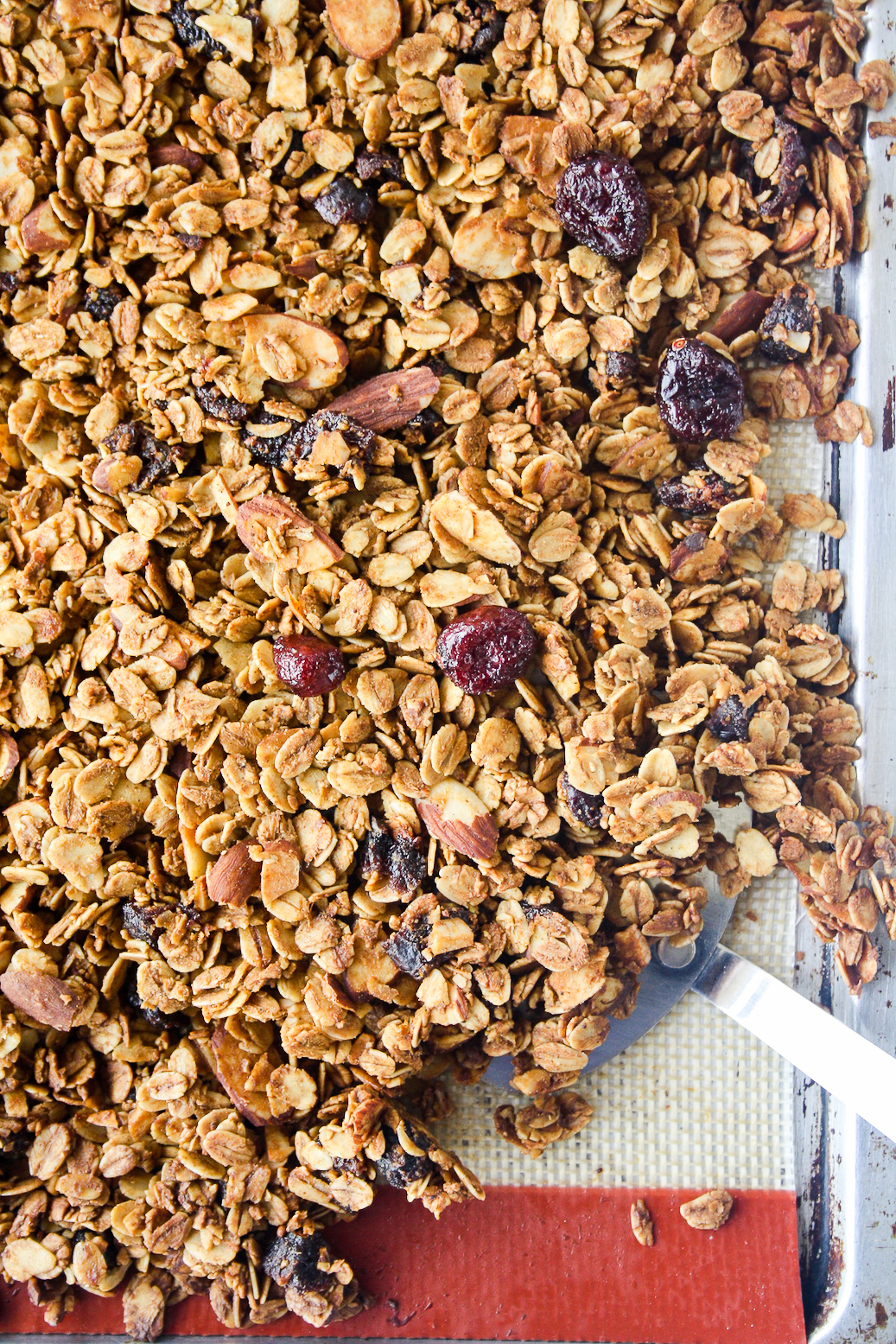 My go-to granola recipe is so so so versatile, you can throw pretty much anything in and call it a day. For this one, I was going for a sort of gingerbread like feel, so I used molasses to sweeten. A little bit of fresh orange juice and zest gives the granola an incredible flavour and every time you open the jar, your mind will be blown a little bit!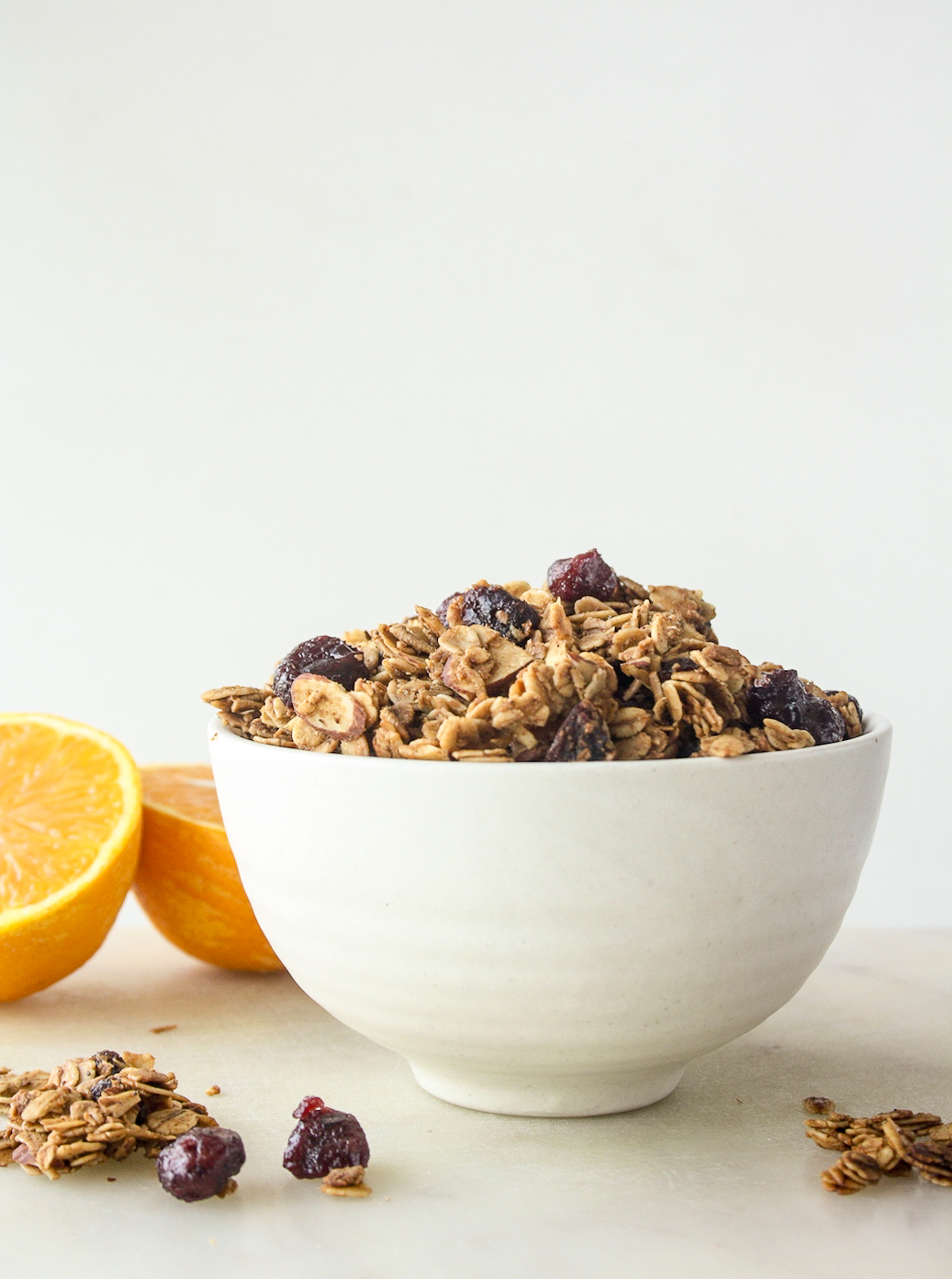 The cranberries will become a little firm and chewy in the oven, so if you want them to remain super soft, add them only after the granola has baked. Either way, the flavour will be great. The whole thing comes together quickly, bakes quickly and lasts for a couple of weeks even at room temperature. I love making granola at home, SO MUCH!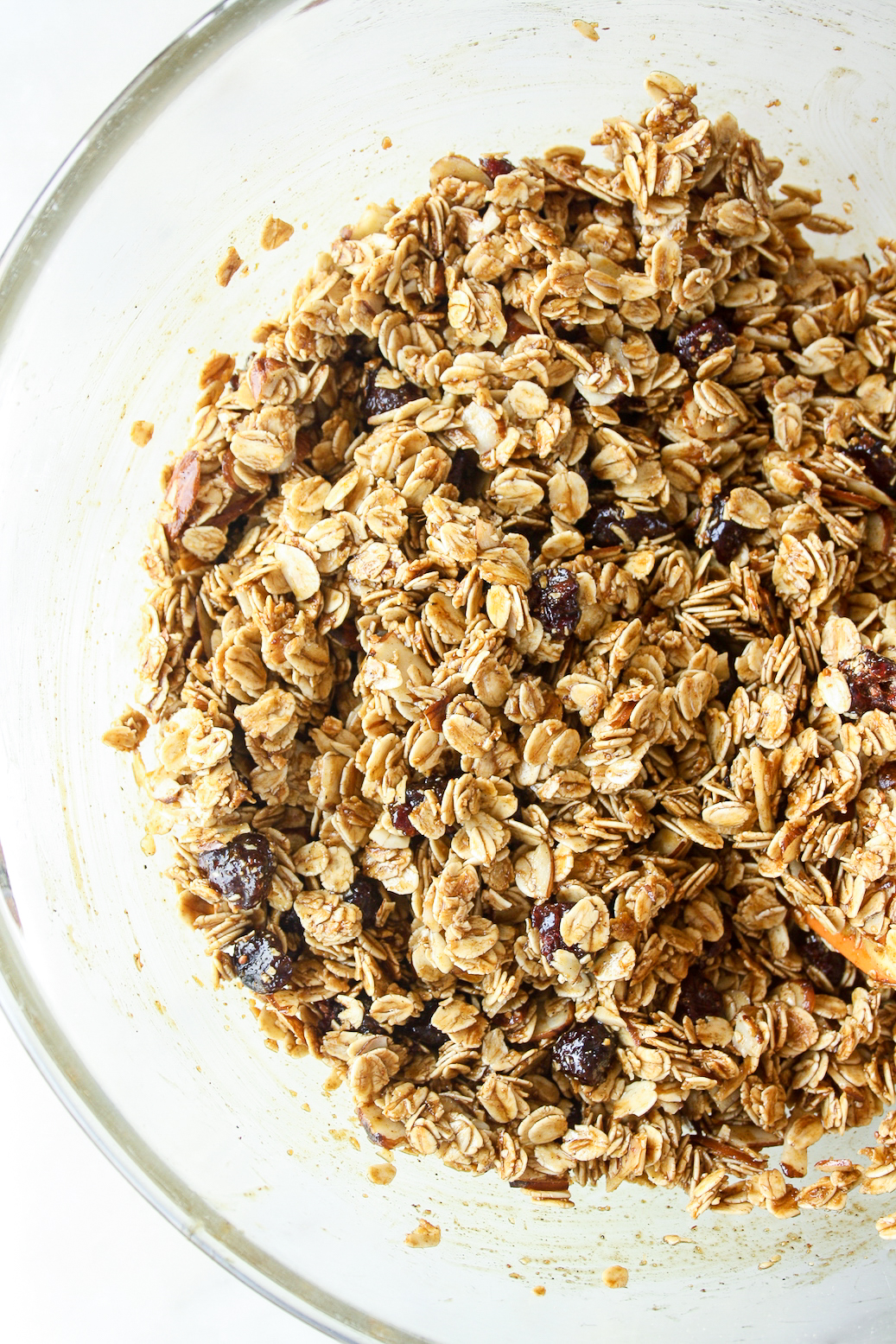 You can add in your favourite dried fruits and nuts if you want to switch the flavours up a bit. Pecans would be great here, or even walnuts. Add more or less sweetener as you like, use more or less orange, you really can't go too wrong.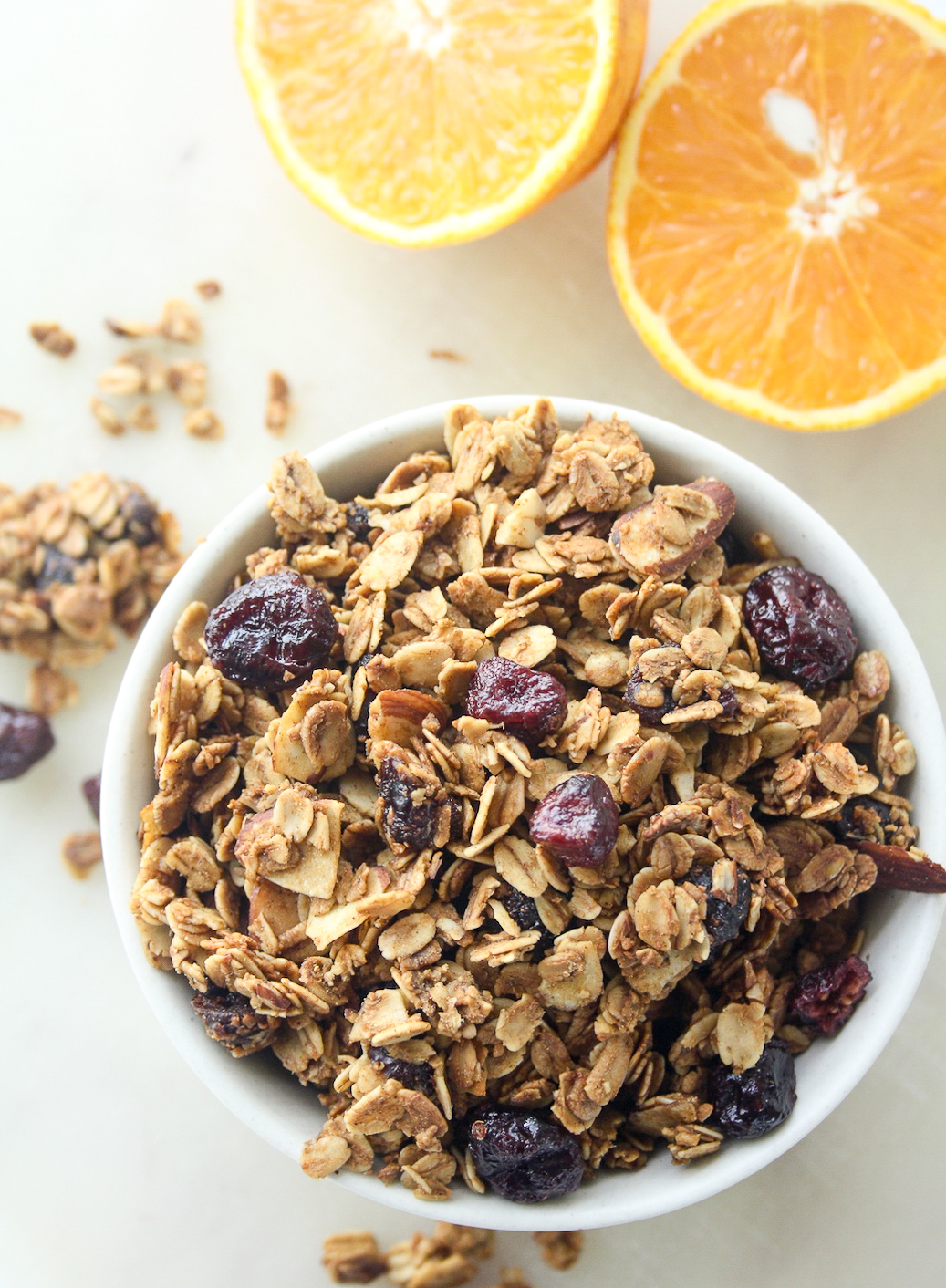 Let me know how you like it 🙂

Cranberry Orange Granola
Crunchy spiced granola with cranberries and fresh orange
Author:
The Desserted Girl
Ingredients
2 cups rolled oats
½ cup sliced almonds
⅓ cup dried cranberries (see notes)
1 tsp cinnamon powder
2 tsps ginger powder
¼ tsp clove powder
¼ tsp salt
¼ cup olive oil
¼ cup molasses
2 tbsps honey
3 tbsps orange juice
Zest of 1 orange
Instructions
Preheat the oven to 175 C and line a baking sheet with a silicone mat, or use a lightly greased sheet of baking paper.

In a large mixing bowl, combine the oats, almonds, spices and salt. Mix well.

In a smaller bowl, whisk the olive oil, molasses, honey, orange juice and zest. (measure the oil first, so the molasses and honey slides right out of the cup). Mix well till smooth and combined, making sure the oil has blended right in.

Pour into the oats mixture and mix well, making sure every inch of the mixture is coated.

Tip the mixture onto the baking tray and spread it out. The idea is to have an even layer that's thick enough for the oats to do some 'clumping', but not so thick that the mixture doesn't cook. If your oven is small, bake in two batches.

Bake for 20 to 25 minutes, until the oats are crispy and the mixture has darkened. The edges burn quite fast, so make sure you stir and flip the granola twice during the baking, as well as rotate the baking tray.

Allow the baked granola to cool. As it cools, it will firm up more.

Store in an airtight jar at room temperature for about 10 days then transfer to the fridge. You can also freeze it for a couple of months. Eat as is, or with yoghurt, fruits, milk, anything your heart desires. Enjoy!
Notes
*Use more honey if you don't have molasses on hand.

*Dried cranberries become a little firm in the oven, so you can also stir them into the granola once it has cooled, right at the end.
Shop this recipe!
This post contains affiliate links.