I didn't think I'd say this but these rolls are even better than these rolls. They are so soft, I could have taken a nap on them and made with a milk-butter dough, they are super, super tender. Like most bread adventures, this one was very enjoyable and I hope you'll come on board!
Given a little brush with baking soda+water, they get a deeply browned, soft pretzel-like crust. I haven't eaten too many soft pretzels in my life, but that crust itself makes me want to!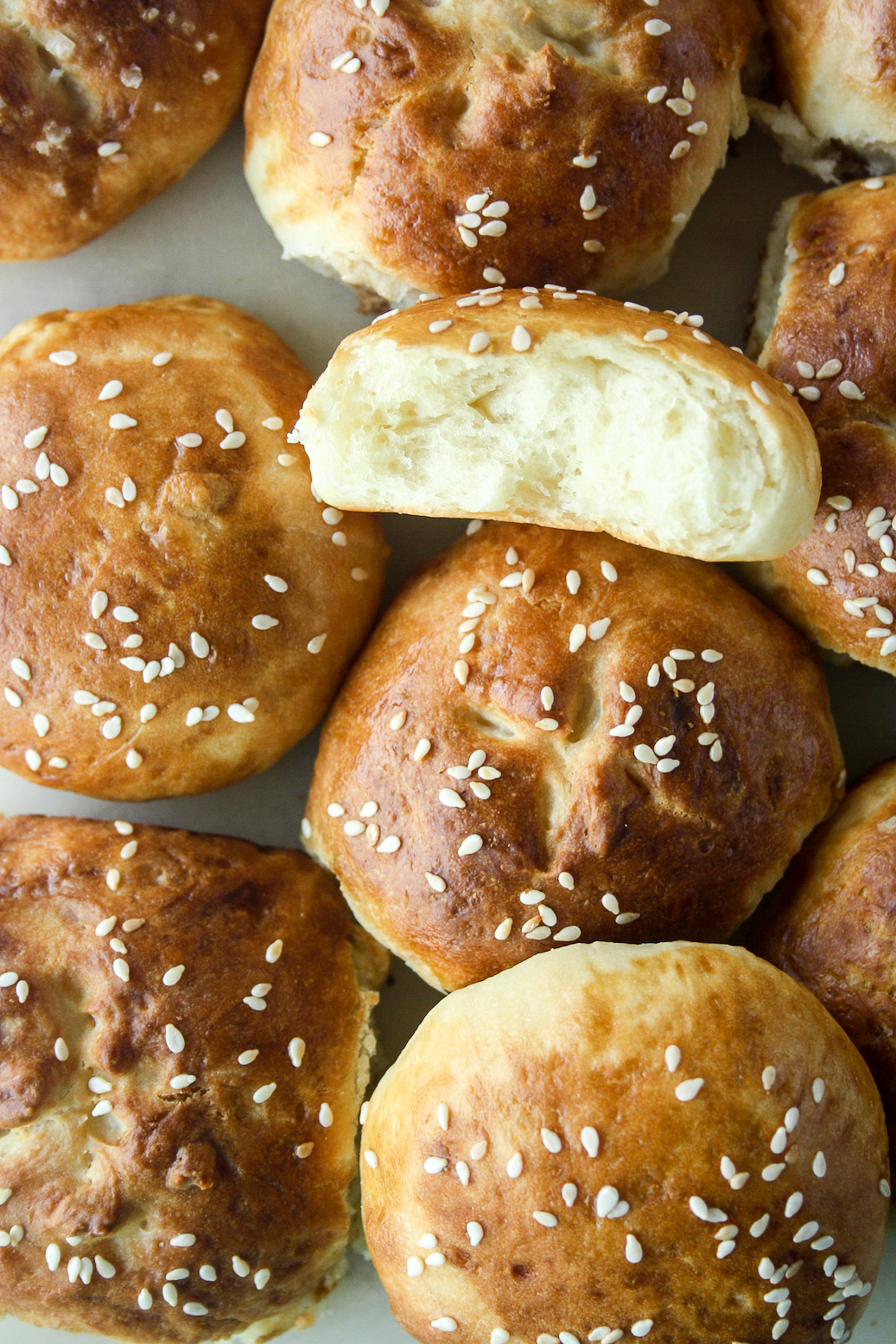 I wasn't sure whether to bake these as individual buns or rolls baked together in one pan, so…I did both. The recipe comes from Smitten Kitchen and it's super approachable. The dough is a little sticky but you don't have to struggle with it and it rises beautifully.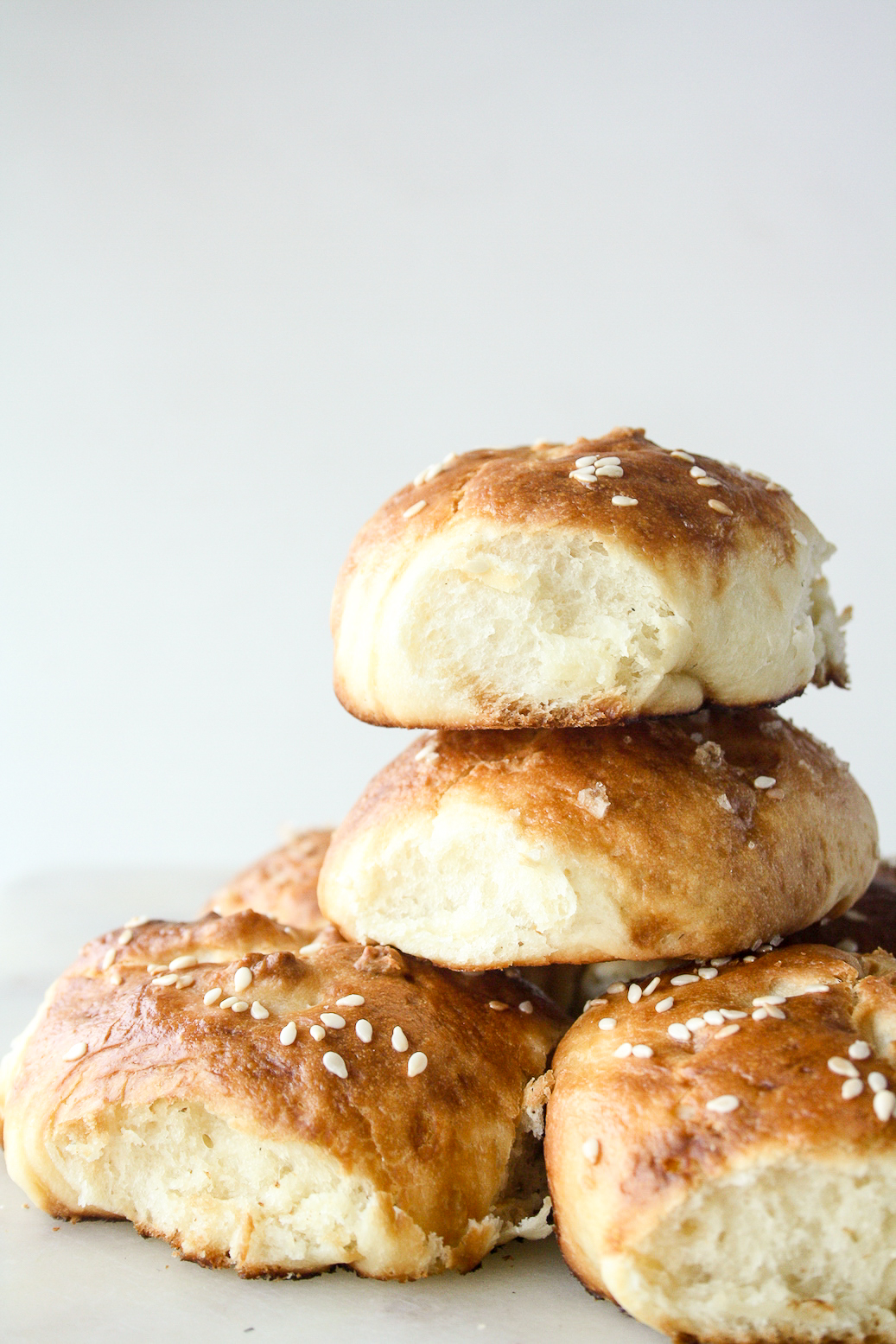 Personally, I liked the buns more than the rolls, because they have a cute round shape and typically, pretzel rolls have a little cut on top for an authentic look. The thing with the cut is, it can deflate the dough a little so the uncut buns come out looking smoother and neater. But, go with whichever one you prefer! You can also top them either with sesame seeds or coarse salt, although I prefer the sesame.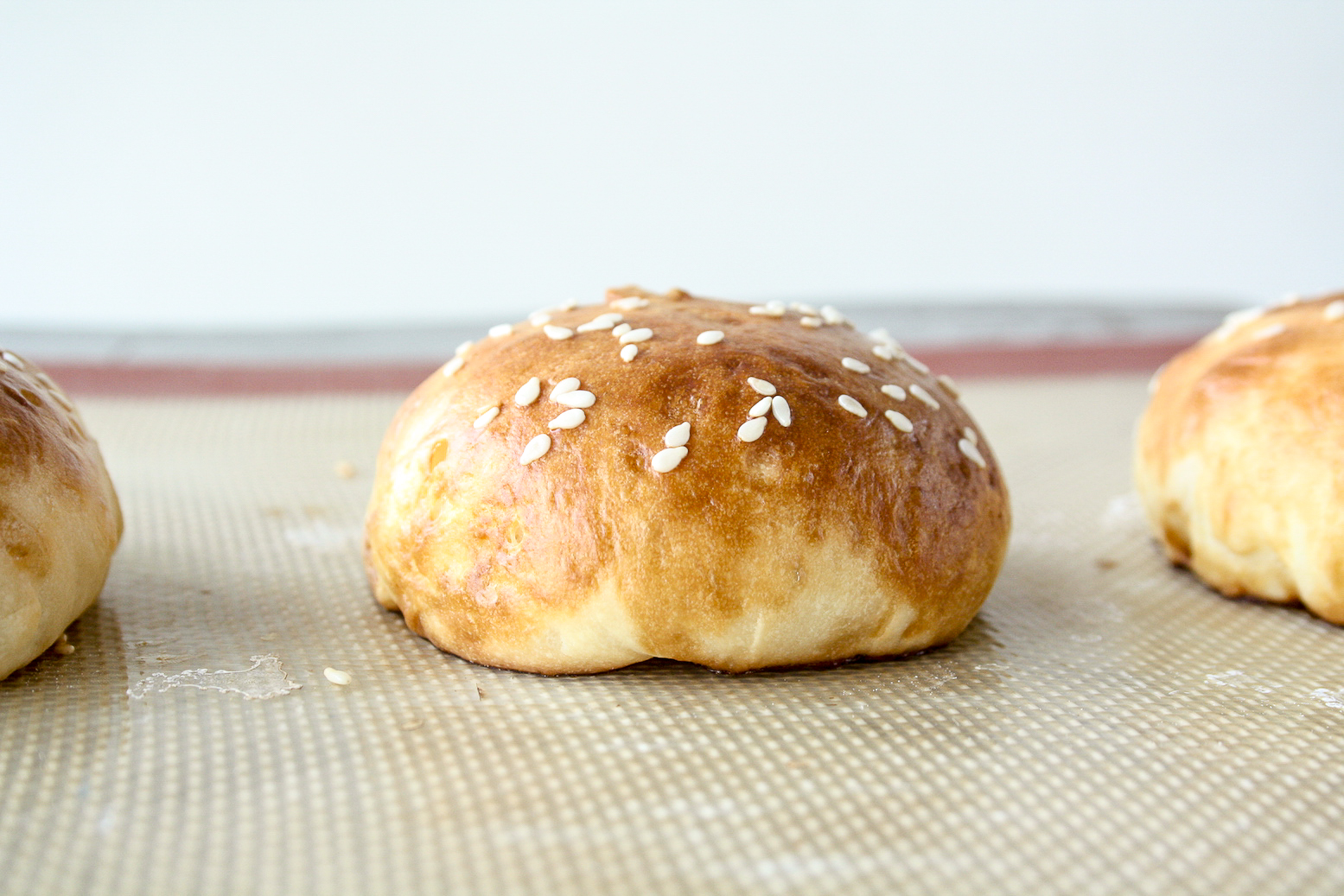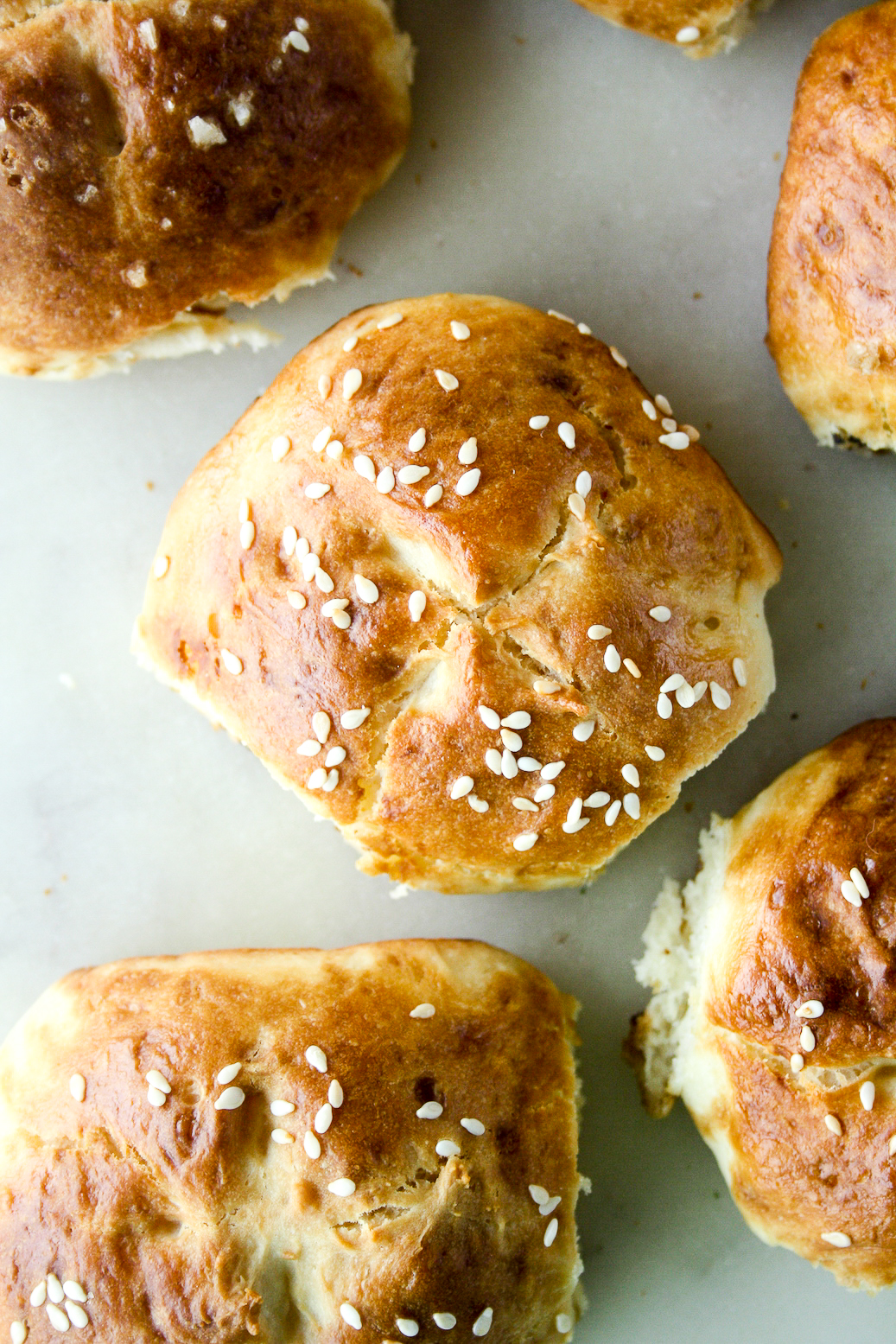 I wasn't very sure about whether the crust tastes like pretzels as much as looks like them. But like I said, I don't have much pretzel-eating experience. And, if you prefer to skip the baking soda wash, you actually can. The rolls will still be nice and golden. The egg wash is also optional, but adds a nice shine to the tops. My point is that if you make these rolls, make them for their amazing flavour and texture because when you break them open, they are pillowy and so fluffy. Thanks to the milk and butter (no water), they are rich and unbelievably soft. Did I say 'soft' already?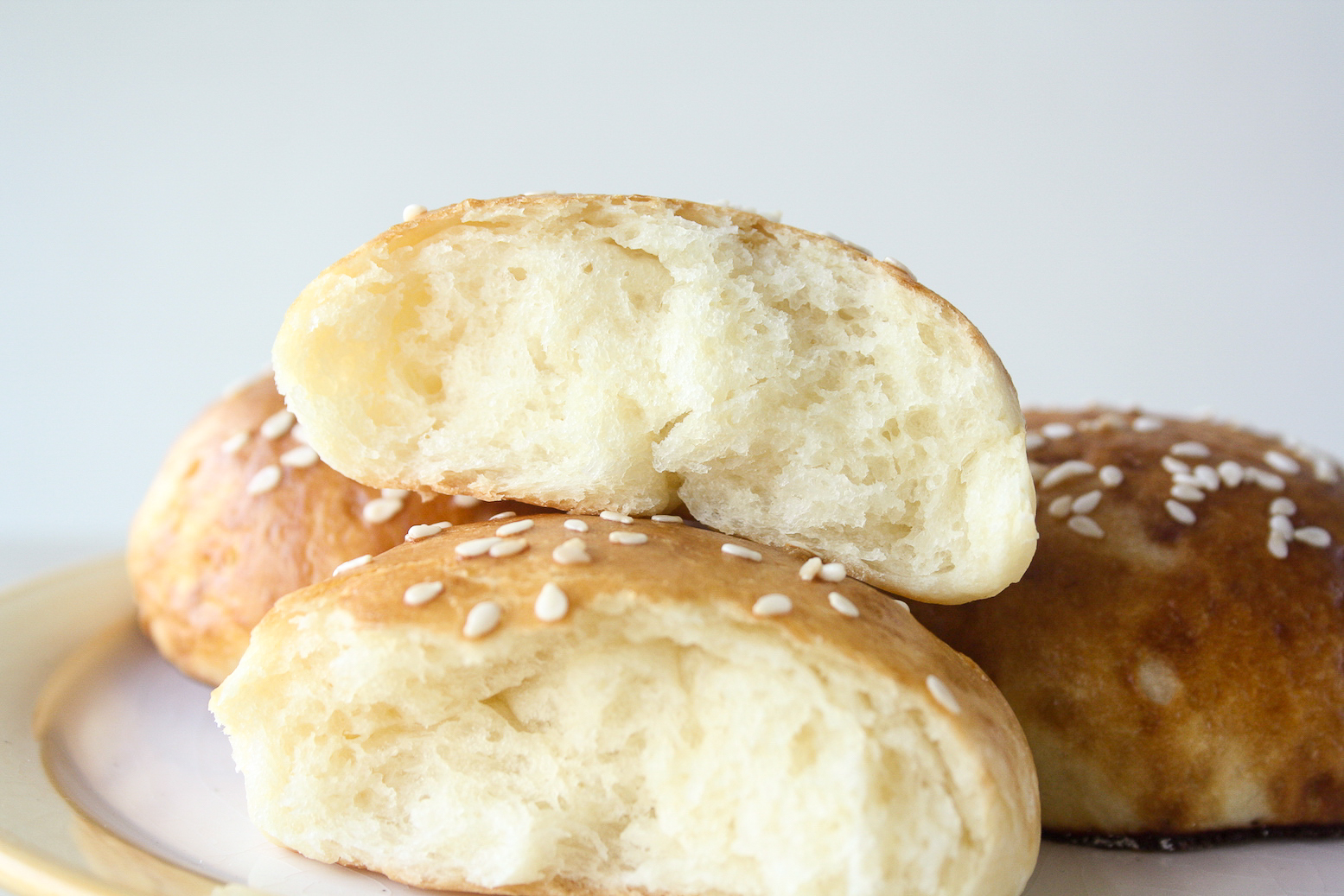 They are amazing by themselves or dunked in a bowl of hot soup, or slathered with butter, jam, whatever your heart desires. They'll keep in the fridge for a few days and I haven't tried freezing them, but that should work too.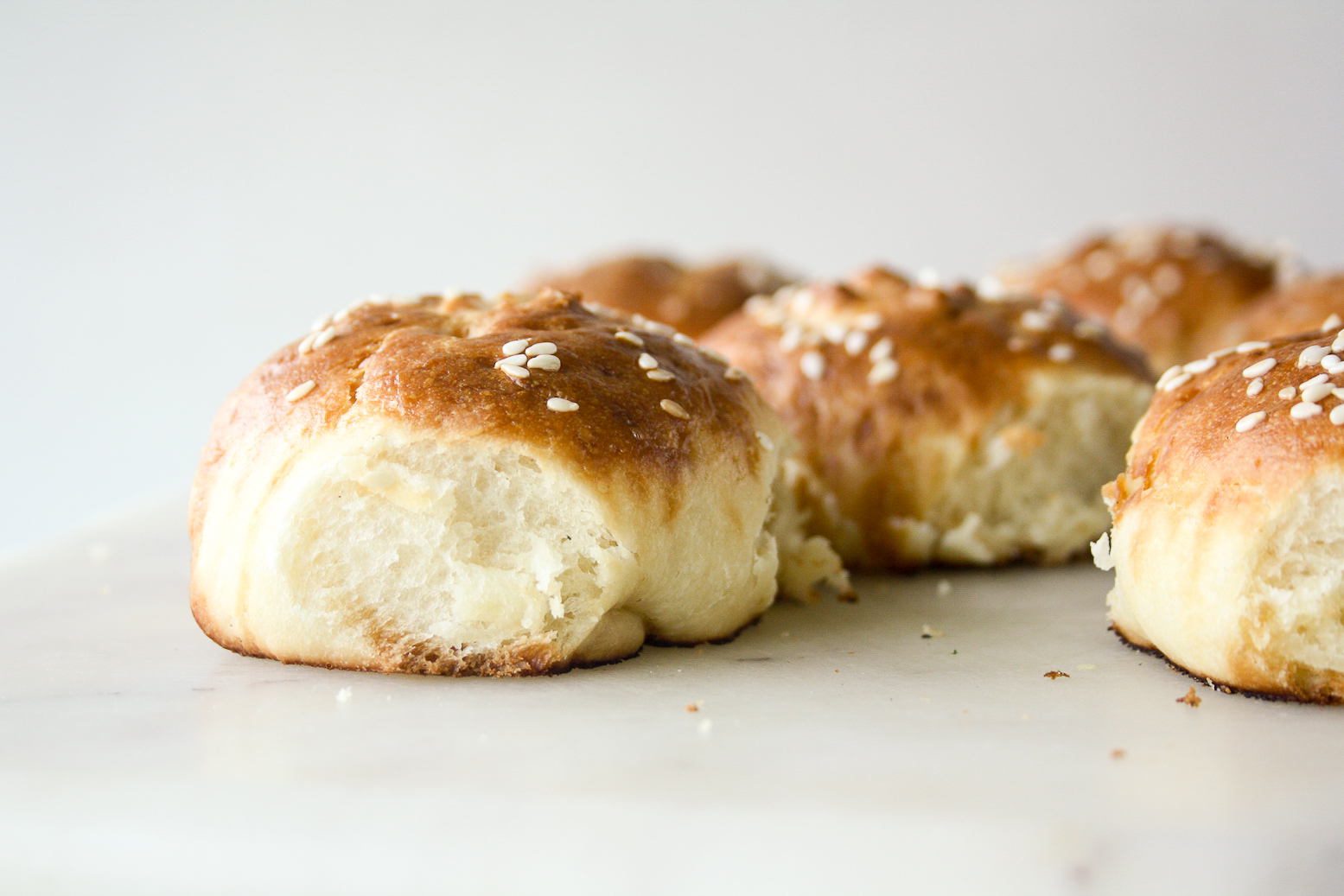 I've said this before and I'll say it again. If you enjoy baking, then making your own bread is definitely the most satisfying thing you can do. I hope you'll try these 🙂

Buttery Pretzel Rolls (Eggless)
Soft, buttery rolls with a pretzel-like crust!
Author:
The Desserted Girl
Ingredients
For the dough
¾ cup + 2 tbsps whole milk
1 and ½ tbsps caster sugar
1 and ¼ tsps active dry yeast
3 tbsps melted unsalted butter (40 gms)
2 cups all-purpose flour, plus more for sprinkling
1 tsp salt

For the topping
½ cup water
1 and ½ tsps baking soda
Sesame seeds to sprinkle on top
Optional: 1 egg, lightly beaten with 1 tsp water (see notes)
Instructions
Heat the milk and sugar together in a small bowl until the mixture is warm, but not hot. You should still be able to comfortably dip a finger in it. Stir in the yeast and cover the bowl with clingfilm. Let it rest for 5 to 10 minutes, until the yeast has almost completely dissolved and the mixture is frothy.

In the meantime, add the butter to a mixing bowl, or the bowl of a stand mixer. Give it a quick stir, then pour in the yeast mixture. Add the flour and salt and stir again. Now bring the dough together then knead either by hand or with the mixer's dough hook (low to medium speed), till you have a soft, smooth, slightly sticky dough. This will take about 5 minutes. I find that even with a mixer, some stickiness remains and I prefer kneading the dough by hand on the kitchen counter. Add 2 to 3 tablespoons of extra flour as needed but don't worry if the dough is still a little sticky by the end of it. If you poke it with a finger and it bounces slowly back, it's ready.

Lightly oil a large bowl (I just use the mixing bowl itself), place the dough in it and turn it around to coat all sides. Cover with clingfilm and let it rise at room temperature for 1 to 2 hours, until doubled in size. Don't rush this, it's important that the dough is nice and puffy.

Turn the risen dough out onto a floured kitchen counter. It will be smooth, stretchy and not sticky anymore. Pat it down into a disc and cut into 12 triangles. Roll each triangle into a ball, then bring up the edges and pinch them together. When you flip it around, you will have a smooth dough ball. Place each about 1 inch apart in an 8x8 greased baking tray for rolls, or place them 2 inches apart on a silicone baking mat if you prefer to make individual buns. Cover with clingfilm again and let them rise for 1 hour.

Preheat the oven to 190 C. Boil the water in a small saucepan, then add the baking soda. It will bubble up so gently stir it to dissolve the mixture and turn off the heat. If using the egg wash, keep that ready as well.

Now uncover the rolls/buns and brush each one generously with the baking soda wash on the sides and tops, then brush with the egg wash. For a more traditional look, use a sharp knife to make a small X on the top of each roll, taking care not to deflate it, although I found this hard! Sprinkle with sesame seeds for a nice look and crunch.

Bake for 20 minutes and an extra 5 minutes if needed, until the rolls have turned a beautiful golden-brown. Rotate the tray halfway through baking for even browning. Let the rolls cool for 10 minutes, then remove from the pan and let them cool completely, or just dive in while they're warm! Rolls will keep in an airtight tin at room temperature for about 2 days, after which they're best in the fridge. If you live in a warm area, it's best to put them in the fridge after they've cooled on day one itself. They should also freeze well. Happy baking 🙂
Notes
*Prep-time does not include dough rise time.

*The rolls are amazing even without the baking soda wash on top. You can skip it if you like. The egg wash gives a nice sheen to the tops, but you can also use a little thinned out cream instead.