I feel like we could all use a salad for a weekend binge today, instead of you know, more sugar after all the Diwali indulgence! But I promise, this salad is as addictive as any dessert in the world. Pumpkin caramelised in olive oil and garlic, on a bed of lots of crunchy lettuce, with almonds, bocconcini or mozzarella balls and the simplest balsamic vinegar dressing.
Seriously, this was ridiculously good! I hadn't even planned to post it here but it was too good to keep to myself.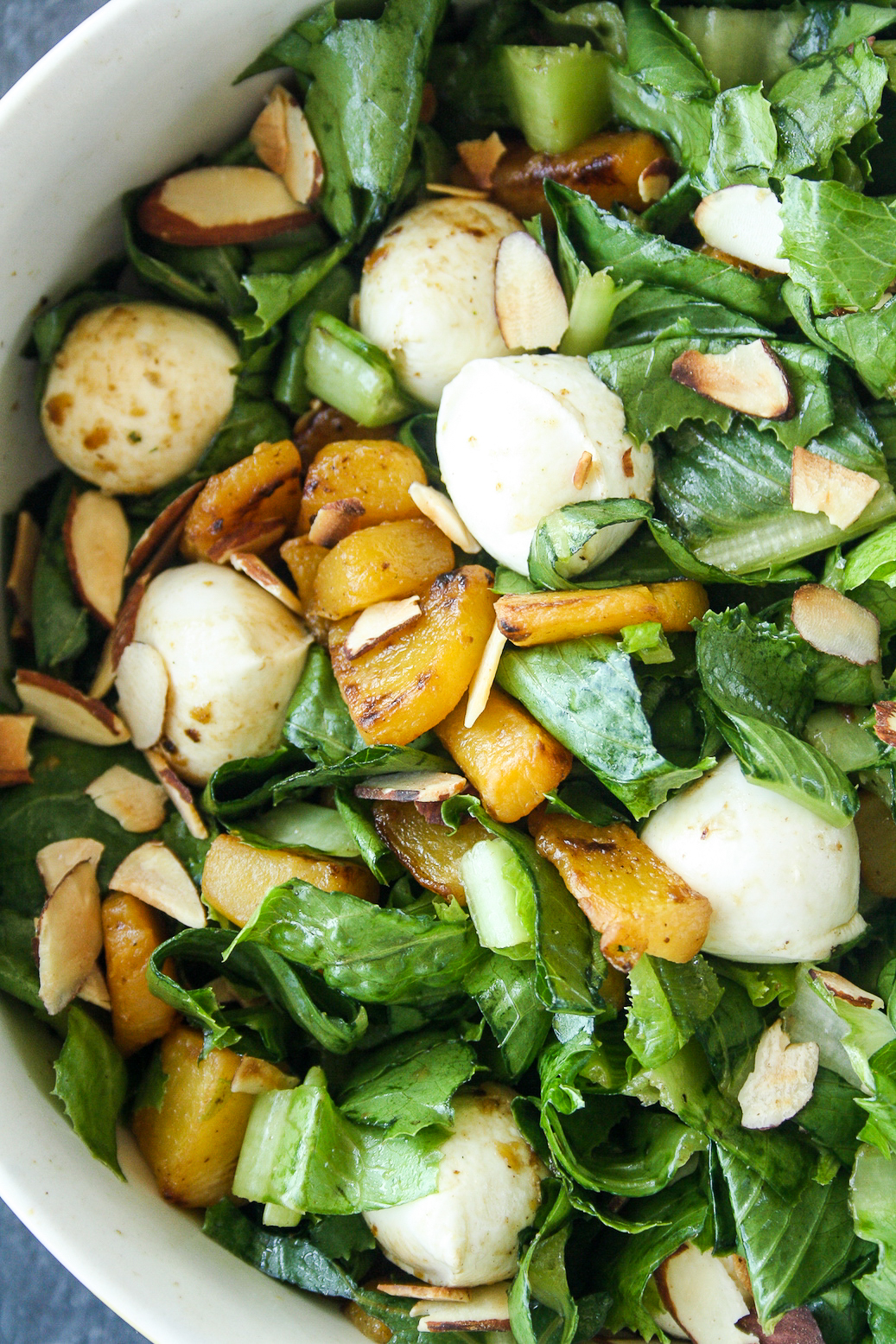 It's packed with lots of good stuff and is bursting with all kinds of flavour. It is best eaten and served fresh, but you can store the dressing and veggies separately for a couple of days in the fridge and toss when you like.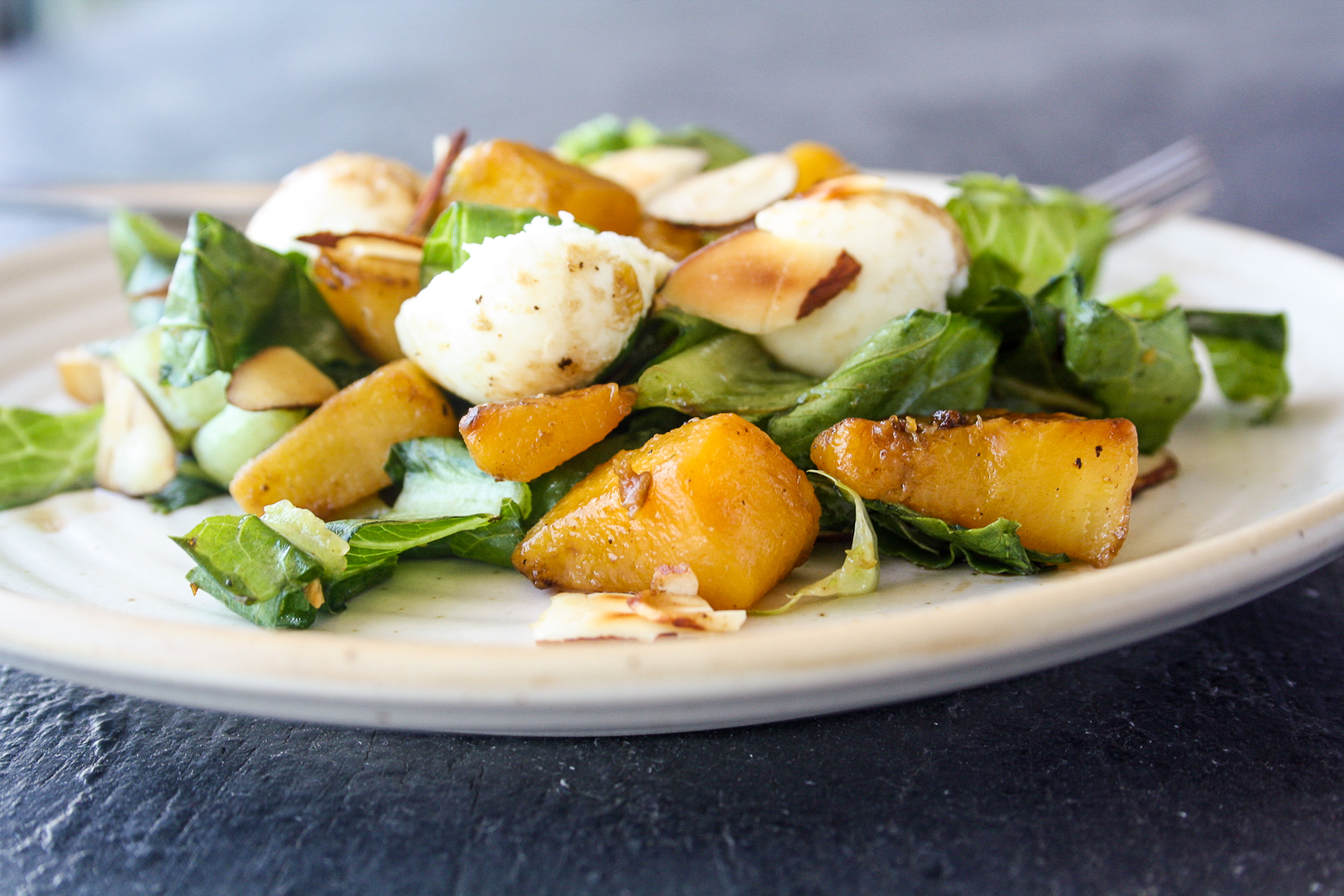 Like all good salads, this is super versatile. I suggest sticking to the caramelised pumpkin because it's sweet and savoury all at once! Feel free to change up the cheese, almonds and even the dressing as you like. I didn't make a very large amount of dressing, I felt like the pumpkin should shine, but you can absolutely make a larger, bolder flavoured one too.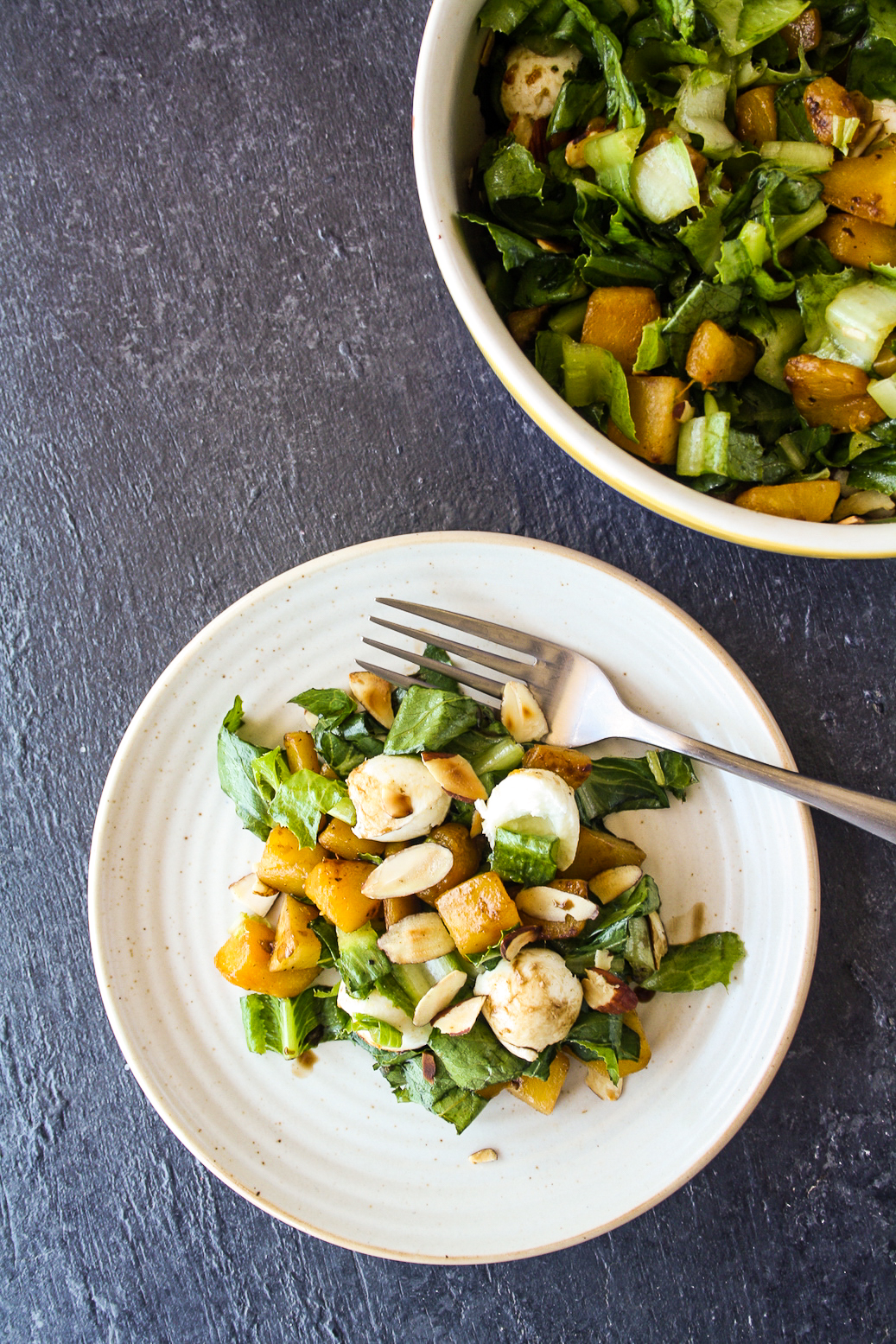 I normally don't find salads very filling but this one is. Pumpkin is a hearty vegetable and along with the cheese, it really does make a good meal. Some crusty bread along with it would be amazing!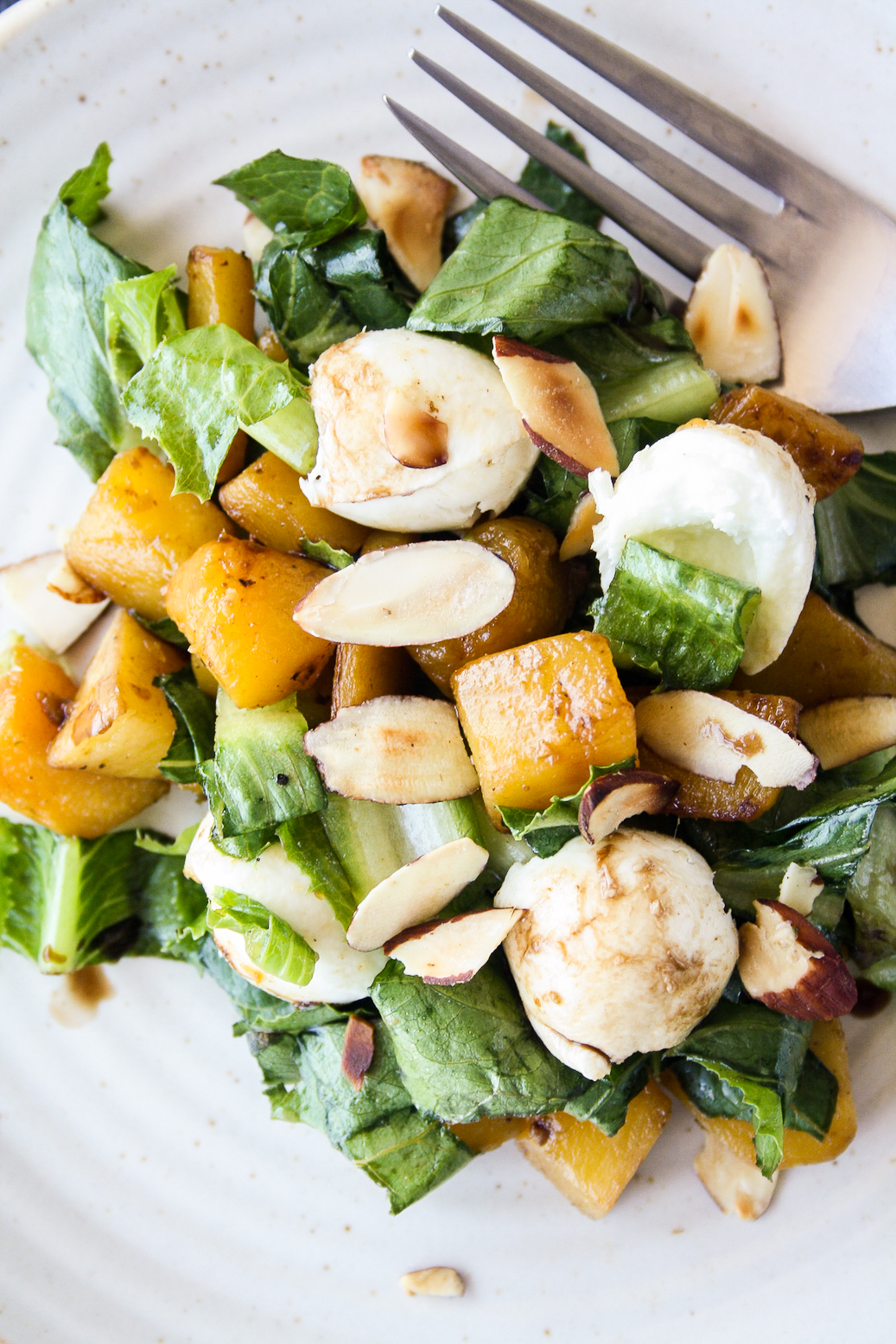 So many textures and colours and flavours. I was blown away and I hope you are too!

Caramelised Pumpkin Salad
Crunchy and delicious pumpkin salad with almonds and mozzarella in a simple balsamic dressing!
Author:
The Desserted Girl
Ingredients
¼ cup sliced almonds
3 cloves garlic, minced
250 gms red pumpkin, peeled and diced
2 tbsps olive oil (preferably extra virgin)
4 to 5 cups chopped lettuce
100 gms bocconcini (mozzarella balls)
1 tbsp balsamic vinegar
1 tbsp lemon juice
Salt and pepper, to taste
Instructions
In a dry pan, toast the almonds on low heat for 2 to 3 minutes until lightly browned and fragrant. Set aside to cool.

In the same pan, heat 1 tablespoon of olive oil and add the minced garlic. Fry till lightly browned, then add the pumpkin.

Turn the heat up and allow the pumpkin to caramelise and become a lovely golden-brown. Cook for about 10 minutes, till it is tender enough to bite into. Season with pepper and set aside to cool. If it's too hot, it will wilt the lettuce.

When ready to assemble, add the salad, bocconcini and pumpkin to a large bowl. Stir the remaining 1 tablespoon of olive oil with the vinegar and lemon juice. Add a light sprinkling of salt and pepper, then pour into the bowl. Toss well, then sprinkle the toasted almonds on top.

Allow the salad to rest in the fridge for 10 minutes so that flavours can blend. The lettuce remains surprisingly crisp even on day two, although if you don't plan on eating the salad immediately, store the dressing separately. Happy salad-ing!
Notes
*I used La Cremella bocconcini, an Indian brand available on Big Basket.

*This salad has a small amount of dressing, you can always add more if you like or make it more lemony or vinegary.
Shop this recipe!
This post contains affiliate links.