This is a Diwali special! Every year, I try and make something relatively healthy for the festival, maybe to compensate for the fact that sugar is SUCH a big part of my life on all the other days? The great thing is, I've never felt like the flavour or yum-quotient is ever compromised.
These burfees are super easy, made with just a few ingredients and naturally sweetened with figs and dates. A little ghee gives them some flair and plenty of nuts add a nice texture to the soft and chewy dried fruit. They're like no-bake fig bars!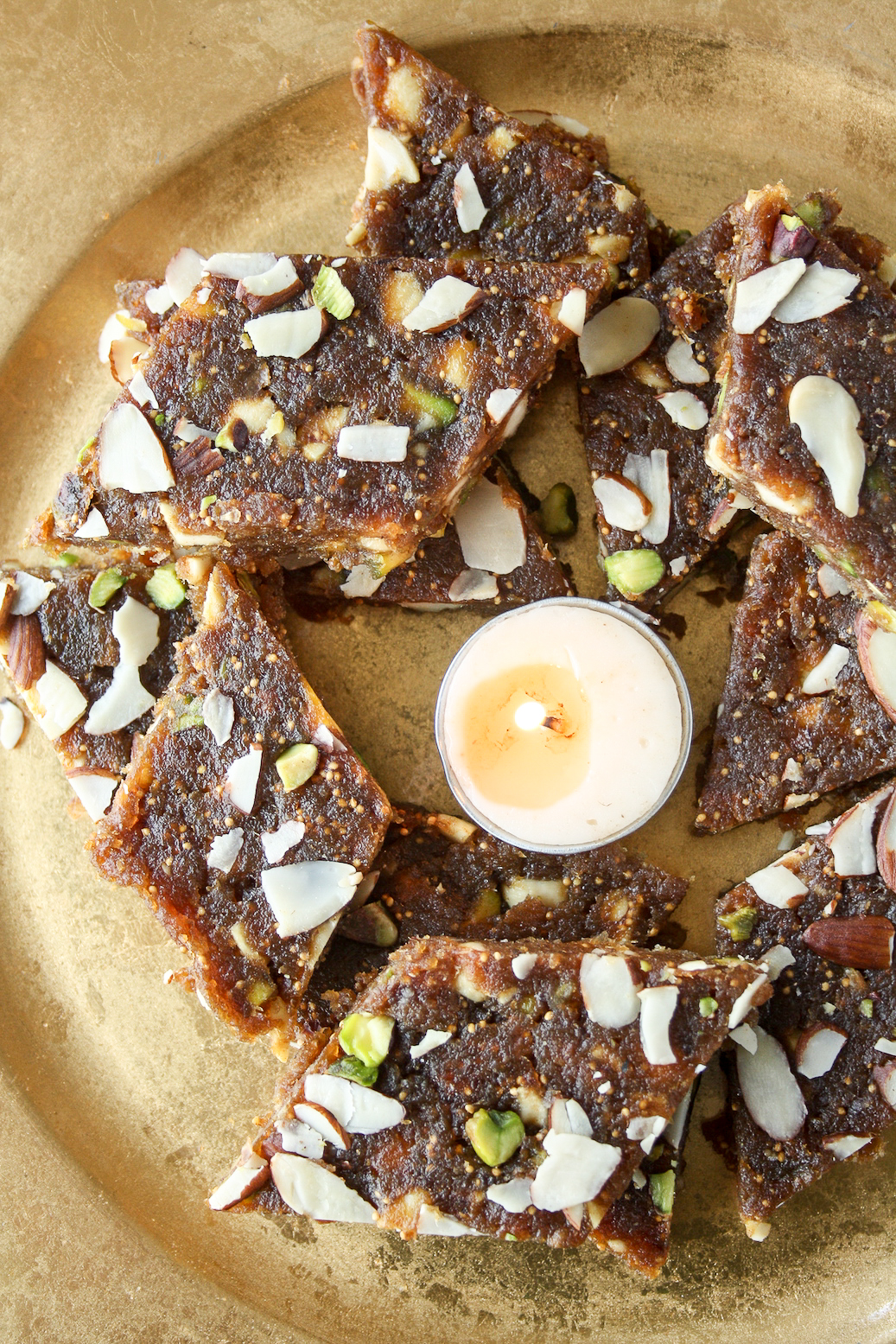 These are adapted from a Sanjeev Kapoor recipe with much less ghee and a reduced quantity of dates because I realised too late that I'd run out. They're still perfectly sweet thanks to the figs and after a nice chill in the fridge, they're easy to cut and eat.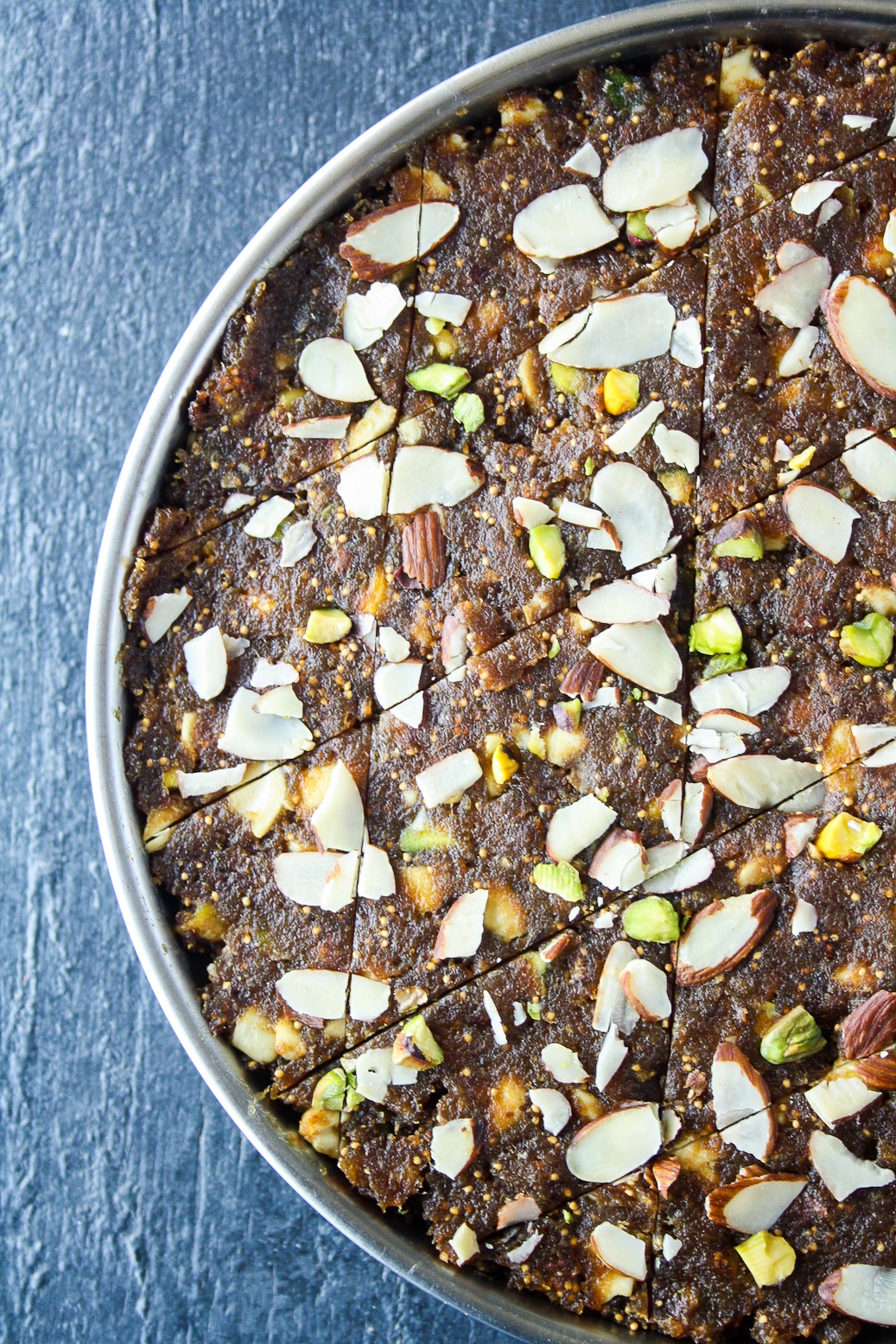 This isn't your conventional kind of burfee for sure, but it is delicious and is a welcome change from the usual. And makes a great on-the-go snack pretty much anytime of the year! Feel free to maybe add in extra spices like cardamom if you'd like to switch the flavours up a bit.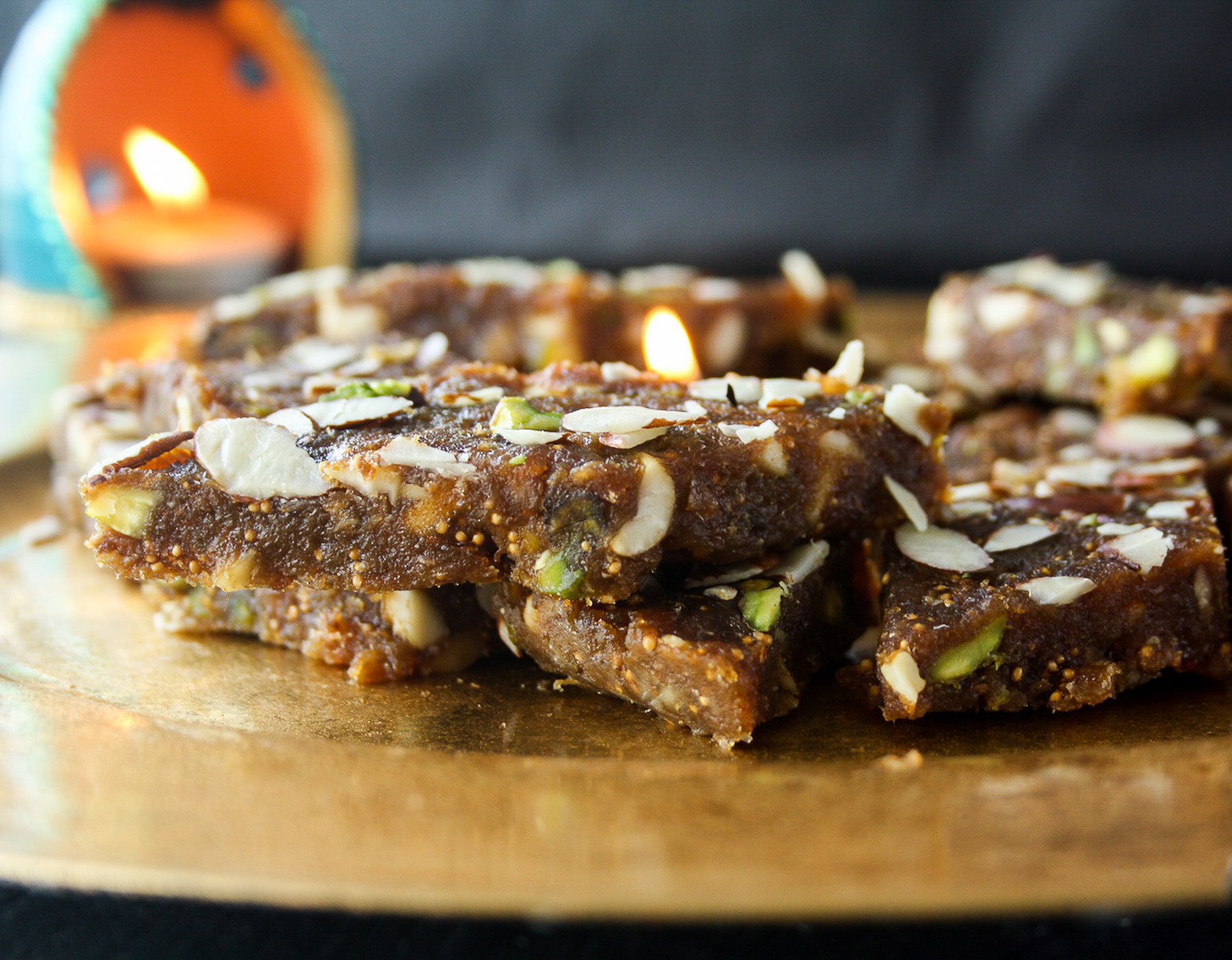 I used almonds, cashews and pistachios, but really the recipe is pretty forgiving and you can use whatever nuts you'd prefer. The idea is to have enough for a nice crunch and texture variation because figs and dates together are quite soft.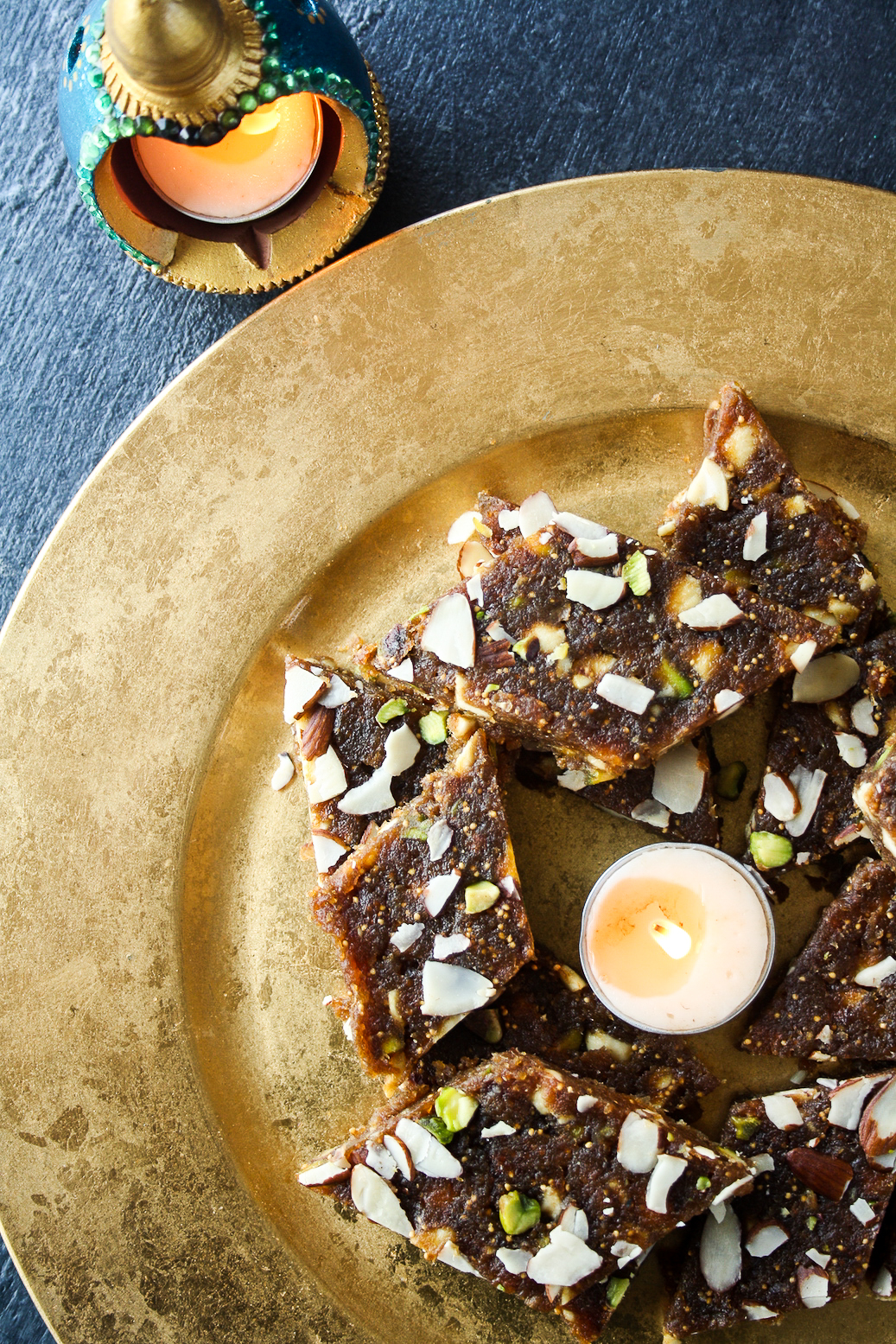 This burfee would also make a great edible gift for the festivities. Friends and family will thank you 🙂 Have a lovely, happy and safe Diwali, everybody!

Anjeer Burfee (no-bake fig bars)
Anjeer burfee are soft and chewy, naturally sweetened fig, date and nut bars.
Author:
The Desserted Girl
Ingredients
½ cup seedless dates
1 and ½ cup dried figs
¼ cup ghee
½ cup mixed nuts, chopped (I used cashews and pistachios)
Sliced almonds to garnish (or add them along with the chopped nuts)
Instructions
If the dates and figs feel hard, soak them in hot water for about 10 minutes. Drain and blitz them in a food processor or powerful blender till you have a thick paste. Save the water you soaked them in, in case they don't blend easily, a splash of the liquid helps move things along.

Melt the ghee in a sturdy pan on low heat. Add the fig and date paste. Turn the heat up to medium and cook for 10 to 15 minutes, stirring often until the mixture looks fairly dry and thick.

Add the chopped nuts and cook for another 10 minutes. If using a steel or other metal pan, the mixture should start to leave the sides when it's done. In a non-stick pan, this is harder to tell, so look for when the mixture starts to ball up as you keep stirring.

Spread the mixture out onto a 9 or 10-inch rimmed plate (I didn't find greasing it necessary). Press it down firmly in an even layer.

Sprinkle the top with sliced almonds (alternately add them while cooking). Let it cool at room temperature for about an hour, then transfer to the fridge for another hour. Slice and serve! Store in the fridge especially in warm environments. Happy Diwali!