Here is another way to eat more cookie butter, in case you feel that curling up with the jar and a spoon is becoming a little dangerous. I promise it's harder to eat an entire cheesecake in one sitting.
Creamy, rich, mysteriously caramely with the cookie butter, sweet and tangy. All of that on a buttery base of Biscoff biscuits because we're going all out.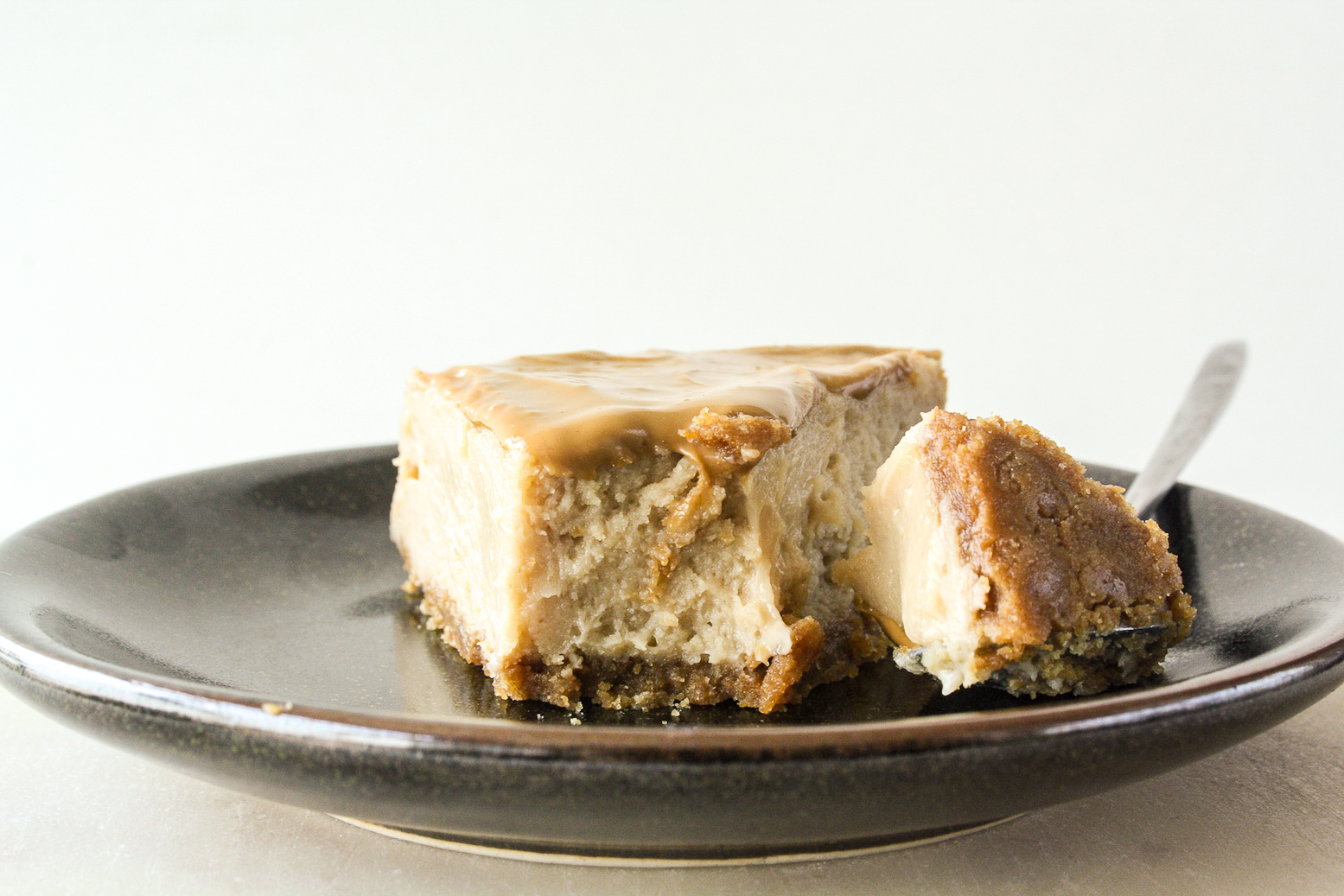 The recipe is a slightly scaled down version of this cheesecake (which is SO GOOD!!) and it makes a not super tall 8″ cake, which is great for smaller pieces and you know, self control.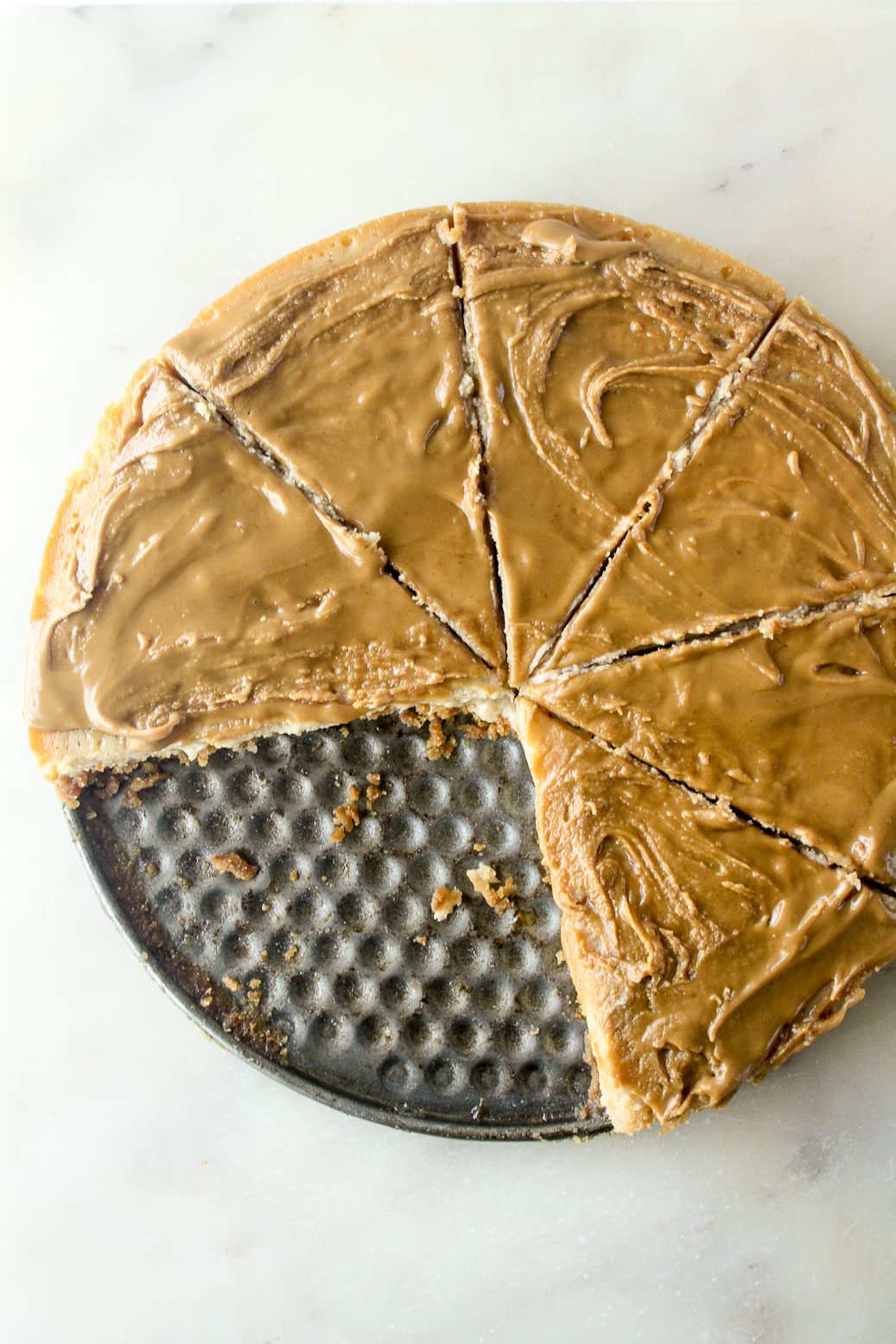 There's cookie butter in the filling and some more spread on top just before serving. Optional but kind of not, because it pretties it up, plus who ever said no to melted cookie butter?! The spiced, gingerbread, caramel like flavour goes so well with cream cheese, I was amazed.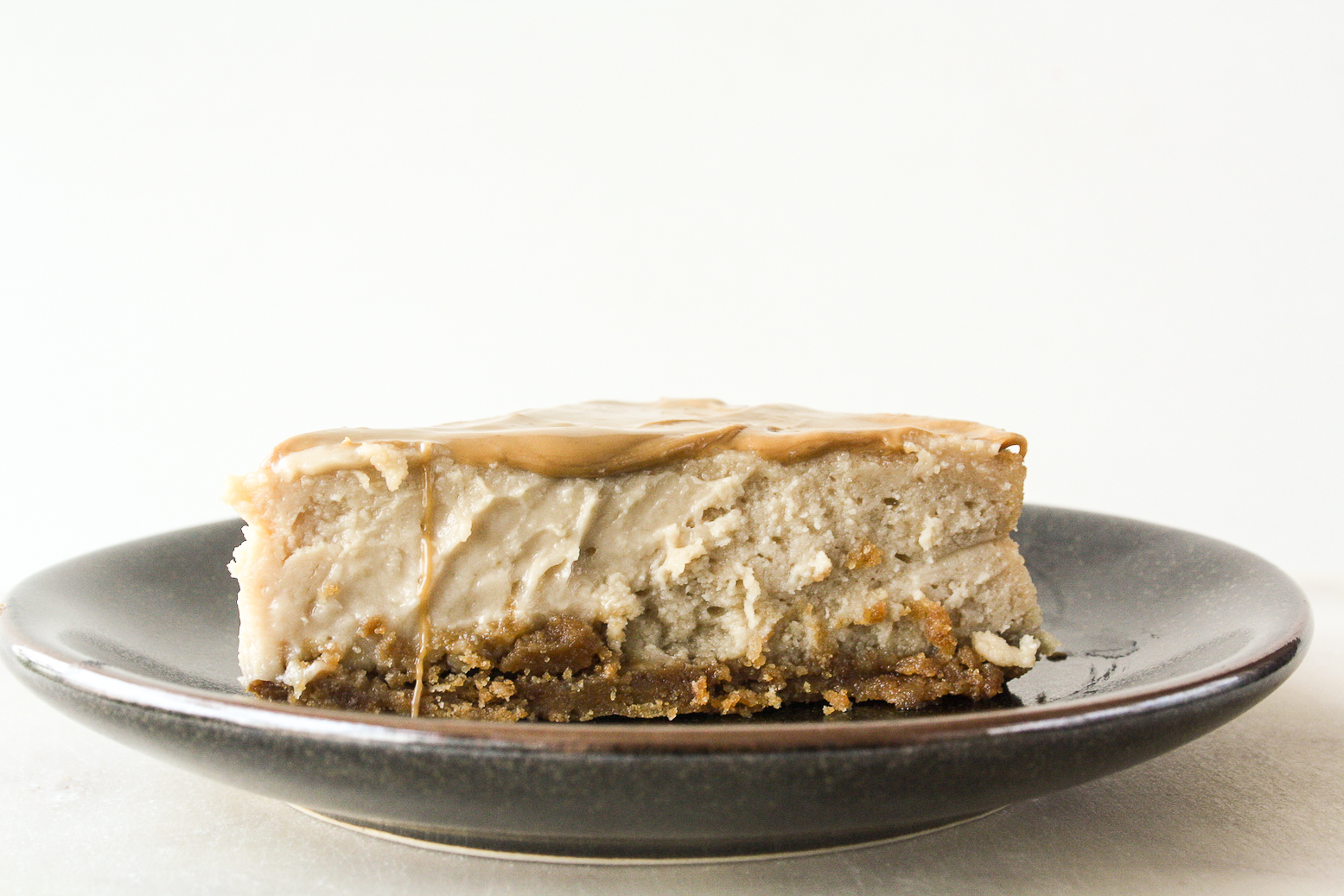 As with every cheesecake, this one tastes best after a long chill, definitely overnight or even a whole day. It also needs to be served straight from the fridge. If you spread cookie butter on top and then chill it, it takes on a delicious toffee-like consistency!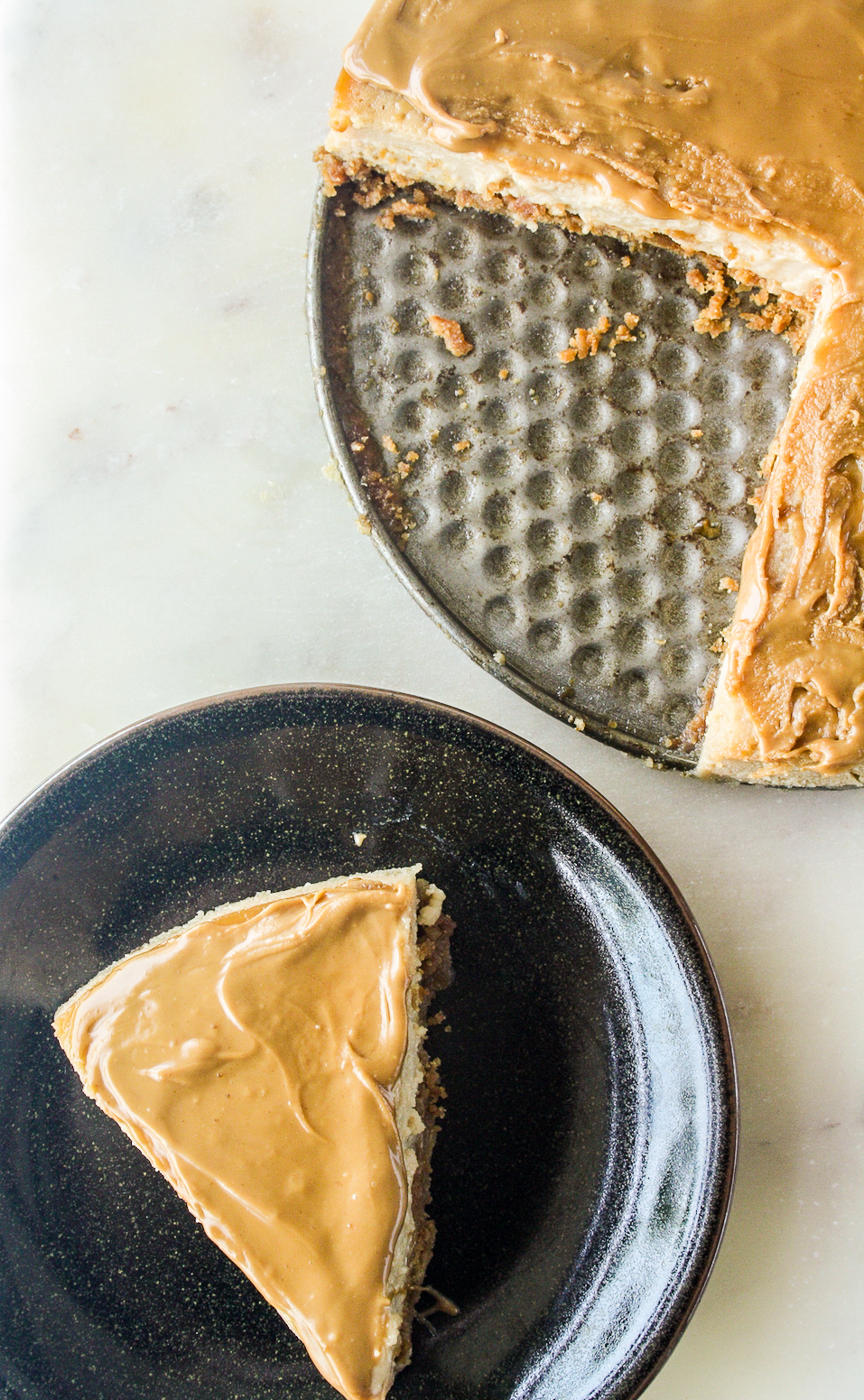 It comes together quickly and the only painful part is waiting for it to cool and get nicely chilled! But it's worth it 🙂

Cookie Butter Cheesecake
Rich and creamy baked cookie butter cheesecake on a Biscoff cookie base!
Author:
The Desserted Girl
Ingredients
15 to 20 Lotus Biscoff cookies
30 gms melted butter
400 gms cream cheese, at room temp
¼ cup thick plain yoghurt, at room temp
½ cup caster sugar
½ cup cookie butter (Speculoos or Biscoff)
2 eggs, at room temp
2 tsps vanilla extract
Melted cookie butter, to top the cheesecake
Instructions
Blitz the cookies in a blender or food processor until finely ground. Tip into a bowl, then stir in the melted butter till the mixture clumps together when you press it between your fingers. Depending on the cookies you use, you might need to add a few more, if the mixture looks too buttery.

Transfer the mixture to an 8" springform tin and press it down firmly and evenly over the base, and taking it up to the sides if needed (this makes a thin crust, if you'd like a thicker, taller crust, double the cookies and butter).

Place the tin in the fridge to chill while you make the filling. Preheat the oven to 160 C.

In a mixing bowl, beat the cream cheese, yoghurt, sugar and cookie butter until smooth and creamy. Avoid over-mixing it as too much air will lead to cracks in the cheesecake.

Add the eggs and vanilla and beat to combine.

Pour the mixture over the chilled crust and bake for 20 to 25 minutes until the centre is still wobbly, and the edges are lightly browned. Let the cheesecake cool in the oven itself for about an hour and you will notice it firms up on its own.

Let the cheesecake cool, uncovered, at room temperature, then transfer to the fridge to chill at least overnight, if not a whole day.

Remove the edges of the springform tin and spread some melted cookie butter on top of the cheesecake. Using a sharp knife, slice into pieces, wiping the knife in between each cut for neat slices. Serve immediately! Keep stored and covered in the refrigerator at all times, it will last about a week. Happy baking!

Notes
*If you don't have Lotus cookies, use digestive biscuits or any neutral biscuit instead. I didn't have enough Lotus cookies on hand, so used a mix of those and Marie!

*Peanut butter would work well instead of the cookie butter if you prefer.
Shop this recipe!
This post contains affiliate links.