It's been a while since peanut butter made an appearance around here! To celebrate its return, we're throwing in chocolate chips and making chewy, buttery blondies. Topped with sea salt because why not?
This blondie recipe is one that's been doing the rounds for a while all over the Internet thanks to Mark Bittman's How to Cook Everything
. I came across it on Smitten Kitchen and decided to play with it to reduce the sugar just a wee bit (there's a fair bit of chocolate chips already) and add a smidgen of peanut butter because it seemed like too good a chance to pass up!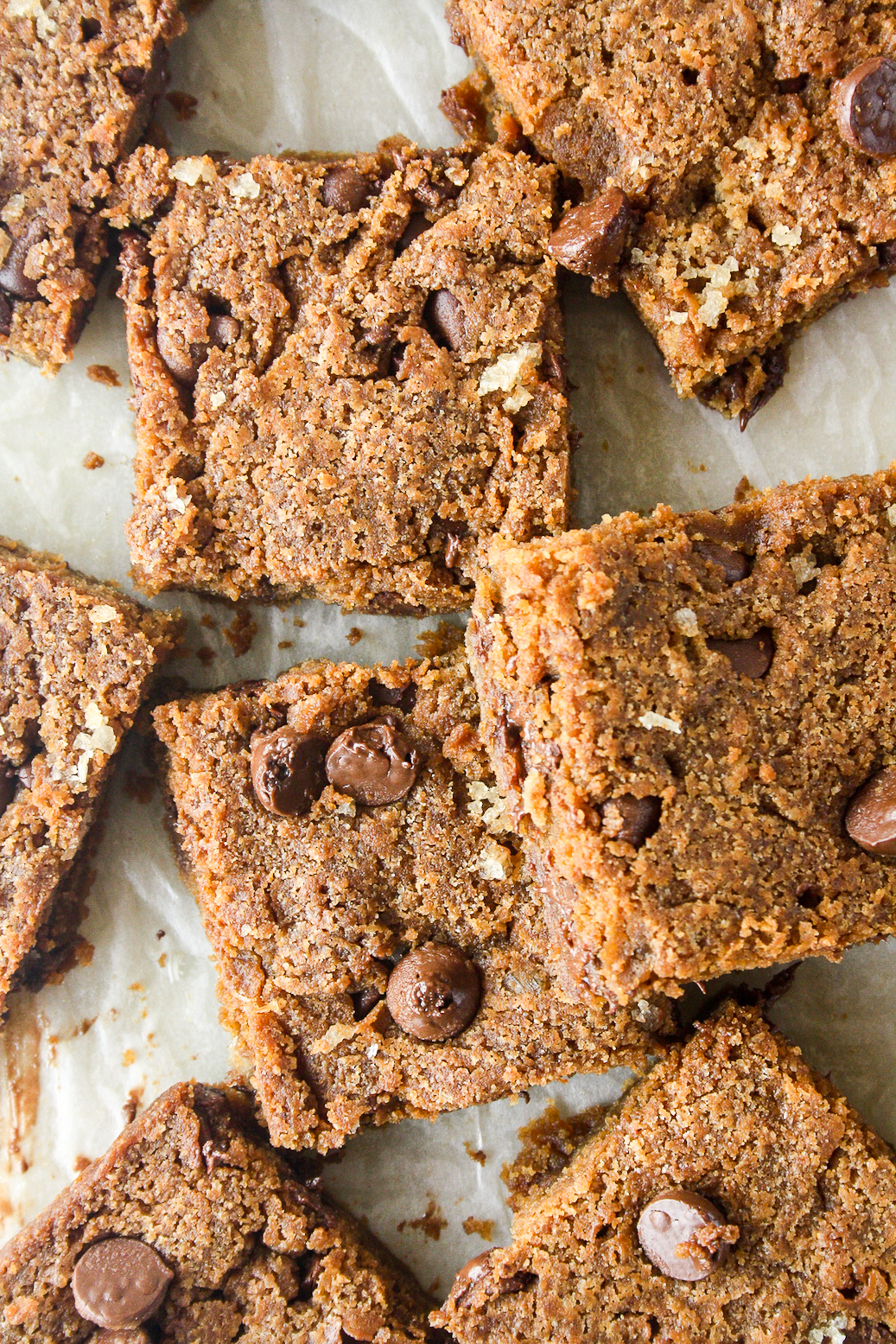 The original recipe is intended to be classic and buttery, so with the changes I made, I thought I messed it up and they're just not good enough. But I was so wrong! They were wiped clean by everyone I shared them with. They are sweet, but not cloyingly so thanks to the sea salt which balances everything. They have more than a hint of peanut butter yet the dominant flavour is still butter and gooey chocolate. This is mostly because of browning the butter before adding it to the mixing bowl which takes the blondies to a whole other level!
The crust was where I thought I'd gone wrong but the reduction in sugar plus adding peanut butter does lead to a less flaky top. But when I bit into one of the blondies, I knew it was all good. Moist, chewy, full of toasty browned butter flavour and dense like a brownie on the inside. So good!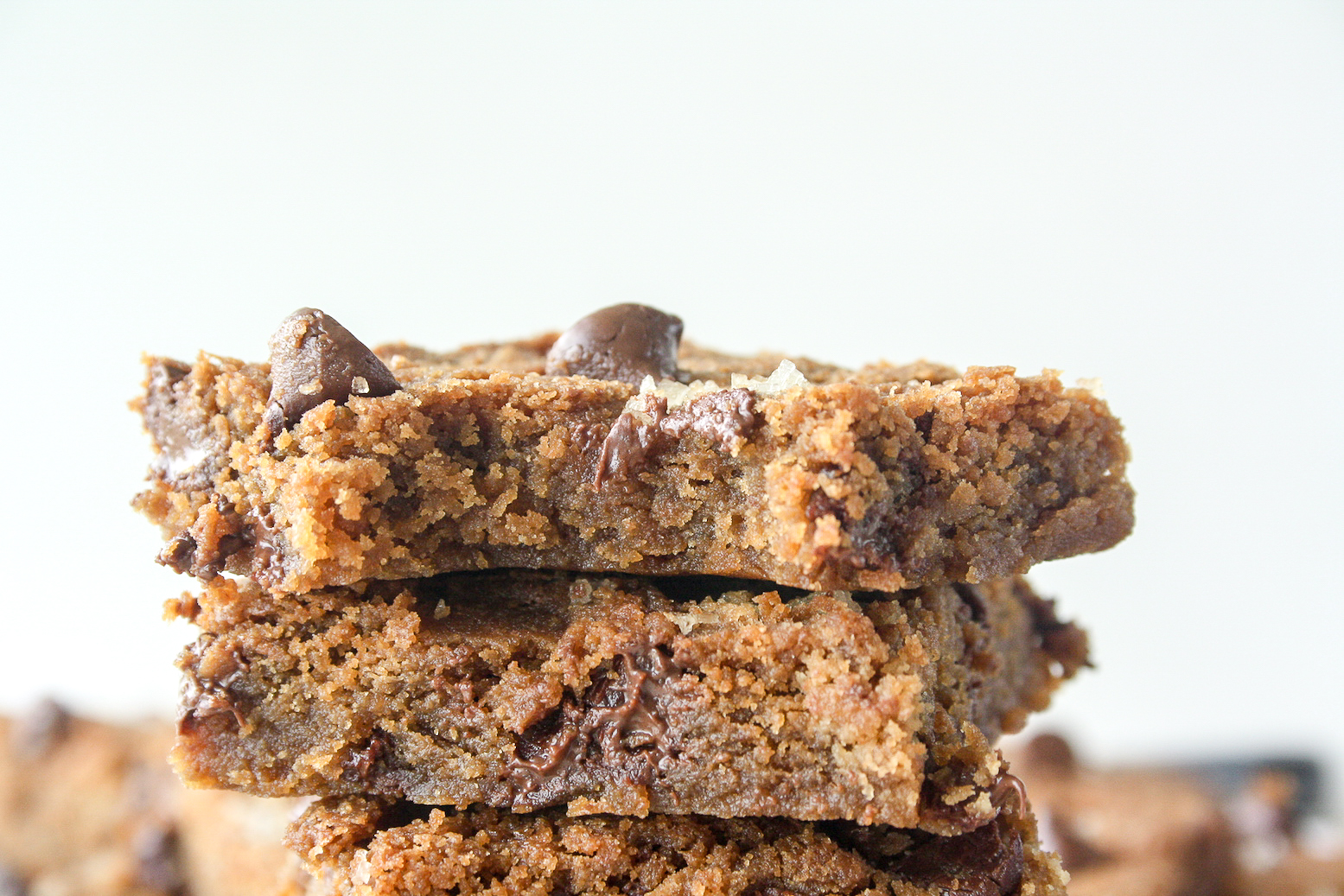 You can certainly use a light brown sugar or even white sugar for a more 'blonde' blondie, but dark brown is recommended for the deepest flavour. They are unapologetically buttery and they should be! These blondies come together quickly and last for days at room temperature so they're really quite perfect!

Peanut Butter Blondies
Chewy, moist peanut butter blondies with chocolate chips and sea salt!
Author:
The Desserted Girl
Ingredients
115 gms butter, at room temperature (1/2 cup)
¾ cup dark brown sugar
¼ cup creamy peanut butter
1 egg
1 tsp vanilla extract
½ tsp salt if using unsalted butter
1 cup all-purpose flour
½ cup dark chocolate chips
Sea salt for sprinkling on top, optional
Instructions
Preheat the oven to 175 C. Lightly grease a square 8" baking pan, line it with baking paper leaving a little overhang, then grease the paper too. Set aside.

In a small saucepan on low heat, melt the butter till it becomes frothy, then clear, and you start to see small brown bits on the bottom of the pan and your kitchen smells like some unreal paradise. Pour into a mixing bowl.

Stir in the sugar and whisk well till combined, then add the peanut butter and stir again. The mixture should now be lukewarm.

Add the egg and vanilla and whisk again to combine. Beat a little vigorously here because much like in brownies, it is this step that incorporates air into the batter and helps the blondies rise and form a nice crust.

Now add the flour and fold it in gently till combined. The batter might look a little oily so do your best to mix it well (without over mixing) but most of my Googling said since it's quite a buttery recipe with less flour to soak it all in, a little oiliness is to be expected.

Finally, fold in the chocolate chips. Spread the batter evenly out into the pan and top with sea salt. It's not a very large amount of batter so don't worry if it looks like it won't cover the pan, just keep smoothening it out.

Bake for 20 minutes until the top is lightly browned, then set aside to cool at room temperature. I baked them for 25 minutes and though they weren't dry, the top was a little browner than I would have liked, so stick with 20 minutes unless you see uncooked batter. You may also see some butter bubbling up around the edges which soaks in as the blondies cool. They do not rise like a cake, so don't be surprised if they aren't too thick.

Allow the blondies to cool completely, then top with more sea salt if you like and slice into squares. Store at room temperature in an airtight tin for 4 to 5 days, then either freeze or refrigerate. Happy baking!
Notes
*Use light brown sugar or caster sugar for a paler blondie, although dark brown sugar is recommended for the best flavour.

*Avoid using a natural, unsweetened peanut butter here as they tend to release more oils and could make your batter greasy. Save the natural kind for healthy granola! The peanut butter leads to a less flaky top, so if a more flaky crust is what you're after, simply skip it and also increase the sugar to 1 cup like in the original recipe.
Shop this recipe
This post contains affiliate links.