Happy Tuesday! These are among the most delicious cupcakes I've ever made or eaten and I think it would be a great way to start your week too. Cupcakes are alwaaaays a good idea!
Especially if they have cookie butter (Biscoff or Speculoos, whatever you know it as) in the batter along with crushed up Lotus biscuits (the ones that actually go into cookie butter). And cookie butter on top in the frosting, with cream cheese of course.
So technically, this is a combination of cake, biscuits and biscuit spread. Ummm, yes please!!
Cookie butter isn't produced in India and so it's always imported and expensive, but worth it because it'll last a while. Unlike Nutella, you can't endlessly eat it from the jar because it's riiich! It tastes like gingerbread and cinnamon and something else magical that I've never been able to identify.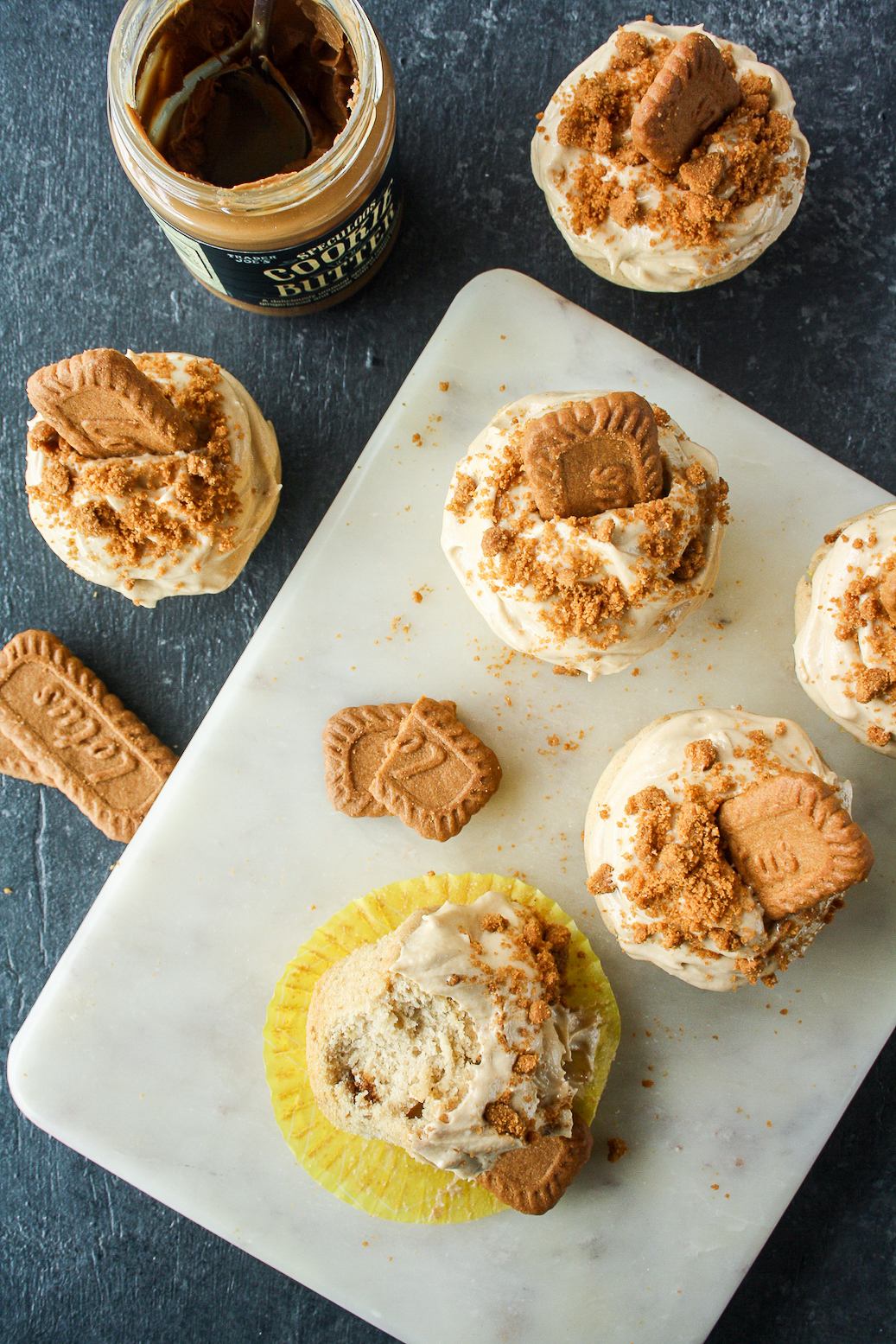 The cake is adapted from my very very very favourite butter cake, with cinnamon and just a little vanilla for a warmly spiced base. There's a bit of cookie butter in the batter itself for extra flavour. Crushed biscuits are optional but add some nice texture, so if you have them, definitely add them!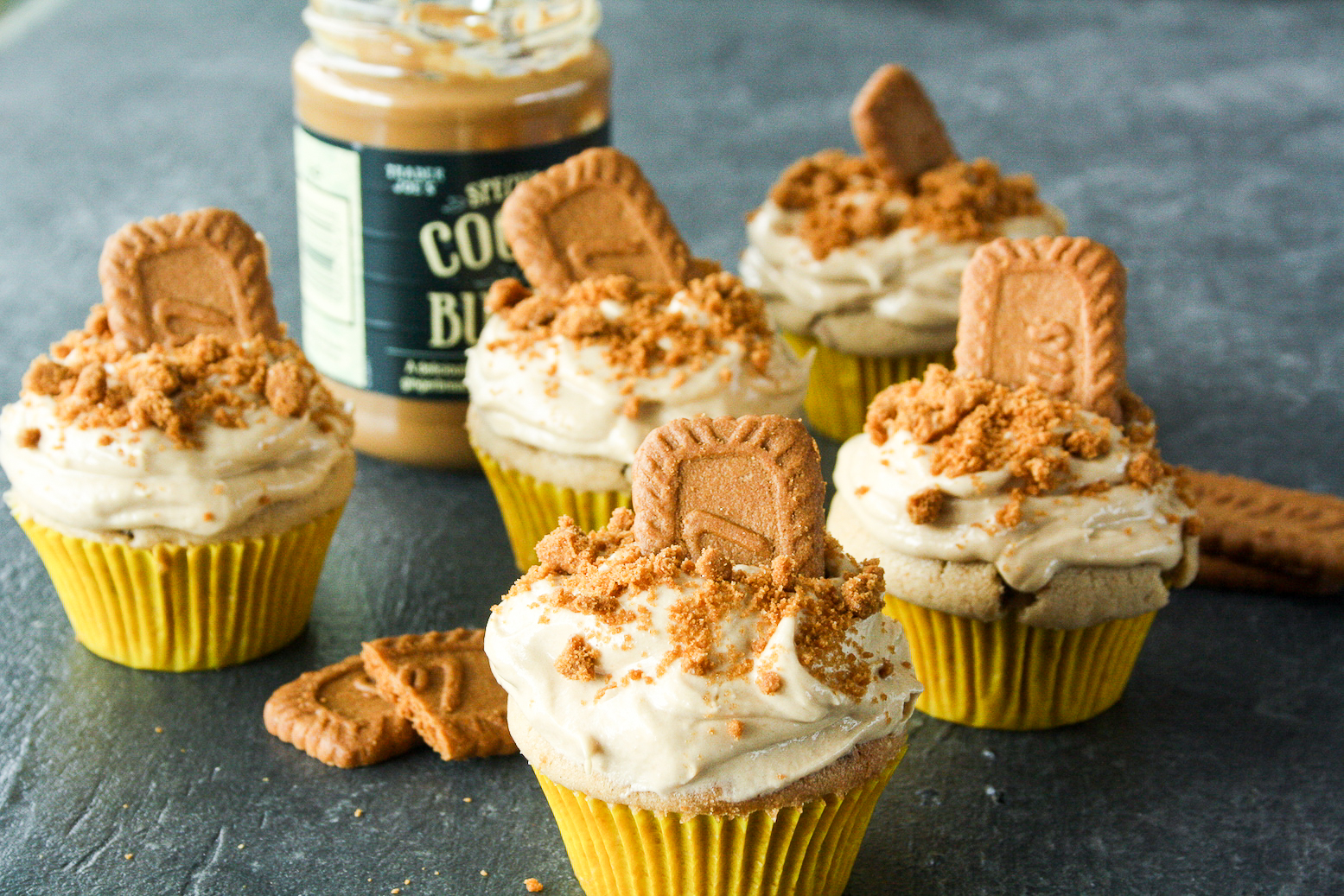 The frosting is thinner than average because I tend to keep it less sugary, so it's easier to slather on the top than pipe it into pretty designs. You can of course thicken it with more sugar and butter, if that's your style!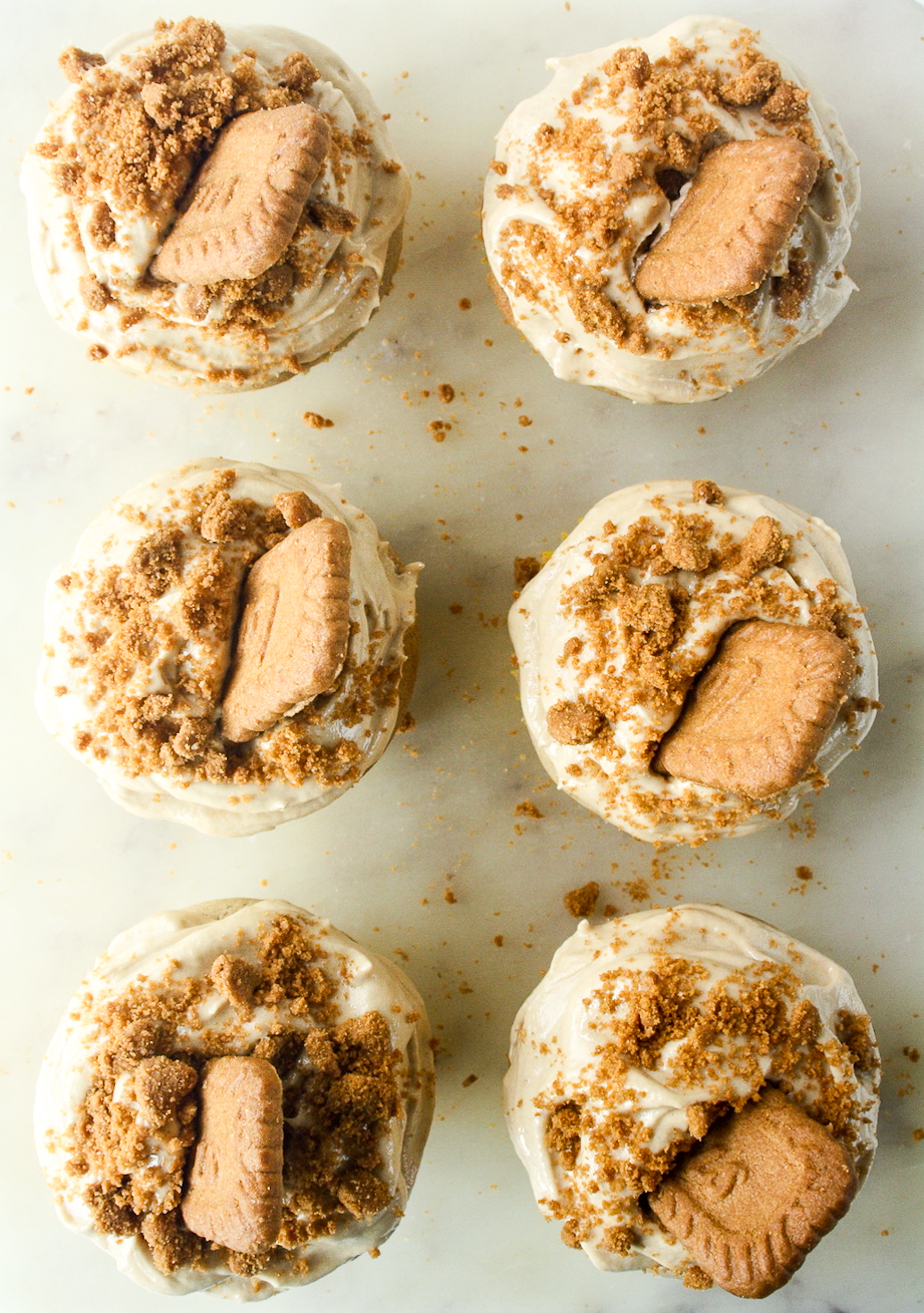 And cookie crumbs on top obviously! Texture is everything here. The cookie on top adds a cute touch and becomes a great frosting scoop, just FYI.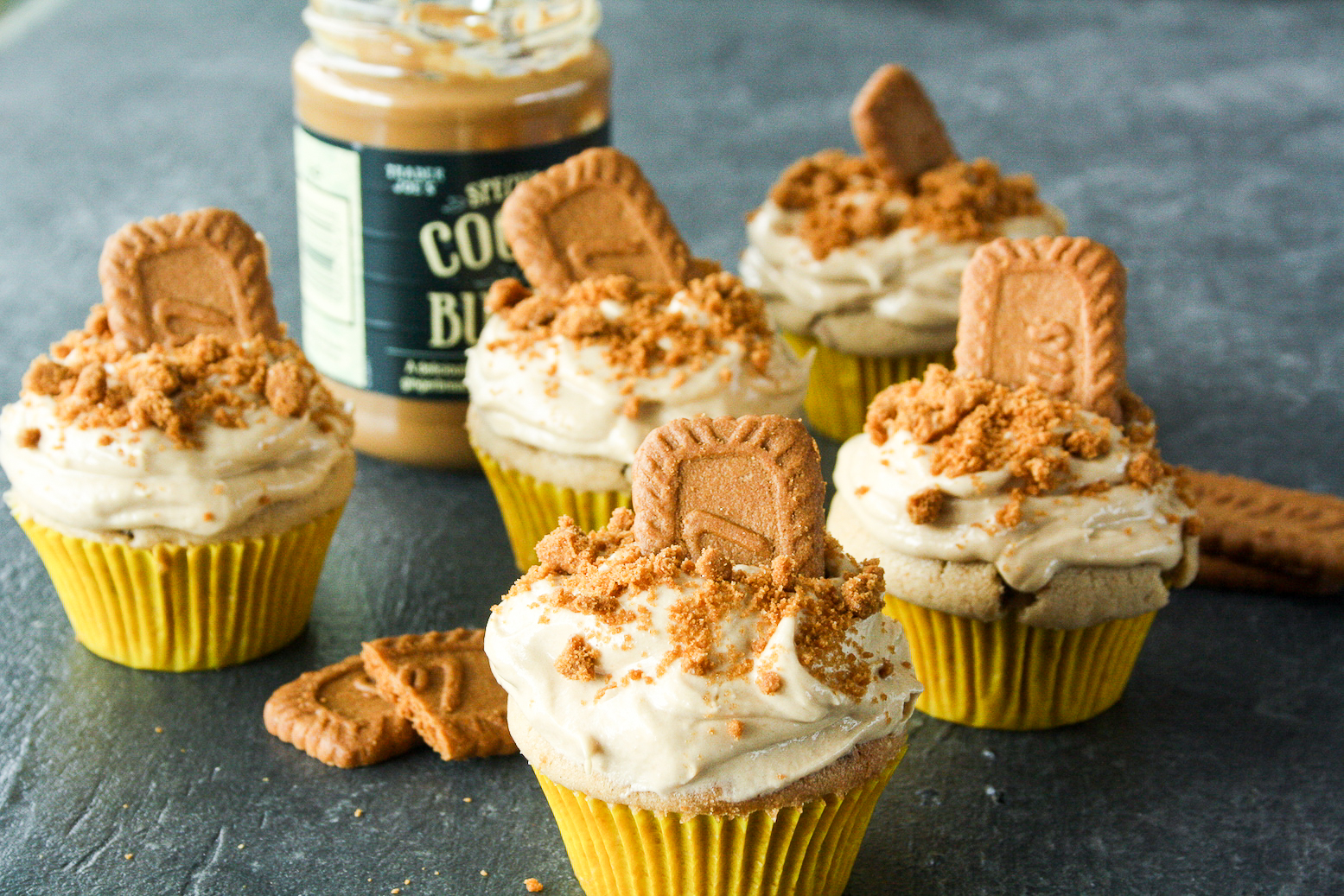 They are perfectly moist, tender and so delicious! The tang of the cream cheese goes so well with the sweet cookie butter and it's just a completely irresistible combination. Make these today!

Cookie Butter Cupcakes
Cookie butter cupcakes with cream cheese cookie butter frosting!
Author:
The Desserted Girl
Ingredients
For the cake
1 cup all-purpose flour
1 tsp baking powder
¼ tsp cinnamon powder
¼ tsp salt, if using unsalted butter
⅓ cup caster sugar
⅓ cup cookie butter
100 gms butter, at room temperature
2 eggs
½ tsp vanilla extract
⅓ cup milk
2 to 3 Lotus Biscoff biscuits, crushed, optional

For the frosting
⅓ cup cream cheese, at room temperature
⅓ cup cookie butter
¼ cup unsalted butter, at room temperature
¼ cup powdered sugar
More crushed and whole biscuits to decorate, optional
Instructions
Preheat the oven to 175 C. Line 6 muffin moulds with liners. If you prefer smaller cupcakes, use 8 muffin moulds.

Sift the flour, baking powder and cinnamon in a large bowl. Mix in the salt if using, then set aside.

Beat the butter and sugar in a mixing bowl till pale and fluffy.

Add the cookie butter and beat lightly. Add the eggs and vanilla and beat well till combined.

Fold in the flour mixture, and beat gently until smooth and combined, adding the milk gradually for a thick but spreadable batter. You may not need all of the milk.

Fold in the crushed biscuits and divide the batter equally among the prepared moulds.

Bake for 20 mins, then another 5 to 10 minutes till lightly browned and a toothpick poked in the center comes out clean. Let the cupcakes cool completely at room temperature.

To make the frosting, beat all the ingredients together till smooth and combined. You can thicken the frosting with more sugar and butter, but I found this just the right amount of sweet. You can chill it for 15 minutes to firm it up, then frost the cupcakes, decorate with biscuits and dig in! Store the cupcakes in the fridge at all times, but leave them at room temperature for about 20 minutes before eating. Happy baking!
Notes
*Cookie butter is known as Biscoff or Speculoos, depending on whether you buy it in the US or in Europe. Both the cookie butter and the Lotus biscuits are available online in India, and are expensive but this one time, I'd say it's worth it!

*Swap peanut butter for the cookie butter if you like!
Shop this recipe!
This post contains affiliate links.