Your new weekend plan includes this flatbread, no arguments. It's like homemade pizza but with less paranoia about the dough (if you're anything like me). Seriously, so fuss-free! Plus freshly made pesto, green olives (or anything else) and whatever cheese pleases your heart.
A crispy but tender base with endlessly customisable toppings is an absolute win-win. Let's make some flatbread!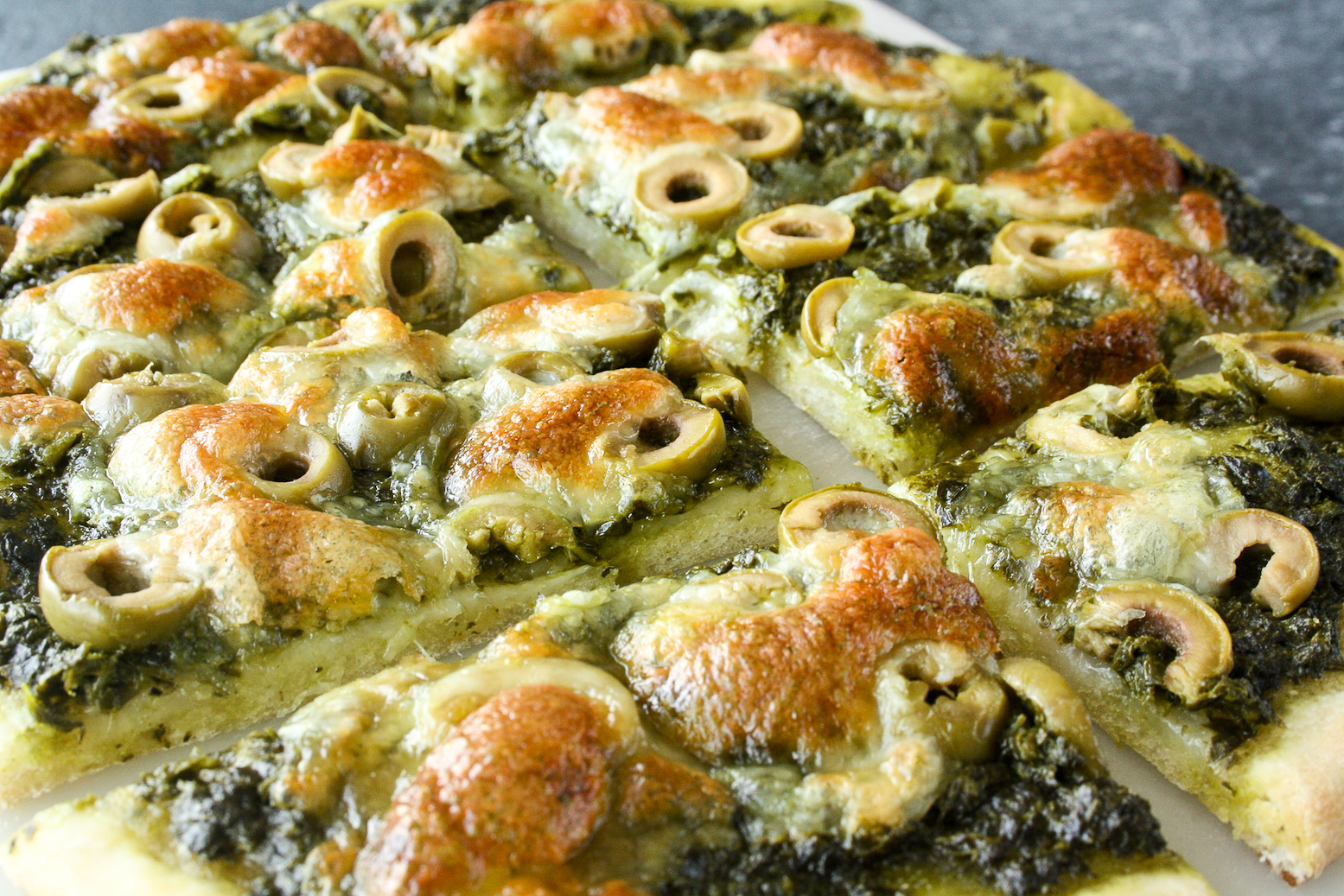 The dough recipe for this flatbread is from Sally's Baking Addiction and I chose to rest it overnight to save time the next day and help get a deeper flavoured dough. I found that by itself, the dough doesn't rise very much so if you decide to bake it the same day, make sure you rest it for at least 2 hours. It's very straightforward and not impossibly sticky or anything, and I love that you can time making it to what suits you best!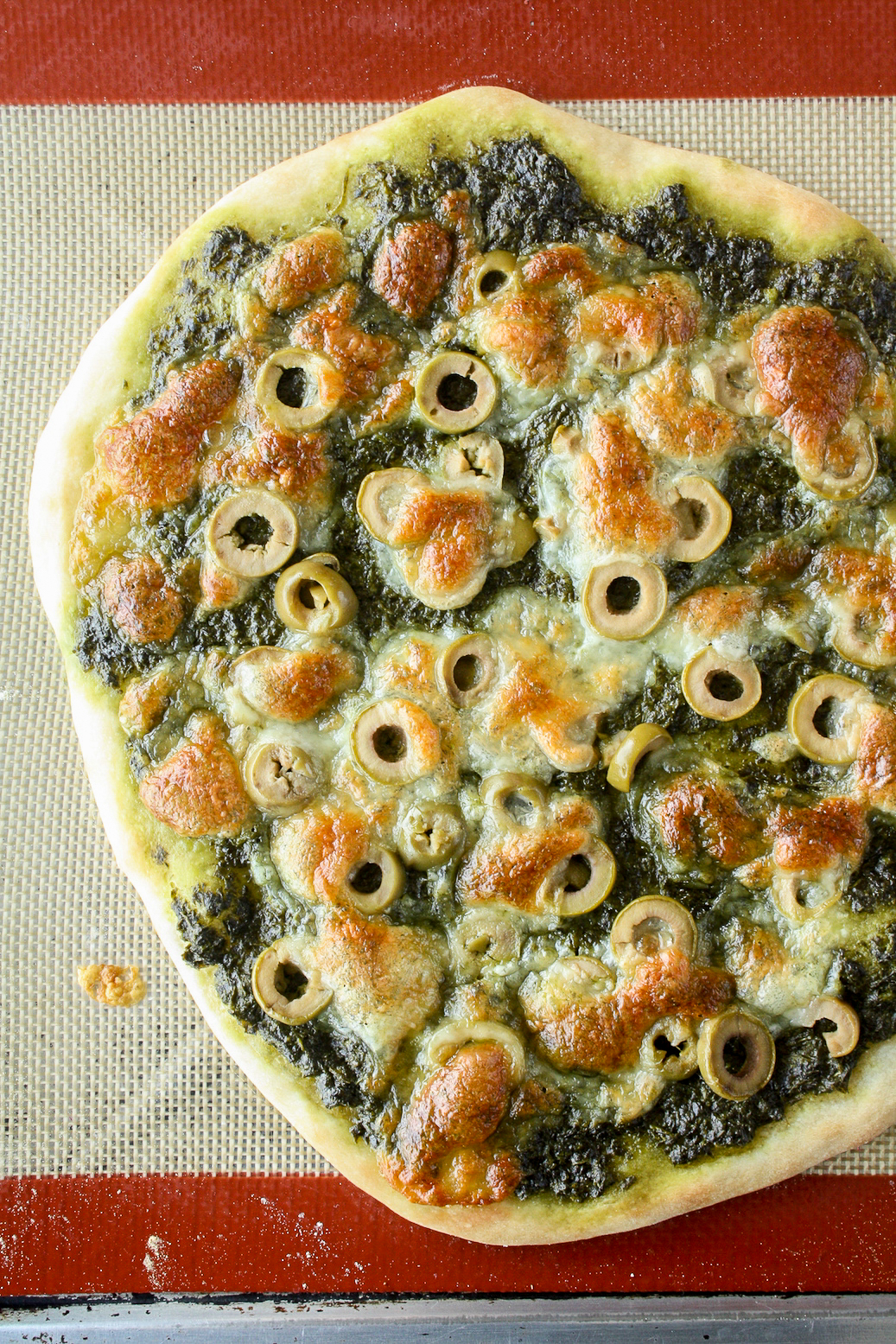 There isn't a whole lot of difference between flatbread dough and pizza dough. Some say flatbreads don't use yeast, some say they do. The only slight difference I felt was this base was a little less pillowy than homemade pizza crust tends to be. The flavour is similar and the edges crisp up just the same way. Also, leave the shape 'rustic' and save yourself some fuss!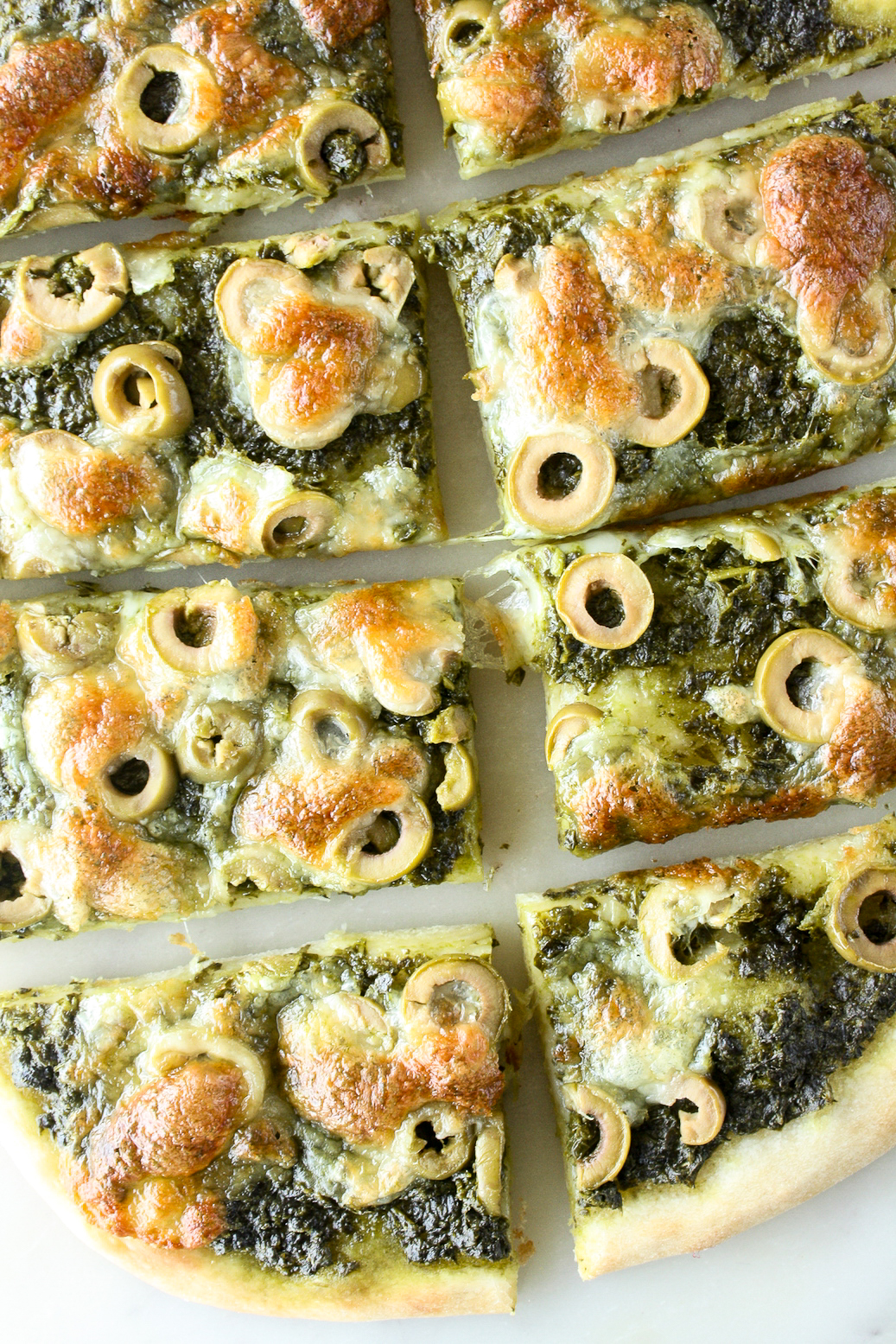 This recipe makes two roughly 9″ flatbreads, so I topped one with mozzarella and one with feta, but not too heavy on the cheese in either case. I wanted the pesto to shine!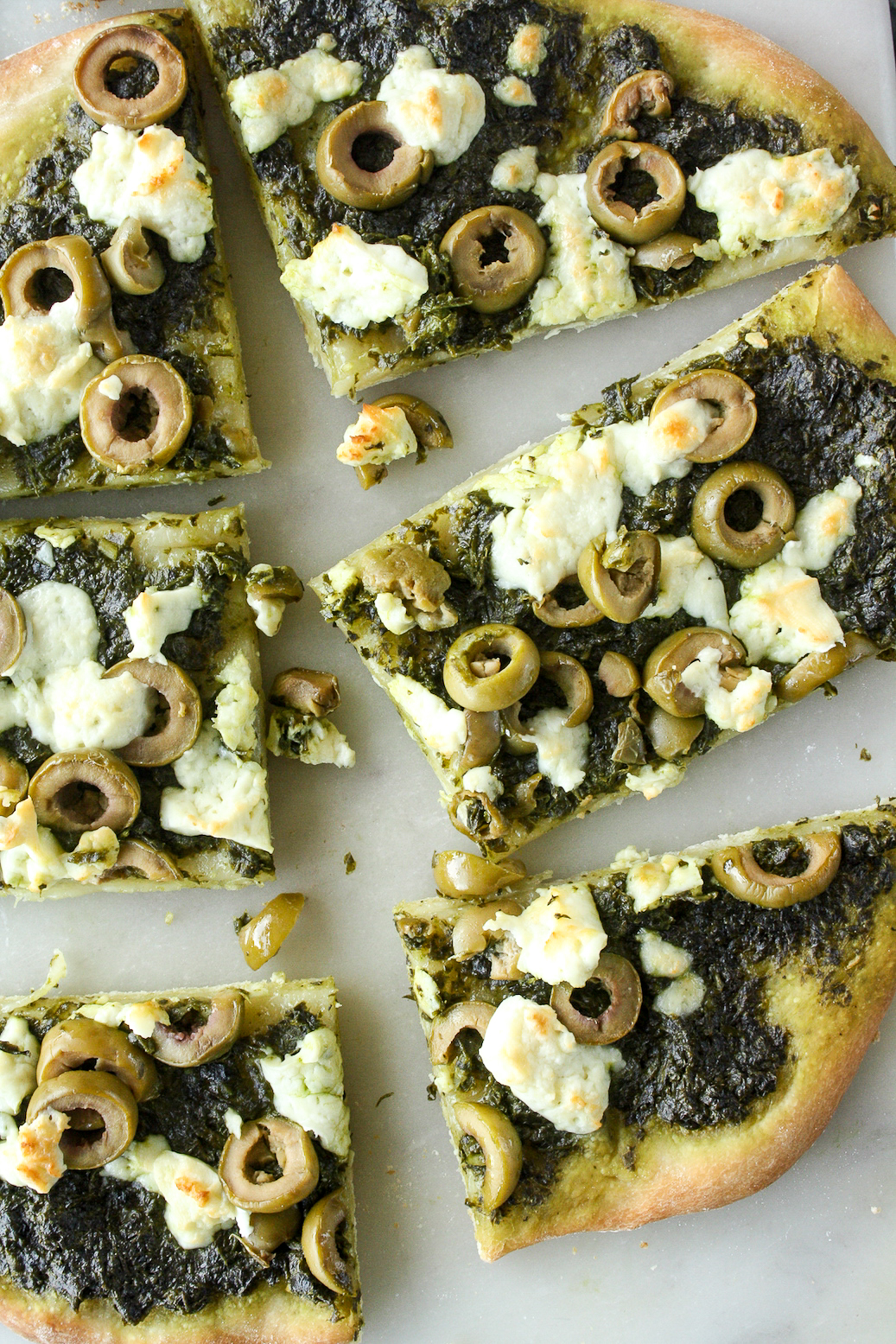 Speaking of pesto, the one I used here is super simple to make, just a little less olive oil than what I'd normally use so that the base doesn't get greasy. Seriously, homemade basil pesto is the best, don't even think of not trying it! Salty olives go great with it although you can certainly use whatever other toppings you like. The whole thing is super fresh and bright!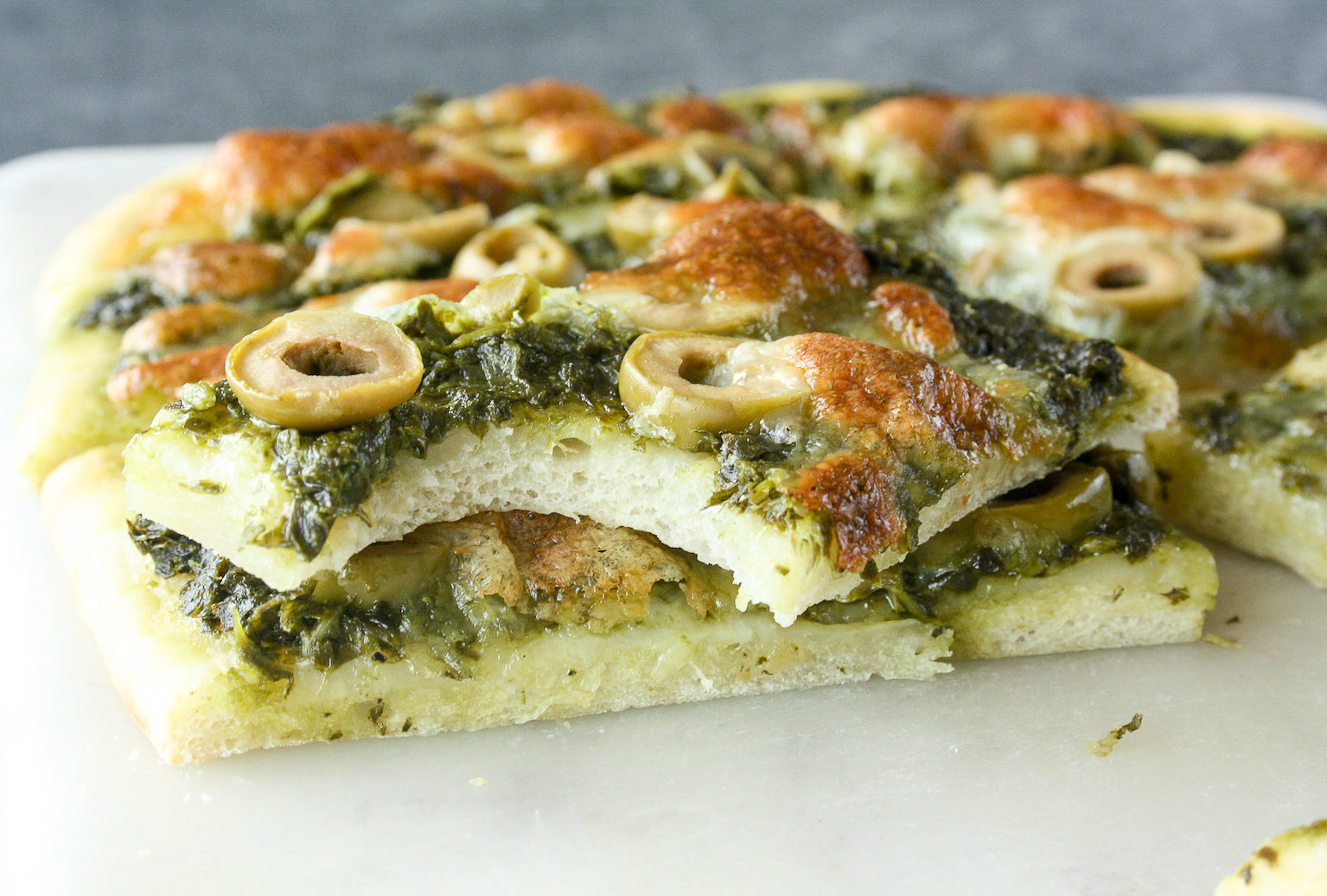 You can store the baked flatbreads in the fridge for a day or two, although they are best eaten fresh. Reheat in the oven to bring back the crispiness!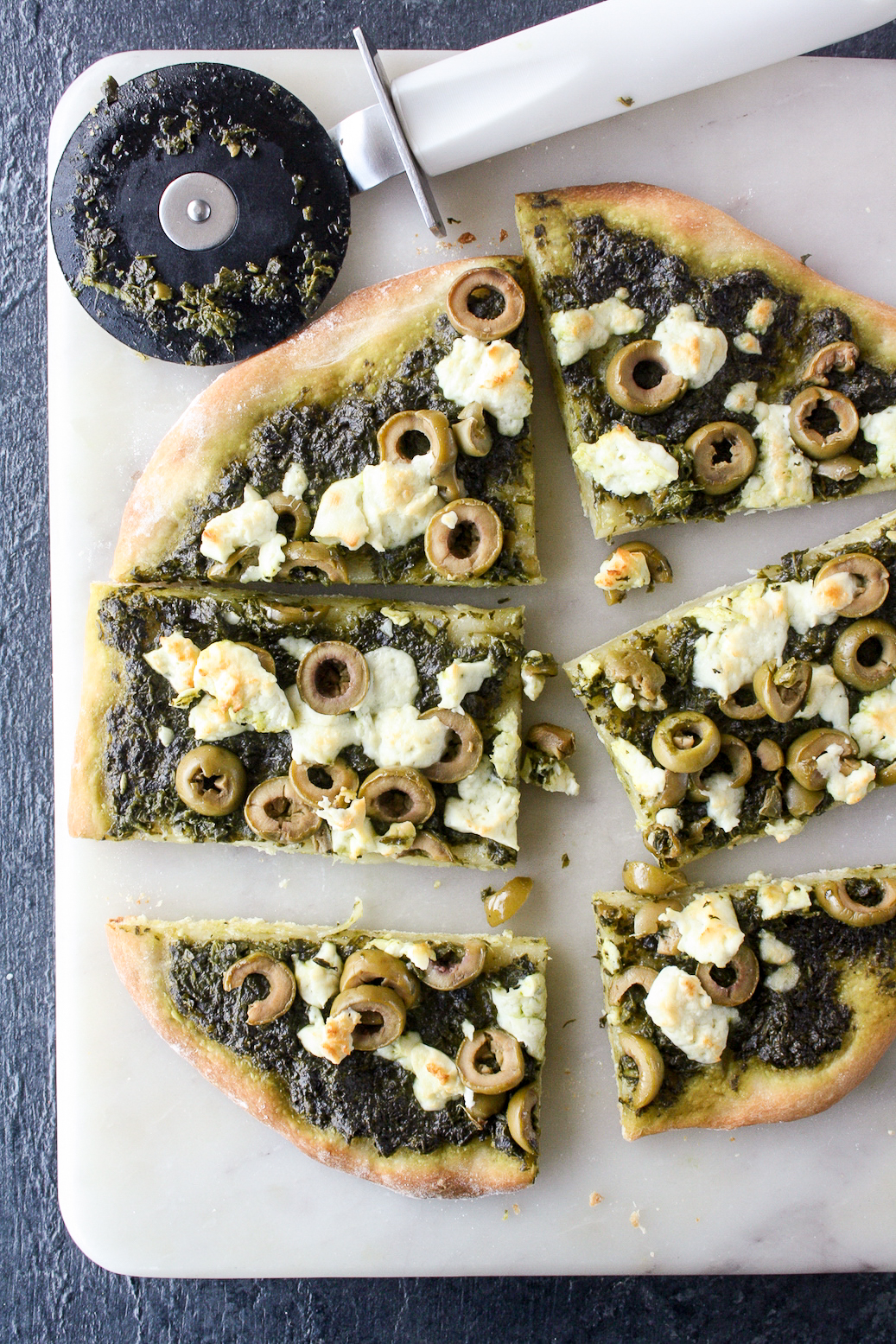 Pesto Olive Flatbread
From-scratch cheesy flatbread with homemade pesto and green olives!
Author:
The Desserted Girl
Ingredients
For the dough
1 and ½ tsps active dry yeast
1 tsp caster sugar
¾ cup warm water (you should be able to comfortably dip a finger in)
2 cups all-purpose flour, plus more as needed
1 tsp salt
1 tbsp olive oil

For the pesto
100 gms fresh basil leaves (rinsed, stems removed)
2 to 3 tbsps extra virgin olive oil
3 cloves garlic, peeled
2 tsps lemon juice
Salt and pepper as needed

Additional toppings: ¼ cup feta/mozzarella cheese &
⅓ cup sliced green olives
Instructions
First, make the dough. In a small bowl, combine the yeast, sugar and warm water. Stir lightly and cover with clingfilm. Set aside for 5 to 10 minutes until frothy.

Now in the bowl of a stand mixer or a large mixing bowl, combine the flour, salt and olive oil. Mix on low speed (or use a silicone spatula if doing this by hand), then pour in the yeast mixture.

Let the mixer run on medium-low till the dough begins to come together. Sprinkle on just a little flour if it's sticking too much to the bowl. In 3 to 4 minutes it should clear the sides of the mixer bowl, but still look a little shaggy. If doing this by hand, continue using the spatula to bring the dough together.

Turn the dough out onto a lightly floured surface (even if using a mixer), and knead by hand for another 2 to 3 minutes till smooth and when poked with a finger, the dough should slowly bounce back. Depending on how warm or cold it is your kitchen, this could take more or less time. Sprinkle flour or a few drops of oil to prevent sticking.

Place the dough in a lightly greased bowl and cover with clingfilm. Set aside for 1 hour. The dough won't exactly double, but it will puff up a bit. At this point, wrap the dough in clingfilm and refrigerate overnight. If you prefer to bake the same day, let the dough rest for a little longer, about 1 and a half to 2 hours. However, the overnight rest is recommended for better flavour.

In the meantime, make the pesto. Simply combine all the ingredients in a food processor or blender and blitz till a coarse paste forms. Adjust the seasonings as needed. I would typically add more oil to pesto, but for pizza I prefer to use less so that the base doesn't get greasy. Let the pesto rest in the fridge for the flavours to develop (overnight is also fine).

When ready to bake, set the dough out at room temperature for 15 minutes. Preheat the oven to 220 C.

Divide the dough into two and on two silicone mats or baking paper, press each one out with your fingertips into a roughly 9" circle, but the shape isn't very important here, yay!

Spread a layer of pesto over each flatbread, then top with olives and cheese. Bake for 20 minutes, or until browned, rotating the tray halfway for even cooking. For a deeper colour, increase the temperature to 250 C in the last few minutes. Let the flatbreads rest for a few minutes, then slice and eat hot! Best made and eaten fresh, although you can refrigerate them for a couple of days. Happy baking!
Notes
*Prep time does not include dough rise time.
Shop this recipe!
This post contains affiliate links.