OHMYGOD this cake this cake this cake! It's PINK! It's got SPRINKLES! And it's pretty on the inside too, I promise.
My favourite butter cake has so far been a base recipe for a bunch of different ones and it didn't fail me this time either. Soft, tender, perfectly vanilla flavoured. Filled with colourful sprinkles for a fun, confetti (or funfetti!) look. Sandwiched with a silky, creamy, tangy cream cheese frosting that's dyed pink because why not. The whole thing is just too, too delicious.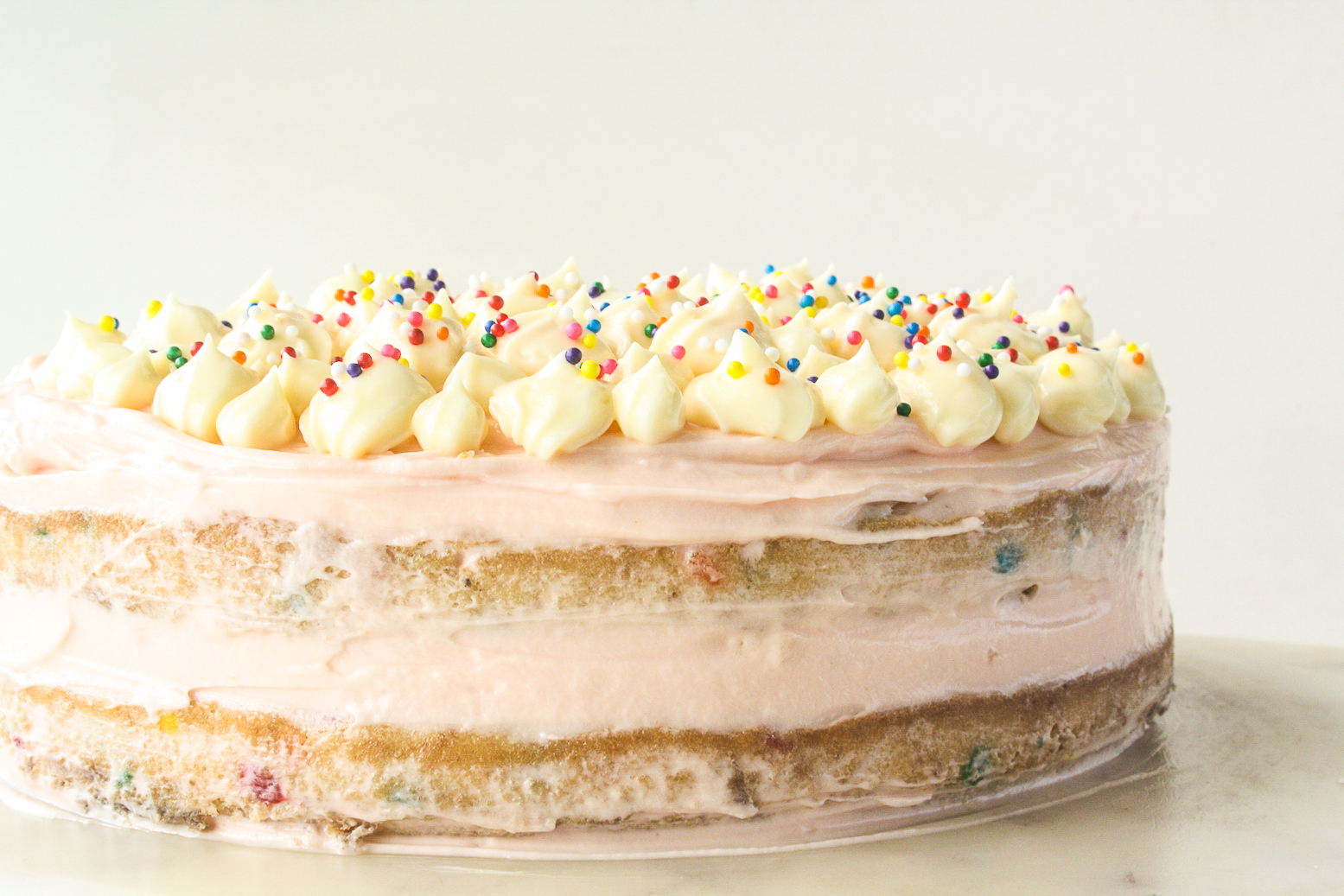 This cake doesn't actually take long to make and is certainly not hard. The batter is ready in 10 minutes (less if you don't waste time getting flour on yourself like I do) and the frosting is literally just mix and blend. I don't usually do a lot of pretty piping and decorating because my skills have a long way to go and I lack patience BUT in a cake with sprinkles, some amount of extra prettying was called for 🙂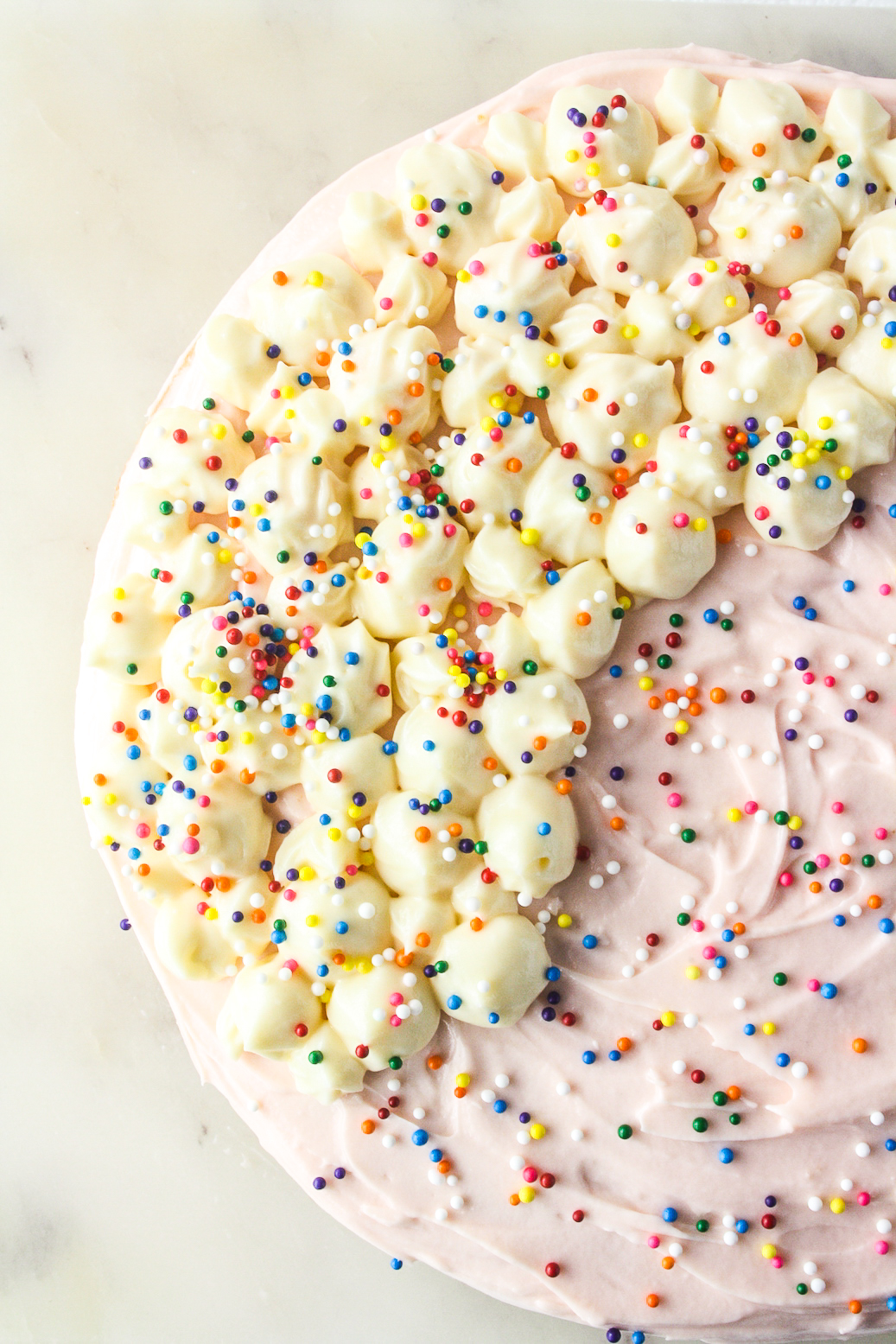 I did go nuts taking photos because the colours were just so much fun! Bear with me?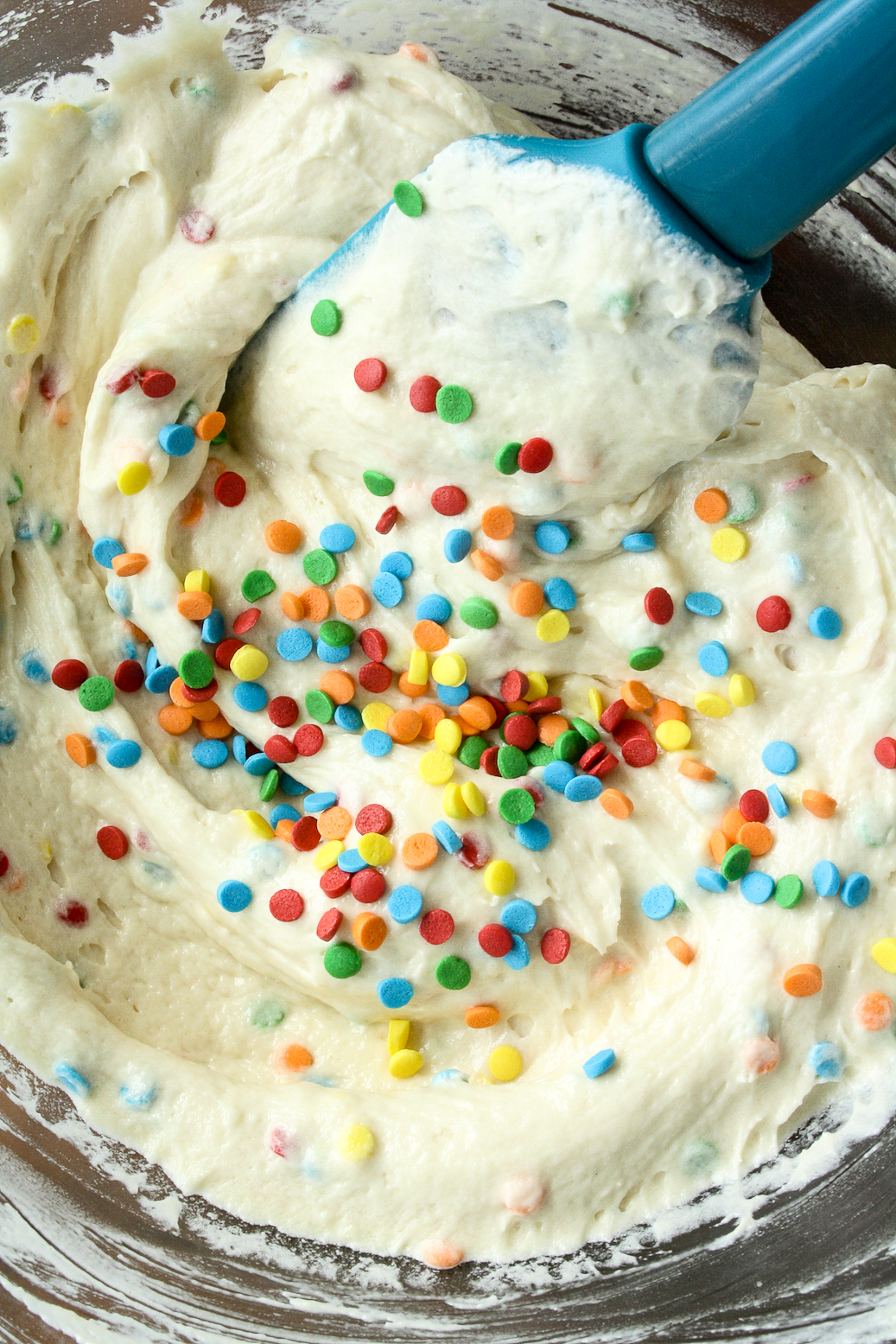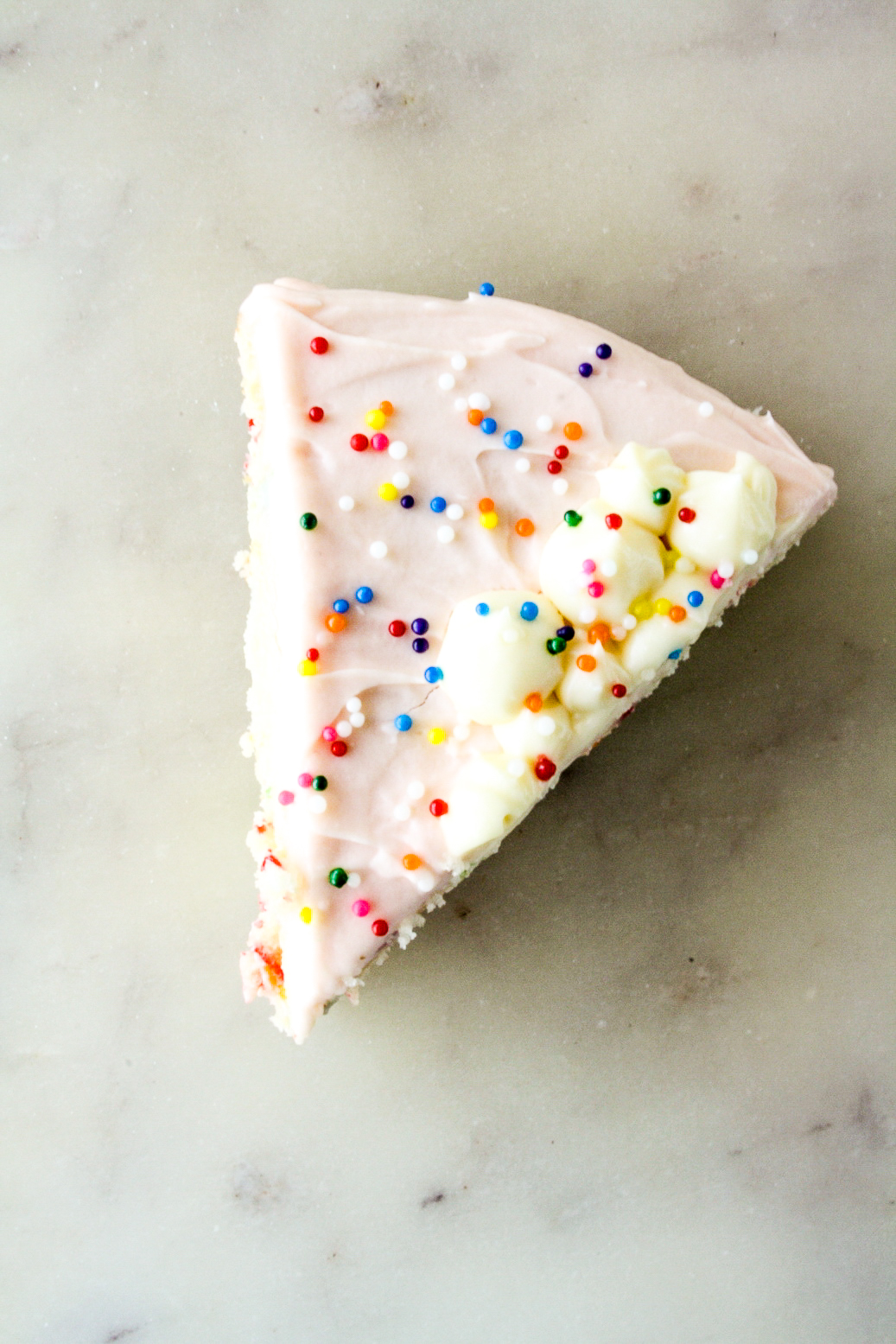 Each slice is perfectly tender and the cake to frosting ratio is juuuuust right. It's not overwhelmingly sweet or rich either, which means more cake for you! The buttery cake is absolutely meant to be together with that incredible cream cheese frosting which is light, tangy and so good.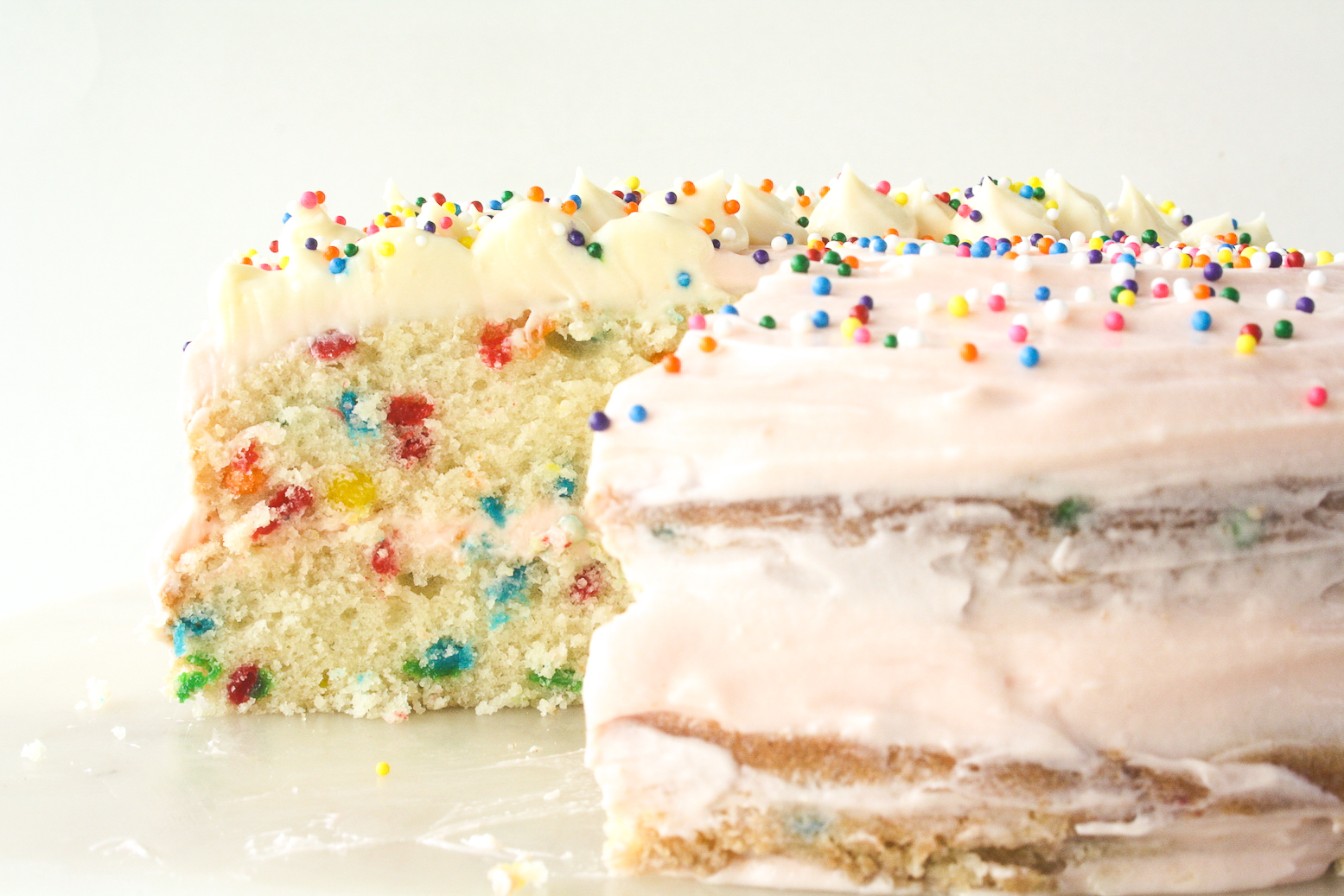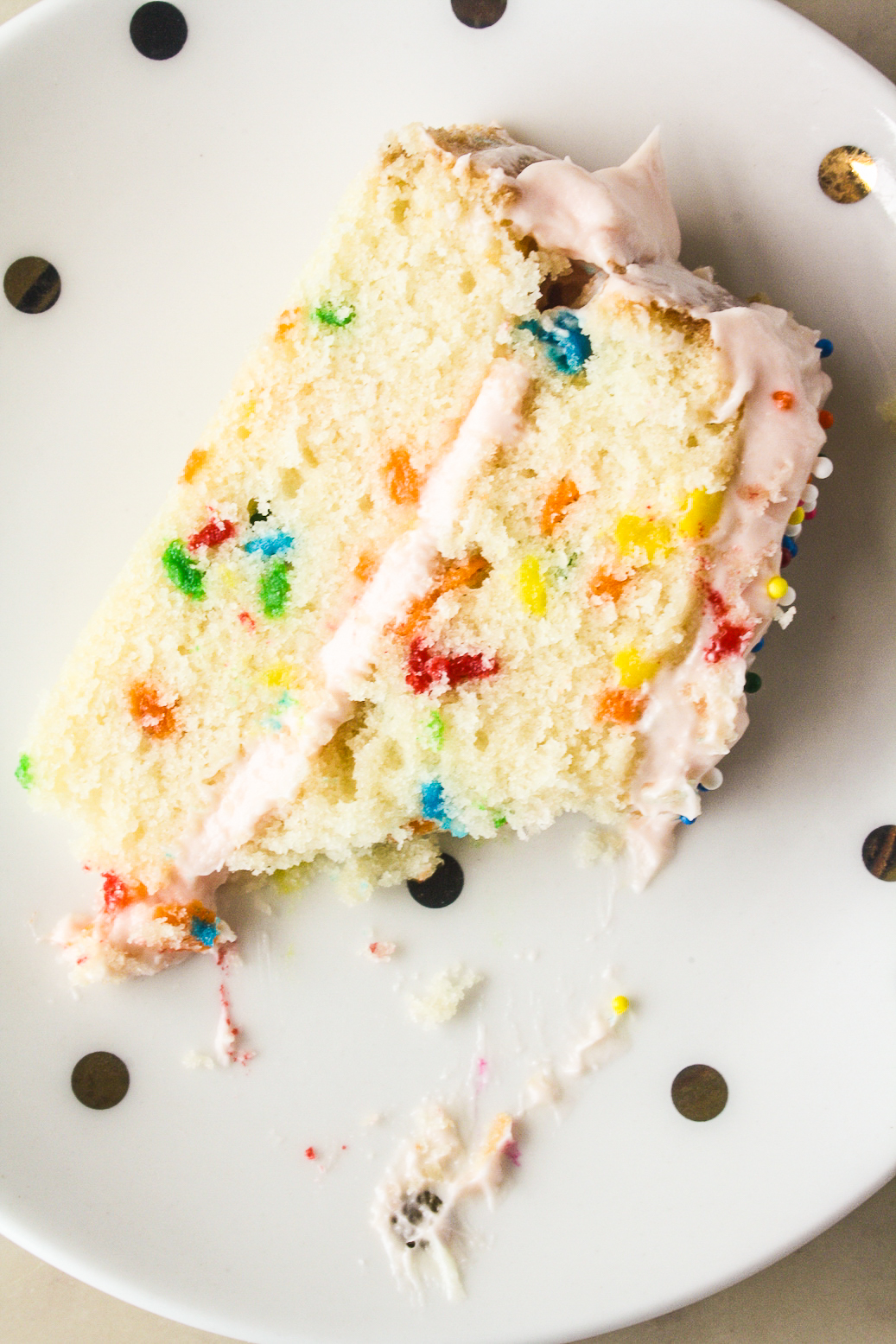 I'm going to be freezing some of this so that we have cake to look forward to even a month later which can never be a bad thing!
Funfetti Cake with Cream Cheese Frosting
Soft, buttery funfetti layer cake with a tangy pink cream cheese frosting!
Author:
The Desserted Girl
Ingredients
For the cake
2 cups all-purpose flour
2 tsps baking powder
½ tsp salt, if using unsalted butter
⅔ cup caster sugar
200 gms butter, at room temperature (Just shy of 1 cup)
4 eggs at room temperature
2 tsps vanilla extract
½ cup sprinkles (see notes)

For the frosting
220 gms cream cheese (About 1 cup)
100 gms butter at room temperature (Just shy of ½ cup)
⅓ to ½ cup powdered sugar
½ tsp vanilla extract
Food colour, if desired (see notes)
Sprinkles to decorate
Instructions
Preheat the oven to 175 C. Grease an 8" round cake tin. Set aside.

Sift the flour and baking powder in a large bowl. Mix in the salt if using, then set aside.

Beat the butter and sugar in a mixing bowl till pale and fluffy.

Add the eggs and vanilla beat well till combined.

Fold in the flour mixture, and beat until smooth and combined. The batter is fairly thick, but if it's too thick to spread, thin it out with a splash of milk. Gently fold in the sprinkles making sure they're evenly dispersed. Spoon the batter into the prepared tin and smooth it out. If you have two 8" pans and your oven can accommodate both, split the batter in half and bake two single layers. This prevents an excessively domed top. The baking time will not vary much

Bake for 20 mins, then check to see if the top is browning too fast. If so, cover with aluminium foil and continue to bake for about 10 to 15 mins till a toothpick poked in the center comes out clean. Rotate the tin halfway through the baking time for even browning.

Let the cake cool completely at room temperature.

To make the frosting, beat the cream cheese and butter together till smooth. Add the sugar and vanilla and beat again till well combined. Add the food colour if using and beat till uniformly coloured. If you plan to pipe the frosting, stick it in the fridge for 10 minutes to firm up otherwise it doesn't hold it's shape while piping, especially in warm temperatures. I kept ¼ of the frosting aside for the little white blobs on top and coloured the remaining frosting pink.

Slice the cake into two even layers horizontally. If the top has domed, even that out first.

Spread about half the frosting on the bottom layer, making sure it's even. Place the top half on it and press down gently. Now cover the top and sides with remaining frosting. If you'd like to pipe any designs on top, first chill the cake for 10 minutes, then proceed. Decorate with sprinkles!

Slice and enjoy! Store the cake in the fridge at all times, but keep at room temperature for about 20 minutes before eating. Happy baking!
Notes
*Avoid sprinkles labeled 'nonpareils' (the ones you see on top of this cake) for the batter as they tend to bleed.

*The sugar quantity in the frosting varies from ⅓ to ½ cup because the more the sugar, the thicker the frosting. Add as much as you like for desired sweetness and texture. I used caster sugar instead of powdered and it worked just fine 🙂 You can also adjust the butter and cream cheese quantities for a creamier/tangier frosting.

*I used Wilton brand gel food colour. If using any kind of gel colour, add it a drop at a time as it's quite concentrated and the colour deepens after a few hours.
Shop this recipe!
This post contains affiliate links.