Grown-up snacks, y'all! I have acknowledged my granola addiction and there's no looking back. This time, I decided to make one loaded with nuts, figs, dates and chia seeds. They are good for you in a bazillion ways, can be carried to work, to play, to wherever aaaaand they are really very delicious!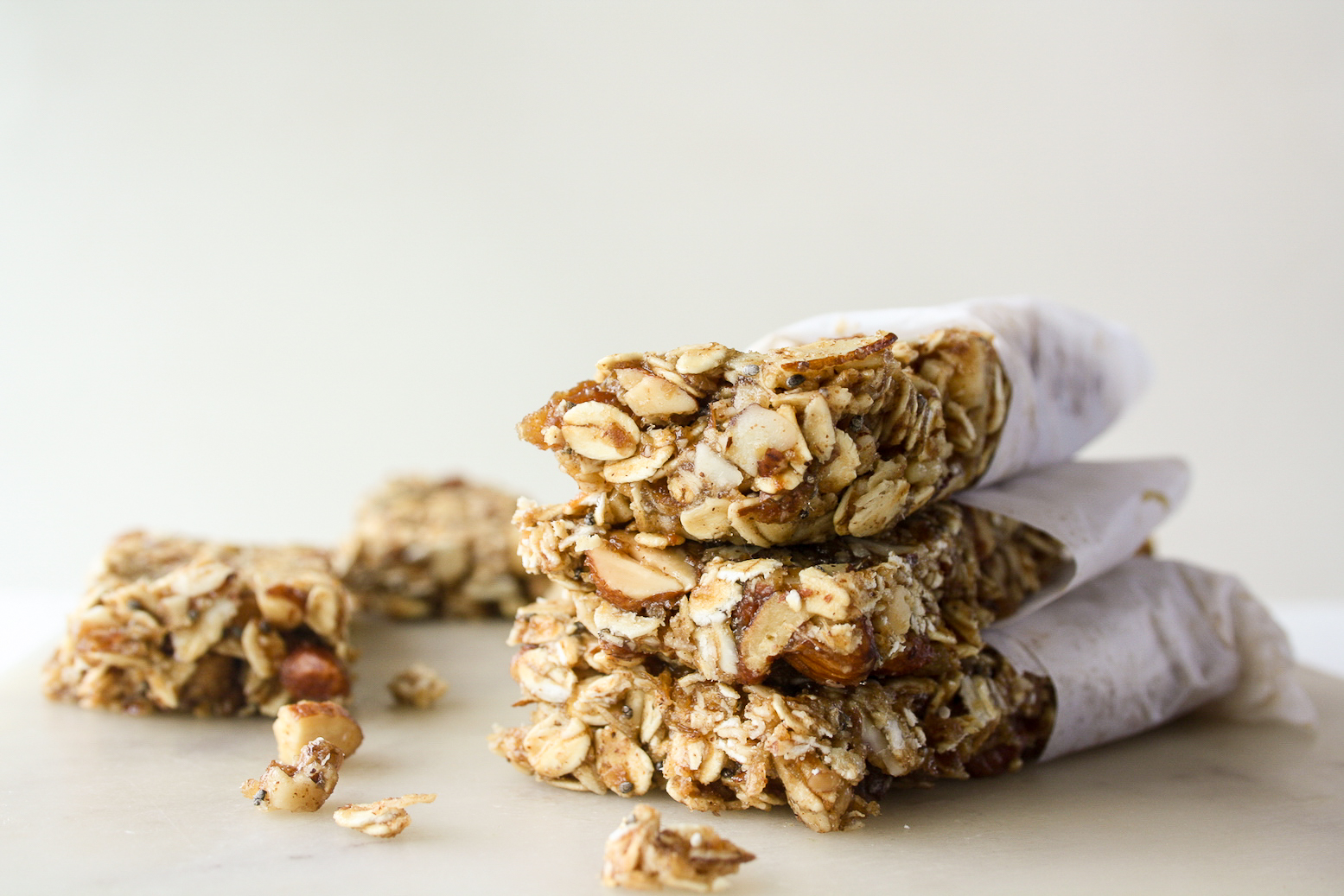 This version by Minimalist Baker caught my eye for how many different things were going on in each bar. So much texture, so much flavour! I switched things up a little by making them heavy on the nuts, not the seeds. I used a combination of almonds, walnuts and pecans, along with some dried figs for fun.
The result is a chewy, nutty, seriously awesome bar!
The thing is these granola bars are soooooper versatile. You can throw in pretty much anything as long as you have enough dates and honey to bind them together. No refined sugars or fats anywhere in sight. Because if I am making something that's good for me, I might as well go all the way right?
Bonus, except for a few minutes of oven time, these bars are practically no-bake!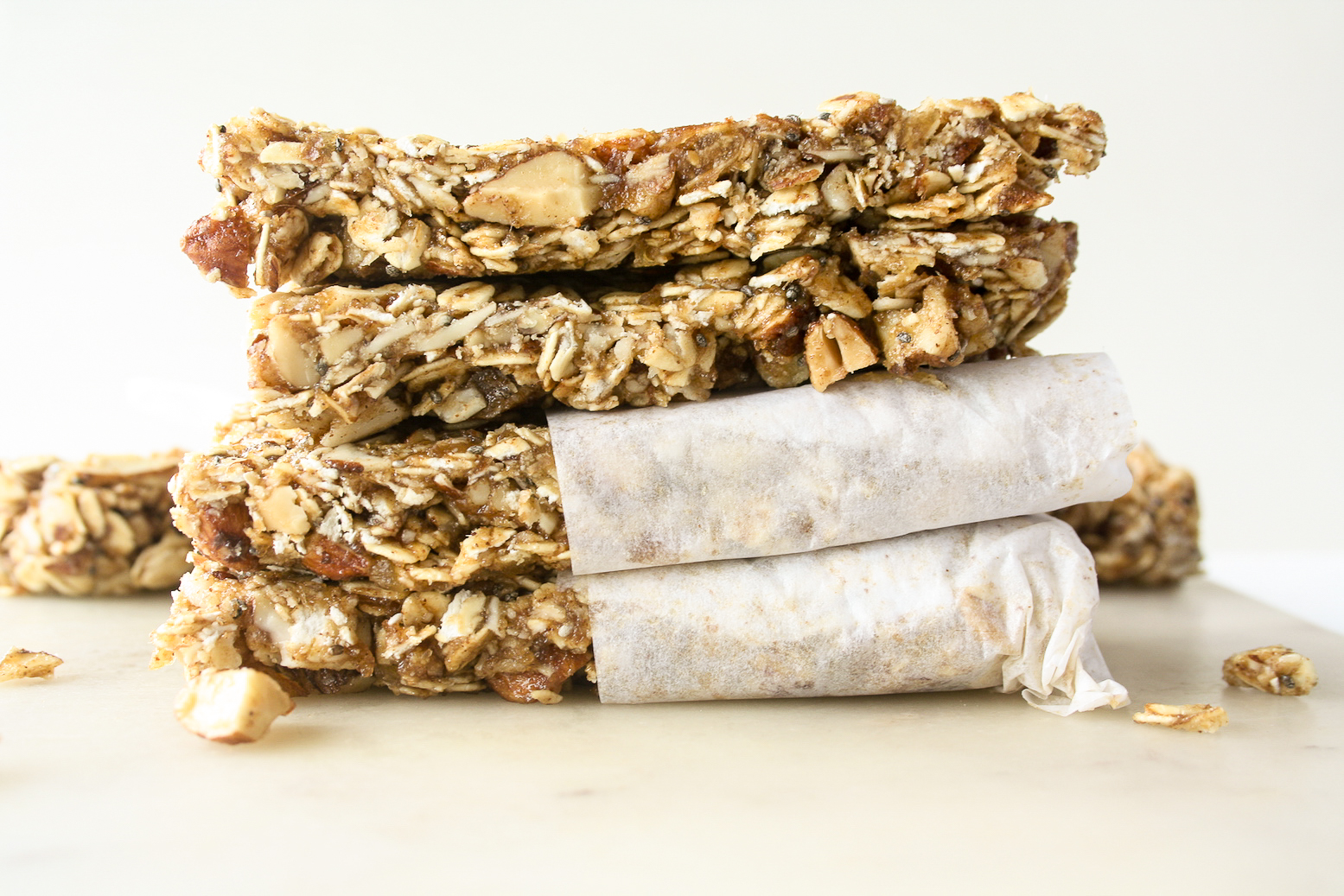 The amount of nuts I used is quite a bit, and you can reduce them if you like but I loved the extra crunch and flavour in every bite. The bars are easy to slice through, but the nuts make them heavy so they may crumble a little, but it really wasn't a big issue. Simply pack them down very firmly and refrigerate or freeze till very firm. Freezing will definitely help them hold their shape longer.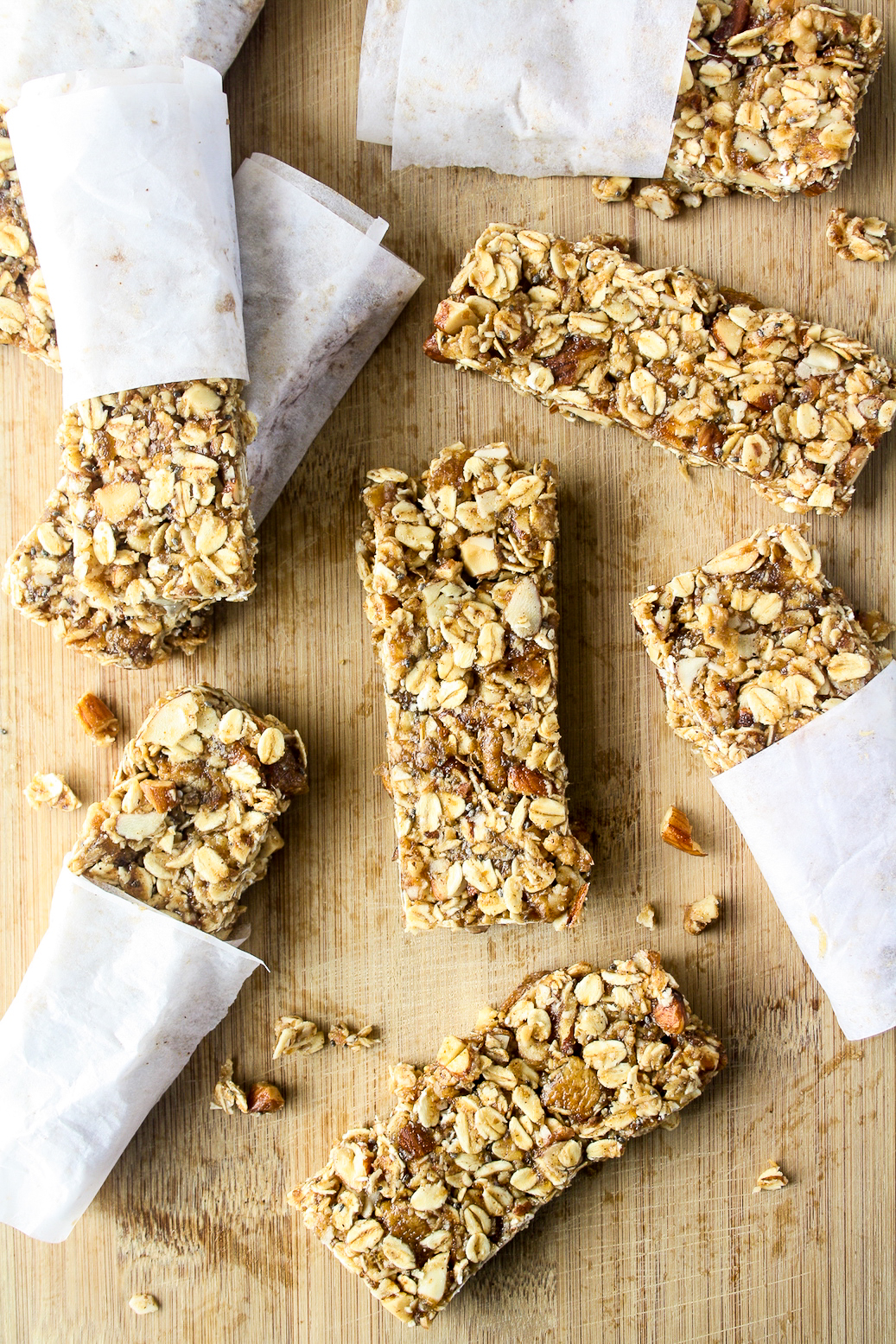 They are easy to make, but the individual elements like chopping the nuts, soaking and blitzing the dates, toasting the oats and all of that need to be factored in. Once all that's done, it's literally a matter of mixing all of it in. Your favourite nut butter holds the mixture together so make sure to use a good, natural, unsweetened one.
And that's it! Make these soooon!

Loaded Chewy Granola Bars
Easy and versatile vegan, nutty, chewy, healthy granola bars. Add your favourite nuts and dried fruit!
Author:
The Desserted Girl
Ingredients
1 heaped, packed cup pitted dates
1 heaped cup chopped nuts (I used sliced and chopped almonds, pecans and walnuts)
1 and ½ cups rolled oats
1 tbsp chia seeds
⅓ cup chopped dried figs
¼ cup honey or maple syrup
¼ cup almond butter, room temperature
Instructions
If the dates feel firm or dry, soak them in hot water for about 15 minutes. Then blitz them in a food processor or powerful blender until you have a chunky paste. Set aside.

Preheat the oven to 175 C. Spread the chopped nuts onto a dry baking try and bake/toast for 5 minutes or until lightly browned. Set aside. Repeat with the oats, till they are lightly browned. If your oven has a toast setting use it, but mine tends to brown too quickly, so I prefer the bake setting.

In a mixing bowl, combine the toasted oats, nuts, chia seeds, and figs. Mix well.

Add the honey and almond butter along with the date paste. Stir using a spatula until the mixture is evenly mixed and the oats are well-moistened.

Spread into an ungreased 8x8 pan (lined with paper) and press the mixture in very firmly and evenly. If you like, place a piece of paper or clingfilm on top and place a heavy weight on it.

Cover the pan and refrigerate for 1 hour before slicing into 10 equal bars. If you find that the bars are crumbly or breaking, freeze for 20 minutes. Store in either the refrigerator or freezer, because otherwise I find they get too soft. Happy snacking!
Shop this recipe!
This post contains affiliate links.