I'm doing my best to bake more and more desserts that are healthy-ish and 'better' for me than um, this cake. I mean, don't get me wrong, I still love cream cheese frosting and I'll still bake brownies, but the big side-effect of adulting is actually wanting to eat desserts that aren't all bad. Who would've thunk.
Two of these cookies in one go, and I'm a happy camper. They are DELICIOUS. Which is super super important to me because I can't imagine sacrificing taste anywhere. Chewy, crispy-edged, with rye flour, almond butter, ground almonds and melty chocolate chunks. Aside from the chocolate, these cookies are naturally sweetened and packed with the good stuff.
Let's do this!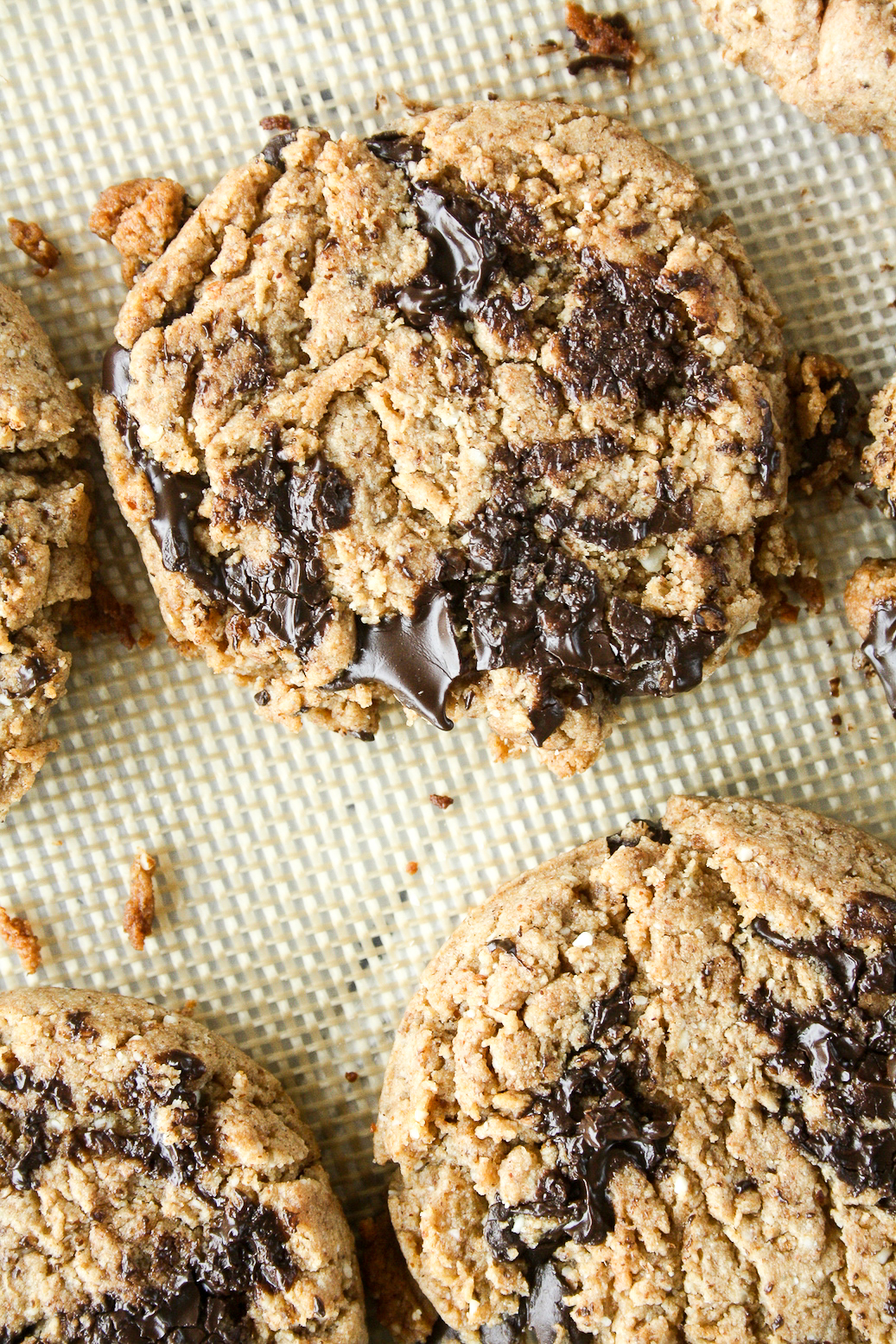 I came across Occasionally Eggs through Instagram and I'm so glad I did. The recipe as written is vegan, but I was out of coconut oil and swapped it with butter (it's not a very large amount at all, so the cookies are still pretty healthy), plus used honey instead of maple syrup. I also like using ground almonds as far as possible because they're easier to get hold of than readymade almond flour, plus the slightly grainy texture is something I love!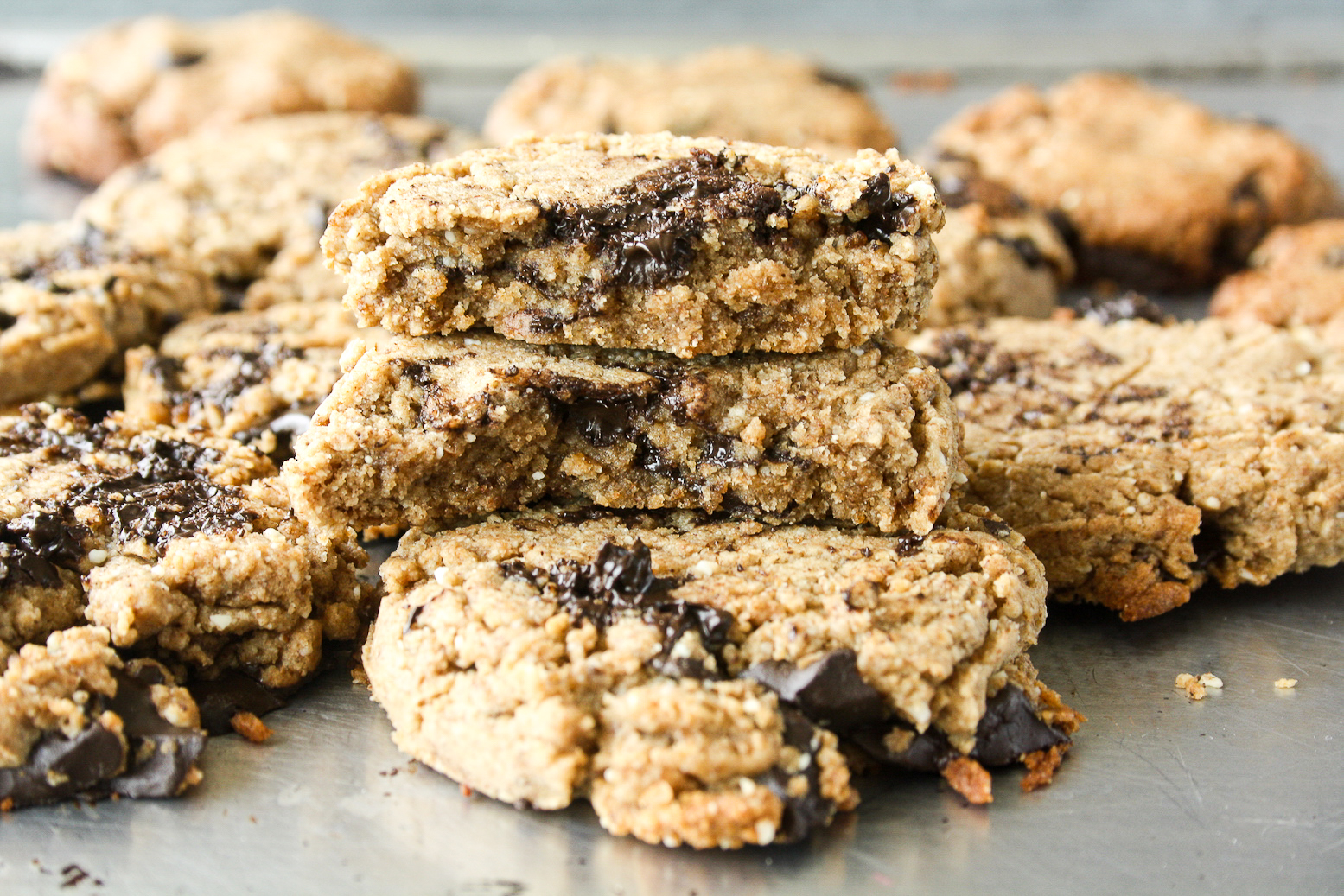 Rye flour is one I haven't worked with too often, but it does make a great substitute for more common flours here. The dough is sort of crumbly and doesn't spread much at all, so make sure you press the cookies down quite a bit before baking. They hold their shape well and get a nutty taste from not just the almonds but the rye too.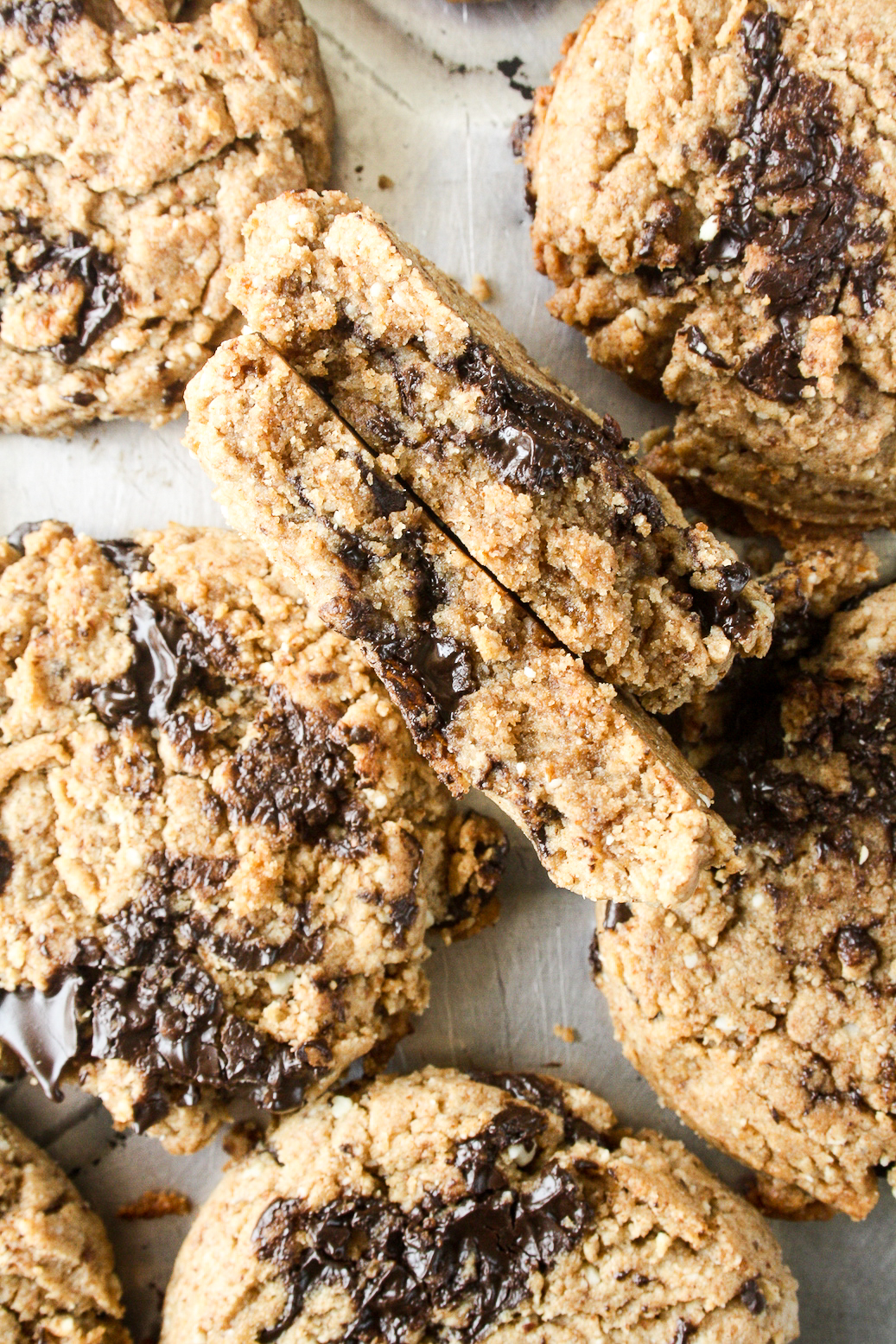 I would suggest not skipping the chocolate because it's SO good in these cookies. Use an unsweetened variety if you prefer, I went with semi-sweet. It makes wonderful little melty pockets throughout the cookies and you'll forget that these aren't 'regular' cookies!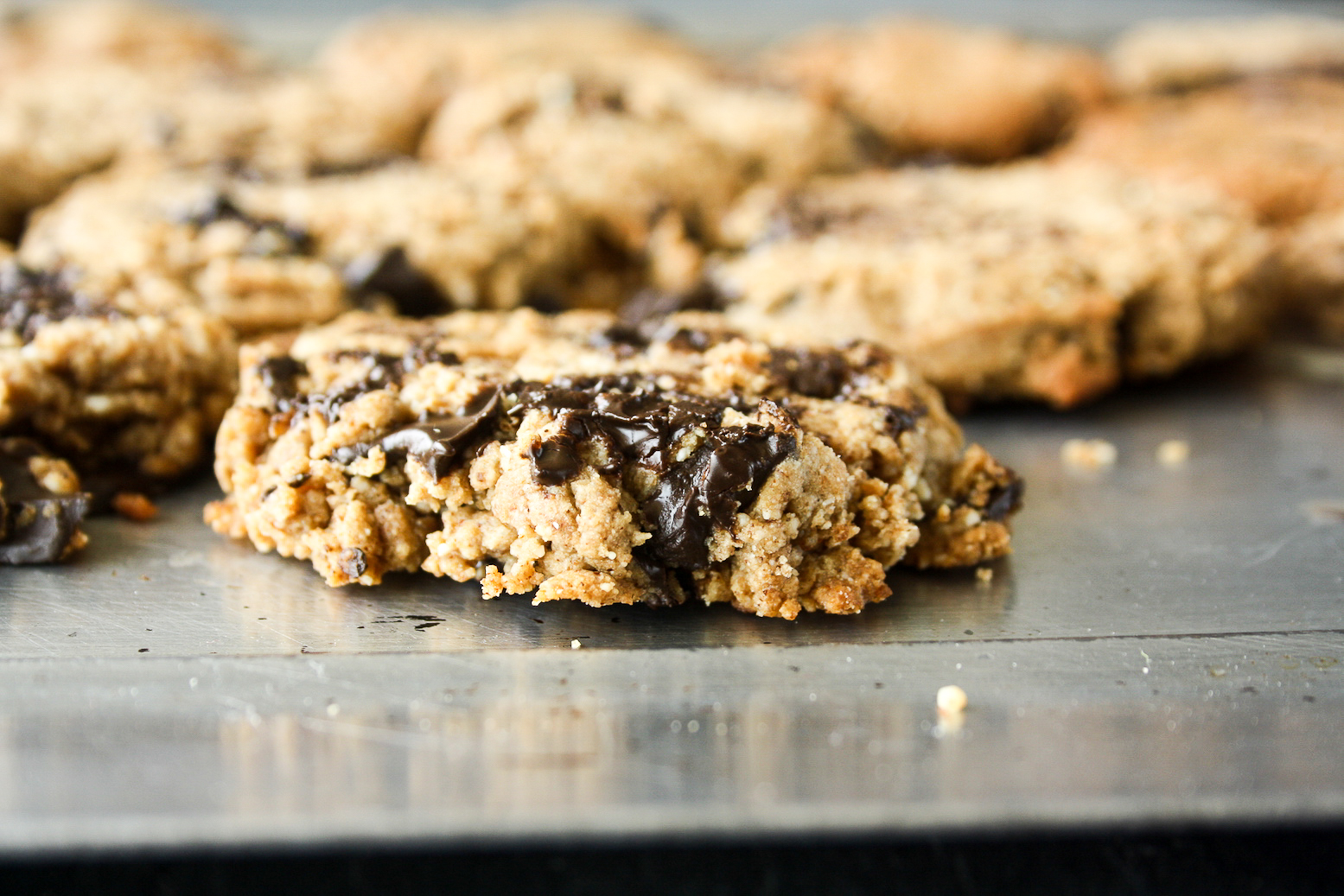 Even with a very small amount of fat and no eggs, the cookies are not dry. They are tender and soft on the inside, which is just perfect. Honey or maple syrup deepens the flavour and I promise these are completely irresistible!
I hope you'll make them soon 🙂

Almond, Rye & Chocolate Chunk Cookies (Eggless)
Naturally sweetened, vegan rye flour cookies with almond butter, ground almonds and melty chocolate chunks!
Author:
The Desserted Girl
Ingredients
1 cup rye flour
½ tsp baking soda
1 tbsp arrowroot powder (or cornflour/cornstarch)
¼ tsp salt (if using unsalted butter or coconut oil)
½ cup ground almonds
¼ cup coconut sugar
¼ cup butter or coconut oil, room temp
½ cup almond butter (natural, unsweetened is best)
¼ cup honey or maple syrup
1 tsp vanilla extract
½ cup chocolate chunks or chips (dairy-free/sugar-free if you prefer)
Instructions
Preheat the oven to 175 C and line a baking sheet with a silicone mat, or lightly grease it.

In a bowl, sift the flour, baking soda, arrowroot powder and salt. Stir in the ground almonds and coconut sugar. Set aside.

In a mixing bow, combine the butter, almond butter, honey and vanilla. Mix well till smooth.

Fold in the flour mixture gently till you have a thick, crumbly dough, then mix in the chocolate chunks. If the dough feels very dry, add a tablespoon or so of dairy or non-dairy milk, though I didn't feel the need.

Bring the dough together with your hands if needed, then use a cookie scoop or your palms to form equal sized rounds (I got 15).

Place the dough rounds an inch apart on the baking tray and press each one down with your palms because they don't spread much in the oven.

Bake for 8 to 10 minutes until the edges are lightly browned. Bake an extra couple of minutes for a deeper colour and crispier edges.

Allow to cool for 10 minutes so that the cookies firm up, then cool completely on a wire rack. Store in an airtight tin at room temperature for 3 to 4 days after which, in humid environments, it's best to transfer them to the fridge. Happy baking!
Notes
*I used Sattvic rye flour, but I'm unable to find it online now. If you can't locate a different brand, wholewheat flour will work here too.
Shop this recipe!
This post contains affiliate links.