If you've never made this before, don't gnoc-chi it till you try it. Ugh, sorry, that was awful. I promise to make it up to you with this soft, yet crispy gnocchi, dunked in the quickest, most flavourful tomato sauce! I was amazed at how straightforward this whole thing can be. Takes a little time to assemble but so worth it!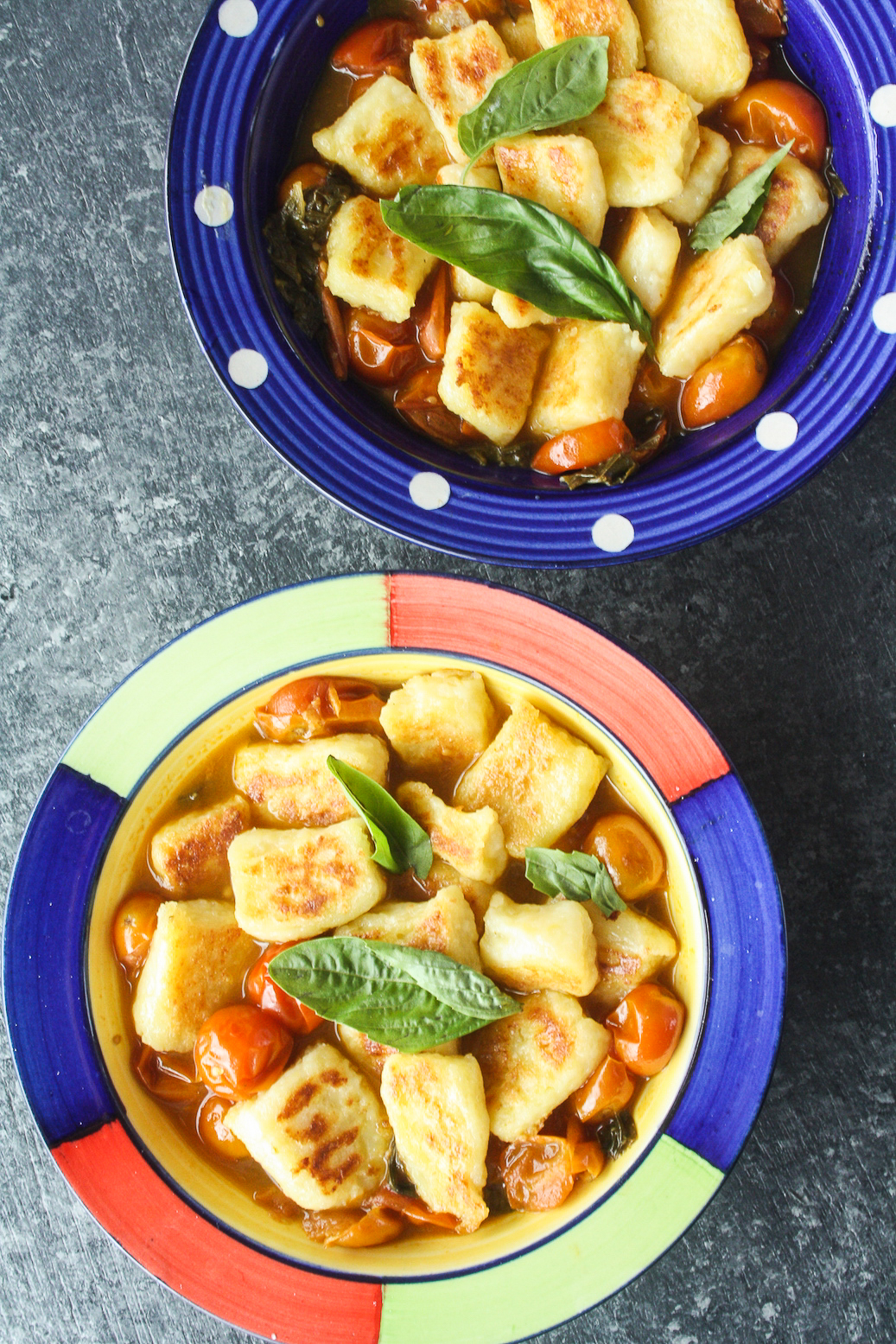 Gnocchi is basically a potato-based pasta. There are many different ways to make it, with and without eggs, with and without cheese. I loved the sound of this Pinch Of Yum version, but since I was out of ricotta, I used malai paneer instead and it worked like a charm!! I made this for just the two of us, so halved the recipe and still had enough gnocchi leftover for one more meal, so it's currently in the fridge, waiting for more sauce!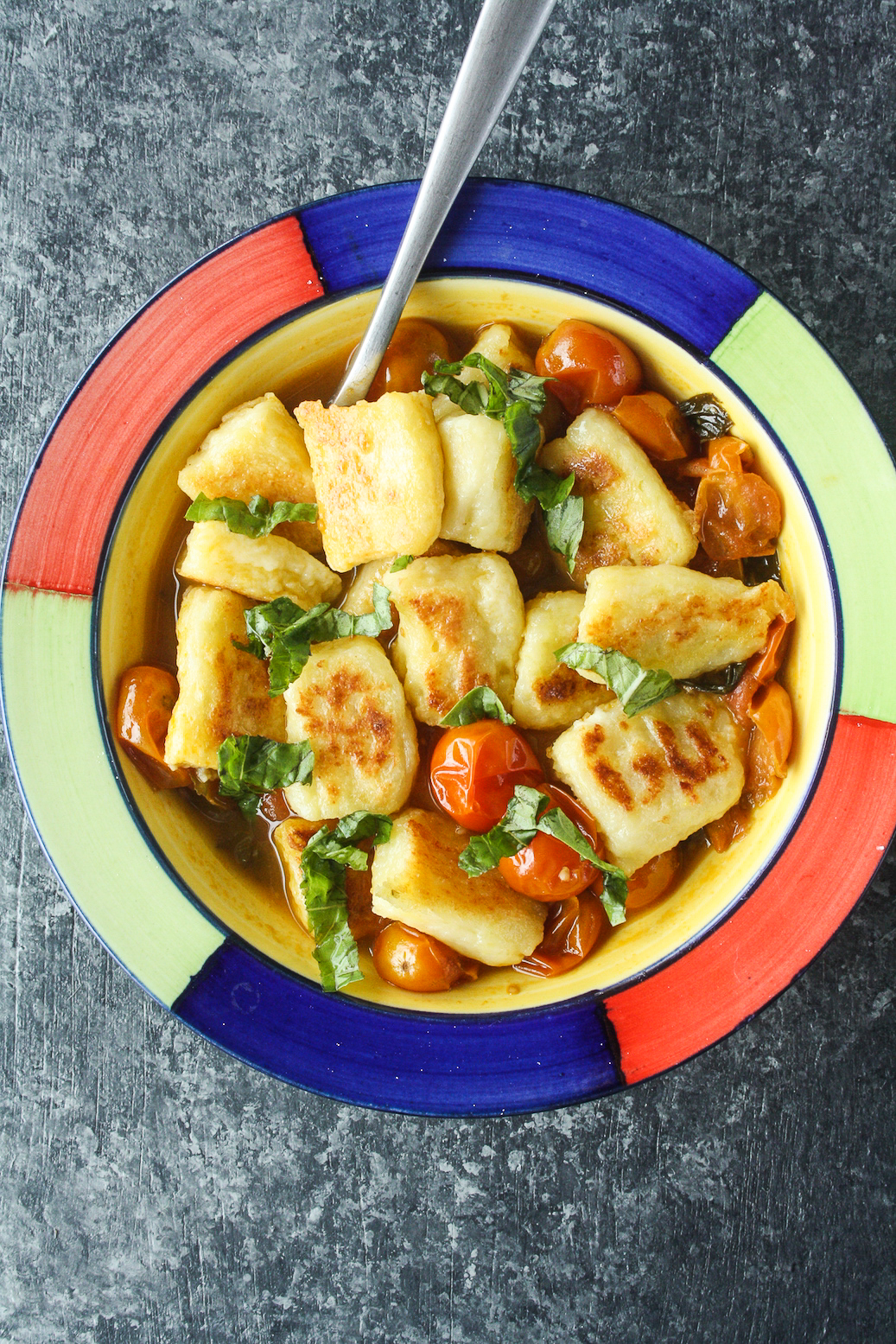 Shaping and cooking the gnocchi is easy, it just takes a little time because you'll need to do it in batches since I doubt gigantic pots or pans are a part of your kitchen either! The idea to pan-fry the gnocchi for a little extra flavour and crispyness came from Jernej Kitchen and their sauce sounded dreeeeamy. I added garlic to it because an Italian dish without garlic isn't something I've ever done! It's basic, but bursting with flavour and the fresh basil takes it to a whole other level.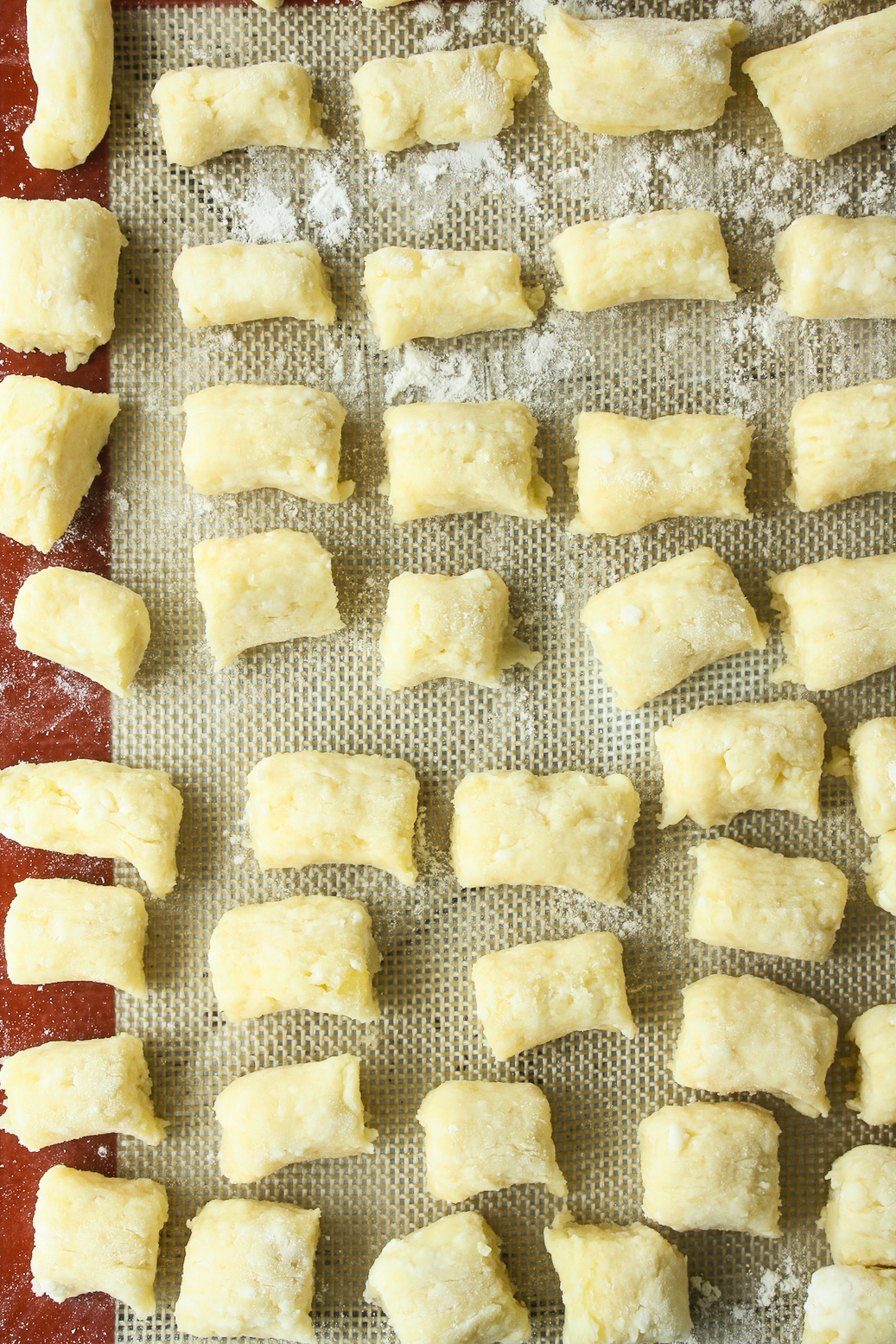 A Cozy Kitchen also had some useful tips on how to tell when the gnocchi is fully cooked. Basically, the internet is exploding with gnocchi ideas and advice and you might want to jump down the rabbit hole too!
The pasta itself is soft, not as dense and doughy as I'd expected although definitely quite rich. I don't know if my shaping was perfect, but it all tasted great! It fills you up quick since it's basically potato. The crispy tops are amazing with the slightly sour tangy tomato and the sauce soaks into the gnocchi beautifully.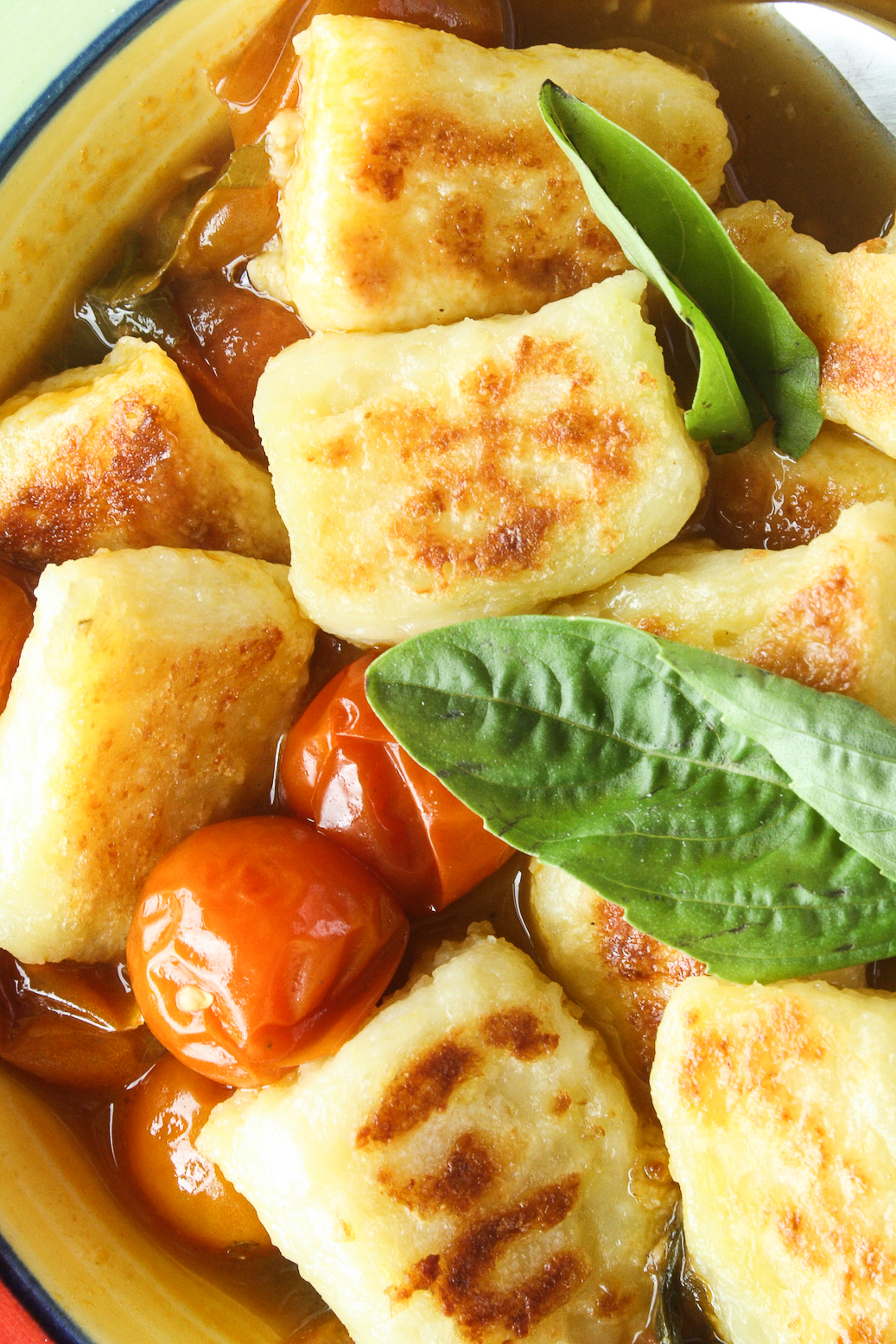 Please read the recipe notes before beginning.

Homemade Gnocchi in Tomato Sauce
Pan-fried gnocchi in a delicious burst cherry tomato sauce!
Author:
The Desserted Girl
Ingredients
For the gnocchi
500 gms potatoes, cooked till soft with the peels on
1 and ¼ cup all-purpose flour
2 tsps salt
½ cup malai paneer / ricotta
1 small egg, lightly beaten
Olive oil for pan-frying

For the sauce
3 tbsps olive oil
4 cloves garlic, minced
250 gms cherry tomatoes
¼ cup chopped fresh basil
½ cup white wine
Salt and pepper, as needed
Instructions
In a wide, shallow bowl (or directly on a floured kitchen counter), peel and grate the potatoes, making sure you mash any larger bits that couldn't be grated. Add the flour, salt and paneer. Give the mixture a very quick stir. Make a well in the center and pour the egg in it. Use a fork and whisk the egg into the rest of the ingredients, starting from the center, going outwards. The dough will be crumbly, but soft.

Use a silicone spatula or your hands to bring the dough together, then drop it on a floured surface (or a silicone mat, which I find easier) and lightly knead it to make a soft dough. Do not over-knead, stick to about 30 seconds.

Pat the dough down into a loaf shape, roughly 9x4. Slice it vertically into long pieces. Roll each piece into a long 'rope' using lightly floured fingertips, then cut it into pieces, about 1 inch long. These measurements don't have to be perfect, just make sure you don't cut pieces that are too thick or too long, otherwise they get difficult to eat. Bite-sized is best. Keep the pieces on a lightly floured surface (or another silicone mat), making sure they don't touch. For a little added fun and to help the sauce stick better to the gnocchi, press a fork down lightly into each one to make an indentation.

Bring a pot of salted water to boil. Drop in a few pieces at a time, making sure the water is simmering continuously. In a minute or two, the gnocchi will rise to the surface and have slightly ragged edges. Take them out with a slotted spoon and set aside. Repeat with the rest of the dough.

Reserve 1 cup of the gnocchi water for the sauce.

Now drizzle a couple of spoonfuls of olive oil onto a hot frying pan, preferably non-stick. Pat the gnocchi dry to absorb any remaining water, then place in the pan and cook till golden-brown on both sides. Set aside while you make the sauce.

In a pan, heat the olive oil, then add the garlic and fry till browned. Add the tomatoes and cook till they start to darken and caramelise. Press down on them to release juices and create a saucy base.

Add the basil, stir, then add the wine. Increase the heat to high and boil till the liquid has reduced to about a third.

Finally, add the pasta water and simmer till it thickens a bit. although overall, the sauce is runny. Add salt and pepper and stir well.

Pour into bowls and add the gnocchi on top. Stir and enjoy!
Notes
*I pressure-cooked the potatoes till they were soft, but you can also cook them in a closed pot with water.

*You will have quite a bit of leftover gnocchi so if you'd like to eat it all for one meal, double the sauce to make 4 to 5 servings. Alternatively, freeze half the uncooked gnocchi for later (up to a month) and cook it a few minutes longer when you want to use it. I cooked my entire batch in one go, and it's in the fridge right now. I plan to use it up this week!

*If you don't want to use the egg, use ¼ cup milk instead to bind the dough. Add it little by little till the dough is soft and come together easily, but does not become too wet.