I don't make pancakes very often for breakfast because I'm a toast and eggs girl most days. Pancakes tend to fill me up more than I like in the mornings, so when I do make a batch, it's always a small one and with some sort of fruit on top. Or I go the oat flour route to lighten them up. I do find them very fun to make and they are a nice change every so often!
These ones have a little cornmeal in them, which adds flavour and a nice texture, without being overly grainy or tasting like cornbread. They are quick, tender, fluffy and very very good!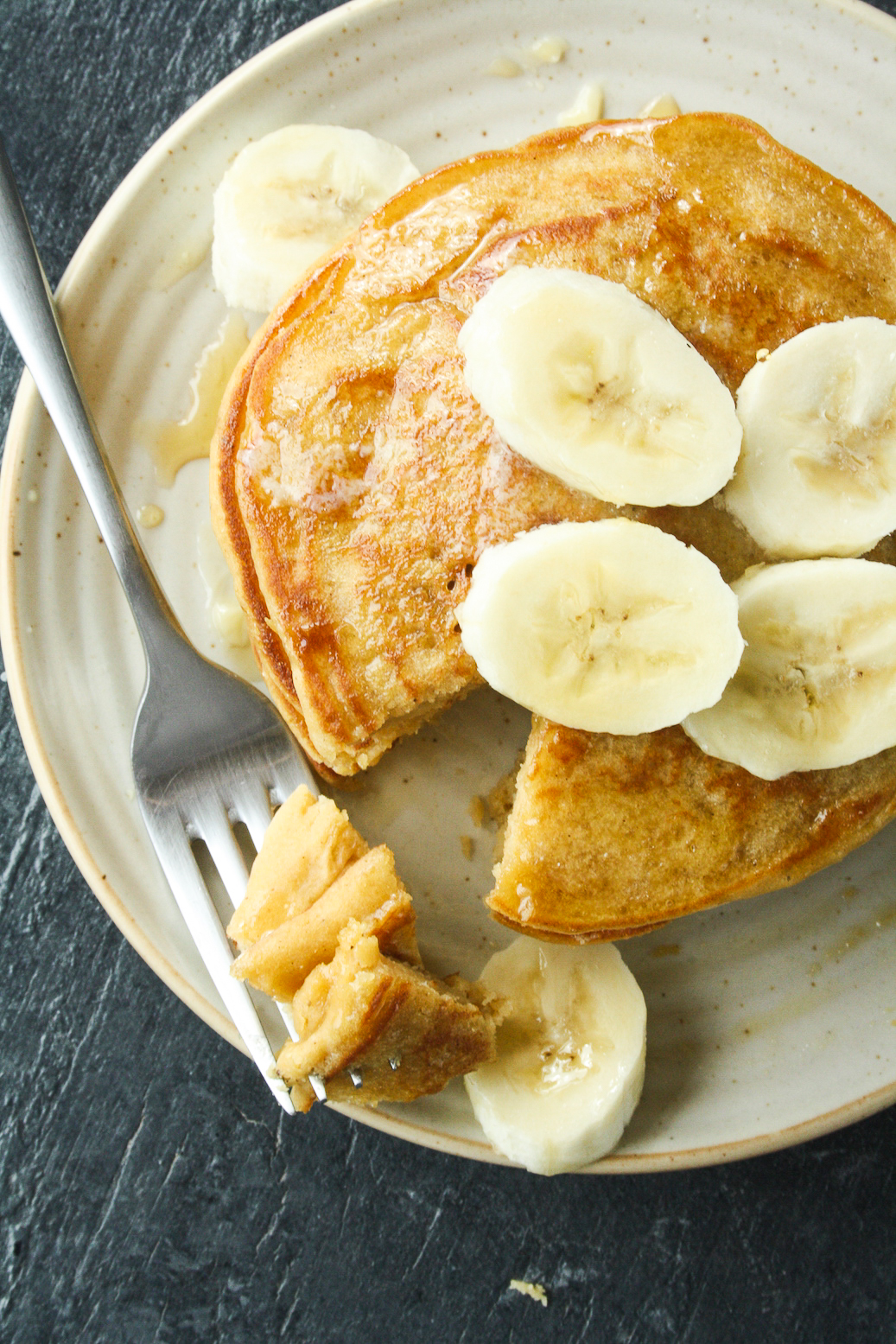 The recipe is adapted from Pioneer Woman. I halved it for 6 neat pancakes, just right for a breakfast for two. I also used brown sugar and honey instead of caster sugar, plus added cinnamon. All of it adds to the flavour because my usual issue with pancakes is they're far too bland by themselves. These ones are not!
They come together very quickly, aren't finicky at all and while I haven't tried substituting the flours, you could probably get away with oat flour or wholewheat. Like I said, since I don't make pancakes too often, I don't mind the refined flour here!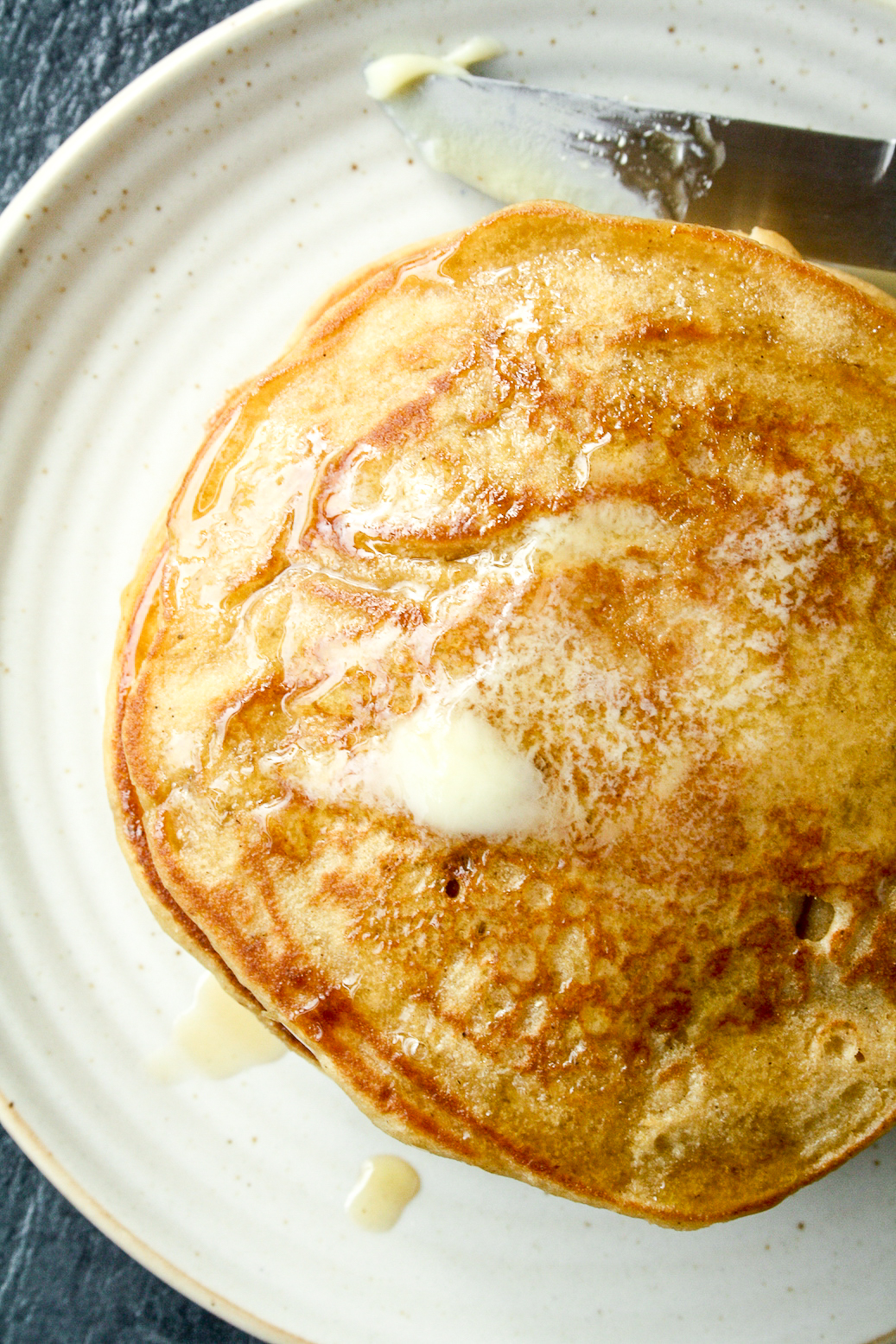 They also taste great the next day, after storing them in the fridge. Just reheat and drizzle more honey! I liked them with bananas and a little peanut butter, but feel free to use whatever pancake toppings you go for. Fresh berries would be so good!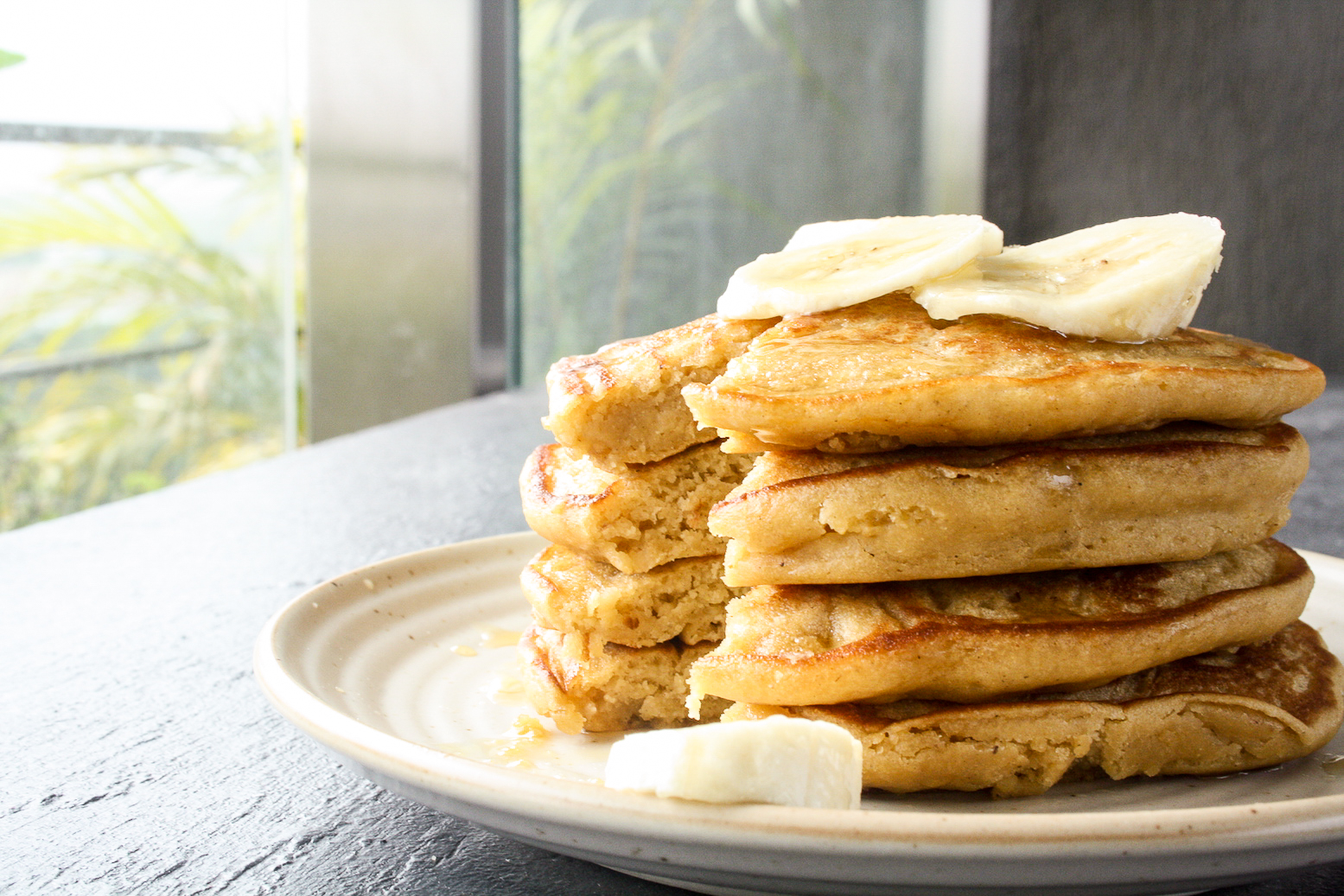 Try them soon and let me know how it goes!
Please read the recipe notes before beginning.

Cornmeal Pancakes
Super easy, soft and fluffy cornmeal pancakes!
Author:
The Desserted Girl
Ingredients
¾ cup all-purpose flour
¾ cup cornmeal (makai atta in India)
1 and ½ tbsp baking powder
¼ tsp salt if using unsalted butter
¼ tsp cinnamon powder
2 tbsps brown sugar
1 egg
2 tsps vanilla extract
1 and ¼ cup whole milk
2 tbsps honey
2 tbsps melted butter (not hot)
Extra butter for frying, about 2 tbsps
Instructions
In a bowl, sift the flour, cornmeal, baking powder and salt, if using. Mix in the sugar and set aside.

In another bowl, whisk the egg and vanilla, then add the milk and honey. Whisk well to combine.

Pour into the flour mixture and fold gently to combine until no flour streaks are visible. Do not over-mix. Pour in the butter and fold again.

Let the pancake batter rest for a few minutes while you heat a non-stick pan on medium heat. Add a teaspoon of butter for extra browning.

Give the pancake batter a quick stir. It is thick, but if it feels too thick, add a little more milk to thin it out. Scoop out ¼ cup of the batter and drop it onto the pan. Spread it out with a spatula and let it cook till the edges are no longer glossy and small holes appear.

Flip the pancake and cook on the other side too. Repeat with the remaining batter, adding a little butter to the pan as needed. Each pancake will take 3 to 4 minutes to get done. I prefer to cook them one at a time but if your pan can fit them, you can cook more as well.

Serve hot with fruit and more honey or maple syrup!
Notes
*I haven't tried it, but oat flour or wholewheat flour may work in place of all-purpose if you're looking for options. Wholewheat will make the pancakes slightly denser.

*By themselves, the pancakes are not very sweet because I like them with fruit and honey on top. You can add more sweetener to the batter itself. You could also use only honey as a sweetener instead of the sugar and olive oil instead of butter.

*An extra ½ cup milk can be used instead of the egg. Add it slowly so that your batter doesn't become too runny and adjust the quantity as needed.
Shop this recipe!
This post contains affiliate links.