Feel-good cookies, everybody! I've made flourless peanut butter cookies before but these guys are better for you. With redeeming oats, no added refined fat or sugar and obviously, no flour. It sounds like there's going to be no point at all eating them, but I promise, they're delicious!
They're soft, chewy, full of peanut butter flavour and sweetened with coconut sugar. I was amazed at how yum they are!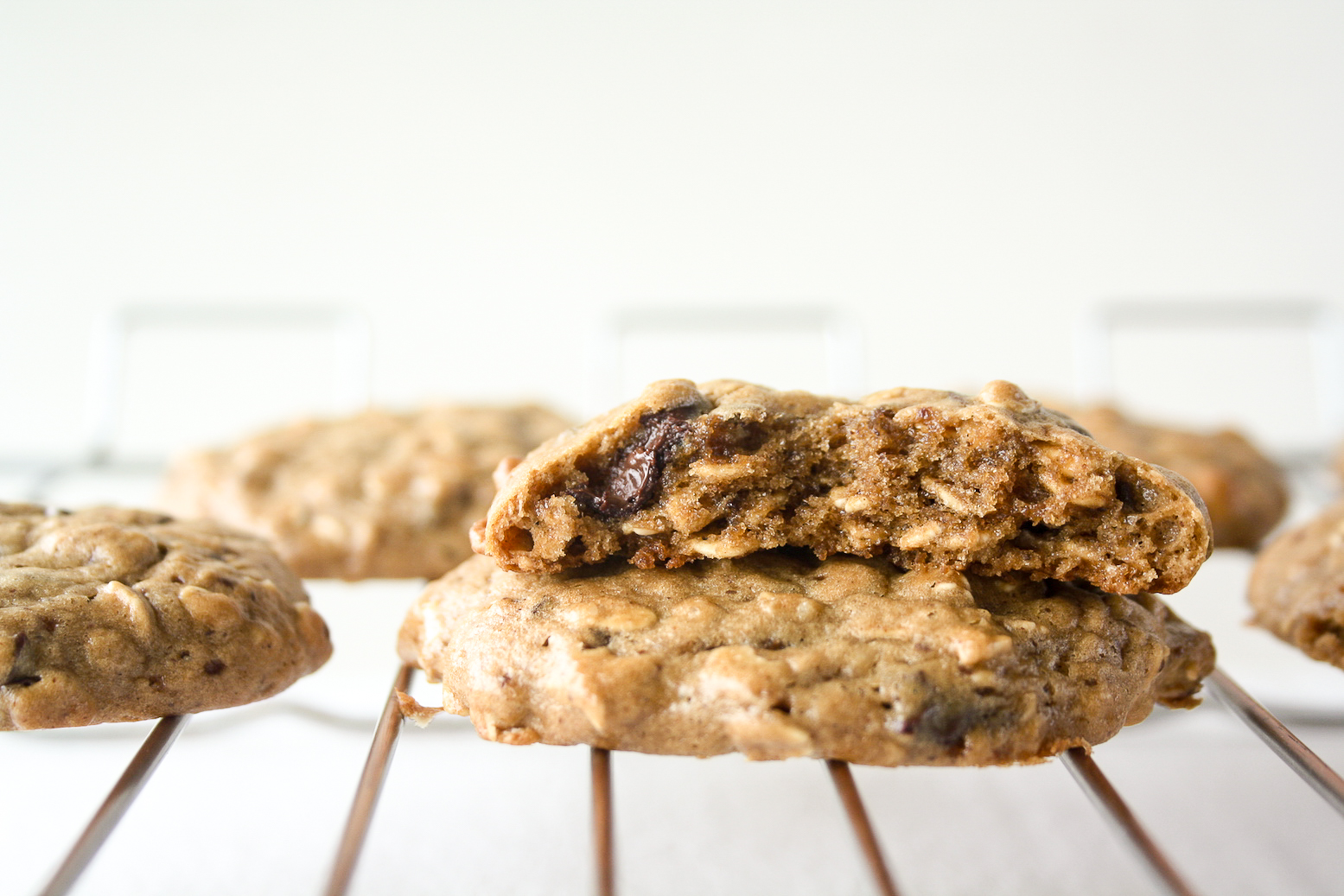 The recipe comes from Ambitious Kitchen and I halved it for a smaller batch (still got 12 cookies), added some cinnamon for extra punch and used coconut sugar instead of brown sugar. They don't taste coconut-y at all if that's a concern!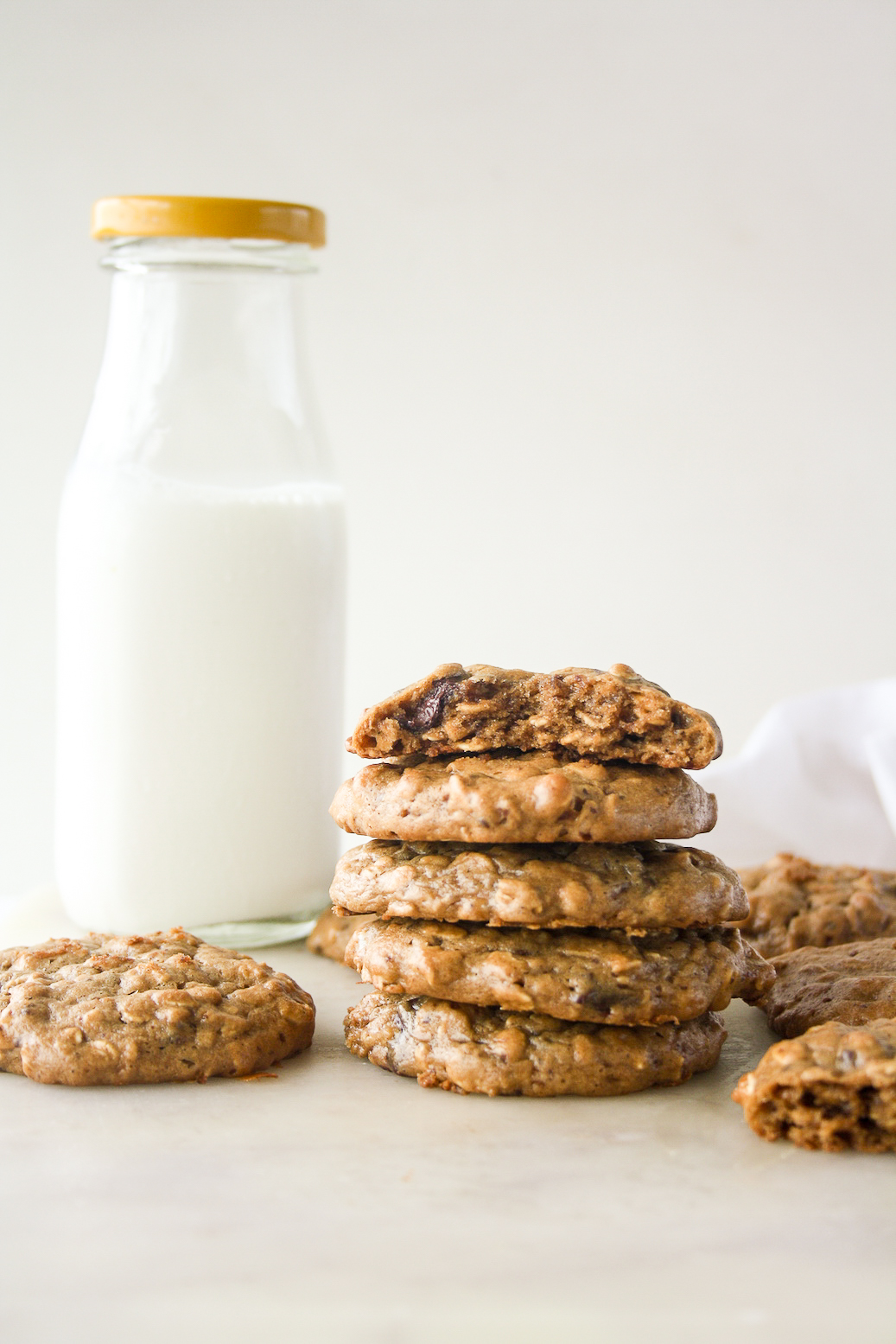 Melty dark chocolate chunks are optional, and you can even use a dairy-free sugar-free version if you prefer. I just used what I normally use in baking, but the cookies are still healthier than the buttery chocolate chip ones! Rolled oats are recommended for the texture, because instant oats disintegrate too fast and the cookies won't have any structure.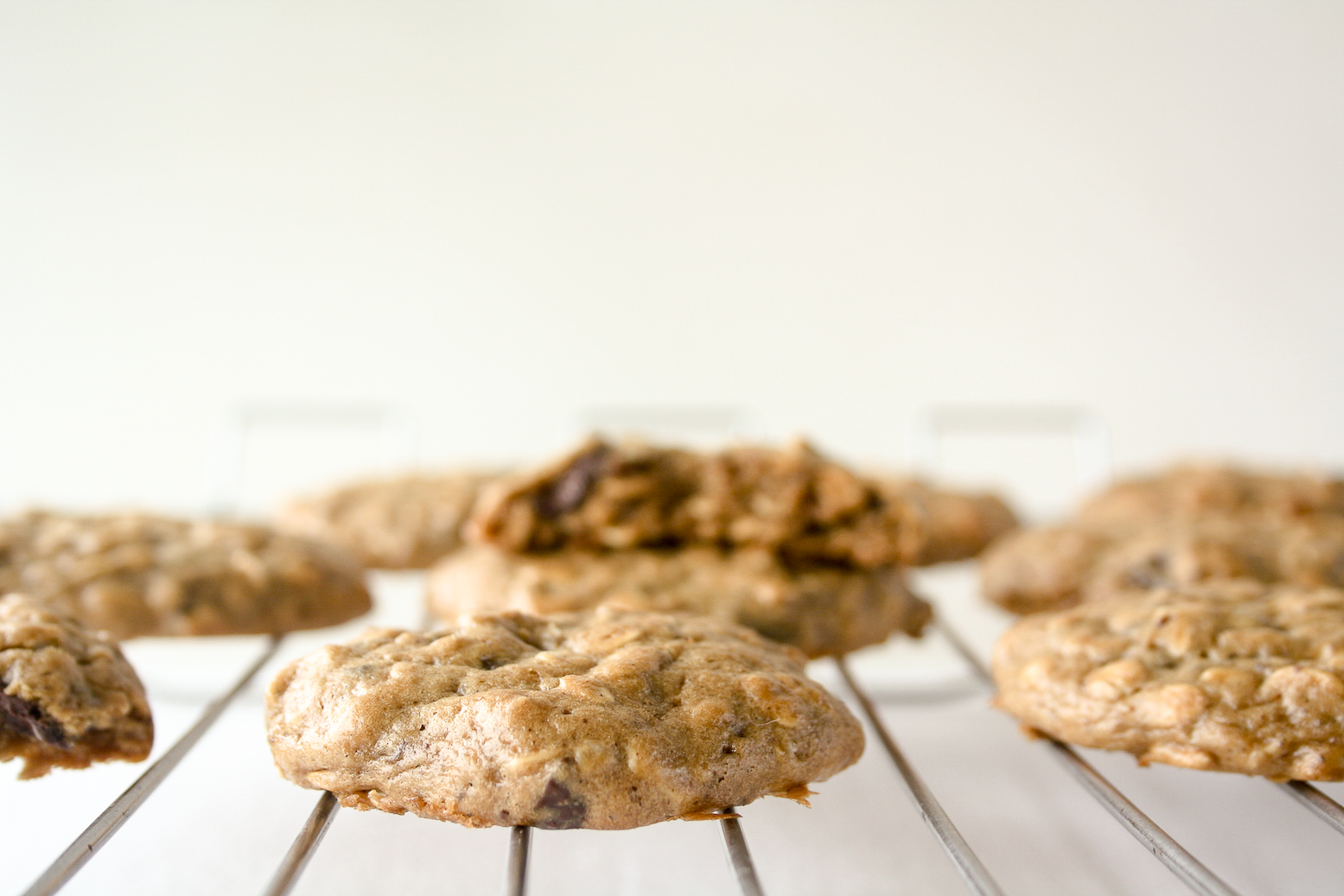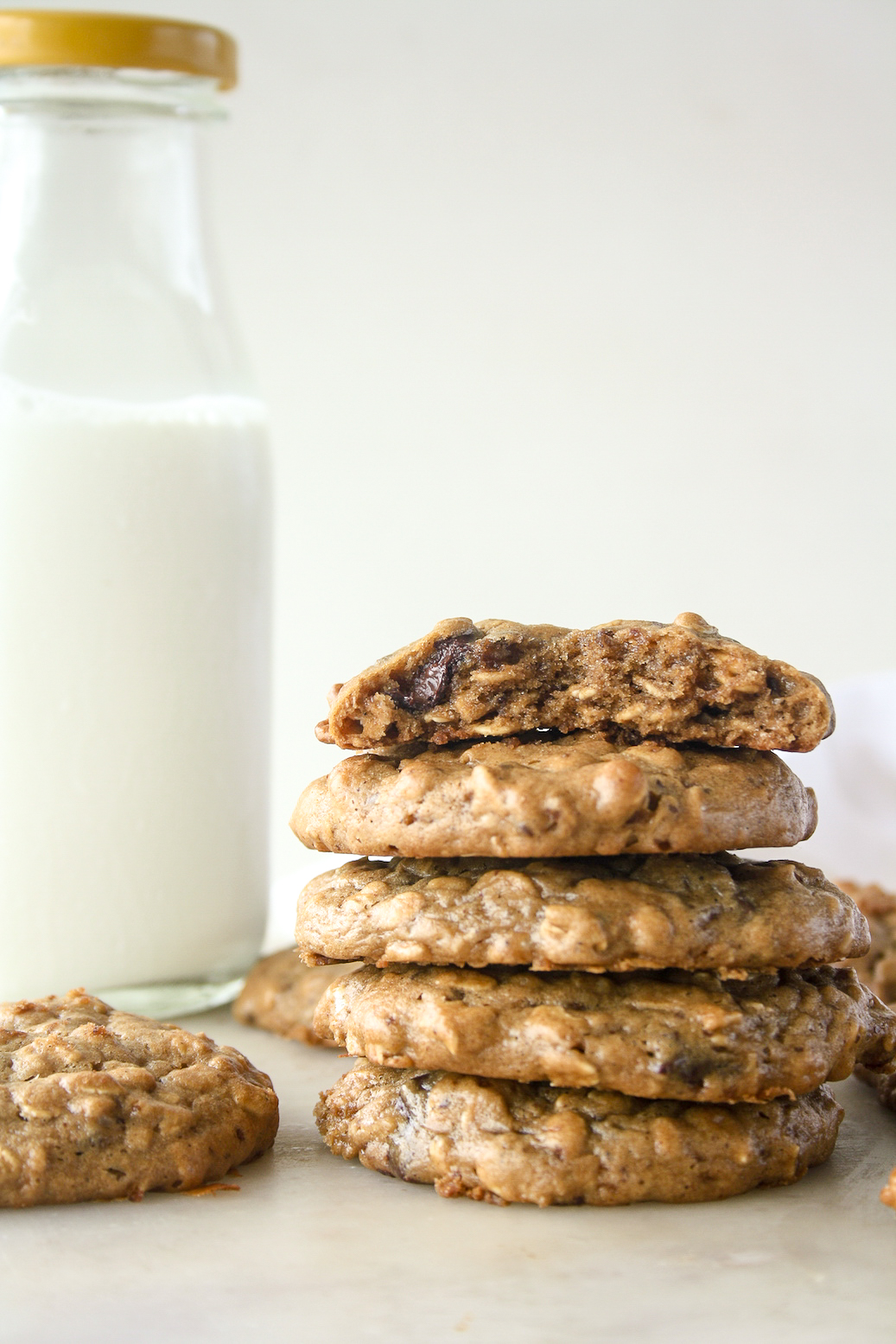 Keep in mind that because oats absorb moisture very fast, these cookies are soft and cakey. They are crispy edged fresh out of the oven, but if they're left uncovered at room temperature, even the edges soften. I found keeping them in the fridge improves the texture after a few hours. Since there is no flour to make them sturdy, this texture is not surprising so don't let it worry you 🙂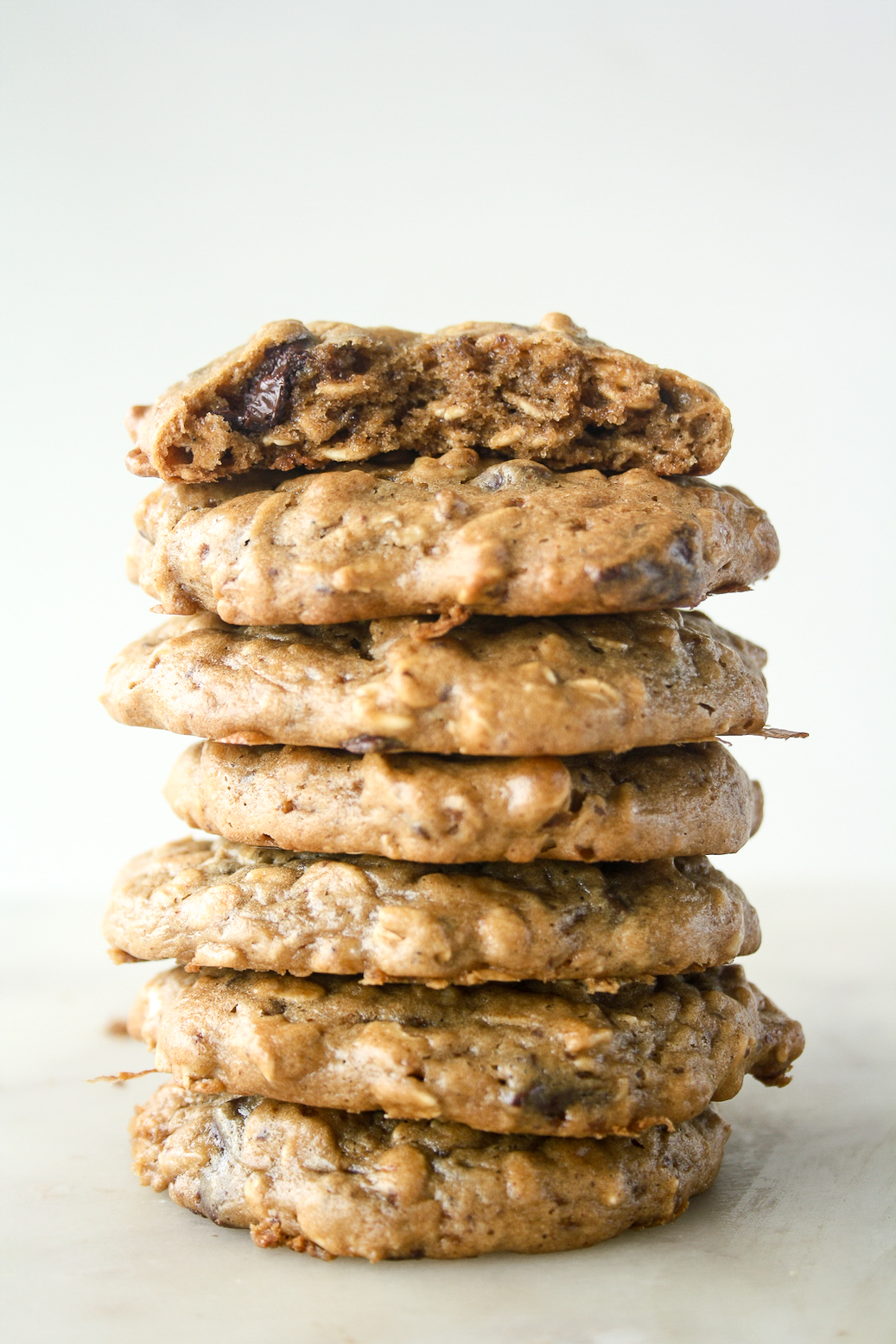 They're the perfect dessert or snack on the go, without any of the guilt! Bonus, they're super easy and super quick to make. Let me know how you like them 🙂

Flourless Peanut Butter Oat Cookies
Soft and chewy peanut butter oat cookies, without flour, refined fat or sugar!
Author:
The Desserted Girl
Ingredients
½ cup rolled oats
¼ tsp cinnamon powder
¼ tsp baking soda
½ cup peanut butter
⅓ cup coconut sugar
1 egg
1 tsp vanilla extract
¼ chopped dark chocolate, optional
Instructions
Preheat the oven to 175 C. Line a baking tray with a silicone mat or grease the tray. The cookies tend to stick so the mat is more convenient.

In a small bowl, mix the oats, cinnamon and baking soda.

In a larger bowl, mix the peanut butter, sugar, egg and vanilla till well combined.

Fold in the oats. You will now have a thick, sticky cookie dough. Fold in the chocolate chunks if using.

Use a tablespoon measure or a cookie/ice cream scoop to make equal sized dollops of the dough. Place an inch apart on the tray. Use a small spoon to help shape them into rounds, or leave them as is.

Bake for 10 minutes, then 3 to 4 minutes more if you would like more colour or crispiness. However, the cookies remain soft in the middle, and the edges begin to soften after a couple of hours. Allow to cool completely, then store in the fridge if not eating immediately. Happy baking!
Notes
*I don't think these can be made without the egg, because flourless baking depends on eggs for texture and sturdiness.

*Preferably use a natural peanut butter with just peanuts, salt and honey if you like.

*Use a dairy-free/sugar-free chocolate if you want to keep these completely healthy.
Shop this recipe!
This post contains affiliate links.