The reason that galettes are the first natural step to making pie dough is because you scream a lot less while making a galette. There's no panic, no need to make things pretty and in fact, the wonkier it looks, the better. 'Rustic' is in.
As long as the crust is buttery, flaky, tender and the center of the galette is filled with juicy fruit, you're all good. In this case, there's a ton of blueberries which yes, leak their juices everywhere. What's a rustic dessert without some jammy, sticky juices?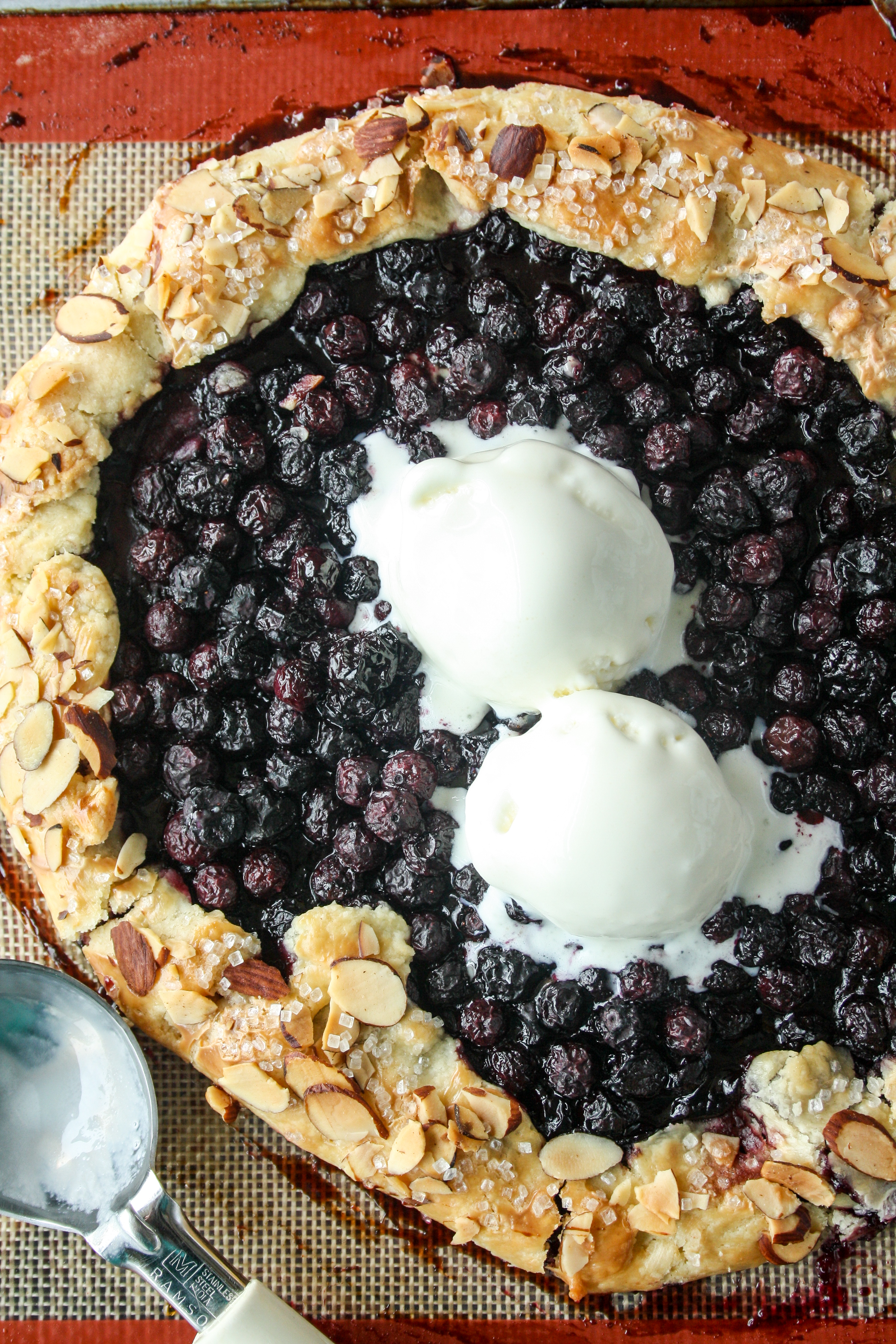 I've been wanting to make a blueberry galette forever, but since fresh blueberries basically require a bank loan in India, and frozen ones aren't always available, I had to wait for the stars to align. Once they did, I got down to it immediately! The crust is the same as the one in this peach cherry version. The filling is adapted from Epicurious.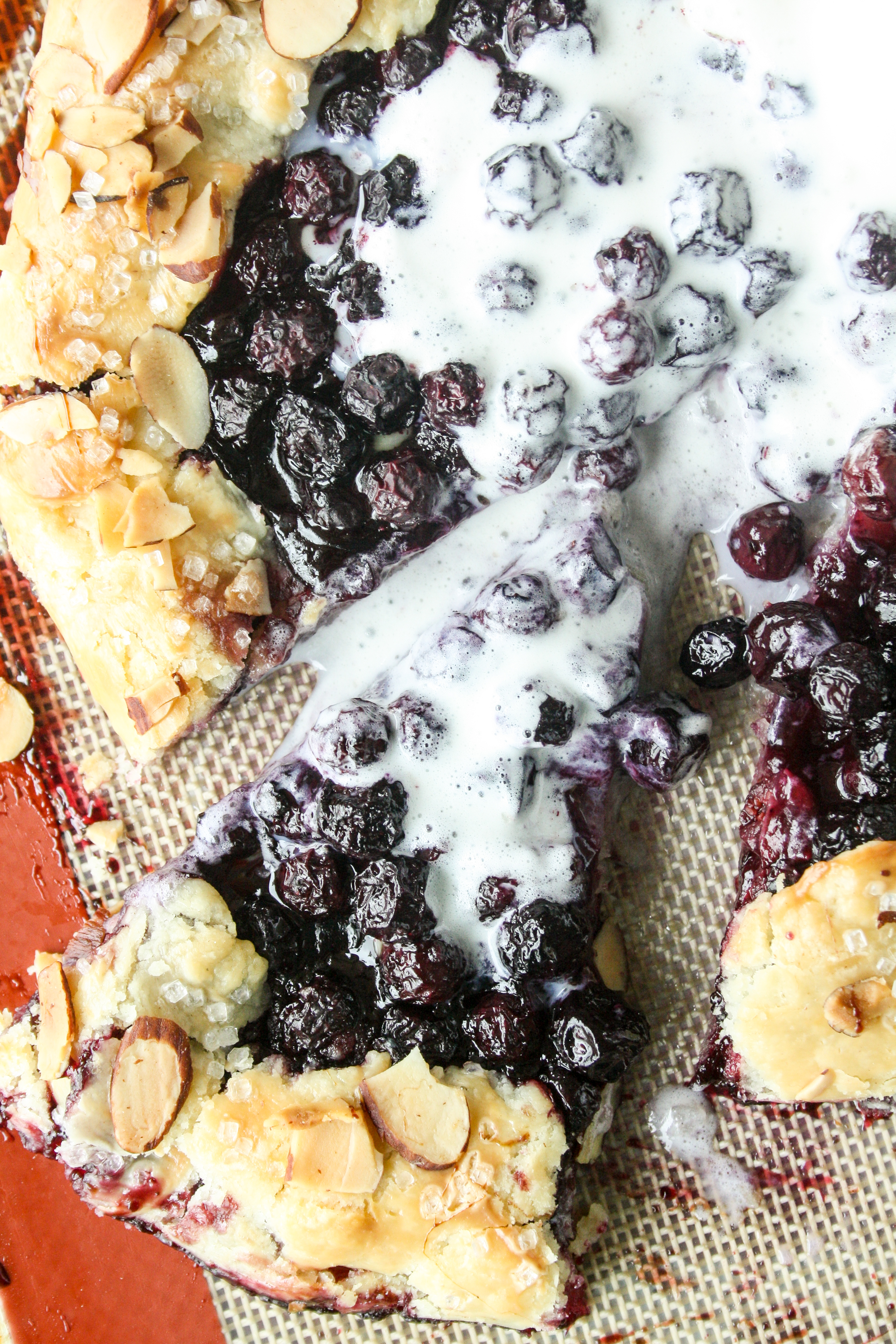 As you can tell, the ice cream didn't wait for me to finish shooting, how rude. But, melty vanilla ice cream over warm fruit is sort of meant to be. I had a couple of cracks in the crust where I didn't pay enough attention while folding the edges of the dough, and so there was a bit of a blueberry juice river situation while baking. But no harm done, everything soaks back in and dries up after the galette has cooled. Even Food52 says cracks and leaks are ok!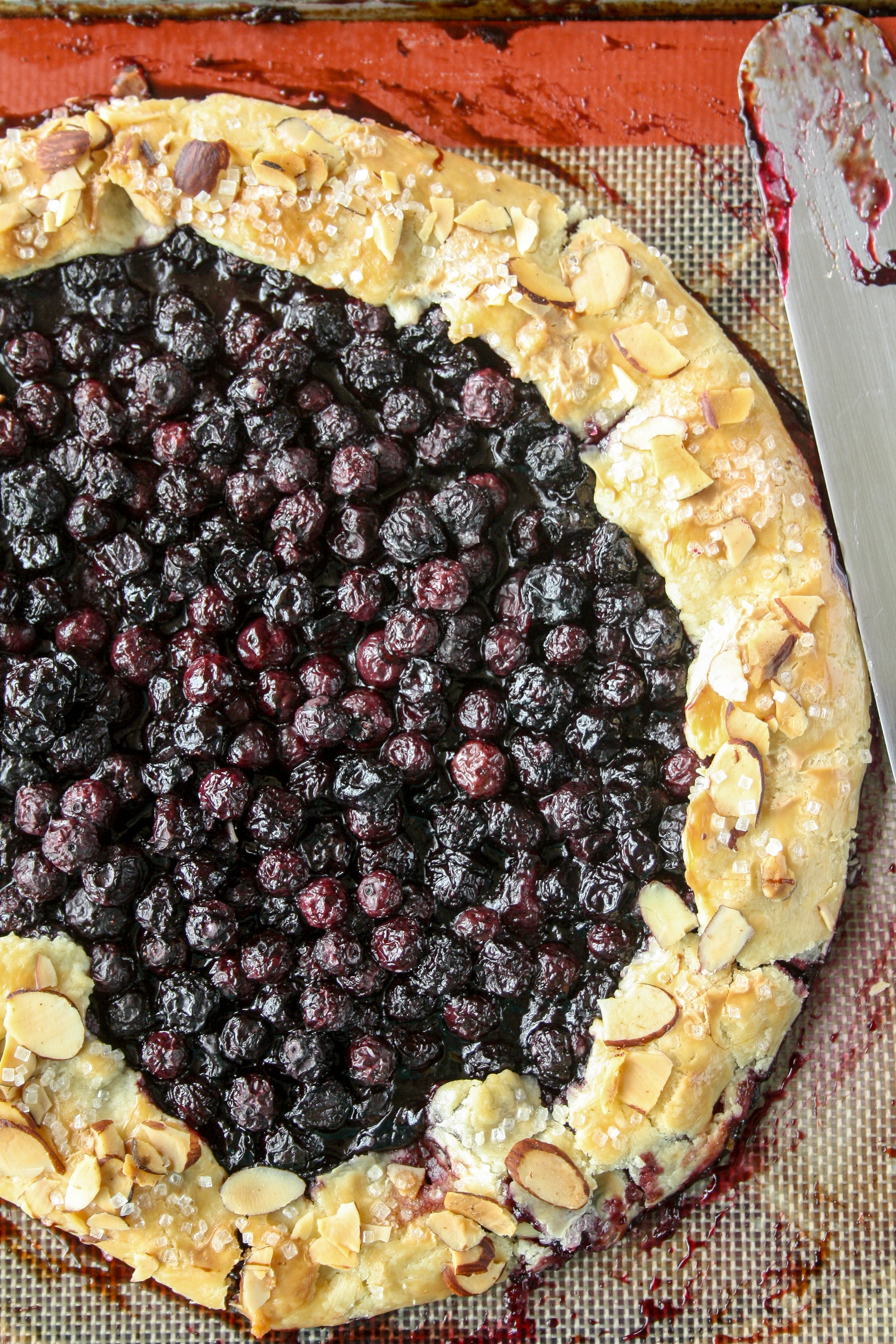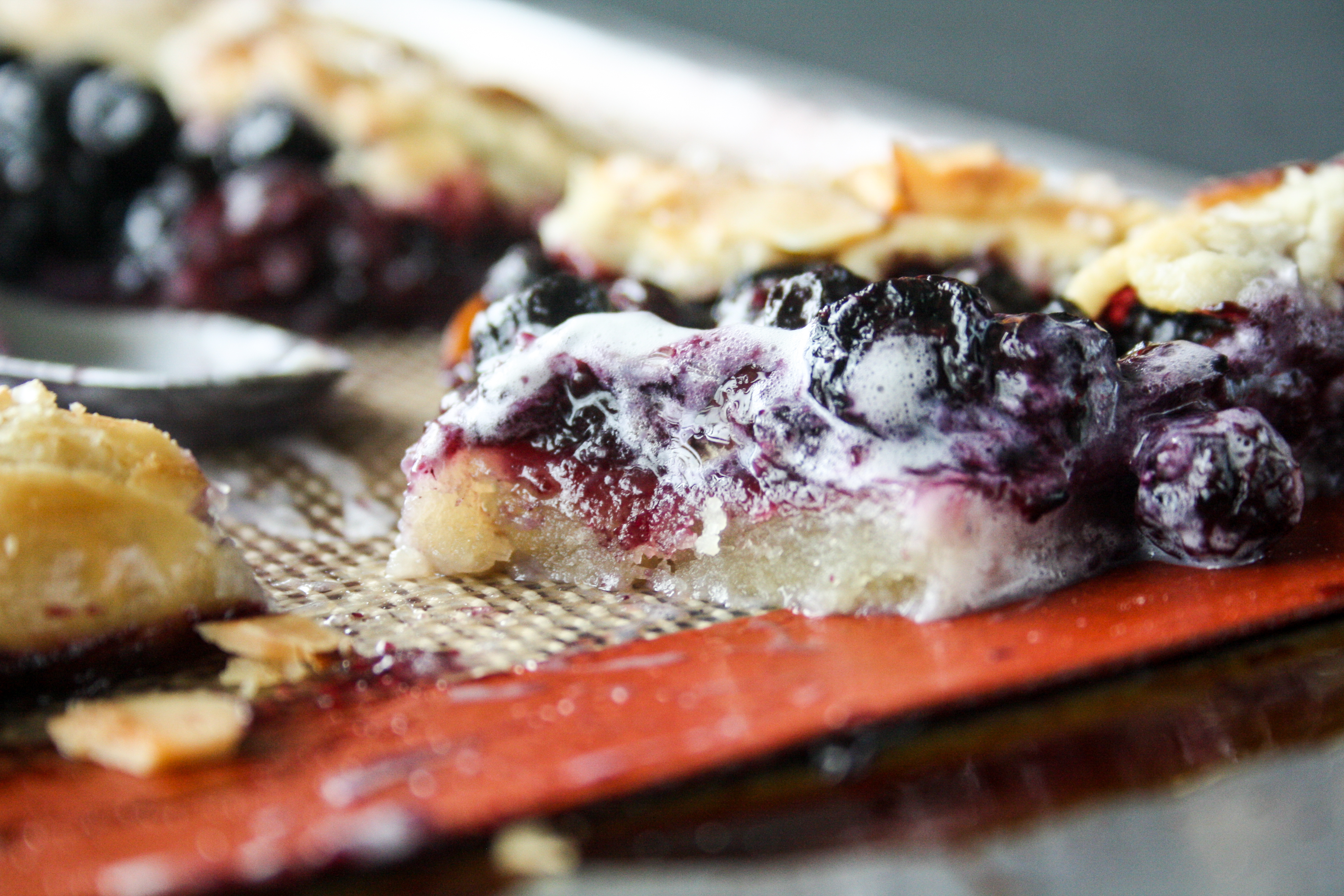 The base of the galette is soft, but not soggy. Blueberries are too juicy to avoid the softening, but the edges remain beautifully crisp and flaky. You can sprinkle cookie crumbs on the base or brush it with egg wash to ensure crispiness. Some people prefer to thaw and drain frozen berries to minimize the liquid. I used them straight from the freezer but feel free to do it either way. Some juices seeping around are to be expected though!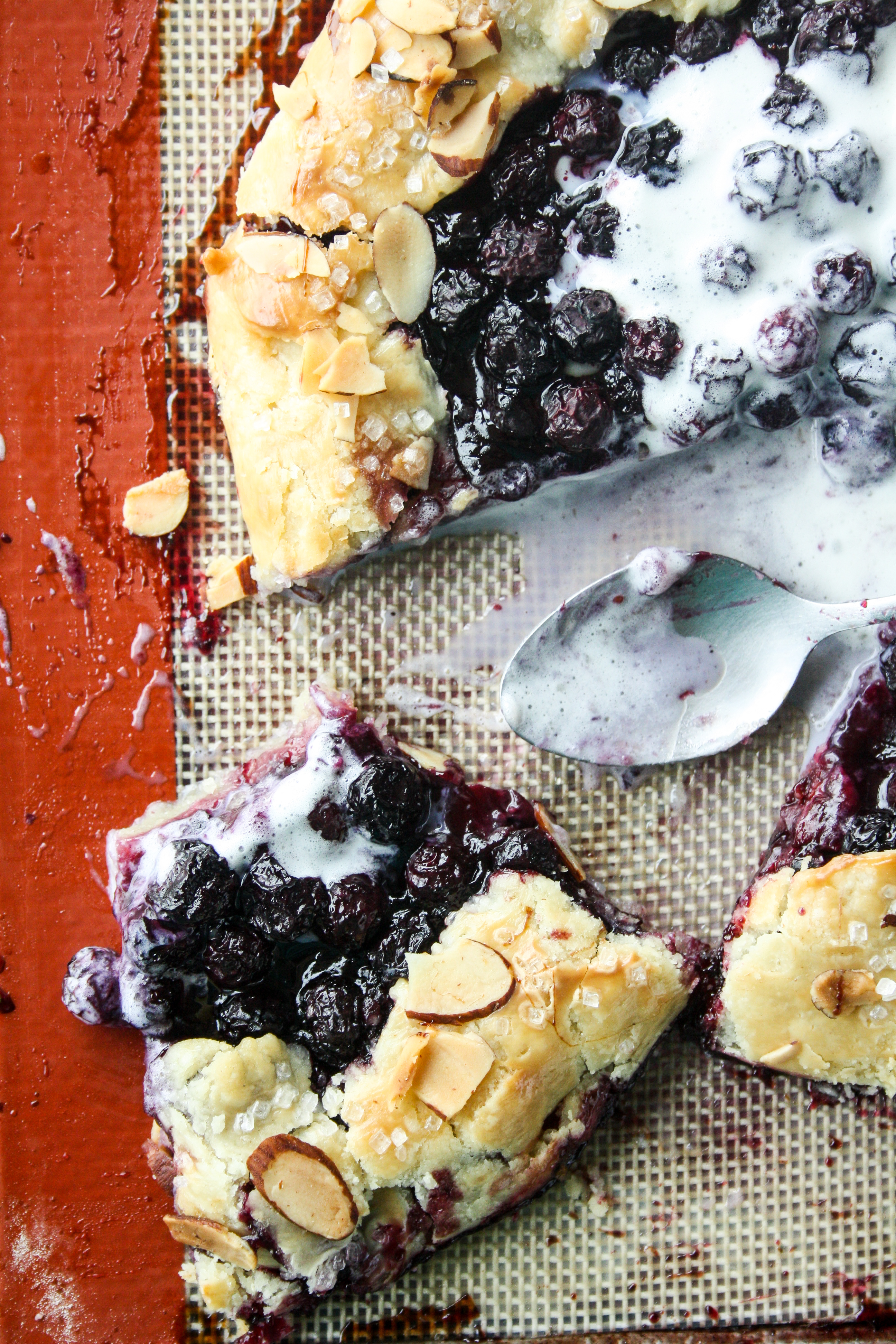 The berries break down to become amazingly soft and jammy and sliced almonds add some crunch. I liked the galette both warm and cold, though warm trumps cold slightly! It stores well in the fridge or freezer, so yay for dessert anytime! A few small pieces of butter placed on top of the filling help it become glossy and adds more flavour.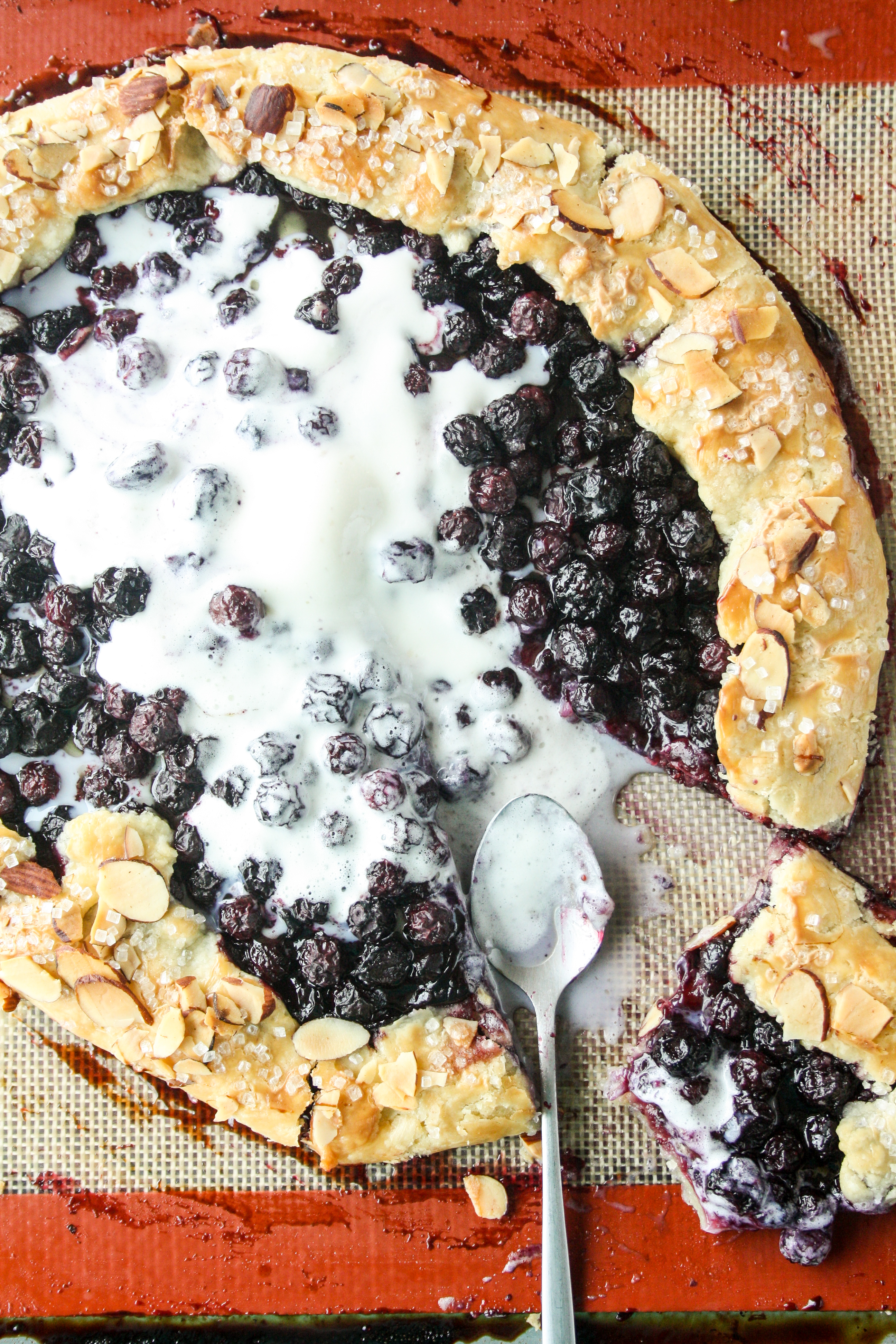 The whole thing is an extravaganza of flavour and texture and I couldn't stop eating it. See that half piece right there? As soon as I put the camera away I just stood there and ate it right off the tray. That good! Tell me how you like this 🙂
Please read the recipe notes before beginning.

Blueberry Galette
Buttery, flaky, rustic galette loaded with juicy blueberries!
Author:
The Desserted Girl
Ingredients
For the tart
1 and ½ cups flour
3 tbsps caster sugar
Pinch of salt if using unsalted butter
115 gms cold butter, cubed
¼ cup ice cold water plus 2 tbsps more, if needed
2 tbsps cream or beaten egg to brush on top
Handful of flaked almonds and granulated sugar for sprinking, optional

For the filling
400 gms blueberries, fresh or frozen (see notes)
Zest of 1 small lemon
1 tbsp lemon juice
2 tbsps cornflour
⅓ caster sugar
½ tsp cinnamon powder
1 tbsp cold butter, cubed
Instructions
To make the tart, combine the flour, sugar and salt (if using) in a large mixing bowl. Add the cold butter cubes and using your fingers, rub it into the flour till the mixture resembles coarse breadcrumbs with a few bigger pieces of butter in it.

Add the ice water and quickly bring the mixture together with your fingers, It should form a smooth ball without sticking to the bowl. If it feels wet, sprinkle on just a little more flour, if it feels dry add up to 2 tbsps more ice water. Turn the dough out onto a sheet of clingfilm and chill for 1.5 to 2 hours at least. You can also chill this overnight as a make-ahead galette. Just keep the dough out at room temp for about 5 minutes before filling it with fruit.

When ready to bake, preheat the oven to 190 C. Keep a silicone baking mat ready.

Very light flour the mat and place the cold dough on it. Slowly roll it out into a roughly 12" circle. You can also place a sheet of clingfilm over the dough and roll on top of it. I found this make it easier especially in warm environments where the butter softens quickly.

Once the dough is rolled out, slide the mat onto a baking tray and place back in the fridge. It needs to be kept chilled till it goes in the oven.

Now make the filling by combining all ingredients except the tablespoon of butter. Toss the berries very well to coat in the cornflour particularly.

Bring out the dough and spoon the berries onto it, leaving a 2 inch border. Fold the border over, overlapping as needed to enclose the filling. If any cracks appear, try and pinch them together otherwise they will allow juices to leak out while baking.

Brush the edges of the dough with cream and sprinkle on the almonds and granulated sugar. The cream helps them stick.

Finally dot the berries with the tablespoon of cubed butter. Bake for 40 to 45 mins or until the edges have turned golden-brown, the filling is bubbling. You will inevitably see some juices leaking out, don't panic! If the crust is browning too quickly, lower the temperature to 175 C.

Allow the galette to cool at room temperature for 30 minutes. If you can, slide it onto a wire rack as it cools so that the bottom doesn't get soggy.

Slice and serve while still warm with vanilla ice cream! Store in the fridge for 3 to 4 days or in the freezer for a couple of weeks. Happy baking!
Notes
*Blueberries whether fresh or frozen, are juicy and will leak some juices. If you're using frozen berries, you can also thaw and drain them before mixing them with the rest of the ingredients. Check out Delish brand's frozen berries, available on Big Basket. I've also seen them at Nature's Basket and at Food Hall.

*If you don't have a silicone baking mat, roll the dough out on greased baking paper slide it onto the baking tray. I highly recommend the mat though, as it doesn't move around while rolling and is super easy to clean and reuse.

*Cornflour is the same as corn starch. Alternatively, you can use arrow root starch.
Shop this recipe!
This post contains affiliate links.