Butter and brown sugar is a highly underrated flavour combination. I don't know why I haven't raved enough about it, because that's basically caramel! It's exactly what's going on in these blondies. Caramel. With coconut and chunks of dark chocolate. So good!
A blondie is like a brown sugar brownie. Dense, chewy and buttery. We should all be making them more often!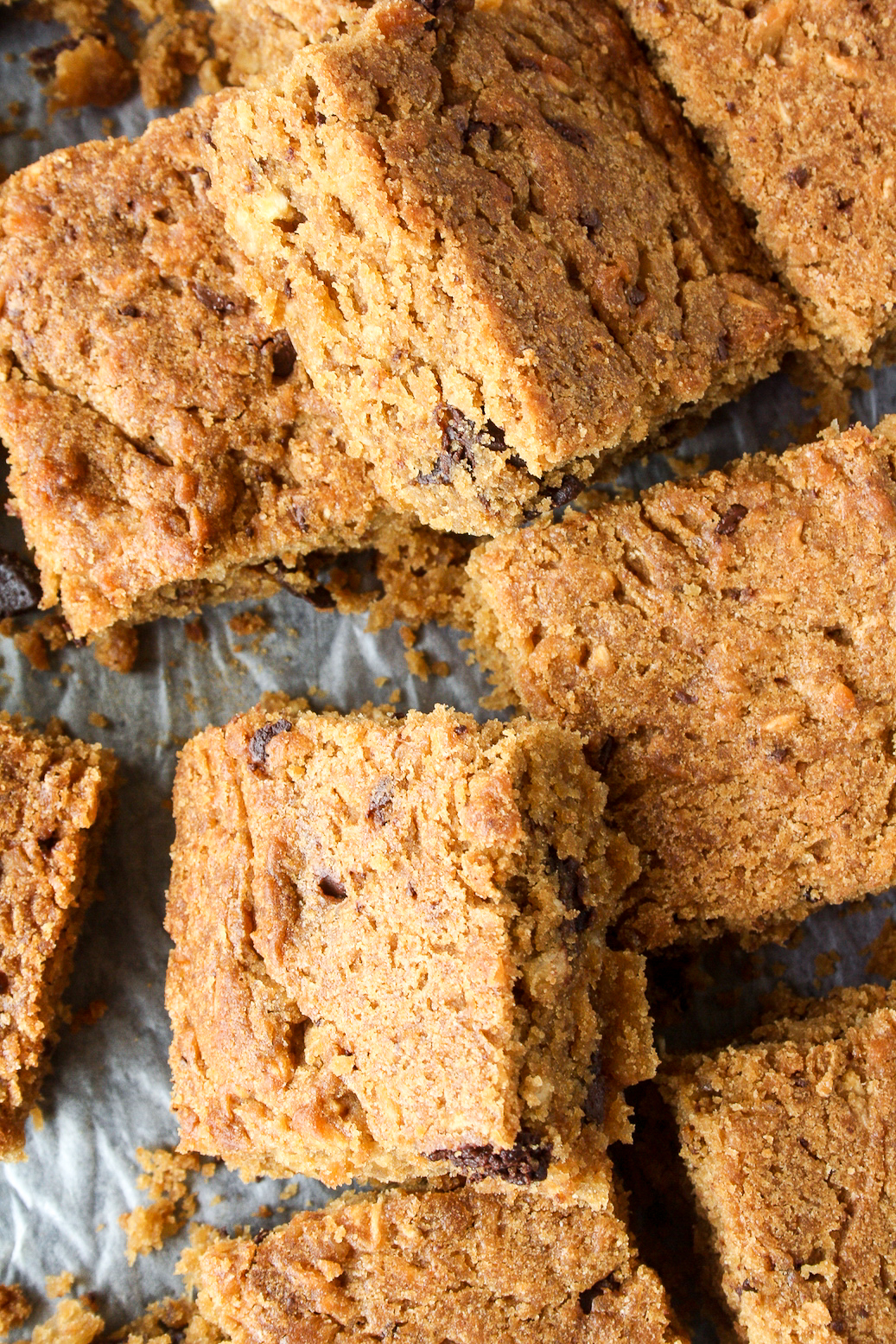 I loved the sound of this recipe on Sally's Baking Addiction but felt like I'd need to reduce the sugar because I'm sort of an under-sweetened dessert lover these days. Even with just 1 cup sugar (down from 1 and 3/4 cup) and unsweetened coconut instead of sweetened, these blondies were perfectly sweet for me. However, both brownies and blondies depend on sugar for that flaky crust on top. So if you reduce the sugar and use a dark brown
one like I did, which is heavier on the molasses, the crust isn't the same. The flavour is still fabulous, but I thought I'd give you a heads up 🙂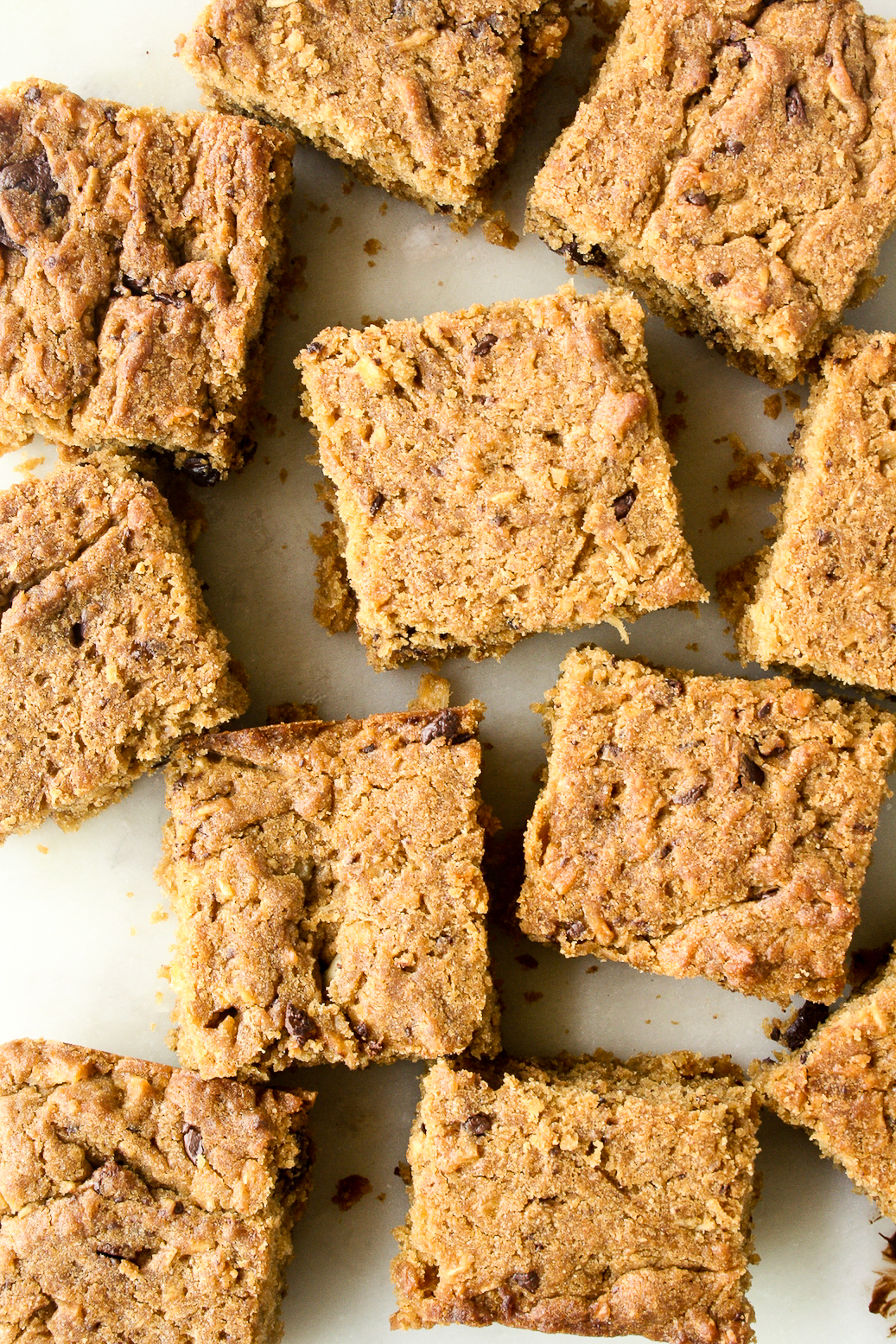 The blondies are packed with the deep flavour of brown sugar, have a wonderful chewiness from the coconut and the bits of dark chocolate in the middle only make the party more exciting! I was so surprised by the caramel flavour, though now that I think about it, it was bound to happen with all that butter and sugar 🙂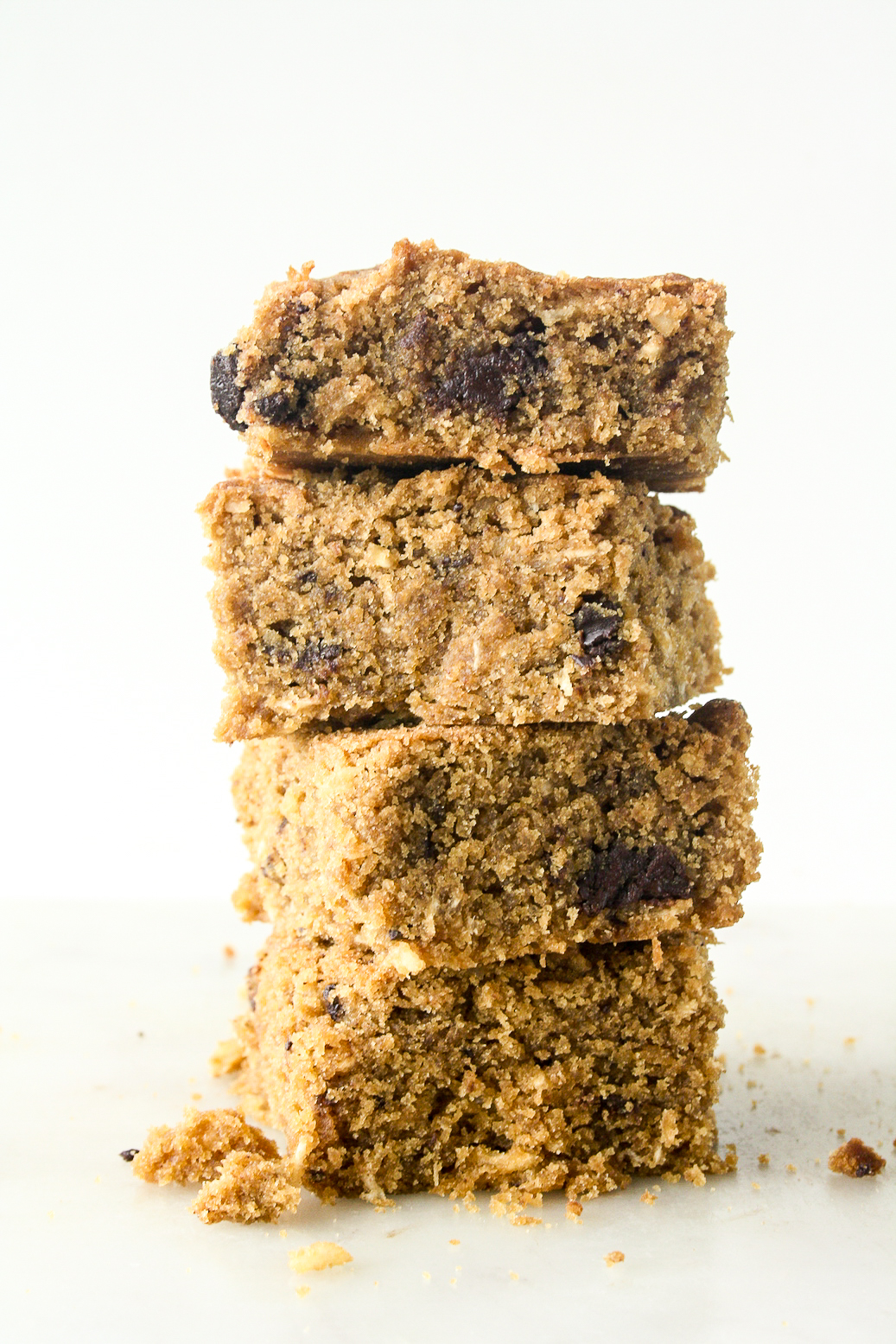 I just had a bite of these and it struck me that warmed up and topped with a scoop of vanilla ice cream, these blondies would give chocolate cake a run for its money. I can't even believe I just said that. Seriously, these are spectacular!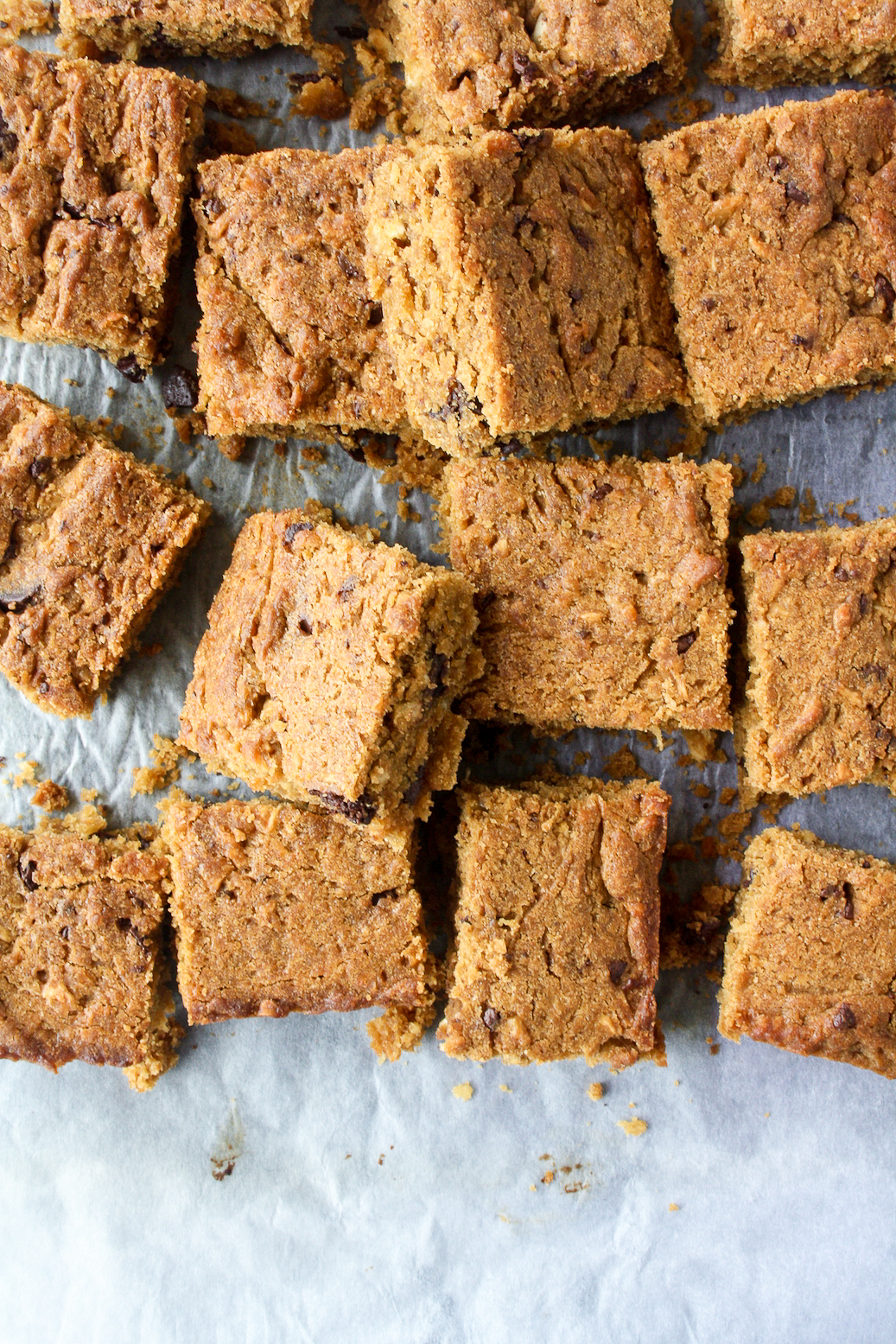 Coconut Blondies
Chewy brown sugar blondies with coconut and dark chocolate!
Author:
The Desserted Girl
Ingredients
2 cups all-purpose flour
1 tsp baking powder
½ tsp salt if using unsalted butter
230 gms butter, melted but not hot (1 cup)
1 cup dark brown sugar (I love Tate+Lyle)
1 egg plus 1 egg yolk
2 tsps vanilla extract
1 cup grated coconut (about 100 gms)
1 cup chopped chocolate (or chocolate chips)
Instructions
Preheat the oven to 175 C. Lightly grease an 8" square baking pan and line it with baking paper. Grease the paper too and leave a little overhang for easy removal. Set aside.

In a mixing bowl, whisk the melted butter and brown sugar until very well combined.

Add the egg and egg yolk along with the vanilla and whisk again to combine. You can do this all by hand.

Fold in the flour mixture gradually, but take care not to over-mix. Finally add the coconut and chocolate chunks.

Spread the mixture evenly into the prepared pan and bake for 25 to 30 minutes. A toothpick poked in the center should come out clean or with a few moist crumbs.

Allow to cool for 10 minutes in the pan, then lift out using the edges of the paper and leave to cool for another 15 minutes before cutting into squares. Store in an airtight tin at room temperature for 3 to 4 days, then transfer to the fridge, especially if you live in a humid environment. Happy eating!
Notes
*For a sweeter blondie with a flakier crust, use 1 and ¾ cup sugar, and light brown is better for the crust than dark brown. I love my version based on personal taste preferences, but both are delicious 🙂

*The egg and extra egg yolk make the blondies wonderfully moist and chewy. I don't know if a substitution will produce the same result.

*If you're using frozen coconut, thaw before adding it to the batter. I prefer unsweetened coconut here.
Shop this recipe!
Check out a full list of my baking essentials here!
This post contains affiliate links.