Combine oats and milk. Refrigerate. Eat.
That's where this post would have ended. Because overnight oats are THAT easy. Seriously the most convenient way to keep breakfast ready for those manic mornings where you're sure you forgot to put on one item of clothing.
But the thing is, even quick breakfasts need to taste great. Oats by themselves are good, not great, not in my world anyway. Enter, apple pie. Because soft, caramelised, cinnamon-y apples can make absolutely anything irresistible.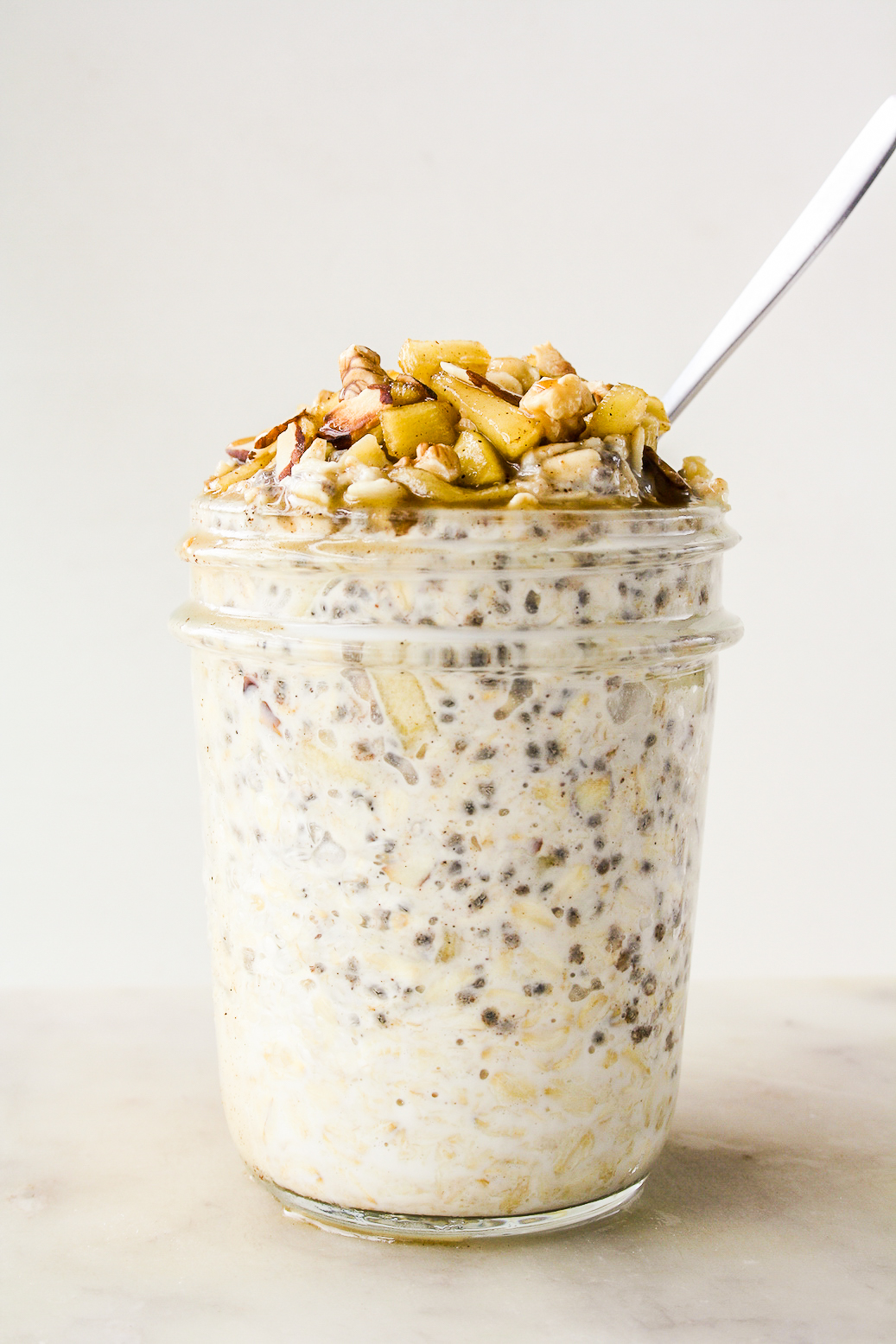 I'm a little late to the overnight oats party, but I'm so glad to finally be here. I had no idea till recently, that oats could even be eaten raw like this, after just a long soak. With chia seeds to thicken them, the oats take on a pudding like consistency in just 4 or 5 hours. Chilling them longer, like overnight, makes them even creamier and softer. So prep just before you go to bed and ta da, grab the jar from the fridge and run.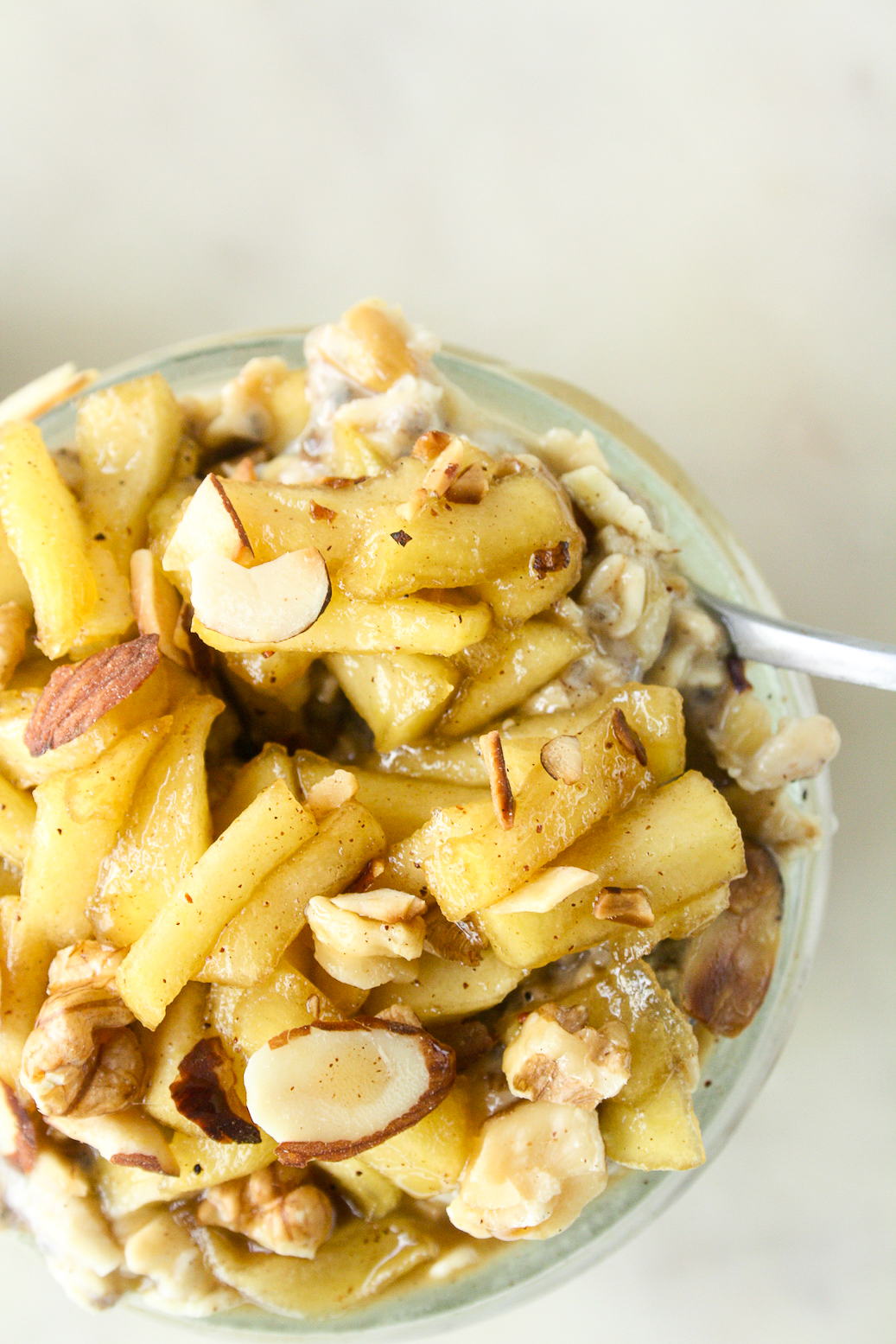 There's a whole ton of textures going on here with toasty almonds and walnuts, apple pieces that are soft, but not mushy, and chewy oats and chia seeds. Honey sweetens the whole thing although feel free to use maple syrup and non-dairy milk to make this vegan.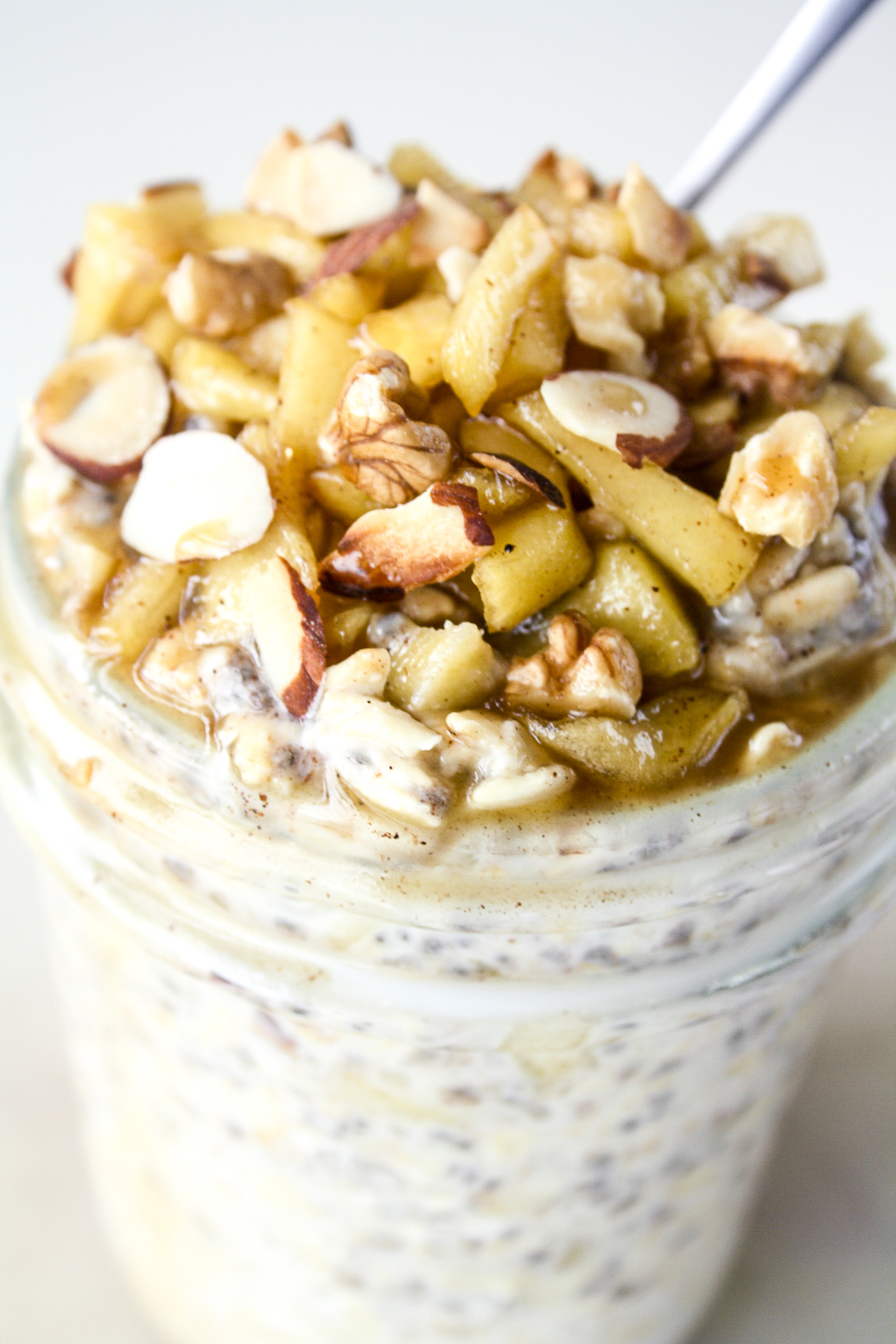 Every spoonful tastes of cinnamon, honey, apples and it's just so good! Oats are quite filling, so this will easily make two very generous servings, so halve the recipe if you would prefer. The only indulgence here is a wee bit of butter to caramelise the apples, but you can always use coconut oil instead. Change up the nuts as you like too! The whole thing is very flexible and anything that can be made in a jar, has to be super fun 🙂

Apple Pie Overnight Oats
Creamy overnight oats with caramelised apples and toasted almonds and walnuts!
Author:
The Desserted Girl
Ingredients
For the oats
1 and ¼ cup rolled oats
¼ tsp cinnamon powder
1 cup milk (dairy or non-dairy)
2 tbps honey or maple syrup
1 to 2 tbsps chia seeds (the more chia, the thicker the oats)
¼ cup toasted almonds + walnuts

For the apples
1 tbsp butter or coconut oil
2 to 3 tbsps honey or maple syrup
1 apple, peeled and diced
¼ tsp cinnamon powder
Instructions
In a tall jar, combine the oats and cinnamon. Pour in the milk and mix well.

Add the honey and chia seeds. Stir the whole thing well, pushing the chia seeds down into the jar. Stir in half the toasted almonds and walnuts.

Close the jar and refrigerate for 4 to 6 hours at least, or overnight. The longer it is chilled, the thicker the oats will get.

Next, prepare the apples. Melt the butter or coconut oil in a pan on low heat. Add the honey and stir, the mixture will bubble slightly.

Add the apples and cinnamon. Stir and cook for 5 to 10 minutes until the apples and have softened (but not to the point of being mushy) and the 'sauce' has thickened. Set aside to cool, then refrigerate if not eating the oats immediately. Add them to the oats only just when you want to eat, otherwise the apples will get too soft.

When ready to assemble, simply mix in half the caramelised apples into the jar, then top with the remaining apples and nuts. Will keep in the fridge for 2 to 3 days although you may need to top it up with more milk. Enjoy!
Shop this recipe!
This post contains affiliate links.