Plain cornflakes have never really been my thing. I've always added honey, bananas and whatever other fruit was lying around, on top of the milk. In fact, I can't remember the last time I ate a bowl of cornflakes for breakfast. Granola changed my world forever. But recently, I watched the Christina Tosi episode of Chef's Table and all I wanted after that was a whole ton of cornflakes baked into everything. If you haven't watched it yet, please do!!! It's the best.
So, when a box of cornflakes landed up at home, eating them with milk was not what hit me. 'Cornflake cookies!!!!!' was what hit me. Except, there's a whole variety of ways to make them, and all I really wanted to do was mix them up in my favourite cookie dough, add chocolate chunks, then roll the dough balls again in more cornflakes. So so good!!!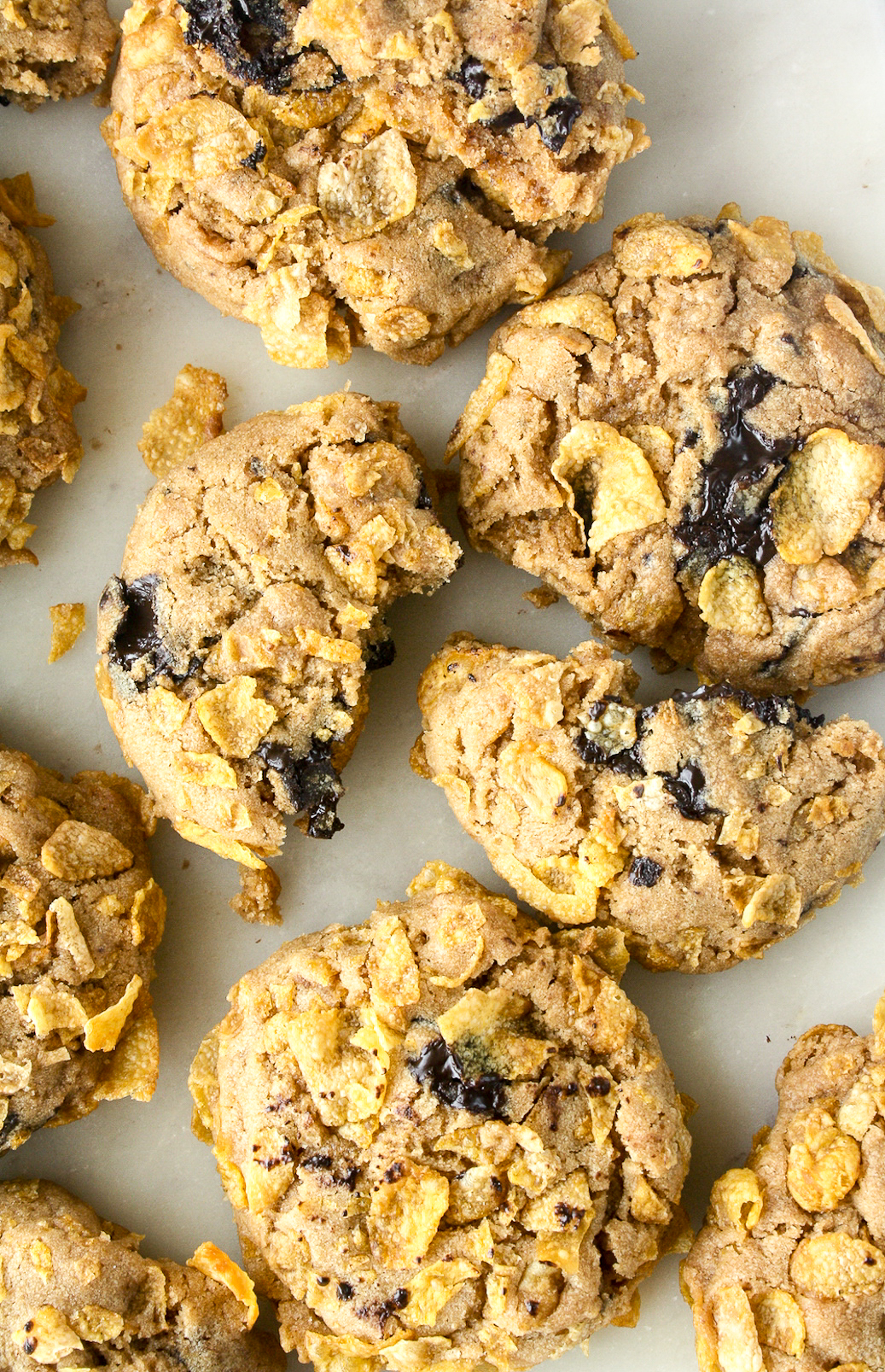 The cookies have a crunch from the cornflakes on top, but remain soft and chewy on the inside, with melted chocolate every so often. The cookie dough is a classic butter-brown sugar-white sugar extravaganza and even though it needs to be chilled before you can roll the dough balls in cornflakes, it's only about 10 minutes of chilling and totally worth the wait!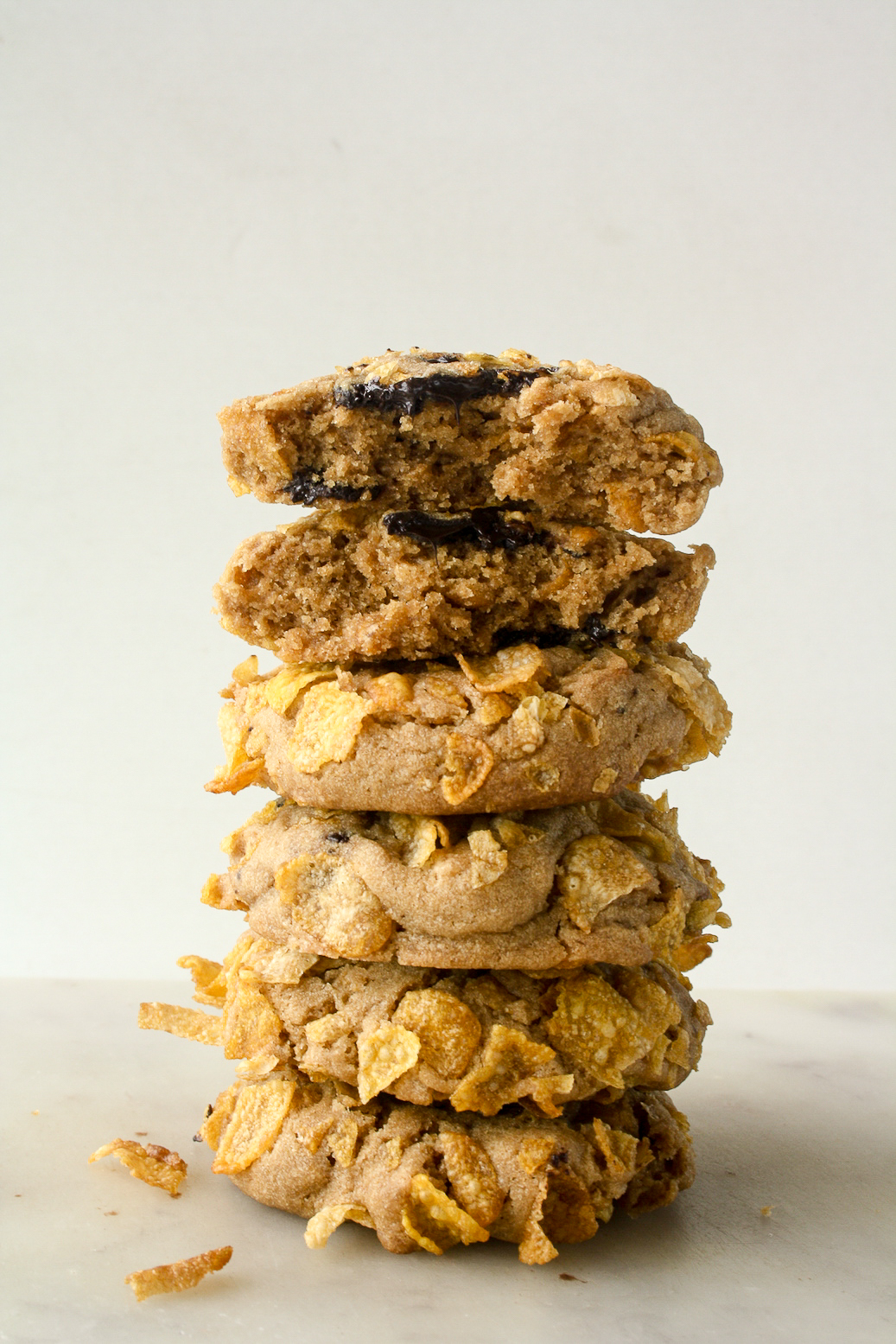 They are amaaaazing warm from the oven of course. I was concerned the cornflakes on top would become soft as the cookies cooled, but so far, it's all good. Store them in an airtight tin and room temperature and you should be fine.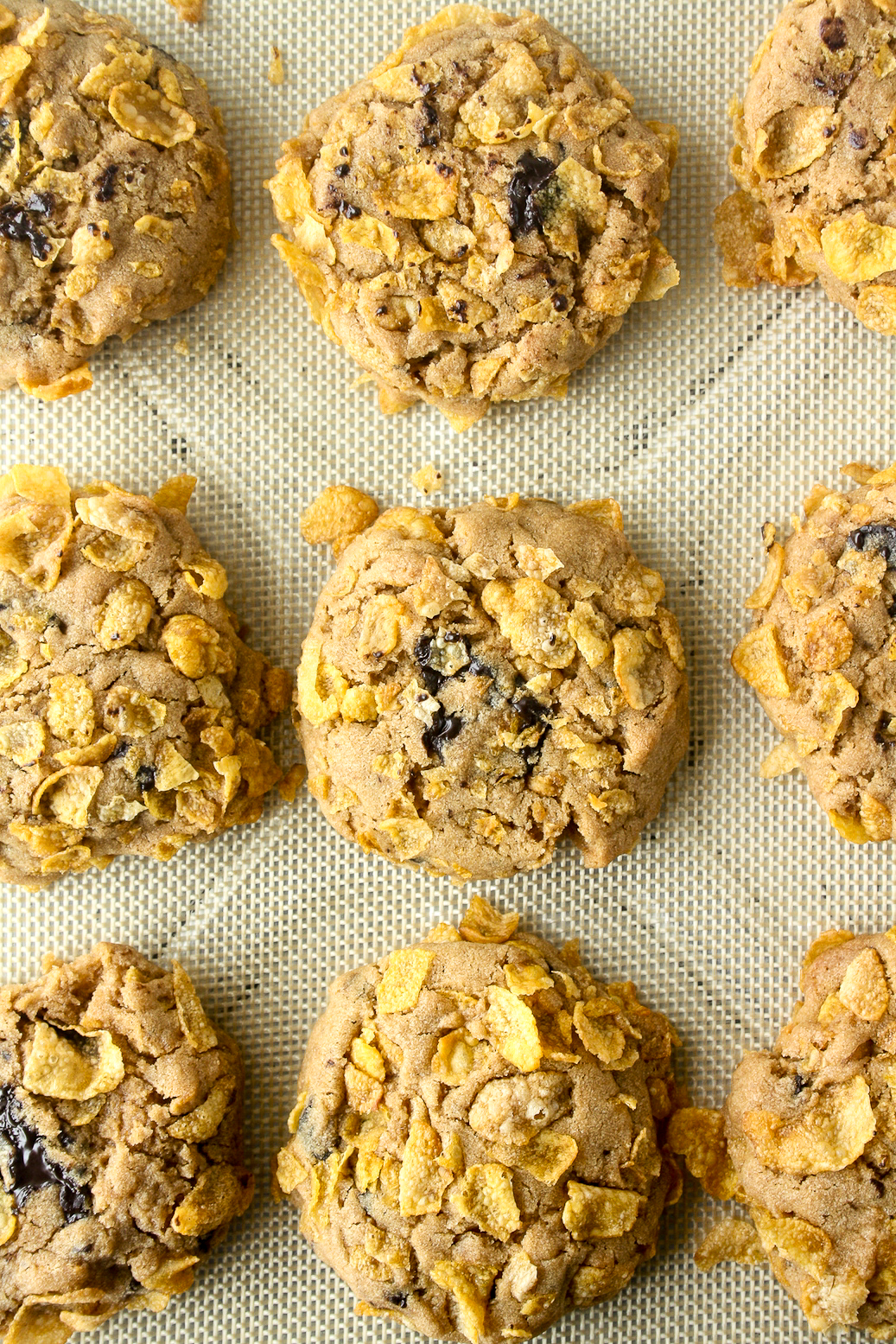 I baked them a little longer than usual for some extra browning, but even just 10 minutes of baking is enough for soft-batch cookies, if you prefer. You can't go very wrong!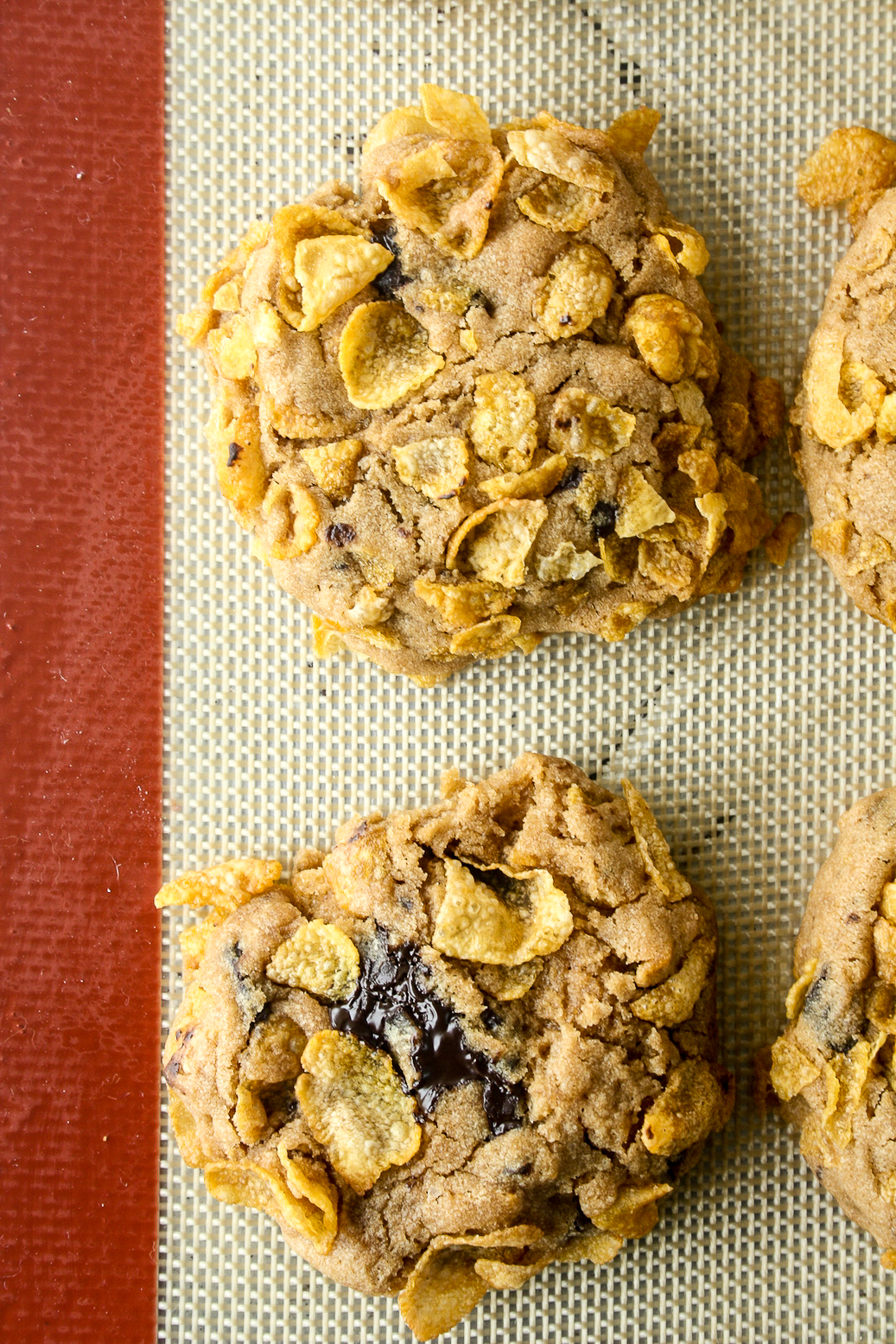 There's a ton of texture and flavour in every single bite and I highly recommend we call these breakfast cookies and make it official!

Cornflake Cookies
Buttery and chewy cookies with crunchy cornflakes and chocolate chunks!
Author:
The Desserted Girl
Ingredients
1 and ½ cups all-purpose flour
½ tsp baking soda
½ tsp baking powder
¾ tsp salt if using unsalted butter
140 gms butter (1/2 cup heaped)
½ cup brown sugar
⅓ cup caster sugar
1 egg
1 tsp vanilla extract
¾ cup cornflakes
¾ cup chocolate chips or chunks
Extra 1 cup of crushed cornflakes to roll the cookies in, optional
Instructions
Preheat the oven to 175 C. Line a baking tray (or two if you're baking in batches) with silicone baking mats or grease the trays. Set aside.

Sift the flour, baking soda, baking powder and salt, if using. Set aside.

Using a hand mixer, beat the butter and sugars in a mixing bowl until pale and fluffy.

Add the egg and vanilla and beat again till combined.

Now fold in the flour mixture, until just combined. Do not over-mix.

Fold in the cornflakes and chocolate chunks, taking care not to break the cornflakes. Cover and chill the dough for 10 minutes. If you want to roll them in crushed cornflakes, spread them out onto a plate now.

Using a cookie scoop or small ice cream scoop, roll the chilled dough into equal sized rounds, then roll each one in the crushed cornflakes to coat them. Place at least 2 inches apart on the baking tray.

Bake for 10 to 12 minutes until the cookies are lightly browned on the edges. They will still be puffy, so press down gently on each cookie with the back of a spoon to flatten further. As the cookies cool, they will firm up and darken further. Store in an airtight tin at room temperature for 2 to 3 days, then (in humid environments especially) transfer to the fridge if you still have leftovers! The cornflakes will inevitably get softer every day so finish the cookies fast!

Shop this recipe!
This post contains affiliate links.