It's a new week and having some good-for-you snacks on hand is a great way to begin it. Soft, chewy granola bars packed with peanut butter and banana, drizzled with just enough chocolate to elevate them from 'nutritious breakfast' to 'socially acceptable dessert'.
Yes please!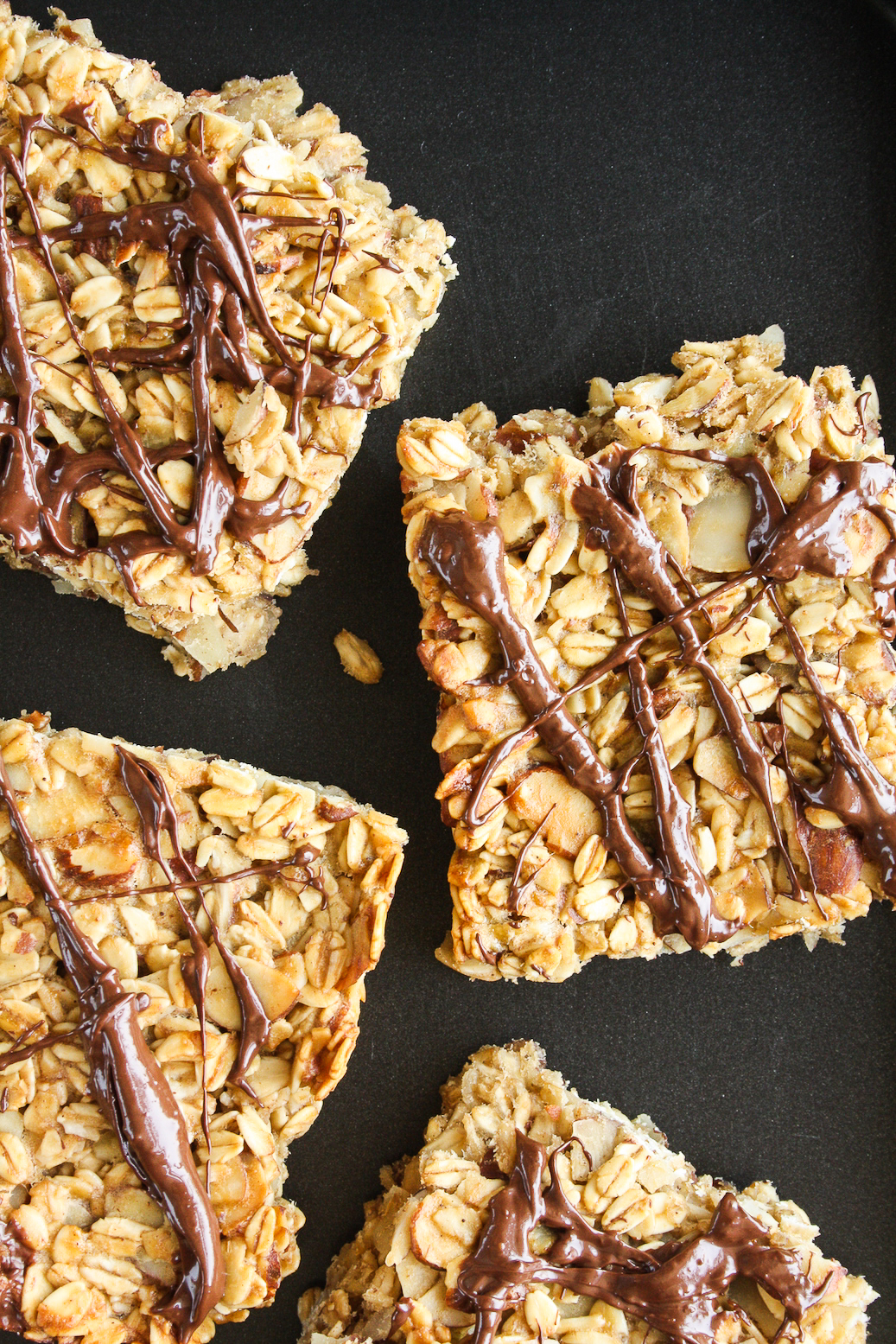 The recipe is tweaked from these almond butter granola bars, because it's endlessly adaptable. For this version, I added a little extra moisture with two bananas so the flavour is super super noticeable. I love it, but it does make the bars soft rather than crunchy, so feel free to use just one if you like.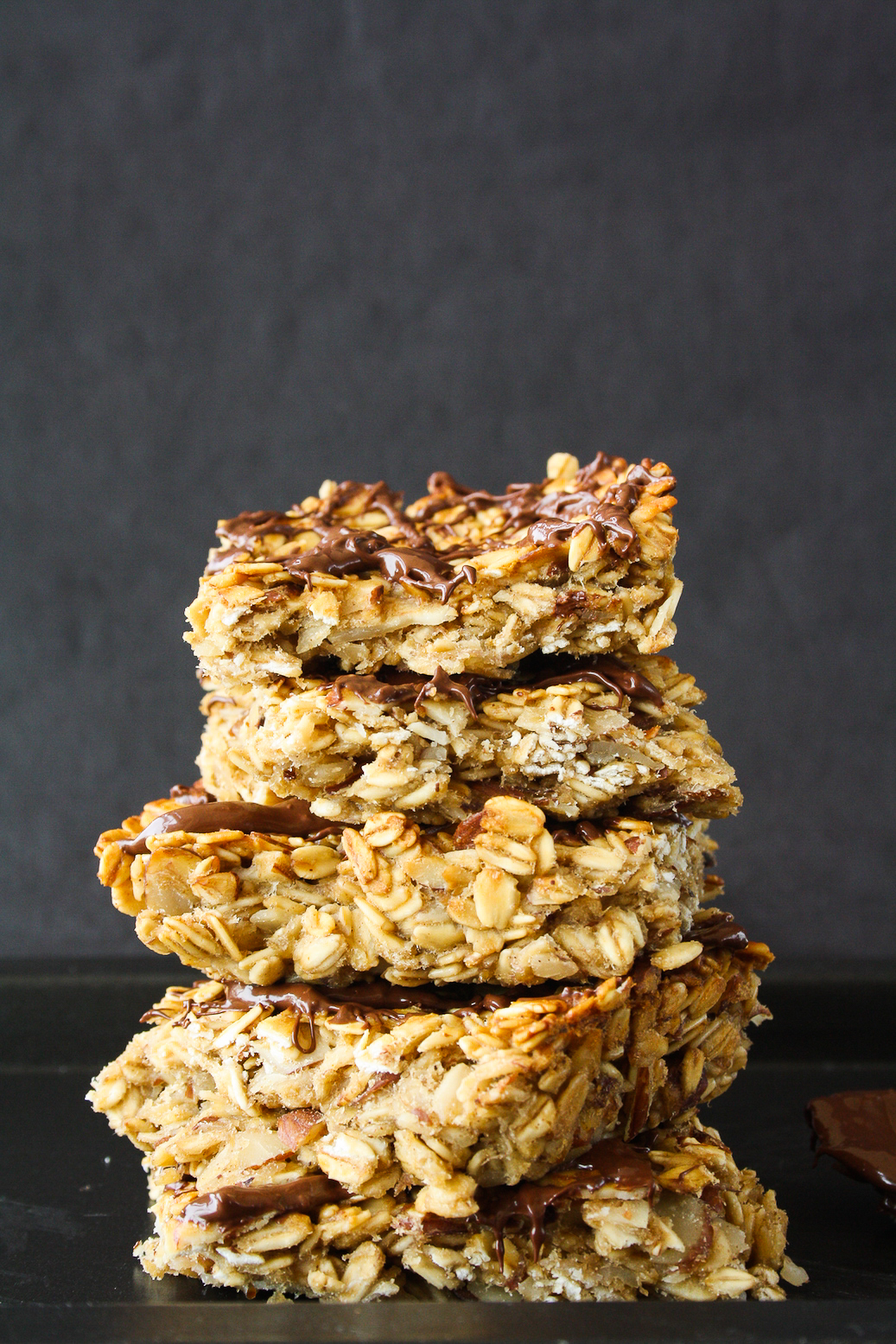 They're packed with rolled oats
and almonds
, my granola staples! Any other add ins like dried raisins would be so good. Go crazy with customising these just how you like them! They're basically packed with the good stuff, bursting with banana flavour and are very addictive.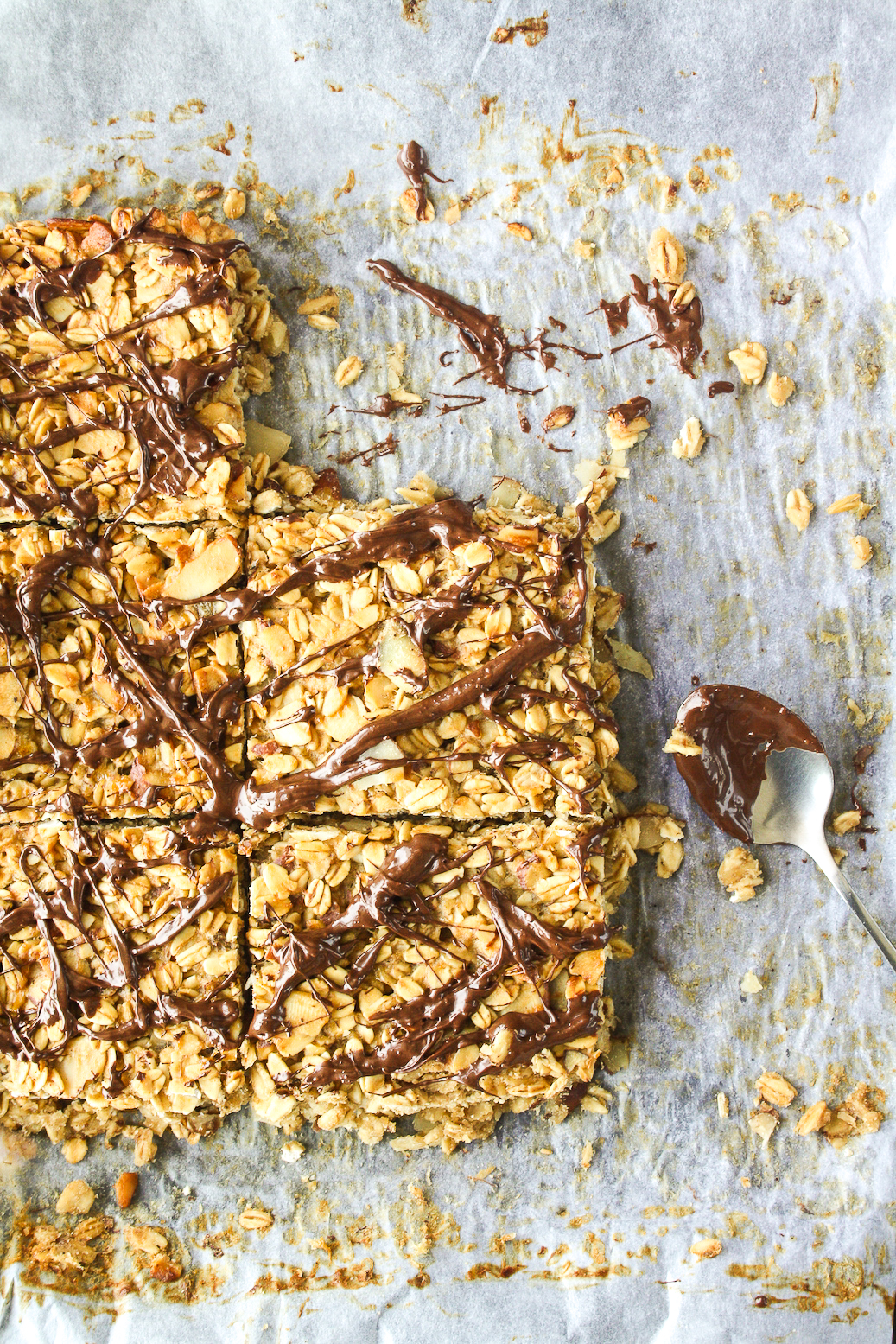 And though the dark chocolate on top was an afterthought it certainly adds a little something with all that wonderful peanut butter
. Match made in heaven after all. I prefer to store these in the fridge after they've cooled, gives them a chance to firm up and keeps the chocolate drizzles in place too. Grab one for the road!
Please read the recipe notes before beginning.

Peanut Butter & Banana Granola Bars
Soft and chewy granola bars with banana and peanut butter!
Author:
The Desserted Girl
Cuisine:
Vegan, Gluten-Free
Ingredients
2 cups rolled oats
¾ cup flaked almonds
1 tsp cinnamon powder
2 very ripe bananas*
½ cup peanut butter (creamy or crunchy)
⅓ cup honey (or maple syrup if vegan)
1 tsp vanilla extract
Melted dark chocolate for drizzling, optional
Instructions
Grease an 8" square baking pan, then line with baking paper, leaving an overhang so that you can lift the bars out when they're done. Preheat the oven to 175 C.

In a mixing bowl, combine the oats, flaked almonds and cinnamon.

In a smaller bowl, mash the bananas very well. Then add the peanut butter, honey and vanilla. Whisk vigorously till smooth, making sure there are no lumps of peanut butter.

Pour onto the oats mixture, and stir to combine using a silicone spatula. Make sure the oats are properly moistened.

Press the mixture firmly into the prepared pan, making sure it's even.

Bake for 20 mins then an additional 5 to 10 mins depending on how brown you want the top. Rotate the tray halfway through baking. The bars are done when the edges have darkened and pulled away from the sides. The centre may still seem soft but will firm up as it cools.

Lift using the edges of the baking paper and set on a wire wrack to cool completely. Peel the paper off the edges, then slice into 16 square. Drizzle with melted chocolate if you like.

Store in an airtight tin in the refrigerator since these are soft bars and will soften further at room temperature especially in humid climate. Happy snacking!
Notes
*The bananas add a lot of flavour but moisture as well. If you'd like drier, crunchier bars, use only one banana and add 1 tbsp of olive oil to help bind the bars.

*Use certified gluten-free rolled oats, if you follow a GF diet.

*I like using peanut butter that has honey already mixed in, but if using unsweetened peanut butter, you may need to add more than ⅓ cup honey depending on the sweetness of the bananas as well. Taste the mixture before spreading it in the pan.
Shop this recipe!
Check out a full list of my baking essentials here!
This post contains affiliate links.