I am abnormally excited about this recipe. Mainly because this is finally a risotto that turned out exactly the way I hoped it would. Not that I've made it a ton of times or anything, probably because MasterChef made it sound like an impossible achievement? But no, it's the way I wanted it to be because it's not drowning in cream or cheese or guilt, the way most risottos at restaurants are, at least in my experience.
This one is bursting with flavour and colour, packed with roasted veggies, mushrooms, burst cherry tomatoes, all in a butter-white-wine-garlic sauce with just a teeny bit of cream cheese. Endlessly versatile, and sooo delicious!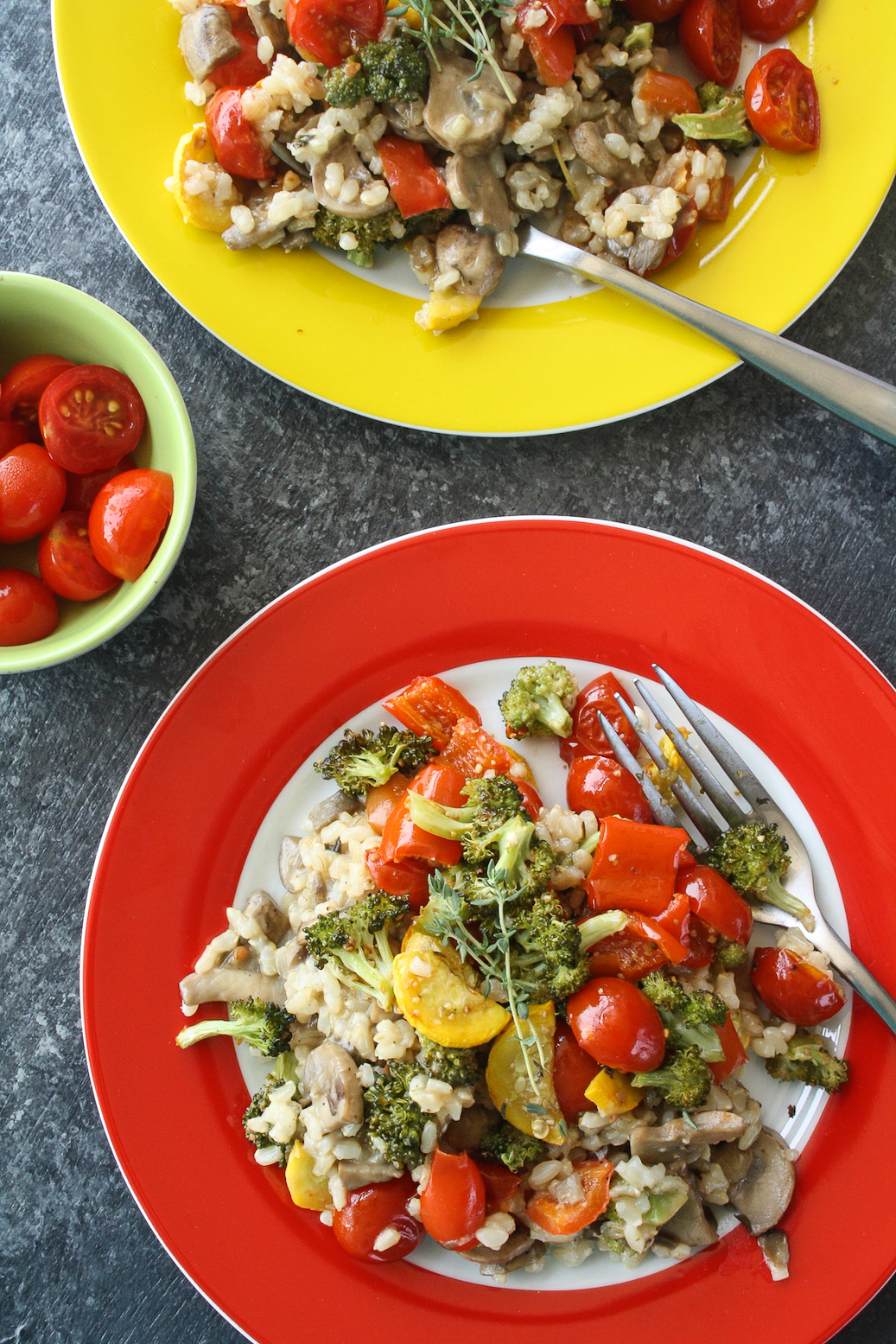 The recipe is something I sort of made up, with a couple of references on homemade vegetable stock, a white wine infused sauce in a different recipe a friend sent me, and the back of the risotto pack for rice-water proportions. The whole thing is actually very forgiving and I can't wait to make up for all this lost risotto time!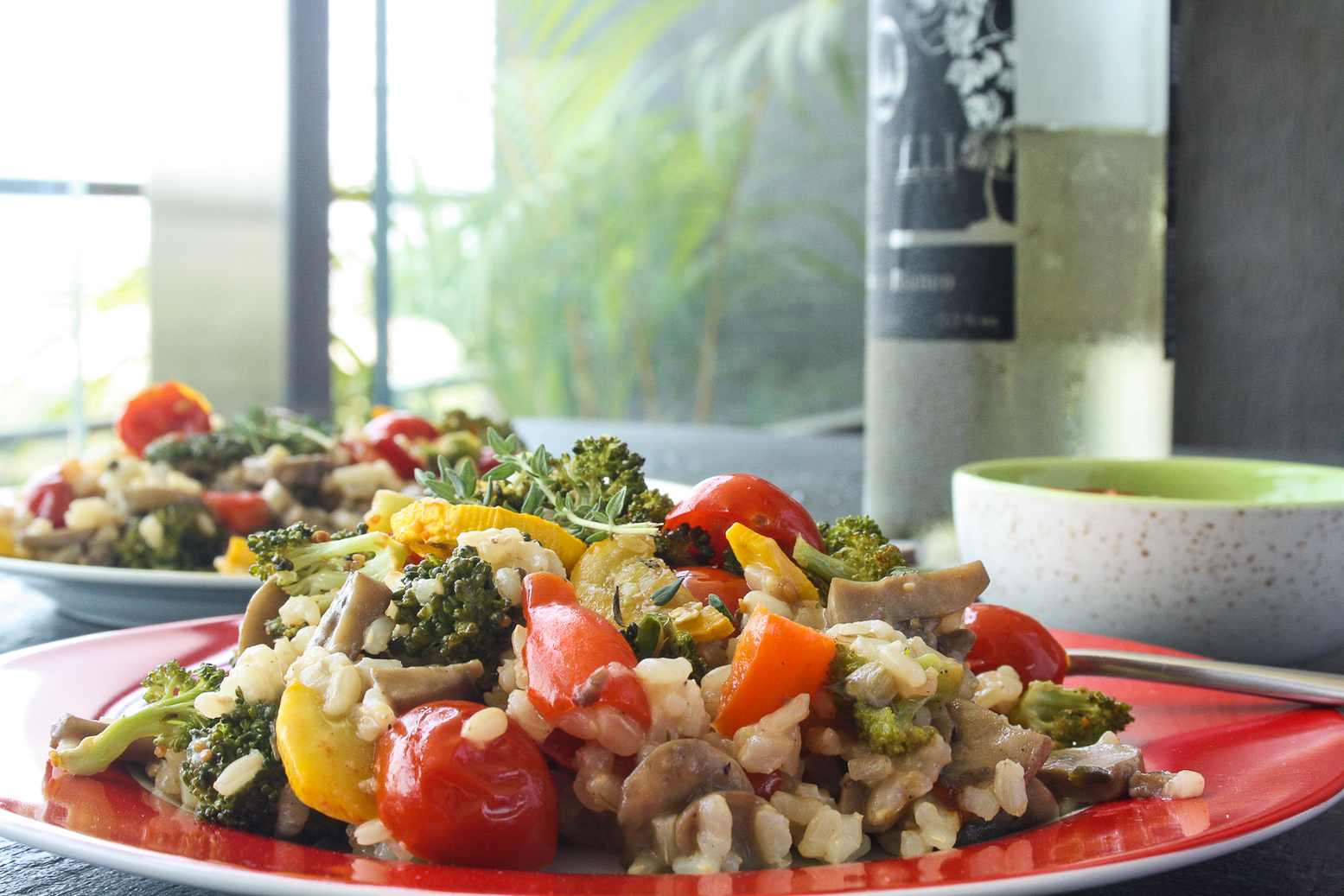 The best thing about it is that while traditionally risottos are made by mixing in the stock spoon by spoon, the back of this packet said 'pour, cover and leave' which suited me juuuust fine because it's a zillion degrees in Mumbai kitchens right now and standing near a hot stove is really not my idea of fun.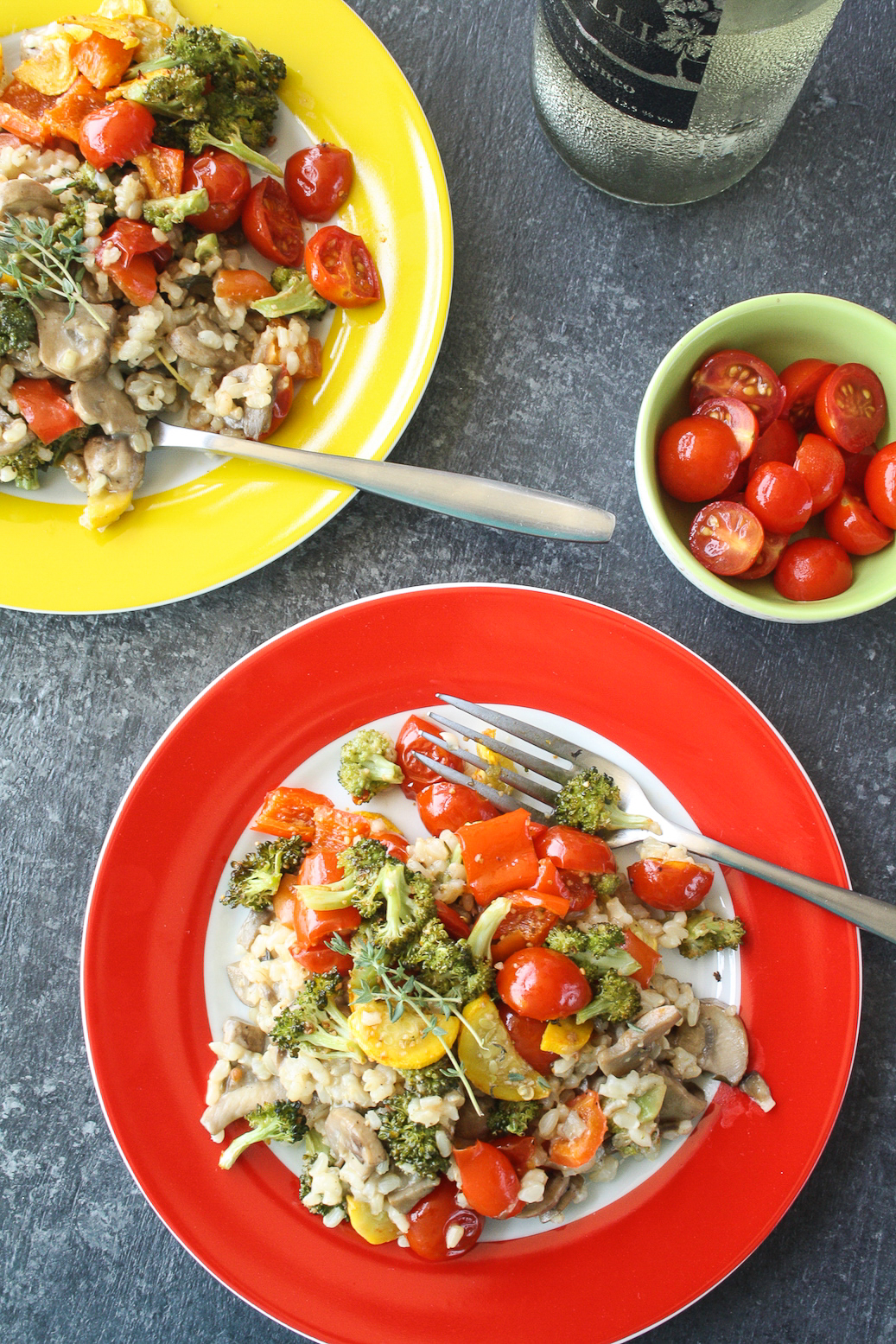 Homemade vegetable stock is seriously simple to make (recipe below), has infintely more flavour than storebought or those stock cube things, totally healthy and preservative-free and can be made in bulk and frozen so you can have risotto pretty much anytime you want.
The veggie colours are so fun, I went a little nuts with the pictures!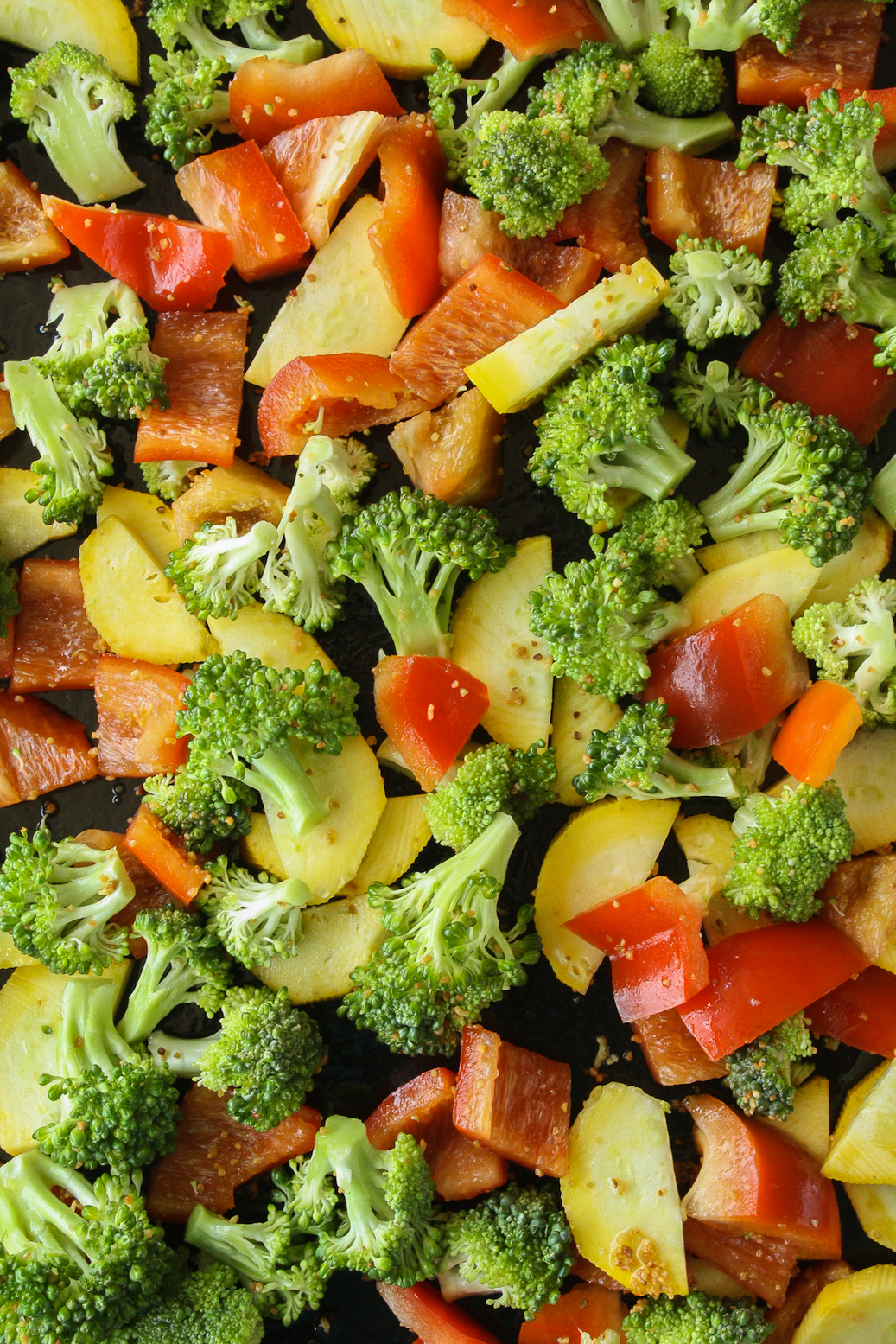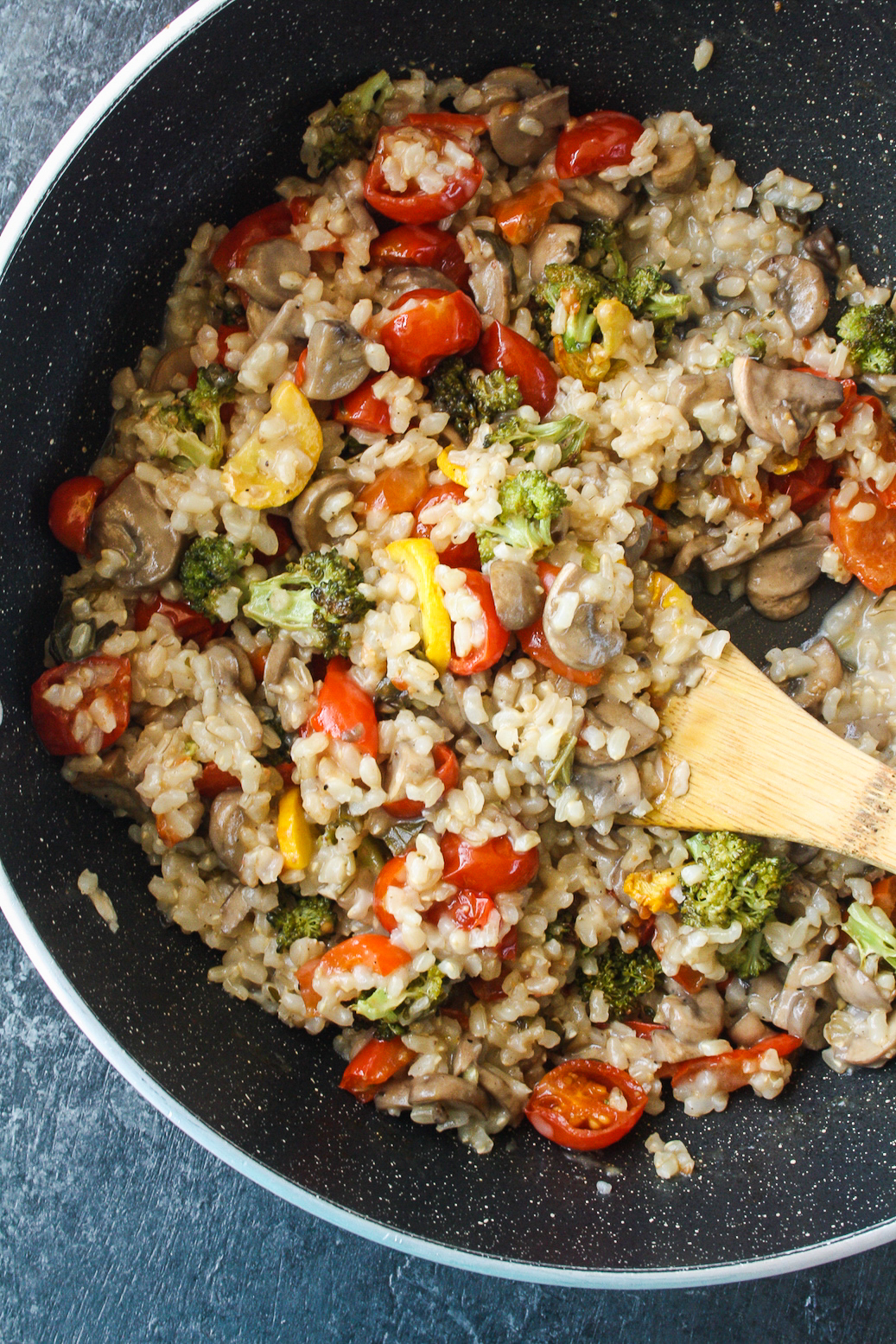 The risotto is creamy because of the starchy rice, and has just a little bit of cheesy flavour, soft but with a slight bite (I used brown Arborio rice) and cooking it in a garlic-thyme-butter-wine sauce is just the best thing in the world. The veggies add texture and are roasted with a little garlic powder for flavour, mushrooms and tomatoes sautéed in olive oil. It sounds like a lot of work but I promise it really isn't!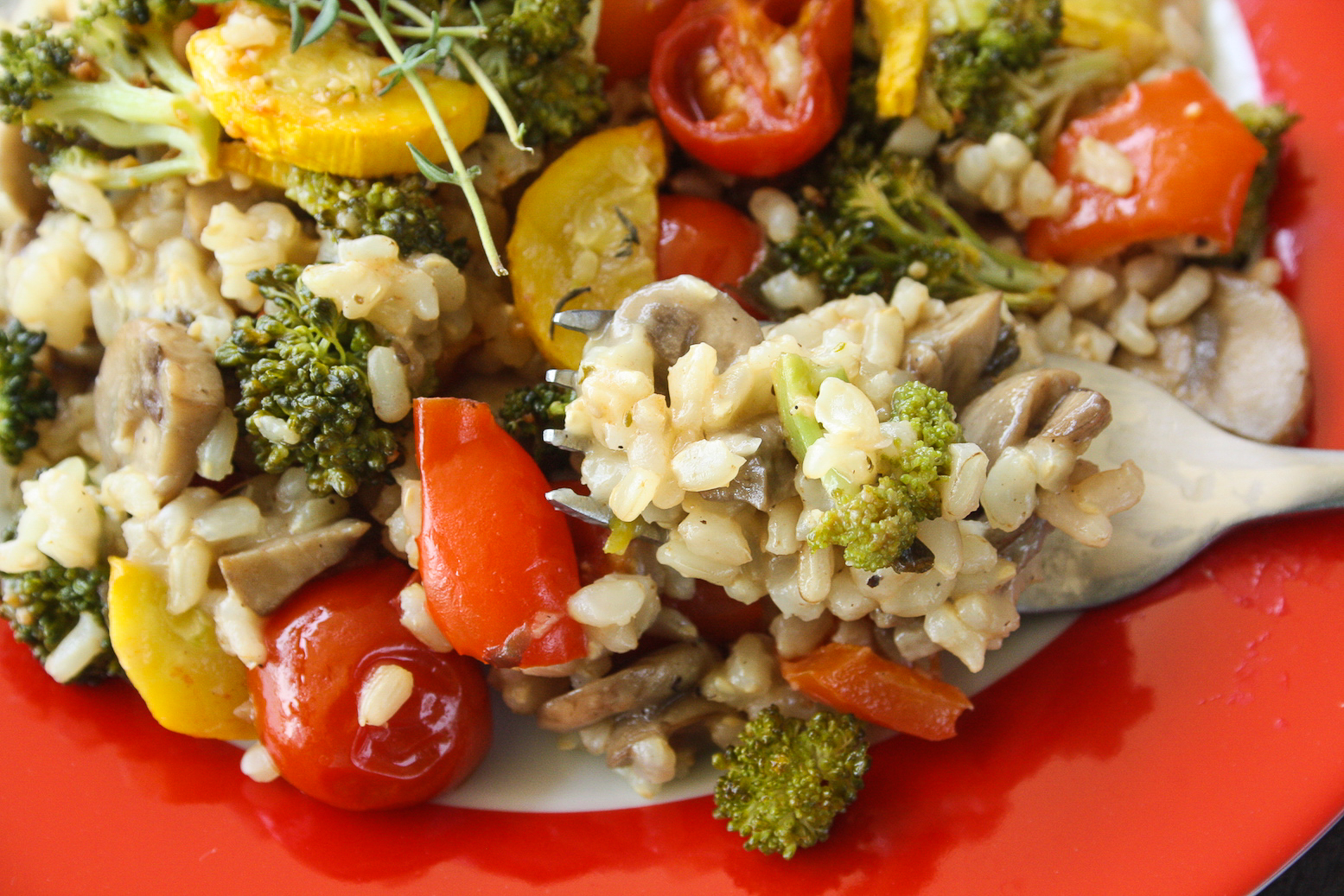 One serving goes a long way, it's hearty but not gluggy so you won't end up feeling super sluggish once you're done! Glass of wine on the side mandatory, obviously. At the last minute, I decided to add feta and capers which may sound unconventional but are soooo good with this risotto!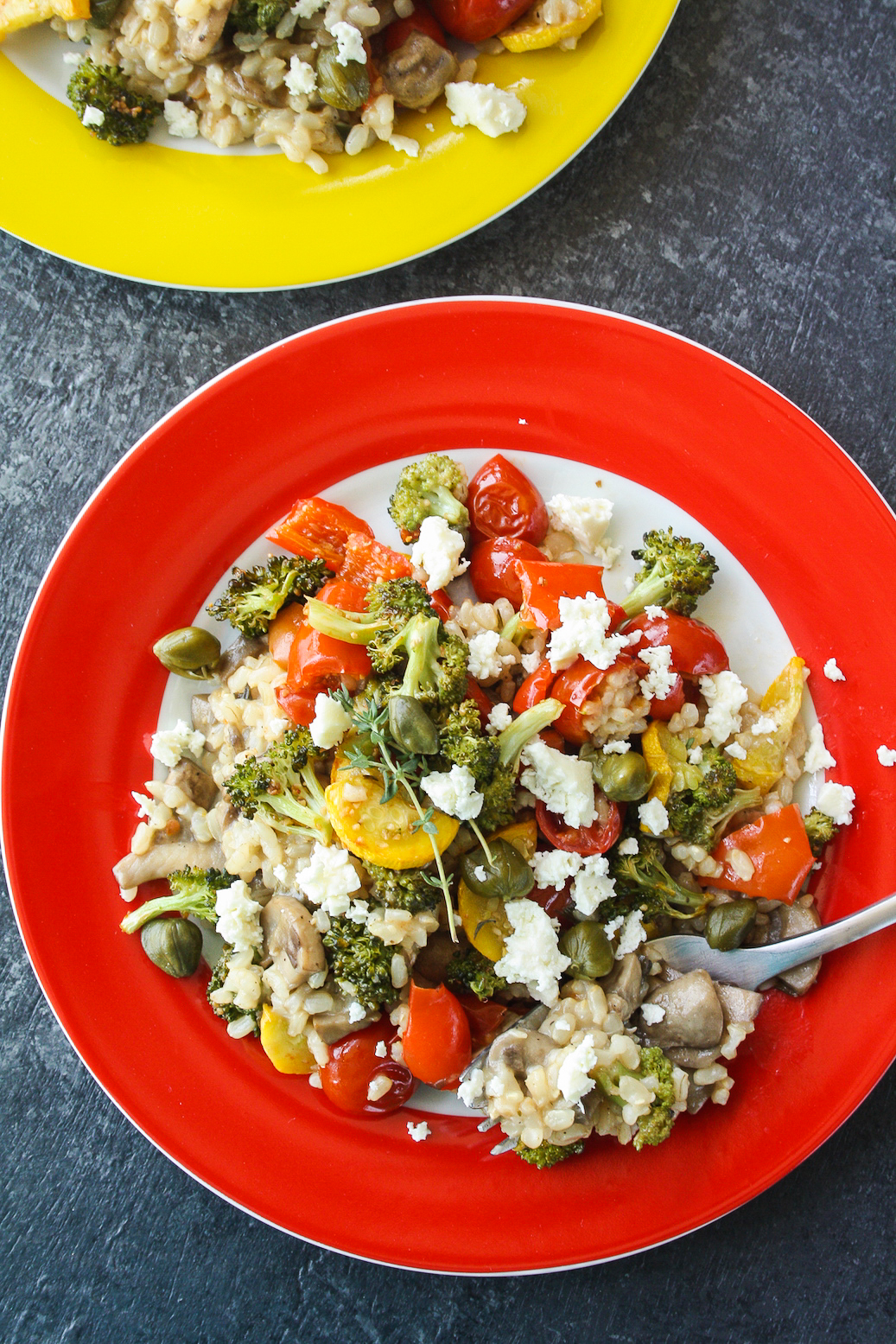 I hope you'll make this really soon. Tell me how you like it!
Please read the recipe notes before beginning. The recipe looks really long only because there are three different elements, but they're all very easy!

White Wine Risotto with Roasted Veggies
Hearty, healthier brown rice risotto with lots of veggies!
Author:
The Desserted Girl
Ingredients
For the vegetable stock
2 onions, chopped into large chunks
2 carrots, sliced into rounds
2 to 3 celery stalks, roughly chopped
3 to 4 sprigs of fresh thyme
1 bay leaf
1 tbsp peppercorns

For the roasted veggies
1 red bell pepper, diced
1 small zucchini, sliced (or half of a medium zucchini)
1 small head broccoli (about 250 gms), chopped
1 tsp garlic powder
2 tbsps olive oil

For the risotto
1 tbsp butter or olive oil
3 to 4 garlic cloves, minced
2 to 3 sprigs of thyme
¼ cup white wine (any kind except dessert wine)
¾ cup Arborio/short-grained rice, rinsed
3 cups vegetable stock
1 tbsp cream cheese, optional
200 gms button mushrooms, sliced
200 gms cherry tomatoes, halved
Extra olive oil for sautéing
Salt and pepper to season
Feta cheese and brined capers, optional
Instructions
To make the vegetable stock, simply combine all the chopped veggies and herbs in a large pot. Cover completely with water, put a lid on and bring to a gentle boil on low heat. Stir occasionally and continue to cook for 1 hour which gives the veggies enough time to seep flavour into the water. Scoop out the veggies carefully (use them up in soup later), then strain the stock into a bowl or pot through a cheesecloth. Allow to cool completely, then pour into airtight containers and freeze. Thaw overnight in the refrigerator before using and make sure you warm it up before adding it to the risotto or any other dish. You will have about 4 cups of stock.

To make the roasted veggie, preheat the oven to 180 C and spread the veggies out onto a baking tray. Add the garlic powder and drizzle the olive oil, then mix with your fingers to coat the veggies well. Bake for 25 to 30 minutes, rotating the tray halfway through baking. The veggies need to be tender and lightly browned. You can even use your oven's broil setting for about 5 minutes to get more colour on the veggies. Set aside.

In a non-stick frying pan on low heat, melt 1 tbsp olive oil, then add the mushrooms and cook till browned, about 5 minutes. I like mine extra brown! Remove from the pan and add the cherry tomatoes. Cook for about 10 minutes until soft and blistered. Set aside.

Now make the risotto! In a sturdy, flat-bottomed pot or wok, melt the butter on low heat, then add the garlic and thyme and stir for a few minutes until the garlic is lightly browned. Pour in the wine and increase the heat to medium, bringing the mixture to a boil. Let it cook until the wine has almost completely evaporated.

Meanwhile, bring the stock to a gentle simmer in a saucepan.

Add the rice and stir to coat it in the butter garlic mixture, then pour in the warmed stock and stir. Mix in salt and freshly ground pepper. Cover with a tight-fitting lid and cook for about 1 hour, stirring ocassionally until the rice has swelled up, soaked up the liquid, is soft and has just a little bite to it. Add more stock if the rice isn't completely cooked.

When the rice is done, stir in the cream cheese, then the mushrooms, tomatoes and roasted veggies. Spoon onto plates, top with feta and capers. Enjoy!!
Notes
*Cook time includes the time taken for the vegetable stock. I prefer to scrub and peel the veggies, but many people add them whole to the stock, if you'd like to do that. If you find that you don't have enough stock, you can even use a 2:1 proportion of stock and water without compromising on flavour.

*I used brown Arborio rice, but the white version is more easily available in India at Nature's Basket or Food Hall. White rice is a little starchier, but the process is the same.

*It helps to do a few steps simultaneously. Saute and roast your veggies while the rice cooks! Feel free to swap the veggies for any others that you like!

*You can skip the white wine if you prefer.