In my ongoing quest to make more desserts that I'm not terrified to be around and that I can eat happily when a sugar craving hits, I made an oat flour, honey-sweetened banana bread. It blew my mind. It's as good as any sinful, gluten-full, egg-full banana bread out there.
Moist, tender, full of flavour. Chocolate chunks and a peanut butter drizzle take it to another level, of course!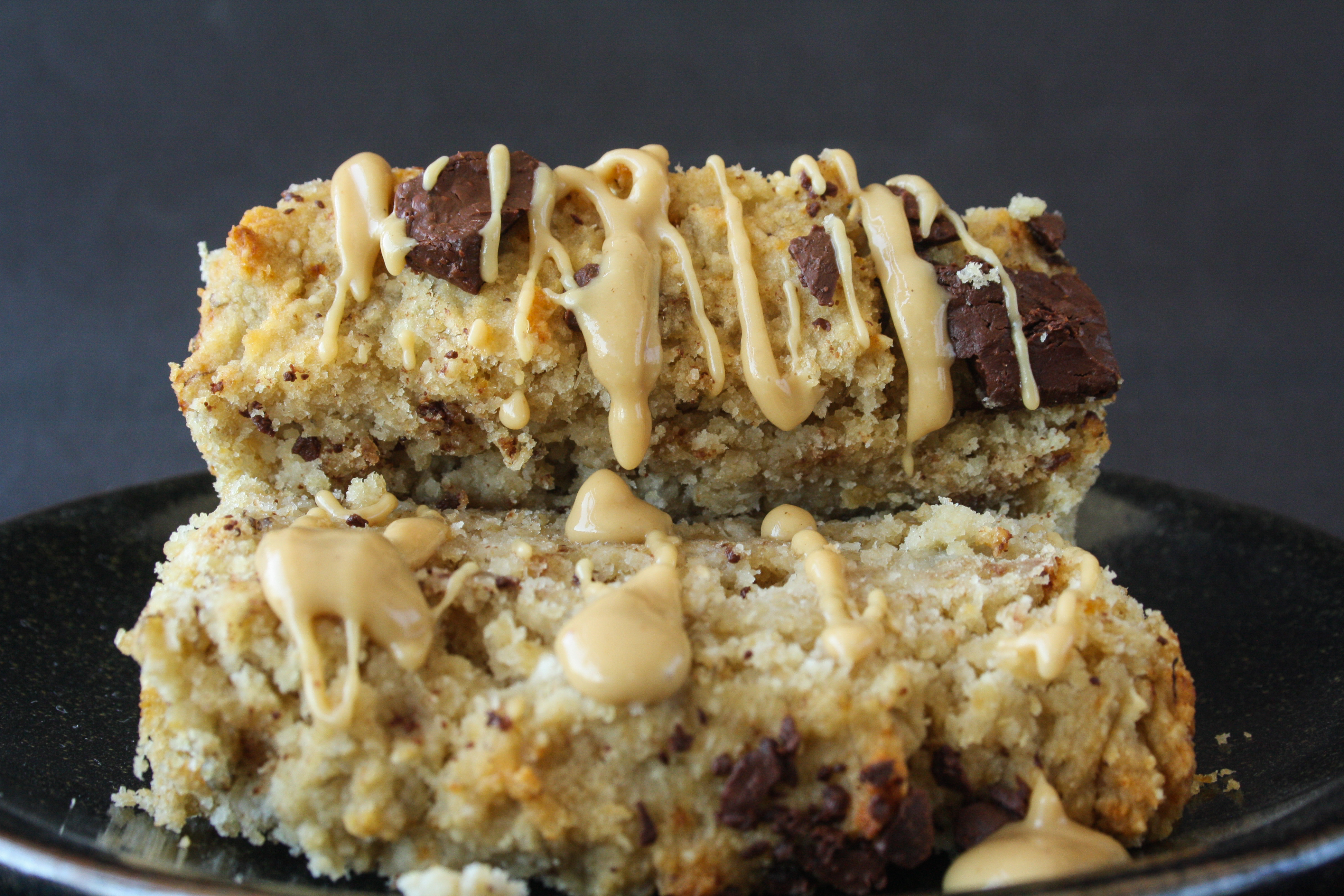 The first time I made this, the cake turned out dry and gummy because oat flour (basically just finely ground oats) is known to do that. So for this version, I added yoghurt and milk for moisture, a little baking soda to react with the acid and keep the banana bread fluffy, and a slightly smaller amount of oat flour. The rest is coconut flour, though ground almonds would be great too. Almonds will make it just a little denser but the flavour will still be amazing!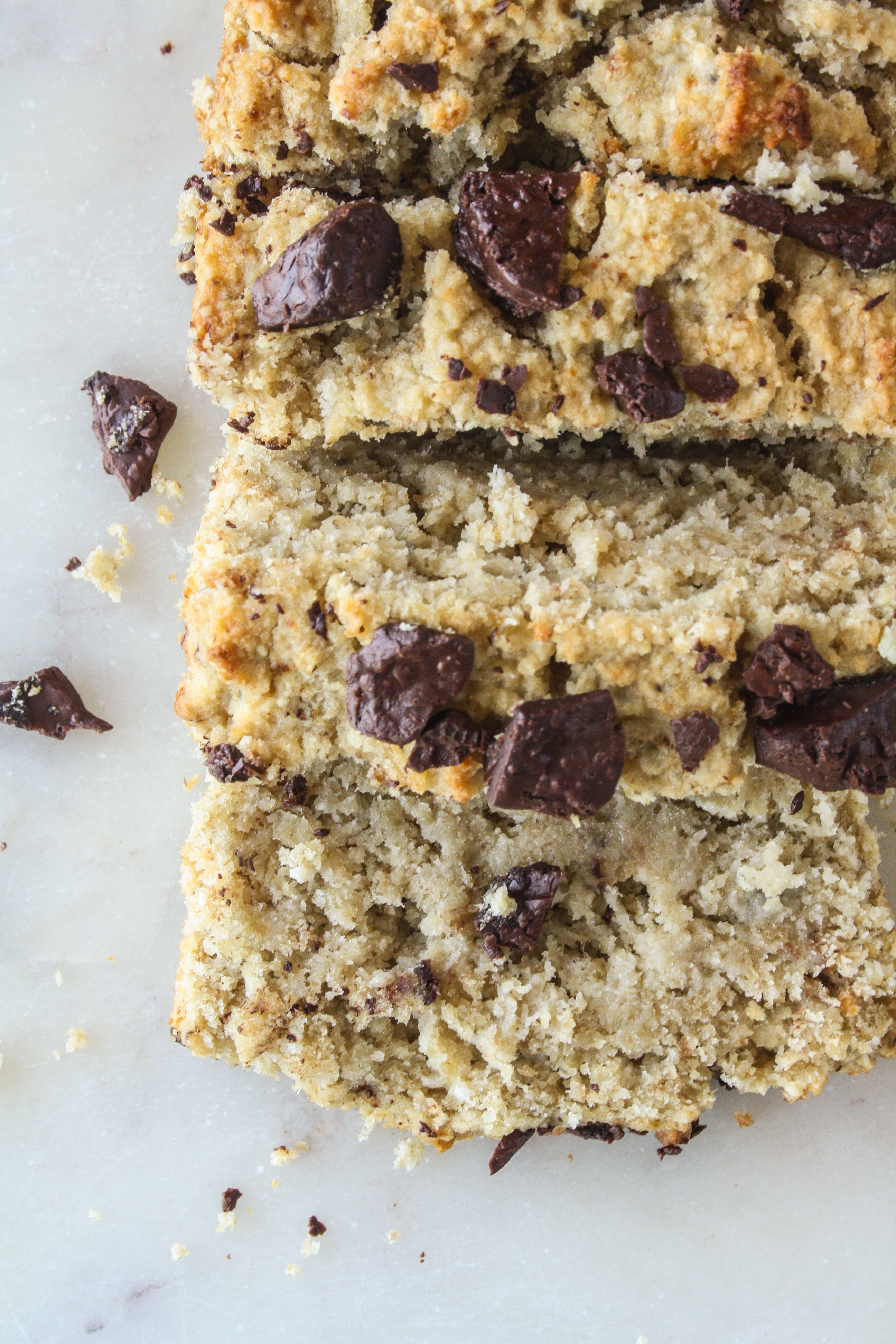 This is a quick recipe, but it takes a little while to bake because the mashed banana adds a bit of moisture and density to the batter. The dark chocolate chunks on top are not sugar-free and you can leave them off if you wish, or use chocolate that you know is made without refined sugar. Dairy-free milk and yoghurt will make this vegan, yay!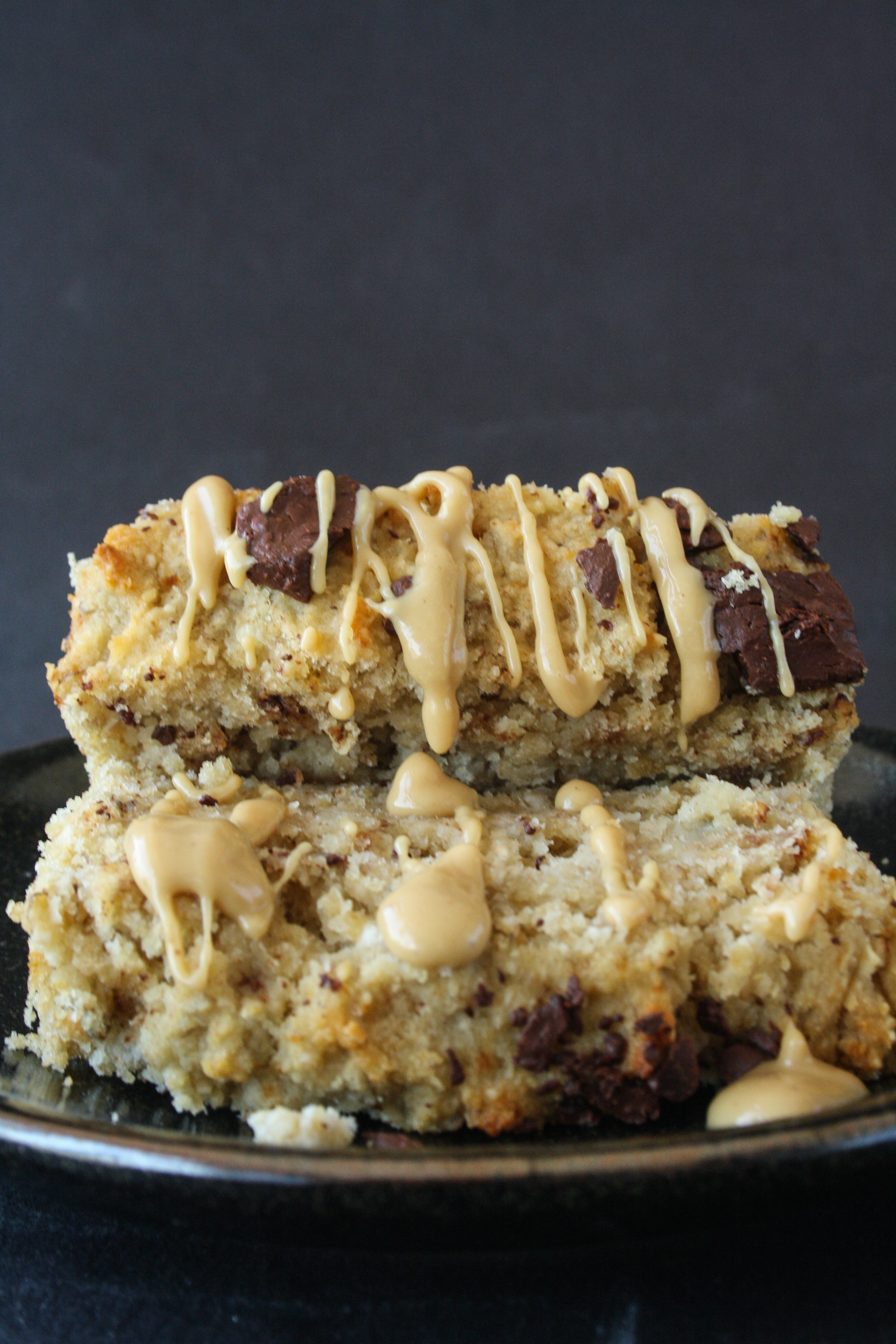 I prefer to store banana bread in the fridge, and this one in particular tastes great cold! It also needs to be cooled completely before slicing, because the absence of gluten makes it crumbly. It's definitely worth the wait 🙂

Banana Oat Bread (Gluten-Free, Eggless)
Moist and tender banana bread with oat and coconut flours. No eggs!
Author:
The Desserted Girl
Ingredients
¾ cup finely ground oats (from ½ cup rolled oats)
½ cup coconut flour
½ tsp baking powder
¼ tsp baking soda
1 large banana, very ripe
¼ cup vegetable oil
¼ cup honey
¼ cup plain yoghurt
½ tsp vanilla extract
2 tbsps milk, optional
Dark chocolate chunks for topping, optional
Instructions
Preheat the oven to 175 C. Lightly grease a 6x4 mini loaf tin. Line it with baking paper and grease the paper too, leaving a little overhang for easy removal.

In a mixing bowl, combine the ground oats, coconut flour, baking powder, baking soda. Mix well and set aside.

In a smaller bowl, mash the banana very well, then add the oil and honey (measure the oil first, and then the honey so that it doesn't stick to the measuring cup). Whisk well to combine.

Now add the yoghurt and vanilla and mix till combined. Pour into the oats mixture and fold gently.

If the mixture seems too thick (oats and coconut flour absorb moisture very quickly), stir in the milk, then spoon the batter into the prepared cake tin.

Bake for 20 to 25 minutes, until a toothpick poked in the center comes out clean and the top is lightly browned.

Cool for 15 minutes in the tin, then take the cake out and place on a wire rack. Set aside to cool completely before slicing, because the cake is fragile and will break if still warm while cutting. I prefer to store this in the fridge and also think it tastes best cold!
Notes
*I prefer rolled oats here for a better texture. In a pinch, you can use finely ground instant oats too.You can also use ½ cup ground almonds instead of the coconut flour. The texture will be a little denser but still delicious!

*To keep this completely free of refined sugar, use sugar-free chocolate for the topping. Use dairy-free milk and yoghurt to make this vegan.

*Double the recipe for a standard 9x5 loaf.